Iceland is simply amazing. Rugged landscapes. Natural beauty. Unlimited outdoor adventures. Sharing this land of ice and fire with children is like exposing them to a fantasy land of fairies, Vikings, and mythology. Truly a bucket list-worthy family travel destination. But the question I am often asked is, what is the right age to go to Iceland with kids? The answer is…it depends.
It depends on what activities you want to do, how much you want to see, how adventurous you are, how much energy your kids have, and when you want to go. The great thing about visiting Iceland with kids is that so many attractions offer free or discounted admission for children below certain ages.
The hard part is, certain tours and adventure activities have minimum age limits. So while technically you can go and enjoy the landscape and waterfalls as a family at any age, if this is your once-in-a-lifetime family trip, you may want to wait until everyone can participate in the types of activities you would like to do.
To help you decide when the best time to visit Iceland is for your family, I put together this guide of what activities you can do at various ages. Now, depending on what activities are on your "must-do" list, you can decide when the best time for your family would be to go to Iceland.
Want local tips and personalized advice for your trip to Iceland? Connect with Halldór from Go Ask A Local! He's an Iceland-based travel agent who specializes in meticulously planned self-drive trips and also offers trip planning consultations on Zoom.

Iceland with Kids
If you are visiting Iceland with kids, here is a guide to what activities are best suited depending on age. Also, keep in mind, not all activities are available year-round, so do your research. Icelandic roads can be challenging to drive in the winter so if you aren't comfortable driving in snow, doing a self-driving trip with young children becomes even more challenging.
Babies, Toddlers, and Preschoolers
Visit the Viking Museum near the airport where kids can climb on board a replica Viking ship and make sure to stop at the petting zoo and Viking playground outside (children under 14 are free)
Visit some of Reykjavik's public pools such as Laugardalur or the geothermal beach at Nauthólsvík
Explore Reykjavik for a day, including a whale watching tour in the harbour with Special Tours where kids under the age of six are free
Rent a car and take a drive out to Seljalandsfoss and Skógafoss, strap on a baby carrier, cover up in waterproof gear and check out the waterfalls. Stop at the black sand beach of Vík and see the basalt columns and caves at nearby Reynisfjara.
Drive through the Golden Circle with stops at Geysir and the Gullfoss waterfall
Toddlers over two are also permitted at the Blue Lagoon, they will just need to wear arm floats when in the water (plus they are free!). There are some drawbacks to the Blue Lagoon though so you may want to check out my pros and cons.
If you are visiting Iceland with small children, it makes sense to plan a shorter stay and base yourselves in Reykjavik so you don't need to move around each night. See my recommendations on where to stay in Reykjavik with kids.
Just driving through the landscape can be fun if your kids are good in the car. You can pull off the side of the road and get a closer look at the Icelandic horses and sheep.
Elementary School Age Children
All the above plus…
Go for a 1.5 hour horseback riding tour with Eldhestar (ages 5 and up, children 5-14 are discounted)
Take an amphibian boat tour of the Jökulsárlón iceberg lagoon (children under 6 are free, 6-12 are highly discounted)
Take a family super jeep tour out onto the glacier (children under 12 are discounted)
Go Into the Glacier to see a manmade ice tunnel
Energetic Tweens
All the above plus…
Go on a three-hour glacier hike (must be 10 or older, age 10-11 are discounted)
Take an ATV mountain safari near Reykjavik (passengers must be six or older)
Go snowmobiling on a glacier (passengers must be eight or older)
Take a longer three-hour dog sledding tour (must be 8 or older, ages 8-11 are discounted)
Go on a zodiac boat tour at the glacier lagoon (must be 10 or older, ages 10-12 are half price)
Explore lava tube caves (must be 8 or older)
Take a white water river jet boat down the Hvita river below Gullfoss waterfall in the Golden Circle (must be 8 years or older)
Explore ice caves (winter only, must be 8 or older)
Adventurous Teens
Go ice climbing with Icelandic Mountain Guides (must be 14 years or older)
Hike up a volcano (must be 16 years or older)
Go mountaineering (must be 16 years or older)
Take a full day trip or multi-day horse back riding tour (must be 10 years or older)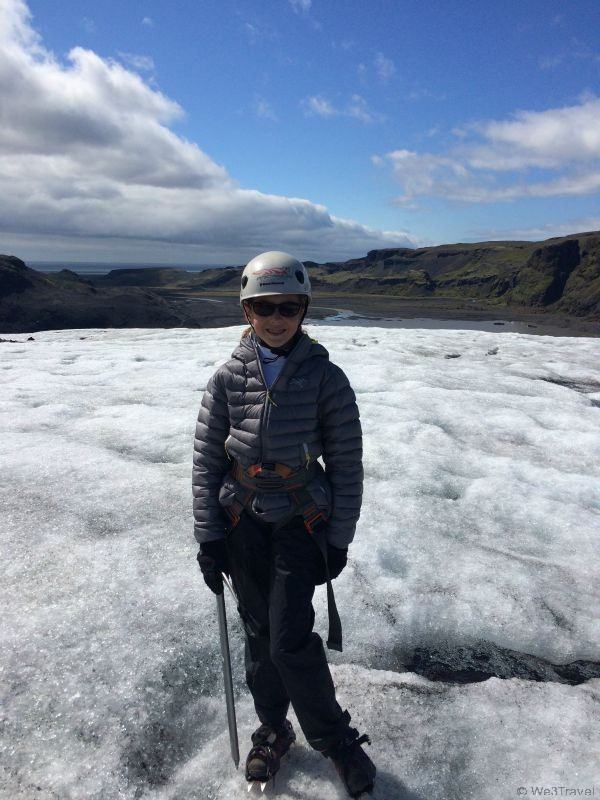 This is just a sample of some of the things that you can do on a trip in Iceland with kids. If some of these family-friendly activities are on your "must-do" list, I'd suggest waiting until your kids are old enough to take part.
We went when our daughter was 11 and found it to be a nearly perfect age. She was old enough, energetic enough, and adventurous enough to do a wide range of activities, yet still young enough to qualify for children's discounts.
What to Look out for when visiting Iceland with Kids
As much as I love Iceland, it does have its challenges too. Some other things to keep in mind include:
In Iceland fitting a family of four or more into one hotel room can be challenging. Most rooms have either a double bed or two twin beds. A few hotels have family rooms but they are limited. Be sure to check my guide on where to stay.
If you are doing an Iceland road trip, you are going to need to switch hotels five to seven times in the course of a week to 10 days. That can be a lot of kids to handle and a lot of packing and unpacking.
Doing a long day trip or road trip also means a lot of time in the car, which is something to consider if your kids have trouble sitting for too long or keeping themselves entertained. We think there is so much to look at but from the car seat in the back, the view may not be as spectacular.
Iceland is expensive. It is great if you can go when the kids are young enough to take advantage of some of the discounts and possibly squeeze into a family room. But you will still be spending a lot on food, gas, car rental insurance, and activities. Make sure to plan your Iceland budget carefully.
Dealing with picky eaters can be challenging. Even a simple dish of buttered noodles can cost over $20. You can find plenty of places with hot dogs (but they are lamb-based), hamburgers, and pizza but the main staples are fish and lamb. Chicken (and especially something resembling chicken nuggets) is harder to find. See my guide on where to eat in Reykjavik.
If you are visiting in the winter and want to see the Northern Lights, keep in mind that it is going to get dark by 3-4pm and the sun won't rise until around 10am. That is not a lot of time to squeeze in sightseeing in the cold and a lot of time to kill with young kids that want to go to sleep before the Northern Lights come out to play. This may be the kind of trip you want to save for when the kids are older.
PIN THIS FOR LATER