On our recent trip to Iceland, we weren't up for multi-day hikes or ambitious ice climbing but we still didn't want to leave Iceland without at least some soft adventures — so a glacier walk with Arcanum was right up our alley. And while glacier hiking in Iceland may not be as strenuous as scaling Mt. Everest, it does take more effort and stamina than our adventures dog sledding. Plus, when you are wearing a helmet and wielding an ice axe, you can't help but feel like a mountaineer.
There are many different ways you can go glacier hiking in Iceland, but a lot of them are part of longer day trips or a portion of an expensive super-jeep or snowmobiling tour. And, when traveling with kids, some of these tours have restrictions when it comes to age or shoe size, so you really need to shop around. Just whatever you do, don't think you can go out on a glacier alone! Only an experienced guide will know where it is safe to explore. We found just what we were looking for with Arcanum's three-hour glacier walk on the Sólheimajökull glacier (a part of the Mýrdalsjökull ice cap) on the south coast of Iceland.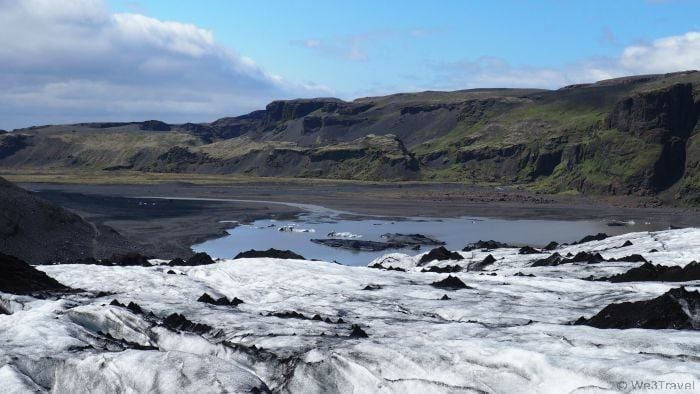 We were on a five-day self-driving trip and had already gone to see the waterfalls along the South Coast and traveled up toward Vatnajökull, the largest glacier in Iceland, when we did our boat tour of the glacial lagoon. Not wanting to make that drive again, Arcanum's base at Sólheimajökull near Skógar and Vík was perfect. Plus, the minimum age was 10 (Hannah had just turned 11) and they had crampons that could accommodate even her small feet.
The meeting point was still a good two hour drive from our cabin in Geysir so we stopped in Selfoss to pick up some lunch along the way. What we should have done is stop at the Eyjafjallajökull Visitor Center just a couple of miles away. There we could have learned more about the recent volcanic eruption AND used the facilities. I assumed that there would be restrooms at their base camp and cafe. You know what they say about those who assume? Yeah. No facilities and no cafe, so plan ahead because there is no where to hide out there on the glacier.
After checking in, we were quickly equipped with harnesses, helmets, ice axes, and crampons to go over our hiking shoes. Then, once our group of about 10-12 people was assembled, we headed out with our guide through the valley and out to the glacier. It was a good 30 minute walk through a beautiful landscape on the way out to the glacier. The walk moves along at a quick pace without rest stops over rocky and sometimes hilly terrain so you need to be fit enough to keep up while carrying your ice axe and whatever pack you may have brought along.
When we approached the glacier, we stopped to get our crampons on and here our guide gave us a short safety briefing and a lesson on ice walking. At this point, the glacier still looks so far away it is hard to imagine how you will ever get out there. Somehow, distances are deceiving though because after following a steep, narrow footpath into a ravine you are suddenly at the glacier's edge.
If the words "glacier hike" make you think of walking on pristine white snow and ice, think again when you hike out on Sólheimajökull. Due to Eyjafjallajökull's recent eruption, the ice here is laced with black volcanic ash and the slanting slope of the glacier dotted with conical mounds of ash looks like something out of the heart of Mordor. (If you want to see white glacier snow, check out our day dog sledding.)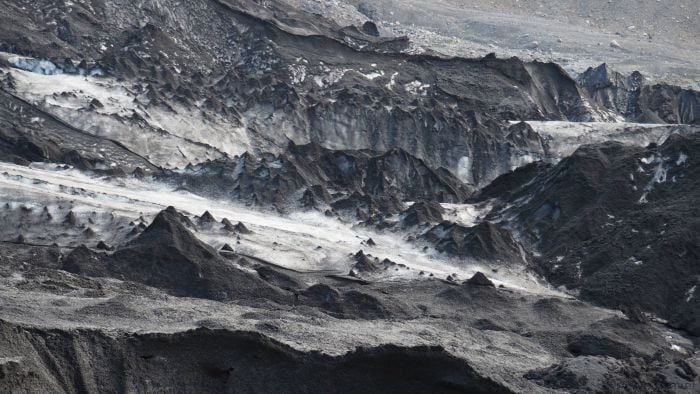 On Sólheimajökull, the ice is up to about 200 meters thick and the total size with the ice cap of Mýrdalsjökull is about 600 km², which covers the caldera of the volcano Katla, one of Iceland's biggest volcanoes. Throughout our walk on the glacier we passed crevasses, sink holes with waterfalls, and ice ridges. We even had a chance to dip our water bottle into a pool of glacier water that was so cold and refreshing.
The climb wasn't difficult but there were parts that were steep and narrow, so you need to watch your balance and dig in with your crampons. You definitely don't want to go sliding off into a crevasse. The minimum age for a glacier walk is 10 years old for good reason. Kids need to have the stamina to walk for at least three hours straight with only one short break. They should also be able to follow direction and not wander off on their own.
We enjoyed our glacier hike, but since it came at the end of our busy five days in Iceland, we were pretty tired right from the start. Our English-speaking guide was really all business. It was a brisk hike out to the glacier and even during the glacier walk, if you paused too long for pictures, you would be left behind. Don't expect a leisurely walk and don't expect to be catered to. Their job is to get you on and off the glacier safely, while pointing out some geological features along the way.
What to Wear on a Glacier Hike
Since we visited Iceland in June, the temperatures were pretty warm and it was probably in the 50s (Fahrenheit) during our glacier walk. Here is what you should wear on a glacier hike (or at least carry along):
Waterproof hiking boots
Wool or synthetic-blend hiking socks — cotton will just make your feet cold if it gets damp
Comfortably-fitting, quick-dry hiking pants (definitely not jeans as those would be very uncomfortable if they get wet)
Possibly a base layer, depending on the weather
A fleece, windproof shell outer layer, or thin down jacket
Thin microfiber gloves (I bought a great pair at 66°North in Reykjavik)
Wool or knit-blend hat (you may need to take this off)
Sunglasses
Sunscreen on your face
Also bring along a backpack with: a rain coat or waterproof shell, refillable water bottle, protein bars or energizing snacks (be sure to leave no trace behind), tissues, and a camera with a neck strap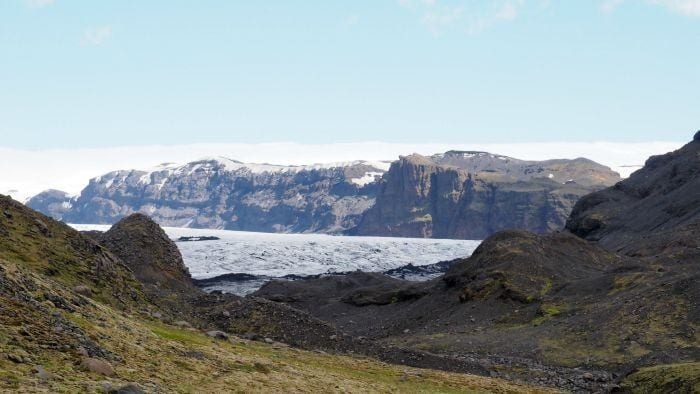 What you Need to Know
Arcanum offers glacier walks every day of the week (weather permitting) at 10:00, 12:30, and 2:00 pm. The base camp trailer is located at the end off Road #221, just off the Ring Road between Skógar and Vík. You need to arrive 30 minutes before the tour departure time. Tours last approximately three hours. Tours are 9.990 ISK for adults and 6.993 ISK for children 10-11. Children under 10 are not permitted. Be sure to check the website for the latest information.
PIN THIS FOR LATER
Note: Our family was offered a free tour to facilitate this review. As always, all opinions are our own.