Glacier hiking in Iceland is one of the truly unique things to do in Iceland. If you are visiting the land of ice and fire, it is important to get up close to the "ice" portion of this beautiful country. There are nearly 300 named glaciers in Iceland and 11 percent of the country is covered by glacial ice (although sadly I've seen that decrease over the recent years since I've started visiting.)
If the weather cooperates, you can go glacier hiking in Iceland year-round, although if you visit from November through March you will also have an opportunity to visit ice caves.
There are two main spots to take a glacier hike in Iceland, the Sólheimajökull glacier and the Vatnajökull glacier. Sólheimajökull is in South Iceland, and can easily be done as a day trip from Reykjavik or as part of a South Coast itinerary. The Vatnajökull glacier is in South East Iceland, between Vík and the Jökulsarlon glacier lagoon and Diamond Beach.
In this article, I'll share what to expect when you take a glacier hike, tips for being prepared, and what to wear on your hike.
What to Expect on a Glacier Hike in Iceland
Note: This post contains affiliate links. If you click a link and make a purchase, I may receive a small commission. Our family received a complimentary tour with Arcanum Tours. All opinions are my own.
On our recent trip to Iceland, we weren't up for multi-day hikes or ambitious ice climbing but we still didn't want to leave Iceland without at least some soft adventures — so a glacier hike was right up our alley. Glacier hiking in Iceland may not be as strenuous as scaling Mt. Everest, but it was perfect for our adventurous tween (the minimum age is 10 — see our guide to what to do in Iceland with kids age-by-age guide.) Plus, when you are wearing a helmet and wielding an ice axe, you can't help but feel like a mountaineer, which was pretty cool
There are many different ways you can go glacier hiking in Iceland, but many of them are part of longer day trips from Reykjavik or a portion of an expensive super-jeep or snowmobiling tour. And, when traveling with kids, some of these tours have restrictions when it comes to age or shoe size, so you really need to shop around.
Just whatever you do, don't think you can go out on a glacier alone! Only an experienced guide will know where it is safe to explore. We found just what we were looking for with Arcanum's three-hour glacier walk on the Sólheimajökull glacier (a part of the Mýrdalsjökull ice cap) on the south coast of Iceland.
Book a guided glacier hike on Sólheimajökull!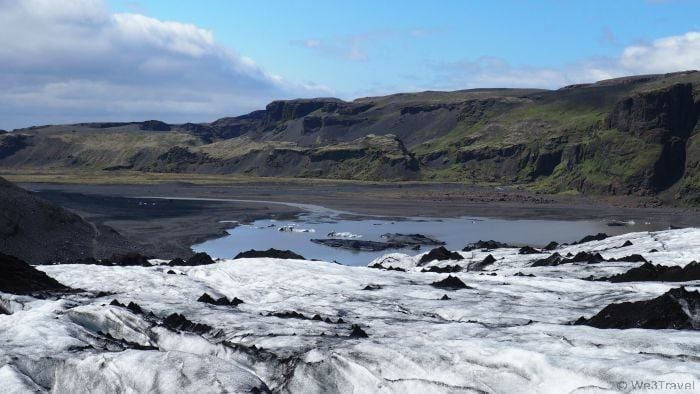 We were on a five-day self-driving trip and had already gone to see the waterfalls along the South Coast and traveled up toward Vatnajökull, the largest glacier in Iceland, where we did our boat tour of the glacial lagoon. Not wanting to make that drive again, Arcanum's base at Sólheimajökull near Skógar and Vík was perfect. Plus, the minimum age was 10 (Hannah had just turned 11) and they had crampons that could accommodate even her small feet.
The meeting point was still a good two-hour drive from our cabin in Geysir so we stopped in Selfoss to pick up some lunch along the way. What we should have done is stop at the Eyjafjallajökull Visitor Center just a couple of miles away. There we could have learned more about the recent volcanic eruption.
After checking in, we were quickly equipped with harnesses, helmets, ice axes, and crampons to go over our hiking shoes. Then, once our group of about 10-12 people was assembled, we headed out with our guide through the valley and out to the glacier.
It was a good 30-minute walk through a beautiful landscape on the way out to the glacier. Sadly, this walk gets longer each year as the glacier continues to recede.
The walk moves along at a quick pace without rest stops over rocky and sometimes hilly terrain so you need to be steady on your feet and fit enough to keep up while carrying your ice axe and whatever pack you may have brought along.
When we approached the glacier, we stopped to get our crampons on, and here our guide gave us a short safety briefing and a lesson on ice walking. At this point, the glacier still looks so far away it is hard to imagine how you will ever get out there. Somehow, distances are deceiving though because after following a steep, narrow footpath into a ravine you are suddenly at the glacier's edge.
If the words "glacier hike" make you think of walking on pristine white snow and ice, think again if you are visiting in the summer! Due to Eyjafjallajökull's recent eruption, the ice on Sólheimajökull is laced with black volcanic ash and the slanting slope of the glacier dotted with conical mounds of ash looks like something out of the heart of Mordor. If you are visiting Iceland in the winter, this will likely be covered by a fresh layer of snow and much of the ash will be covered.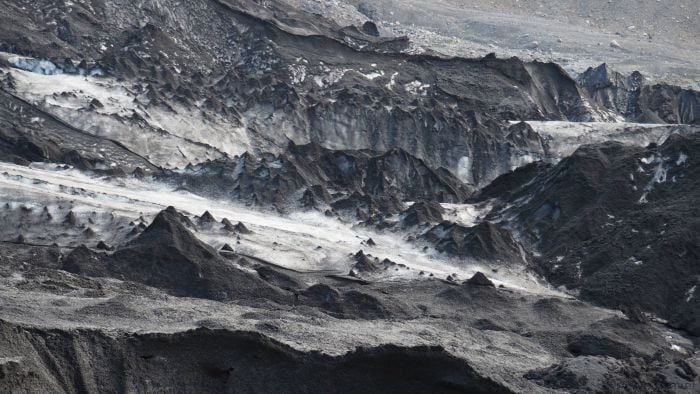 On Sólheimajökull, the ice is up to about 200 meters thick and the total size with the ice cap of Mýrdalsjökull is about 600 km², which covers the caldera of the volcano Katla, one of Iceland's biggest volcanoes. Throughout our walk on the glacier, we passed crevasses, sinkholes with waterfalls, and ice ridges.
It is easy to see how this could be very dangerous without an experienced and trained guide. If you wander in the wrong direction you could easily slip into a crevasse or lose your way and end up stranded.
One of our favorite parts of the hike was when we had a chance to dip our water bottle into a pool of glacier water. The water was perfectly clean, cold, and refreshing.
The climb wasn't difficult, but there were steep and narrow parts, so you need to watch your balance and dig in with your crampons. You definitely don't want to go sliding off into a crevasse.
The minimum age for a glacier walk is 10 years old for a good reason. Participants need to have the stamina to walk for at least three hours straight with only one short break. They should also be able to follow directions and not wander off on their own.
We enjoyed our glacier hike, but since it came at the end of our busy five days in Iceland, we were pretty tired right from the start. Our English-speaking guide was really all business. It was a brisk hike out to the glacier and even during the glacier walk, if you paused too long for pictures, you would be left behind. Don't expect a leisurely walk and don't expect to be catered to. Their job is to get you on and off the glacier safely while pointing out some geological features along the way.
Is a Glacier Hike in Iceland Worth It?
Whenever one is evaluating whether or not an experience is "worth it", you need to consider your expectations, cost, time involved, and opportunity cost (e.g. what else you could be doing.) Given how unique this experience is, we definitely found glacier hiking worth our time and the cost.
Even if it was a bit tiring, it was also exhilarating. After driving past glaciers and seeing them from a distance, we would have been sorely disappointed to leave Iceland without getting up close to one. A glacier hike in Iceland is a worthwhile way to spend an afternoon in Iceland.
How Much Does a Glacier Hike in Iceland Cost?
If you have seen our Iceland budget, you know that Iceland is not an inexpensive country to visit. Activities can be expensive so you want to pick and choose which ones are worth investing in. Since you cannot walk on a glacier on your own, taking a glacier hiking tour is essential if you want to experience a glacier up close.
Prices are subject to change but glacier hikes tend to be about 13,490 ISK (or approximately $94 USD) per adult. Youths from 10-17 are only 9,450 ISK (or approximately $66 USD). Tour companies such as Arcanum Tours also provide hiking boots, rain pants, and a rain jacket for no extra charge.
What to Wear on a Glacier Hike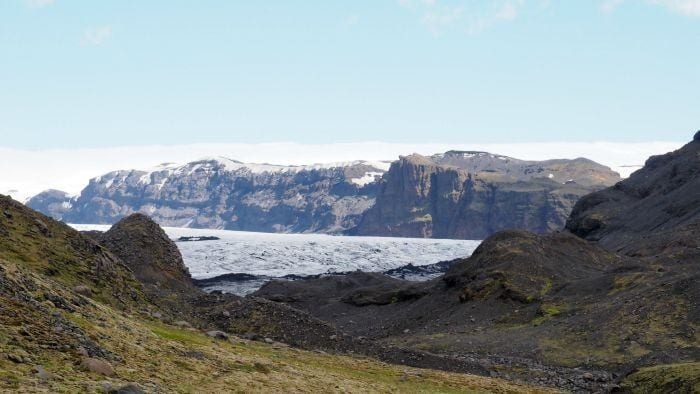 Since we visited Iceland in June, the temperatures were pretty warm and it was probably in the 50s (Fahrenheit) during our glacier walk. Here is what you should wear on a glacier hike (or at least carry along). You can also check out my Iceland packing lists for summer and winter.
Waterproof hiking boots
Wool or synthetic-blend hiking socks — cotton will just make your feet cold if it gets damp
Comfortably fitting, quick-dry hiking pants (definitely not jeans as those would be very uncomfortable if they get wet). Opt for fleece-lined leggings or all-weather pants if hiking in colder weather.
A sweat-wicking base layer
A mid-weight fleece layer
A windproof shell outer layer, and/or thin down jacket
Thin microfiber gloves (I bought a great pair at 66°North in Reykjavik)
Wool or knit-blend hat (you may need to take this off and it needs to fit under a helmet so avoid those with pom poms)
Sunglasses
Sunscreen on your face
Also, bring along a backpack with: a raincoat or waterproof shell, a refillable water bottle, protein bars or energizing snacks (be sure to leave no trace behind), tissues, and a camera with a neck strap
What you Need to Know
Book your tour in advance as they do sell out, especially in the summer
Arrive early to have time to select your gear and have time to try it on and make sure it fits properly because if you wait until you get to the glacier it will be too late
Make sure you use the restrooms before you depart on your hike — this is essential!
Take time to eat before you go so you aren't hiking on an empty stomach
You must be able to walk at least 3 kilometers (2 miles) without undue fatigue
Full mobility of your knees and ankles is required as most glacier hikes involve some sloped walking
The temperature on the glacier can feel around 1-2 °C colder than the surrounding areas (approx. 2-3 °F). However, since you will constantly be moving, you will likely warm up quickly. That said, always bring gloves and a hat, and waterproof clothing at all times of the year. In winter, extra thick socks and added warm layers are likely needed
You will likely encounter rocks, uneven surfaces, and icy patches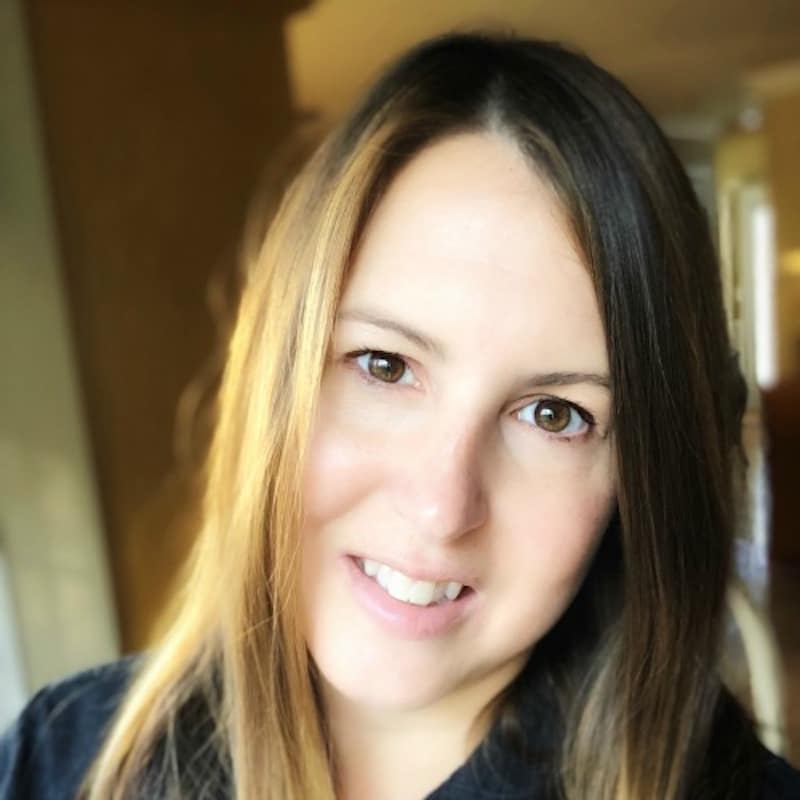 Tamara Gruber is the Founder and Publisher of We3Travel. A former marketing executive and travel advisor, Tamara is an award-winning travel writer and recognized expert in family travel. She is also the publisher of YourTimetoFly and the co-host of the Vacation Mavens travel podcast.