Packing is one of my least favorite parts about traveling, but packing for a trip to a country as wildly diverse as Iceland had its particular challenges. We were heading to Iceland in June, on the eve of the summer solstice, when we could enjoy six "nights" of daylight and five days jam-packed with adventure, and I was perplexed about what to wear in Iceland in the summer and what to put on my Iceland summer packing list.
On our itinerary were activities and tours like a puffin boat tour, glacier hiking, a zodiac boat tour through the glacier lagoon, a trip to the Blue Lagoon, and dog sledding on the glacier. Plus, we planned to spend days exploring waterfalls and black sand beaches, as well as the streets of charming Reykjavik. One thing was clear from the beginning, this was NOT going to be a carry-on-only type of trip.
Summer temperatures in Iceland in July range from highs in the mid-50s and lows in the mid-40s F. So, sort of like March in New England where one minute you could pull on a hat to combat a chilly wind and then the sun comes out and you are stripping off layers to cool down.
After reading plenty of blog posts that said to buy what you need when you get there, I decided I was going to be prepared in advance and shop at outlet prices versus pricey retail shops in Reykjavik (although I admit buying a hat and microfiber gloves at 66° North just because I liked them.)
Being prepared for everything on a trip to Iceland is critical. On our day in Reykjavik, we dressed in long sleeve shirts and fleeces or weather-proof shells, carrying along hats and thin gloves "just in case" we needed them out on the water for our puffin cruise. Turns out, it was an absolutely gorgeous day and we ended up taking off the jackets and wishing we wore short sleeves.
Yet the next day on our drive through South Iceland, it was overcast and windy, causing us to switch from a thinner fleece to an insulated down jacket and hat later in the day. And thank goodness we were advised to bring full rain gear, or our trips to the waterfalls wouldn't have been nearly as fun if we had gotten totally soaked. We also lucked out with great weather for our time dog sledding and glacier hiking, but we were prepared just in case the weather changed.
With all our overpacking and over-preparedness, I learned a few lessons about what to wear in Iceland in the summer and what to pack to create these Iceland summer packing list. If you do plan on visiting in the winter, be sure to also check out my Iceland winter packing list based on my trip back to Iceland in November. While it doesn't vary a lot, there are some important differences.
Iceland Summer Packing List
Note: This post contains affiliate links, if you make a purchase by clicking on a link, I will receive a small commission.
As an Amazon Associate, I earn from qualifying purchases.
This Iceland clothing list includes what to wear in Iceland in June, July, and August (although I used a similar list for my more recent visit in very early September.) I've left out the basics because I think you can figure out if you need underwear, but these are things that you may or may not have considered:
Waterproof Hiking Boots
I'm putting waterproof hiking boots on the list, but don't bother with packing them, just wear them on the plane and save the space. They are likely the only shoes you will really need, unless you want to get a little more dressed for dinners in Reykjavik (and even then you only need a fashion sneaker at most.)
Don't skimp on the waterproofing because you will likely need to walk through some streams, experience some rain, and, of course, be subject to the mist of the waterfalls. I'd suggest a boot that supports your ankle as you walk over uneven surfaces, versus the lower hiking shoe. This will also provide more waterproof coverage for fording small streams on hikes or walk up to the end of a waterfall.
My favorite waterproof hiking boots are from Merrell or La Sportiva.
Hiking Socks
Look for wool or synthetic blends as cotton traps the moisture and your feet will get cold. I'd also suggest a midweight to heavy weight sock for colder days or if you plan on spending a lot of time outdoors (and it is Iceland, of course you will spend a lot of time outdoors!)
My favorite hiking socks are the made-in-Vermont Darn Tough socks.
Waterproof Rain Jacket with a Hood
if you plan on visiting the waterfalls, the spray from the falls will drench you head to toe. A good waterproof (not water resistant) jacket with a hood that fits snuggly around your face is essential. You also need to be prepared for rain at any particular time in Iceland.
I would suggest that you either get a warmly-lined rain coat, such as the L.L. Bean H2OFF rain jacket, or a thinner, packable raincoat that you can layer over top of a fleece or a packable puffy jacket, such as the Columbia Omni-Tech Ampli-Dry raincoat.
Quick-dry Hiking Pants
Quick-drying hiking pants are perfect for outdoor activities in Iceland. You definitely don't want to only pack jeans as they are heavy and will just make you cold if they get wet. Maybe one pair to change into or wear in Reykjavik is all you need.
You may also want to include a pair of fleece-lined leggings or base layer/long underwear if you are doing an activity like a glacier hike. I rely on hiking pants from Columbia, Prana, and Northface.
Waterproof Rain Pants
I really debated if needed to buy rain pants for the whole family, but I'm so glad we decided to invest in pairs for each of us. Trust me, you'll want these at the waterfalls unless you want to get soaked to the skin. It is a good idea to bring them along on glacier walks too, just in case it starts to rain while you are out on the glacier.
We had a hard time finding these for the whole family but Columbia rain pants came through, as they did for our insulated jackets, raincoats, and hiking pants.
Long-sleeve and Short-sleeve Shirts
In Iceland in the summer, the temperatures are going to vary, as will the weather. It is best to be prepared with a selection of long-sleeve and one or two short-sleeve shirts. In Iceland, it is all about layering. Bring along a base layer, a few active tees that offer sweat-wicking, and at least one sweater and/or flannel shirt as a top layer.
Mid-weight Fleece
In Iceland, it is all about layering and options. You can either layer up with a fleece and a weather/wind-resistant shell on top or have a fleece for the warmer days and a warmer puffer jacket for the chilly days.
Columbia has a wide-range of fleece options that are perfect for layering.
Down Jacket
We only needed our down jackets a couple of times on this trip and probably could have gotten away with layering a fleece and a rain jacket on the windier summer days but it was good to have something that insulated and cut the wind.
If you don't opt for a waterproof/windproof three-in-one jacket or nicely insulated rain and wind jacket, then you should bring along a packable puffer jacket.
Swimsuit
if you plan on taking advantage of any hot springs, public geothermally-heated pools, or hot tubs, don't forget your swimsuit! Unless you are springing for the Premium package at the Blue Lagoon, you may also want to bring along a robe or coverup.
Flip-Flops
Again, if you are visiting any hot springs or pools, a pair of flip-flops will come in handy.
Hat/beanie
For windy days, especially out on the glacier or out by/on the water, you'll probably want to have a wool or thermally-lined knit or fleece beanie. Just don't bring one with a pom pom on top if you plan on doing any adventure activities that require a helmet.
You may also want to bring along a buff, scarf, or neck gaiter for windy days.
Thin Gloves
Just like the hat, when it is windy you might want a pair of thin microfiber or fleece gloves. I would suggest getting gloves that have fingertips that work on touchscreens so you don't need to take your gloves off to take photos.
Backpack
With all the activities you will be doing, you are going to need a place to stash your layers, rain gear, camera gear, etc. Make sure to bring along a weather-proof backpack (or a backpack with a rain cover.)
Polarized Sunglasses
It may often be grey and rainy in Iceland, but when the sun shines, it is bright, especially when you are out on the glacier. A good pair of sunglasses, ideally with a neck strap so they don't get lost, are a necessity.
Camera Gear
I'd recommend investing in a good camera to capture images of the gorgeous Iceland scenery. Some gear to include would be:
A mirrorless or DSLR camera with a wide-angle lens for waterfalls and a zoom lens for wildlife
Extra batteries and SD cards
A camera bag with a rain cover
A tripod (the Peak Design travel tripod is my favorite!)
A neutral-density filter to capture silky smooth images of waterfalls
Smartphone with waterproof case
A selfie stick for those waterfall shots and special moments. I also use this selfie-stick / tripod combo with a Bluetooth remote.
GoPro or Insta 360 waterproof camera with extra batteries and case options
Extras
Quick dry towel – in case you want to stop at a natural hot springs
Car charger – you'll probably be using your phone for GPS and with long drives and lots of pictures, you'll want to have your car charger along
Power packs – bring along backup power sources for phone charging because cold and the camera app really drains the battery quickly
Sleep mask – this is very necessary for summer visits when the sun doesn't set and not every room has black out shades
Refillable water bottle – the water in Iceland is clean and you can save money by using a refillable water bottle. Sometimes the water might have a slight sulfur order from the geothermal heating but it is still safe to drink
Phone case with a strap for easy access to your camera app and so that you don't accidentally drop your phone off a cliff. I love my Bandolier phone case and strap.
Lip balm
Sunscreen
Moisturizer
Extra conditioner as the water can be a bit harsh on the hair, especially at the Blue Lagoon
Download your Iceland summer packing list PDF here!
Planning a Trip to Iceland?
Be sure to check out these other articles:
Where to stay in Iceland
PIN THIS FOR LATER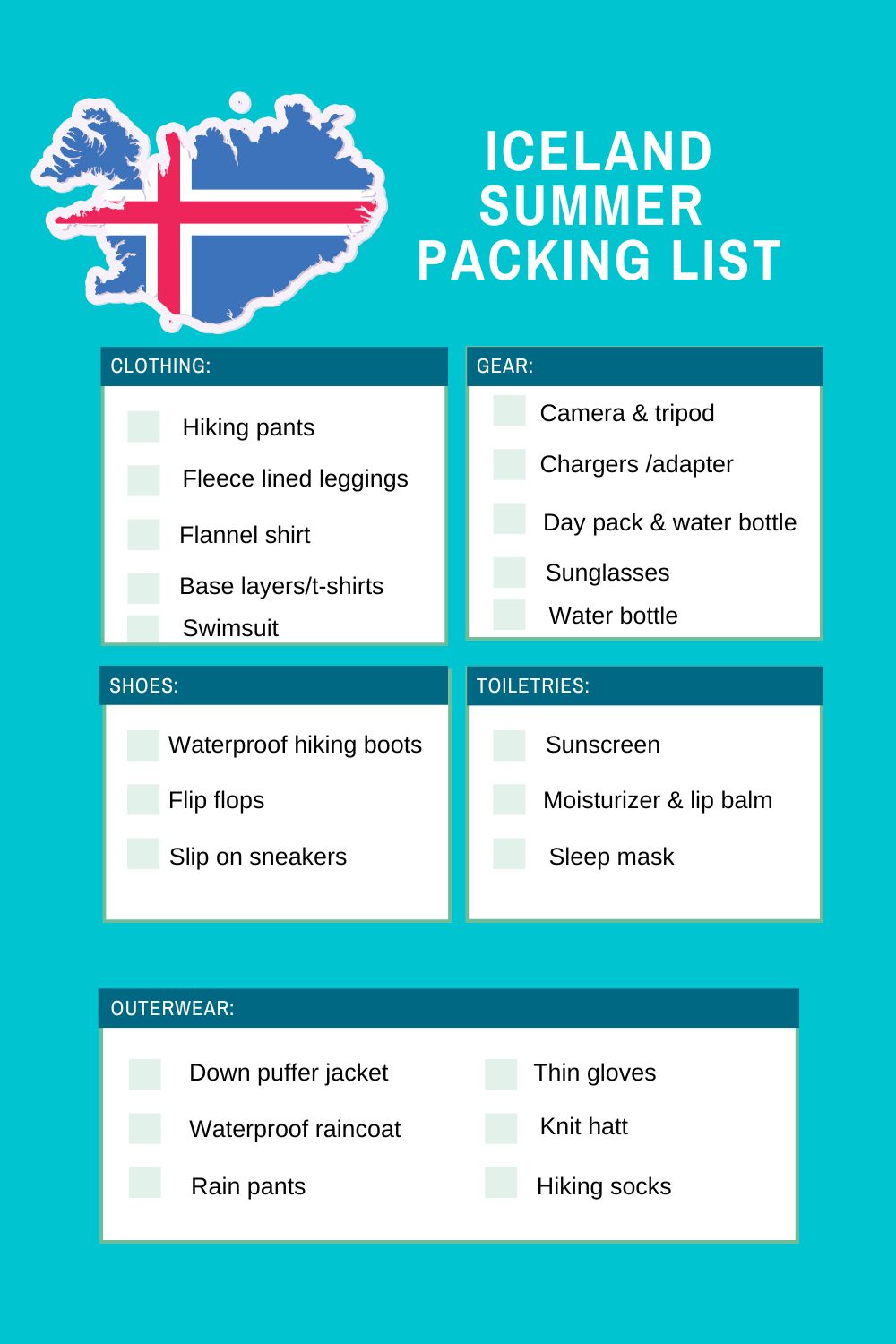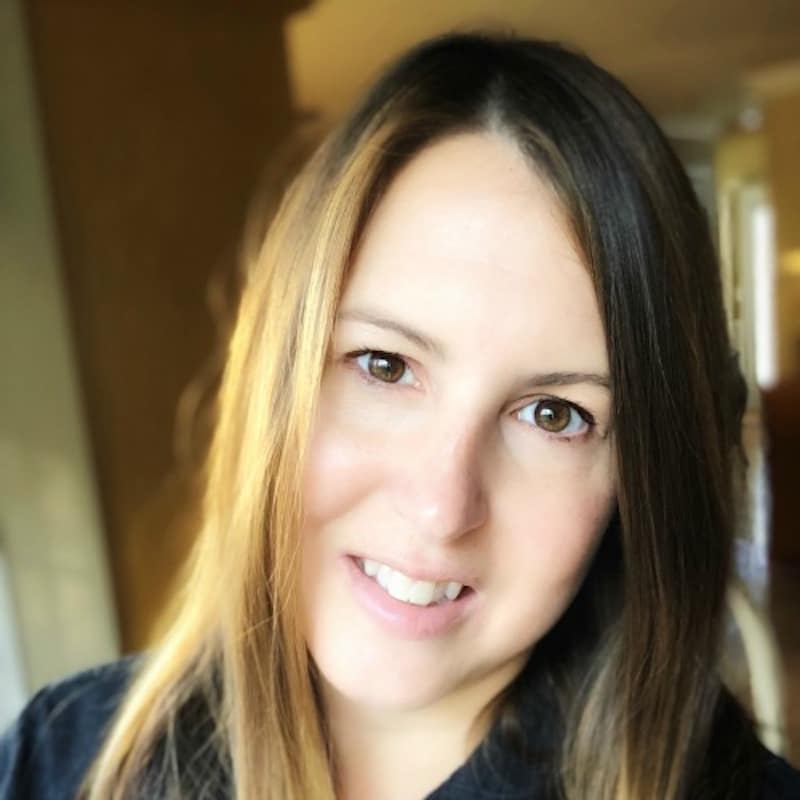 Tamara Gruber is the Founder and Publisher of We3Travel. A former marketing executive and travel advisor, Tamara is an award-winning travel writer and recognized expert in family travel. She is also the publisher of YourTimetoFly and the co-host of the Vacation Mavens travel podcast.