The Snaefellsnes Peninsula (pronounced like snī-fells-nes) is in West Iceland, about a two-hour drive from the capital city of Reykjavik. Since many tourists head in the other direction — either southeast along the coast or through the Golden Circle — you won't find quite the crowds in Snaefellsnes that you can see in other parts of the country.
The Snaefellsnes Peninsula is only 90 kilometers long, so technically you could drive the entire thing in a couple of hours. However, you will want to give yourself at least a full day to scratch the surface of all the things to do one the Snaefellsnes Peninsula. Snaefellsnes is one of my favorite regions in Iceland and it really has everything you might want to see…glaciers, lava fields, waterfalls, fishing villages, black and golden sand beaches, dramatic cliffs, impressive rock formations, you name it!
There is enough to do on the Snaefellsnes Peninsula to spend a few days, but since many people visit as a day trip from Reykjavik, I've put together a one-day Snaefellsnes Peninsula itinerary.
Getting to the Snaefellsnes Peninsula
Note: This post may contain affiliate links. If you click a link and make a purchase, I may receive a small commission. All opinions are my own.
I recently took a girls' trip to Iceland and we spent one day on the Snaefellsnes Peninsula and stayed overnight in the town of Stykkishólmur before heading north to the West Fjords. If you have already visited the south coast of Iceland like me, visiting West Iceland makes a perfect second or third trip to Iceland.
If you are driving to the Snaefellsnes Peninsula from Reykjavik, you may want to make a pit stop for restrooms and snacks at the N1 in Borgarnes. The roads around Snaefellsnes are in good condition (although watch for deep potholes in parking lots that can strand your car and destroy the undercarriage so a 4WD might be preferable.)
However, if you are visiting after August, I would highly recommend following my tips for Iceland in the winter and check the Safetravel.is app for road conditions and closures before you head out.
While it is easy to self-drive on the Snaefellsnes Peninsula, we decided to book a private tour with Hidden Iceland of the Snaefellsnes Peninsula and the West Fjords. It was great to tour these areas with a local and we got so much great info about volcanic activity, Icelandic folklore, and geology — plus we didn't need to worry about driving or finding our way around.
---
Receive 10% off scheduled group tours from Hidden Iceland with promo code We3TRAVEL.
---
Most Snaefellsnes day tours will travel counterclockwise, starting in Stykkishólmur. However, since we were staying there overnight and then heading north the following day, it made more sense for us to visit the southern side of the peninsula first and end in Stykkishólmur.
Map source: Google My Maps
This timing worked out well because it meant we got to Kirkjufell before sunset, which is a very popular time for photographers to gather to capture an iconic photo. Of course, it was pretty overcast when we were there so we weren't going to get amazing sunset pictures anyway.
Things to do on the Snaefellsnes Peninsula
If you follow this itinerary and take this route along road 54, the first "must-visit" stop is in Búdir. If you have more time, you can stop at the Bjarnarfoss waterfall or the Ytri Tunga beach, but to give yourself more time to enjoy the stops on this Snaefellnes itinerary, I would say to skip them if you are taking a day trip.
If you are spending a couple of days on the Snaefellsnes Peninsula, I would also recommend spending a night at Hotel Búdir and taking your time exploring the many trails and natural attractions nearby.
Budakirkja / Black Church
As difficult as the Icelandic language is to pronounce (can I tell you the number of times I jokingly referred to Snaefellsnes as Snuffaluffagus?), it gets easier to decode once you learn a few basics. For example:
Kirkja = church
Vik = bay
Foss = waterfall
Kull = glacier
Get it? That's why so many of the names sound alike. So Budakirkja is a church in Búdir. A pretty famous one too because of its black color. Many of the churches in Iceland are white with red roofs, but there are a few of these black churches scattered throughout the country.
While the church and the attached graveyard make for a pretty photo opportunity, the real surprise at this stop is the hiking trails that go down to the beach and across the dunes. You could spend hours here if you have the time, but be sure to at least leave yourself an hour to soak in the views.
Raudfeldsgja Gorge
Raudfeldsgja is not included in most tours of the Snaefellsnes peninsula, but it is well worth the stop if you are self-driving or taking a private tour. It is a narrow canyon in the cliff wall, which reminds me a lot of the Gljúfrabúi waterfall just down the path from Seljalandsfoss waterfall on the south coast.
It is a bit of an uphill climb from the parking lot to the gorge, but you will be rewarded with gorgeous views on the return hike. In the summer it is possible to go into this narrow ravine, but you will need to walk through a shallow stream so you should plan on wearing waterproof hiking boots.
Once inside, you can climb over some rocks to get to a small waterfall, but you will need really good hiking shoes and some waterproof gear. Gloves are also useful for gripping rocks. You can go as far as you feel comfortable before turning back. You will probably need at least an hour at this stop as well, depending on how far you want to climb.
Arnarstapi Cliffs
By this time, you will likely be getting hungry and there are a couple of food options at Arnarstapi. There is a fish and chips food truck, where you can eat outside (or in your car), or the Snjófell Restaurant at the Arnarstapi Center. We opted for the restaurant for a chance to sit and relax for a few minutes and also use their restrooms. The food was good and the atmosphere was lovely.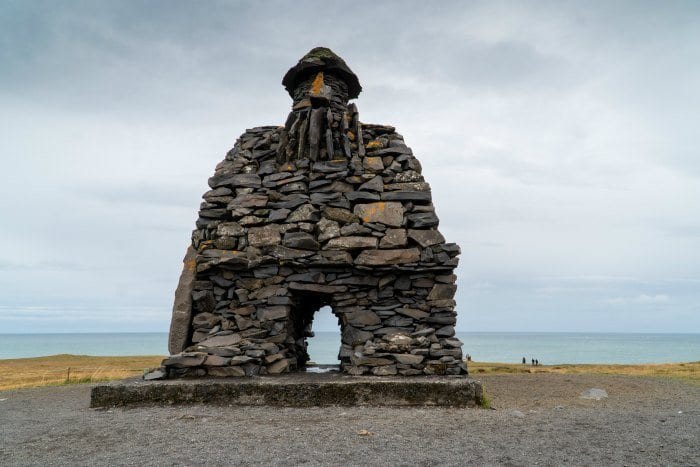 After lunch, it is nice to take a walk along the cliffs. You can follow the path out to the stone giant. It looks ancient but is relatively new, and put there in honor of a local man who was very tall. I would recommend heading left along the cliffs. Just be prepared to stop every few feet and marvel at the views.
There are interesting cave formations within the basalt cliffs and the view reminds me of the Cliffs of Moher in Ireland. As you walk around the cliffs to the left, you will also come to a land bridge. I would use caution walking across this if you choose, but it does make for a fun photo opportunity.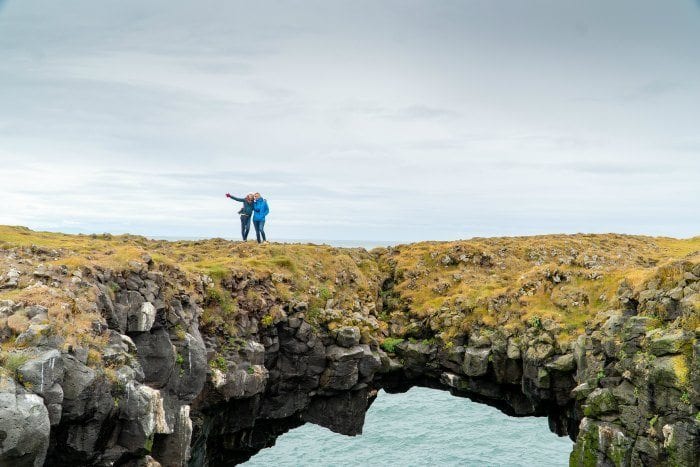 Keep in mind that in Iceland, things are not fenced off and you won't find any railings. You will want to look out for cliff edges, loose gravel, and rogue waves.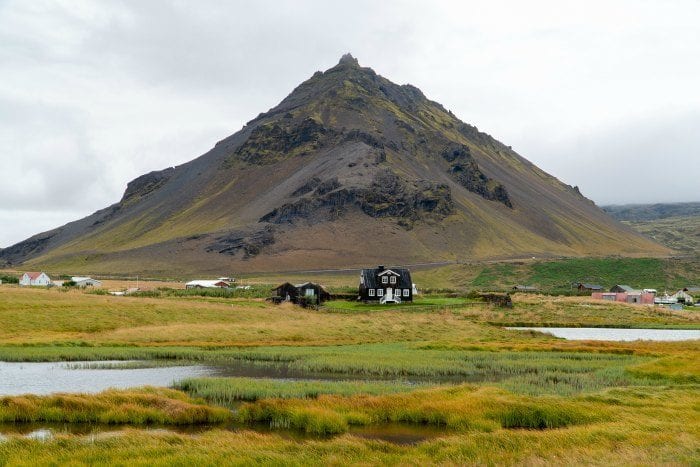 If you continue along, you will come to a cute harbor, which is a good spot to turn back. You can also walk in the other direction to Hellnar, or drive to Hellnar and walk along the cliffs there. But if you are short on time, they are similar experiences and you can just pick one.
If you do want to extend your time in Snafellsnes, you can also overnight in Hellnar at the Fosshotel Hellnar. Fosshotel is an Icelandic hotel chain that is very reliable and not overpriced.
Lóndranga
The next stop along the road will be Lóndranga, which is a volcanic plug that juts up from the coastline. You can also see where the lava has flowed into the see. The landscape is quite dramatic.
It can be a quick 30-minute stop if all you want to do is walk up to the overlook and take some photos. However, give yourselves at least an hour if you want to follow the path along the cliff. If you walk along the cliffs, avoid walking on the edge as it is subject to erosion and is fragile.
After Lóndranga, you could stop and take a tour of the Vatnshellir lava cave. However, if time is limited, there is a better cave experience closer to Reykjavik at The Lava Tunnel.
Djúpalónssandur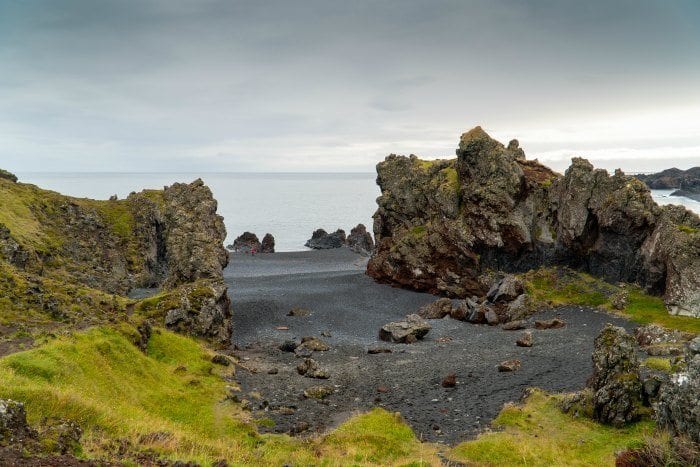 There are many black sand beaches all over Iceland, caused by the volcanic ash from over 130 volcanoes. One of the most famous is Reynisfjara, along the south coast. However, you can visit a black sand beach on the Snaefellsnes peninsula at Djúpalónssandur.
Just keep in mind that when you visit beaches in Iceland, there can be large rogue waves and a strong undertow that can sweep you out to see. Stay alert and don't get too close to the edge, especially with your back turned for a selfie. If you see a warning sign, it is there for good reason!
At Djúpalónssandur, there are many areas to explore but definitely follow the path down to the beach. Watch your step among the rusted remains of an old shipwreck. You will find this beach mostly made of volcanic pebbles. While they look grey, if you polish them enough to remove that layer of volcanic ash, they shine up a deep black.
You will want to allot for at least an hour at this stop, especially if you love photographing the black sand beach and rock formations!
Saxhóll Crater
Saxhóll is a volcanic crater left by a volcanic eruption 3,000 years ago. Be careful in the parking lot as it has its own craters and we saw one car stuck hanging as the undercarriage was caught on a rock and the tires were off the ground.
The crater rises 109 meters above sea level, so the climb up the stairs to look into the top is a bit steep. The stairs are also an odd shape, too wide to take two steps at a time but too short for a natural climb. The views from the top are neat, but if you are getting tired and not up to a climb, you could skip this stop. Personally, I found the crater at Grábrókargigum in West Iceland more interesting. If you do stop, it shouldn't take more than 30 minutes to explore.
Snaefellsjökull
Snaefellsjökull is the volcano with the glacier on top that dominates the landscape as you loop around the Snaefellsnes peninsula and the National Park. That is when it isn't obscured by clouds, which is it much of the time.
We never got a clear view on our trip, which was disappointing, as I was looking forward to seeing the place that so inspired Jules Verne that is where the characters in Journey to the Center of the Earth enter the earth's core.
It is possible to hike the volcano to the Snaefellsjökull Glacier on a guided tour, but that takes a full day.
Kirkjufell / Arrow Mountain & Kirkjufellsfoss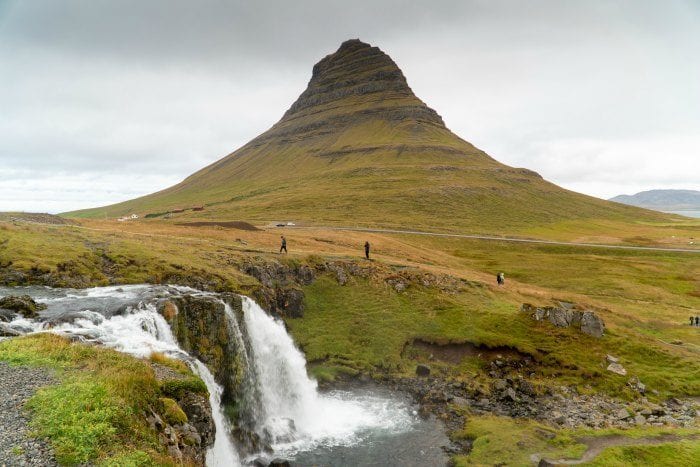 Kirkjufell, also called Arrow Mountain due to its shape, is that iconic image that people associate with Snaefellsnes and the most photographed mountain in Iceland. You will see photographers lining up with their tripods on the far side of the waterfall (Kirkufellsfoss) an hour or two before sunset to capture the image of the sun going down behind the mountain.
You can also see this mountain in Game of Thrones in Season 7, episode 6 where they head north of the wall, and in Season 6 where they show the creation of the White Walkers. This of course has made an already popular spot even more heavily visited.
After a long day, we wanted to continue on to Stykkishólmur and check into our Airbnb before the restaurants closed so we didn't wait around for sunset. Even without hanging out for sunset, you will likely want to spend at least 30 minutes here.
Pro tip: Keep in mind that the parking lot is very small and if you park on the street or in the field across the street, you will be ticketed. If you are going for sunset, I would get there very early to make sure you can get into the parking lot.
Stykkishólmur
I completely fell in love with the small town of Stykkishólmur. The colorful houses, charming harbor, great restaurants, and free town WiFi. It makes a great overnight stop or home base for exploring the Snaefellsnes peninsula.
Even if you are just stopping for dinner before heading back to Reykjavik, plan some time in Stykkishólmur. There are only a few restaurants in town so you will want to call ahead for reservations. I would highly recommend Sjávarpakkhúsid for dinner. This small seafood restaurant features the freshest catch and the mussels and seafood stew are worth every penny (and I don't even like mussels!)
If you stay overnight, Cafe Nú is a charming coffee shop that offers coffee, tea, pastries, and other breakfast items before you head out in the morning.
You can stay overnight in the Fosshotel Stykkishólmur, or do what we did and rent a flat. Our vacation rental had three bedrooms and a huge lounge and kitchen area — perfect for groups or families.
I really loved our time in Snaefellsnes with Ryan from Hidden Iceland. We learned so much about glaciers, volcanoes, and lava flows and the best part was not needing to navigate or drive — we could just sit back and enjoy (or nap!) If you are looking to do a day tour from Reykjavik, I highly recommend the experts at Hidden Iceland. As a reader, you can get 10% off a scheduled group tour from Hidden Iceland with promo code WE3TRAVEL.
Where to Stay in Snaefellsnes Peninsula
MORE ICELAND TRAVEL TIPS
PIN THIS FOR LATER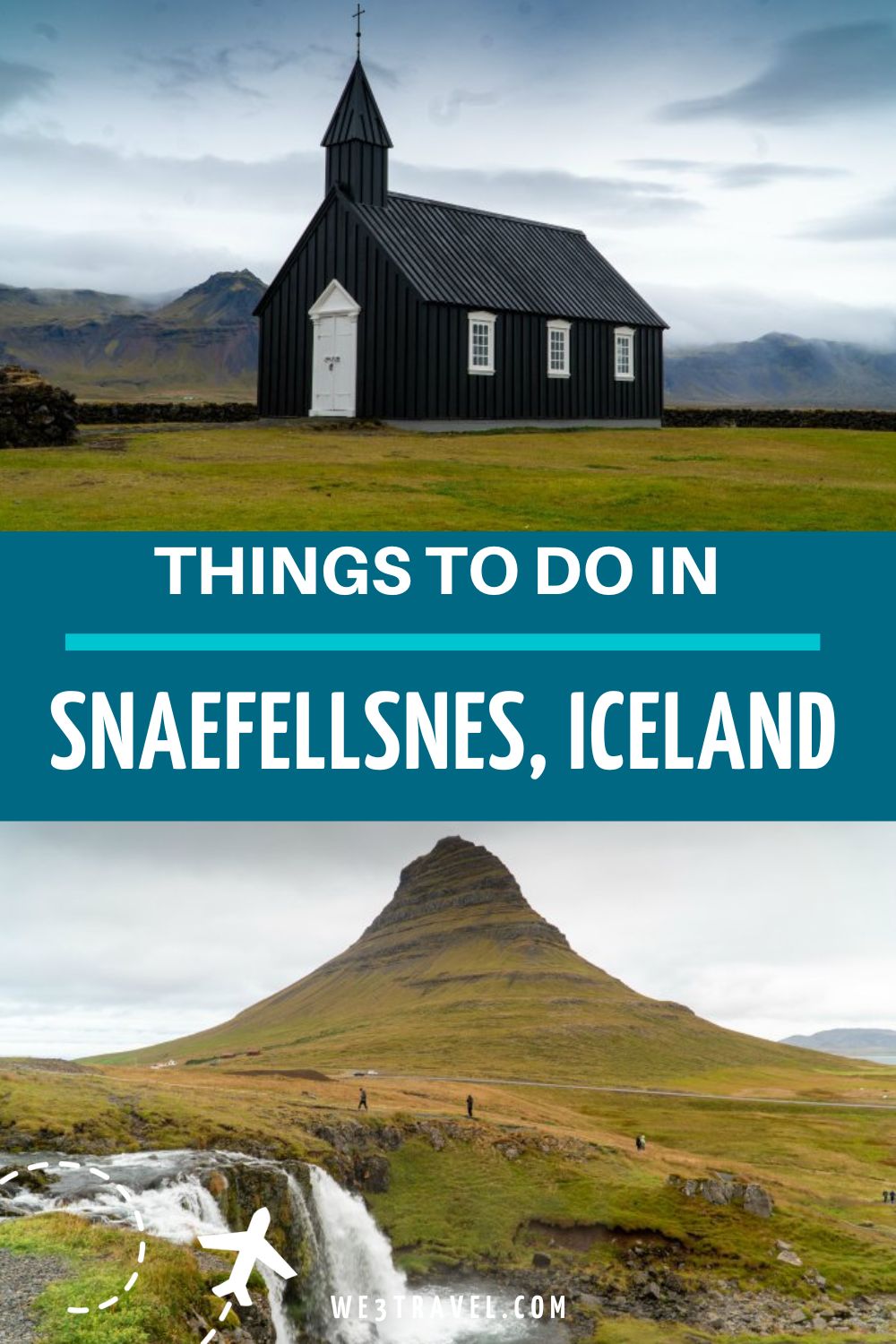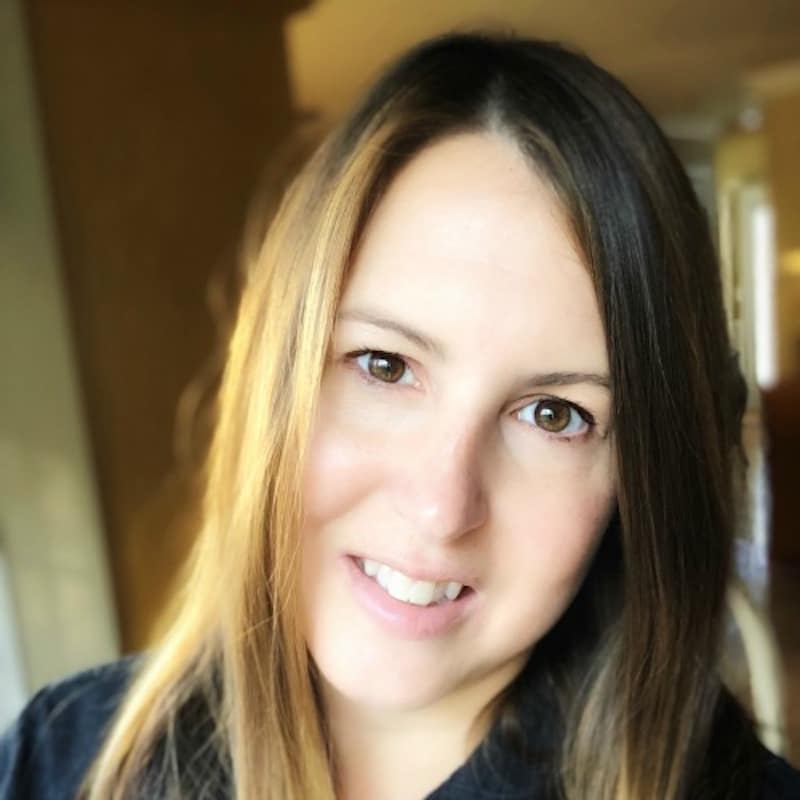 Tamara Gruber is the Founder and Publisher of We3Travel. A former marketing executive and travel advisor, Tamara is an award-winning travel writer and recognized expert in family travel. She is also the publisher of YourTimetoFly and the co-host of the Vacation Mavens travel podcast.