Picture a remote landscape of ancient mountains, the strata layers of volcanic creation visible to the naked eye. These mountains spread out like fingers of a hand, surrounded by water and sparsely dotted with red-roofed farmhouses. The rugged lands of Iceland's Westfjords are far enough away from the touristed Ring Road to provide an authentic and transformative experience for visitors, yet close enough to fit it in with just five days in Iceland.
While you find everything here that makes Iceland so magical — glaciers, cliffs, puffins, waterfalls, and hot springs — the Westfjords are far enough off the well-trod tourist path to make it an ideal destination for people returning to Iceland for their second or third trip. If it sounds intriguing but you don't know where to start planning, follow this Iceland Westfjords itinerary to organize your trip.
If you are taking a longer Iceland road trip around the entire Ring Road, you may only want to spend one day in the Westfjords. You can still fit in some of the highlights that I'll point out below, but I would encourage you to stay a few days.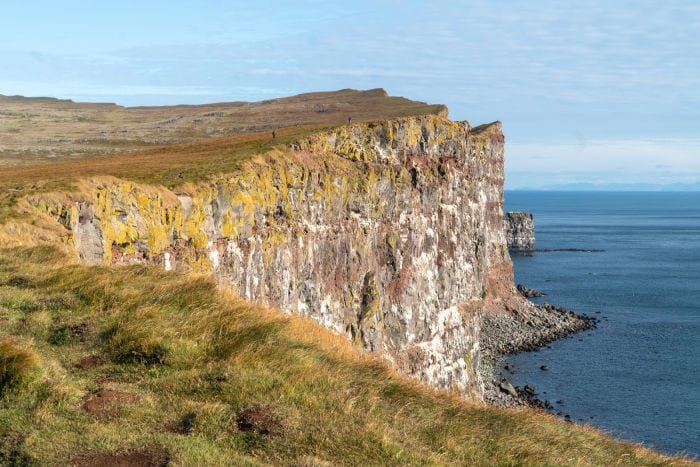 This post contains affiliate links. If you click a link and make a purchase, I may receive a small commission.
I recently spent four days in the Westfjords on my third trip to Iceland on a girls' trip. On this trip, instead of heading south or to the Golden Circle, like most first-time visitors, we headed west. We first spent a full day on the Snaefellsnes peninsula, before heading up to the Westfjords.
On this trip, instead of self-driving and exploring on our own, we paired up with Hidden Iceland to experience a private version of their four-day Westfjords tour. Hidden Iceland volunteered to show us around so that we could experience and review their tour, but we covered our own accommodations and meals.
We absolutely loved our time with Ryan from Hidden Iceland and I would highly recommend joining one of their tours when visiting the Westfjords — for reasons that I will detail later. If you want to book one of their scheduled group tours, you can receive 10% off using my referral code of WE3TRAVEL.
Getting to the Westfjords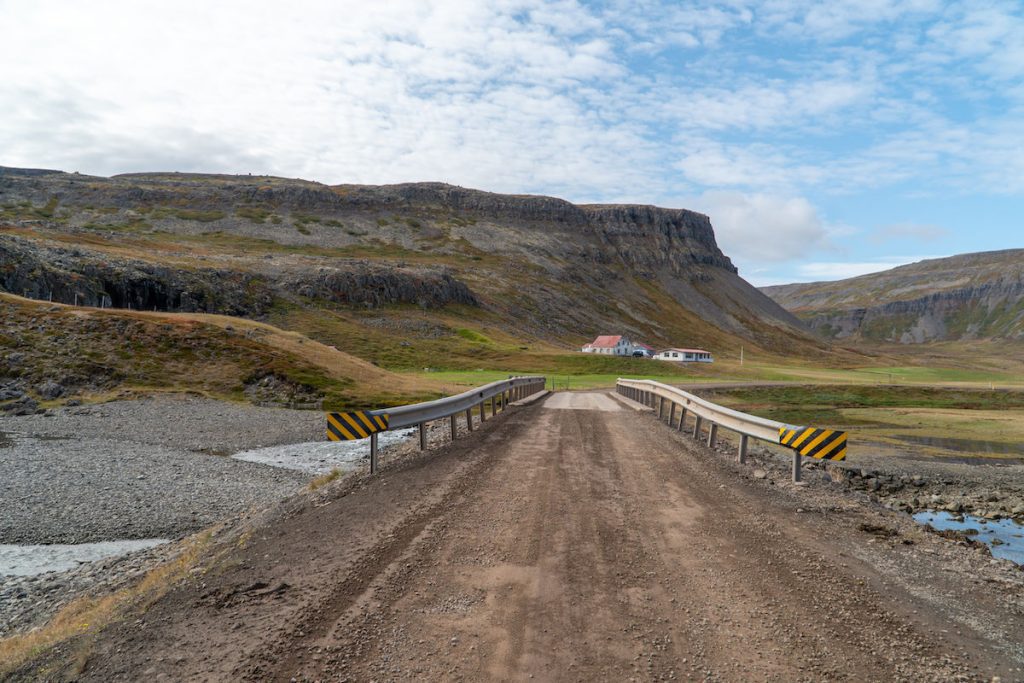 Your drive from Reykjavik to the sparsely populated Westfjords of Iceland will take about four to five hours, depending on where you start your exploration of the Fjords. Another option would be to spend a night in West Iceland or in Stykkisholmur on the Snaefellsnes Peninsula.
From Stykkisholmur, you can also take a car ferry to the Westfjords. However, it takes about the same length of time as driving so if you suffer from motion sickness, you may just want to drive it.
Since we stayed in Stykkisholmur, we drove from there to our first stop in Heydalur in the northern fjords on our first day on Route 54 and 60.
Here is a map of the route I would recommend for this Westfjords itinerary.
Map source: Google My Maps
Where to stay in the Westfjords
While there are fewer hotels in the Westfjords, they also aren't as crowded or expensive, making a trip to the Westfjords ideal for someone wanting to experience Iceland on a tighter budget. We loved our accommodations at the following places:
Iceland Westfjords Itinerary
Here is the day-by-day breakdown of our Iceland Westfjords itinerary for you to follow:
Westfjords Day 1
Erpsstadir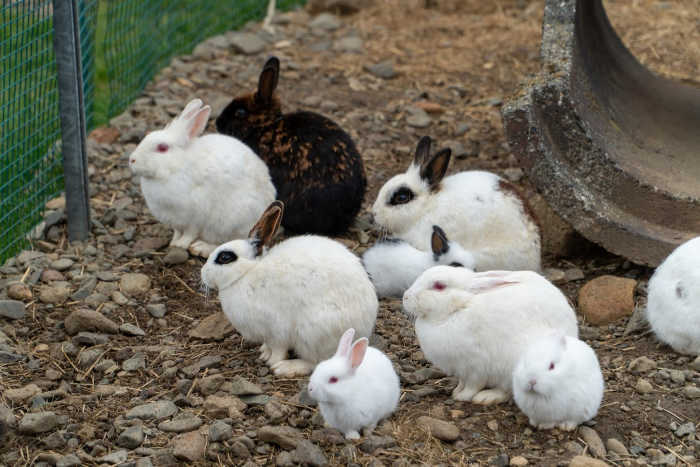 On our way to the Westfjords from Stykissholmur, our first stop of the day was at Erpsstadir, a dairy farm offering homemade ice cream, Skyr, cheeses, and other products. This family-run business is a great pit stop along your drive, offering access to a playground and farm animals (for a fee), bathrooms, and delicious dairy products.
If you get a chance to take a farm tour — do it! The dairy is fascinating and the baby cows — just too cute. Double check on their open hours and if you are visiting outside of the summer, be sure to call ahead to make an appointment.
Eiriksstadir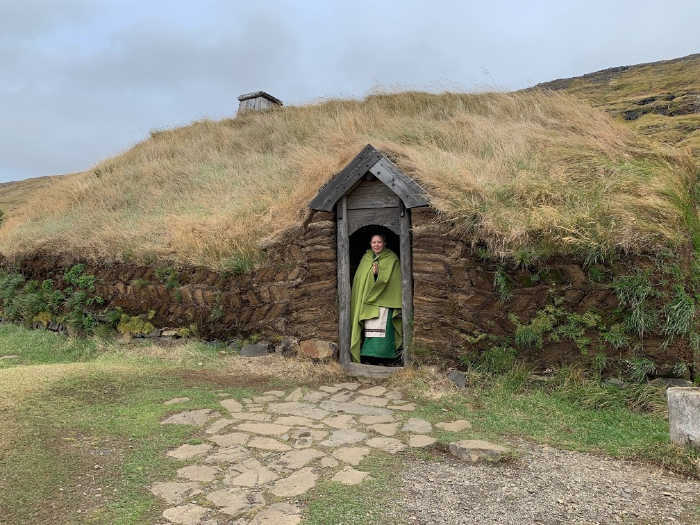 Just a bit further down the road, you can visit a recreation of a Viking longhouse and learn about Iceland's Viking roots at Eiriksstadir. This homestead of Erik the Red and Leif the Lucky offers tours by guides in traditional Viking clothing.
It pays to join an organized tour to learn the fascinating history — and maybe even meet a true Viking descendent. While so much of a visit to Iceland is about the landscape, don't miss out on this chance to learn a little about the history and culture too.
Budardalur
After leaving Eiriksstadir, we stopped for lunch in the small town of Budardalur. Remember, in these parts of Iceland towns are few and far between. You need to use the opportunity to use the washroom, grab some food, and fill up on gas when you have it.
We had a tasty lunch in Veidistadurinn, a restaurant right off the main road. They specialize in fish and the fish and chips were quite tasty!
Hotel Heydalur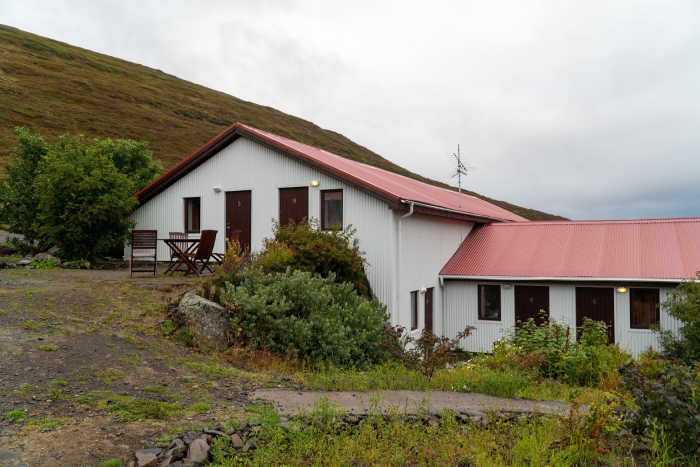 As you make your way north on Route 61, you will begin to notice the changing landscape. The mountains will get taller and more rugged. You are entering the oldest part of Iceland, as these mountains are 15 million years old.
You will begin to wind your way along the fingers of the Fjords and be tempted to stop at every unmarked waterfall and charming farmhouse to take pictures. Just remember that you have a lot of driving ahead!
We spent the night at the Country Hotel Heydalur, which offers affordable single, double, and even triple rooms. This charming guesthouse is quintessential Icelandic — simple Scandinavian decor, charming hosts, and home-cooked food in a rustic setting.
There is a natural hot spring across the river, an indoor swimming pool and greenhouse and on-site self-catering cabins to rent. This traditional Icelandic horse farm also offers horseback riding, hiking, fishing, and sea kayaking tours. It was a lovely stay and the convenience of the on-site dining and included breakfast made it an ideal stop on our journey.
Westfjords Day 2
Arctic Fox Centre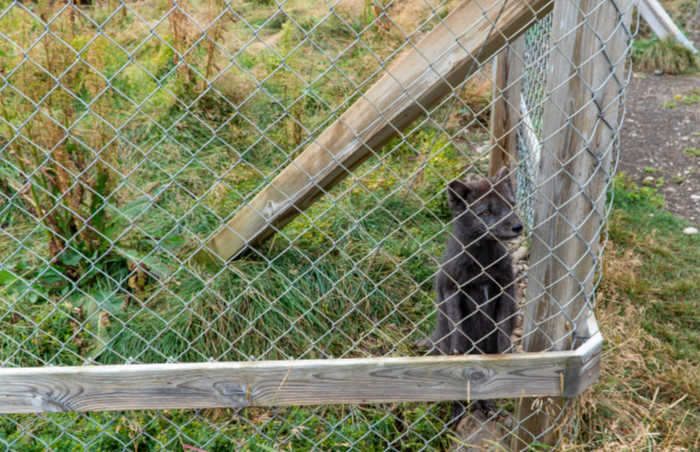 Our first stop on our second day in the Westfjords was at the Arctic Fox Centre in Sudavík. This is a rescue and educational center for rehabilitating wild arctic foxes. There are 6,000-8,000 wild arctic foxes in Iceland, which is the fifth largest population in the world behind Siberia and Canada.
The arctic fox is the only native land mammal to Iceland, everything else has been brought over by the Celts, Vikings, or later settlers. The information inside is fairly fascinating, but the real treat is getting to meet the rescue foxes outside.
Since rescues are generally released back into the wild, you never know what will be there during a visit. We got lucky to see a baby fox, which was just about the cutest thing ever. Our tour guide even gave me a chance to feed it some small dried fish pellets.
Ísafjordur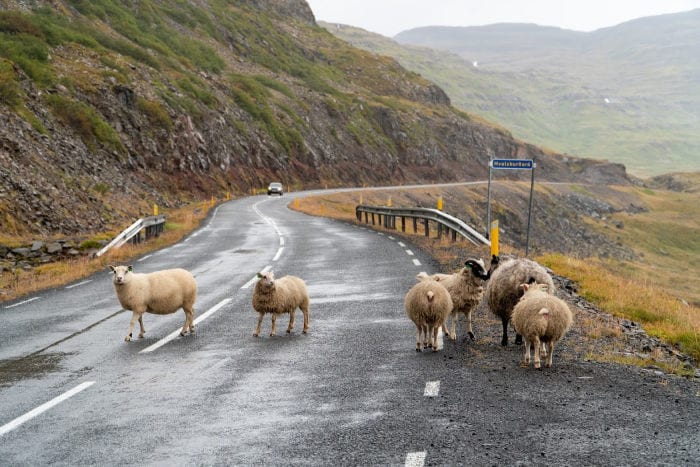 Our next stop was in the town of Ísafjordur, the unofficial capital of the Westfjords. You could certainly make this your home base for a couple of days of exploring as there are plenty of accommodation and restaurant options.
We had the best meal of the trip (and that is saying a lot!) at Tjöruhúsid in Ísafjordur. This inconspicuous restaurant in the fishing village offers the freshest and tastiest fish dishes — on par with anything you can find in a major city — with a barn-like, cozy but rustic interior. The meals are served buffet style, but with a continuous flow of different pans of sautéed and baked fish fresh off the stove.
Vigur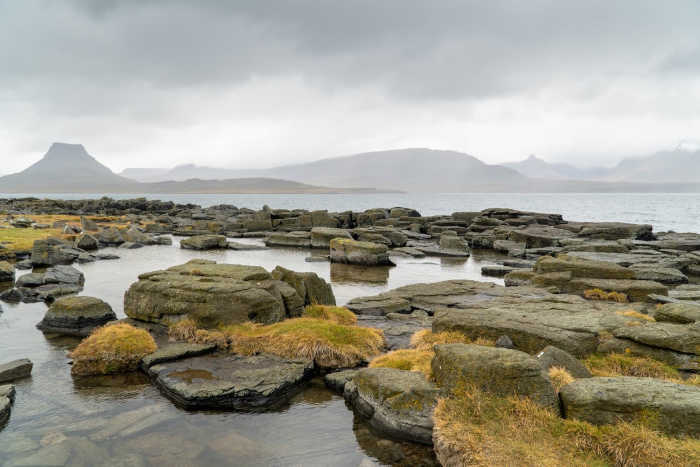 After lunch, we hopped aboard a boat with West Tours for a trip out to Vigur, also known as Paradise Island or Puffin Island, a remote island in the fjord that is home to over 80,000 puffins in the summer. Unfortunately during our visit the last week of August they had already departed for the season.
Only two people live on this island year-round and they make a living harvesting the down from Eider ducks. Don't worry, they don't hurt the ducks, they pluck the feathers out of the nests. This laborious task explains the high price tag associated with eiderdown duvets.
After a walking tour around the island, we popped into the cafe for coffee, tea, and a selection of homemade desserts — which were delicious! Just don't overdo it because the boat ride can be a bit choppy.
Kirkjuból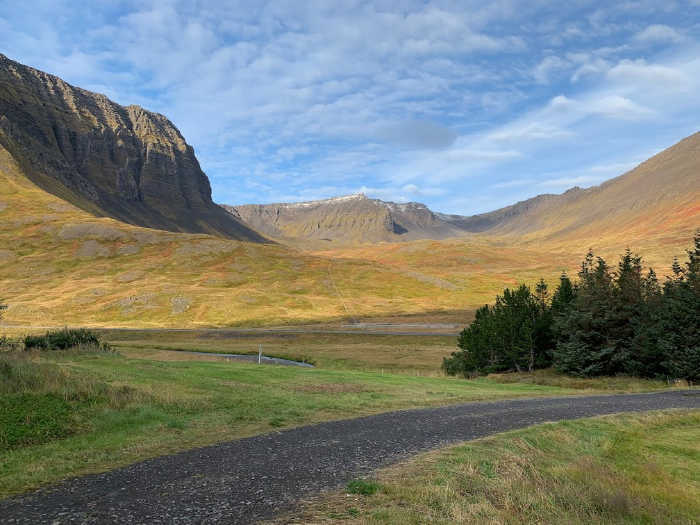 After a quick stop in Flateyri, because how could we resist checking out the oldest store in Iceland, which just happens to be a book store, with continued on to our accommodations for the night at Kirkjuból Guest House.
We had an unusual family-style dinner at Kaffi Sol nearby, although you could easily stay and have dinner in Isafjordur. And even though there are hotels in Isafjordur, we found the Kirkjuból Guest House quite charming and affordable, with beautiful views of the surrounding mountains.
Westfjords Day 3
If you only have one day in the Westfjords, this is probably where you want to spend it as these are the sights with the biggest wow factor and the most famous of the places to go in the Westfjords.
Dynjandi Waterfall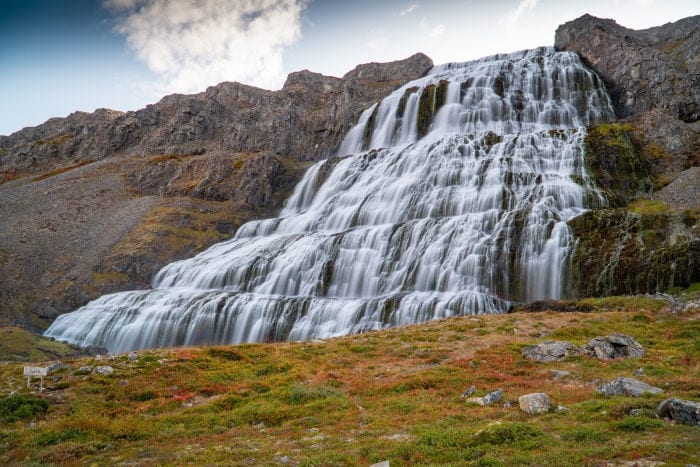 We really lucked out on our third day in the Westfjords with sunny skies. This was a big day and if we could have spent 5 days in the Westfjords, I would have split this into two separate days to reduce the amount of driving.
Our first stop was at the 100-meter-tall Dynjandi waterfall, one of Iceland's tallest waterfalls. You really need to give yourselves at least an hour here to climb to the top and take photos of the bridal veil falls and lower falls from multiple angles.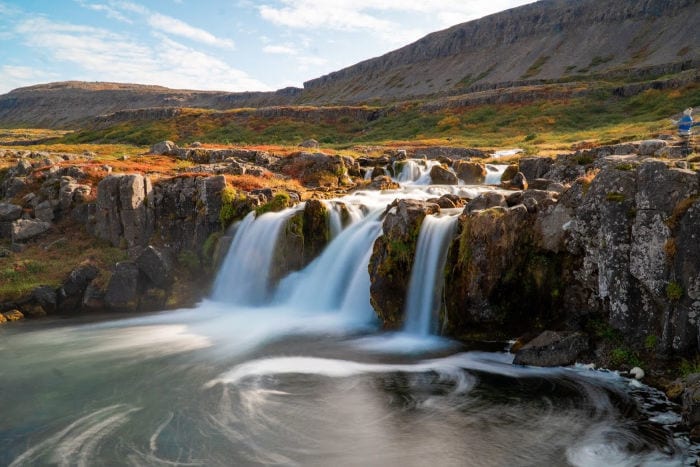 Just don't forget to turn around and take in the view of the fjord below. The reflections off the water can be quite stunning and during our trip in late August, the autumn colors were already draped across the fields.
Patreksfjordur
After visiting Dynjandi, and making countless photo stops, we made our way to Patreksfjordur, which is where we were planning to stay the night at the lovely and modern Hotel West. We had views overlooking the fjord that were quite beautiful.
Stúkuhúsid in Patreksfjordur made a great stop for lunch with delicious salads, sandwiches, and dessert. While Patreksfjordur was lovely, we had more to see that day before returning for a delicious dinner at the Fosshotel West Fjords.
Látrabjarg Cliffs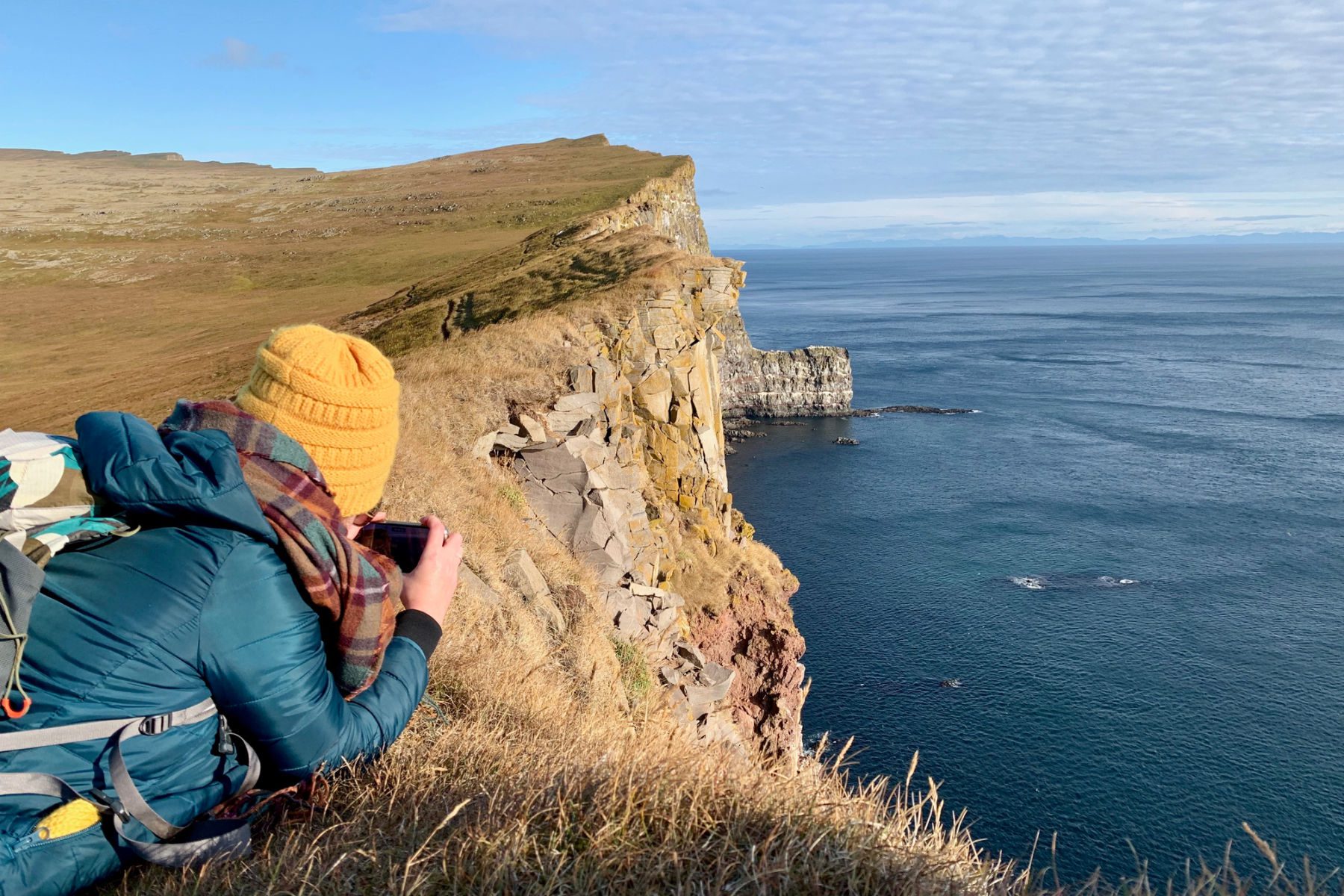 After lunch, we embarked on the long drive over primarily gravel roads to another one of the Westfjords' most famous attractions, the Látrabjarg Cliffs, the westernmost point in Iceland. Our first stop was the Gardar BA 64 shipwreck, an old whaling ship that was beached in 1981 and today is a popular photo opp.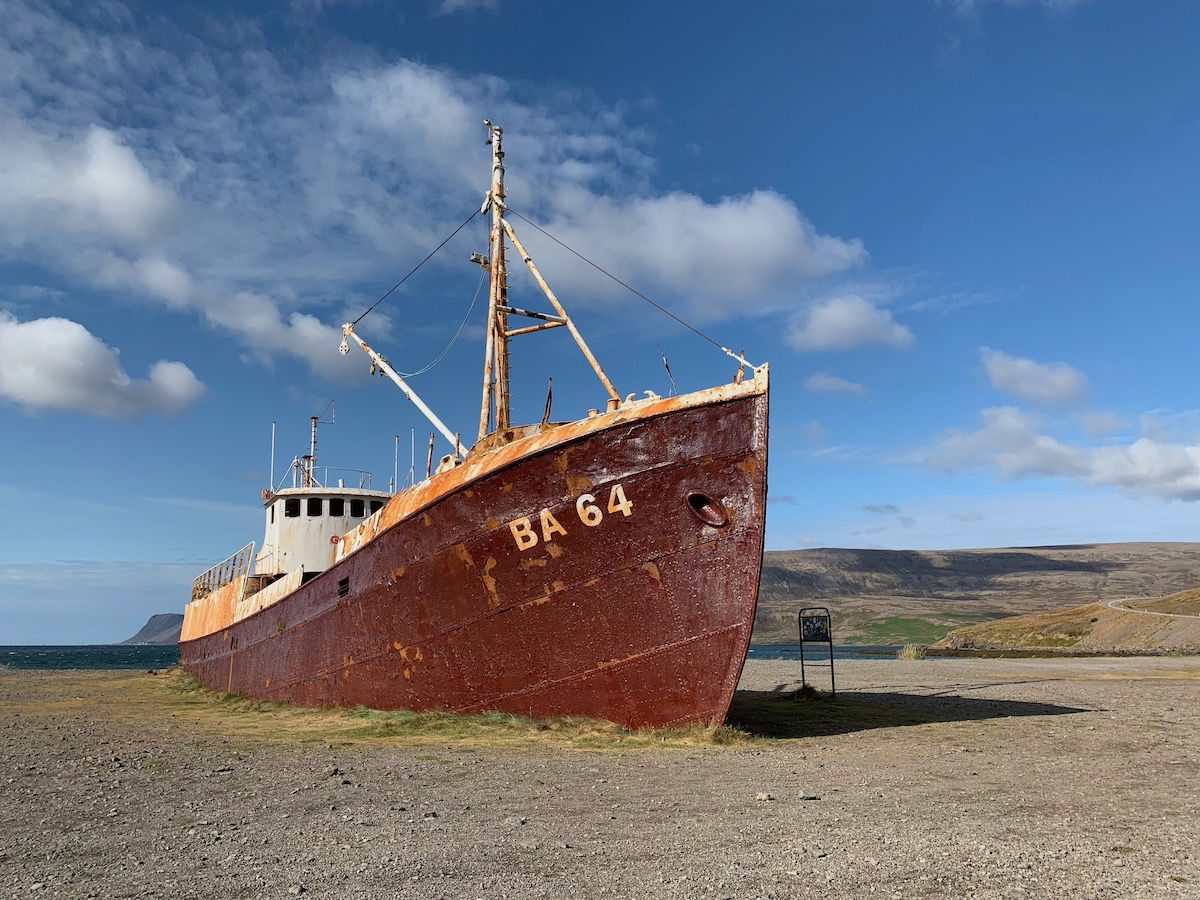 We considered stopping at Raudisandur, a red-sand beach along the coast, but all the driving was getting to us and we decided to skip it. Just the glimpses of the beaches along this southern fjord were pretty spectacular though, with wide, flat sand stretching out to the ocean. If we had split this day into two, I would have enjoyed a nice, long walk on one of those beaches — whether it was red or yellow sand.
I'm glad that we didn't cut our time short at the Látrabjarg Cliffs because we could have walked endlessly along those towering cliffs. These cliffs are home to thousands of puffins in the summer, but they left for their winter in the Atlantic Ocean when we arrived on the last day of August.
Like the Cliffs of Moher in Ireland, but taller, these cliffs tower up to 400 meters with a sheer drop to the ocean below. As with most natural attractions in Iceland, you won't find any guardrails along the fragile cliff edge so stick to the path and take care, especially when it is windy. It certainly feels like a strong gust would blow you right off.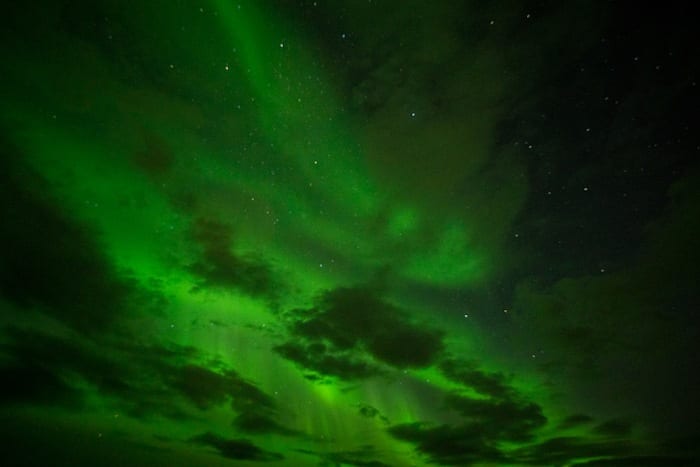 It truly turned out to be a perfect weather day because not only did the sun shine on us for most of the day, but the conditions for the aurora borealis were prime. That evening we kept an eye on the aurora forecast and headed out with our cameras and tripods to see if we could spot the Northern Lights. We certainly got lucky with a beautiful display — truly a bucket list experience!
West Fjords Day 4
Grábrók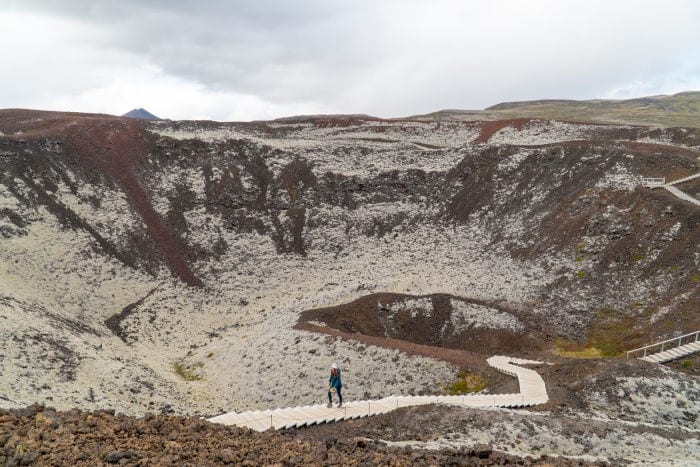 Our final day in the West Fjords was really all about the drive back to Reykjavik. If you were continuing on to Northern Iceland or spending some time in West Iceland, you could certainly add in more stops in the Westfjords. However, just the drive up and over the mountains and along the fjord was just stunning and the perfect capstone to our time in Iceland.
Once we reconnected with the Ring Road, we stopped at the Grábrók Crater. You can climb along the rims of three volcanic craters and take a look at the remnant of Viking settlements.
Glanni Waterfall
The final stop on our journey was at the Glanni Waterfall, just past Grabrok near the town of Bifrost. Seriously, who wouldn't want to stop at a place called Bifrost?! It makes me want to attend the University there.
Glanni is set in the Nordura River, which is a salmon fishing river. You park near a golf course and then it is a short walk to the overlook of the falls.
From Glanni, it is another 1.5 hour drive back to Reykjavik (see my post on where to stay in Reykjavik.)
Tips for Visiting the Westfjords
I LOVED my time in the Westfjords and I'm so glad I got to experience this remote part of the country. However, there are definitely a few things that you need to be aware of before you book a trip.
Due to the nature of the geography, there is a LOT of driving involved in a visit to the Westfjords that you need to be prepared for.
Many of the roads in the Westfjords are gravel, with varying degrees of maintenance and road conditions. Some of these roads cling to the cliff's edge.
We visited the Westfjords in early September and this Iceland Westfjords itinerary is best for a summer visit from May-early October. Many of these roads are closed entirely for stretches of time in the winter. I would NOT recommend trying to visit the Westfjords in the winter. Plan to visit between June-August for the best conditions.
Give yourself at least four days to enjoy the Westfjords. Don't try to squeeze it in during a 7 or 10-day Ring Road trip. Either make a separate trip for the Westfjords, combine it with West Iceland, or plan to spend 2-3 weeks exploring the entire country.
I recommend booking a tour versus self-driving if this makes you at all uncomfortable. It was so enjoyable to let someone else take control of the driving! Remember, you can get 10% off a group, scheduled tour with Hidden Iceland with promo code WE3TRAVEL.
Bring Dramamine or ginger candy/drinks/tablets if you get motion sick as the winding roads are bound to trigger it.
Get gas, use the toilet, and get food when you have a chance — you never know when the next opportunity may arise.
Keep in mind that accommodations are more affordable in the Westfjords than in other parts of the country, but they are also limited so reservations are highly recommended.
Frequently Asked Questions
Are the Westfjords in Iceland worth visiting?
100 percent! The Iceland Westfjords is one of my favorite regions. First, because it is more remote and not as well-known or serviced by large tour companies, the Westfjords is not crowded at all. It is easy to enjoy the natural wonders of this region with hardly anyone else around. Second, because there isn't the same demand, hotels and guesthouses in the Westfjords are much more reasonably priced. And finally, this area is just stunning. It is the oldest region in Iceland and its rugged beauty is unlike what you see in other parts of the country.
Do you need a 4×4 for the Westfjords in Iceland?
I would highly recommend renting a 4WD vehicle with a high clearance for your trip to the Westfjords. We traveled in a station wagon, but many of the roads are gravel and some are quite pitted with large potholes. An SUV or 4×4 would make for an easier drive.
Can you drive the Westfjords of Iceland?
Absolutely, but I would recommend having a GPS and not relying entirely on cell service and Google Maps. You want to make sure you also bring along a paper map or have clear directions to each of your destinations. However, I loved taking a private tour of the Westfjords with Hidden Iceland and letting them handle the driving and navigation.
MORE ICELAND TRAVEL TIPS
PIN THIS FOR LATER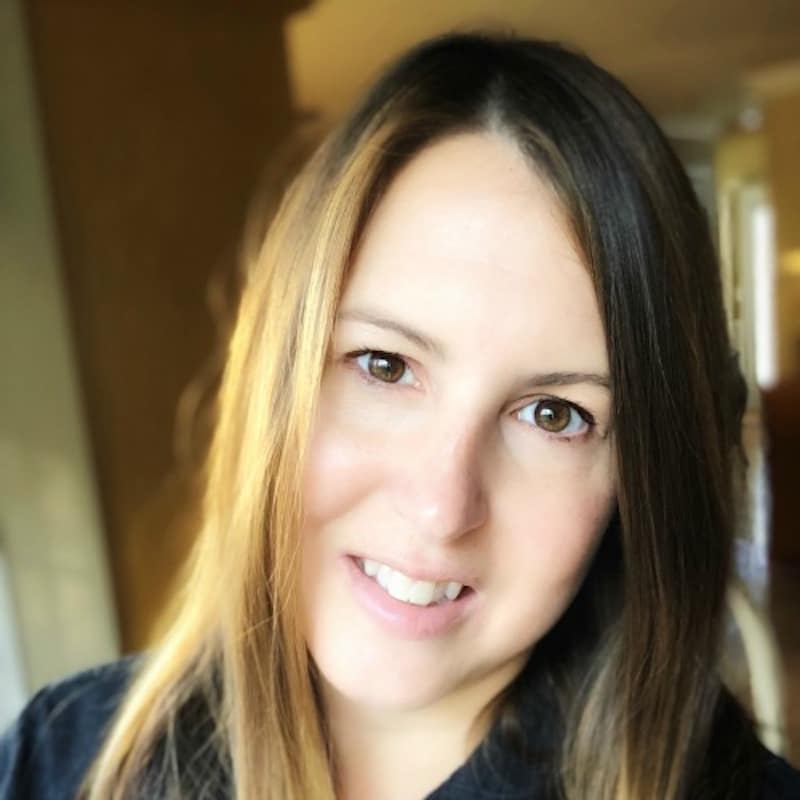 Tamara Gruber is the Founder and Publisher of We3Travel. A former marketing executive and travel advisor, Tamara is an award-winning travel writer and recognized expert in family travel. She is also the publisher of YourTimetoFly and the co-host of the Vacation Mavens travel podcast.