Everyone visiting Iceland sees part of the Reykjanes (pronounced Reyk-ee-ness) Peninsula, as this is where the Keflavík International Airport is located. You will also find Iceland's most popular tourist attraction on the Reykjanes Peninsula – the Blue Lagoon. Yet there is so much more to see that most visitors miss. Don't make that mistake! It is very easy to include a day trip or tour of the Reykjanes Peninsula on your trip to Iceland.
Reykjanes means "steamy" and this volcanic area on the southwesternmost tip of Iceland features geothermal fields, ancient craters, and fissures. The Reykjanes UNESCO Global Geopark covers the Reykjanes Peninsula, where the Mid-Atlantic Ridge rises above sea level and you can see the boundary between the tectonic plates. Its barren landscape has been compared to the moon and was used as a military base for the U.S. until recently.
On the Reykjanes Peninsula you will be able to take in the view from the top of a lighthouse, visit beaches, walk across the bridge between two continents, and see powerful steam vents and geothermal hot pots. And, if you prefer manmade attractions, of course there is the famous Blue Lagoon, as well as the Viking Museum, and the Museum of Rock and Roll.
Getting to the Reykjanes Peninsula
It is easy to add a day trip to the Reykjanes Peninsula to a visit to Reykjavik or the South Coast of Iceland. Since you can see most of the sites in just three-to-four hours, it makes sense to visit the Reykjanes Peninsula when you are arriving or departing Iceland. Most arriving flights land early in the morning and you need to kill time anyway before checking into your hotel or Airbnb and most departing flights leave in the late afternoon so you can fit in a visit and finish at the airport.
If you are renting a car at the airport for your visit to Iceland, it is easy enough to explore the Reykjanes Peninsula. However, if you are basing yourself out of Reykjavik without a car, you will need to sign up for a tour. These can vary from the big bus tours, which often include a drop-off and transfer from the Blue Lagoon, or a private tour.
I've done a bit of both. The first time I visited the Reykjanes Peninsula it was part of a small group tour that included sites in Reykjavik and a drop-off at the airport. However, because of others' earlier drop-off times at KEF airport, I didn't get to see everything. So when I returned to Iceland to explore Snaefellsnes and the West Fjords, I decided I wanted to see what I missed in Reykjanes as well. Plus it was nice to visit this area when it wasn't snow-covered this time around!
This time I hired Icelandic Taxi & Tours for a private three-to-four hour tour of the Reykjanes Peninsula. I had stayed overnight in Reykjavik on my last night and needed to arrange for a FlyBus or transfer to the airport anyway so I filled my downtime with seeing a little bit more of Iceland before flying home.
My driver Siggi from Icelandic Taxi & Tours picked me up at my Airbnb in Reykjavik by noon and dropped me off at the airport a little after 3pm – in plenty of time for my flight home. I would recommend them if you aren't self-driving and don't enjoy group tours.
Want local tips and personalized advice for your trip to Iceland? Connect with Óli from Go Ask A Local! Oli is an Icelander and 30+ year veteran guide who specializes in helping travelers get off the beaten path and see his country's hidden places. He's available for trip planning consultations done over Zoom.
Things to do on the Reykjanes Peninsula
Blue Lagoon
I've spelled out all my reasons why I didn't love the Blue Lagoon, but I understand that for many a trip to Iceland isn't complete without a dip in the famous milky blue waters of the Blue Lagoon. Just be prepared for crowds, a hefty price tag, and a commercial environment.
You can visit the Blue Lagoon and explore the Reykjanes Peninsula all in one day, since I would usually recommend budgeting two-to-three hours at the Blue Lagoon. However, it may make sense to split them up. For example, visit the Blue Lagoon when you arrive in Iceland and you are tired and jet lagged to kill time before you can check into your accommodations. Then, explore the rest of the Reykjanes Peninsula before flying out on your departure day.
Seltun Geothermal Area and Kleifarvatn Lake
If you are visiting the Blue Lagoon geothermal spa first, you can swing by the Seltun geothermal area and Lake Kleifarvatn afterwards. However, if you are splitting your visit to the Reykjanes Peninsula over two days, make Seltun your first stop.
The lake is one of the deepest in Iceland and the largest on the Reykjanes peninsula. It is a beautiful spot to photograph because of the volcanic landscape and lava fields surrounding the lake. There is even a belief that a "Loch Ness Monster-like" giant worm and a medium-sized whale lives in the lake.
Just down the street you will find the Seltún Geothermal area. This area featuring mud pots and hot springs are easily accessible from the parking lot along a boardwalk. When I visited in the winter this area was snow-covered and I didn't get to see the beautiful colors underneath that line this geothermal area.
Grindavík
Grindavík is a cute fishing town near the Blue Lagoon. In this small town you can find hiking trails, swimming facilities, and even one of Iceland's best golf courses.
This is also a good stop for lunch. In Grindavík fishing village you will find several good restaurants, such as Salthúsið Restaurant, Bryggjan restaurant (great lobster soup), or Papas restaurant (try the lobster pizza!)
While in Grindavík, also stop by the Brimketill naturally carved pool in the lava on the shore edge west of town. You can take a small set of stairs from the parking lot down to a viewing platform. Just beware that waves can almost reach the parking lot so the stairs can get slippery and you can get soaked.
Gunnuhver / Gudrun's Geysir
This geothermal area features bubbling mud pools and steaming fissures. The largest feature is the Gunnuhver mud pot. Legend has it that this was named for a ghost who attacked people and shook the houses, which a local reverend was able to get rid of by forcing her into the mud pot.
When I visited a few years ago, this area was active but not nearly to the extent that it is today. Today, Gunnuhver shoots high into the air and the spray blows across the viewing platform, so take care with your camera and wear a raincoat. If you visit in the winter, also watch out for ice on the boardwalks because of the spray.
There are two different parking lots and walking paths to access Gunnuhver. Expect to spend around 15 minutes taking in this area. From there, you can choose to walk over to the Reykjanes Lighthouse.
Reykjanes Lighthouse / Reykjanesviti
The first lighthouse built in Iceland was erected here in 1778. However, it collapsed a few years later due to earthquakes. The present lighthouse was constructed in the early 1900s and stands approximately 69 meters above sea level and is 26 meters high. You can't climb this lighthouse, but you can walk up the hill to the lighthouse and enjoy the view from there.
Valahnúkamöl / Eldey
A short drive past the Reykjanes Lighthouse will bring you to the Valahnúkamöl. This mountain was formed from a volcanic eruption. This rugged, yet scenic spot is also a good chance to learn about the dividing line between the two continents and how it travels from the sea and cuts through Iceland.
If you have time, you can climb the cliffs, but it is worth at least taking a walk along this coastline. The jagged rocks jutting from the water give evidence to the area's turbulent formation.
In the distance, you can see Edley Island. This 77 meter-high rock protrudes out of the sea about 15 kilometers south of the Peninsula. You will need a good lens or binoculars to see it clearly, but today the island is home to the largest Gannet colonies in the world.
The Great Auk, a now extinct bird species, had also made its home on a skerry near Eldey. The skerry sank into the sea following volcanic activity in 1830 and the last Great Auk was killed in 1844 for a Danish natural history collector – which is more than ironic. Today you can see a sculpture of a Great Auk from artist Todd McGrain from his "Lost Bird Project" on the shore below Valahnúkur.
Bridge Between Two Continents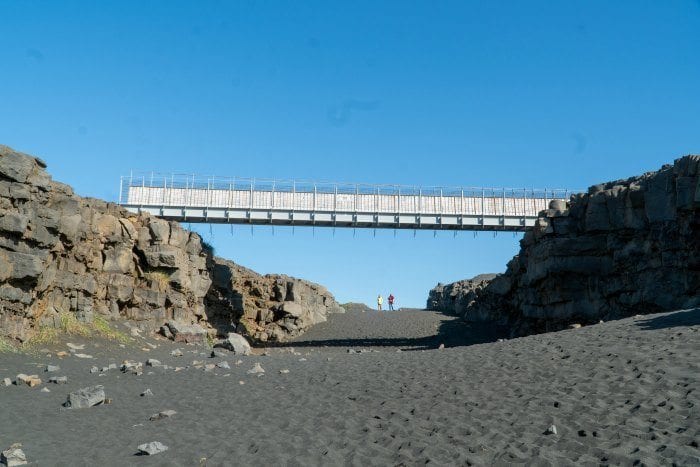 The Eurasian and North American plates are moving apart at about a rate of two centimeters per year. On the Reykjanes Peninsula, you can walk across the "Leif the Lucky" bridge, named after Icelandic explorer Leif Erikson. This Bridge between the Continents connects these two plates.
Here you can cross the 60-foot long bridge or walk through the sandy soil of the Alfagja rift valley between two continents. It isn't a lot to look at but the concept of standing between continents is intriguing, hence why people also like to snorkel or dive between the continents in Thingvellir National Park.
Hvalsneskirkja Sandgerdi
Sandgerði is a fishing community on the northern tip of the peninsula. You will find many holiday houses and a pretty stretch of coastline. If you enjoy checking out some of Iceland's scenic churches, then be sure to make a stop at Hvalsneskirkja (FYI – kirkja means church in Icelandic.) This black stone church was built in 1885-1887.
Today you can visit the church and well-maintained cemetery, but the church may or may not be open to visitors without an appointment.
Gardur / Gardskagi
Gardur, which means garden or yard, was named after the earthen walls that once indicated boundaries between local properties. Today it is perhaps most well-known for being the home town of the lead singer for Of Monsters and Men.
You can also visit the Gardur Peninsula Historical Museum and see the Gardskagi Lighthouse. The Gardskagi Lighthouse was built in 1944 and is the tallest lighthouse in Iceland. You can purchase a ticket in the heritage and maritime museum next door and climb to the top to take in the view from the balcony. It is also home to two shows about the Northern Lights and Icelandic Whales.
You can also visit the Old Gardskagi Lighthouse, which is now home to a cute café and coffee shop. If you make a purchase, you can climb up the ladders to the top of this lighthouse as well and get a nice perspective of the coast and the taller lighthouse.
Icelandic Museum of Rock and Roll
If you have a little more time on the Reykjanes Peninsula before catching a plane or heading back to Reykjavik, check out the Icelandic Museum of Rock and Roll in Keflavik near the airport.
The museum was opened in April 2014 to cover the story of rock and pop music in Iceland from 1930 to the present. Guests receive a tablet and headphones to learn and hear more about each of the artists, including Sigtryggur Baldursson (the drummer of Sucarcubes), Björk, Sigur Rós, Of Monsters and Men, and Hljómar. The museum also has a sound lab where visitors can try out an electric drum kit, guitar and bass guitars and keyboards.
Viking World Museum
If Icelandic music isn't your jam, maybe Vikings are. Families especially will enjoy the Viking World Museum. Here you will find a full-size replica Viking ship (that actually sailed to America) and exhibits about Nordic mythology. Kids especially will enjoy dressing up as a Viking and looking at the animals outside.
Map of Reykjanes Peninsula and Points of Interest
Map source: Google My Maps
PIN THIS FOR LATER