Food is an important part of how we travel. We are more than willing to splurge on local specialties (both in calories and budget.) However, when we went to Iceland for the first time, everyone told us not to expect much from the food. But, that doesn't mean that there isn't good food to be had, especially in the capital city of Reykjavik and the smaller fishing villages where you will get the freshest catch.
However, one bit of advice rang true — and that is that food is expensive in Iceland (see my post on how much a trip to Iceland costs.) So while foodie experiences are there to be found, you will pay a pretty penny for it. You need to find ways to balance out those special splurges with some budget meals as well. After three visits and feedback from friends who have visited, I've come up with a go-to list of where to eat in Reykjavik.
Must Try Foods in Iceland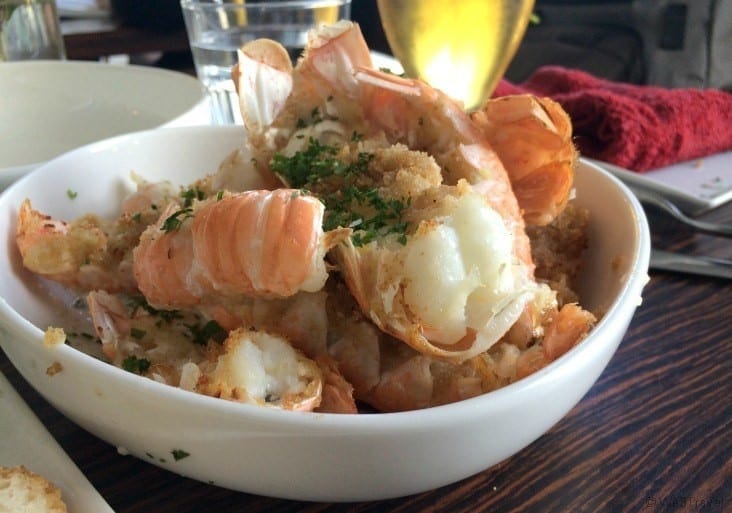 While you are in Iceland, the menu looks different than in many other parts of the world. Here are a few of the must-try foods in Iceland (and a few that only the tourists eat these days!):
Lamb – you will find lamb on most menus in Iceland and it is the most dominant meat on menus
Meat soup – this meat soup in broth with vegetables is primarily made from lamb
Langoustines – there are times when these are hard to find as overfishing is an issue worldwide
Icelandic hot dogs – made from a blend of beef, lamb, and pork
Skyr – thick and creamy dairy product that's similar to a thick yogurt
Hákarl fermented shark – this is no longer eaten by locals but was once used to get through long winters. Today it is fermented with vinegar and other natural ingredients and is paired with a shot of black death (a clear, unsweetened schnapps). You may also see puffin or whale meat on some tourist menus in Reykjavik but these really aren't eaten by locals anymore
Icelandic rye bread – topped with butter, cream cheese, or smoked salmon (you can see this baked in the ground using geothermal energy at Laugarvatn Spa)
Fish stew – if you have a chance to try this in a fishing village, don't hesitate!
Fish including cod, salmon, haddock, and Arctic char (you can find great fish and chips!)
Harðfiskur – which is dried fish
Mussels – some of the best mussels I've ever eaten were in the West Fjords of Iceland
Where to Eat in Reykjavik: Best Restaurants
Where to Eat Breakfast & Brunch in Reykjavik
Eldur and Is
Located just off of the main shopping street, Eldur and Is is a good stop for crepes — both savory and sweet — or ice cream.
Skólavörðustígur 2, 101 Reykjavík, Iceland
Sandholt Bakery
Another great stop for breakfast or a sweet snack is Sandholt Bakery, right on Laugavegur, the main shopping street. Expect a line at this bakery for an array of delicious pastries, bread, and coffee. You can also get a delicious sit-down breakfast.
Sandholdt Bakery is located at Laugavegur 36, 101 Reykjavík, Iceland
Snaps Bistro
This French-bistro style restaurant is trendy and open for breakfast, lunch and dinner (plus weekend brunch.)
Snaps Bistro is located at Þórsgata 1, 101 Reykjavík, Iceland, +354 511 6677
Where to Eat Lunch in Reykjavik
Bæjarins Beztu Pylsu
This is the most famous place to get one of Iceland's signature hot dogs. Located in a small food stand near the Old Harbour, Bæjarins Beztu Pylsur has been serving hot dogs since 1937.
Bæjarins Beztu Pylsur is located at Tryggvagata 1, 101 Reykjavík, Iceland
Kopar
Located right in the Old Harbour, Kopar focused on Icelandic seafood and local seafood. The interior is charming and from a cozy upstairs table, you have a beautiful view of the Harpa Concert Hall. On warm days, you can even sit outside. I had a delicious lobster soup and zucchini pasta.
Kopar is located at Geirsgata 3, 101 Reykjavík, Iceland
Hamborgarabúlla Tómasar/ Tommi's Burger Joint
This casual burger joint is perfect for lunch when you come off a whale watching boat or puffin cruise.
Hamborgarabúlla Tómasar is located at Geirsgata Geirsgötu 1, 101 Reykjavík, Iceland
Höfnin
Another Old Harbour option with great views, the menu is a bit more adventurous with reindeer, however, there is a children's menu with a hamburger. The shellfish soup is a specialty but you can even find tacos here.
Höfnin is located at Geirsgata 7, 101 Reykjavík, Iceland
The Laundromat Cafe
This quirky cafe is popular with travelers because it is inexpensive and offers familiar options like hamburgers, salads, ribs, and even chili con carne!
The Laundromat Cafe is located at Austurstræti 9, 101 Reykjavík, Iceland, +354 587 7555
Hlemmur Food Hall
Hlemmur Food Hall is Reykjavík's first food hall, inspired by the great European food markets. Located in an old bus terminal, here you can find Mexican, Vietnamese, Danish, Italian, French and of course Icelandic cuisine.
The Hlemmur Food Hall is located at Laugavegur 107, 105 Reykjavík, Iceland
Pósthús Food Hall & Bar
Newly opened in November 2022, this food call is located downtown in a building that used to be the main post office in Reykjavik. Options include Yuzu Burger, Sushi Social (Djusi sushi), Fuku Mama (Asian grill), and Mossley (tacos and wings.)
Pósthús Food Hall is located at Pósthússtræti 5 101, 101 Reykjavík, Iceland
Perlan
If you are looking for a dining experience with a view, The Pearl sits above Reykjavik with a viewing platform and a restaurant under a glass dome. Just note that you'll need a cab/car to get there but this is a good spot for lunch when you are visiting some of the cool exhibits and attractions at Perlan.
Perlan is located at Öskjuhlíð, 105 Reykjavík, Iceland
Where to Eat Dinner in Reykjavik
I have tried to include a mix of fine dining, trendy, and budget-conscious options to my list of the best restaurants in Reykjavik for visitors. Just keep in mind that reservations are required at the fine dining places and recommended for many others, especially for dinner during the busy season.
Sushi Social
Sushi Social offers Japanese and South American fusion cuisine (reminds me of Sushi Samba in NYC), combined with Icelandic ingredients.
Sushi Social is located at Þingholtsstræti 5, 101 Reykjavík, Iceland
Hornid
Hornid was the first Italian restaurant in Iceland. Located downtown near the Old Harbour, they offer both pizza and pasta, as well as seafood and meat dishes.
Hornid is located at Hafnarstræti 15, 101 Reykjavík, Iceland
Saeta Svinid Gastropub
This gastropub has a great selection of small plates, snacks, and kicked-up pub favorites as main dishes.
Saeta Svinid Gastropub is located at Hafnarstræti 1-3 / 101 Reykjavík, Iceland
Caruso
Another Italian restaurant, this one has lovely outdoor seating. My friends tell me that the staff is super sweet and attentive.
Caruso is located at Austurstræti 22, 101 Reykjavík, Iceland
Grillmarkdurrin
Another popular favorite, Grillmarket serves up Iceland fare with European techniques. Reservations recommended and be prepared to splurge.
Grillmarkdurrin is located at 2a,, Lækjargata, 101 Reykjavík, Iceland, +354 571 7777
Apotek Kitchen & Bar
Located in the Apotek Hotel and former pharmacy building, this stylish restaurant offers a mix of Icelandic and European cuisine.
Apotek is located at Austurstræti 16, 101 Reykjavík, Iceland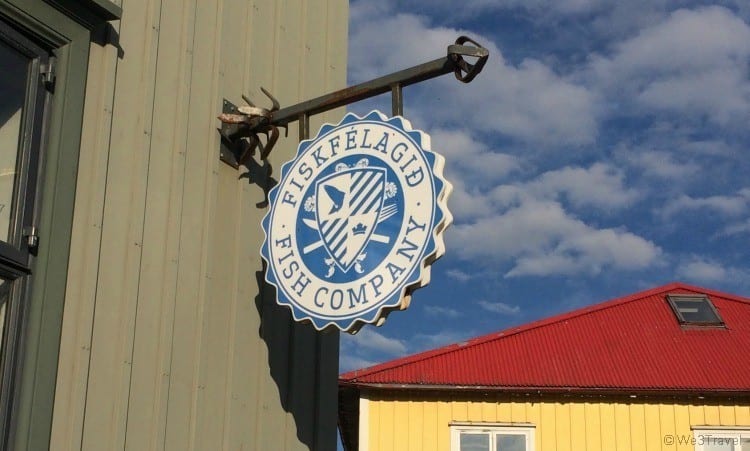 Fiskfelagid
Fiskfelagid Fish Company came highly recommended to us and I will admit that I loved the space and atmosphere (although not especially "kid-friendly".) The food sounded amazing but it under-delivered, especially for the high price tag. So while you will find it on many list of the best restaurants in Reykjavik, based on my experience I would spend my (significant amount of) money elsewhere.
Fiskfelagid is located at Vesturgötu 2a, Grófartorg, 101 Reykjavík – Iceland, +354 552-5300
A few others that have been recommended to me to try on a future visit include:
Sjavargrill
Íslenski barinn
Old Iceland
Tres Locos
Fjallkonan
PIN THIS