It isn't easy for parents to get away and have some romantic alone time. I know many couples who have never had a night away from their kids. We don't get that time often, and it only happens because our daughter spends a couple of weeks at sleep away camp each summer. But when we do have the opportunity, we try to make the most of it because even one night away from the daily grind can be renewing for ourselves and our relationship.
Because these tend to be quick getaways, we like to look for something in driving distance, like Providence, Newport, Connecticut, Boston and, our favorite, Portland, Maine. Portland has become an annual destination for us since we stay over one night before picking up Hannah at camp the next morning. Not only do we get to reconnect with friends also visiting for "camp weekend," but we truly just love Portland. It has amazing food, fun things to do (and not just for kids), and is a charming and walkable city. So for those looking for a romantic escape, I've put together your guide for a weekend getaway to Portland Maine.

Where to Stay in Portland Maine — The Press Hotel
Since we have been to Portland quite a few times, we have stayed in a number of places. I definitely prefer being in the Old Port district because everything is so walkable. Some of the chains are new and really well done, but if you are looking for something different and a bit more "romantic," then I would go with The Press Hotel. One of the Autograph Collection hotels by Marriott, this has the feel of a boutique city hotel and a historic hotel rolled into one cool space. The building once housed the Portland Press Herald, the state's largest newspaper, which operated there until 2010.
The hotel really takes on that mantle and carries that design inspiration throughout the hotel. In the lobby, you can use old fashioned typewriters to write a letter and they will even post it for you. I love the click-clack sound in the lobby and the common refrain of "where is the exclamation point?" (We clearly use those way more than we should these days.) You will also find old type writers affixed to the walls, newsprint lining the hotel hallways, and what look like scattered type strewn across the carpet design.
Inside the rooms, you pause and wonder what used to be in that space with its odds shapes and angles. Our room had a large vestibule and a short hallway to a small but nicely designed room with a king bed and corner office views. I was surprised by the large bathroom and enjoyed the modern fixtures, large shower and upscale amenities.
The location of the Press Hotel is just a few blocks from the waterfront Commercial Street and right in the heart of the Old Port. A quick walk brings you to some of our favorites including Holy Donut and the Portland Lobster Company. But, if you want to stay in, the lobby bar is a comfortable hangout and the Union Restaurant deserves high marks, even in the competitive Portland food scene.
Where to Eat in Portland Maine — Union Restaurant
I've written a lot about where to eat in Portland Maine, and now I have one more to add to that list with Union Restaurant in The Press Hotel. I'm usually very skeptical about hotel restaurants but now that fine dining is coming back to hotels, I need to rethink that stance. Union Restaurant has gotten some good press and positive reviews, so I needed to do a little research to see how it stood up against some of our other fine dining favorites in Portland like Eventide and Vinland.
To start, the restaurant design is contemporary yet earthy and comfortable, with a large open kitchen and segmented dining to create an intimate feel. We were there on a busy weekend, but even still it is a place where you want to make a reservation well in advance.
Like many restaurants in Portland, the emphasis of the menu is on local and sustainable ingredients — giving you a real taste of Maine. There was a selection of salads, cheese and charcuterie, and mains, but given how much lobster I ate earlier in the day (don't even get me started on my ridiculous $32 lobster roll from a place that will NOT be getting into my recommendations on where to eat), I decided to go light for dinner.
I started with the arugula salad with charred corn, green tomatoes and parmesan. It is amazing how delicious a simple salad can be when using fresh ingredients prepared correctly. Glenn had the grilled lamb merguez (lamb chops) with coriander, which he thought were very tasty. For my main course, I selected a small plate of the burrata cheese with marinated peach, speck, and grilled Tuscan baguette. Oh my…this is something I could eat every day of my life..for real. The burrata was so soft and creamy and combined with saltiness of the speck and the sweetness of the peach it could not be beat. I need to make this as home.
Meanwhile, Glenn went with the seared local cod with lobster, clams, coconut nage, and bok choy. He thought the cod was just fine, but the flavor of the coconut and bok choy was outstanding. Despite my desire for a lighter meal, I couldn't resist their unique dessert offerings and I'm glad that I didn't. We had the lavender pound cake with white chocolate "honeycomb", smoked honey and bee pollen. I barely tasted the cake, I was so taken with the white chocolate honeycomb. The smoked honey was so fabulous I nearly begged our server to sell me a jar but unfortunately they smoke it in house and didn't have any to offer (note to the chef: package some to sell!)
My only complaint was the noise level. There were a few times when our server walked away after describing something and we looked at each other and said, "what did she say?" Some of that was due to some loud groups nearby.
For more ideas about where to eat in Portland, be sure to check out my separate post with all our favorites.
What to do in Portland Maine
Beer Tasting
While my favorite pastime in Portland is to eat…we also like to drink and Maine has a happening beer scene. You can visit Shipyard in downtown Portland, hop on the Maine Beer Tours bus, or just do some bar hopping, but we headed just outside of downtown to one of my favorites…Allagash Brewing Company.
Allagash offers both free tours and tastings so as you can imagine, it is a popular place on the weekends. You'll need to book your tour in advance online, which I'd recommend if you have any interest in going behind the scenes and learning a bit more about how beer is made and what makes Allagash different.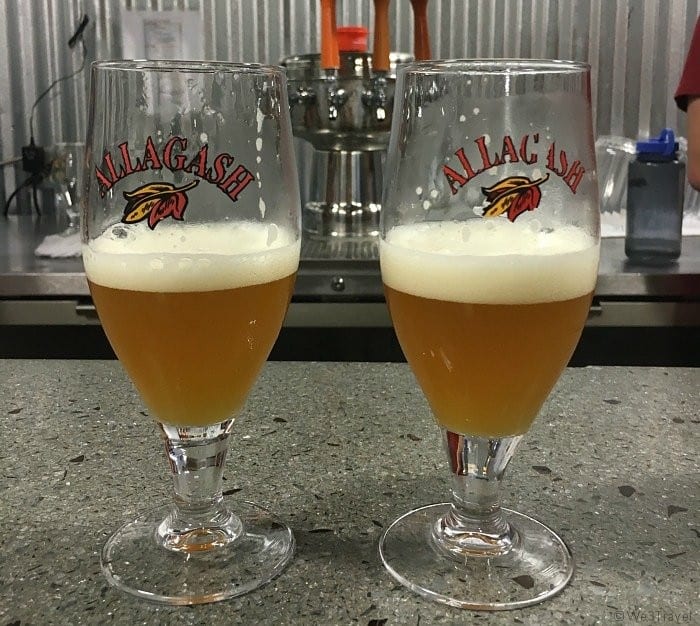 Tours are about an hour long and include four beer tastings. You will learn about their Belgian-style beer and see how the beer is brewed, fermented, and bottled, as well as get a peek into their barrel room with specialty beers. Keep in mind when you are packing that closed-toe shoes are required, although from my observation they didn't enforce that rule.
Portland Science Center
The Portland Science Center is located on the Maine Wharf on Commercial Street, right in the Old Port. This flexible space does not have a permanent collection, but is used to showcase world-class traveling exhibits like the current Titanic: The Artifact Exhibition. From now through October, visitors can walk through a chronological timeline of the Titanic's journey and get new insights from the perspective of first-class passengers, third-class passengers, and crew. Altogether, the exhibit showcases over 100 artifacts from the Titanic.
One of my favorite parts of the exhibit was the Memorial Gallery. When you arrive, you are given a replica boarding pass of an actual passenger. Based on what class you were and whether you were a man or a woman, you can guess whether or not you survive, but at the end you can look and see the fate of your passenger. You can also see the vast disparity between the number of first and third class passengers and crew who were lost in the sinking of the Titanic.
You can also take a ferry around the harbor, head down to the Portland Head Light for a scenic view, do some shopping and visit some of Portland's other museums.
Next time I'm in Portland, I'm going to have to check out Print: A Bookstore, an independent bookstore from podcaster/author/bookseller Josh Christie, and Emily Russo, bookseller and daughter of my favorite author, Richard Russo.
I'm sure we will be heading back to Portland next year so if you have any suggestions to add, please leave a comment below.
PIN THIS FOR LATER
Note: I received a media rate at The Press Hotel and complimentary admission to the Portland Science Museum. All opinions are my own.