Looking for a weekend getaway? Plan a weekend in Portland Maine with this guide to the best hotels, restaurants, and things to do in our favorite New England coastal town.
We fell in love with Portland, Maine many years ago when our daughter started going to sleep away camp in Maine and we would spend at least two weekends a summer in Portland. Over the years, we have seen the city expand with new hotels, restaurants, and shops, and Portland just keeps getting better.
No longer a hidden gem, Portland is a popular weekend getaway from Boston and a common stop on a Maine coast road trip. The cobblestone streets of the Old Port are lined with boutiques and shops featuring New England brands like Maine Sea Bags and Simon Pearce glassware.
Known for its robust food scene, Portland is often thought of for lobster and New England seafood, but the city has a thriving farm-to-table culture and a variety of international cuisines. The city has been recognized as a foodie destination, named "Restaurant City of the Year," in 2018 by Bon Appetit magazine, and the 7th best foodie destination in the United States by Yelp in 2020, based on user reviews and ratings.
Additionally, many of the city's restaurants and chefs have been recognized by the James Beard Foundation, with multiple nominations and awards including Andrew Taylor and Mike Wiley of Eventide Oyster Co., who won the award for Best Chef: Northeast in 2017.
This seaport town is also popular with beer lovers, as Maine is known for its craft beer scene with Portland as its hub. Portland has over 20 breweries and taprooms in the city, with many popular breweries nearby. If you have gotten the idea that a weekend in Portland Maine is all about eating, drinking, and shopping, you aren't far off. But don't worry, there are also plenty of things for kids to enjoy if you want to make it a family weekend (we have done both — many times over.)
Getting to Portland Maine
Getting to Portland, Maine is relatively easy, with several transportation options available. Many people visit on a Maine road trip, but you can also fly or take the train. The city's main airport is the Portland International Jetport (PWM), which is located just a few miles from downtown Portland. PWM offers direct flights to many major cities in the US, including New York, Chicago, Washington DC, and Atlanta, among others.
If you are flying internationally, you can connect through Boston Logan International Airport, which is located about 100 miles south of Portland. Driving to Portland from Boston takes about two hours. Another option for getting to Portland is to take the Amtrak Downeaster train, which runs daily between Boston and Portland and takes about two hours.
When is the Best Time to Visit Portland Maine?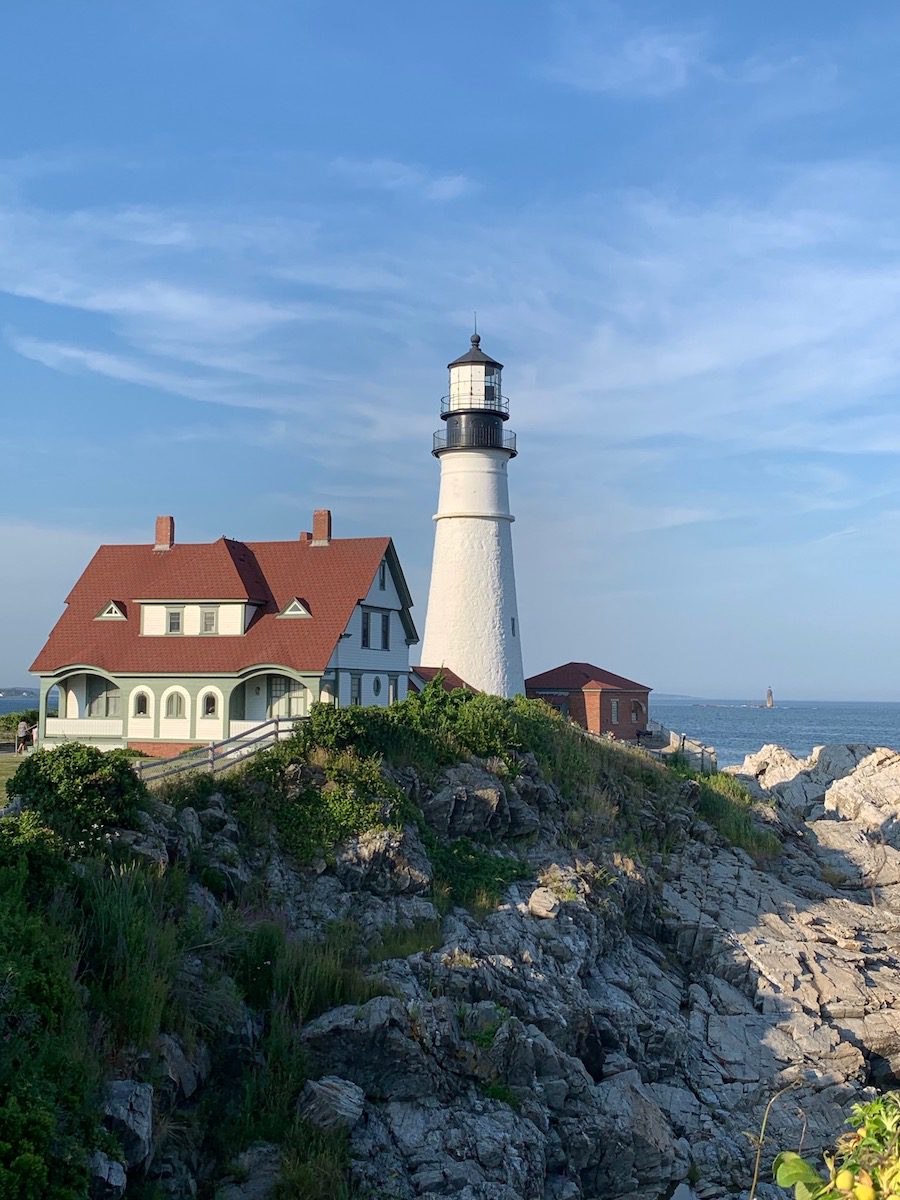 In my opinion, the best time to visit Portland is during the summer, from mid June through early September, when the weather is warm and you can more easily enjoy the outdoors. However, the hotel rates during this time can be sky high (e.g. $1000 a night for a chain hotel!) Trust me, those rates have forced me to consider going to Portsmouth, New Hampshire or heading up to Boothbay Harbor instead.
Alternatively, fall is an ideal time to visit Portland. The hotel rates will be a little cheaper, the weather is still pleasant, and you may even get to see some beautiful fall foliage if you time it right. Of course, Portland is a vibrant city year round, with annual festivals such as the Harvest on the Harbor in October.
Where to Stay in Portland Maine
Note: This post may contain affiliate links. If you click a link and make a purchase, I may receive a small commission. All opinions are my own.
Since we have been to Portland dozens of times, we have stayed in so many of the hotels both in the Old Port and off the highway. If you are looking to save money, staying outside of the downtown is going to help, but you will have to deal with driving into town and finding (and usually paying for) parking. I definitely prefer being in the Old Port district because everything is so walkable, if you can swing the price tag.
We have stayed in the AC Hotel, Courtyard Marriott Downtown/Waterfront, the Hilton Garden Inn, Hampton Inn, and the Westin Portland Harborview, plus other hotels outside of town. Since many of the chain hotels are new, they have a fresh design and are really well done. The Courtyard has been a surprising favorite and the only one we didn't really like was the Westin, because it was further from the heart of the Old Port and it felt a bit tired.
However, if you are looking for something different, especially for a romantic getaway, then I would go with The Press Hotel. One of the Autograph Collection hotels by Marriott, this has the feel of a boutique city hotel and a historic hotel rolled into one cool space. The building once housed the Portland Press Herald, the state's largest newspaper, which operated there until 2010.
The hotel really takes on that mantle and carries that design inspiration throughout the hotel. In the lobby, you can use old fashioned typewriters to write a letter and they will even post it for you. I love the click-clack sound in the lobby and the common refrain of "where is the exclamation point?" You will also find old type writers affixed to the walls, newsprint lining the hotel hallways, and what look like scattered type strewn across the carpet design.
Inside the rooms, you pause and wonder what used to be in that space with its odds shapes and angles. Our room had a large vestibule and a short hallway to a small but nicely designed room with a king bed and corner office views. I was surprised by the large bathroom and enjoyed the modern fixtures, large shower and upscale amenities.
The location of the Press Hotel is just a few blocks from the waterfront Commercial Street and right in the heart of the Old Port. But, if you want to stay in, the lobby bar is a comfortable hangout and the Union Restaurant deserves high marks, even in the competitive Portland food scene.
Of course, there are always new hotels popping up and the one that I'm anticipated opening is The Longfellow Hotel.
Note: I received a media rate at The Press Hotel and complimentary admission to the Portland Science Museum. All opinions are my own.
What to do on a Weekend in Portland Maine
Portland Head Light
The first place that I take every person who goes to Maine with me is Portland Head Light. Not only do I think it is one of the most scenic lighthouses in the U.S., but I also love scrambling around the rocks and walking along the cliffs in Fort Williams Park.
The lighthouse is located in Cape Elizabeth, just south of Portland. It was first commissioned by George Washington in 1787 and has played an important role in maritime history. Standing 80 feet tall, its light can be seen up to 24 nautical miles away.
You can tour the keeper's house and the small museum there, but my favorite thing is to explore the walking trails along the rocky coastline, climbing down onto the rocks during low tide. You can bring a picnic and take advantage of the various picnic sites in the park, but I prefer to get a lobster roll from the Bite into Maine food truck that usually sets up shop in the park (try the wasabi lobster roll!)
A few things to know about visiting Portland Head Light. First, it is a very popular spot so the parking lot can get very crowded during busy times and you do need to pay at a meter to park. There are not any restrooms but there are some port-a-potties. Cell service is very spotty at the park so it helps to have your directions offline and count on spending time being present in the moment instead of on your phone!
If you do climb down onto the rocks, it can be a bit steep and hard for young kids. Once you are on the rocks, you will want a sturdy, non-slip shoe to walk across the wobbly, uneven rocks. Also, do not go too close to where the tide is coming in because you don't want to be caught unaware by a wave, falling could be very dangerous.
While you are in Cape Elizabeth, you may want to also check out Two Lights Lighthouse and State Park, which is only another 15 minutes to the south. Nearby, you can also find The Lobster Shack at Two Lights, which is more of a proper restaurant with restrooms, indoor dining, and picnic tables overlooking their beautiful view (which, unfortunately, are also loved by the bees!)
Beer Tasting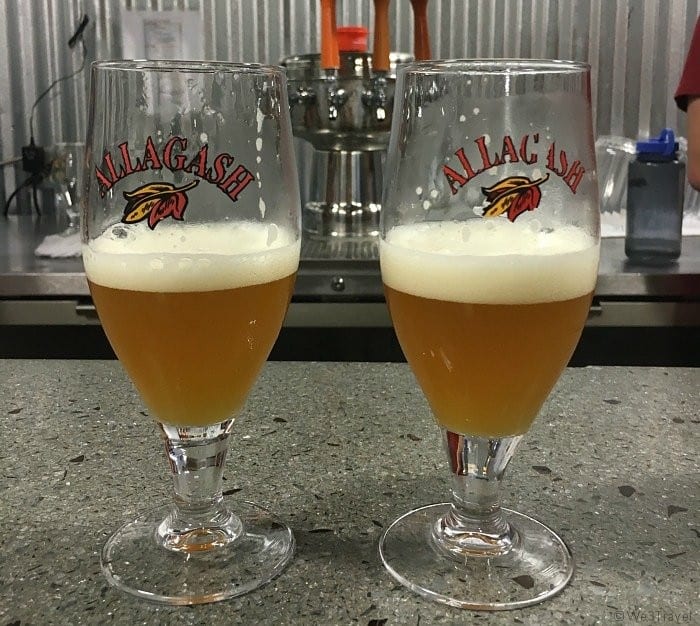 While my favorite pastime in Portland is to eat…we also like to drink and Maine has a happening beer scene. You can visit Shipyard in downtown Portland, hop on the Maine Beer Tours' Maine Brew Bus or a new Maine Brew Cruise, do some bar hopping, or visit one of the local breweries.
On each trip we try something new, but one of my personal favorites is Allagash Brewing Company. Allagash is a Belgian-style beer that you can commonly find throughout New England and other parts of the U.S. In the past, Allagash offered free tours, but now it looks like they just have the tasting room or an immersive 1.5 hour Cellars tasting experience.
Oxbow Blending & Bottling Company also has an outpost in the hip and happening East End neighborhood and shares a courtyard with the Duckfat Frites Shack, which has a shorter line than the original location in the Old Port. The space is also home to Gallery 49 which hosts our rotating art exhibitions, and it is a short walk to Fort Sumner Park and the Eastern Promenade for a walk along the water with views of Casco Bay.
Oxbow is mostly known for its pale ales and farmhouse ales, but like most craft breweries, they have a large selection of various beers to try. If you take a little drive up to Freeport, you can also visit one of my husband's favorites, Maine Beer Company. He is a fun of its IPAs and Pale Ales, such as Lunch and Peeper.
Shopping in Old Port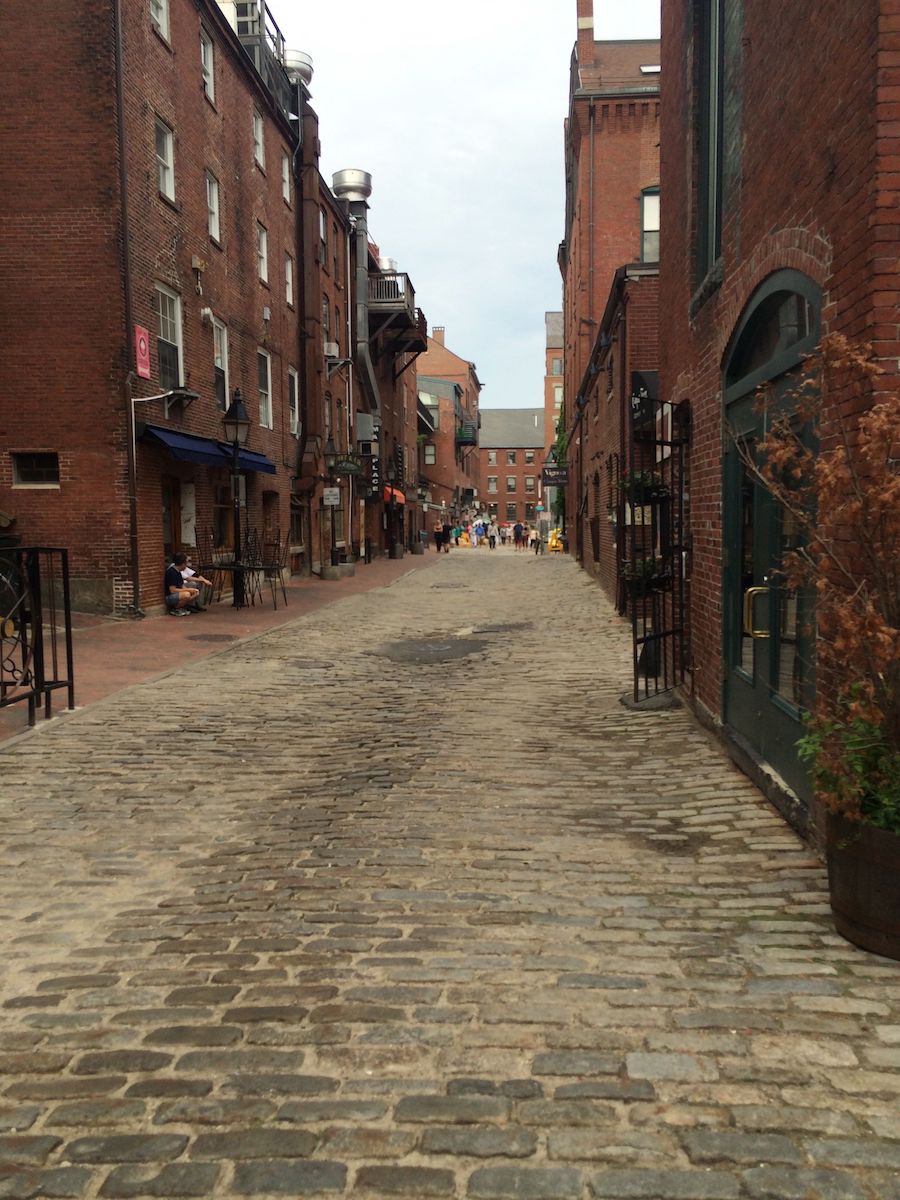 The first place people head to in Portland itself is the Old Port neighborhood, which faces the waterfront with active wharfs where ferry and fishing boats depart. It is known for its cobblestone streets, historic architecture, and bustling waterfront. This neighborhood is also home to some of Portland's best restaurants, bars, and shops, many of which are housed in beautifully preserved brick buildings dating back to the 19th century.
Fore Street, Exchange Street, and Commercial Street are some of the main shopping streets in the area, where you can find a variety of boutiques, galleries, and specialty shops. I love popping into the Maine Seabags flagship store to see the latest styles, shopping for active wear at Nomads, and window shopping at the boutiques.
Some of the popular shops include Maine Potters Market, which features handmade pottery from over 50 artists in Maine, The Portland Trading Co., Lisa-Marie's Made in Maine store, which sells locally made gifts and souvenirs, and the Stonewall Kitchen flagship store, which offers a wide selection of gourmet food products.
While you are walking around Old Port, you will want to get a snack and I'm so happy to see that Holy Donut has returned to Old Port on Commercial Street. Their potato-flour donuts are the bomb and I drool over the chocolate sea salt. You can also get ice cream at Beal's or Mount Desert Ice Cream (try the blueberry flavor of course!)
Make sure to walk along the wharfs and take a look at the piles of lobster traps, watch the fishing boats come in and unload, and try to spot the chunks of the Berlin Wall if you like quirky attractions.
Portland Museum of Art
If you are an art lover, or need something to do inside, stop into the Portland Museum of Art. Portland isn't an art town the way that Rockland is, but it does have a thriving Arts District. The Portland Museum of Art was founded in 1882 and has a collection of over 18,000 works of art, ranging from contemporary pieces to European masterpieces.
Some of the highlights of the collection include works by Winslow Homer, John Singer Sargent, and Claude Monet. The museum also features a variety of special exhibitions throughout the year, showcasing works from both local and international artists.
Take a Ferry Around Casco Bay Islands
Portland is located on Casco Bay, which covers an area of about 200 square miles and is home to over 200 islands, many of which are uninhabited. The islands of Casco Bay have played an important role in the history of the region, serving as fishing and trading outposts for hundreds of years. Some of the major islands in the bay include Peaks Island, Little Diamond Island, and Great Diamond Island.
When you are visiting Portland, a fun way to explore is to get out on the water and maybe even get to explore some of the islands and the remnants of old military forts that still exist. A couple of years ago I stayed on Great Diamond Island and some visitors to Portland even came out to the island via boat to have dinner on the island.
There are many ways to explore including narrated cruises, fishing charters, lobster boat tours (more on that later), Maine Duck Tours, and eco-tours that offer a chance to see the local wildlife up close. The Casco Bay Lines ferry service also offers a convenient way to visit some of the islands in the bay, with regular service to Peaks Island, Little Diamond Island, and other popular destinations, including the Mail Boat Run that drops off mail and packages at the various islands.
Day Trip to Freeport
Another popular day trip from Portland is to head 20 minutes to the north to Freeport, Maine, home of L.L. Bean. In addition to the L.L. Bean flagship and outlet stores, many other brands, especially outdoor brands, have stores in Freeport.
I've struggled to find a restaurant that I love in Freeport (although Harraseeket Lunch & Lobster out on the coast nearby is great – but bring cash!), but you can easily spend a day shopping and exploring town, especially if you make a stop at Maine Beer Company (see above.)
Things to do in Portland Maine with Kids
As I mentioned, Portland is not just for grown ups. For at least half of our trips to Portland, have been with our daughter. Here are some fun things to do in Portland Maine with kids.
Lobster Boat Tour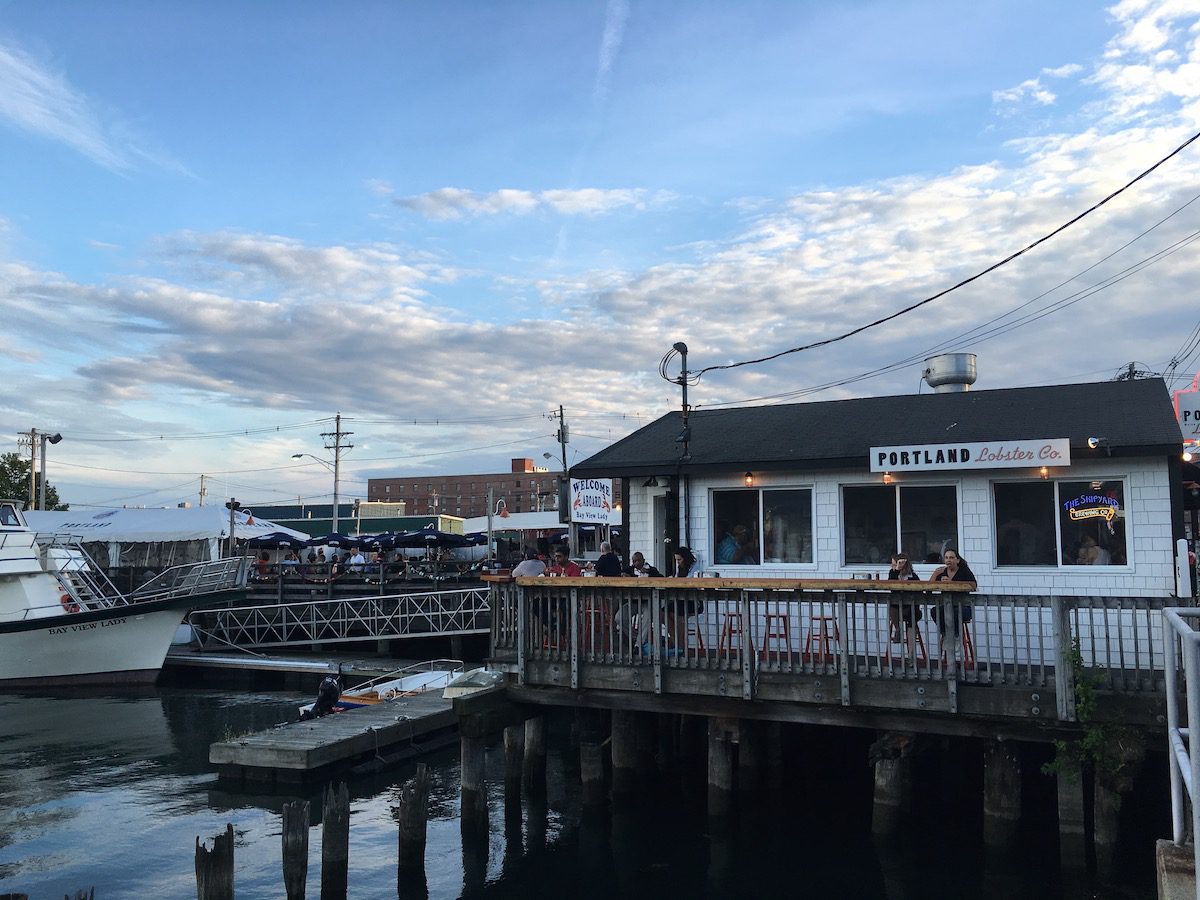 We have actually never done this in Portland, although we have in Boston, but my friend Mary has gone with her kids and she loved it. Lucky Catch Cruises takes you out for a 90-minute cruise to learn all about lobstering and what it is like to be a lobsterman. You also get to cruise past picturesque lighthouses like Bug Light, historic civil war forts, and the "Seal Rocks", where you may get lucky to spy some seals.
These tours are interactive and guests are given gear and put to work loading traps and measuring the catch. If you catch some lobsters, you can purchase them at the wholesale "boat price" and then bring them to Portland Lobster Company, who will cook them for you.
Children's Museum & Theater of Maine
The Children's Museum and Theater of Maine, located in a beautiful new building on Thompson's Point, is a great spot for younger children. It is open five days a week, in addition to scheduled theater performances. It features hands-on, interactive exhibits that have been designed to create experiential learning and fun at the same time.
The building features over 30,000 square feet of exhibits spanning three floors and the Outdoor Adventure area. These spaces reflect Maine's unique character and encourage exploration across a broad range of subjects.
Baseball or Hockey Game
For sports fans visiting Portland, Maine, there are two minor league teams worth checking out – the Portland Sea Dogs baseball team and the Maine Mariners hockey team. The Portland Sea Dogs are a Double-A affiliate of the Boston Red Sox and play their home games at Hadlock Field, which is located just a few miles from downtown Portland.
The Maine Mariners are a minor league hockey team that plays in the ECHL, which is one of the top professional hockey leagues in North America. The team plays its home games at the Cross Insurance Arena, which is located in the heart of downtown Portland. In addition to the games themselves, the Maine Mariners offer a variety of special events and promotions throughout the season, including theme nights, giveaways, and post-game autograph sessions.
Where to Eat in Portland Maine
I've written a whole post about where to eat in Portland Maine, but here are a few of my favorites:
Eventide Oyster Company – try their version of a lobster roll in a steamed bun
Duckfat – amazing french fries, poutine, and milkshakes
Bite into Maine – interesting variety of lobster rolls
Luke's Lobster – great views on the wharf
As much as I love Portland, I should point out a few of its flaws too. There has always been a bit of a homeless population in Portland, like any other city, and this seems to have increased in recent years.
It isn't problematic in the Old Port area as most of the people you see are harmless, but when you head into some other areas, like around Deering Oaks Park, it is a bit more prevalent and the area feels a bit sketchier with a number of addicts and suspicious characters. So just use common sense and keep your wits about you, lock your car, and don't leave valuables in plain sight.
There are many fun and funky neighborhoods in Portland to explore so don't feel like you need to stick just to the Old Port. I hope you have a chance to enjoy this little city and fall in love with it the way that I have.
PIN THIS FOR LATER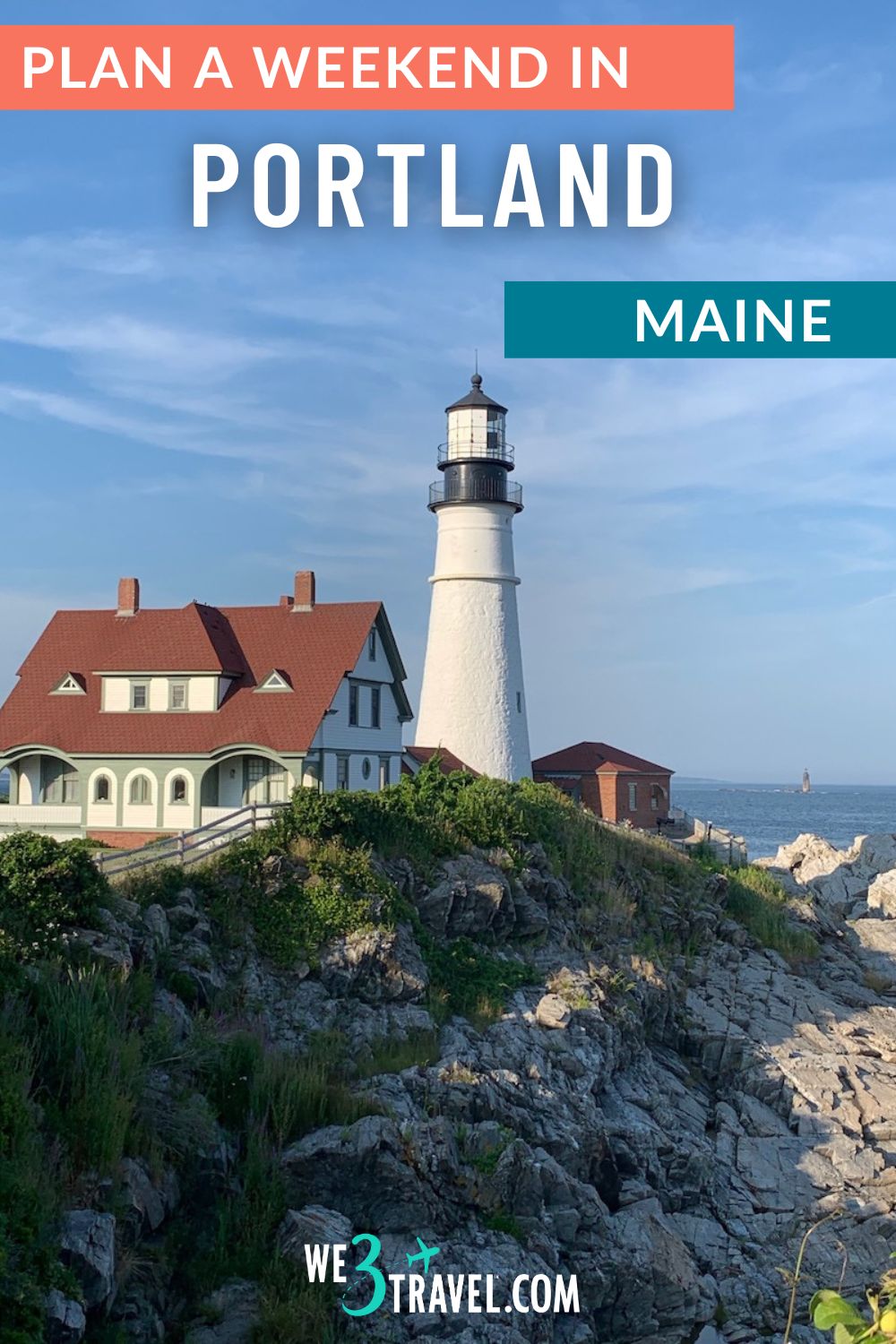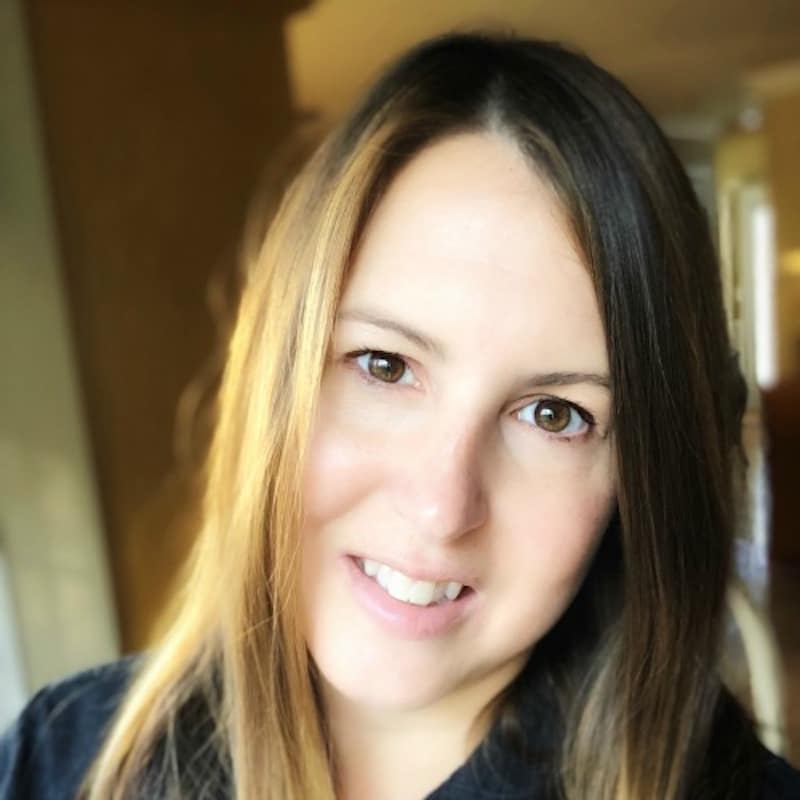 Tamara Gruber is the Founder and Publisher of We3Travel. A former marketing executive and travel advisor, Tamara is an award-winning travel writer and recognized expert in family travel. She is also the publisher of YourTimetoFly and the co-host of the Vacation Mavens travel podcast.