Portland, Oregon gets a lot of attention for its food scene, but Portland, Maine is hot on its heels. Bon Appétit Magazine recently named Portland as the "Foodiest Small Town in America." After numerous trips to Portland in the last few of years, I whole-heartedly concur and have given my recommendations on the best restaurants in downtown Portland Maine.
Long known for its lobster and seafood, Portland now boasts a number of James Beard award-winning chefs among its 200 restaurants, and is at the forefront of the farm-to-table movement, with many restaurants featuring locally grown, raised or fished ingredients. Maine also has a very strong beer culture, and the Greater Portland area is home to nearly 20 breweries, some of which are recognized nationally.
As charming as a city as Portland is — with its Old Port shopping, harbor tours, and popular art museum — my favorite thing to do in Portland is EAT! It has taken a couple of years to write this post on where to eat in Portland Maine because every time we go back, we try something new.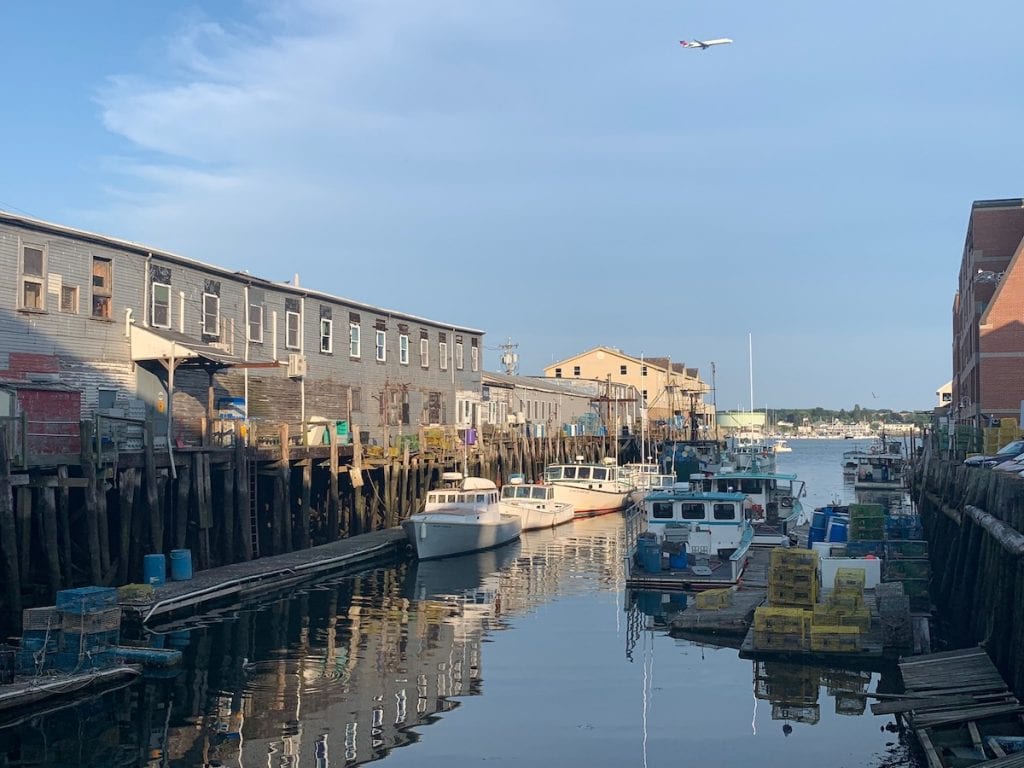 Downtown Restaurants in Portland, Maine
The thing about Portland is that, while it is a great city to visit with kids, not all of the restaurants are super kid-friendly. Many don't take reservations and in high season these can command hour-plus waits for tables. Others focus on a very narrow menu of locally sourced ingredients. Some have reservations that are hard to secure than character dining at Disney World. Depending on your family's dining preferences, and budget, be sure to choose carefully.
Where to Eat Breakfast in Portland, Maine
Bayside American Cafe (formerly Bintliffs)– we ate here when it was called Bintliffs, but it has had the same owners since 2003 and I would expect the same excellent choices to continue. Located in an old two-story building in the Bayside neighborhood, Bintliff's American Cafe was founded by Roger Bintliff in 1990. It quickly became a local landmark and has long been popular among Portlanders for its famous brunch. Joe and Diane Catoggio purchased the restaurant in 2003 and have continued the Bintliff's brunch tradition. The inside is decorated in a funky and eclectic cafe chic decor. Breakfast features an array of eggs benedict selections (my favorite), along with specialties like granola-crusted french toast and dark chocolate waffles. And yes, you can get lobster…lobster eggs benedict, lobster frittata, lobster omelettes…you name it.
Bayside American Cafe is located at 98 Portland Street, Portland, ME 04101, 207-774-0005. Reservations accepted on weekdays only.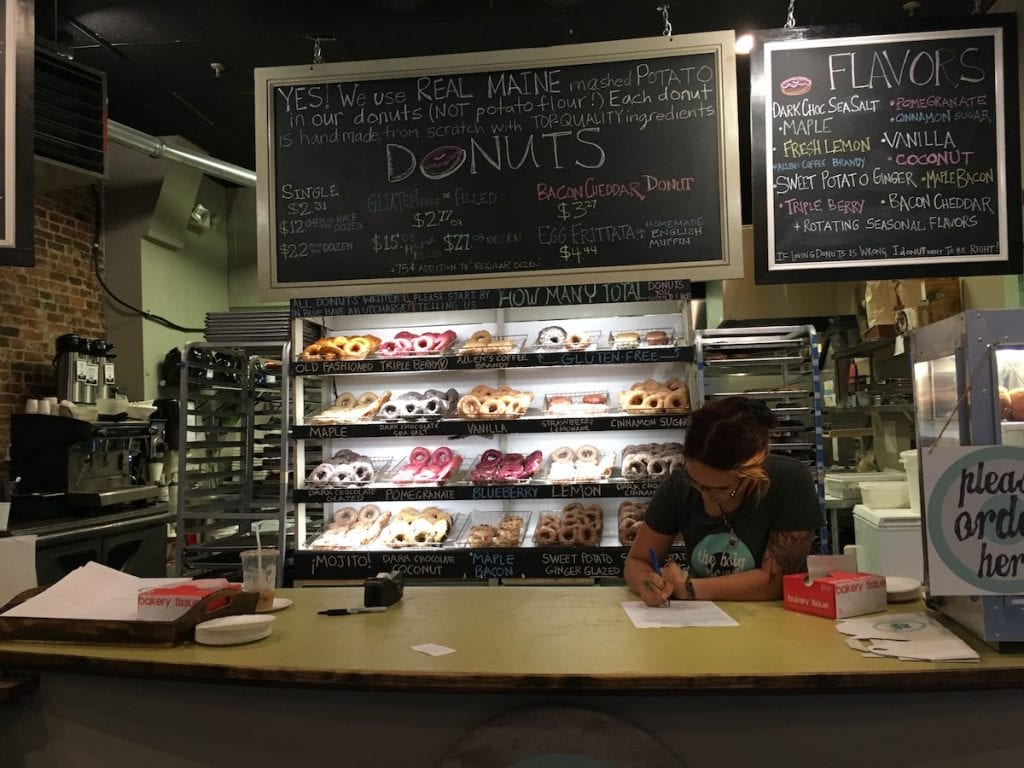 The Holy Donut — I was so disappointed to learn that the Old Port location of The Holy Donut closed in 2020 but I'm holding out hope that it will reopen when the tourists return. These hearty, potato flour donuts are freshly made (when they are gone, they are gone) in a wide variety of flavors including Real Mojito, Toasted Coconut, and Dark Chocolate sea salt. If you liked filled donuts, they have some interesting options like Holy Cannoli and Bacon Cheddar. They even offer vegan, sweet potato, and gluten-free options. I've sampled many flavors but I always recent to the Dark Chocolate Sea Salt. Each donut is large and the potato flour gives it a heavier consistency so they are very filling (and delicious!)
Holy Donut is located at 194 Park Avenue, Portland, ME 04102.
Becky's Diner – If you are looking for simple but delicious home cooked food, look no further than Becky's Diner. Located right on the waterfront in the Old Port, Becky's serves up breakfast, lunch, and dinner, but everyone I know goes there for the morning rush. Featured on Diners, Drive ins, and Dives, this family-run business make it a point to use only the freshest ingredients and locally sourced seafood available. Try the muffins or pancakes, or splurge on the lobster omelette.
Becky's Diner is located at 390 Commercial Street, Portland, ME 04102.
Best Lunch Spots in Portland Maine
Duckfat- Duckfat is the first restaurant everyone mentions to me when you ask where to eat in Portland. And with salty fries cooked crispy in duck fat, super thick milkshakes, and condiments like truffle ketchup, how could they not? As you approach Duckfat, it is easily apparent that you aren't the only one to have heard of this eatery from the long line you will find out front. If you go during the summer, don't be surprised to wait an hour or more on the sidewalk for your turn to squeeze into a tiny table. Also, while fries and milkshakes sound like a kid's dream, the menu may not be well-suited for picky eaters. Outside of these decadent offerings, Duckfat also offers a small selection of salads and sandwiches. For me, the fries (or poutine) and shakes are the main attraction, but my husband Glenn also loves the smoked brisket panini.
Duckfat is located at 43 Middle Street, Portland, ME, 207-774-8080. Does not accept reservations.
East Ender — If you don't want to wait in the crazy long lines at Duckfat, head next door to East Ender. Good for lunch or dinner, East Ender offers an interesting gastro-pub menu and a wide selection of beers in a casual setting. Picky eaters should be ok if you doctor up some of the menu options like grilled cheese with tomato jam or the cold smoked burger with gochujang ketchup, onion jam, stilton and steak fries. Lobster lovers will also be happy with options like the fried lobster sandwich with peppadew relish and lobster aioli. When we visited, we tried the lobster nachos, but I have to admit that I prefer my lobster in the classic style and not mixed with other foods.
East Ender is located at 47 Middle Street, Portland, ME, 207-879-7669. Reservations are accepted.
Bite into Maine — If you head out of town to the scenic lookout at Portland Head Light in Fort Williams Park, just outside of downtown Portland, you can find the Bite into Maine lobster truck. I highly recommend a stop here for the classic Maine views, but also for what may be the best lobster roll ever. Their lobster roll with wasabi aioli may just be the perfect combination of flavors and well worth the trip.
Bite into Maine is open May 9th – October 31st at Fort Williams Park 1000 Shore Rd Cape Elizabeth, ME 04107. They close when they sell out!
Miller Brothers Seafood – if you are looking for a traditional seafood shack, this classic joint run by two brothers will fit the bill. Located outside of downtown, this small, no frills restaurants serves up some big seafood — as in massive lobster rolls. But just because it isn't fancy, doesn't mean you will get a bargain. All that lobster is going to cost you but you won't go home hungry.
Miller Brothers Seafood is located at 849 Forest Ave, Portland, ME 04103.
Dinner in Downtown Portland Maine
Eventide Oyster Co. — Eventide is by far my favorite restaurant in downtown Portland. Not only do they have a huge selection of oysters in the raw bar (and do a great job guiding you to which oysters are the best match for your taste), but they also have a crispy oyster bun with pickled veggies. While their lobster roll and oyster bun have the shape of a small hotdog bun, like the classic lobster rolls, they have the soft consistency of an Asian bun. Eventide focuses on hot and cold small plates, so it is great to order a few dishes to sample and share. While adults may love the loud music and bar-like atmosphere, it may not be the most kid-friendly. Since they don't take reservations, people that are waiting an hour or more online tend to congregate on the sidewalk, in the bar and around the edges of the small rooms.
Eventide is located at 86 Middle Street, Portland, ME, 207-774-8538. Reservations are not accepted.
Fore Street Restaurant – It took me years to finally secure a reservation at Fore Street for one of our many summer weekends in Portland. Featuring locally-sourced ingredients and hand-crafted dishes cooked on a wood-burning grill, hearth or turnspit, Fore Street has become a New England destination. In 2001 and 2006, Fore Street was named in Gourmet Magazine's Top Fifty Restaurants of the United States. In 2004, Chef-partner Sam Hayward was named "Best Chef – Northeast" by the James Beard Foundation and in 2011, he won the Chef's Collaborative "Sustainer of the Year" award for his work in sustainability and local food issues.
Like many restaurants which have received such accolades, you tend to go with very high expectations, especially when you need to call two calendar months to the day in advance to secure a highly-sought after reservation. And like many times when you go in with high expectations, it can be hard for a place to meet those lofty aspirations. My advice would be to try to go in the off-season or at least avoid busy summer weekends. If the staff isn't as rushed, you may have a better experience that has you writing about it too.
Fore Street is located at 288 Fore Street, Portland, Maine and is part of the family of restaurants and bakeries that include Scales, Street and Co., and Standard Baking.
Portland Lobster Company — this casual restaurant is perfect for kids and also has a larger outdoor deck with live music. They make the perfect lobster roll (and pretty yummy fries too)…sweet, fresh, with some melted butter.
Portland Lobster Company is located at 180 Commercial St., Portland, Maine, (207) 775-2112.
UNION Restaurant – Located in the Press Hotel, UNION far outshines most hotel restaurants. The design is contemporary yet earthy and comfortable, with a large open kitchen and segmented dining to create an intimate feel. Like many restaurants in Portland, the emphasis of the menu is on local and sustainable ingredients — giving you a real taste of Maine. The creative combination of fresh ingredients are truly a delight, with simple dishes that really shine, such as the arugula salad with charred corn, green tomatoes and parmesan or the burrata cheese with marinated peach, speck, and grilled Tuscan baguette.
UNION is located in the Press Hotel at 390 Congress Street Portland, ME 04101.
Dessert in Portland
Mount Desert Island Ice Cream — if you want some homemade ice cream in interesting flavors (like butterbeer), then Mt. Desert Island Ice Cream is the place to go.
Mount Desert Ice Cream is located at 51 Exchange Street, Portland, ME
PIN THIS FOR LATER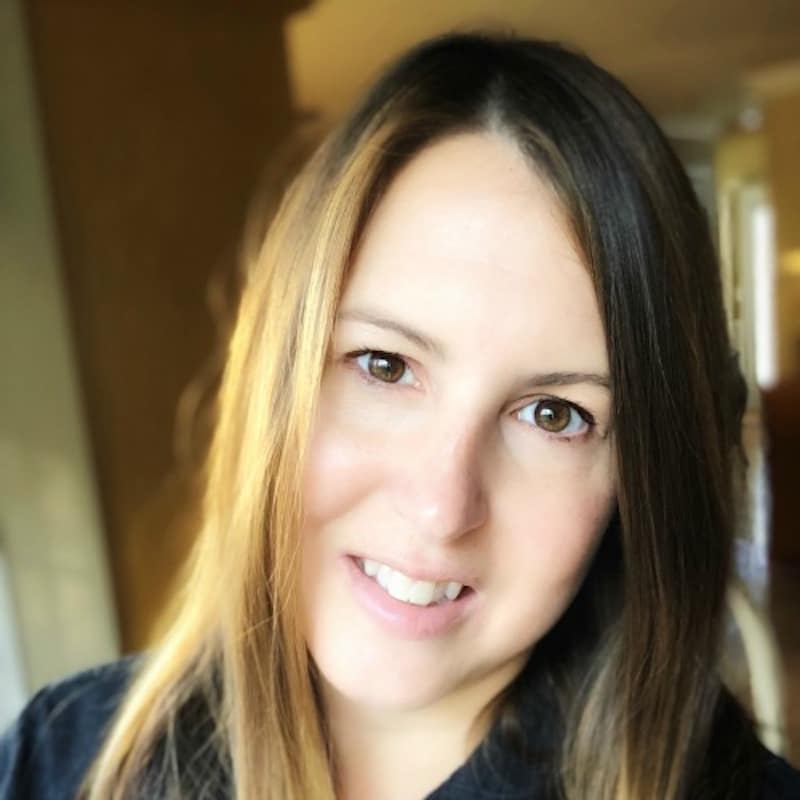 Tamara Gruber is the Founder and Publisher of We3Travel. A former marketing executive and travel advisor, Tamara is an award-winning travel writer and recognized expert in family travel. She is also the publisher of YourTimetoFly and the co-host of the Vacation Mavens travel podcast.