New England summers are often filled with family traditions. Sunny days at the beach, lobster rolls by the water, ice cream in the afternoons, evenings by the campfire. The Inn at Diamond Cove is the type of resort where new traditions are born and kept alive, year after year, as families and friends gather on Great Diamond Island, one of 3,000 islands off the coast of Maine.
I've read many novels where the plot of the family drama was set at a family home on an island off the coast of Maine. While reading these books, in my head I could see the rocky coasts and picture the days spent fishing, swimming, and running barefoot on the lawn, and evenings spent gathering with family and whatever distant relatives are currently visiting. With this vision in the back of my mind, I set out to explore the Inn at Diamond Cove and Great Diamond Island.
After picturing this lifestyle for so long, I was happy to have the opportunity to visit and write an Inn at Diamond Cove hotel review. (My stay was hosted but all opinions are my own.) Since my family wasn't available, I drafted a friend to join me on a mid-week adventure and we jumped in the car and headed to one of my favorite seaport cities, Portland, Maine.
In all my visits to Portland, I've never had the time to hop onboard one of the ferries that troll through Casco Bay, stopping at various island ports along the way. So it was time to leave the car behind and roll onto the ferry headed to Diamond Cove.
Getting to the Inn at Diamond Cove
The Inn at Diamond Cove is just a short, 30-minute passenger ferry ride away from Portland, Maine. If you are flying into Portland (PMW), you can take a cab over to the Casco Bay Ferry Terminal in the Old Port district. When you are driving in, be sure to arrive in plenty of time to find parking. While there is a public parking lot adjacent to the ferry terminal, it often fills up during peak season.
There are other parking lots nearby that offer long-term parking for $30-50 for an overnight stay (note that some are cash only.) We were able to grab a spot in a lot off of Fore Street and Franklin Street, just a short walk to the ferry terminal. Make sure to check in early and purchase tickets to the Diamond Cove stop on the Great Diamond Island ferry, which go for around $11 for a round trip ticket.
Diamond Cove is the third stop on the ferry, after Little Diamond Island and Great Diamond Island. Once you disembark, there will be a golf cart from the Inn at Diamond Cove there to greet you and shuttle you to the hotel. It is only a five to ten-minute walk, but it is partially uphill so with luggage, you will likely prefer the ease of the shuttle.
If you don't want to take the ferry, you can also arrive by water taxi or private boat. Overnight docking at the marina is available for boaters.
Inn at Diamond Cove Hotel Review
Diamond Cove is a private, car-free island community located in one section of Great Diamond Island. The property was once Fort McKinley, a military base built between 1891 and 1907 to defend Portland Harbor during the Spanish-American War. Today, there are private homes, as well as condominiums that are renovated army barracks. Prior to being an army base, Diamond Cove was a famous artists' retreat where literary greats such as Henry Wadsworth Longfellow and Harriet Beecher Stowe spent time.
The Inn at Diamond Cove is the centerpiece of the community. Opened in 2015 in the former barracks, the Inn has been restored and is a member of the Historic Hotels of America. The Inn reopened under new management in the summer of 2021 and today there are 44 rooms, which can be combined to create 22 condos with full kitchens and balconies or porches.
Accommodations
The accommodations at the Inn at Diamond Cove are set up perfectly for families, and even for multigenerational families or friend groups traveling together. This is an ideal spot for a lifecycle event, like a wedding, or a family reunion. We were put up in a two-bedroom queen condo.
We entered the condo into the kitchen and living room area. Our accommodations featured a full kitchen with a microwave, dishwasher, small cooktop, and a dorm-sized refrigerator. If you plan on cooking, the Inn recommends that you arrange for a grocery delivery in advance of your stay as there is just a small general store on the island. But you wouldn't want to overstock given the small size of the fridge. The kitchen area also included a high-top dining table with three stools.
The kitchen space flowed into the living area, which had a pull-out sleeper sofa, two side chairs, a fireplace, and flat-screen television. If you continue through the living area, you come to a door that opens up onto a porch. The porch is perfect for relaxing with a glass of wine in the evening. There are dividers between rooms that can be rolled to create a more open space for groups traveling together. From the porch, there are steps down to the hotel courtyard and I just wish the door from the porch had a keyed entry for easier access to the room without going through the hotel first.
Back in the entryway, there are stairs leading down to the bedroom. On the lower floor of the condo, we had a two-queen bedroom with a full bath, along with a half-bath in the downstairs closet area at the bottom of the steps. While I wish the half-bath was upstairs, it was very convenient to have that extra space, especially if you were staying with a family.
The beds were quite comfortable and the bathroom was spacious, with a large walk-in shower, fluffy towels, and upscale bath products. I'd hoped for bathrobes from an upscale property such as this, but that is a minor disappointment. The biggest letdown was the terribly slow WiFi, but I guess I should have anticipated as much given the remote island location! It made me give up on working and focus on relaxing but if you are visiting with kids addicted to devices or plan on working remotely, the lack of cell service and poor WiFi needs the proper expectation setting.
Dining
Dining at the Inn at Diamond Cove is a bit of a challenge this year, as like all properties they struggle with staffing and are ramping up under new management. I expect this will continue to improve in the future and the quality of the food was excellent, it was the availability that was the problem. Currently (in 2021), the island's two primary restaurants, Diamond's Edge and Crown Jewel are both closed on Mondays and Tuesdays. To supplement, the Inn at Diamond Cove offers a barbecue buffet dinner to hotel guests and small plate dining is available in the Lobby Bar.
If you are visiting midweek, it would be good to plan ahead and either bring food with you or arrange for a grocery delivery service. In the morning, the Lobby Bar offers some pastries, grab-and-go breakfast sandwiches, Starbucks coffee, and a limited selection of fruit cups or yogurt parfaits. For lunch, you can purchase a small selection of packaged sandwiches and snacks from the cooler, but selections and availability are limited so get there early if you need to eat lunch on property.
For dinner, the Lobby Bar offers a nice selection of small plates and snacks, such as a delicious New England Clam Chowder, lobster rolls, and tasty Maine mushroom toast. But when it is the only game in town, expect it to be crowded with guests and residents that didn't opt to cook or partake in the buffet BBQ, and the staff to be rightly overwhelmed.
When the other restaurants are open, it is a whole different story. Diamond's Edge Restaurant, which has the same ownership as the hotel, is located on the waterfront right by the ferry dock. A surprisingly large percentage of diners come over from Portland for the evening to enjoy waterfront dining so be sure to make your reservations in advance of your stay!
Diamond's Edge is located in the former Quartermaster's storehouse and today delivers an upscale dining experience with indoor and outdoor dining options. The service was friendly and attentive, something that is hard to achieve these days, and the food was excellent.
We dined on the outdoor deck, with a view of the marina and the lawn below, which was scattered with dining tables for the evening meal. I started with the Peeky-toe crab cake and my friend tried the Littleneck Clams since on an island we had to go with seafood. Of course we were not disappointed! For our main courses, we had the mustard-rubbed beef tenderloin and the Diver scallops. Considering the cost of bringing everything out to an island (the ferry delivery service charges the restaurant $1.00 per bottle of wine additional), the cost was not outrageous for a fine dining establishment. Considering the staffing and sourcing challenges, I was very impressed by Diamond's Edge and the quality of food and service.
Amenities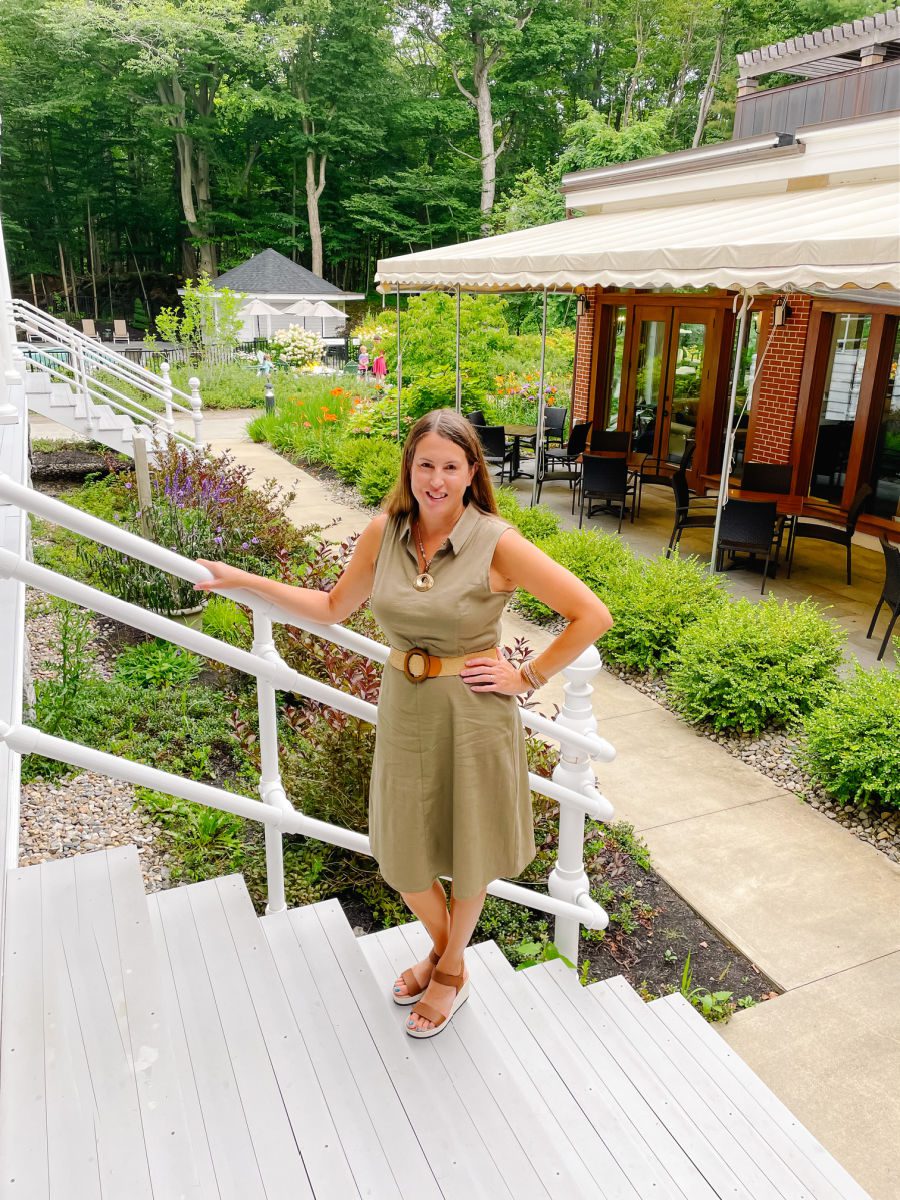 The Inn at Diamond Cove shares some amenities with its neighbors in the Association, but the pool is reserved strictly for hotel guests (condo residents have their own.) The pool is fairly small and quite shaded (although it does also have a hot tub), so I wouldn't plan on long afternoons relaxing by the pool, but it is handy for a quick dip. In front of the pool, there is also a gas-powered firepit with Adirondack chairs, where groups tend to congregate in the evenings.
Along the lawn, we saw cornhole and croquet games, but you must need to check with the front desk for the equipment needed to play the games. In addition to a playground and two tennis courts, there are some surprising amenities at the Inn at Diamond Cove.
The Inn and Association utilize the former Army rec center to offer a full-court indoor basketball court, a fitness center and yoga studio, various meeting rooms, and a library. Another building is home to a restored turn-of-the-century bowling alley with duckpin bowling, ping pong, a pool table, and some classic arcade games.
It is definitely the kind of place where groups of kids or siblings can head out together to safely explore and play without constant adult supervision. To supplement these on-site amenities, there are miles of trails and inland roads to walk, run, or bike (bike rentals are available in Portland or you can bring your own, there is just an additional ferry fee.)
Things to do on Diamond Cove
If you are staying with active kids or teens, you are going to want to do some exploring throughout the island. The front desk will provide a map of walking trails and nearby beaches. While the rough sand or pebbly beaches, and cold water don't make for ideal lazy beach days, these little coves are perfect for exploring. You are also going to want to bring something to collect all the gorgeous sea glass that washes up on these beaches!
Sunset Point – book a late dinner and hang out here to catch the sunset
Moon Garden Overlook – sit in the Adirondack chairs and watch the ferries and boats come and go
Pleasant Cove Beach – collect sea glass and swim
Diamond Cove Beach – swim in the calm water and watch the boats go by
I really hope that in the future they offer kayaks and/or paddleboards to borrow or rent, as that would be an excellent way to explore the island by water.
Things to do Nearby
If you are staying for more than a few days, you will probably want to spend a little time off island too. Nearby activities usually involve a ferry back to Portland first, although some may pick up at the ferry dock.
Take a guided paddleboard or kayak tour with Portland Paddle
Book a sailing tour with Maine Sailing Adventures
Learn how to be a lobsterman (or woman) with Lucky Catch
Enjoy shopping and dining in downtown Portland
Hop on the Maine Brew Bus to tour some local breweries
Head up to Freeport to visit the L.L. Bean flagship store
Visit Portlandhead Light in Cape Elizabeth
Take another ferry to Peaks Island and explore of visit the Fifth Maine Museum
Bottom Line
The Inn at Diamond Cove is ideal for families seeking outdoor fun and relaxation, with space to spread out and the ability to prepare some of your own meals. Given the activities, it is ideal for school-aged children, or families traveling together. I see the Inn at Diamond Cove as a perfect spot for a family reunion or multigenerational trip with active grandparents.
It is ideal for a long weekend, as for a full-week stay, families may start to get restless and want to plan more day trips to nearby islands and towns. My hope is that the new management team will continue to expand the number of activities available from the island, to include kayaking, paddleboarding, bike rentals, and excursions or special experiences like beach lobster bakes.
Save this to Pinterest