Note: This post is written in partnership with Visit Maine as part of a paid campaign. All opinions are my own.
Getting away from crowds is not hard in the Maine Highlands. With acres of forest, miles of hiking trails, and the largest lake, longest river, and tallest mountain in the state; getting away from it all is exactly what visitors are seeking when they come to the Maine Highlands.
And there is no better way to explore this gorgeous wilderness than a drive along the Katahdin Woods & Waters National Scenic Byway. This recently designated National Scenic Byway winds along 89 miles, beginning at the southern entrance to Baxter State Park, passing near Millinocket Lake, and traveling over to the lumber town of Patten along Route 11. The byway then ends at the Matagamon gate at the northern entrance to Baxter.
All you need is a car with a good set of tires, a sense of adventure, and this helpful road trip guide (and some bug spray and a comfortable pair of hiking shoes wouldn't hurt either!)
Maine Highlands Road Trip Guide
Your road trip can start and end in Bangor, Maine's third-largest city and once the lumber capital of the world. You will need at least a week to complete this road trip, which covers the highlights of the Highlands and travels along beautiful drives like the Katahdin Woods & Waters National Scenic Byway.
Bangor
Bangor, the Queen City of Maine, serves as a gateway to Northern Maine. Located on Interstate 95, it is easy to access from the Northeast or by air via the Bangor International Airport. It may be tempting to immediately head to the lakes and mountains, but don't skip over spending time in this charming city.
Located on the banks of the Penobscot River, Bangor has a rich history as a lumber capital, reflected in the historic homes of former lumber millionaires and the landmark home of author Stephen King. It is worth taking the time exploring this history through a walking tour offered from the Bangor Historical Society.
Downtown Bangor offers plenty of dining options, from cute cafes like Fork & Spoon to farm-to-table restaurants like Timber. Those looking for excitement can try their luck at the Hollywood Casino Bangor Hotel, or try to catch a concert at the Darling's Waterfront Pavilion.
There are also many family-friendly walking trails at the nearby Hirundo Wildlife Refuge and Orono Bog Boardwalk or a stroll through the Mt. Hope garden cemetery.
Greenville & Moosehead Lake
Once you have had your fill of Bangor, it is time for the hour-and-a-half drive up to Greenville, located at the southern tip of Moosehead Lake. The largest lake in Maine, Moosehead Lake stretches 40 miles in length and is a perfect destination for fishing, boating, hiking, snowmobiling, ATVing, and wildlife viewing.
For gorgeous sunset views right on the lake, bunk down at The Lodge at Moosehead Lake. But for more space and self-catering, try one of the cabin options from Moosehead Hills Cabins. The village of Greenville is small, but offers a few restaurant options, shops, and a small grocery store for stocking up on supplies.
If you are ready to hit the hiking trails, pick up a pamphlet for the Moosehead Pinnacle Pursuit at the visitor's center. The challenge is to summit six mountains in the Greenville area: Mount Kineo (which is accessible by ferry), Number Four Mountain, Whitecap Mountain, Eagle Rock, Big Moose Mountain, and Borestone Mountain. Summit them all and you will receive an official MPP patch and sticker.
A more leisurely way to explore is by hopping on a scenic float plane tour or taking a narrated three-hour tour on the steamship Katahdin. One activity not to be missed is searching for wildlife. Given the name it is no surprise that moose are abundant in this area and the best way to spy one is on an early-morning moose safari with Northwoods Outfitters.
These tours combine a driving tour with a canoe paddle on the lake to search for moose. If you are more of a DIY type, you can head north at dawn to the tiny town of Kokadjo to see if you can find any moose along Lazy Tom's Bog. Don't fret if you aren't successful, you will have more opportunities to look for moose along the Golden Road on your way to Baxter State Park.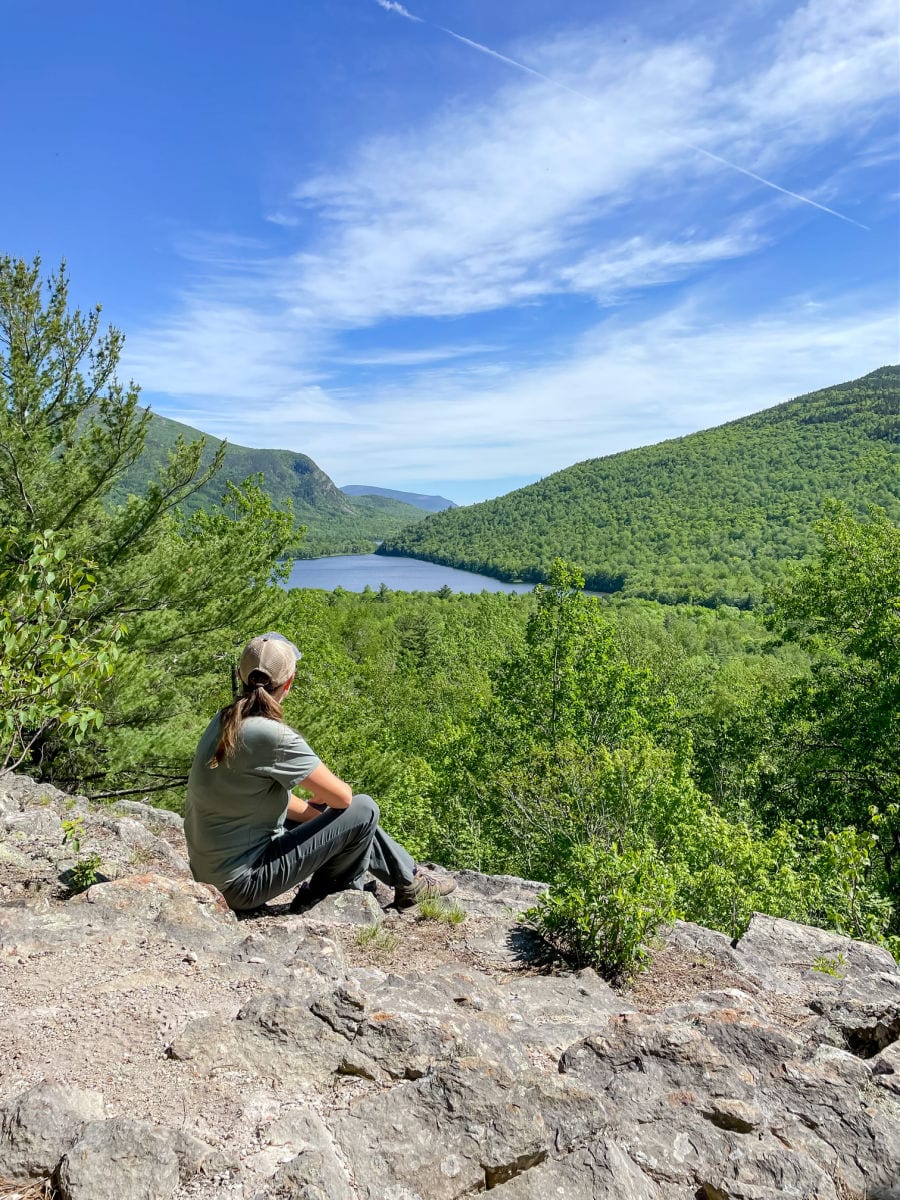 Baxter State Park
Baxter State Park is a jewel in Maine's State Park system, most famous for being home to Katahdin, the highest mountain in Maine and an endpoint to the Appalachian Trail. Of course a hike up Katahdin is not to be taken lightly, but if you have trained and are up to the challenge, keep in mind that you will need parking reservations and need to get a very early start for this 10+ hour hike.
Of course, Katahdin is not the only mountain to climb in the park. Baxter State Park covers over 200,000 acres and offers 220 miles of hiking trails, ranging from easy to expert. The park is also a popular spot for wildlife viewing, especially those looking for moose around Sandy Stream Pond.
Camping is available in the park, with reservations, but there are also many less rustic options just outside of the park. A great option for exploring the area is the New England Outdoor Center on Millinocket Lake.
Millinocket Lake
From the southern entrance of Baxter State Park, you will officially begin your drive along the Katahdin Woods & Waters National Scenic Byway over to Millinocket to stay a couple of nights at the New England Outdoor Center (NEOC) on Millinocket Lake.
With a scenic location looking across the lake to Katahdin, NEOC offers a range of basic cabins and luxury lodges, with a wide variety of activities to enjoy. There are fat tire bikes to rent, or kayaks, canoes, or paddle boards to borrow.
NEOC also offers thrilling whitewater rafting trips or calmer, family-friendly float trips along the Penobscot River. There is also another chance to look for moose on a pontoon boat tour on Millinocket Lake. In addition to moose, you are likely to spot beaver, loons, and other wildlife.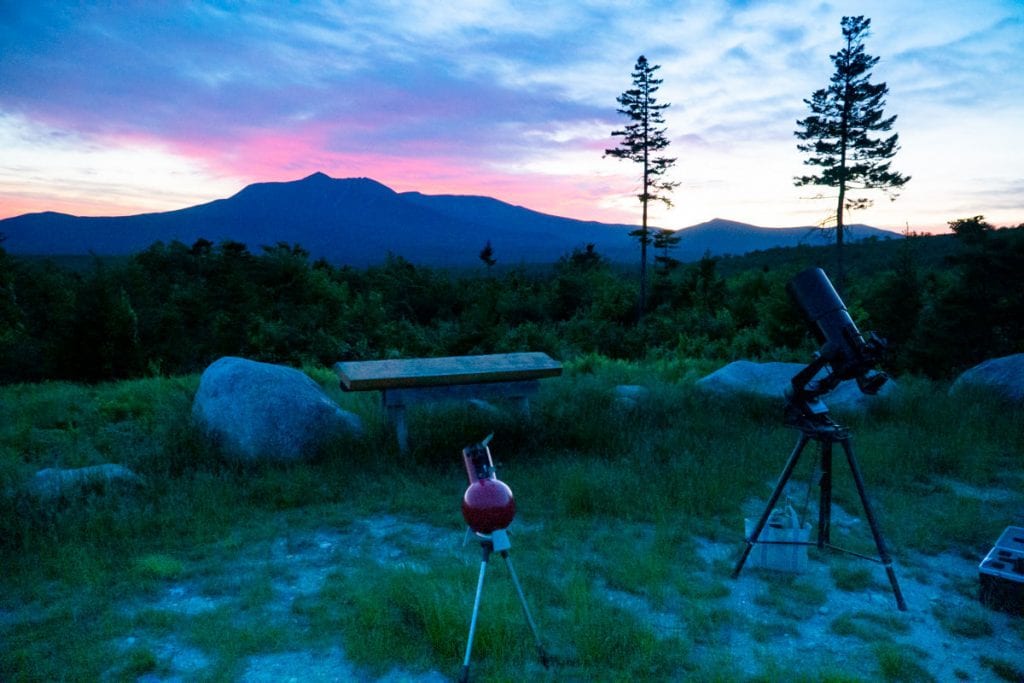 Katahdin Woods & Waters National Monument
From Millinocket, continue along the Katahdin Woods & Waters National Scenic Byway via the Golden Road and Route 11 to one of the National Park System's newest additions, the Katahdin Woods & Waters National Monument.
Along the way, you can stop at the Ambajejus Boomhouse Museum, Debsconeag Ice Caves, and Grindstone Falls as you follow the West Branch of the Penobscot River.
Katahdin Woods & Waters National Monument covers 87,563 acres of mountains and wilderness, some of which you can discover by driving the 17-mile rough gravel loop road through the southern section of the park. While services are still very limited, the park is ideal for back-country camping and hiking.
If you stay overnight, you can enjoy the amazing night sky views, as Katahdin Woods & Waters National Monument was also recently designated an International Dark Sky Sanctuary.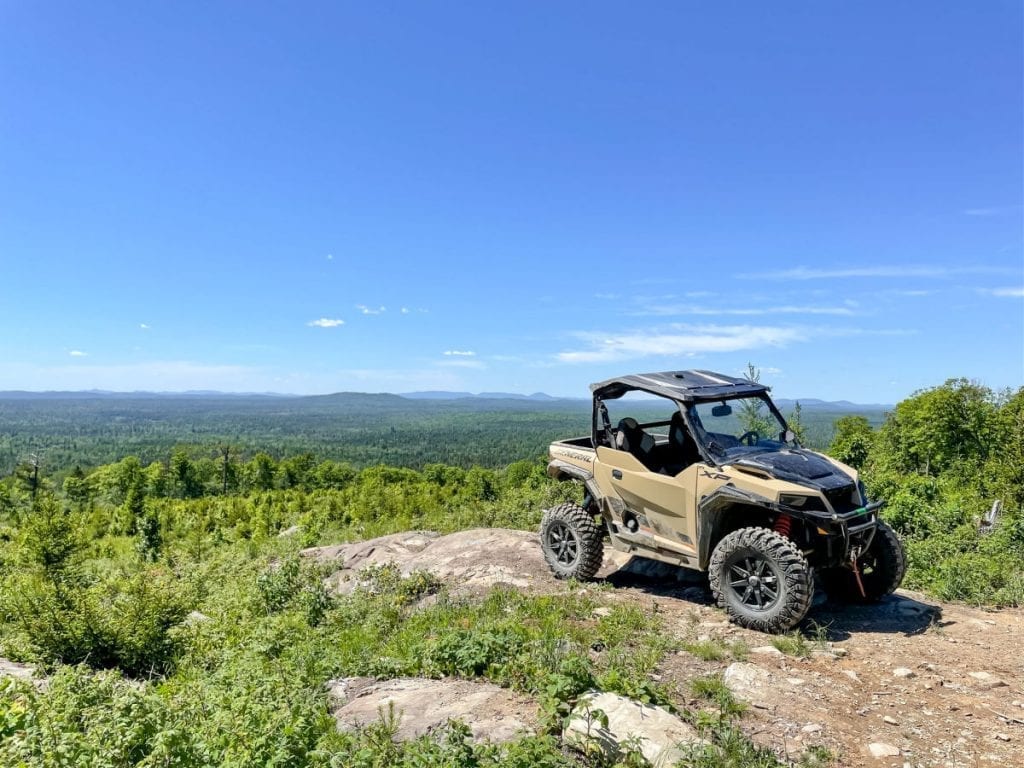 Patten
The last stop on your road trip on the Katahdin Woods & Waters Scenic Byway is in Patten, where you can visit the Patten Lumbermen's Museum. On the way, stop at the scenic overlook at Ash Hill and stop for a BBQ lunch at Flatlander's Smokehouse.
Plan to spend a couple of nights near Patten in a cabin at Shin Pond Village. From here, you can enjoy short hikes to scenic spots like Shin Brook Falls or rent a side-by-side and spend the day exploring the many miles of ATV trails in and around Patten.
Patten is also less than 45 minutes away from the Matagamon Gate at the northern entrance to Baxter State Park. This quieter section of the park has so much to explore around the South Branch section including a hike to South Branch Falls, or a viewpoint from The Ledges trail, or you can rent a canoe for $1.00 and paddle around South Branch Pond.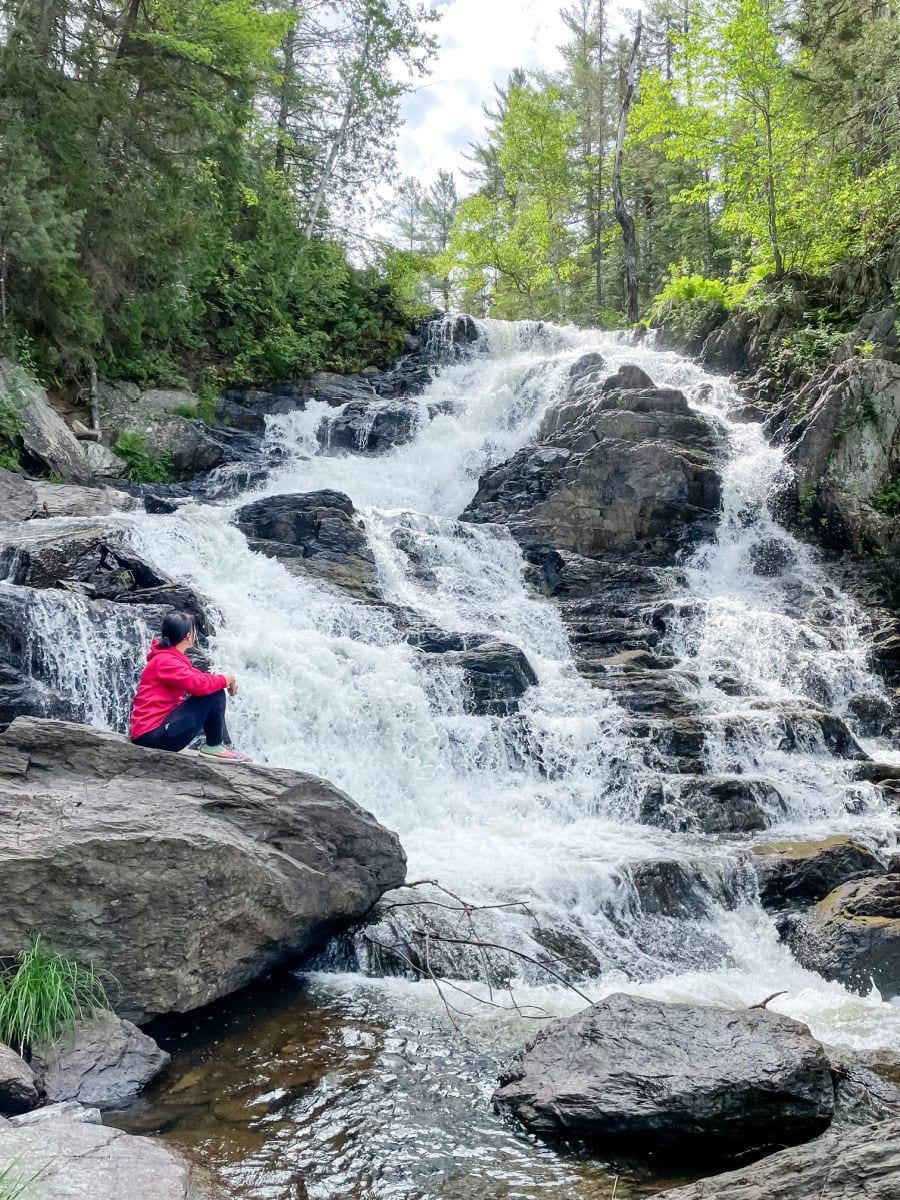 Return to Bangor or Continue your Road Trip
By this time your legs will be tired and your heart will be full of happy memories and the sense of renewal that only time in nature can provide. It will take only an hour-and-a-half to return to Bangor and conclude your trip.
However, if you haven't gotten your fill of Maine, continue on to the gorgeous rocky coast with a road trip along more of Maine's scenic byways Downeast. Start off on the Schoodic National Scenic Byway and enjoy some of the wonderful activities outside of Acadia National Park and away from the crowds. Then continue east along the Bold Coast National Scenic Byway to the Canadian border.
Whether you stick to the Maine Highlands or extend your trip for a longer Maine road trip, you are bound to fall in love with the Pine Tree State. The call of Maine will continue pulling you back again and again, with always something new to explore.