Driving up to Northern New Hampshire, I kept seeing signs to "share the road with ATVs" and my first thought was, "we must be getting close." Hannah and I were heading up to Pittsburg, New Hampshire, practically in spitting distance to the Canadian border, for our next mother-daughter adventure. Our destination was Bear Rock Adventures and our goal was to try off roading in New Hampshire on the new Polaris RZR side-by-side. Little did I know at the time, but NH ATV trails span over 1,000 miles and we still had a way to go to reach our destination.
When Bear Rock Adventures invited us to give off roading a try, I was game. Glenn and I had tried ATVs in Iceland, which I found a bit challenging to drive over rough terrain. Yet everyone that I know who has gone buggy off roading loved it. And my adventure seeker sidekick is always up for something new. So there we were, driving up to the Great North Woods of New Hampshire to check out the ATV trails.
Bear Rock Adventures
Started in 2013 by Corrine Rober, Bear Rock Adventures offers ATV and side-by-side rentals for families and thrill-seekers. Bear Rock has partnered with Polaris to provide customers with fully-equipped two, four and six-seat vehicles, tricked out with GPS, Bluetooth, and even Spot location technology should you need a rescue.
With over 1,000 miles of interconnected trails as part of the "Ride the Wilds" trail system, New Hampshire is one of the best spots in the country for off-road enthusiasts. Bear Rock makes it easy for those new to the sport to give it a try. With curated trails, families can follow the GPS or go with a guide. There are half- or full-day options, and we were headed out on the Scenic Sugarhouse trail, which takes about four hours to complete.
Our Day on the Scenic Sugarhouse Trail
We headed out bright and early to beat the mid-day heat and our path led us over the river and through the woods — or there about. The first part of the trail was flat and even, more like a dirt road than what you may think of as off-roading. We jammed to the music of our choice with the Bluetooth integration and enjoyed the scenic views of the river and grassy valley. It was almost hard to believe that just across the river was Canada, but the data roaming alerts on my phone told me that was true.
But it is ok to get off the grid for a while — especially when you are talking about family travel. What can create a better connection than a side-by-side adventure without the distraction of social media, texts, and email?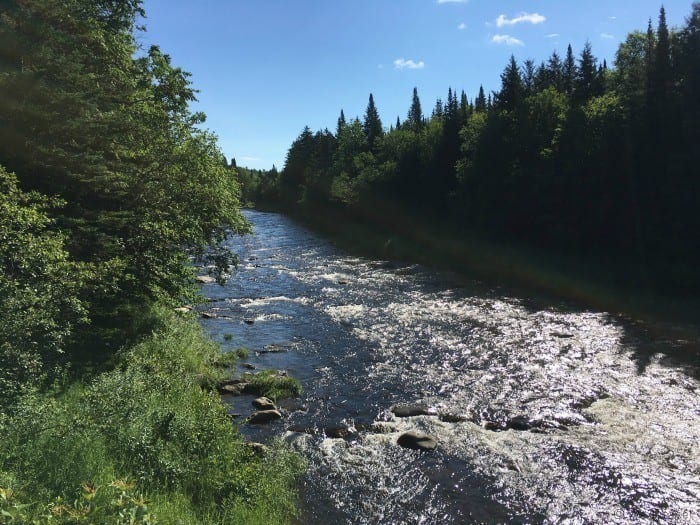 Check out our fun time with Bear Rock Adventures
After about 45 minutes, we crossed into Vermont and went through the small town of Canaan. This is where I was glad to have a guide. While it was great to have the GPS, it could get tricky to find the correct turns without voice guidance and turn-by-turn directions (which would be difficult on an ATV trail!) It is amazing that these small towns allow ATVs to share the roads, but it also brings tourism dollars into struggling communities. Of course, the whole trail system is dependent on individual land owners that allow access to their property. It is important to stay on the trails and follow posted signs regarding speed and noise. You know what they say about one bad apple spoiling the bunch, and if one person drops out because they get fed up with how visitors are treating the trails, the whole trail system falls apart.
Once in Vermont, our trail got a little more adventurous. We climbed rocky hills and splashed through some pretty big puddles (my favorite part!) on our way to April's Maple. During this portion of the ride, I was very glad to be in the Polaris RZR versus a standard ATV quad.
Polaris RZR – Easy Handling and Relentless Maneuvering
When I was driving the ATV in Iceland, I got so nervous about it flipping or tipping when going up or down steep hills or really rocky terrain. The Polaris RZR side-by-side drives much more like a car and the thing just seems indestructible. Instead of worrying about how much throttle to give, the RZR's automatic transmission and power steering (with a steering wheel) made driving much more natural. Plus, with the seat belts and rollbars, I felt secure even if something where to happen. Definitely a better choice for families! And if we weren't on a tour and god forbid we did get lost or injured, the Spot location service can send out a distress call for a helicopter rescue but that is an expensive option only to be used in a last resort.
Of course, Bear Rock Adventures makes sure you are equipped with an emergency kit, plus you have room for personal storage and coolers in the back.
April's Maple Sugarhouse
After two hours off roading, I was more than ready for a break and April's Maple is the perfect place. Located in the Northeast Kingdom of Vermont, the 800 acres of land on which the sugarhouse sits today has been in the family for generation before April left Wall Street to start April's Maple. Make sure you check ahead for opening days and hours, but April's Maple is more than just a sugar house, they also have a cafe with sandwiches, sliders, salads and maple creemees (maple soft-serve ice cream.)
There is also a retail shop where you can sample maple syrup and stock up on goodies like maple sugar candies, maple pancake mix, and maple crunch. I highly suggest the maple donut bread pudding — the only way you could make that dish of goodness any better would be to drizzle it in chocolate (as it is, a little maple syrup on top is pretty darn good on its own.)
The Long Ride Home
One thing I learned is that newbies to off-roading should probably start with a one or two hour rental and explore trails close to Bear Rock's HQ in Pittsburg. Because once you get all the way to April's Maple, there is no short cut on the way back. The return trip is two hours and you can break it up with a stop at Beaver Brook Falls on the way. It is nice to get off and stretch your legs and take in the views. Of course, if you are in a hurry, you can push it past the typical 30-40 MPH I logged, especially on the flat straightaways (but follow posted speed limits of course.)
Where to Stay – Lopstick Lodge
Just 10 minutes from Bear Rock Adventures, overlooking First Connecticut Lake, Lopstick Lodge is the
perfect home base for families looking to spend a few days off-roading and enjoying the Great North Woods. They offer cabins with one, two, or three bedrooms to suit families of all sizes.
This area is great for fly fishing for salmon and trout in the Connecticut River, birding by the lakes, and even moose-watching in the watery moose meadow or nearby "Moose Alley."
If you go, be sure to have dinner at Rainbow Grille located at Tall Timber Lodge. Sitting beside a lake with beautiful views, the lodge-like atmosphere focuses on meat and seafood, including bison, elk, venison, duck, steak and fish. Hannah even tried venison for the first time here!
Bear Rock Adventures is open May 26, 2017 through October 9, 2017 and they are located at 545 Beach Road in Pittsburg, NH. Half-day rentals (9-12:30 or 1:30-5) start at $350 for a two-seater and full-day rentals start at $450. ATVs are also available. Additional riders are $30 per person and reservations are highly recommended, especially on weekends and holidays. All drivers must have a valid driver's license and passengers must be able to fit safely into the seat and restraints.
[plan-trip]
Be sure to reserve your rental in advance, especially on the weekends
Bear Rock Adventures offers vehicles that seat two, four, or six — but just be forewarned that you can't see very much from the back. If you can afford it, I'd recommend getting two vehicles or at least take turns switching seats
Prepare to get DIRTY!! I should have saved the picture of my dirty face — the only clean thing was under my goggles
Bear Rock Adventures does supply helmets and goggles so no need to bring your own
It can be incredibly dusty so bring lots of water along for the ride (just keep in mind that there are limited options to stop and use a bathroom)
If you haven't gone off-roading before I advise that you start with a half-day rental and use the trails close to Bear Rock Adventures before taking on a long trail with a four-hour round trip
[/plan-trip]
PIN THIS FOR LATER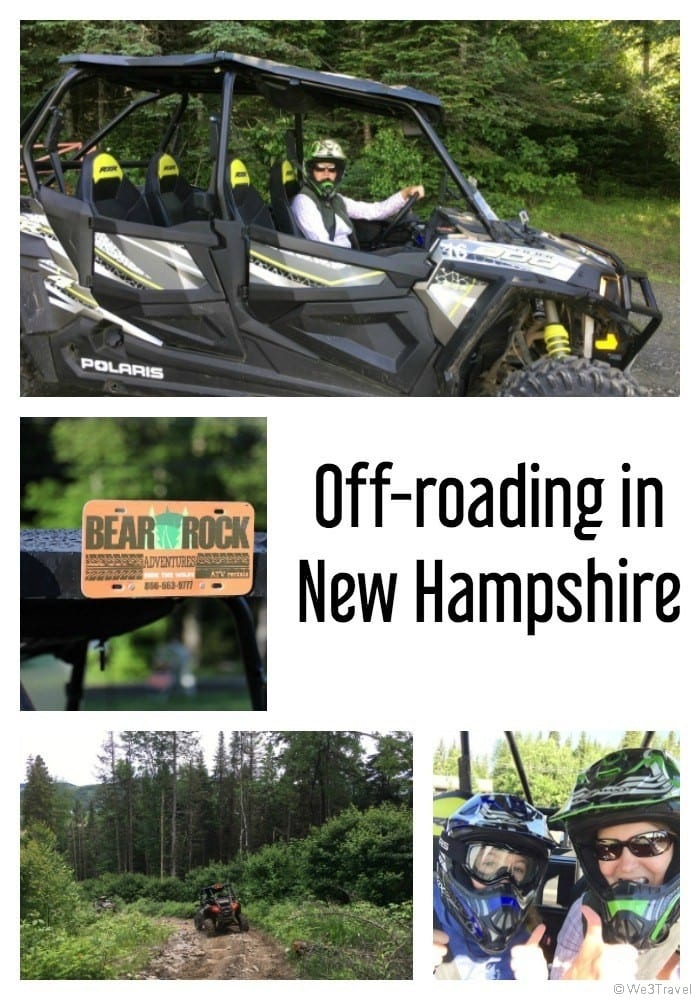 Note: We were hosted by Bear Rock Adventures for purposes of this review. All opinions are my own.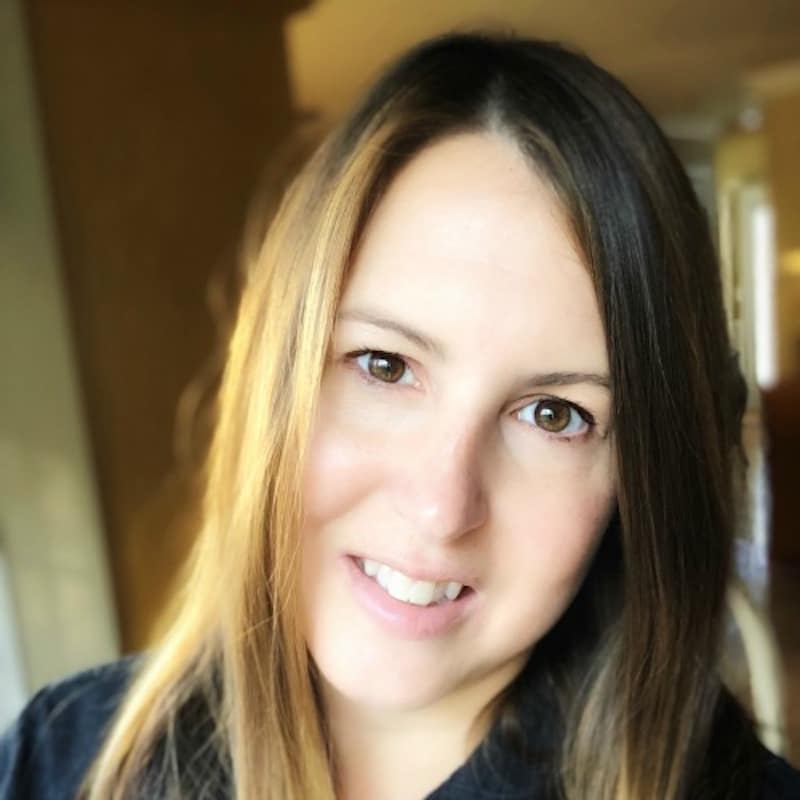 Tamara Gruber is the Founder and Publisher of We3Travel. A former marketing executive and travel advisor, Tamara is an award-winning travel writer and recognized expert in family travel. She is also the publisher of YourTimetoFly and the co-host of the Vacation Mavens travel podcast.