Think the White Mountains in New Hampshire are only about epic hikes and extreme weather? Well, you can definitely find those, but there are so many amazing things to do in the White Mountains, whether you are traveling with kids, looking for a nature retreat, or just want a fun New England weekend getaway.
Over the last twenty years of living in New England, we have made countless road trips up to New Hampshire, and the White Mountains remain my favorite part of the Granite State. Once I see the bold rocky peaks and breathe in the crisp mountain air, I feel like I've traveled much more than just three or four hours from my home in Rhode Island.
Whether you are considering a visit to New Hampshire for winter sports, maple sugaring in the spring, hiking, swimming, and camping in the summer, or gawking at the gorgeous fall foliage in the autumn, you are going to find something in this list to make your trip memorable.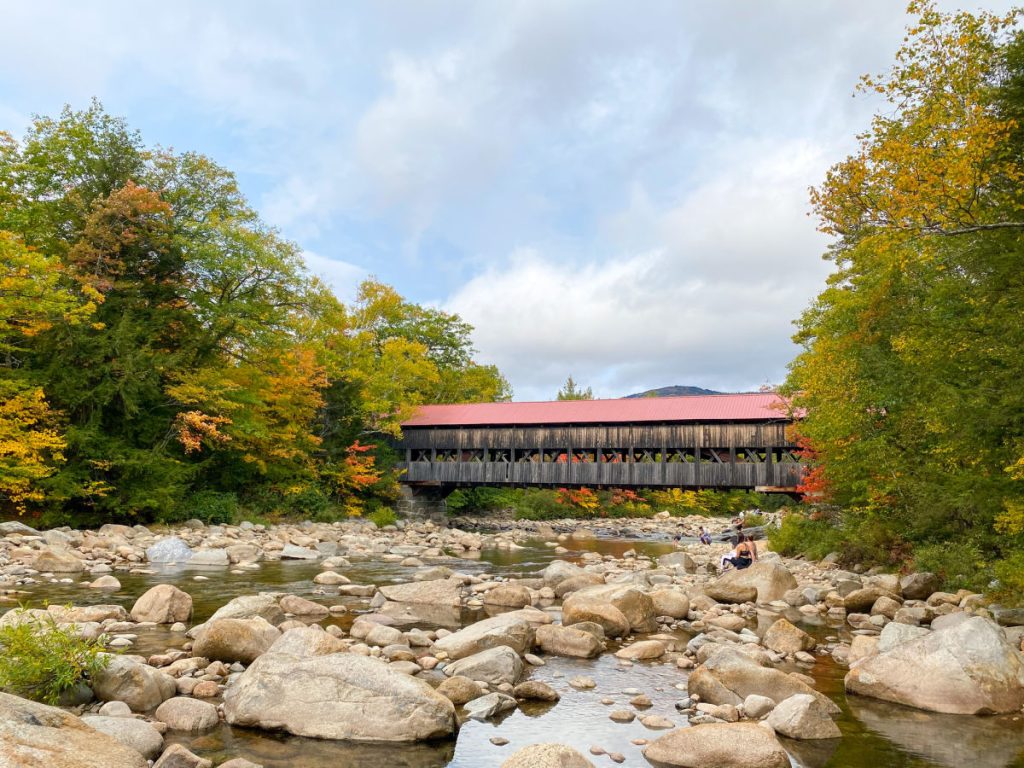 Best Things to do in the White Mountains
There are so many fantastic things to do in the White Mountains and this comprehensive list covers:
Most popular attractions
Outdoor activities and best short hikes
Best scenic drives
Family-friendly activities
Seasonal events
Shopping
Our favorite photography spots
Local breweries
Restaurant recommendations
Best places to stay including hotels and glamping
I always find it helpful to visualize where everything is so I've included these top attractions and recommendations on the map below using Google My Maps. To make it easier for you to plan your visit to the White Mountains, I've arranged this round up of the best things to do in the White Mountains in a clockwise loop, starting in North Conway in the southeastern part of the White Mountains.
---
Swim at Diana's Baths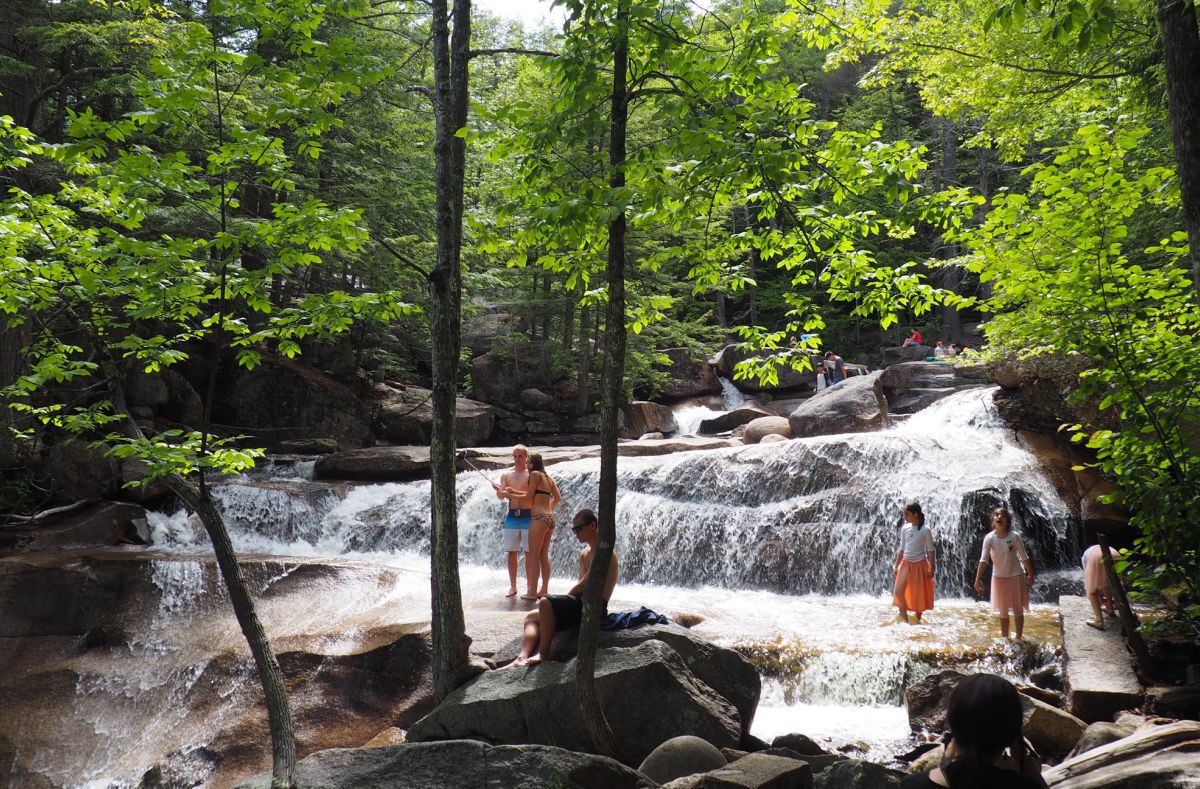 Diana's Baths is a popular attraction in the White Mountains, located just outside of North Conway. It is comprised of a series of cascading waterfalls and picturesque pools, formed by the course of Lucy Brook. This is a great spot to cool off in the summer and you will see many swimming in the pools and splashing in the waterfalls. You can reach Diana's Baths via a .6 mile long scenic trail, making it a family-friendly hike, The first section is also ADA accessible and stroller friendly with benches along the way. There is a year round fee for parking at the self-serve station.
When visiting, it's wise to arrive early, especially during peak tourist season, as parking can fill up quickly and parking along the road is not allowed. I would also suggest bringing along a picnic, beach towels, a swimsuit (on a warm day) and water shoes (as the rocks can be sharp and slippery in spots.)
Diana's Baths is located at 3725 West Side Rd, Bartlett, NH 03812.
Climb Cathedral Ledge
Cathedral Ledge, located very close to Diana's Baths in Bartlett, is a popular spot for rock climbing in the White Mountains. This impressive granite cliff offers breathtaking panoramic views of the White Mountains, Echo Lake, and the surrounding valleys. You can access Cathedral Ledge via a mile-long auto road that leads to the top of 700-foot Cathedral Ledge. A $5.00 parking fee is required via a self-serve pay station (it helps to bring exact change!)
You can also hike up to Cathedral Ledge from trails at Echo Lake State Park. Once at the top, there is a very short accessible trail that leads to a view of the valley.
Play at Cranmore Mountain Resort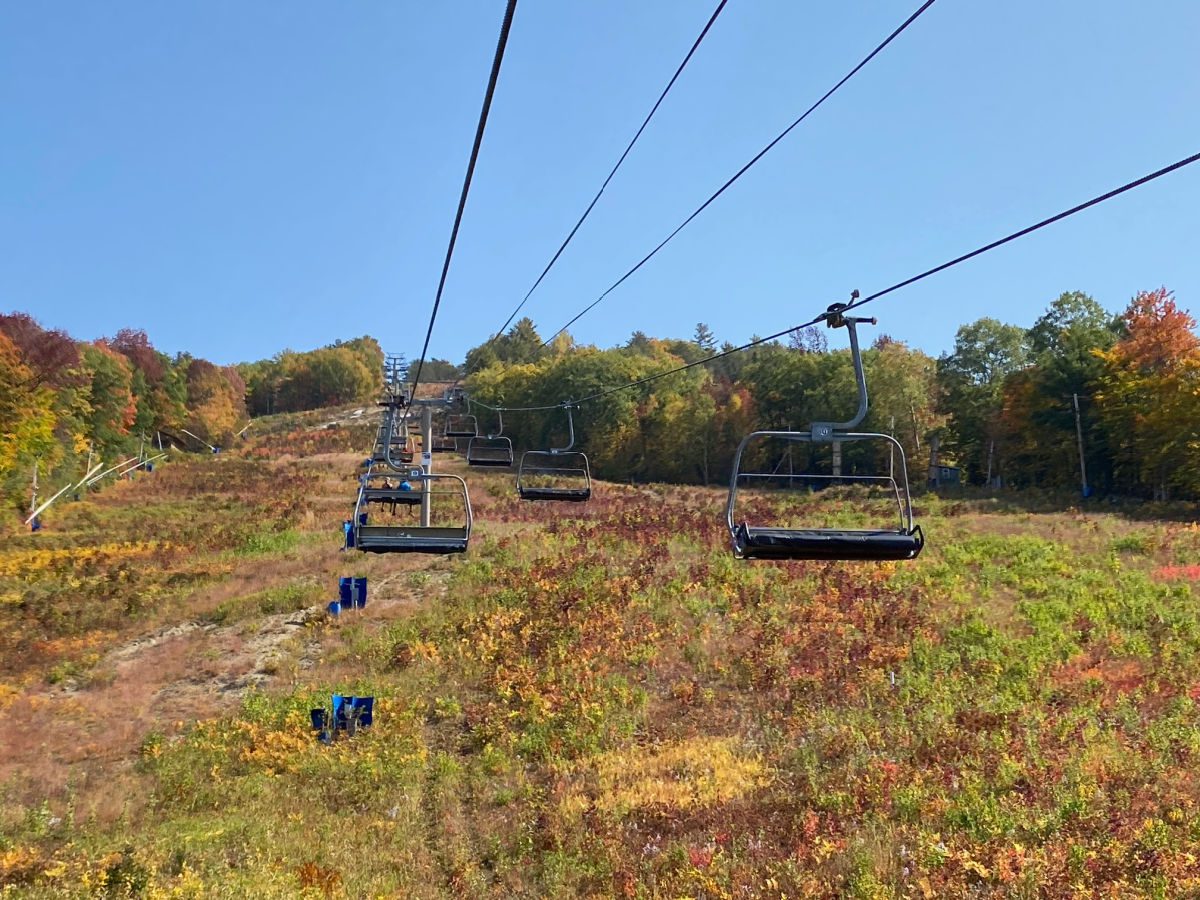 Located just one mile from downtown North Conway, Cranmore Mountain Resort is a spot for great family fun in the summer, fall weekends, and winter. In the winter, Cranmore offers the top tubing park in New Hampshire with up to ten lanes of lift serviced sliding, a mountain coaster, a giant swing ride, the Soaring Eagle 700-foot, seated zip line ride, and 56 trails and glades with a variety of terrain for all ability levels from a beginners to experts.
The fun doesn't stop in the summer and early fall weekends, when you can enjoy six-miles of lift-serviced trails at the Cranmore Bike Park, ride the scenic chairlift, enjoy a drink and a bite at the mountaintop Meister Hut, soar on the Eagle Zip Ride or Giant Swing, zoom down the Mountain Coaster, slide down the summer tubing park, or challenge yourself on the climbing wall. The top of the mountain is a great photogenic spot to view fall foliage.
Cranmore Mountain Resort is located at 239 Skimobile Road, North Conway, NH 03860.
Shopping at Settler's Green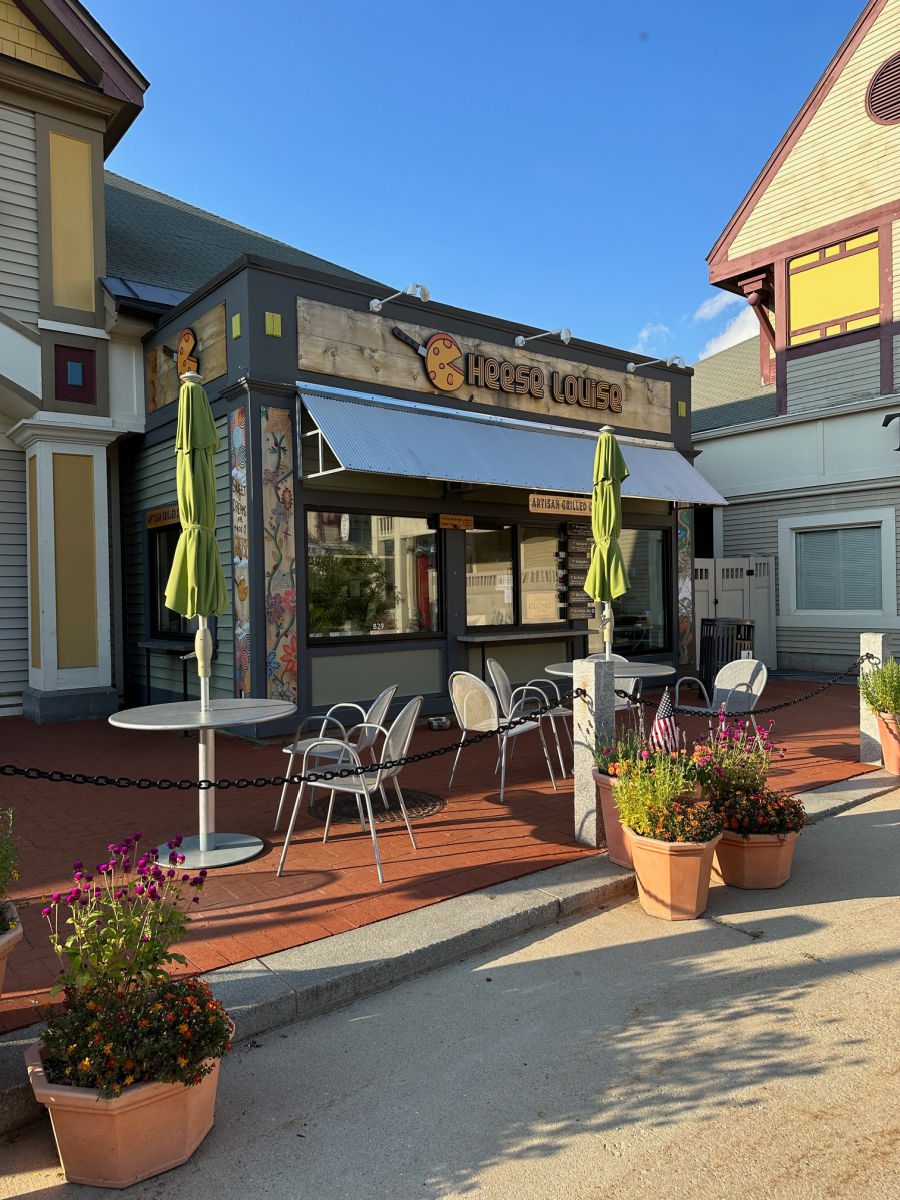 The White Mountains aren't exactly a shopping mecca, but of all the small towns in New Hampshire, North Conway offers some of the best shopping options. Downtown you will find a number of cute shops and boutiques. It is also home to a large L.L. Bean Outlet and the Settler's Green Outlet Village, which has popular brands like Merrell, Cotopaxi, Swix, REI, and Craghoppers for tax-free shopping. If you are hungry, one of my favorite restaurants in the area is located in Settler's Green, Barley & Salt, as well as an outpost of the popular Cheese Louise for family-friendly grilled cheese sandwiches.
Settler's Green Outlet Village is located at 2 Common Court in North Conway, NH.
Drive the Kancamagus Highway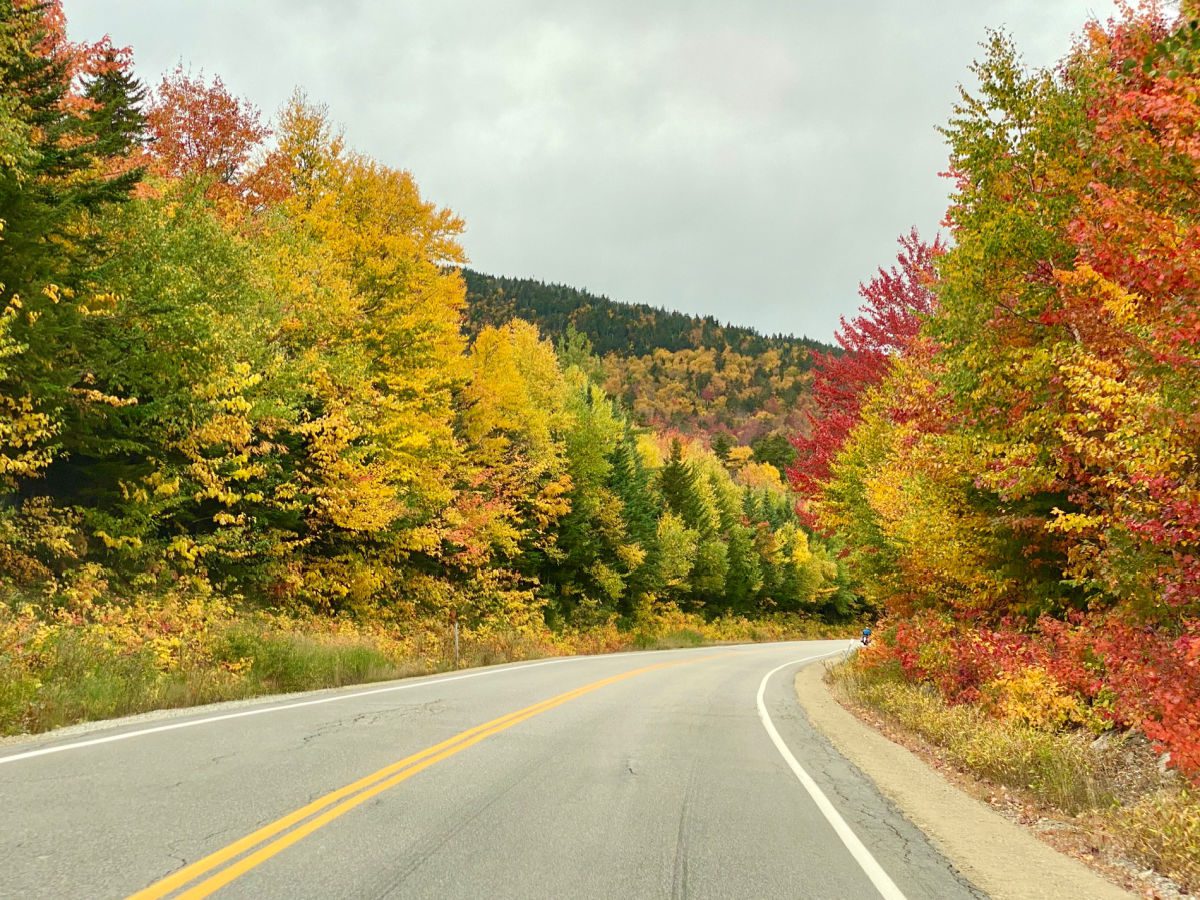 The Kancamagus Scenic Byway, affectionately known as the "Kanc" by locals, is one of the most scenic road trips in New Hampshire and in all of New England. This 34-mile scenic drive runs along New Hampshire's Route 112 in the White Mountain National Forest from Conway to Lincoln, NH. This is extremely popular with leaf peepers, so if you are visiting on the weekend during fall foliage season expect a lot of traffic and crowded parking lots at the scenic pull offs.
I've written a whole post about where to stop along the Kancamagus Highway, but plan to take at least a half a day enjoying the sights along this scenic drive. It really helps to start early when visiting during the fall to avoid some of the traffic and be sure to pack a picnic and get gas before you go because there are not any services along the way. (There are also electric chargers in North Conway and Lincoln if you need them!) Also keep in mind that you will need to purchase a parking pass when parking at the trailheads so bring $5 for a day pass (the parking lot at Lincoln Woods also has an automated pay by credit card machine.)
A few highlights along the Kanc include: Albany Covered Bridge, Rocky Gorge Scenic Area, Sabbaday Falls (one of my favorite waterfall hikes in New Hampshire), the Sugar Hill Scenic Overlook, C.L. Graham Wangan Overlook, and Lincoln Woods.
Take a Side trip on Bear Notch Road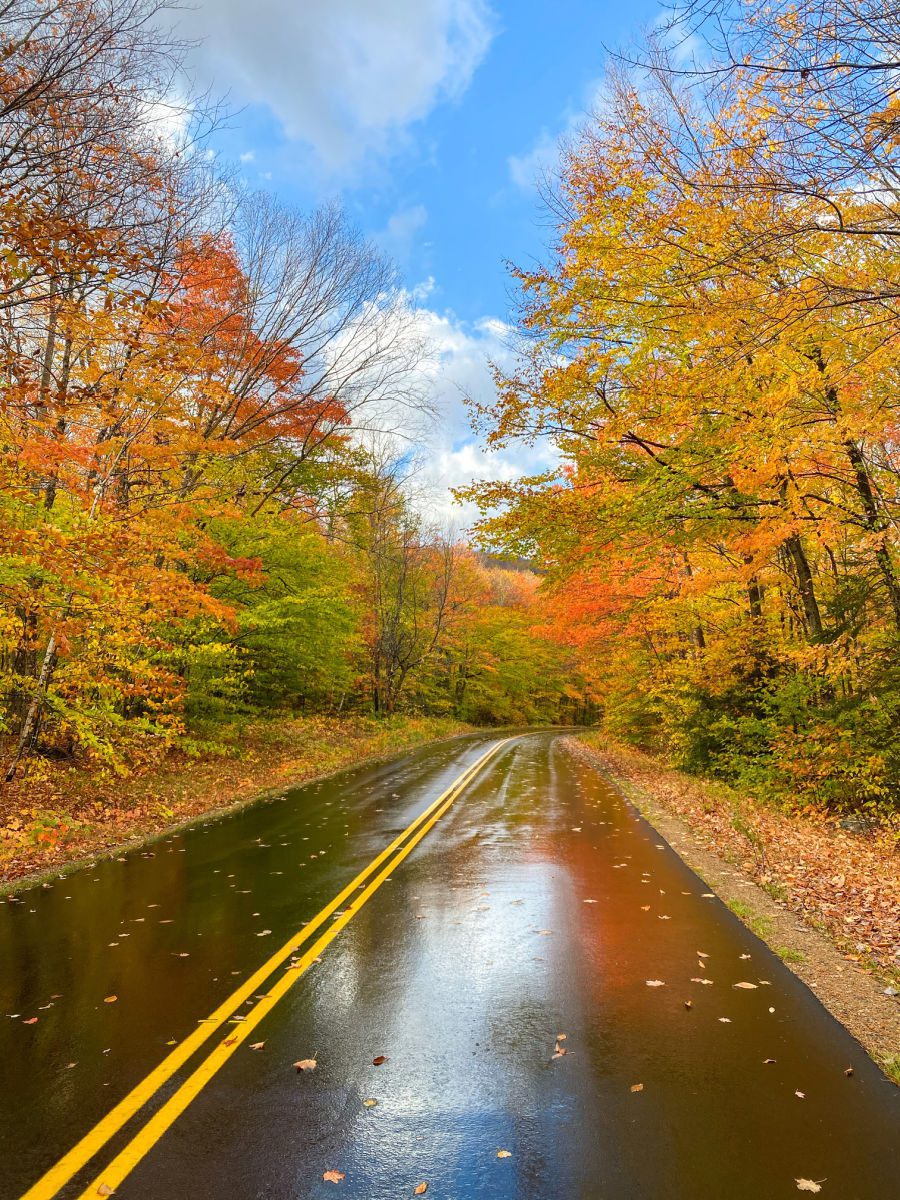 If you want to get away from some of the traffic on the Kancamaugus Highway, Bear Notch Road, which connects the Kanc to Highway 302 is a quieter and equally beautiful drive with a couple of scenic overlooks. You may also want to stop at the Bartlett Covered Bridge before looping back down to North Conway.
Hike at Lincoln Woods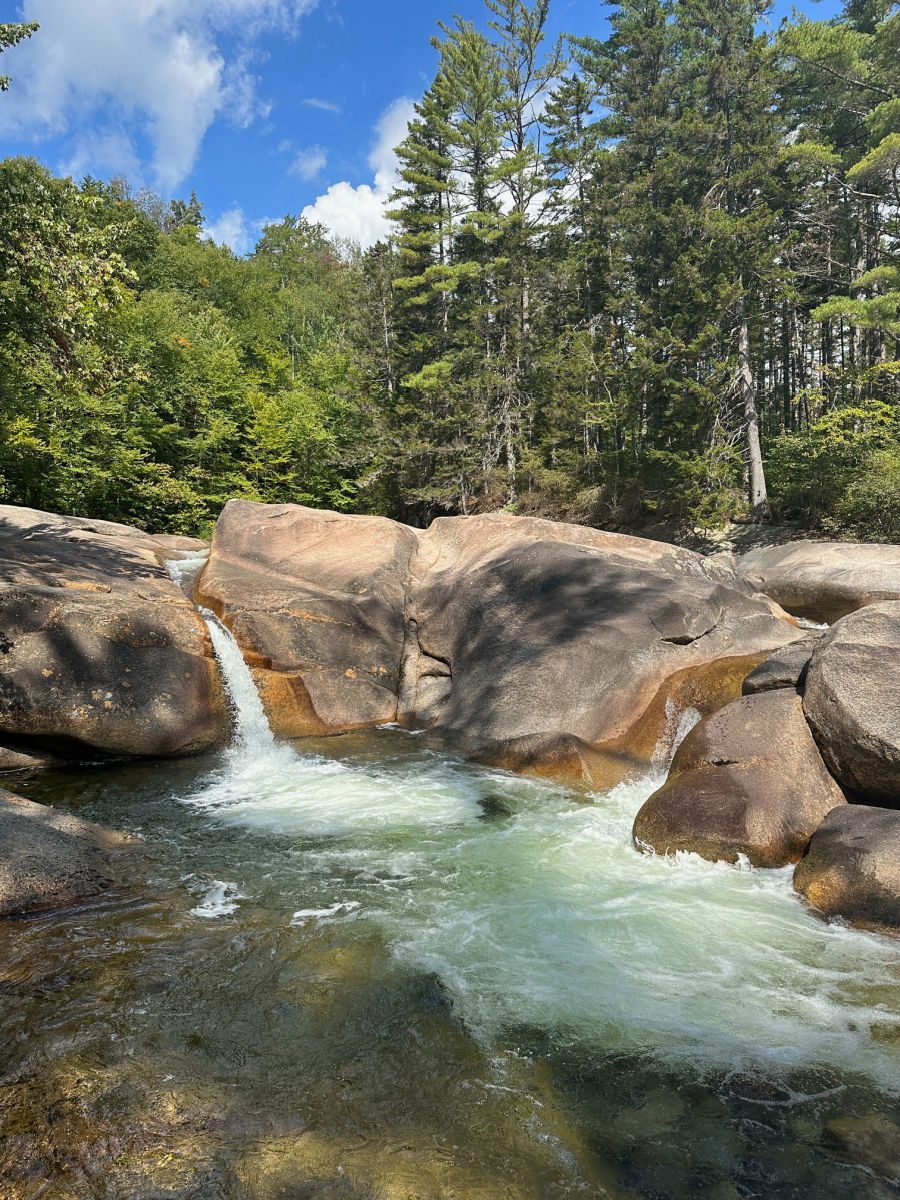 The Lincoln Woods Trailhead is at the beginning (or end) of the Kancamagus Highway near Lincoln, NH. This trailhead serves as a gateway to a plethora of outdoor adventures and is a popular starting point for hikers, offering access to a network of scenic trails that wind through the pristine wilderness. Notable trails that begin here include the Lincoln Woods Trail, which provides a flat, shaded, and easy walk along the Pemigewasset River, making it perfect for families, and the Franconia Falls Trail, leading to a refreshing natural waterfall and swimming area.
Additionally, it serves as the starting point for the iconic Franconia Ridge Loop. Beyond hiking, you can enjoy activities such as picnicking, birdwatching, and wildlife spotting. There are toilets and a ranger station at the trailhead, but keep in mind that you will need to pay for a recreational pass when parking at the trailhead. You can either use the self-service kiosk and leave exact change in an envelope or make use of the pay station that accepts credit cards.
Ski or Bike at Loon Mountain Resort
Loon Mountain Resort boasts 61 ski trails and glades, catering to skiers and snowboarders of all levels, but it is known as being especially family-friendly and great for beginners. Additionally, families can enjoy the thrill of tubing down the resort's two dedicated tubing trails. In the summer, Loon transforms into a hub for outdoor enthusiasts with activities like zip-lining, mountain biking, Ninja Wild outdoor ninja course, and scenic gondola rides to the summit.
Loon Mountain Resort is located at 60 Loon Mountain Rd, Lincoln, NH 03251
Zipline at Alpine Adventures
Alpine Adventures, located in Lincoln, New Hampshire, is a year-round outdoor destination offering a wide range of thrilling activities. One of its main attractions is the ziplining experience, featuring some of the longest ziplines in New England. Additionally, Alpine Adventures boasts an adventure ropes course and visitors can enjoy guided off-road safari tours and winter snowshoe adventures, ensuring that there's something for everyone, no matter the season.
Alpine Adventures is located at 41 Main St, Lincoln, NH 03251
Visit a Local Brewery Or Winery
The White Mountains region in New Hampshire is increasingly becoming a hub for craft beverages, boasting a growing number of breweries and even a winery. Some of the most popular ones include the Woodstock Inn Brewery, which offers a variety of craft beers and has been a local favorite for years, Twin Barns Brewing, and Schilling Beer Company. Additionally, Seven Birches Winery in Lincoln is known for its selection of wines crafted from locally sourced fruit.
Explore Magical Ice Castles
Ice Castles is a magical winter attraction that allows visitors to step into a frozen fairytale world. It is typically open from sometime in January and runs to March, depending on the weather. Spanning over an acre, these ice formations are meticulously crafted with icicles and embedded with colorful LED lights, creating an enchanting spectacle after dark. While Ice Castles changes every year, you can expect to explore a labyrinth of dazzling tunnels, archways, slides, and sculptures made entirely of ice.
Tickets often sell out so I'd urge you to purchase tickets in advance online, as soon as opening dates are announced. This popular attraction can get crowded, so if you can, visit midweek or during the day. Be sure to dress warmly and wear sturdy footwear.
Ice Castles is located at 24 Clark Farm Road North Woodstock, NH, 03262.
Crawl through Caves at Lost River Gorge
Lost River Gorge and Boulder Caves in North Woodstock is known for its geological wonders where you can explore jagged rock walls, gigantic boulders, rock-strewn glacial boulder caves, and cascading waterfalls. There is a one-mile boardwalk trail that meanders through lush forests and along the banks of Lost River, leading visitors to numerous attractions, including caves, waterfalls, and impressive rock formations. There are a total of eleven caves to explore, each with its own unique character, like the Lemon Squeezer and the Shadow Cave.
At the end of your walk, you can climb into a Giant Bird Nest with a beautiful forest overlook. Timed-entry reservations should be made in advance online as in-person ticket sales are not guaranteed if it sells out.
Lost River Gorge is located at 1712 Lost River Rd, North Woodstock, NH 03262
Side note: I know a lot of lists will also include Clark's Trading Post and its Clark's Bears live bear shows but I've never felt comfortable with the idea of keeping bears in captivity to perform so I've purposely left them off this list.
Splash Away at Whale's Tale Waterpark
If you visit the White Mountains in the summer and are looking for a fun way to cool off with the kids, plan a day at the water park. Whale's Tale Water Park in Lincoln covers approximately 17 acres with a wide array of attractions, including waterslides such as the thrilling Banzai Pipeline and the twisting Beluga Boggin.
The park also features a relaxing wave pool, a lazy river, and a special area for younger children with kid-friendly slides and interactive play structures. For those looking for an extra thrill, there's the chance to try out simulated surfing at the FlowRider.To satisfy hunger and quench your thirst, the park offers a snack bar and a café on site.
Whale's Tale Waterpark is located at 481 Daniel Webster Hwy, Lincoln, NH 03251
Take a Walk through Flume Gorge
Flume Gorge is part of the Franconia Notch State Park and features a well-maintained two-mile trail, which leads visitors through a chasm carved by glaciers over 200 million years ago. Along the trail, you can witness rock formations, cascading waterfalls, and lush vegetation. Notable highlights include Avalanche Falls and Liberty Gorge.
Flume Gorge is open year round but the boardwalk through the Gorge is removed in the winter and only the upper trail is accessible. The visitor's center at Flume Gorge provides informative exhibits about the geological processes that shaped the area, as well as the park's flora and fauna. It is recommended that you buy tickets in advance when visiting during busy times, as walk up tickets are not guaranteed. Also keep in mind that the trail involves a series of stairs and isn't suitable with those that have mobility issues. My husband also has a fear of edges and found the boardwalk a bit difficult so keep that in mind if you have vertigo issues.
Flume Gorge is located at 852 Daniel Webster Hwy, Lincoln, NH 03251
Visit the Old Man of the Mountain Historic Site
The Old Man of the Mountain was a natural rock formation made up of a series of five granite cliff ledges that, when viewed from a specific angle, resembled the profile of an old man's face. The profile was a beloved symbol of New Hampshire and it became an iconic emblem of the state.
However, the Old Man of the Mountain collapsed on May 3, 2003, due to natural erosion and the effects of freezing and thawing. At the historic site of the Old Man of the Mountain, you can learn about the history and geology of the formation, as well as its cultural significance to the region. Additionally, there is a memorial plaza with a steel "profile" sculpture that replicates the image of the Old Man, allowing visitors to see and appreciate what the formation once looked like.
Ride the Cannon Mountain Aerial Tramway
The Cannon Mountain Aerial Tramway is New Hampshire's only and North America's first aerial tramway with a cable car that brings visitors to the 4,080-foot summit of Cannon Mountain in under ten minutes. Located in Franconia Notch State Park, the Cannon Mountain Aerial Tramway was built in 1938 and has since become one of the most popular attractions in the White Mountains.
At the summit, you can can take in panoramic views of the surrounding peaks, including the iconic Franconia Ridge. There are also several popular hiking trails, including the pine-tree lined Rim Trail that offers stunning views from rocky outcroppings and leads to a short but steep hike to the observation tower, which provides an even more elevated perspective. There is a cafe at the top with a bar. The Tramway is open from late May to mid-October. If you are visiting in the busy season, be sure to book your tickets in advance. I'd recommend purchasing tickets for mid-day as the mountain is often socked in with fog or clouds that will often burn off by late morning.
Cannon Mountain Aerial Tramway is located at 260 Tramway Dr, Franconia, NH 03580
Climb to Artist's Bluff Lookout
Artist's Bluff is one of the most Instagrammable spots in the White Mountains, especially in the fall. Located in Franconia Notch State Park, this picturesque gem offers stunning views of Echo Lake and Cannon Mountain. The trailhead is easily accessible, with parking available at the Echo Lake Beach parking area.
The hike to Artist's Bluff is relatively short, approximately 1.5 miles round trip, and the terrain is moderately steep, making it a manageable adventure for hikers of various skill levels. Expect to find crowds at the top, but you can usually find a spot to take in the view unobstructed, but it does help to visit midweek or early in the morning.
Picnic and Swim at Echo Lake Beach
Echo Lake Beach in Franconia Notch State Park is a popular recreational spot in the summer with a sandy beach, beautiful lake, and views of Cannon Mountain. There is a small day use fee during the summer months (currently $4.00 for adults). The beach offers a range of amenities for visitors including a bathhouse with restrooms and changing facilities and picnic areas with scenic views.
Enjoy the Franconia Art Walk
The Franconia Art Walk offers a delightful way to explore the charming town of Franconia. This self-guided tour allows you to explore the town's vibrant art scene at your own pace. Throughout Franconia, you'll find a collection of outdoor sculptures and installations created by local and visiting artists. The exact number of art pieces can vary from year to year, but the walk typically features around a dozen or so captivating and thought-provoking artworks. The Artwalk is Open July through Columbus Day Weekend.
Fill Up on Pancakes at Polly's
Polly's Pancake Parlor is a beloved institution in Sugar Hill that has been serving up delicious pancakes and other breakfast delights since 1938. The menu offers a variety of pancake options including oatmeal buttermilk, buckwheat or whole wheat pancakes and specialties like quiche made with local Harman's cheese. The warm and rustic atmosphere, coupled with friendly service and the aroma of freshly cooked pancakes, creates an inviting dining experience that keeps visitors returning year after year. You can even purchase pancake mix to recreate Polly's pancakes at home.
Polly's Pancake Parlor is located at 672 Sugar Hill Rd, Sugar Hill, NH 03586
Explore Charming Downtown Littleton
"Be Glad" is the motto of Littleton, NH, thanks to Pollyanna and a jubilant bronze sculpture pays tribute to hometown author Eleanor H. Porter. The picturesque Main Street offers a variety of small businesses including cute boutiques like Bella Funk and Eastern Styles, and the beautiful River District. You also will not want to miss the World's Longest Candy Counter at Chutter's or a tasting at Schilling Beer Co.
Take the Family to Santa's Village
Santa's Village is a Christmas-themed amusement park located in Jefferson, New Hampshire. Built in 1953, this whimsical amusement park offers a festive and enchanting experience year-round, but it truly comes alive during the Christmas season when it's adorned with twinkling lights and holiday decorations. Its 23 rides have Christmas or winter-themed names, such as "Rudy's Rapid Transit Coaster" and "The Great Humbug Adventure". This family-friendly attraction is perfect if you have kids under 12. Santa's Village is generally open on select dates from May through December. Fall and winter bring seasonal events such as the Fall FEASTival, Holly Jolly Halloween, and Christmastime weekends.
Santa's Village is located at 528 Presidential Hwy, Jefferson, NH 03583
Ski, Snowtube, or Sleigh in Bretton Woods
Bretton Woods is lovely at any time of year and staying at the historic Omni Mount Washington is a dream for many, but it is especially scenic in the winter when the area becomes a snowy wonderland of outdoor adventures and festive holiday activities. The Bretton Woods Ski Resort is New Hampshire's largest ski area, with 98 trails and glades, earning the award of #2 Ski Resort in the East from Ski Magazine.
Additionally, there's a dedicated Nordic skiing center with over 100 kilometers (60 miles) of pristine trails winding through the White Mountains, perfect for cross-country enthusiasts and snowshoers. For those seeking exhilarating fun, the snow tubing park provides a thrilling ride, just keep in mind that you need to hike back up the hill as it isn't lift serviced. The Omni Mount Washington Resort also offers winter fat tire biking, horse-drawn sleigh rides, and a host of other winter and holiday activities.
Ride the Mount Washington Cog Railway
There are three ways to get to the top of Mount Washington, the tallest mountain in the Northeast and the place with the most extreme weather. You can hike, drive, or go the easy way by riding the Mount Washington Cog Railway. Built in1869 by inventor Sylvester Marsh, the Mount Washington Cog Railway is a marvel of engineering and adventure and the first mountain-climbing cog railway in the United States. What sets it apart is its dramatic steepness, with an average grade of over 25%, allowing it to ascend to the summit of Mount Washington.
The trip takes about three hours round trip, which includes about one hour at the Summit. These days, you have an option to ride on either the traditional steam locomotives or the more environmentally friendly biodiesel engines. The ride itself offers stunning vistas of the White Mountains, with informative narration about the railway's history and the region's natural beauty. I'd highly recommend booking tickets in advance as it often sells out.
Bring along some snacks to eat on the ride or grab a quick bite in the cafe at the summit. Don't forget to bring along a jacket (and maybe a hat and gloves too) as the temperature is usually 30 degrees cooler at the top than it is down below. Keep in mind that Mount Washington is often covered in clouds or fog (and very windy), so it makes sense to book a departure in the mid-day, when some of the cloud cover may have burned off.
Mount Washington Cog Railway departs from 3168 Base Station Rd, Mount Washington, NH 03589
Drive the Mount Washington Auto Road
If you live in New England, you have probably seen those bumper stickers that read "This Car Climbed Mount Washington." I never knew what the big deal was until I drove it myself. With a narrow road, steep inclines, dramatic drop offs, and challenging weather conditions, the Mount Washington Auto Road, is not for the feint of heart. This legendary scenic route was constructed in 1861 and remains one of the most iconic drives in the United States.
The 7.6-mile drive is now at least fully paved from top to bottom, but still plan on at least 1.5 to 2 hours for the ascent and descent, as well as some time to stop at scenic overlooks and enjoy the summit. When planning your drive, it's essential to check the weather conditions and road status, as they can change rapidly. I had a lovely drive until I was almost to the top and then I could barely see the road in front of me. I think we spent all of two minutes outside of the car the top because we couldn't see a thing, so you need to be prepared (also pack some jackets and maybe a hat!)
If you don't want to make the drive yourself, there are guided tours that you can join. If you do self-drive, be sure to download the app with an audio guide to listen to as you go. Another note, if you are driving an EV, there are chargers across the street from the base and with a Tesla, the descent will utilize regenerative braking the whole way down.
The Mt Washington Auto Road is located on NH Route 16 in scenic Pinkham Notch, New Hampshire. Set your GPS to either 1 Mount Washington Auto Road, Gorham, NH or "Mt Washington Auto Road".
Ski Wildcat
Wildcat Mountain, situated in Pinkham Notch, is a classic New England ski resort and destination for outdoor enthusiasts. In the winter, it's celebrated for its exceptional skiing and snowboarding opportunities, offering 48 trails and renowned for its challenging expert terrain. The mountain is known for its natural snowfall and stunning views of Mount Washington. In the summer, Wildcat transitions into a haven for hikers and outdoor enthusiasts, with access to scenic trails like Thompson Falls and a chance to ride the scenic chairlift for panoramic vistas.
Wildcat Mountain is located at 542 NH-16, Gorham, NH 03581
Hike to the Square Ledge Viewpoint
The Square Ledge Trail is a relatively short but steep trail in Pinkham Notch that offers panoramic views of the surrounding White Mountains, including Mount Washington. To access the trailhead, visitors can park at Pinkham Notch Visitor Center and carefully cross route 16 to the trailhead. While not overly strenuous, it does feature some steep sections, particularly towards the end, that require a bit of rock scrambling and add an element of moderate difficulty to the hike. This hike is not for those afraid of heights as the ledge at the top is fairly small and has a steep drop off. Also, going back down the steep, rocky bit can give you a bit of vertigo.
Drive Pinkham Notch Road
Driving Route 16, or Pinkham Notch Road, from Gorham down to Jackson is absolutely gorgeous in the fall. This scenic drive will take you past the Mount Washington Auto Road, Wildcat Mountain with access to Thompson Falls, the AMC Pinkham Notch Visitor Center and access to Square Ledge Trail and the Crystal Cascade, and the Glen Ellis Scenic Area and the trailhead to Glen Ellis Falls.
Hike up Mount Willard
Mount Willard may not be one of the NH 48 (the 48 mountains that are over 4,000 feet), but the climb is satisfying for beginner or intermediate hikers and the view offers quite the payback! This 3.2 mile out-and-back trail is mostly through forest, where you will see and hear the sounds of the brook alongside. At the top, you will be treated to spectacular views of Crawford Notch and the surrounding White Mountains. Park at the Crawford Train Depot to access the trailhead and then cross the tracks and follow the trail.
Hike to Arethusa Falls and Frankenstein Trestle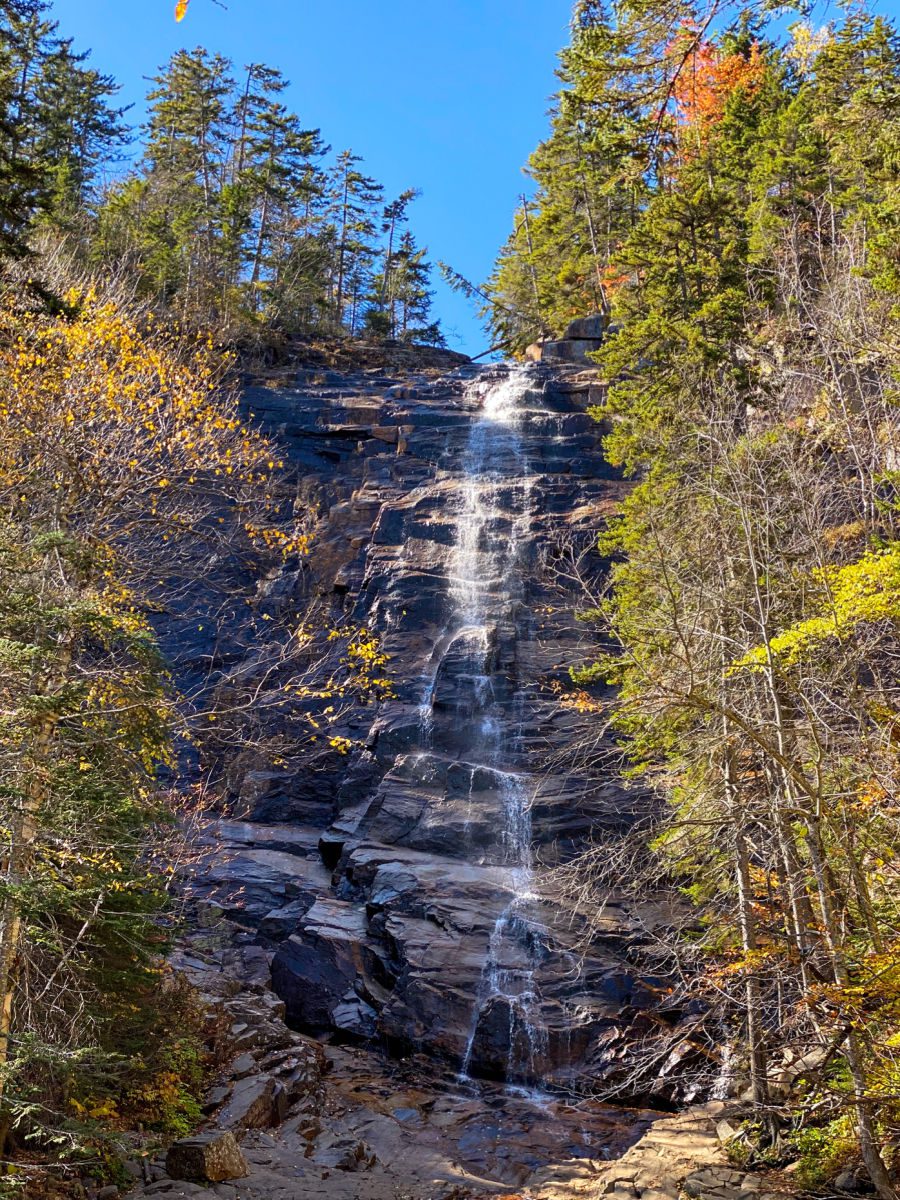 Arethusa Falls in Crawford Notch State Park is one of the tallest waterfalls in New Hampshire and a popular waterfall hike. Likewise, Frankenstein Trestle is a scenic spot on the Frankenstein Cliff trail where you get a great view of this old railroad trestle, which looks especially gorgeous in the fall. If you are lucky, you may even get to see the Conway Scenic Railroad train crossing over it. Both hikes leave from the same trailhead parking lot directly off of Route 302 and you can combine the two with the Arethusa Falls/Frankenstein Cliffs trail, which is a five-mile loop.
The downside is that Arethusa Falls is at its most beautiful in the spring or early summer, when the water is really flowing. By autumn, the water has slowed to a bit more than a trickle. However, you can also combine the Bemis Falls trail with Arethusa Falls. While a bit more challenging of a hike, Bemis Falls is a series of smaller waterfalls which are quite pretty.
Ski and Summer Fun at Attitash Mountain
Attitash Mountain Resort offers 68 trails and eight lifts across two connected mountains (Attitash & Bear Peak) that combine traditional New England runs and challenging terrain with modern, wide-open cruisers suited for all abilities. For skiers, Attitash, and its sister property Wildcat, are part of the Epic Pass program.
While Attitash is popular with skiers, I think it is awesome to visit in the summer and combine it with a day at Story Land nearby. In the summer, Attitash transitions into a year-round playground, offering summer activities like mountain biking, alpine slides (my favorites!), and scenic chairlift rides. It's also home to the Attitash Adventure Park, featuring an aerial obstacle course, waterslides, and more. When I drove by this fall it looked like they were renovating the entire lower mountain and Adventure Park, so I do hope it returns next summer!
Take the Young Ones to Story Land
Story Land is a beloved family amusement park that transports visitors into the pages of classic children's stories. Think Disneyesque without the big budget and modern rides. Still, it is one of my picks for the best theme parks for toddlers. Since its opening in 1954, it has enchanted generations of families with its fairytale theme. Some of its over 30 kid-friendly attractions include Cinderella's Castle (again, don't expect the size and scale of Disney), the Polar Coaster (my daughter's first roller coaster), and the Bamboo Chutes flume ride.
Story Land also features a number of water rides and features, and in 2024 Moo Lagoon will take over Oceans of Fun Sprayground with even more ways to splash & play including water slides, silly sprayers, squirting flowers, and more. This enchanting park is designed primarily for children aged 2 to 12, although there are attractions that cater to all ages. Throughout the year, Story Land hosts special events, including character meet-and-greets, themed celebrations, and holiday festivities.
Story Land is located at 50 NH-16, Glen, NH 03838
Stop at White Mountain Cider Company
The White Mountain Cider Company, just down the road from Attitash and Story Land, offers a unique combination of a restaurant and market. The restaurant at White Mountain Cider Co. is renowned for its farm-to-table cuisine, emphasizing locally sourced ingredients to create seasonal and inventive dishes. The market section of the establishment offers a variety of sandwiches and gourmet products, including artisanal cheeses, and specialty foods. But most importantly — cider and apple cider donuts!! This is a must stop, especially in the fall.
White Mountain Cider Co. is located at 207 US-302, Bartlett, NH 03838
Enjoy Scenic Train Ride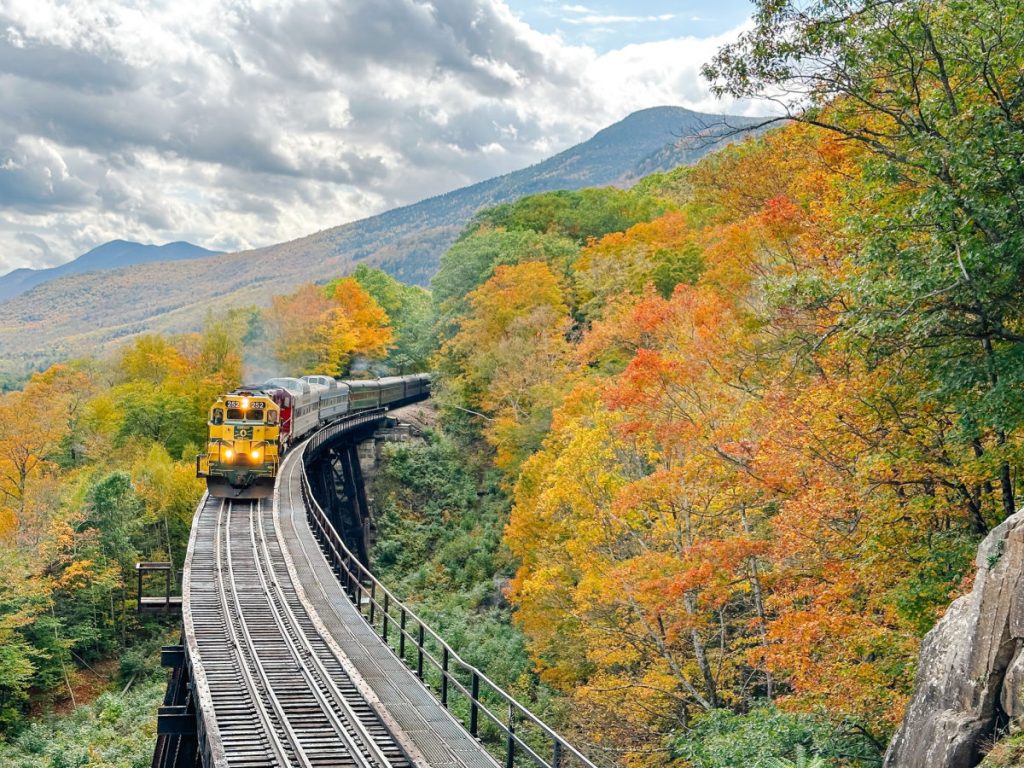 The Conway Scenic Railroad provides passengers with a nostalgic and immersive experience and gives a unique opportunity for scenic sightseeing. The railroad features several options for scenic train rides, each showcasing the region's natural beauty, but with different intents. The "Valley Train" takes passengers through the picturesque Mount Washington Valley, with options for one or two-hour round trips and it is meant to recreate the experience of traveling by rail from town to town.
The "Mountaineer" is a longer, more immersive experience, lasting approximately 5.5 hours as it travels through the stunning Crawford Notch on a 1950s-era transcontinental streamlined train. For this ride, passengers can choose from various classes of service, including Coach, First Class, and Premium Dome, each offering different amenities and levels of comfort.
Conway Scenic Railroad also offers themed seasonal train rides including the Easter Bunny Express, Firecracker Express, Pumpkin Patch Express, Santa's Holiday Express and Snow Trains. Whether you're a railroad enthusiast or simply seeking a unique way to soak in the beauty of the White Mountains, a scenic train ride with Conway Scenic Railroad promises a memorable adventure.
The Conway Scenic Railroad depot is located at 38 Norcross Circle, North Conway Village, NH
Take a Moose Safari
Embarking on a moose tour or safari in the White Mountains of New Hampshire offers a thrilling opportunity to witness the region's iconic wildlife in its natural habitat. Several companies, such as Gorham Moose Tours, North Conway Moose Safari, and Pemi Valley Moose Tours, specialize in these guided excursions. Participants board comfortable tour vehicles with experienced guides who share insights about the elusive moose and their habits.
These tours typically take place during the early morning or evening, as moose are more active during these times. While no wildlife sighting is guaranteed, the chance to spot moose in the picturesque landscapes of the White Mountains is an unforgettable experience. I've taken two moose tours in Maine and had success each time, although my time in the Great North Woods of NH wasn't as lucky.
Play at an Indoor Waterpark (temporarily closed)
The Red Jacket Mountain View Resort in North Conway was a beloved resort and a spot that we visited many times, especially because of Kahuna Laguna, one of the largest indoor water parks in New England. Tragically, a fire struck the resort in February 2020, resulting in temporary closure. While the resort has been undergoing extensive renovations and improvements, it is unknown when it is expected to reopen its doors.
---
White Mountains Travel Tips
Plan Ahead: Research and plan your trip in advance, including accommodations and activities, especially during peak seasons as hotels can book up and many attractions require advance reservations.
Check the Weather: Be sure to check the weather forecast for the area and pack accordingly, as mountain weather can change rapidly.
Dress in Layers: Bring layered clothing to adapt to changing temperatures and conditions, especially if you plan to hike or spend time outdoors.
Hiking Safety: If you're hiking, inform someone of your plans, sign in to hiking registers or leave a note with your hiking plans and route on your car, carry a map, bring a GPS unit with emergency alert service, stay on marked trails, and bring essentials like water, snacks, a headlamp, a whistle, bug spray, and a first-aid kit.
Respect Nature: Follow Leave No Trace principles, respect wildlife, and refrain from picking plants or disturbing animals.
Wildlife Awareness: Be aware of local wildlife, such as bears and moose, and maintain a safe distance if you encounter them.
Cell Phone Coverage: Don't rely solely on your cell phone for navigation, as some areas may have limited or no reception.
Carry Cash: Have some cash on hand, as it can be handy for parking fees or small purchases.
Make a Budget: Many of the paid attractions in the White Mountains are quite expensive so you will want to balance out your trip with free activities like hikes or inexpensive visits to state parks.
---
How to Get to the White Mountains
Getting to the White Mountains is relatively straightforward, with multiple transportation options available. The closest major airport is Manchester-Boston Regional Airport (MHT), located about 2 hours south of the White Mountains. From there, you can rent a car for convenient access to the region.
If you're driving, the White Mountains are easily accessible from major Northeastern cities, approximately 2.5 to 3 hours from Boston, 4 to 4.5 hours from Hartford, and 5 to 6 hours from New York City. Visiting the White Mountains is a popular weekend getaway from Boston.
---
How Long Should you Spend in the White Mountains
If this is your first visit to the White Mountains, plan on spending at least a long weekend. You won't possibly get to all the things on this list, but you can at least cross off quite a few. It is easy to spend a whole week if you want to plan an entire White Mountains vacation, especially in the summer when you can hike, swim, and visit many of the area's attractions.
---
Sample White Mountains Road Trip Itinerary
If you want to get a full sense of the White Mountains and visit quite a few of these attractions and outdoor adventures, I'd recommend at least a five-night road trip with two nights in North Woodstock or Lincoln, one night in Bretton Woods or Jackson, and finishing with two nights in North Conway. This itinerary is designed for a summer visit but can be adjusted if you are planning a fall trip as well.
Day 1:
Grab a bagel or pick up a bagel sandwich picnic at White Mountain Bagel
Visit Flume Gorge or Lost River Gorge
Hike at Lincoln Woods or take on one of the NH 48 OR
Visit Whale's Tale Water Park or biplane at Alpine Adventures
Have dinner Woodstock Inn and Brewery
Day 2:
Drive through Franconia Notch State Park
Climb to the Artist's Bluff lookout
Swim at Echo Lake Beach
Take a ride on the Cannon Mountain Tramway
Have dinner at The Common Man in Lincoln
Take a night moose tour with Pemi Valley Moose Tours
Day 3:
Drive to Polly's for a late pancake breakfast
Explore Littleton or Franconia
Take the Mount Washington Cog Railway or drive the Mount Washington Auto Road
Hike up Mount Willard or to Arethusa Falls
Dinner at the Omni Mount Washington
Day 4:
Visit Cranmore Mountain Resort
Swim at Diana's Baths
Shop in North Conway
Dinner at the Muddy Moose or Barley & Salt
Day 5:
Have breakfast at Peaches
Drive all or most of the Kancamagus Highway OR
Take a ride on the Conway Scenic Railroad
---
Where to Stay in the White Mountains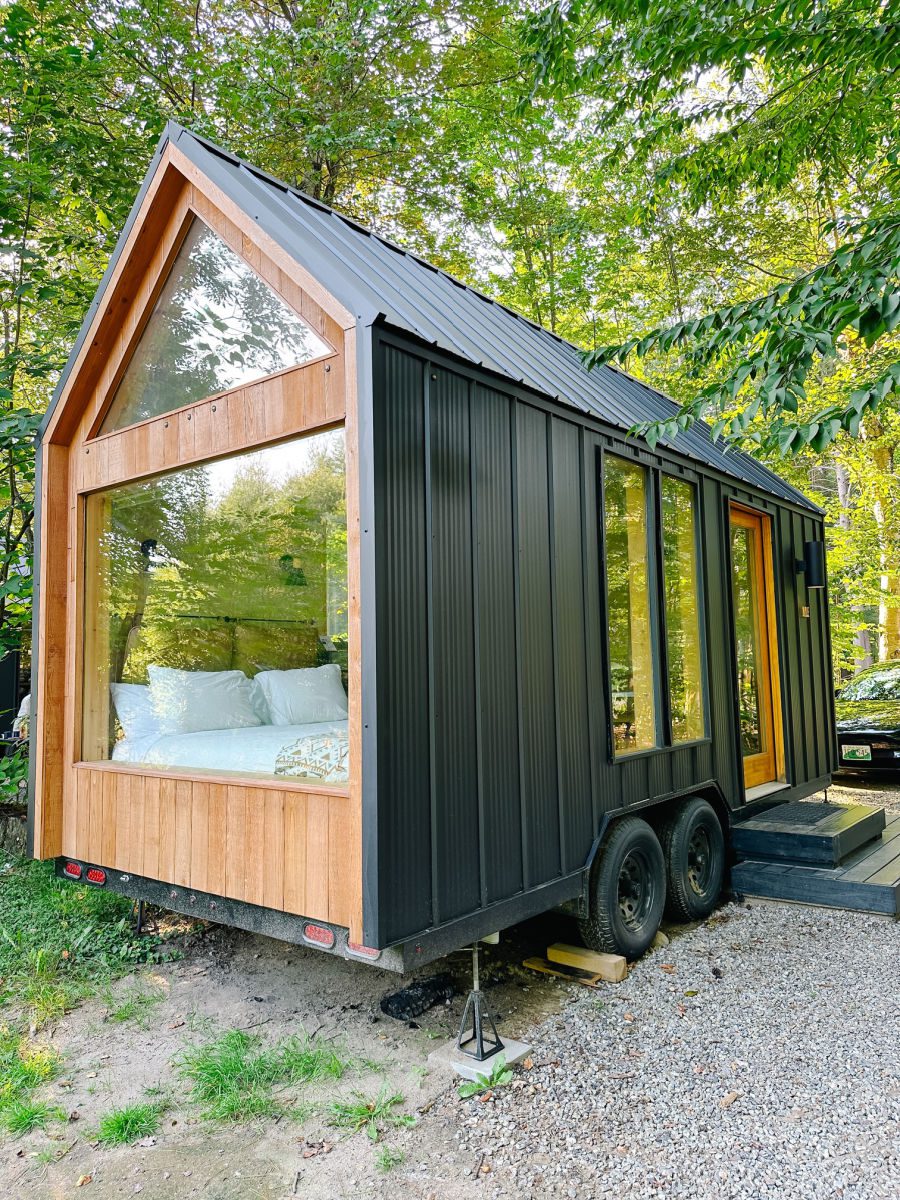 Note: This post may contain affiliate links. If you click a link and make a purchase, I may receive a small commission. All opinions are my own.
The towns that offer the most accommodations are Lincoln, North Conway, and Jefferson/Bretton Woods. Alternatively, you can try Littleton or Gorham.
If you are interested in glamping, try:
If you prefer hotels, try:
Find more places to stay in the White Mountains:
---
Where to Eat in the White Mountains
Over the years, I've tried many restaurants in the White Mountains and cooked a few over a campfire too. Here are some of our recommended places to eat in the White Mountains.
Lincoln, NH:
White Mountain Bagel Co. (Breakfast/Lunch) – Delicious bagels and sandwiches
Flapjack's Pancake House (Breakfast) – Their fluffy pancakes and creative omelets are a breakfast favorite
The Common Man (Dinner) – This popular New Hampshire chain offers American fare such as Nantucket Pie, home made baked macaroni and cheese, and crab cakes
Black Mtn. Burger Co. (Lunch/Dinner) – Casual option for classic burgers and beer
North Woodstock, NH:
Woodstock Pie & Coffee (Breakfast) – Voted best pie in New Hampshire
Woodstock Inn Brewery (Lunch/Dinner) – Sample craft beers and savor pub-style dishes like their Pemi Pub Burger
Pemi Public House (Lunch/Dinner) – Fun gastropub with options like naan tacos and street corn shrimp and a nice outdoor patio
Franconia, NH:
Polly's Pancake Parlor (Breakfast/Lunch) – Famous for their pancakes and maple syrup, offering a variety of pancake options, including buckwheat and cornmeal.
Littleton, NH:
The Littleton Diner (Breakfast/Lunch) – A classic diner experience with hearty breakfasts and classic American lunches
Schilling Beer Co. (Lunch/Dinner) – Pair their artisanal beers with wood-fired pizzas and European-inspired dishes
North Conway, NH:
Peach's Restaurant (Breakfast/Lunch) – Known for their breakfast menu, especially the Belgian waffles
Muddy Moose Restaurant and Pub (Lunch/Dinner) – A cozy spot offering a variety of pub-style dishes and craft beers. Try their Moose Burger or Fish and Chips.
Barley & Salt Tap House and Kitchen (Lunch/Dinner) – A tap house known for its craft beer selection and tasty menu, including burgers and gourmet sandwiches.
Cheese Louise (Lunch/Dinner) – A cheese-centric eatery offering a range of grilled cheese sandwiches and creative sides.
White Mountain Cider Company & Market (Lunch/Dinner) – An upscale dining experience with a focus on farm-to-table cuisine. The Moroccan artichoke fritters are insanely delicious! The Market serves delicious sandwiches, tasty cider, and my favorite, apple cider donuts
---
Best Time to Visit the White Mountains
The White Mountains are a year-round destination, each season offering its unique charm and outdoor adventures.The best time to visit the White Mountains largely depends on your preferred activities and weather preferences, but personally, I think fall is the ideal time. It isn't too hot to take on some ambitious hikes, the weather is ideal for camping and glamping, and, of course, the fall foliage is stunning!
If you are looking to attend a special event, the White Mountains have plenty to choose from. March is Maple Month, when Maple Sugaring houses across the region open their doors to guest to experience the boiling process. April's mud season brings the Lincoln Woodstock Town-Wide Murder Mystery event, which sends participants throughout the towns of Lincoln and Woodstock searching for clues and suspects to solve the mystery.
June brings the bloom of the lupine flowers in Sugar Hill along with their annual Lupine Festival. Autumn brings fall festivals, Oktoberfest celebrations, and the annual Highland Games & Festival. Use the fall foliage tracker to try to time your visit to peak season. Winter means Christmas and Santa has his hand in many celebrations, festivals, and train ride excursions throughout the region.
---
Visiting New Hampshire? You may also be interested in…
Save this to Pinterest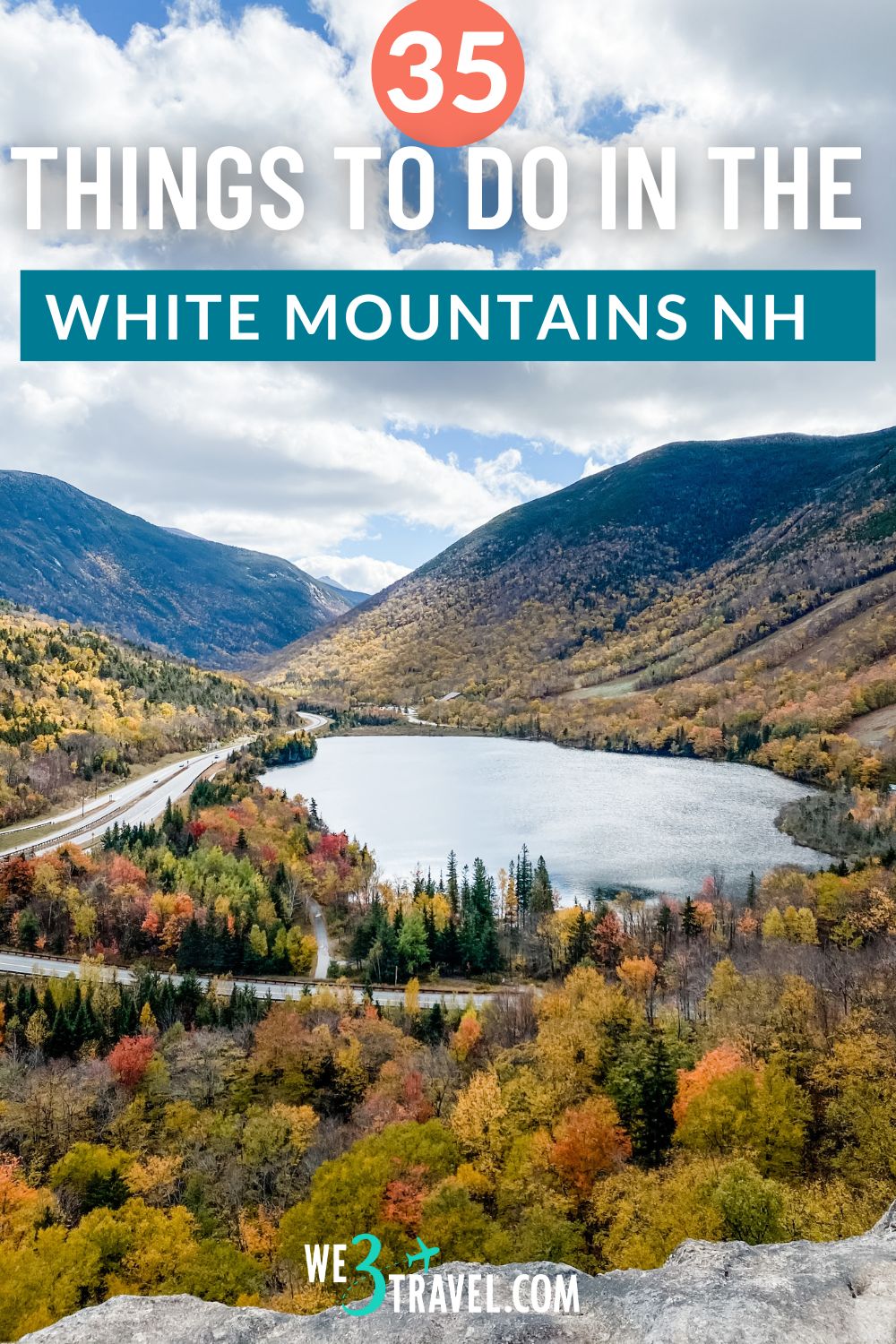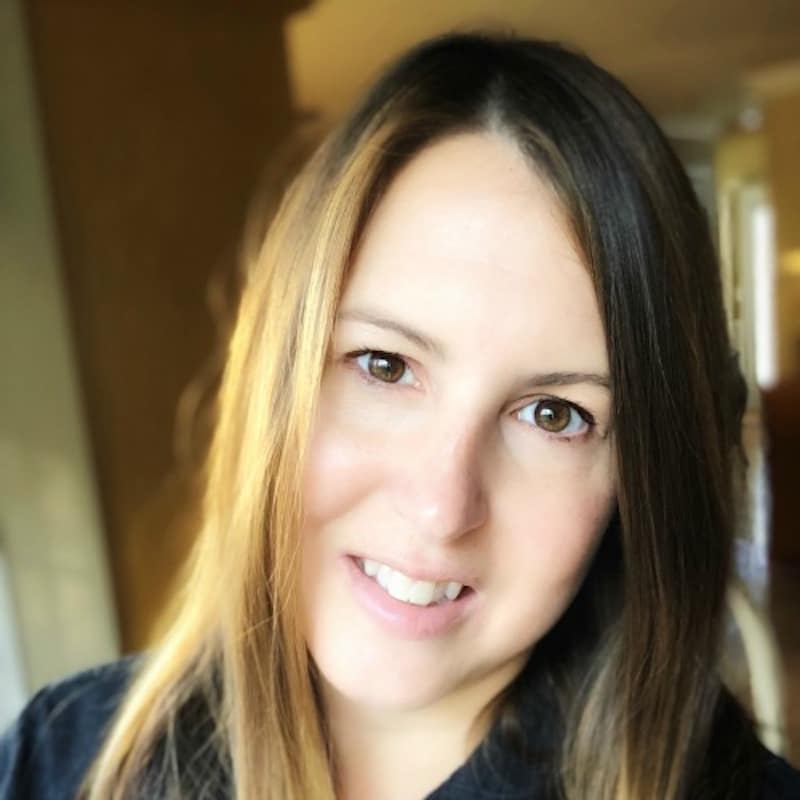 Tamara Gruber is the Founder and Publisher of We3Travel. A former marketing executive and travel advisor, Tamara is an award-winning travel writer and recognized expert in family travel. She is also the publisher of YourTimetoFly and the co-host of the Vacation Mavens travel podcast.