Whether you are planning a weekend getaway full of adventure or looking for a unique and picturesque place to celebrate a special occasion, these places to go glamping in New Hampshire have you covered! As a bit of a glamping fanatic, I've traveled around New England looking for the most unique spots to lay my head, testing out everything from rustic tents to glamorous cabins, tiny homes, and more.
Glamping is the perfect option for people like me that love the outdoors but aren't willing to sacrifice some creature comforts. Each glamping spot has its trade offs such as a shared bathhouse versus private bathroom, or clean, modern decor versus basic necessities. I'll walk you through some of those differences to help you choose the right glamping accommodations for your travel style.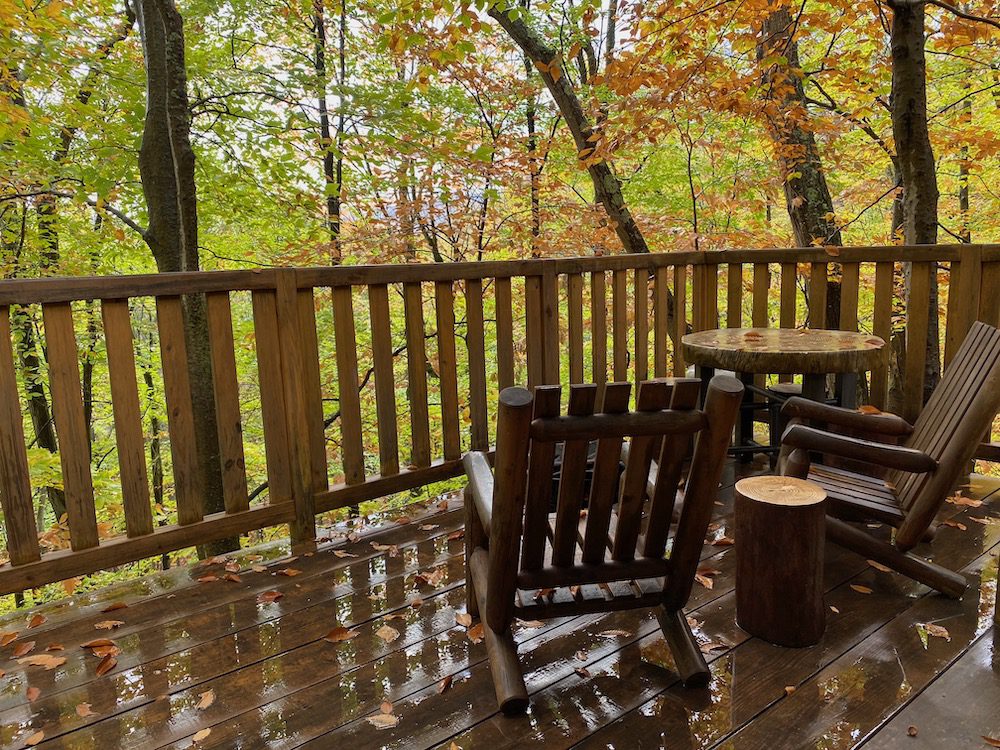 Best Places to go Glamping in New Hampshire
From Southern New Hampshire to the Great North Woods, and the Lakes and White Mountains in between, here are my personal picks for the best places to go glamping in New Hampshire:
Don't forget to download my glamping packing list before you go!
Glamping in the White Mountains
The White Mountains in New Hampshire is one of the most popular glamping spots in the Granite State, offering excellent choices with varying levels of amenities and privacy. Be sure to read my full reviews to get into the nitty-gritty for each.
Alpine Garden Glamping, Bartlett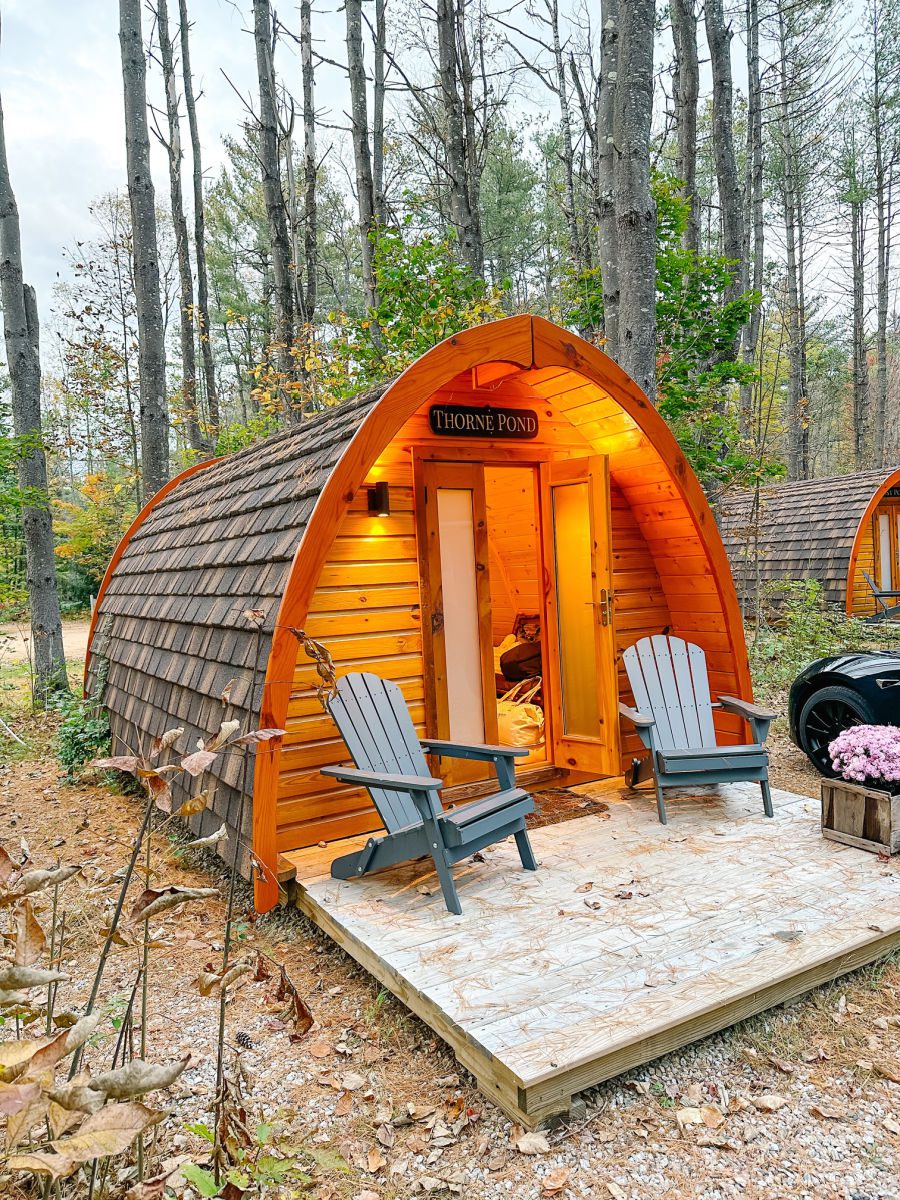 Alpine Garden Glamping is a family-run camping village that is centrally located in the White Mountains. It is just minutes from popular attractions like Storyland, Attitash Mountain, Arethusa Falls, and dozens of popular trails, making it my choice for hikers that like to get an early start on the trails to beat the crowds. This camping village is smaller than some others in the region (like Huttopia or Lumen), and it offers a small selection of cabins, "hobbit houses", RV spots, and even a treehouse on the grounds of a working winery and cidery.
Even though it is small, it still offers some nice amenities such as a heated swimming pool and an on-site camp store. Plus, there is even a winery that is open for tastings Thursdays through Mondays from 12:00 pm to 6:00 pm. The cabins are newly-built and have a fresh, yet folksy, lodge-like design with bear-themed accents and retro touches like a vintage turntable and modern amenities like a Nespresso machine.
The dome-shaped hobbit homes have queen bed, making it perfect for solo travelers or couples that like to snuggle, while the treehouse and cabins accommodate two to five people for small groups or families.
Read my full review of Alpine Garden Glamping.
Alpine Garden Glamping is located at 1255 US-302, Bartlett, NH 03812. Click to learn more or book.
Huttopia White Mountains, Albany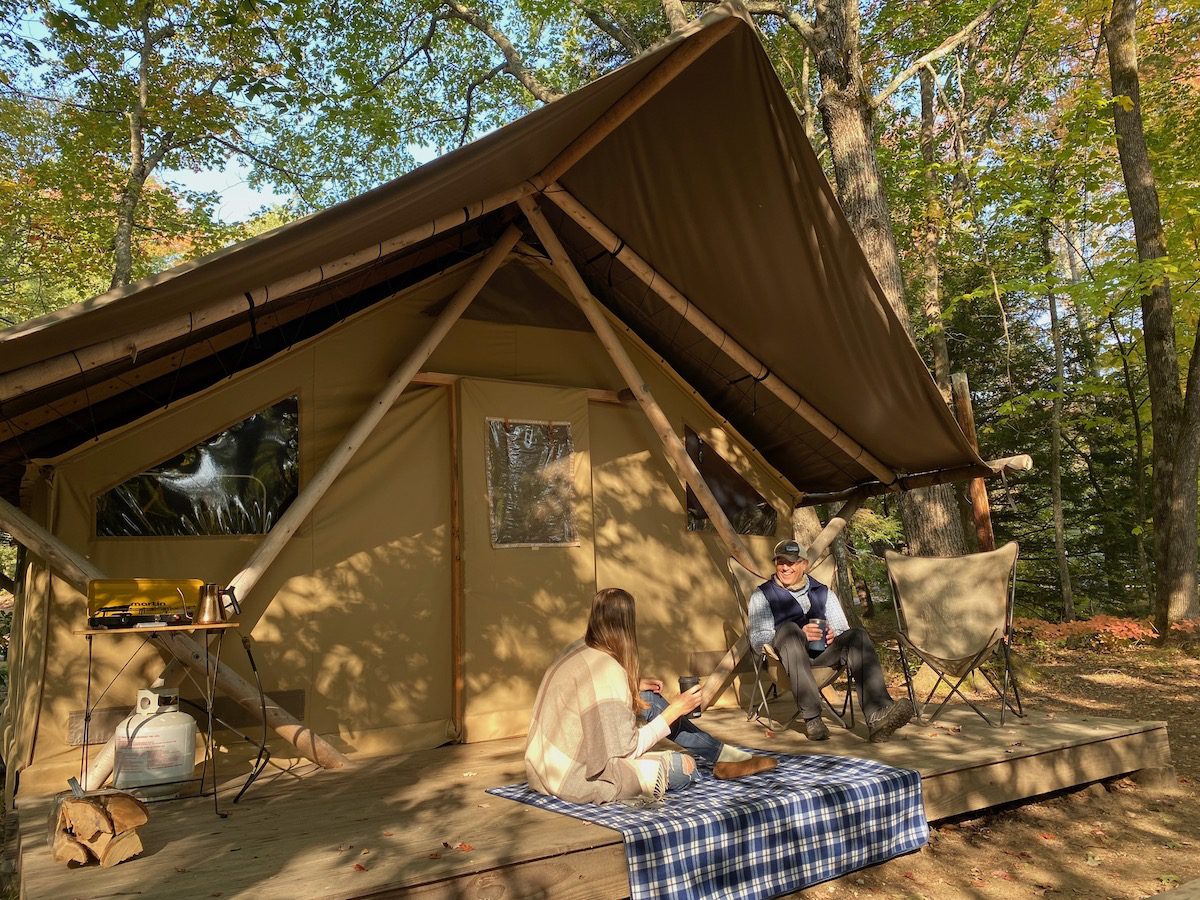 Huttopia is not exactly luxurious, I describe it more as "ready-made" camping or "rustic glamping", but it is incredibly family friendly. This European glamping resort has locations in the White Mountains, Southern Maine, the Adirondacks, California, Canada, and more. It offers rustic, but well-equipped tents including the Canadienne and the Trappeur, which has a tiny but private bathroom, as well as cabins that are bookable all year.
The basic accommodations offer up everything you need, from a propane-fueled camp stove, fridge, sink, cookery, electricity, fire pits, and even a full bathroom in most, which is more than many glamping accommodations that don't offer any cooking capabilities beyond over the outdoor fire.
In my opinion, the highlight of Huttopia is the lakeside setting and the amenities and activities. There are family-friendly amenities like a heated pool, game room, basketball court, kayak rentals, and an Airstream food truck. While the campground is large, it is arranged to give each tent site or cabin some privacy and has a nice community vibe without the RV culture that you find at a more traditional campground.
Read my full review of our stay at the Huttopia White Mountains.
Huttopia White Mountains is located at 57 Pine Knoll Rd., Albany, NH 03818. Click to learn more or book.
Lumen Nature Retreat, North Woodstock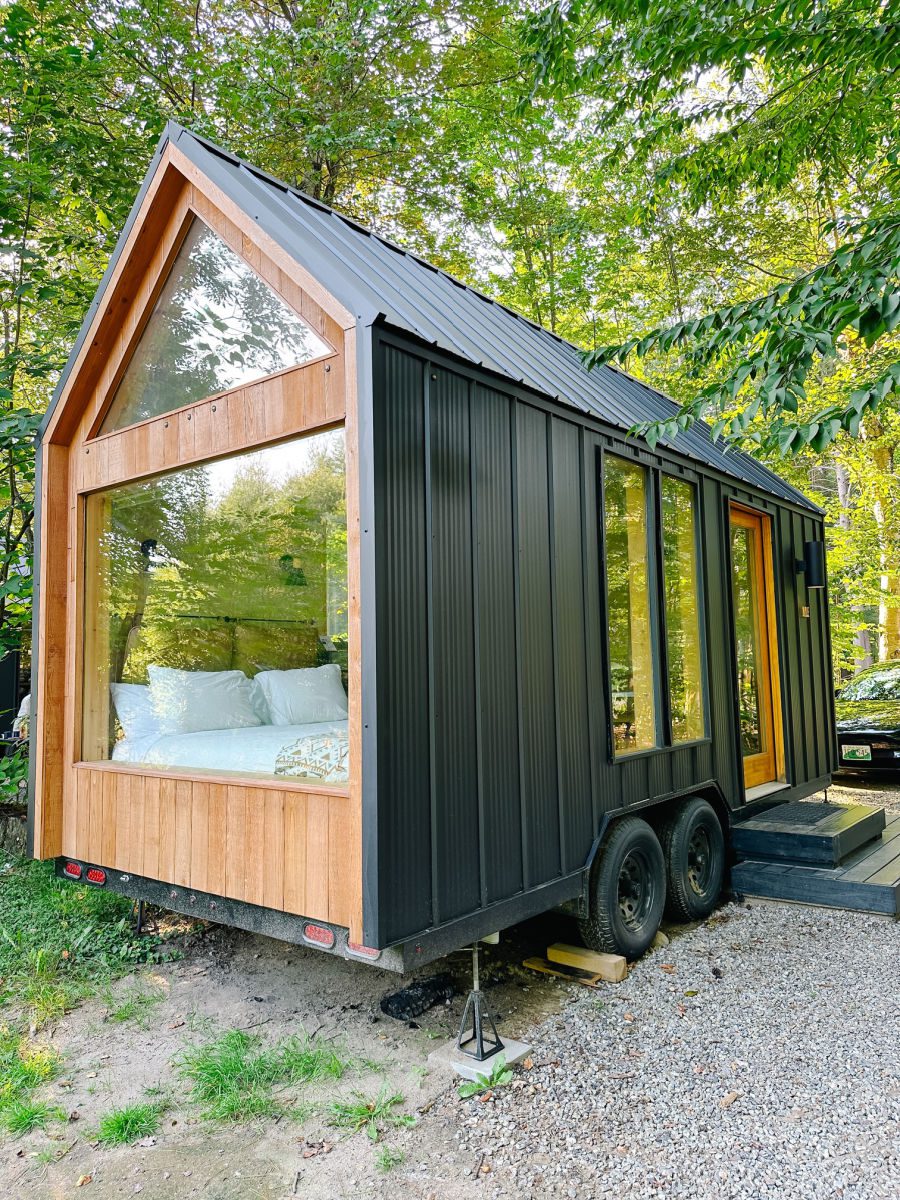 Lumen Nature Resort offers 35 Nordic-style accommodations including cabins, simple A-frame tents, and deluxe safari tents. The design aesthetic is top-notch, making it in Instagram delight. The cabins offer high-end amenities such as luxurious beds, a Marshall speaker, pour over coffee kettle, a mini-fridge, and kitchen flatware and dishes.
With large floor-to-ceiling windows in front of the bed or indoor fireplace (depending on the cabin), I found Lumen Nature Retreat perfect for a romantic getaway, especially with two Nordic saunas on the property. The only downside is that the cabins don't offer private bathrooms, so you need to walk a couple of minutes to a shared climate-controlled bathhouse.
The 20-acre property is just minutes from a major ski resort and the top attractions in the White Mountains and offers a year round glamping experience with its heated (and air conditioned) cabins.
Read my full review of the Lumen Nature Retreat!
Lumen Nature Retreat is located at 11 Sugar Plum Lane, North Woodstock, NH 03262. Click to learn more or book.
KOA, Lincoln / Woodstock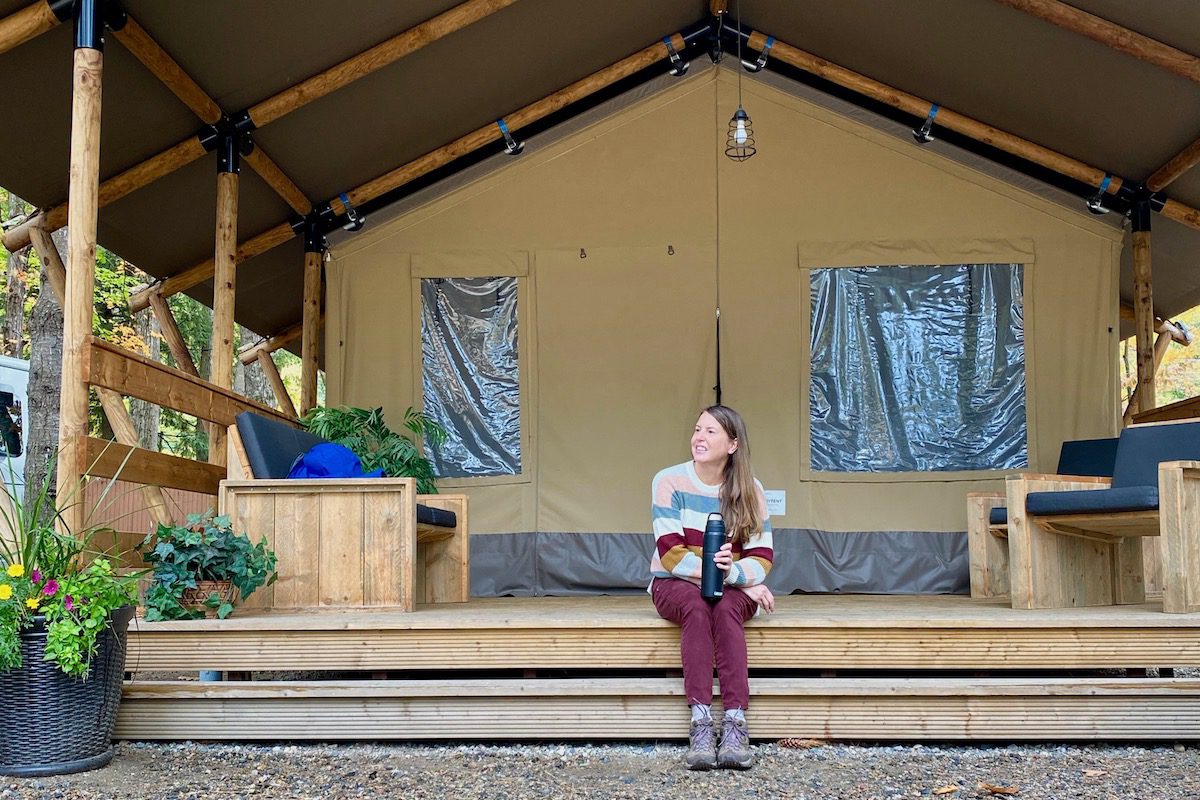 There are KOA (Kampgrounds of America) campgrounds all across the country, including quite a few in New Hampshire. While KOA is a popular choice for families with RVs or camping tents, many of the KOA Resort and Holiday properties offer glamping options like deluxe cabins. The KOA Holiday in Lincoln/Woodstock, NH in the White Mountains takes it a step further with multiple glamping options including a Conestoga Wagon (which has a private full bathroom just outside), a tree cabin, deluxe and camping cabins, and a luxury safari tent with two bedrooms, a full bathroom, kitchenette, and even a television!
Between the family-size accommodation options and the family-friendly amenities, the KOA in Lincoln / Woodstock is one of my picks for families that want to go glamping in New Hampshire. You will find a playground, jumping mat, mini-golf, disc golf, and a seasonal pool, all minutes from the most popular White Mountain attractions like Mount Washington, Franconia State Park, and the scenic Kancamagus Highway.
Read my full review of the KOA Lincoln / Woodstock luxury safari tent.
KOA Lincoln/Woodstock is located at 1000 Eastside Rd RT 175, Woodstock, NH 03293. Click to learn more and book.
Hub North, Gorham
In addition to private rooms in the lodge, Hub North offers a smattering of yurts and bell tents just minutes away from hiking trailheads in the Northern Presidential Range of the White Mountains. The tents are fully-equipped with a king or queen bed, linens, extra blankets, and towels. While it is off-the-grid, charging and connectivity is available at the Lodge and LED lighting and fans are provided for all tents and the yurt is equipped with solar power.
Guests have access to a bathhouse with private stalls and showers, along with a modern, fully-equipped kitchen, gas grill, and games at the covered pavilion. Fire pits are available at each tent site and there is a large, communal fire pit in the pavilion as well.
Hub North is located at 34 Jimtown Road, Gorham NH. Click to learn more and book.
---
Glamping in the Lakes Region
While there aren't the same glamping resorts in the New Hampshire Lakes Region as in the White Mountains, there are still some special glamping hideaways and treehouses for a unique stay.
Hemlock Hideout Treehouse, Salisbury
Can't decide between a tree house and a glamping tent? The Hemlock Hideaway is the perfect combination of both in a true off-the-grid location for those that want to get away from it all with plenty of privacy in a natural setting. The Hemlock Hideaway's roof is made of greenhouse plastic, letting in plenty of natural light.
Inside, there is a bedroom with one queen bed, a living area that has a small table, and a kitchenette. Outside, the treehouse is equipped with a fire pit with a grill, an outdoor swing, a picnic table, firewood, an outhouse, and a camp shower. While there may not be electricity or running water, the treehouse provides mini fans, a non-stick granite-coated pot and pan, a gooseneck tea kettle, French press, Starbucks Medium Roast Breakfast Blend ground coffee, tea, cocoa, kitchen utensils, plastic dinnerware, a slim single burner butane stove, eating utensils, salt and pepper, drinking water, extra blankets, towels, shower essentials, flashlights, and even s'more supplies.
The owners also have another glamping tent, the Birchwood Hideout. The Hemlock Hideaway is open from May to October (depending on the weather) and has a propane heater in the bedroom for cold weather.
See photos, check rates & availability on Airbnb
Luxury Treehouse, Newbury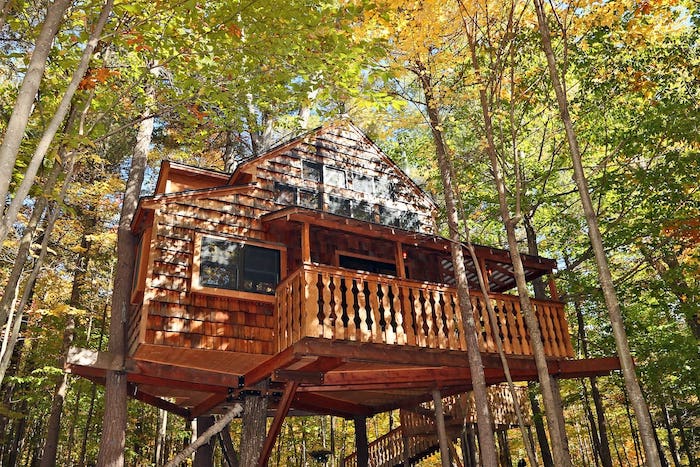 It is hard to believe this luxury cabin is actually a two-story treehouse! If you want a luxury adventure near Lake Sunapee, this treehouse is a great pick because it offers all the modern amenities to keep you comfortable year round.
The Treehouse is equipped with radiant heat flooring and a propane fireplace for the winter and air conditioning for the summer. It is also large enough for families with two bedrooms, one with a full bed and the other with a queen, and one bathroom. This one-of-a-kind getaway has Travertine stone flooring and walls made with reclaimed barn board. The dining table is built on a kiln-dried tree stump and the galley kitchen is equipped with a microwave convection oven, two-burner cook stove, and an under-the-counter refrigerator/freezer. Travertine stone flooring and walls covered with reclaimed barn board from the 1800's. Dine at the table built on a kiln-dried tree stump. The galley kitchen is equipped with a microwave convection oven, two-burner cook stove and under-the-counter refrigerator/freezer. The kitchen is also fully stocked with utensils, dinnerware, pans, a toaster and Keurig coffee maker with coffee and creamer.
Outside, you can enjoy a wrap-around deck raised high above the trees and a lower deck with bench seating and a Weber Spirit grill in a private area on a well-lit roading.
See photos, check rates & availability on Airbnb
Treehouse Retreat, Sanbornton
This four-season treehouse is centrally located in the heart of the Lakes Region. With a full bathroom, kitchenette, loft bedroom, and multiple places to get cozy, this is a perfect spot to relax in nature, all within a few minutes walk to a private community beach or snowmobile trails for hiking.
The loft can be set up with either two twin beds or a king size bed and there is a day bed in the living room, all designed in a rustic-chic style with a mix of new and reclaimed material. The kitchen doesn't have a stove but features medium-sized fridge, toaster oven, two-burner hot plate, griddle, and a microwave. There is also a traditional coffee maker and tea pot.
Outside, there is a propane grill, along with a small fire pit, a picnic table, and a lounge space under the treehouse with chairs. Inside, you have all the comforts of home with WiFi and even a television equipped with an Amazon Fire Stick to watch movies or shows on Betflix, Hulu, Starz, Prime Video, and Disney+.
See photos, check rates & availability on Airbnb
---
Glamping in Southern New Hampshire
From tiny houses to camping cabins, there are plenty of glamping options just a short drive from Boston, Manchester, and Concord.
Tuxbury Tiny House, South Hampton
Tuxbury Pond RV Resort has a small village of tiny homes that are so adorable they each have names and it is easy to image them anthropomorphized. Each Tiny Home is unique and ranges from 180 to 300 square feet but are packed with features including bedrooms and full kitchens. There are five models to choose from with some sleeping up to 5 or 6, making it a nice option for families.
Perfect for adventurers looking to try something different, the resort is located on the shores of Tuxbury Pond and is 30 minutes from the Salisbury-Hampton beaches or charming Portsmouth, NH. The Village is part of the larger Tuxbury Pond RV Resort, so it has a different feel than some glamping campgrounds, but they are tucked away near the pond and across a field from most of the RVs for a bit of peaceful seclusion. However, tiny house guests do have access to the campground pool, playground, camp store, and other amenities and activities.
Read my full review of our stay at Tuxbury Tiny House Village.
Tuxbury Pond RV Resort is located at 88 Whitehall Road, South Hampton, NH 03827. Click to learn more and book.
Getaway House Blake Brook, Epsom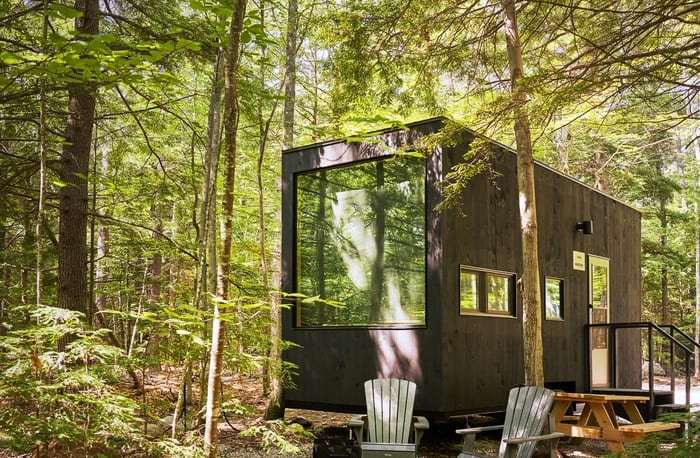 There are Getaway House retreats outside of major cities across the United States. These tiny cabins in southern New Hampshire make a perfect weekend getaway from Boston, just 1.5 hours away. There are a collection of 42 tiny cabins spread across 49 private acres near the Epsom Town Forest and close to Concord, the state's quaint capital city.
Each cabin offers AC and heat, a two-burner stove, one or two queen beds, a sink, a shower, a private toilet, chairs and picnic tables, fresh linens, cooking supplies, bathroom amenities, and a campfire grate for cooking. The large windows invite nature in for a peaceful and relaxing getaway.
Getaway House Blake Brook is located at 76 Mountain Rd, Epsom, NH 03234
Spacious Skies, Hancock & Henniker
Spacious Skies has two campground locations in New Hampshire and more throughout the east coast. Each campground offers different types of glamping accommodations, with Spacious Skies Seven Maples offering both deluxe cabins with full bathrooms and more rustic bunk cabins and Spacious Skies French Pond has charming retro RVs to rent.
The campgrounds are great for families and offer amenities such as playgrounds, pools, recreation rooms, jumping pillows, nature trails, and even gem mining for the kids. Seven Maples even has a stocked trout fishing pond and a boat launch to Moose Brook.
Spacious Skies Seven Maples is located at 24 Longview Road, Hancock, NH 03449. Click to learn more and book.
The Yurt at Echo Hill Farm, Deerfield
For a romantic getaway, this beautifully landscaped custom yurt offers a secluded escape on a five-acre farm in rural New Hampshire. While close to nature, this 17-foot diameter is also located near outdoor activities and within walking distance to a craft brewery.
The yurt is lined, although not winter proofed, and offers hot and cold running water from May through October, as long as the temperatures remain above freezing. With a wood-framed glass door and two screened windows, there is plenty of light and the 227 square feet of floor space is outfitted with all the necessary comforts and amenities including a queen bed, wood stove, dining table and chairs, coffee table and chairs, and even WiFi.
The kitchen is outfitted with a refrigerator, two-burner electric cooktop, a toaster oven/ Air Fryer, electric kettle, pour-over coffee maker, coffee grinder, and counter top coolers filled with drinking water. There is not a full bathroom, but guests have use of an outhouse lavatory with a composting toilet and outdoor shower. In front of the yurt, there is an outdoor patio, fire pit and chairs available for guests in the summer months.
See more pictures, check rates and availability on Airbnb
---
Glamping in the Great North Woods
The Great North Woods is moose country and an ideal getaway for those looking to go fishing, ride the ATV trails, or snowmobile in the winter.
Bear Rock Camping, Colebrook
If you want to go camping without packing a tent, Bear Rock Camping in Colebrook offers a handful of platform tents that are equipped with a wood stove, covered patio, outdoor picnic table and fire pit, simple cooking utensils, and two Adirondack chairs. While there isn't a standard bathroom, each tent site offers an enclosed outdoor shower with hot water and a private Porta Potty.
You do need to bring your own bedding, towels, toiletries, and drinking water so while it may be borderline glamping, it is certainly easier than tent camping! Nearby, you can explore the over 1,000 miles of ATV and snowmobile trails with rentals and packages from Bear Rock Adventures.
Read my full review of Bear Rock Adventures. Click to learn more and book a campsite or package.
VISITING NEW HAMPSHIRE? YOU MAY ALSO BE INTERESTED IN…
Save this to Pinterest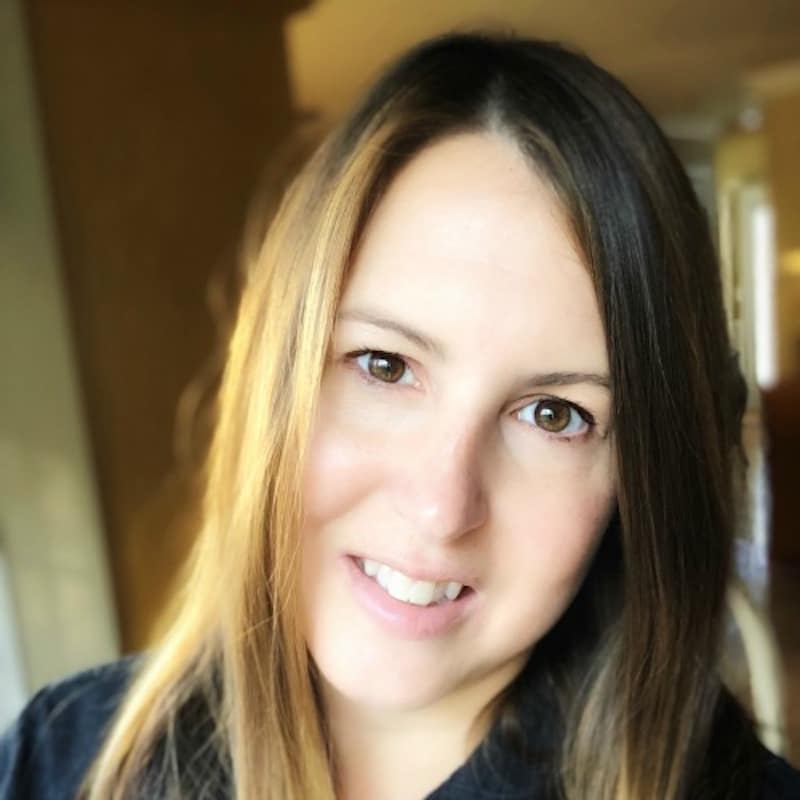 Tamara Gruber is the Founder and Publisher of We3Travel. A former marketing executive and travel advisor, Tamara is an award-winning travel writer and recognized expert in family travel. She is also the publisher of YourTimetoFly and the co-host of the Vacation Mavens travel podcast.