The Adirondack Mountains region in upstate New York covers over 5,000 square miles, with 46 high peaks and over 3,000 lakes and ponds. That's a lot of ground to cover on your Adirondack vacation! But don't worry, after visiting a number of times, I have some tips to share to make planning a trip to the Adirondacks a little easier.
First, you need to get a lay of the land. Located about four hours north of New York City, the Adirondack region spans most of the area north of Interstate 90 up to the Canadian border, from Lake Champlain to the east all almost all the way to the St. Lawrence River on the western New York border. The area is made up of 12 different regions, so let's just admit that you aren't going to see it all on one trip.
The Adirondack Park regions most popular with visitors include: Lake George, Lake Champlain, Adirondack Coast, Lake Placid, Whiteface Mountain, Saranac Lake, Tupper Lake region, and the area around Long Lake that the tourism board calls, Adirondacks, Experience it! To plan your vacation to the Adirondacks, the hardest part can be deciding where to stay, and that depends on the type of trip you are looking for.
Where to Stay in the Adirondacks
Most first-time visitors will gravitate toward one of the more popular towns. These towns have plentiful hotel and vacation rental accommodations, dining establishments, as well as other attractions — but each has a different character and attracts different types of travelers.
The most popular towns and areas to visit in the Adirondacks include:
Lake Placid: home to two winter Olympics, and in the center of the Adirondack High Peaks, Lake Placid is one of the most visited towns in the Adirondacks, and has plenty to offer year round. Expect to find Olympic attractions, great hiking and lake activities, a large number of hotels, restaurants, and tourist shops.
Saranac Lake: once a retreat for those seeking cures to TB and other pulmonary diseases, Saranac Lake is a bit quieter and offers more cultural attractions. The options for hotels, dining, and shops are a bit more limited than nearby Lake Placid. It is especially popular for its Winter Carnival and Ice Palace.
Lake George: located in the southern lakes region, Lake George has been an exceedingly popular family vacation destination for generations. You will find a fair share of motels, souvenir shops, and family-oriented attractions.
Tupper Lake: home to the family-friendly Wild Center, Little Wolf Beach, and the Adirondack Public Observatory; Tupper Lake is a little more out of the way and good for those seeking peace and quiet with a few family-friendly attractions nearby.
Long Lake: if canoeing, fishing, quaint country stores, and chasing waterfalls is your jam, rent a cabin near Long Lake for a peaceful respite.
Ticonderoga: history buffs and families are drawn to Fort Ticonderoga to watch its uniformed interpreters explain the local history. Nearby you can tour the set of the original Star Trek series or take a day trip further north to Ausable Chasm and learn about the local connections to the Underground Railroad.
Getting your head around all the options isn't easy, but let your activities guide you. Do you want to spend your days hiking and hanging out by a lake? Then look at Lake Placid or Saranac Lake.
Do you prefer a busy town with lots to offer including swimming and boating? Then Lake George might be for you.
Do you just want to hide away in a cabin in the woods and spend your days canoeing and listening to the loons? Try Long Lake. Find the region that matches your travel style and personality. If you still can't decide, pick two and split your time between them.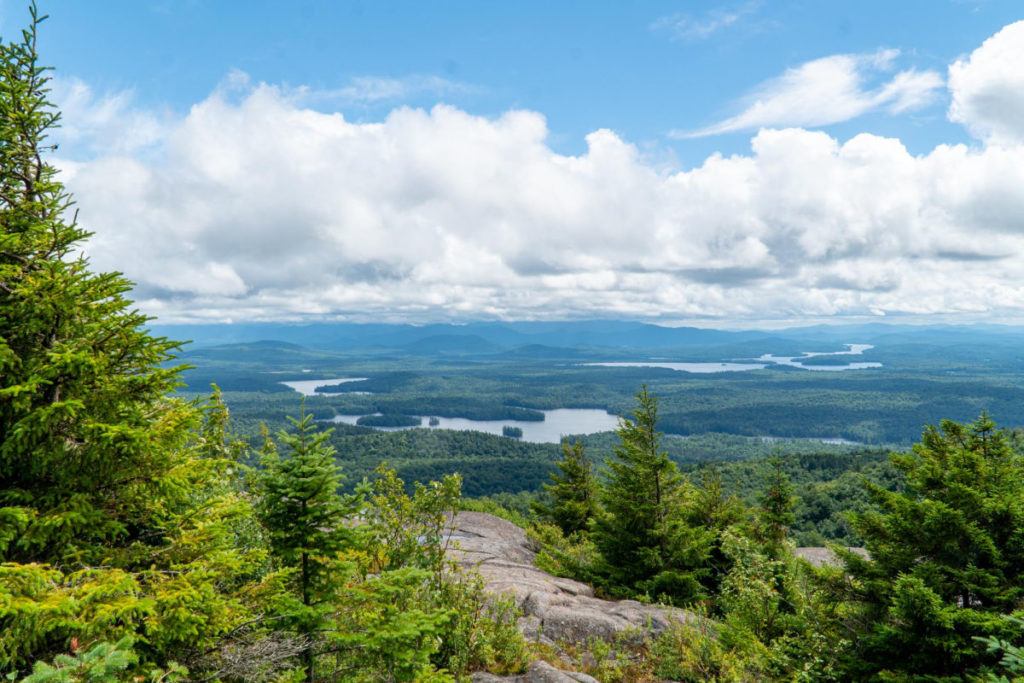 Adirondack Vacation Tips for First-time Visitors
If you are visiting for the first time, you will either want to choose one region to use as a home base, or pick two regions to split your time in between. For example, choose Lake Placid and Lake George for two different experiences.
How long to stay in the Adirondacks – first time visitors should plan on spending a week exploring one or more regions of the Adirondacks because there is so much to see and do. If you only have a weekend, choose whether you want to focus on mountains or lakes and choose a destination not too far off of one of the interstate highways.
When to visit the Adirondacks – the Adirondack Mountains are a four-season destination for outdoor adventurers, but it is the busiest from late Spring through mid-fall. Summer and fall weekends are especially busy.
Midweek is better – since most people visit the Adirondacks to get out in nature, it can be a real bummer if you get to a trailhead and can't find any parking, or have to get up at 5am just to take a hike. There is a huge difference in crowds from early in the week to late in the week or weekends. Plan your most popular hikes and activities during the week and plan to chill out more on the weekend.
Book early – whether you plan on staying in a hotel or renting a cabin, try to make your plans early, especially when traveling during peak season.
Who will enjoy an Adirondacks vacation? Anyone who enjoys the outdoors — both old and young there are great options for all ages. The main activities are hiking, swimming, and boating (or canoeing/kayaking/paddleboarding) in the summer and hiking, skiing, and skating in the winter.
Plan your meals in advance – if you are staying at a hotel, you will want to plan ahead to think about where you will want to eat. The restaurants can have very long lines and only a handful take reservations, although some offer a virtual queue.
Be prepared for all weather – when packing, keep in mind that you are going into the mountains. Even in the summer, the evenings can get chilly. And while you are packing, don't forget the bug spray and sunscreen.
Download the AllTrails app and do some research about which hikes look interesting and meet your comfort levels. However, because cell coverage can be so spotty, it helps to bring along a paper trail map, drop a pin where your car is, and screen shot any driving directions or trail instructions before you head out.
Sign in at the trail registries located at the trailheads before you start your hike.
Be sure to follow the principles of Leave No Trace and be prepared before heading out on your hikes. I have a good hiking packing list here.
Adirondack Vacation Iitinerary Ideas
I have written separately, and in detail about some of these regions including Lake George, Lake Placid, and Tupper Lake. But if you are taking a New York road trip, here are a couple of mini-itineraries to help give you some ideas.
#1: Lake Placid, Saranac and Tupper Lake
If you have a week to spend on an Adirondack road trip, I would suggest starting off in Lake Placid for 3-4 nights. There are plenty of hotel options for all budget, but one of the most family-friendly choices with a prime location on Mirror Lake, check out the Golden Arrow Lakeside Resort.
There is so much to do in this area and how you spend your time depends on how much you enjoy hiking but here are a few things not to miss:
Visiting the Olympic Ski Jump complex
Paddling on Mirror Lake
Boating on Lake Placid (waterskiing or water tubing with ADK Aquatics)
Hiking Mt. Von Hoevenberg's west trail — this 4.4 mile out and back hike offers beautiful views from the summit
Take a hike and go swimming at Copperas Pond
Drive to the top of the Whiteface Veterans' Memorial Highway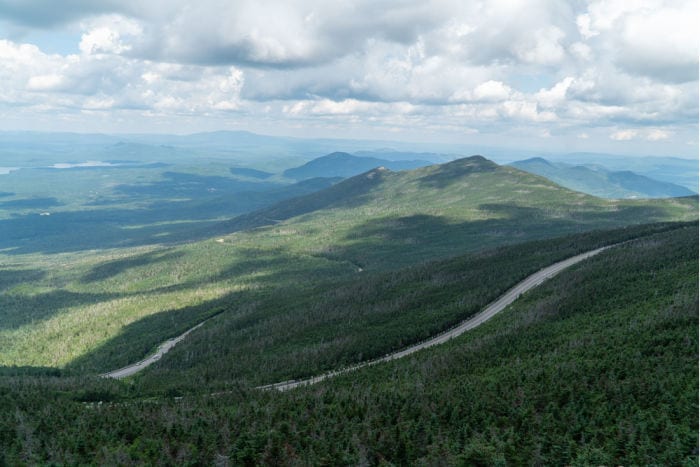 See more suggestions for things to do in Lake Placid. When you get hungry, here are my suggestions for where to eat:
Breakfast – pick up scrumptious breakfast sandwiches or packed lunches for the trail at Big Mountain Deli
Lunch – fuel up at the Dack Shack or Dancing Bears
Dinner – you won't leave hungry at Smoke Signals
Brewpub – Big Slide Brewery serves up craft beer and delicious pizzas and grub
Fine dining – Salt of the Earth Bistro or The View at Mirror Lake Inn should satisfy your palate
Snacks – line up early for ice cream from Emma's Lake Placid Creamery
After you have gotten your fill of the Lake Placid area, you may want to shift west for a few days in quieter Saranac Lake or Tupper Lake. Hotel Saranac or the Saranac Waterfront Lodge are both good hotel options. However, you may prefer a small cabin on a lake for more privacy, like the Bear Cabin that we stayed at just outside of Saranac Lake.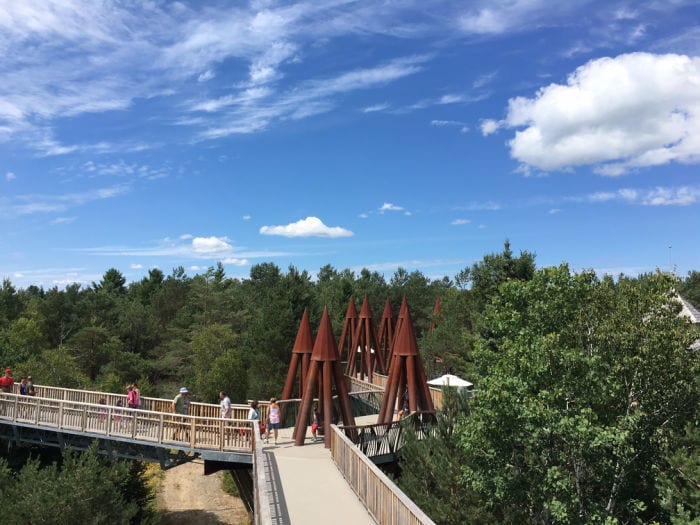 While in this area, spend some time relaxing but also map out time to visit:
The Wild Center in Tupper Lake and its amazing Wild Walk through the treetops — a family favorite!
Hike to the top of St. Regis Mountain — it is a 6.6 mile out and back hike that is steep at the top but the views are well-worth the effort
Canoe in the St. Regis canoe area
You will not have any difficulty filling your time between mountains and lakes and attractions. Just be sure to leave time to enjoy lakefront sunsets and evening campfires too!
#2: Lake George, Lake Champlain and the Adirondack Coast
If you prefer lake life over climbing mountains, then opt for a vacation in Lake George and the Adirondack Coast. This trip is ideal for families with younger kids who like to keep busy. Plan to spend at least 3 nights in Lake George. Surfside on the Lake offers family-friendly suites with mini-kitchenettes that make a family trip more budget friendly. It isn't fancy but it offers lake access, a pool, and is within easy walking distance to town.
Finding things to do with kids in the Lake George area isn't hard. Start off with:
Visit Fort William Henry, a replica French and Indian War era fortress with costumed reenactors
Take a ride on steamship Minne ha ha along Lake George
Go swimming on Million Dollar Beach
Climb or drive to the top of Prospect Mountain
Play all day at Six Flags Great Escape amusement park
After you have exhausted all there is to do in Lake George, or you are ready for a change of scenery, head north along Lake Champlain and the Adirondack Coast. Here you can enjoy:
Fort Ticonderoga (you know, like the pencils!) is an 18th century reconstructed fort with historical exhibits and presentations, a corn maze, gardens, boat rides, and more
Ausable Chasm — the "Grand Canyon" of the Adirondacks, Ausable Chasm offers over five miles of hiking trails or options to float down the river or climb across the chasm on an adventure course
Search for Champ — Lake Champlain's Loch Ness monster equivalent
Visit the North Star Underground Railroad Museum next to Ausable Chasm to learn more about this region's role in helping slaves escape north into Canada
Explore the set of the original Star Trek series
You can stay up at the Best Western Plus in Ticonderoga or the Best Western Plus up in Plattsburgh, NY. Instead, you could also cross the lake and spend a few days relaxing at the beautiful Basin Harbor resort on the shores of Lake Champlain in Vermont.
Are you ready to head to the land of high peaks, pristine mountain lakes, quiet ponds, Olympic attractions, family "camps", and Adirondack chairs? I hope this guide is helpful to planning your Adirondack vacation.
Save this to Pinterest