Adirondack Park in Northern New York covers over 6 million acres, encompassing 10,000 lakes, 30,000 miles of rivers and streams, and 46 mountain peaks. This natural playground offers plenty to do throughout the year, but we especially love it in the summer.
The Adirondacks are split into multiple regions. There is the Adirondack Coast along Lake Champlain, the Lake George region in the southern section, and the Tri-Lakes region in the northern section. the Tri-Lakes is one of the most popular regions, especially Lake Placid, which was home to two winter Olympic Games.
You will find many fun things to do in Lake Placid and nearby Saranac Lake. Whether you are a hiker looking to summit all 46 of the Adirondack High Peaks, or looking to take in the views from a less strenuous setting, everyone can find something to enjoy in the Adirondacks.
Things to do in Lake Placid
We fell in love with this area a few years ago when we made a big mother-daughter road trip through New York and explored different corners of the Adirondacks before moving on to the Finger Lakes. This year was the perfect time for another summer road trip to dig into the region in more depth, and exercise those hiking muscles that have been dormant since our trip to the Canadian Rockies last summer.
After two weeks spent in the Adirondacks, here are some of our favorite things to do in Lake Placid in the summer for families, hikers, or anyone.
Paddling on Mirror Lake
The downtown part of Lake Placid is actually located on Mirror Lake, although Lake Placid is just a short hop away. As the name suggests, Mirror Lake is reflective and calm, making it a perfect spot for paddling, especially since motorized boats are not permitted. We stayed at the Golden Arrow Lakeside Resort, so we had free access to their kayaks, paddleboards, canoes, and rowboats right off their private beach.
However, even if you are staying out of town, you can still rent equipment at the Eastern Mountain Sports or Mirror Lake Boat Rental and launch right from there. The running path around Mirror Lake is only 2.7 miles, so the lake itself is no more than a mile in length. You can easily explore the whole lake in an hour or two.
Boating on Lake Placid
The actual Lake Placid is much larger and more exclusive. Some of the houses on the lake and its islands are only accessible by boat. I would recommend renting a motorboat (if you have a boating license) or signing up for one of the boat tours to get out on the lake just to gawk and the gorgeous private family "camps" along the shore.
We had an amazing time tubing with ADK Aquatics. You can sign up for a 1.5-hour session to try water tubing, water skiing, wakeboarding, or simply tour the lake. We visited Echo Bay, saw Whiteface Mountain from the lake, and had an absolute blast tubing. The safety precautions and service of the team was top-notch.
Olympic Ski Jump
Lake Placid hosted the Winter Olympics in 1932 and 1980. The 1980 winter Olympics was when the United States defeated Russia in Men's Hockey, known as the "Miracle on Ice" so the nostalgia is strong.
On our first trip to Lake Placid, we visited the Olympic Ski Jumping Complex and since then, they have expanded to also include a zip line ride. You can take a gondola up to the top of the mountain and the base of the ski jumps.
From there, the newly-remodeled glass elevator takes you to the sky deck of the 120-meter ski jumping tower. The views from here of the Adirondack High Peaks and Lake Placid are amazing, but what really makes your stomach drop is looking down the length of the ski jump. You will have even greater respect for Olympic ski jumpers after this birds-eye view.
There are other Olympic Venues throughout Lake Placid, and if you are visiting at another time, it may pay to purchase the Olympic Sites Passport. These are currently not for sale because many venues such as the Lake Placid Olympic Museum and the Olympic Center were closed for much of the summer of 2020 or visitation was limited.
Whiteface Cloudsplitter Gondola
Whiteface is one of the more well-known ski resorts in New York, but like many resorts, it isn't just a one-season destination. The six-passenger Cloudsplitter Gondola ride reopened just in time for our visit.
The Gondola carries you from the Main Base Lodge to the top of Little Whiteface in fifteen minutes, offering beautiful views along the way. Due to current safety concerns, you travel only with those in your party, and facemasks are required throughout the visit. The gondola ride takes you over mountain streams and rock faces until you reach the top, where you can enjoy the observation deck and picnic area.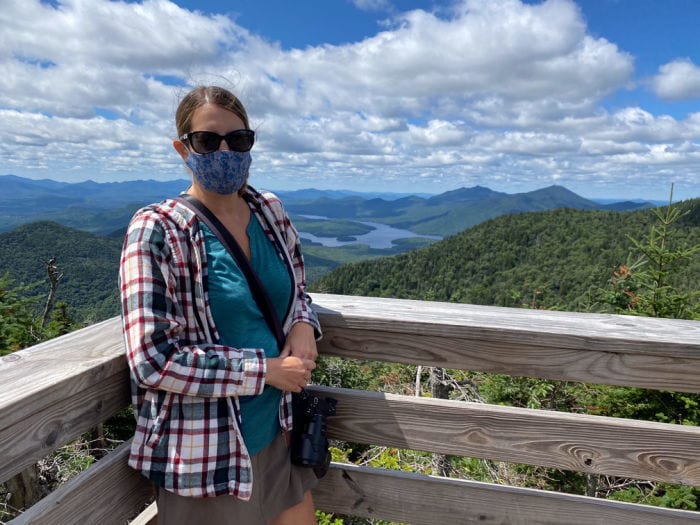 On a clear day, you can see as far as Lake Champlain to the east, the tallest peaks in New York to the south, as well as Lake Placid and the village.
High Falls Gorge
If you love chasing waterfalls, then High Falls Gorge packs a punch. Otherwise, this can be a somewhat overpriced tourist attraction for the time you will spend here. You can choose a 30-minute walk along the gorge to view waterfalls from a series of overlooks and bridges, and/or explore the slightly longer nature trail through the woods.
They have done a good job managing traffic flow this summer to ensure one-way traffic. That combined with face mask requirements and social distancing guidelines of one party per platform make a safe way to explore what could be a very crowded attraction (it just makes it a bit slow going.)
The waterfalls are beautiful but you can get somewhat similar views at different parts of the Western Branch of the Ausable River if you drive along Route 86 and are willing to get out and explore.
Just keep in mind that they are only open five days a week in the summer (closed Wednesday and Thursday) and the cafe is currently closed so be sure to plan accordingly. It is very easy to combine the Whiteface Gondola and High Falls Gorge in one morning or afternoon as they are located just minutes apart.
Santa's Workshop at the North Pole
If you continue further up Highway 86 to Wilmington, New York, you can then take a left to head to the Whiteface Veterans' Memorial Highway. Before you arrive at the toll booth, you will pass through North Pole, NY, home to Santa's Workshop.
Unfortunately, Santa is not in residence this summer, but you can still stop into the Post Office gift shop and mail a postcard from the North Pole. In other years, families with young kids or those that love Christmas all year long will enjoy a stop to see Santa and enjoy the rides and attractions.
Whiteface Veterans' Memorial Highway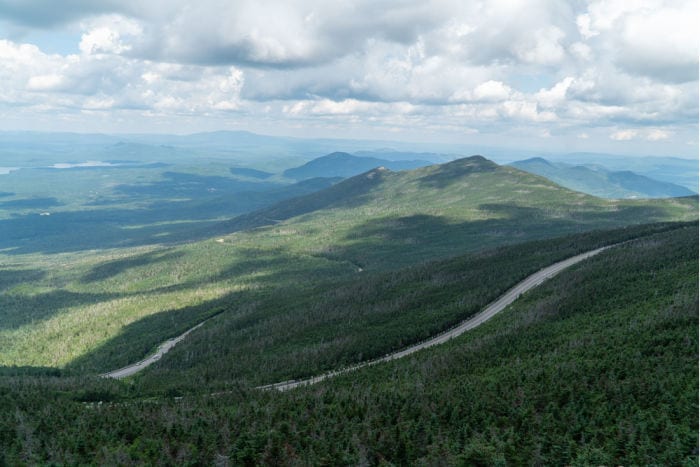 If you are looking for a scenic drive or epic views without challenging hikes, the Whiteface Veterans' Memorial Highway delivers. This is a toll road, so it is a bit of a steep price to pay for those views, but the five-mile road isn't too challenging (unlike Mount Washington in NH) and offers plenty of pull-outs and scenic viewpoints to make it worth the while.
For summer 2020, some of the attractions at the top are limited, including access to the summit, the glass elevator, and the castle. The capacity is also limited to 70 cars at a time — which means fewer people and less traffic for enjoying the drive!
Be sure to make your pit stops along the way up, as most of the parking lots and pull-outs are on that side of the road. The views keep getting better but you get different angles so be sure to stop at a few spots along the drive.
Picnic by the Ausable River
The drive along Highway 86 crisscrosses the Ausable River and offers plentiful opportunities for hiking, fishing, and wading in the river. Pick a spot where there is parking in one of the pull-offs (this is easier if you are visiting mid-week) and walk down to the river to enjoy a picnic along the river bank or the large rocks that are scattered throughout.
Just be sure to bring your water shoes and avoid spots that are slippery, deep, or the current is particularly strong (especially after recent storms or late spring.)
Hiking Near Lake Placid
There are trails for beginners/families, intermediate hikers, or those looking for a challenge all within a few minutes of downtown Lake Placid.
Hiking Trails / Nature walks near Lake Placid for Beginners and Families
If you are looking for something nice and gentle, there are a number of nature trails around Lake Placid including:
Brewster Peninsula Nature Trails — this is a winding 2 mile trail over fairly flat terrain. After a short walk, the trail follows the shores of Lake Placid with views of Whiteface Mountain. (1 mile from downtown)
Henry's Woods — this is a 4-mile loop with varying flat and hilly sections. The side trails offer views of Lake Placid and Whiteface Mountain. (2-3 miles from downtown)
Heaven Hills — this is a community preserve with multiple trails that can be combined to form loops. (4-5 miles from downtown)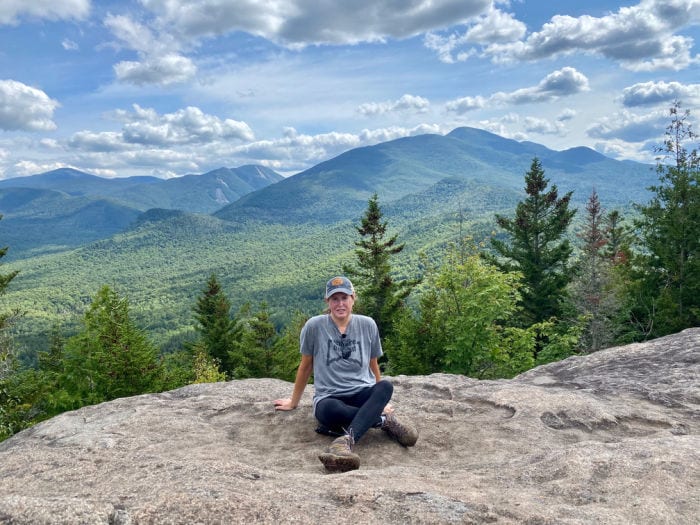 Intermediate Hikes near Lake Placid
If you are ready for a more moderate hike, grab your trekking poles, lace up your hiking boots, load up your day pack, and get ready to climb!
Keep in mind that parking at trailheads in this area can fill up fast. It is best to plan for the more popular hikes midweek and go early or late to avoid the mid-day rush. And please, follow the principles of Leave No Trace.
Mt. Jo — this hike is short (2.3 miles round trip) but steep. There are two ways up and unless you love vertical and rock scrambling, you will want to take the longer trail both ways instead of making it a loop. The reward at the top is a rocky summit with views of the lake. You will need to climb a few ladders to get to the top overlook and then look for the "summit" sign pointing you to the path for the actual summit. It isn't large so you may not be able to spend a lot of time there on a busy day, but you can also combine this hike with a walk around Heart Lake at the High Peak Information Center / Adirondack Loj. There is a large parking lot here (bonus!) but parking fees are required.
Mt. Van Hoevenberg (West trail from South Meadow Road)– this 4.4 mile hike starts off very easy with a wide trail through a forest. It soon reaches a beaver pond and here the trail narrows significantly and you will want long pants and sleeves to pass by the berry bushes. The trail then becomes moderate and has steeper sections before reaching the summit. There are a series of overlooks offering views of the South Meadows and Great Range. There is parking at South Meadows and along Adirondack Loj road, then you will need to hike up South Meadows road to the trailhead on the left. Note: You can also approach this summit from the East, and park at the Biathlon Center near the mountain bike rentals.
Cobble Hill — this is a short hike (1.6 miles round trip) that also offers two trails — one short and steep and the other that is longer and better for families.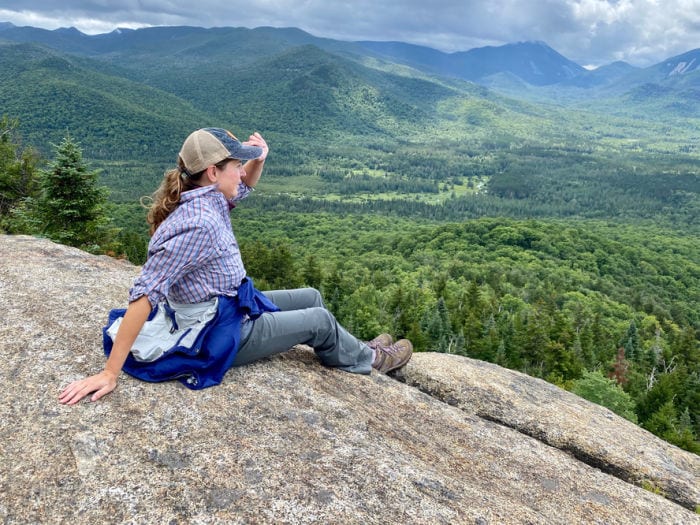 Longer Hikes Near Lake Placid
If you want to challenge yourself with longer or more challenging hikes, there are certainly many to choose from. You may want to look up the High Peaks 46ers and read the descriptions to find something that suits your interest. The one I have my eye on that we couldn't fit into this trip is to Hurricane Mountain.
Hurricane Mountain — there are two approaches to Hurricane and the Northern Trail off of Otoole Lane is what was recommended to me. This is a 5.6 mile out and back trail that is rated as moderate with incredible views and a fire tower at the summit.
Other popular hikes include Ampersand Mountain, Noonmark, Haystack, and Cascade.
Swimming Near Lake Placid
Not all hiking needs to be up a mountain. In addition to the great swimming available in the warm, clear waters of Lake Placid or Mirror Lake, there are countless other ponds and swimming holes nearby.
Pack your water shoes and a towel, wear a bathing suit under your clothes, and head out on a hike to one of these beautiful spots:
Copperas Pond — this one mile trail has its steep parts but it is worth it to then cool off in the pond. Just keep walking along the pond's until you get to a spot where you can get out on the rocks at the edge without other people around. You will want your water shoes to walk across the slippery rocks until the water is deep enough to swim. Pack a picnic and enjoy it on the shore while watching the tadpoles and fish in the water below. Look for signs for the trail head on Highway 86 (the trailhead is across the street from the parking area.)
Owen Pond — you can extend your day but also hiking over to Owen Pond or just pick one or the other. Owen Pond is a 1.3 mile out and back trail and you can swim or fish in the pond when you arrive.
Day trip idea: Ausable Chasm
If you are looking for some day trip ideas, I would recommend heading over to Saranac Lake or Tupper Lake, also part of the tri-lake region. However, a very fun day trip on the Adirondack Coast is to Ausable Chasm. Less than an hour's drive, this "Grand Canyon of the Adirondacks" offers hiking, rafting, and adventure course excitement.
Ausable Chasm is the oldest natural attraction in the United States. There is an entry fee to get in, with a choice of activities. For the non-adventure seekers, you can take one of many trails along the chasm rim to take in the views. The more intrepid can get their thrills on the Family Adventure Trail across and along the chasm. You can even cool off with a rafting or tubing ride through the narrowest part of the chasm.
Things to do in Saranac Lake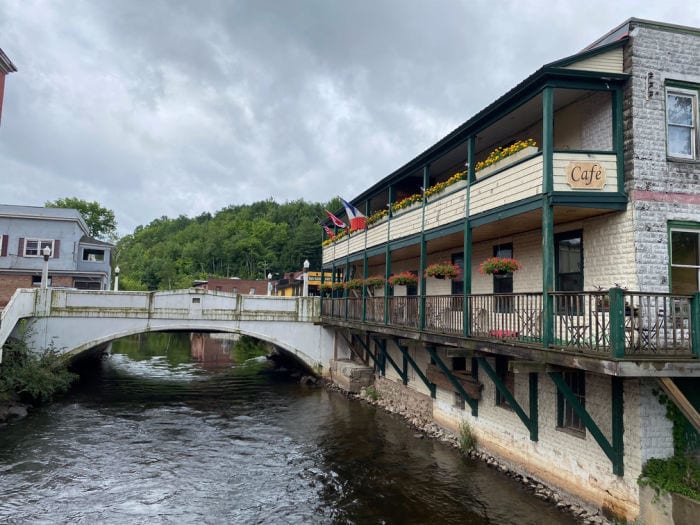 Located only 20 minutes from Lake Placid, the village of Saranac Lake, located on Flower Lake (what is it with these towns not being on the lake they are named after?) is much less touristy than Lake Placid and makes for a nice day trip.
Downtown Saranac Lake
You can explore the shops downtown (make sure to stop into the well-curated Book Nook) or take a stroll along the lake or river. If you get hungry, you may want to try the Blue Moon Cafe or The Red Fox.
St. Regis Mountain & Canoe Area
An excellent hiking option just 20-30 minutes from downtown Saranac Lake is St. Regis Mountain. This is also part of the St. Regis Canoe area, popular for overnight or day canoe trips (you may want to hire a canoe guide if you aren't familiar with the area.)
The hike is about 6.6 miles and earns its moderate rating. The first couple of miles uphill aren't too bad but the last mile you have to work for. Don't worry, it is worth it! Before you get to the summit you will reach a nice rock overlook, but keep going. The wide-open summit offers amazing views and you can climb the fire tower if you dare to see even further.
Lake Colby
If you need a place to cool off after climbing St. Regis, stop off at the beach on Lake Colby, located on Route 86 just north of Saranac Lake. We actually rented a cabin on Lake Colby during the first part of our recent visit.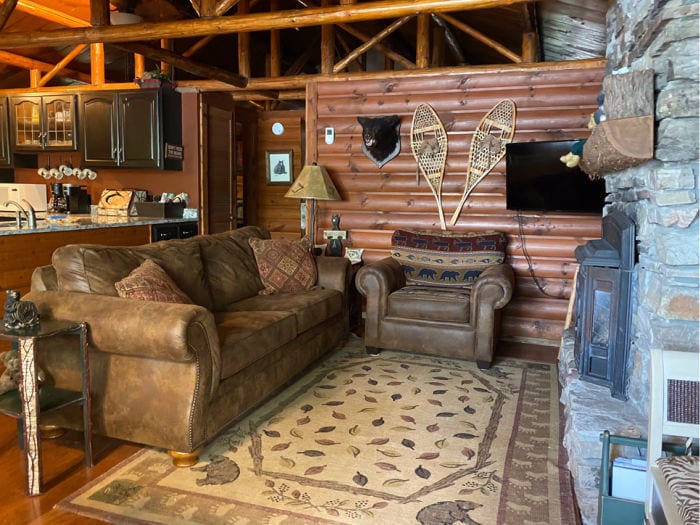 Our stay in Bear Cabin was ideal. This two-bedroom cabin was located right on the lake and we had access to kayaks, canoes, and rowboats. There was a dock to swim off of and a fire pit surrounded by Adirondack chairs to enjoy the view. Check out the listing on vrbo (this is my affiliate link, if you click a link and book a stay I will earn a small commission.)
Wild Center in Tupper Lake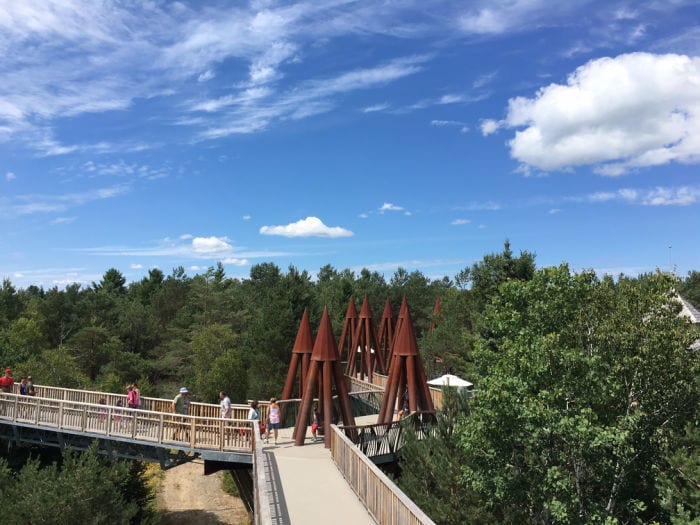 If you are willing to drive a little further over to Tupper Lake, a visit to the Wild Center is a must for families. Just keep in mind that currently in the summer of 2020, the indoor natural history exhibits are closed and reservations are required for the Wild Walk.
The Wild Walk is a treetop trail 30 feet in the air, providing a different perspective of the world around. The Wild Walk includes a giant bird's nest and "spider web" nets, a treehouse, swinging chairs, and interactive exhibits. We had such a fun time visiting here on our last trip to Lake Placid!
Where to Stay in Lake Placid
Wondering where to stay in Lake Placid? There are many choices but here are my picks based on your budget category.
Budget: Lake Placid Inn Residences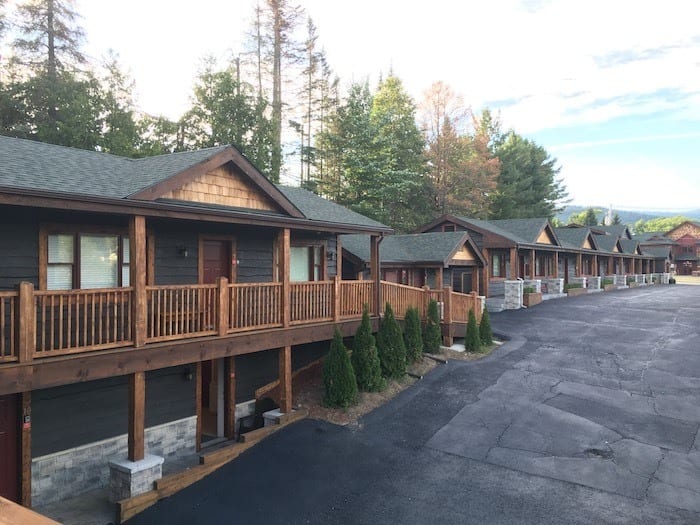 On our first visit, we stayed in the Lake Placid Inn Residences (see my full review here.) It is located just outside of town, making it a little cheaper. But these boutique suites have been renovated and updated in a chic style that provides extra space for families or those that want to cook their own meals. The river view and outdoor community fire pit add a nice ambiance to the motel-like exterior.
Check rates and availability here: Lake Placid Inn Residences on TripAdvisor
Moderate: Golden Arrow Resort
For this visit, we spent four nights at the family-friendly Golden Arrow Lakeside Resort. You could immediately tell that this is a favorite destination hotel for families, many of which return every year. The Golden Arrow occupies a prime location at the end of Mirror Lake and in the heart of the downtown shopping and restaurant district.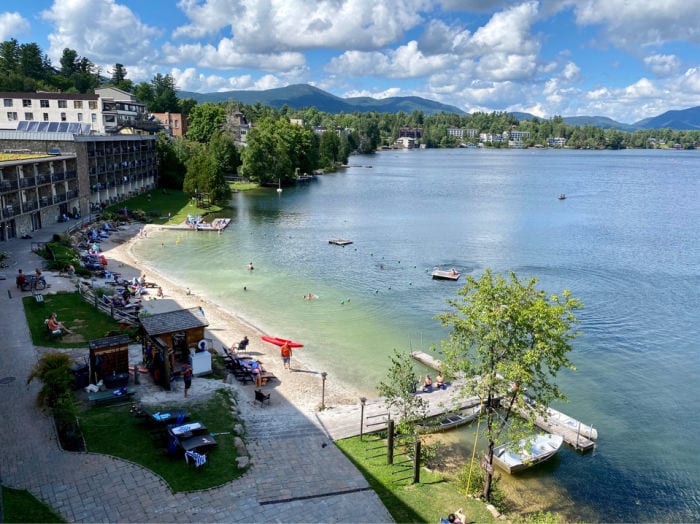 The small private beach at the Golden Arrow is another huge draw for families, especially since they offer free use of kayaks, canoes, paddleboards, and rowboats. Of course, that small beach can get quite crowded, and finding a spot (especially if you want to keep your distance from people) is a challenge. I would recommend bringing your own beach chairs and staking out a space on the lawn. Also, the equipment is a bit hit or miss with a "first come, first serve" policy and a mismatch of paddles and heavily used equipment.
Another nice thing about the Golden Arrow is the availability of two-room suites for families, some of which have kitchenettes. The rooms themselves could use some updating but the size is nice and the view and location make those trade-offs worthwhile.
Check rates and availability here: Golden Arrow Lakeside Resort on TripAdvisor
Upscale: Mirror Lake Inn
If you are looking for something that is a step up from the Golden Arrow, but still on the lake and in walking distance to downtown, the Mirror Lake Inn is a good option. Pay a little extra for a suite with a private balcony and enjoy the classic and elegant setting in this member of the Small Luxury Hotels of the World. Just keep in mind that it is on the main road so noise could be an issue. And, the small beach and lake toys are across the street from the main hotel building.
Check rates and availability here: Mirror Lake Inn Resort & Spa on TripAdvisor
Luxury: Lake Placid Lodge
Located on Lake Placid (versus Mirror Lake), the Lake Placid Lodge is a luxury property that has been voted the #8 resort hotel in the Northeast from Travel + Leisure. The lakeside suites offer large terraces and gorgeous lake views. The rooms could use a little updating but the quality of the amenities, the intimacy, and the secluded setting make it a great getaway destination for couples or families with teens.
Check rates and availability here: Lake Placid Lodge on TripAdvisor
Best Restaurants in Lake Placid
Given how popular Lake Placid is with visitors, it is important to plan ahead to think about where you are going to eat. Especially because so many restaurants don't offer reservations — although some offer electronic waitlists — and outdoor dining is limited.
Based on our visits, here are some of our favorite picks:
Big Slide Brewery
Located just outside of town, this local brewery also serves up locally-sourced small plates, pizzas and entrees. Known for their Giant IPAs, Big Slide Brewery is popular with locals and visitors. I loved my pizza with peaches, pancetta, arugula, and pistachio pesto. They are currently offering outdoor seating under a tent and an electronic waitlist via Yelp.
Big Slide Brewery is located at 5686 Cascade Rd, Lake Placid, NY 12946.
Smoke Signals
Smoke Signals is one of my favorite restaurants in Lake Placid. They smoke all their BBQ in house and you can taste (and smell) the flavor. We are fans of the brisket, the BBQ tacos, and the massive Flatliner Burger. Smoke Signals is popular but they do offer an electronic waitlist just be sure to put your name on it really early.
Smoke Signals is located at 2489 Main Street, Lake Placid, NY 12946.
Salt of the Earth Bistro
Friends of mine just dined at the Salt of the Earth Bistro and it was their favorite meal of their trip. Located just outside of town, this is a good option for those looking for flavor and modern presentations, and a nice break from the more ubiquitous pub fare. Just keep in mind that the menu is limited, but at least reservations are available.
Salt of the Earth Bistro is located at 5956 Sentinel Road, Lake Placid, NY 12946.
Dack Shack
On our first visit, we had a delicious and gigantic breakfast at Dack Shack. These days they are just open for lunch and dinner, offering casual favorites to fuel up for long hikes or fill up after a long day. Located just outside of town, they also offer delivery and curbside pickup.
You can also pre-order sandwiches online and grab them at curbside pickup at the co-located Simply Gourmet.
Dack Shack is located at 2099 Saranac Ave, Lake Placid, NY 12946.
Big Mountain Deli
Located right on Main Street, Big Mountain Deli serves up creative and delicious sandwiches and crepes. You can order online and pick up sandwiches or packed lunches for hikers. The breakfast sandwich with sausage, brie, and maple mayo is the bomb.
Big Mountain Deli is located at 2475 Main St, Lake Placid, NY 12946.
Emma's Lake Placid Creamery
You will never not see a line outside of Emma's Creamery. Visitors go crazy for their soft serve, hard ice cream, sundaes and milkshakes.
Emma's is located at 2507 Main St Lake Placid NY.
The View at Mirror Lake Inn
If you are looking for a fine dining experience, The View is a Four Diamond restaurant in the Mirror Lake Inn. While it is located across the street from the lake, the floor-to-ceiling windows still offer exceptional views. We found the appetizers and dessert more interesting than the entrees, but it was nice to get away from pub food for a night. Safety protocols are also top-notch with contactless temperature checks, hot towels to clean your hands, personalized menus, and UV sanitizing of tables between guests. Plus, they take reservations!
The View at Mirror Lake Inn is located at 77 Mirror Lake DriveLake Placid, New York 12946.
Dancing Bears
Located in the High Peaks Resort, Dancing Bears has outdoor dining on its rooftop. They serve up standard pub fare, but the servings are large and you shouldn't go away disappointed. The nachos are yummy and the fries are perfect.
Dancing Bears is located at 2404 Main St, Lake Placid, NY 12946.
Lake Placid Pub and Brewery
This local brewery has a large outdoor dining space. When ate here on our first visit to Lake Placid and enjoyed the fun atmosphere, good beer, and tasty food. Again, it is typical pub fare but there are some atypical options, like spicy Pad Thai.
Lake Placid Pub and Brewery is located at 813 Mirror Lake Dr, Lake Placid, NY 12946.
The lush green forests of the Adirondacks, the rock mountain high peaks, the calm, clear lakes are a nature lovers' dream and the perfect outdoor playground for families. I'm already thinking about our next trip!
The mountains are calling, are you going?
SAVE THIS TO PINTEREST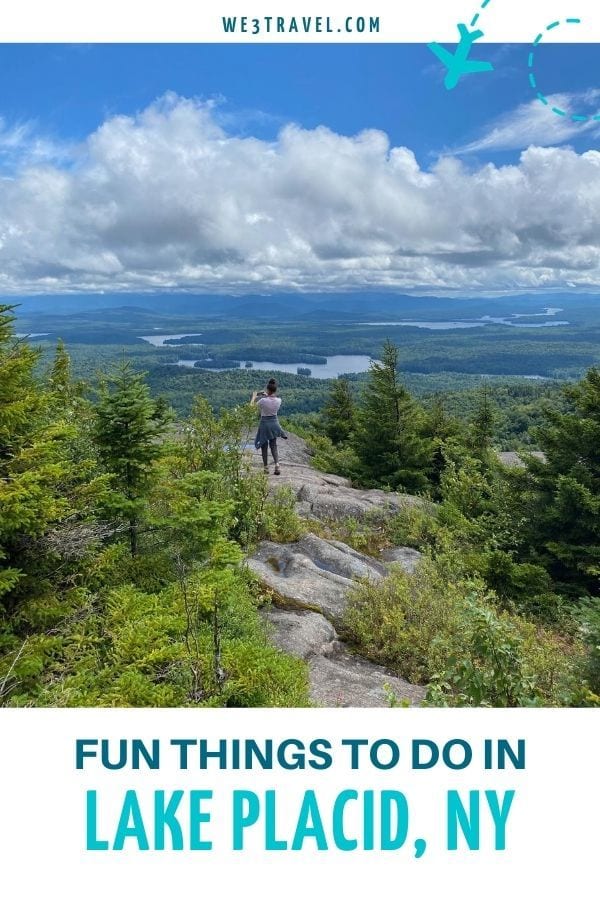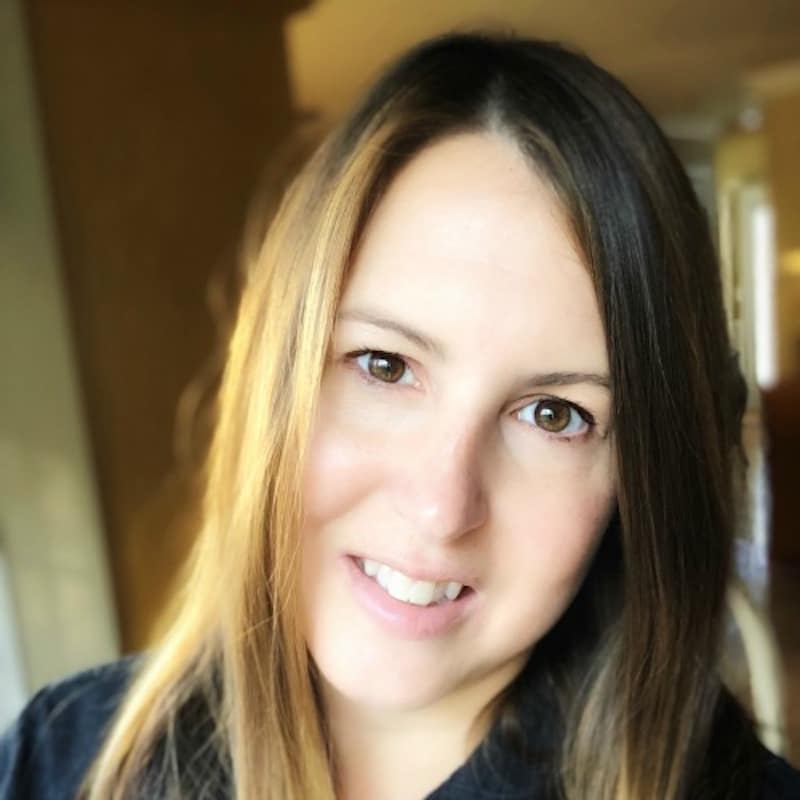 Tamara Gruber is the Founder and Publisher of We3Travel. A former marketing executive and travel advisor, Tamara is an award-winning travel writer and recognized expert in family travel. She is also the publisher of YourTimetoFly and the co-host of the Vacation Mavens travel podcast.