Wine tasting, waterfall hunting, alpaca walks — these are some of the fun things to do in the Finger Lakes of New York!
If you are looking for a romantic getaway destination, a great spot for a friend's trip, or just a fun family vacation spot, the Finger Lakes region of New York has something for everyone, especially if you are interested in history, water sports, hiking, and agritourism. Picture long lakes surrounding by gentle hills, acres of vineyards, and charming farms. Imagine a mix of small towns, little cities, and state parks with stunning waterfalls.
Now you are getting the sense of the Finger Lakes. The region is known for its award-winning wineries and vineyards, producing some of the best Rieslings in the world. But did you know that this area also played a pivotal role in the Underground Railroad and the Women's Rights Movement? Whatever your interest, this guide to the best things to do in the Finger Lakes will help you plan your trip.
What are the Finger Lakes?
The Finger Lakes are a series of 11 long, narrow lakes located in upstate New York. They are situated roughly in the center of the state, about a 4-hour drive northwest of New York City, a 2.5-hour drive southwest of Albany, and a 1.5-hour drive southeast of Buffalo. The main lakes are Canandaigua, Keuka, Seneca, Cayuga, and Skaneateles, each with its own unique character.
The Finger Lakes region is also home to several cute towns and small cities, including Geneva, Hammondsport, Corning, Watkins Glen, Ithaca, and Seneca Falls, among others.
The Finger Lakes were formed by glaciers during the last ice age, which gouged deep channels into the earth and created long, narrow valleys. The lakes are all oriented north-south, with steep hillsides rising up from the shorelines. The longest of the lakes, Cayuga and Seneca, are each over 38 miles long, while the shallowest, Honeoye Lake, is just 30 feet deep. Seneca Lake is the deepest of the Finger Lakes, with a maximum depth of 618 feet.
How do you get to the Finger Lakes?
The main airport in the region is the Ithaca Tompkins Regional Airport (ITH), located just outside of Ithaca, NY. This airport offers daily flights to major hubs such as Philadelphia, Detroit, and Washington D.C. Other nearby airports include the Greater Rochester International Airport (ROC), Syracuse Hancock International Airport (SYR), and Elmira/Corning Regional Airport (ELM).
However, it makes sense to plan a New York road trip or pick up a rental car because you are going to want a car to explore while you are there. There are certainly companies that offer wine tours, drivers, and even water taxis, but I still think it is best to have a car in the Finger Lakes.
What is the best time to go to the Finger Lakes?
A popular time to visit the Finger Lakes is in the summer or fall, especially when the fall foliage is in full color from late September through mid-October. However, winter can be a beautiful time when the waterfalls ice over and the hotels are cheaper. Just keep in mind that you may need to call ahead to wineries, etc if you are visiting in the off-season.
Some other popular times to visit include during the Finger Lakes Wine Festival in July is one of the largest wine festivals in the East, featuring over 70 wineries, great food, and exciting entertainment. There are many other annual events including the Seaplane Homecoming on Keuka Lake in the fall, Ice Wine & Culinary Festival in February, and more.
Unless you want to attend races, I would avoid NASCAR race weekends in Watkins Glen because the whole area will be more crowded and hotel prices will be higher, if you can find availability.
Best Things to do in the Finger Lakes
Note: I have visited the Finger Lakes many times, including on a few press trips where I have had complimentary accommodations and some activities were hosted. Whether I paid myself or not, all opinions are always my own.
Wine Tasting in the Finger Lakes
Wine may not be what you first think of when someone mentions New York state the way it might when you hear Sonoma or Napa — but the Finger Lakes region in New York State is actually the fourth-largest wine-producing region in the United States. In fact, the region has been producing wine for over 150 years and is home to over 100 wineries and vineyards.
The Finger Lakes are home to a number of wine trails, including the Keuka Lake Trail, the Seneca Lake Wine Trail, and the Cayuga Lake Wine Trail. So what trail you explore often comes down to where you stay and which lake you are visiting.
Over the years, I have visited many, many wineries along these trails, sometimes with kids, sometimes on a girls' trip, and sometimes on my own. These are some of my favorites:
Dr. Konstantin Frank Wine Cellars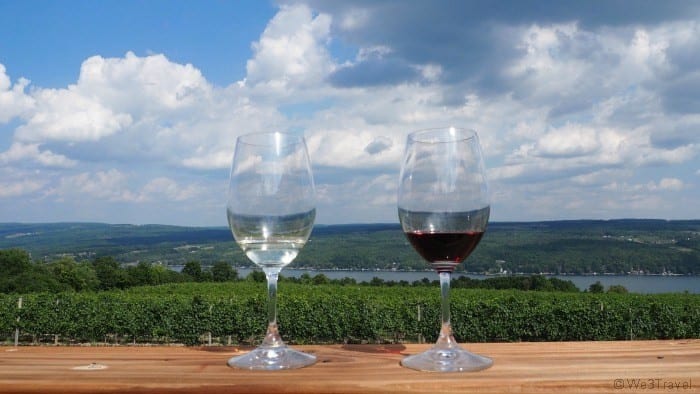 Dr. Frank is a pioneer in the viticulture industry and his wines continue to receive awards and accolades. In an area known for its Rieslings, Dr. Frank's Gewurztraminer also stands out.
While it may not be the best (my personal opinion), Dr. Frank's had to be on the list of wineries to visit in Finger Lakes wine country because of the rich history of this winery. Dr. Konstantin Frank came to the United States in 1951 from Europe, armed with a Ph.D. in viticulture. His growing and grafting techniques truly changed the course of wine growing in the United States, and he is recognized as elevating the quality of the New York wine industry to the point where today it receives world attention.
The winery is situated in the former home of Dr. Konstantin Frank, on a hill overlooking Keuka Lake. The main tasting room features large windows to enjoy the view, and there is also a separate tasting room for wine club members. The staff was very knowledgeable and welcoming, and very helpful in suggesting foods that would pair well with each of the wines I sampled.
Dr. Frank's tasting room is located at 9749 Middle Road Hammondsport, NY 14840
Ravines Wine Cellars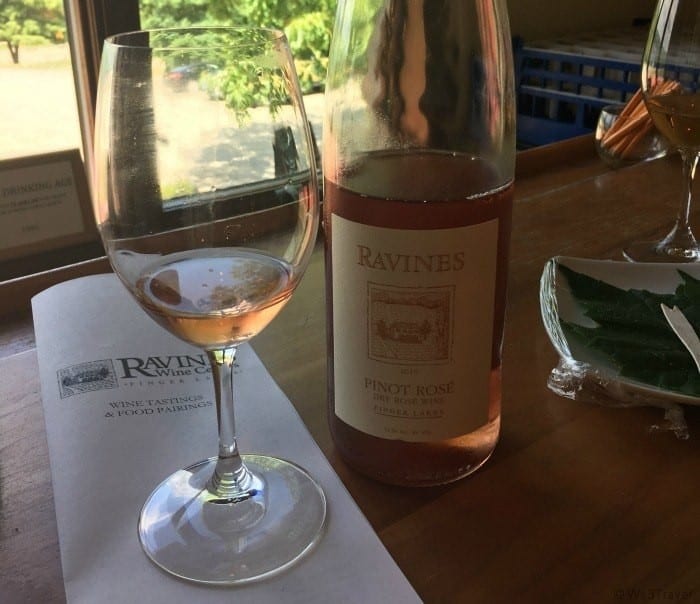 Ravines Wine Cellars is my local wine merchant's favorite producer in New York State, and possibly the entire east coast, so I knew we were in for a treat! Ravines actually has two tasting rooms, one in Seneca Lake and the other in Geneva.
We visited the tasting room in Hammondsport, with beautiful views of Keuka Lake. This was the kind of place where I could stay for hours because they craft a very special tasting experience. It isn't just about quickly pouring wine and dashing off a short explanation. Not at all.
Our attendant spent so much time with me explaining the different wines and their pairings. There isn't anything I love more about visiting a tasting room than when someone takes the time to talk with you and understand your tastes. They get excited when they find what lights your fire and happily suggest something else from off the typical flight based on what you are enjoying. It makes for such a personal experience and you end up finding so many wines that you really love.
Ravines Wine Cellars is located at 400 Barracks Rd, Geneva, NY 14456 and 14630 State Route 54, Hammondsport, NY 14840
Lamoreaux Landing Wine Cellars
Located on the east side of Seneca Lake, Lamoreaux Landing offers tastings of four of their estate wines with a vintner in their outdoor tasting area on the East Lawn, with sweeping views of the vines down to the lake. When open, the indoor tasting room is also quite stunning, with floor-to-ceiling windows that maximize the view.
Instead of selecting a pre-set tasting menu, Lamoreaux Landing allows you to select which wines you wish to try in a guided tasting. The interactivity with a knowledgeable vintner, paired with my favorite dry red wines of the trip and the fabulous view make Lamoreaux Landing my top pick for wineries on Seneca Lake.
Lamoreaux Landing produces over 90 wines, many of which have received a 90+ point ratings from Wine Spectator, Wine Enthusiast, or Wine & Spirits.
Lamoreaux Landing is located at 9224 NY-414, Lodi NY 14860.
Chateau LaFayette Reneau
Chateau LaFayette Reneau on Seneca Lake has produced estate-grown vinifera wines for 35 years on their 110-acre estate. Their wines consistently win awards like the highly-acclaimed Governor's Cup Awards and five Jefferson Cups.
Chateau LaFayette Reneau offers a tasting room with a back deck that overlooks the vineyard and Seneca Lake, with an awning to offer up shade from the sun. They offer up four wine tasting options — white wine, red wine, semi-dry wine, and sweet wine flights.
Chateau LaFayette Reneau is located at 5081 State Route 414, Hector, NY 14841
Lakewood Vineyards
Lakewood Vineyards is a family-run winery with 14 grape varietals on 80 acres of vineyards overlooking Seneca Lake. In addition to an indoor tasting room and shop, Lakewood Vineyards has a beautiful covered patio with multiple tasting tables, as well as outdoor picnic tables to enjoy a glass of wine on the lawn before a stroll down towards the lake.
Lakewood Vineyards is located at 4024 NY State Route 14, Watkins Glen, New York 14891
Glenora Wine Cellars
Just up the road from Lakewood on the west side of the lake, Glenora Wine Cellars also offers beautiful views from its lakefront location. You can even stay on property at their Inn if you have ever dreamed of staying in a vineyard.
Glenora Wine Cellars is located at 5435 State Route 14, Dundee, New York, 14837
Six Eighty Cellars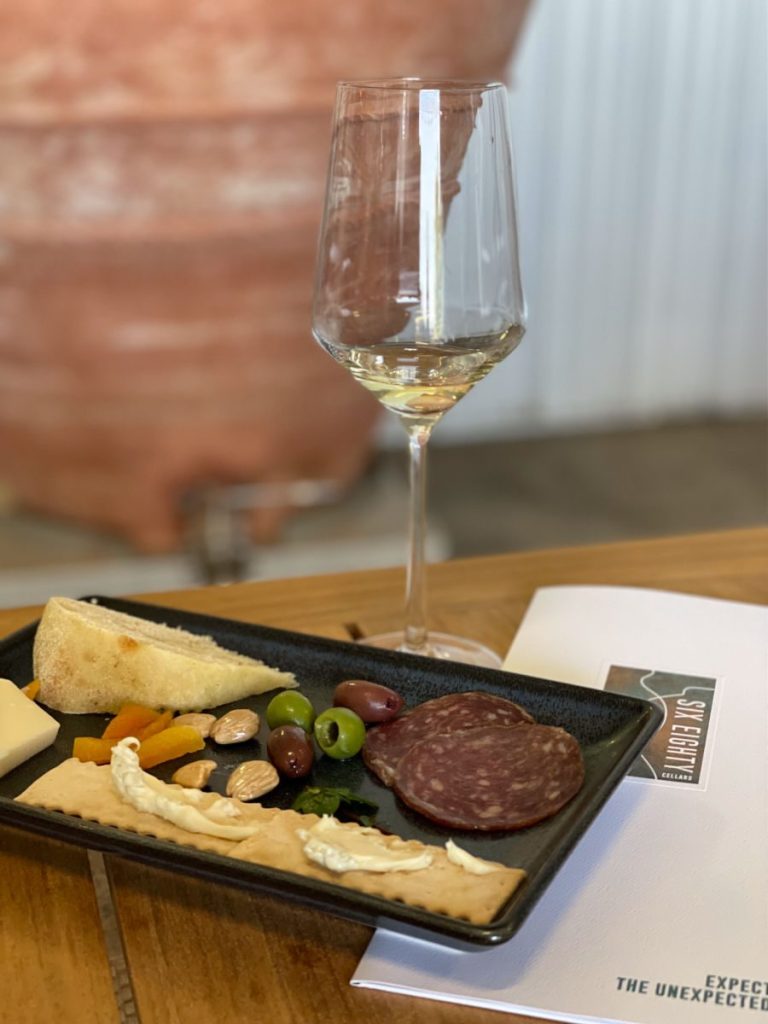 Part of the Cayuga Lake Wine Trail, Six Eighty Cellars combines ancient wine making methodology with modern flavors, using a variety of cisterns and vessels for fermentation. We thoroughly enjoyed the wine and guided tasting at Six Eighty Cellars, including the personal charcuterie board paired with our tasting. Each tasting included a choice of five wines from an extensive list of options. We were lucky enough to visit during harvest and got to see the production of the Rosé of Pinot Noir in action.
Six Eighty Cellars is located at 3050 Swick Rd, Ovid, NY 14521
Buttonwood Grove Cellars
Also on Cayuga Lake, Buttonwood Grove Cellars offers a black glass blind tasting of four wines, paired with fresh bread and a delicious sharp local cheddar cheese. While I went 0 for 4, it was so fun trying to guess what we were drinking based on the tasting notes provided. This is a fun activity, especially for groups with some wine afficianados. The outdoor patio and live music adds to the atmosphere and there are even cabins on property if you want to stay at a winery.
Buttonwood Grove Cellars is located at 5986 State Route 89 Romulus, NY 14541
Knapp Winery
Knapp Winery also offers a Vineyard Restaurant serving excellent food in a lovely setting (I'd recommend requesting to eat on the patio.) Pairing lunch with a wine flight is a perfect capstone to your wine tasting.
Knapp Winery is located at 2770 Ernsberger Road, Romulus, New York 14541
Cider & Beer Tasting in the Finger Lakes
It is not just about wine in the Finger Lakes! The Finger Lakes Beer Trail showcases 85 craft brewers and cideries across 210 miles from Rochester down to Corning.
Cider Creek Hard Cider
Cider Creek Hard Cider is well worth the drive out to Canisteo for a day in the countryside. Started in Boston, head cider-maker Kevin Collins brought Cider Creek back to his home in the Finger Lakes, where they now service distributors throughout the east coast.
The tasting room is everything you would hope it would be. Reclaimed wood, stylish design, large fireplace, casual seating, and a warm welcome from Rocky, the cider dog. Outside, Cider Creek hosts weekend events featuring music, food trucks, corn hole, and bocce — making it fun for the whole family.
Inside, you can taste a flight or stop in to pick up cans or growlers of your favorite flavors. With no sugar added, the Cider Creek ciders are clean and crisp, without that lingering sweet aftertaste that I sometimes get from ciders. They also don't stop with just your standard cider. Cider Creek features a Saison Reserve, Cran Mango Saison with cranberries and mango, Hopricot with local apples and apricot puree, Blood Orange, and other seasonal flavors. They were all delicious and my only regret was not having a large cooler to bring some home with me.
Cider Creek Hard Cider is located at 6459 Cunningham Creek Rd, Canisteo, NY 14823
Finger Lakes Cider House
If you don't want to drive out to Canisteo, another great cidery option on Cayuga Lake is the Finger Lakes Cider House. They offer cider flight tasting and a variety of lunch offerings (I'd recommend the pesto grilled cheese with local tomatoes and bacon.) Finger Lakes Cider House specializes in a wide array of sparkling ciders. They also offer u-pick fruit on-site and you can stay overnight in a yurt.
Finger Lakes Cider House is located at 4017 Hickok Road Interlaken, NY 14847
Railhead Brewing Company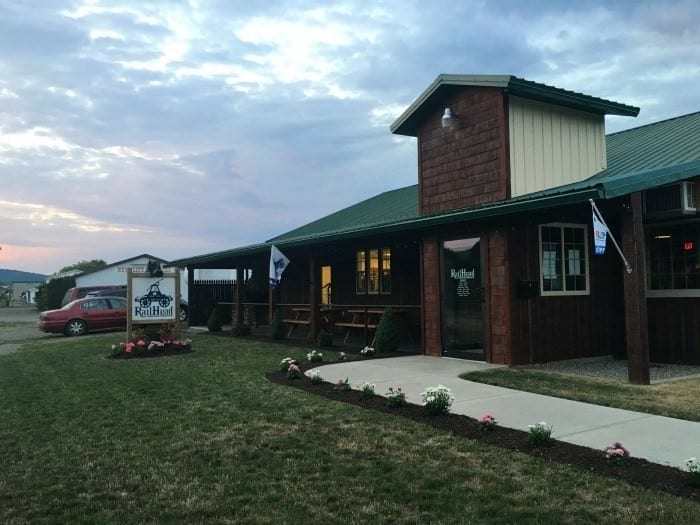 When we visited the Finger Lakes during a NASCAR race weekend, we stayed one night a bit further out in Hornell, New York and visited the Railhead Brewing Company. This is a small local brew pub, and the type of place where "everyone knows your name." Each person walking in the door was greeted by staff or guests as they came in for their dinner, drinks, or just for a growler refill. If you visit at dinner time, you'll want to stop by early as it fills up quickly.
Everything is brewed on-site and the selection changes frequently — from Altbier to Saison to IPAs, Kolsch and seasonal brews like Watermelon. Railhead Brewing also offers some delicious wood-oven pizza options like the margherita and "Truffle Shuffle." Definitely worth a stop if you are in the area!
Railhead Brewing Company is located at 40 Park Drive in Hornell, New York 14843.
Take a Boat Cruise
When visiting the Finger Lakes, I would implore you to get out on the water and get a sense for how long, deep, and beautiful these lakes truly are. Each lake offers various opportunities to explore through boat rentals, water taxis, and scenic cruises.
On Cayuga Lake, I would recommend taking an eco-tour with Discover Cayuga Lake boat tours and cruises. Discover Cayuga Lake is a non-profit organization that runs eco-tours for the community and visitors including a 90-minute evening sunset cruise on the southern part of the lake. In addition to these narrated cruises, Discover Cayuga Lake runs educational programs with citizen science programs, fall foliage cruises, and other special events. Cruises run from May through late October and proceeds from cruises support the organization's community programs.
On Seneca Lake, the Seneca Legacy leaves from the pier in Watkins Glen and offers dinner and lunch cruises, along with cruises with live music. Captain Bill also offers narrated scenic on the Seneca Spirit, which go into the history of the region.
Paddling Board or Kayak on the Lake
The Finger Lakes and long and often very deep, but toward the south or north end of the lakes, as well as long the sides, you can enjoy SUP and kayaking. On Keuka Lake, Keuka Watersports offers boat, jet ski, stand up paddle boards, and kayak rentals, as well as private pontoon boat cruises.
On Cayuga Lake, you can rent paddleboards or kayaks from Paddle-n-More, which has three locations around the lake; or Paddledockers, with a location in West Ithaca.
Swim in the Lake
There are many places that you can swim in the Finger Lakes, including several state and town parks and beaches. On Keuka Lake, Just south of Penn Yan is Red Jacket Park, which has fee admission and a designated swimming area. At the south end of the lake in Hammondsport you will find Champlin Beach.
Seneca Lake State Park at the northern end of Seneca Lake has picnic areas, biking and walking paths, and a spray park, along with the swimming area. At the southern end of Seneca Lake in Watkins Glen, Clute Memorial Park has a swimming area at the east side of the park.
On Cayuga Lake, Taughannock Falls State Park and Cayuga Lake State Park both offer beaches for swimming, but you do need to pay an admission fee.
See Waterfalls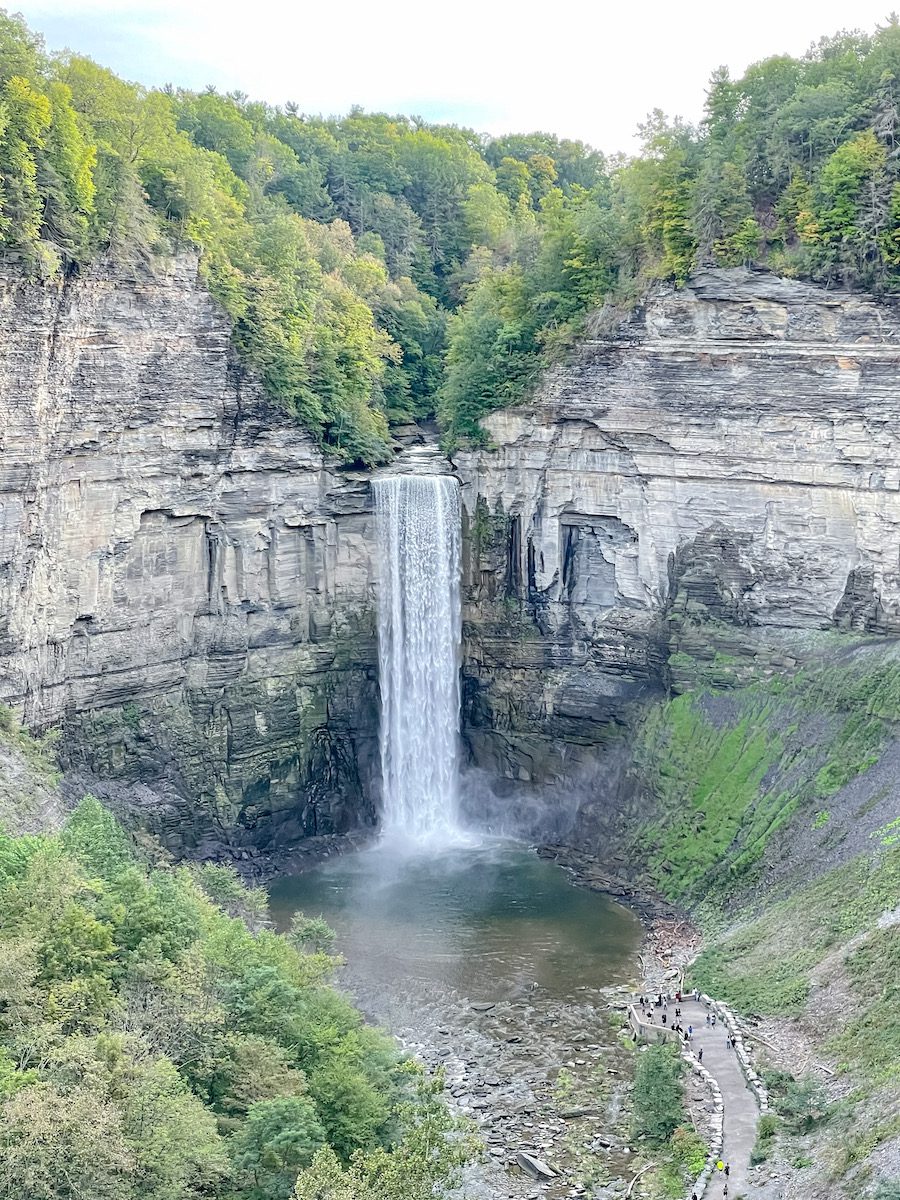 There are over 100 waterfalls in the area, ranging from small cascades to towering falls. Some of the most famous waterfalls to visit in the Finger Lakes region include Taughannock Falls near Ithaca, which has a 215-foot drop and is one of the highest waterfalls east of the Rocky Mountains. Another popular attraction in the Finger Lakes is Watkins Glen State Park, which features 19 cascading waterfalls along a scenic gorge trail.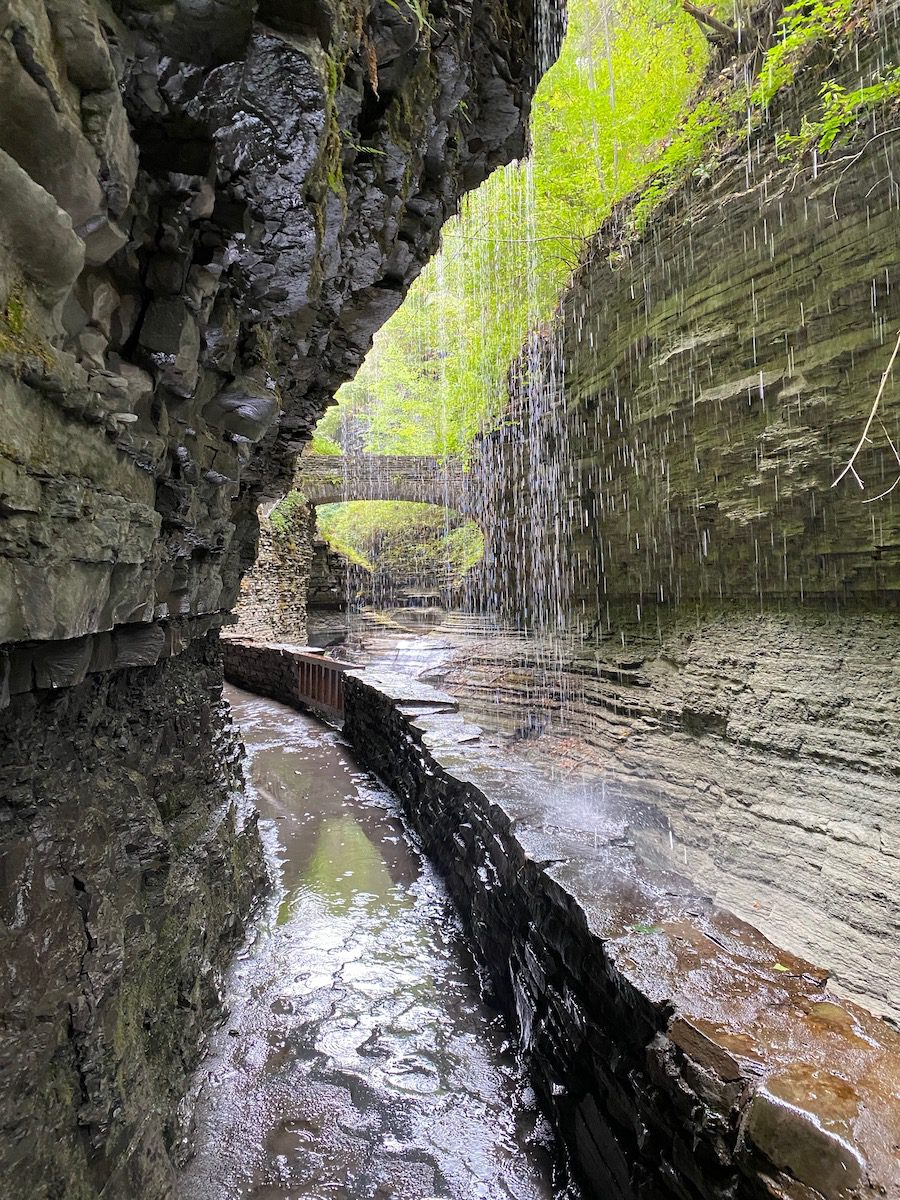 If you are staying near Keuka Lake, spend a day at Stony Brook State Park and splash in the waterfalls there. And if you are staying in Ithaca, Ithaca Falls is located right in the city, just a short walk from downtown. Other notable waterfalls in the area include Buttermilk Falls, Grimes Glen, and Hector Falls.
Visit a Goat Farm
There are many u-pick apple and fruit farms, local farm stands, apiaries such as the Bright Raven Farm & Apiary or the Ithaca Honey Works, and animal farms in the Finger Lakes. One that I've enjoyed stopping at a couple of times is the Lively Run Dairy Goat Dairy.
In addition to indulging in a generous cheese tasting, you can visit with and feed the sweet and adorable goats in the barn. Be sure to bring a cooler to take home some of the delicious Finger Lakes Gold Reserve or the creamy chevre.
Go to a Creamery
Shtayburne Farm near Seneca Lake is a family-owned dairy farm and a member of the Finger Lakes Cheese Trail. You can visit and sample their cheeses and freshly-made ice cream.
Walk with An Alpaca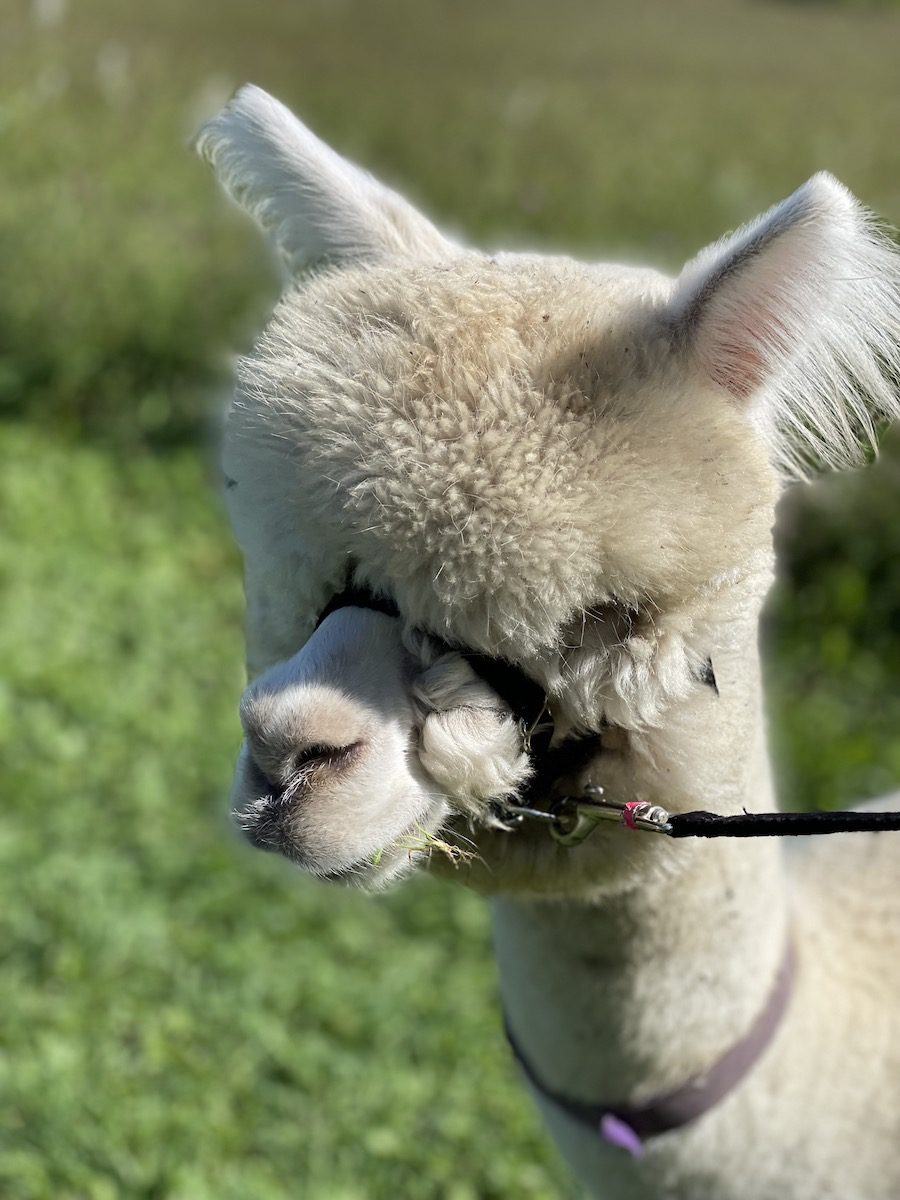 For a unique outing with friends or family, book a time to take a walk with an alpaca at Cabin View Alpacas. This family-run farm has a large herd of alpacas that they show and breed. You can also purchase hand-made items made from alpaca wool in the gift shop.
The walk with the alpacas takes about 20-30 minutes, followed by a tour of the paddock and barn, with a chance for an up-close meet and greet with some of the farm's friendliest alpacas, donkeys, and goats.
Go Apple Picking
There are many places to go apple and berry picking in the Finger Lakes and in the fall, there are also pumpkin farms with apple cider and hayrides to enjoy. Near Watkins Glen, Apples and Moore (previously Reisinger's Apple Country) has 12,000 apple trees and they are open to the public from mid-August through November with homemade apple cider donuts made every Wednesday, Friday, Saturday, and Sunday.
Browse at the Ithaca Farmer's Market
If you are staying in Ithaca or on Cayuga Lake, you must check out the Ithaca Farmer's Market. This seasonal weekend market is one of the area's top farmers' markets, with 88 stalls filled with members who produce their wares within 30 miles of the market's location. Offered Saturdays from April through December, or Sundays from May through November, the Ithaca Farmer's Market vendors sell fresh produce, eggs, meat and cheese, specialty foods, baked goods, wine, cider, honey, and more.
There are also many stalls where you can pick up freshly-made foods from crepes to Southeast Asian cuisines and picnic tables nearby to sit and enjoy your treats.
Blow Glass at Corning Museum of Glass
The Corning Museum of Glass is a must-see when you are in the Finger Lakes Region. At first, I couldn't imagine what would be so interesting about a museum of glass that the ticket would be valid for two days. As soon as I stepped inside and saw the gorgeous Chiluly sculpture in the lobby, I realized this wasn't just a museum about glass, this was an art museum where the art is made of glass.
The contemporary art gallery's interior is an all-white with massive curvilinear concrete walls, bathed in a soft light from skylights and a wall of windows. Each gallery is thematically organized around nature, body and abstraction, history and material, and contemporary design. And each installation was visually stunning and some were emotionally moving.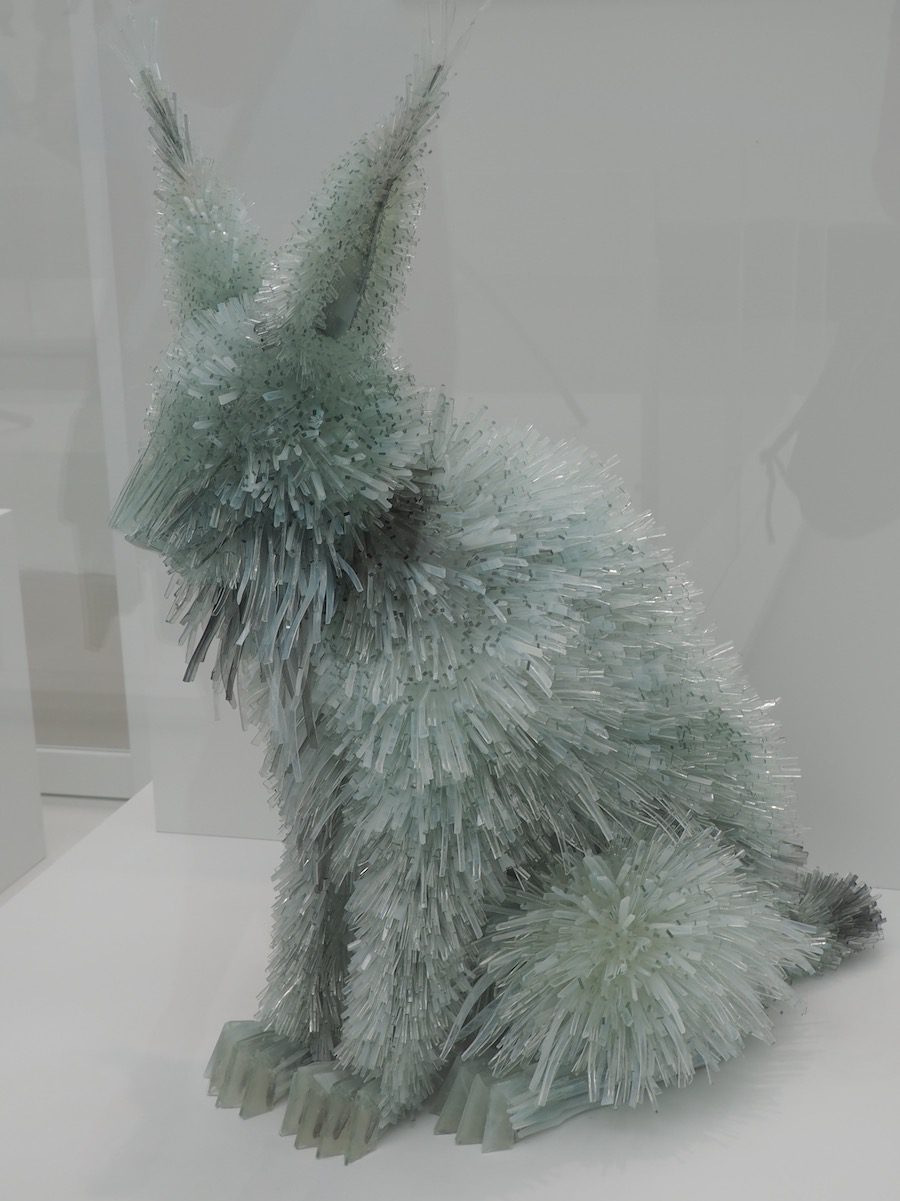 Another highlight of the new Contemporary Art + Design wing is the 500-seat hot-glass live demonstration theater. They offer live demonstrations of glass blowing and sculpting throughout the day and you may just be lucky enough to win one of their creations at the end.
If you don't catch a demo in the amphitheater, there are also hot glass demos in the Innovation Hot Shop and Courtyard Hot Shop during the busy season. It is fascinating to watch glass being blown, but even more fun to do it yourself.
At the Studio, you can participate in a number of glass-making projects. Some of the options include making a glass bead, ornament, flower, sculpture, frame, or paperweight. You need to be over 14 for some projects but options are available for kids four and up.
It is important to sign up for a time slot before your visit as they fill up early, especially if you have something special you want to make. You are given a 20-30 minute time slot and provided with all the safety equipment required (but closed-toe shoes would be recommended.)
Making glass isn't the only way that the family can get hands on with glass. Kids will also love the glass breaking and flame working demos in the Innovation Center. This section of the museum is extremely hands on and more like a science museum then a glass museum…but then again, so much science goes into the development of glass.
In contrast to the Contemporary Art + Design Wing, the original museum building houses Centuries of Glass. You can see the development of glass from ancient Egypt and Greece through modern times. It was fascinating how intricate and beautiful these ancient pieces of art are, considering what rudimentary technology was available at the time. To help make glass making techniques and history more accessible, the museum also staffs carts with volunteers to answer questions and host programs throughout the day.
Soar in a Glider Plane
Have you ever laid on the ground looking up at the sky and wondered what it would be like to have a gliding experience through the sky like a bird, floating on the puffy clouds? Now you can glide through the air with a ride in a glider plane in the Soaring Capital of America. As excited as I was about this experience, I have to admit I found it a bit terrifying once we were up in the air. You will climb into the front seat of this tiny plane that is pulled by a larger plane by a cable up in the air and then the cable is released and you are gliding.
See me clinging to those straps? I'm not sure I fully let go until we were safely back on the ground. There is a reason why I don't have that many pictures from the sky, I just couldn't let go long enough to take the pictures. Sometimes I couldn't even open my eyes. I remember the pilot asking if I wanted to take any pictures and I just replied, "yes…if I can let go long enough."
Once we were gliding, it was actually very calm. It wasn't as quiet as I thought. I guess I hadn't thought about the wind rushing by as we moved through the air, but it was peaceful. If I could have made myself relax, I'm sure I would have enjoyed it. When the pilot offered to cut the usual 20 minute ride short, I waffled for a minute, and then took the easy way out and asked him to land. I regretted that decision as I think if I had stuck with it, I could have found some inner calm as long as it wasn't too bumpy.
Luckily my daughter is braver than I am and she was able to relax and enjoy her ride, as evidenced by her cheerful wave as she landed!
Visit Harriett Tubman's House
The Harriet Tubman Home and National Historic Site in Auburn is well-worth a visit if you are in the area (just check the website in advance for hours and to book a tour.) If you have ever seen the movie Harriet or learned about Harriet Tubman in school, you probably know part of her story, but you may still be surprised by all the amazing things this woman accomplished in her lifetime.
Her achievements include saving 70 enslaved people over 13 trips as a conductor on the Underground Railroad, serving as a spy and nurse in the Civil War, leading a military mission that freed 750 enslaved people, and giving back to her community in Auburn by offering housing and food to those in need.
In downtown Auburn you will find the New York Equal Rights Heritage Center, which covers the New York residents who have played critical roles in civil rights, women's rights, and LGBTQ rights.
Learn about the Suffrage Movement in Seneca Falls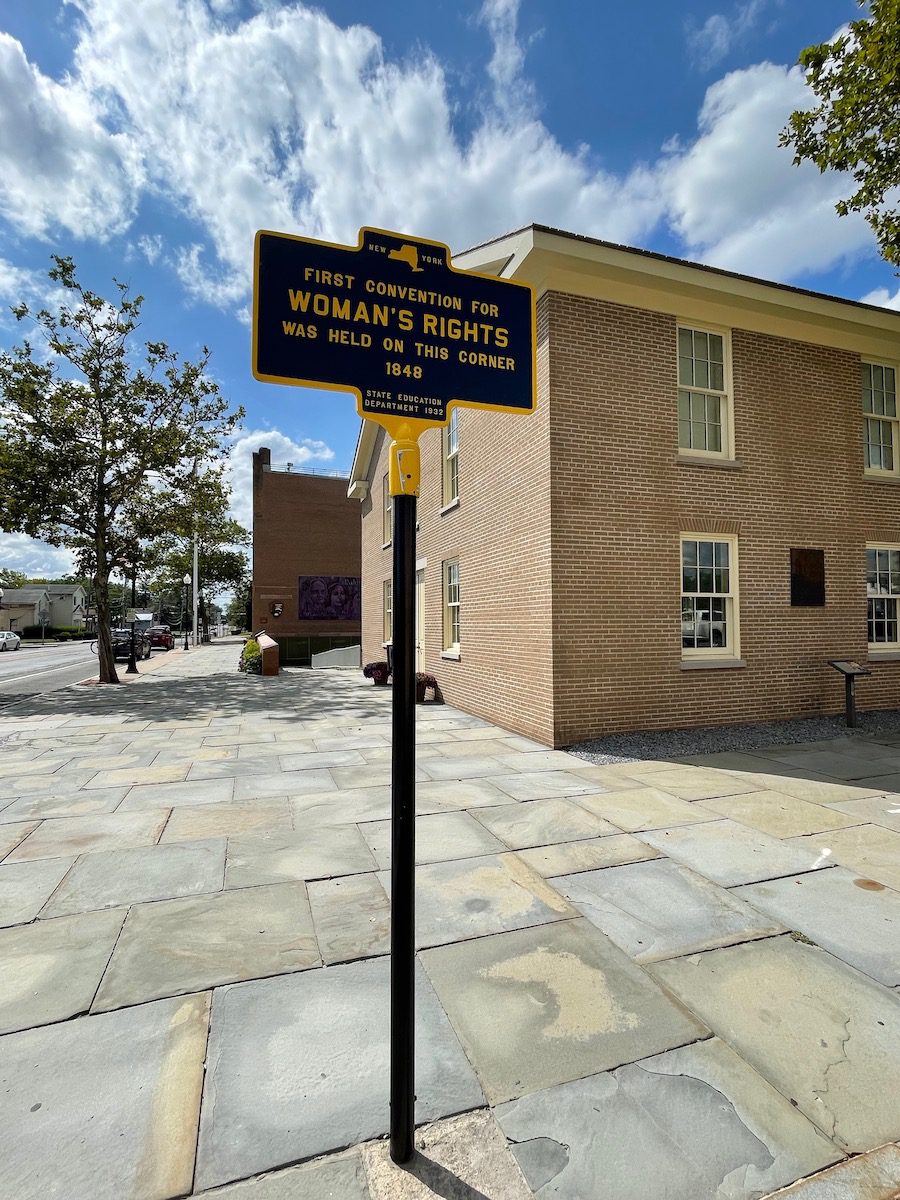 Also plan to visit Seneca Falls, where suffragists Elizabeth Cady Stanton and Lucretia Mott organized the Seneca Falls Convention in 1848, advocating for gender equality. You can explore the Women's Rights National Historic Park, visit the Elizabeth Cady Stanton House, and see the National Women's Hall of Fame. If you take a walk along the river, you can also take a picture of the bridge made famous in the Christmas classic movie, It's a Wonderful Life.
Snack your way along the Upstate Eats Trail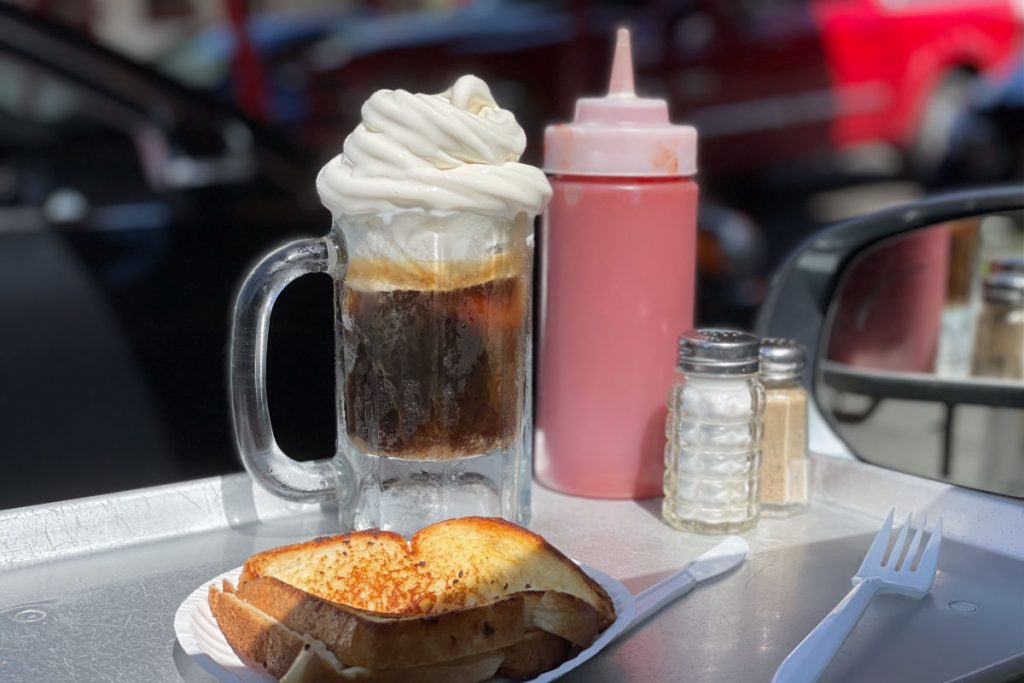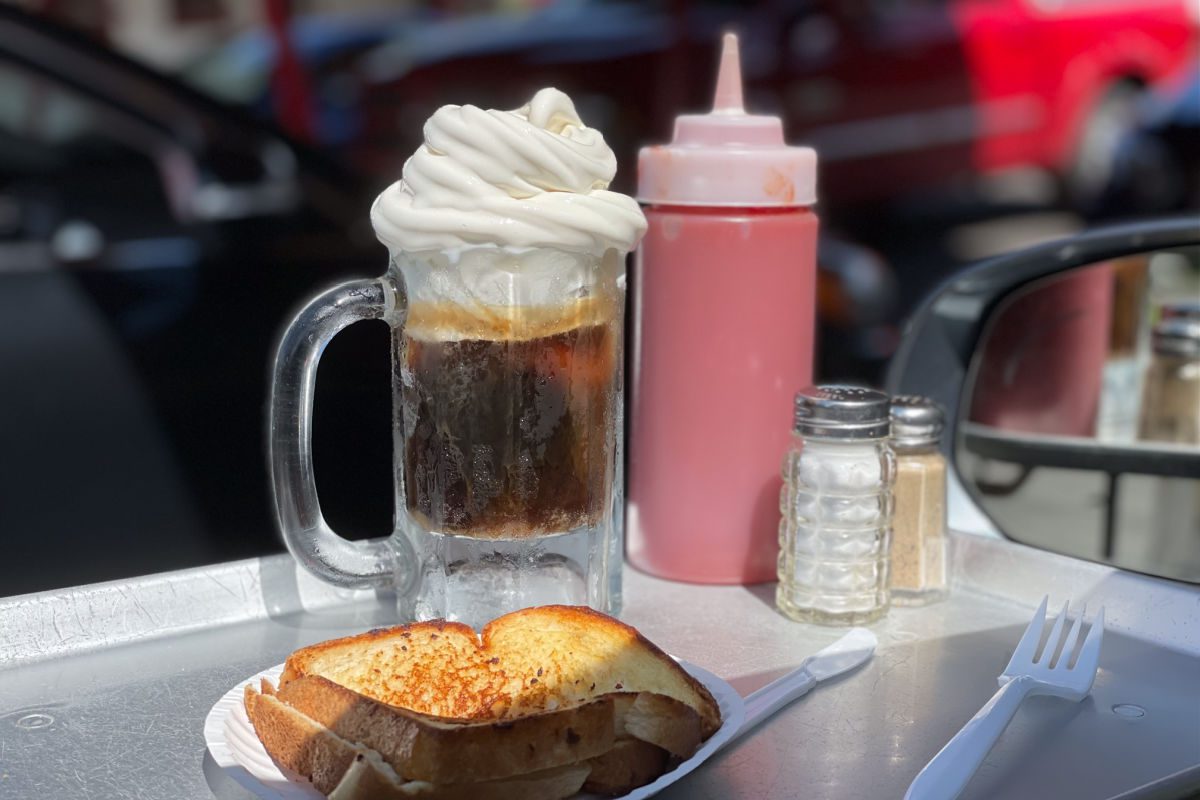 If you travel along the northern part of the Finger Lakes to visit Seneca Falls, you can also make some stops on the Upstate Eats food trail, which runs from Binghampton to Buffalo. Near Seneca Falls in Waterloo, Mac's Drive In is a traditional drive in that serves up fast food, but it is most known for its root beer floats. Served in a chilled mug using Rochester's sweet Richardson root beer and topped with delicious, creamy soft serve, this classic drink even won me over (and I'm not usually a root beer fan.)
Explore Downtowns
Both Ithaca and Corning offer great downtown areas to explore. There seems to always be something going on in the four-block, pedestrian-only Ithaca Commons. Home to many boutiques and restaurants, you will also find live entertainment and events, such as fall's Apple Harvest Festival. You can also find many of Ithaca's public art murals in this area (download and print a full mural map here.)
In Corning, the Gaffer District, a six-block area of downtown, is home to a variety of shops, restaurants, and galleries, and annual events.
Where to Stay in the Finger Lakes
Note: This post may contain affiliate links. If you click a link and make a purchase, I may receive a small commission. All opinions are my own.
Watkins Glen
If you are looking for convenience, views, and an upscale hotel, check into the Watkins Glen Harbor Hotel. The hotel is located on a lakeside marina, just steps from the Seneca Lake Pier where sightseeing boats depart. Boaters can also dock in the marina and stay at the hotel or eat at the restaurant.
It is also right in the heart of downtown Watkins Glen, making it easy to stroll through the charming downtown and peek into the shops and restaurants. You can even walk about 5 minutes to Watkins Glen State Park, which avoids trying to find parking in their space-limited lots.
Ithaca
Hotel Ithaca offers 170 guests rooms including double queen and king rooms, and king suites with fireplaces or large patios. The king fireplace suite is a perfect choice for a romantic getaway, especially in the colder months and even includes a built-in wine fridge and wet bar. It is located in the heart of downtown, within easy walking distance to the Ithaca Commons and many restaurants.
Corning
The Staybridge Suites in Staybridge Suites Corning is within walking distance to the Corning Museum Of Glass Welcome Center or downtown Corning and offers affordable, family-friendly accommodations.
Hammondsport
There are many lakeside vacation rentals available for families and groups. We have stayed at the Gulfstream House in Hammondsport, which was just a half a block from the Keuka lakefront or the town square.
With all the things to do in the Finger Lakes, you will probably end up wanting to return again and again, just like I have.
Save this to Pinterest