When I told my daughter that we were going to spend a couple of days in Santa Rosa in Sonoma during our California road trip, she asked "Do I have to go to wineries?"
"Yes, you do," was my very firm answer. We try to balance all of our trips with things that each member of the family enjoys, and usually the balance is tipped in the direction of the youngest member of our family (because, frankly, if she isn't happy neither is anyone else.) But at the same time, my husband and I love visiting wineries.
Driving through the rolling hills of vineyards and seeing the light reflecting off the vines just makes me happy. Walking through the rows of vines, I get the same feeling I might sitting on a beautiful beach and watching the waves crash on the sand or climbing up a tall mountain and taking in the view from above. Visiting a tasting room isn't about how much wine I can drink. Instead of it being only about the wine, it is also about the experience.
It is about walking into a beautiful chateau or rustic barn, peeking into the barrel room, walking through the chilly caves, or sitting outside in the sun and enjoying the view of the mountains and vineyards while sipping a great wine. It is about the conversations you get into with the hosts or wine makers. It is learning about what wines each appellation is known for and seeing which excite my palate.
Now none of these things may be especially exciting for kids, but I know they didn't have to be horribly boring either. Just like in any family vacation, there is a way to find a compromise. So while we found plenty of things to do in Sonoma with kids, we also spent time visiting Santa Rosa wineries.
Tips for Picking a Family-friendly Winery
When planning our trip to California wine country, our first thought was to visit Napa because my husband and I shared one extremely rare weekend away there five years ago and have been itching to go back. But I was surprised when I started looking into which wineries to visit to find so many down right family unfriendly in Napa.
So I decided to shift my focus to the more laid back Sonoma County, and I was very happy with the choice. Here I was able to find a mix of wineries that welcomed, and perhaps even catered to, families — along with a variety of other things to do so the day wasn't just trudging from winery to winery.
Based on my experience visiting wineries in the past, I knew there were a few things to look for in a winery to make a visit a fun family outing.
Pick a winery with animals
Whether it is a friendly winery dog or farm animals, getting to visit with furry critters helps make a visit to a winery more fun. Luckily winery dogs are so prevalent in California they even have their own picture book.
Look for interesting tours
Some vineyard tours can be terribly boring for kids. They may pick up on the difference between old vines and new vines, or the role that insects play in a vineyard, and maybe even show some interest in the harvest process but really, how interesting can it be to learn about something that you can't even try?
However, kids are tantalized by the prospect of exploring caves or riding in a fun vehicle through the vineyards. Walking through a Hobbit-like door in the side of a mountain and leaving the warm air behind to find cool caverns lined with barrels is a bit like something out of a fantasy tale.
Play fun lawn games
Visiting a winery doesn't need to be just about wine tasting. Many wineries have beautiful tasting rooms on gorgeous properties and it is fun just to relax and spend some time hanging out.
Bocce ball courts are pretty popular but you might also find a bean bag toss, horseshoes, ladder golf, or even playgrounds.
Pack a picnic
Another good way to blend wine tasting and family fun is with a picnic on winery grounds. There are usually great sandwich shops nearby to pick up a picnic lunch, which you can enjoy with a glass of wine while kids run around the grounds.
Many wineries also offer cafes, delis, or even food trucks if you don't have a chance to purchase a picnic along the way.
Try a juice tasting
I'm surprised that more wineries don't offer grape juice tastings (or any beverages) for kids, but I'm immediately impressed when wineries voluntarily offer up water or juice for the littlest tasters. It is a nice touch that goes a long way to making kids feel included.
Don't overdo it
When you are planning your itinerary for a visit to wine country, I'd suggest visiting no more than three wineries a day. Mix them up to provide a variety of experiences. Perhaps start with one a kid-friendly tour (especially into caves) in the morning, followed by a picnic lunch at a winery, and then a fun family activity or visit to a tasting room that also has some outdoor games.
You'll want to check their website or call ahead to make sure that you don't need an appointment and to ensure they welcome children. Of course, you'll want to make sure you are going easy on the wine so keep in mind that you can split tastings and if you don't love it, just dump it!
I find that a visit to a winery is a way to demonstrate to kids that drinking wine isn't about getting drunk, it is about gaining an appreciation for flavors and the science and effort that goes into production.
Family-Friendly Sonoma County and Santa Rosa Wineries
Here are a few family-friendly Santa Rosa wineries in Sonoma County.
Mutt Lynch Winery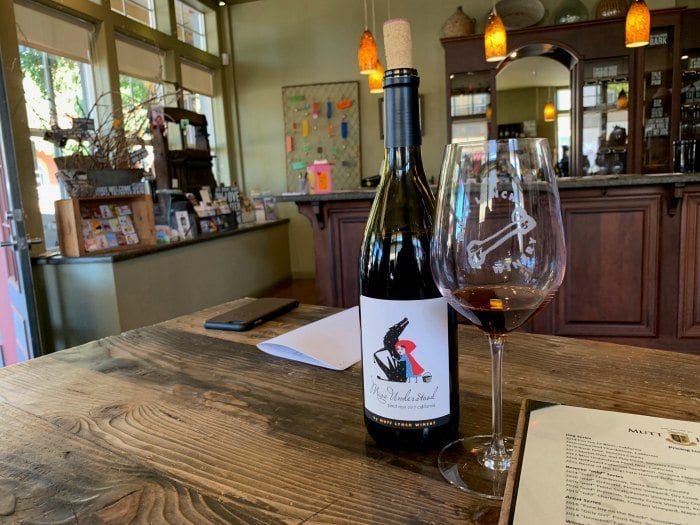 Mutt Lynch Winery in downtown Windsor is not just kid-friendly, it is also pet-friendly. If you are looking for more of a tasting room experience and not a full winery tour, Mutt Lynch is a great choice.
Kids will appreciate the wine labels and dog-lovers boutique, as well as saying hello to whatever tasting room dog happens to be in residence that day. Dogs will appreciate the warm welcome in the form of a complimentary tasting plate of dog biscuits. And if you are a dog family, ask about the wine club. Shipments include a selection of their delicious wines as well as a toy for the dog.
Mutt Lynch is located at 9050 Windsor Road, Windsor, California.
Larson Family Winery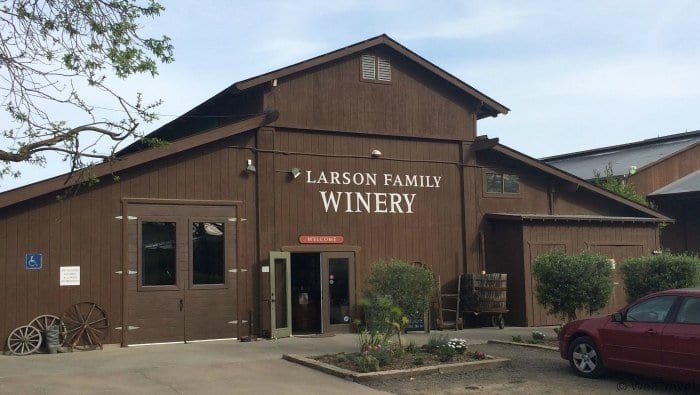 Our first winery stop was at Larson Family Winery, where we had reserved a picnic table in advance with a perfect view of the vineyard. On our way up from the San Francisco airport, we stopped off at Cornerstone on Highway 121 and picked up some delicious sandwiches and salads from Park 121, so we could enjoy a late lunch in the vineyard.
Larson has an interesting history and a pivotal role in the development of Sonoma. The land has been in the family since 1899, operating as a farm and a rodeo before the family started a making wine in 1977. The land where the winery now sits used to be the farthest navigable port up the Sonoma Creek, where steamships would dock and passengers and freight would disembark.
From 1929 through the 1950s, the Sonoma Rodeo was held on the ranch and the memory is kept alive in the mural above the tasting bar. Today, the family produces 5,000 cases of 10 varietals, with a motto to "Drink what we can, and sell the rest!"
As soon as we walked into the tasting room, we were greeted by one of the family's three canine ambassadors — a yellow, chocolate and black lab that are the namesake of the winery's Three Lab Cab label. After our "awwws" and lots of dog petting, we made our way outside where we were shown to our reserved picnic table.
Soon, a server arrived with a glass of sparkling wine, some glasses and our tasting menu. As we enjoyed our lunch, we sipped our way from whites to reds…at our own pace and with tableside service. It was the perfect introduction to Sonoma's wine country. We were able to stretch our legs by walking (or running) through the vineyard and open lawn, and have some family fun on the game turf with a match or two of ladder golf. Larson also has horseshoes, beanbag toss and even a bocce court.
Across the parking lot you can visit with the farm's goats as well. With plenty of picnic tables and a large indoor tasting room, Larson prides itself on being a family-run and family-friendly winery. We enjoyed the atmosphere more than the wines, but I'd recommend the experience for families looking for a relaxing winery to enjoy a picnic, games and wine tasting at your leisure.
Larson Family Winery is located at 23355 Millerick Rd, Sonoma, CA 95476
St. Francis Winery
One of our impromptu spots ended up being one of our favorites of the trip. We stopped in at St. Francis when we had some time before our next tasting appointment because it was a label we were familiar with and enjoy their Zinfandels. As soon as we walked in the door and approached the tasting bar, we were welcomed and our pourer immediately whipped out a small can of apple juice and a wine glass for our daughter, before pouring any wine.
Because she was welcomed and included in our conversation, it made for a very pleasant experience for all. The fact that they stock juice at the ready shows that St. Francis not only allows children, but they welcome them. The wines were our favorites from the trip and we bought a few bottles to ship home. Our only disappointment was that we didn't have more time to enjoy the beautiful grounds.
St. Francis Winery is located at 100 Pythian Rd, Santa Rosa, CA 95409
Francis Ford Coppola
I'm a little hesitant to put this one on the list, but there are some aspects that do make it family friendly. I'm hesitant because Francis Ford Coppola is very commercial and crowded, with a very Hollywood resort feel. But at the same time they offer bocce courts, 3,600 square feet of swimming pools, on-site restaurants, and family-friendly events. If you are interested in pool passes or cabana rentals, you'll need to do this in advance as they sell out early.
Also, younger kids may not appreciate it, but teens or movie buffs might enjoy looking at Coppola's collection of film memorabilia and Oscars, including the desk from the Godfather and artifacts from Apocolypse Now.
The tasting room itself was overcrowded when we visited, and the service was not very personal or informative. Many of the wines being offered were labels that you can buy anywhere so we chose a more exclusive tasting of those wines only offered at the winery. Many didn't overwhelm us but the Pitagora red wine blend, a mix of Syrah, Petit Verdot, Cabernet Sauvignon, Cabernet Franc, and Petite Sirah was actually quite good and we bought some to ship home.
Francis Ford Coppola Winery is located at 300 Via Archimedes, Geyserville, CA 95441
For more information about family friendly wineries, visit the Sonoma County website. A few others that have been recommended to me that we couldn't fit into this trip are: Imagery Estate Winery, Quivira, and Soda Rock. I've also enjoyed visits to Buena Vista (picnic grounds) and Chateau St. Jean (bocce courts) in the past.
Belden Barns Winery
Although I haven't had a chance to taste the Belden Barns Winery's products, I had to add them to the list because of the new kids' scavenger hunt they just rolled out. While the grown ups are wine tasting, school-age children can borrow the winery's adventure backpacks and wander the 55-acre property in search of flora, fauna, and other items.
The backpacks are filled with field guides to local birds and insects, magnifying glasses, sketchpads, crayons, and a checklist of things to find. Even if you aren't comfortable having them explore on their own, it is also something that you can do together as a family either before or after wine tasting.
Belden Barns Farmstead and Winery is located at 5561 Sonoma Mountain Road, Santa Rosa, California 95404
Landmark Vineyards
Another family (and pet)-friendly vineyard is Landmark Vineyards. Their location in Sonoma Valley offers public and private tastings (by reservation). There are even horse-and-carriage estate tours, which the kids will get a kick out of (available Saturdays May-October, check website for schedule.)
Landmark Vineyards is located at 101 Adobe Canyon Road, Kenwood, CA 95452
Castello di Amoroso
I can't leave out Castello di Amoroso as I've had so many friends recommend this stop for its fairytale-like castle setting. Castello di Amorosa is a replica of a Middle Ages Italian castle.
A one-hour guided tour features everything from gargoyles and knights in shining armor to a dungeon and an opportunity to meet the winery cats. There are also peacocks, sheep, chickens, and other farm animals. Kids can sip grape juice and color their hearts out in their own play area while parents enjoy their wine tasting.
Castello di Amoroso is located at 4045 St Helena Hwy, Calistoga, CA 94515
PIN THIS FOR LATER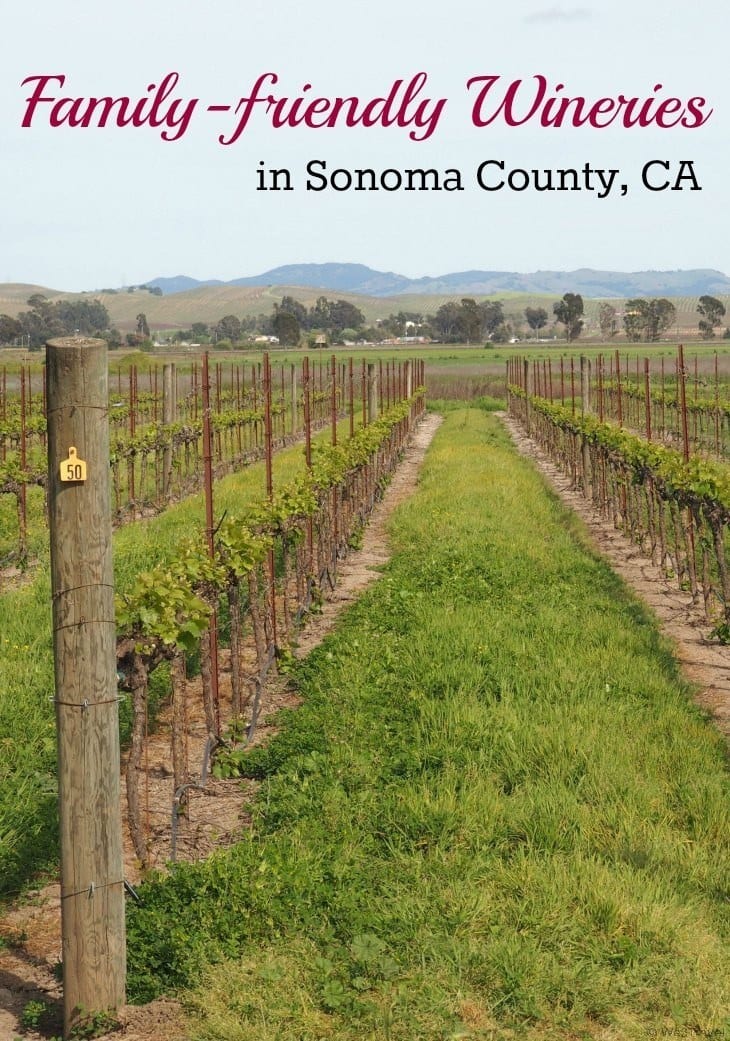 Note: Our tastings at Larson and our tour at Benziger were hosted by the wineries. Support for our visit was arranged by Sonoma County Tourism and Visit Santa Rosa. All opinions are our own.