Driving California Highway 1 from San Francisco to Los Angeles is a classic American road trip. Just imagine serpentining down the coast, convertible roof down, sun shining, and Beach Boys blaring; just soaking in the views of the rocky coast, the cliffs coated in a green that only sea spray can produce, and watching the ever-changing blues of the ocean. Sounds idyllic, but not quite what our trip was like.
Don't get me wrong, it was a dream. The views were stunning and the drive was exhilarating — at least for some of us. For my acrophobic husband, it was a little terrifying. Even if he spent most of the ride leaning to the left away from the edge of the road, he will still admit that the drive is something special — a once in a lifetime experience (mostly because he never wants to do it again.) We got to see some amazing scenery and popular California landmarks.
Where to Stop on a California Highway 1 Road Trip
We started our drive in San Francisco, spending some time in Monterey and Carmel before heading south to Big Sur and Cambia. However, you can also make this section part of a complete California coast road trip. If you are spending time in San Francisco, I'd encourage you to try some of these unique things to do in San Francisco.
By driving north to south, you are driving on the outside lane of the road with unobstructed views of the coast. As we wound our way through the foggy curves, I wondered how we would know where to stop along the way. I soon learned that I had nothing to worry about.
Scenic viewpoints are pretty easy to find, as there are pullouts every few miles. Just keep an eye out for cars pulled to the side of the road and chances are, there is something there to see. A few stops you don't want to miss on a California Highway 1 road trip from Monterey to Cambia are:
1. Garrapata State Park
Our first stop after Carmel was at Garrapata State Park, one of the few places where you can actually make your way down to the beach if you choose.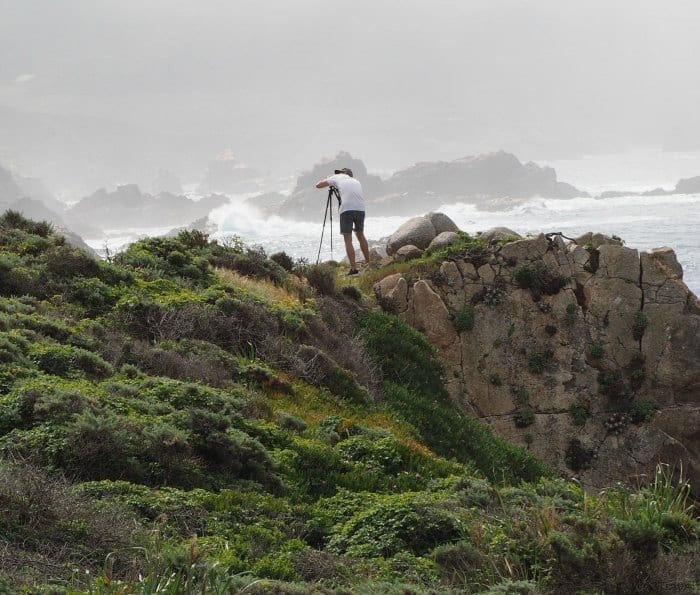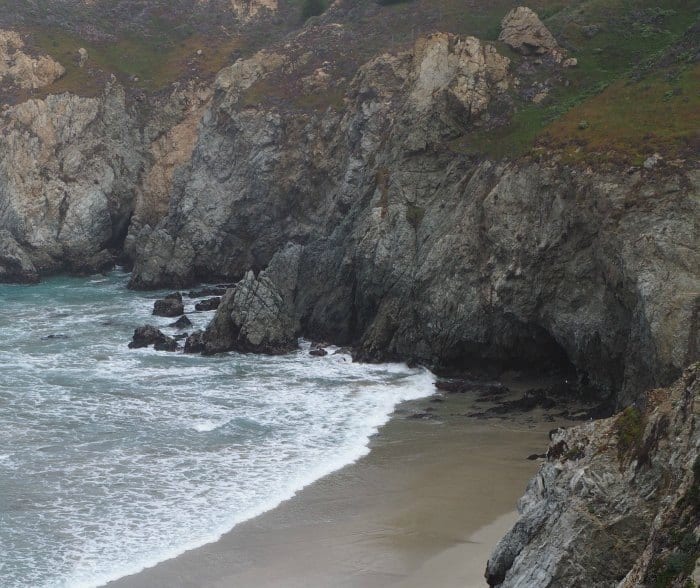 2. Bixby Bridge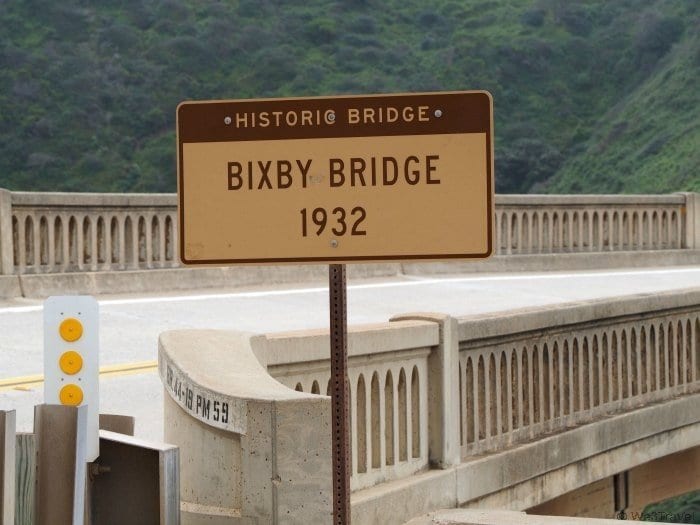 Sooner than we expected, we reached the famous Bixby Bridge. Based on my husband's description of this bridge from his last visit to Big Sur, we expected a one-lane rickety bridge that was at least a mile long. After that build-up, we found the actuality a tad less intimidating.
The Bixby Bridge is actually not too different from some other bridges we went over. It is a single-span bridge, just 700 feet long, but the turnouts before and after the bridge offer terrific views down to the beach 260 feet below.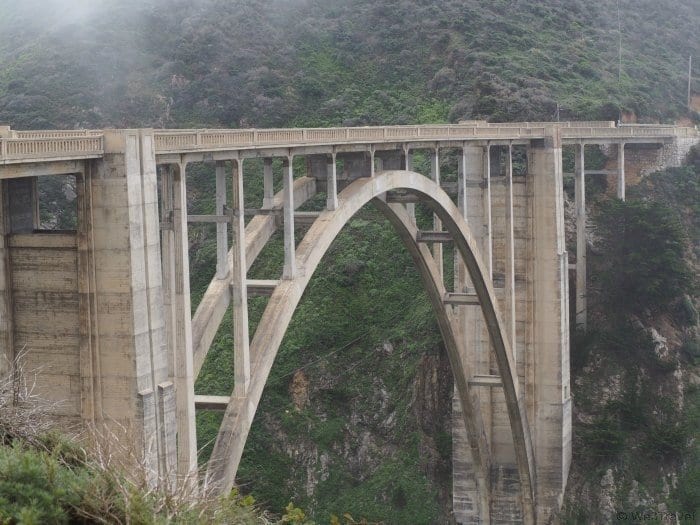 3. Big Sur
By the time you really get into Big Sur, you realize that you just can't stop at every scenic overlook — as much as you may want to. You may also need to get some gas, have some lunch, or use the restroom. There are not a lot of places along the road, and the best of them is Nepenthe.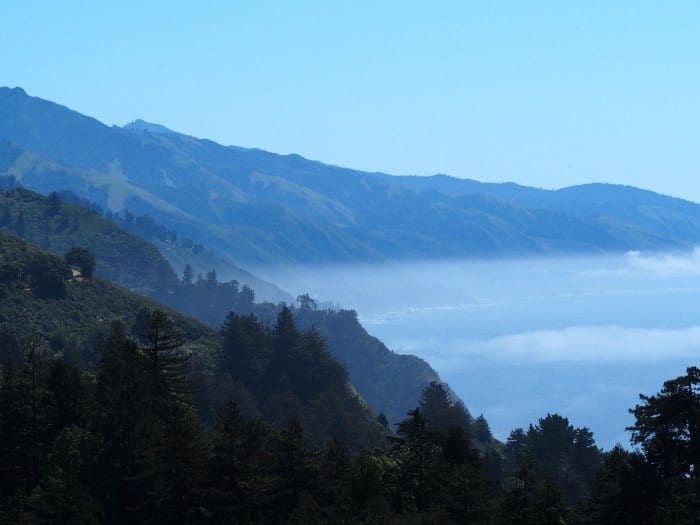 Don't worry if your GPS doesn't work because you can't miss it. Just pull into the parking lot when you see it because turning around isn't very easy. If you haven't packed a picnic lunch to enjoy at a scenic stop, you can have lunch in their restaurant with amazing views down the coast. They also have a gift shop with beautiful handicrafts, jewelry, and other unique finds — it is not your average t-shirt shop. Nepenthe is worth checking out, especially since they don't mind if you use their nice clean restrooms.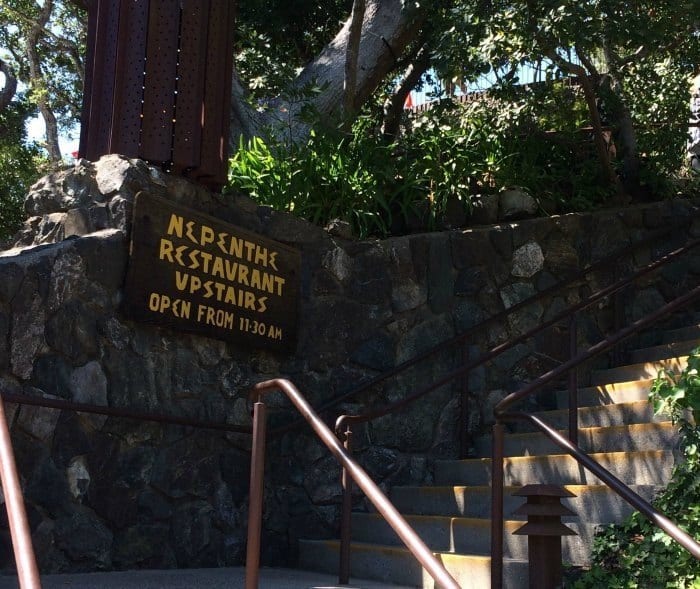 4. McWay Falls
After seeing pictures of the view of McWay Falls in Pfeiffer State Park, I knew this was one stop I didn't want to miss. After passing signs for Pfeiffer State Park with no visible entrance to McWay Falls, I began to get nervous that we had missed it and that we wouldn't have time to go back and find it.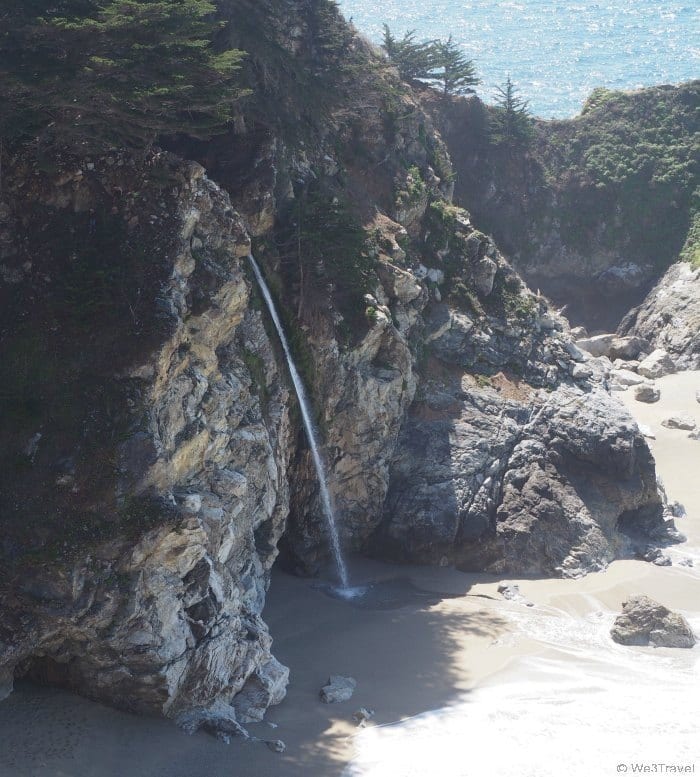 Just when I was about to give up hope, we saw tons of cars parked alongside the road. We pulled into the parking lot across the street and made our way over to the footpath that gives the best view of the falls.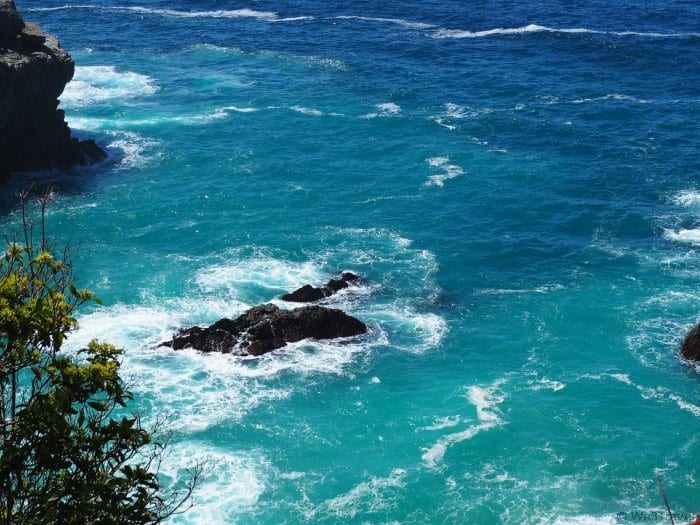 5. Elephant Seal Rookery
My favorite stop on our drive was the elephant seal rookery at Piedras Blancas. While it was cold and windy, and we couldn't spend a lot of time watching these beasts, I was flabbergasted by how many seals call this stretch of beach their home.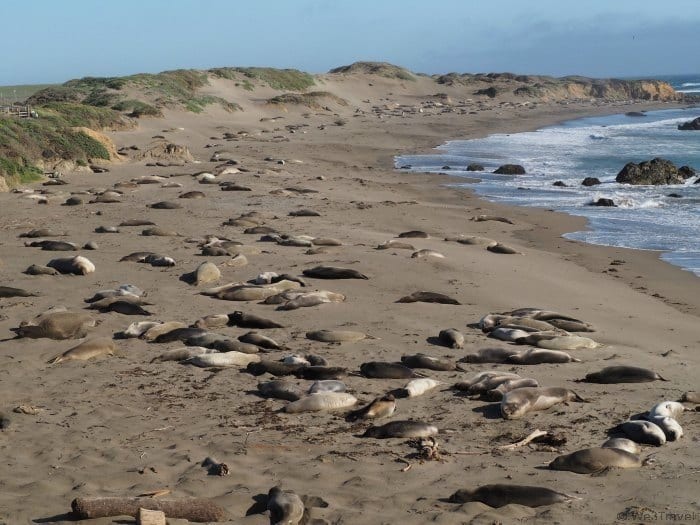 The beaches are fenced off to protect the seals, especially during pupping season, and when we first drove up I thought it was a rocky beach until I realized those weren't boulders but seals littering the beach. While we stopped and read the sign that explained how male elephant seals could reach 5,000 pounds, I still wasn't fully prepared for how giant these guys really are.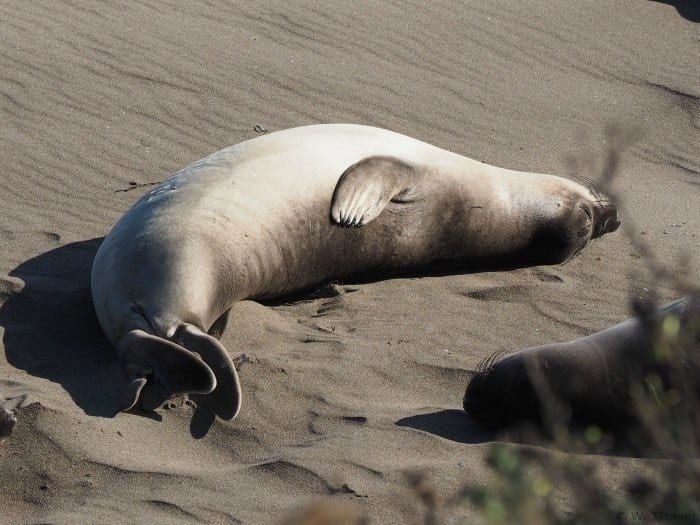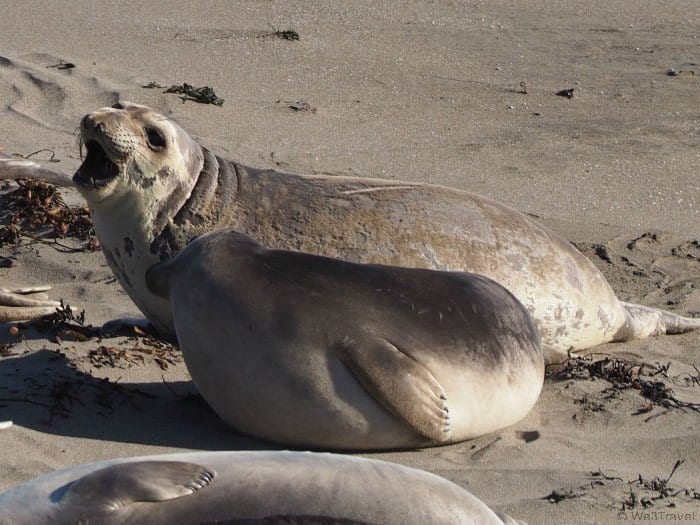 6. Hearst Castle
Hearst Castle in San Simeon, a mansion built by newspaperman William Randolph Hearst, was our only scheduled stop on our drive down the California coast. Upon arrival, we got our tickets and boarded a bus for the five-mile drive up the mountain to the castle. While we didn't see any wildlife on the rolling green hills, apparently there are still some zebra running wild from back when Hearst maintained a small zoo on the estate. In the end, this wasn't a great stop for families with kids, but I'm still glad we got to see it.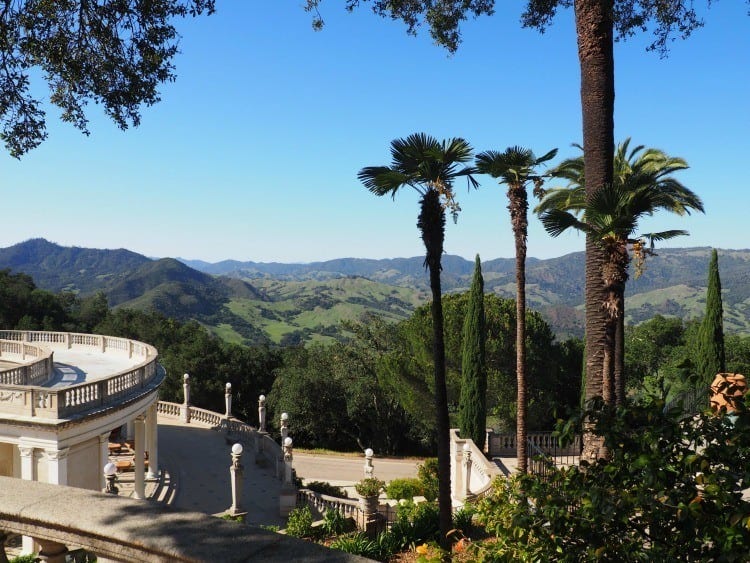 7. Moonstone Beach in Cambria
Our last official stop on the California coast was the Pelican Inn and Suites on Moonstone Beach in Cambria. We arrived just in time to see the sunset over the beach. Good thing because the next day the fog was so thick we could barely see the water when we went out for a morning stroll along the boardwalk bordering the rocky shore.
From Cambria, we then headed inland to Paso Robles, before looping our way back up to San Francisco.
Tips for Driving the California Coast
If you are driving North to South, be sure to fuel up in Monterey or Carmel because there are only a couple of gas stations in Big Sur and Lucia, and they charge quite a markup!
Cell phone coverage is terrible. If you are relying on your phone for your GPS, be sure to load it up and get it started before coverage gets spotty.
Pack a lunch because there are only a handful (or fewer) of places to pick something up.
Plan on the drive taking you double the amount of time you think because you will be stopping frequently for scenic views and photo opps.
If you can, plan on taking a hike in Pfeiffer State Park.
Don't buy a scheduled ticket to Hearst Castle unless you are visiting during a very busy time. You don't want to stress about getting there on time and not enjoy the ride. When you arrive at Hearst Castle, there are many different types of tours leaving every 15-30 minutes.
Be prepared: pack water, wipes, snacks, Dramamine and entertainment for kids.
If you have someone that is afraid of heights, consider driving Los Angeles to San Francisco to be on the inside of the highway and further away from the edge. But really — it isn't like driving the Amalfi Coast or anything!
Want to see even more? Watch our video to see what it is like to drive the CA coast: