Travel just two hours south of San Francisco on Highway 101 and you'll leave the jam-packed Silicon Valley behind. Soon you will pass through Gilroy, the "Garlic Capital of the World," and cruise through the strawberry fields of Salinas before finding your view of the ocean blocked by the dunes of Sand City. But that's ok, because the salty smell of the sea air will tell you that you've arrived at the Monterey Peninsula.
We arrived in Monterey after a whirlwind two days in San Francisco with one main goal in mind…to see otters in the wild. After reading about my blogger buddy Esther's adventures kayaking with otters in Monterey Bay, I thought that might be the way to go. Unfortunately we got a late start and it was a chilly day to get wet, so we scratched that off our itinerary. I was worried we might be out of luck for finding otters, but instead, we found a secret surprise.
The waterfront in Monterey is a smaller version of Fisherman's Wharf in San Francisco. Cannery Row's old canning factories, made famous by John Steinbeck, are now filled with t-shirt shops and chain restaurants. We arrived hungry and eager to enjoy an oceanview with our meal, but wanted something more local than Bubba Gump's. Luckily I remembered Jenna from This is My Happiness writing about a restaurant she recommended, A Taste of Monterey.
Where to Eat in Monterey, CA
Tucked away on the second floor of an old cannery, just a couple minutes away from the aquarium, A Taste of Monterey is a wine shop / restaurant with stunning views of the bay. It may not be great for really young kids or picky eaters, but the bistro offers a wide variety of small plates, flatbreads, salads and sandwiches that will satisfy many appetites.
When we arrived at mid-day, we were lucky to walk past the crowds lined up next door to find the place empty. Maybe because you can't see it from the street and you need to go upstairs and through the wine shop to find it, but A Taste of Monterey is definitely a hidden gem. We were able to sit right by the floor to ceiling windows and pull out our binoculars for a closer look at the seals sunning themselves on the rocks below. But the real payoff came watching a couple of playfully frolicking in the bay below. We were incredibly lucky to see these two adorable critters swimming and eating just outside the restaurant windows.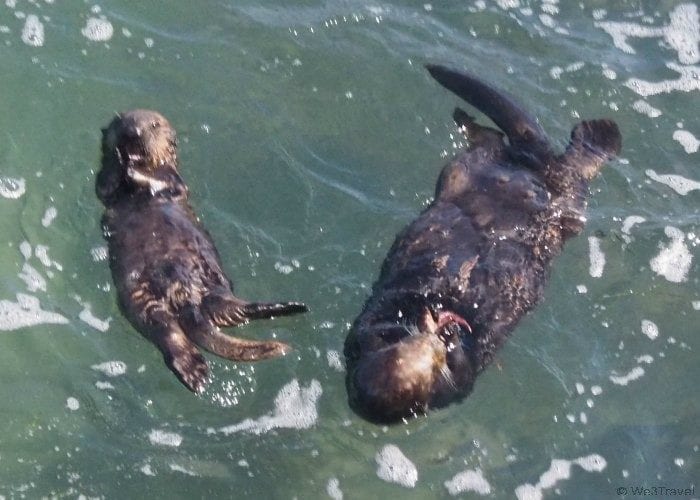 With such an exciting display just below our noses, it was hard to draw our attention back to the food and the wine, but when we did, we were not disappointed. We started off by sharing a wine flight (well, us grown ups at least, the little one was too busy watching the otters), baked brie, and Monterey crab dip with artichokes, followed by a flatbread with roasted cauliflower.
It was hard to pull ourselves away from the free show outside, but I'd been looking forward to showing our daughter one of our favorite aquarium for months, so it was time to take a stroll through Cannery Row and head over to the Monterey Bay Aquarium.
Visiting the Monterey Bay Aquarium
What impressed me most during my previous visit over 15 years ago was the underwater kelp forest. While it wasn't as large or captivating as I recalled, it is still a beautiful sight and so fun to watch all the different fish swim by.
We were impressed by the number of hands-on exhibits offered for little kids, along with multiple touch tanks and even a fish-cam that shows what the view is like underwater. And don't worry, if you didn't see any otters outside, you can still find them at the aquarium. You'll want to set aside at least three hours to explore the aquarium and all its wonders — from cuttlefish to octopi to penguins to sea birds and plenty of fish of course. Along the way, the aquarium seeks to educate visitors about sustainable fishing and environmental issues.
Of all the birds, crustaceans, fish and wildlife we saw on exhibit at the Monterey Bay Aquarium, by far the most fascinating were the jellyfish. In addition to the aquarium's large permanent exhibit of jellyfish, when we visited there was a special exhibit "The Jellies Experience" downstairs. With a groovy, 70s-like disco vibe, the exhibit made us feel like we were under the sea (and may have just inspired a future bat mitzvah theme), introducing us to so many of the thousands of varieties of jellyfish out there in that big blue ocean.
You will want to spend at least three hours exploring the aquarium, which is open 10 am – 5pm. The aquarium is easy to find at 886 Cannery Row in downtown Monterey, CA. There are several pay parking garages nearby, making it an easy walk through town, even with a stroller. Tickets are $39.95 for adults, $24.95 for youth 3-12 and under 3 is free. If you are also visiting San Francisco, you might want to invest in a CityPass, which includes admission to the Monterey Bay Aquarium (see my review and savings break down here.)
A Glimpse Inside
We finished off our day in Monterey with a drive along the 17-mile drive through Pacific Grove and Pebble Beach. You'll have to pay a $10 entrance fee, but the cost is worth it because the views are priceless.
If you are staying in Monterey, you can easily loop back around, or, like us, you can continue out of the south gate into downtown Carmel-by-the-Sea.
PIN THIS FOR LATER
Note: Monterey Bay Aquarium provided me with a free media pass to facilitate a review. All opinions are my own.