The air is crisp, the leaves are changing color, and it is harvest season at the apple orchards, farms, and wineries across New York state. Before winter arrives, it is the perfect time to escape from NYC or visit from a neighboring state on one of these New York road trips. Hop in the car and then go on a hike, visit a farm or winery, check out some of New York state's unique museums and attractions, and enjoy the beautiful fall foliage.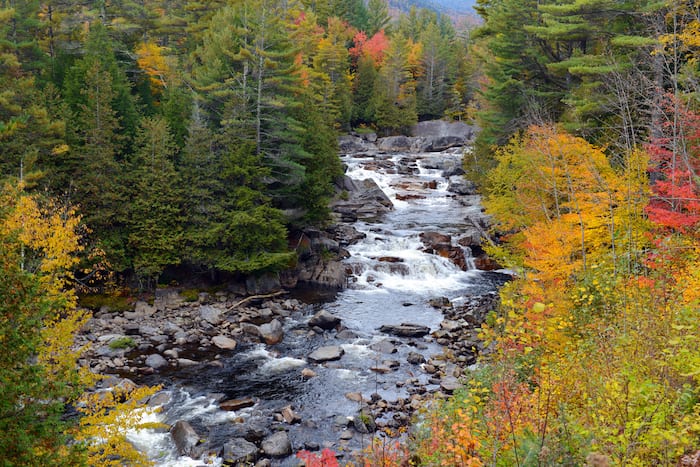 New York Road Trips Perfect for Fall
Note: This post may contain affiliate links. If you click a link and make a purchase, I may receive a small commission. All opinions are my own.
Get ready for your road trip and download some audiobooks to pass the time or road trip bingo games for the kiddos. Soon you will be driving past glowing fields of goldenrod, winding through mountain roads rich with color, and sitting at the edge of peaceful lakes enjoying the view.
There are so many great spots to enjoy New York fall foliage.
1. Hudson River Valley
If you are looking for a quick escape from New York City, the Hudson River Valley awaits. In fact, you don't even necessarily need a car, as trains can get you there just as easily, but it will help when you want to explore outside of the towns that line the rail tracks. Dutchess County, on the eastern bank of the Hudson River, is home to many indoor and outdoor attractions that are perfect to visit in the fall.
Base yourself in Beacon, the hip town called the "Brooklyn" of the Hudson Valley. Here you can explore the galleries and boutiques or hop a boat tour out to Bannerman Castle, an abandoned "castle" that was formerly a munitions depot sitting on an island in the Hudson. You won't want to miss the fabulous Dia: Beacon contemporary art museum nearby.
Further afield, you can follow the Taste NY wine or food trails to visit Millbrook Vineyards and sample exemplary maple syrup at the Crown Maple Estate. Finish off with a meal or cooking class at the Culinary Institute of America.
History buffs should also plan a visit to Franklin D. Roosevelt Presidential Library and Museum. And Downton Abbey fans or those that enjoy the homes of the Gilded Age should also visit the Vanderbilt Mansion in Hyde Park.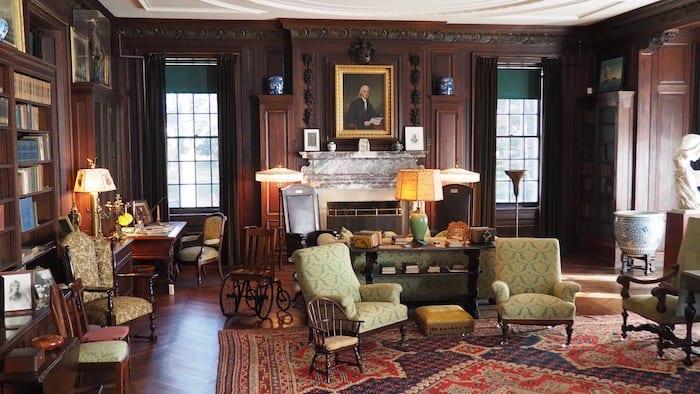 For scenic views, check out the Walkway Over the Hudson in Poughkeepsie. After your walk you can enjoy a great meal and views at Shadows on the Hudson.
Who should go: This road trip can be adapted for families but is best for romantic getaways, girls' trips or solo travel.
Suggested length of time: 2-3 days — a long weekend is perfect for this trip
Where to stay: Roundhouse in Beacon. The Roundhouse is located right on the falls in downtown Beacon, walkable to local restaurants and shops. Located in former factory buildings, the simple and minimalist aesthetic gives this hotel a unique, boutique feel, unlike other chain hotels in the area.
Roundhouse has been restored with exceptional attention to detail. There are three buildings, the main building which houses the restaurant overlooking the falls, lounge with a wood-burning fireplace and guest rooms; an event space; and a second building of guest rooms. The rooms feature exposed brick walls, huge wood-paned factory windows, and reclaimed wood beams.
2. Catskill Mountains
The Catskill Mountains are a great destination for families and outdoor lovers. You can ride the rails with the unique Rail Explorers, swing from the treetops at the outdoor adventure course at Hunter Mountain, or go mountain biking at Windham Mountain.
This area is also known for fly fishing and hiking in places like the Minnewaska State Park Preserve and Catskill Park. Adventure junkies will enjoy white water rafting on the Upper Delaware Scenic and Recreational River.
If you enjoy scenic drives to go leaf peeping, make a plan to check out some of the area's covered bridges. Plan on a hike to Kaaterskill Falls, but be aware that this popular destination has limited parking so it is best to go mid-week and avoid illegal parking.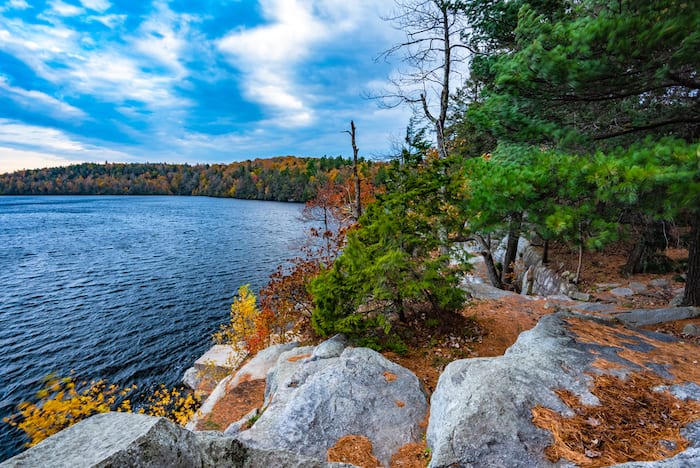 Who should go: the Catskills have been a family travel destination for generations, but couples and solo travelers will also enjoy the area.
Suggested length of time: given the proximity to NYC, it is easy to fit in a visit to the Catskills on a weekend, or you can rent a bungalow for a week and just relax and enjoy the peaceful surroundings.
Where to stay: While most of the "Borscht Belt" resorts that you see in Dirty Dancing or the Marvelous Mrs. Maisel are no longer, there are some family resorts such as Scribner's which have reopened. Families will also enjoy the Kartrite Water Park Hotel in Monticello.
The Catskills are a perfect spot for a vacation rental on longer stays. But many families will prefer camping or glamping at the Deerpark KOA, nestled by the historic Neversink River. This KOA Holiday campground offers fun family activities including a Jumping Pillow, mining sluice, fire truck rides, slides, rock wall, and fun-bike rentals.
For something truly unique, try a stay in a retro Airstream trailer at AutoCamp Catskills. You can read my full review of AutoCamp Cape Cod and book using my referral link and save $20 off your stay.
3. Adirondacks
If the mountains are calling and you are in the mood for hiking, canoeing, and outdoor adventures, head north to the Adirondack Mountains. For the easiest access, base yourself in downtown Lake Placid or quieter Saranac Lake. There are so many things to do in Lake Placid, from hiking and boating to riding the scenic gondola at Whiteface Mountain, taking in the waterfalls at High Falls Gorge, or driving the Whiteface Veterans Memorial Highway to the summit of Whiteface.
There are hikes for all levels, but it helps to plan ahead as many trailhead parking lots fill up early. Mt. Jo offers a short but steep hike, which is good for older kids and somewhat experienced hikers and rewards you with beautiful views.
If you are willing to take a longer hike, Mt. Von Hoevenberg is a 4.5-mile trail that winds past a beaver pond before it climbs to the summit. For more of a challenge, head over to St Regis Mountain near Saranac Lake. This 6.6-mile hike is quite steep at the end but offers a large bald summit with amazing views and a fire tower to climb. Just remember to Leave No Trace behind and take only pictures.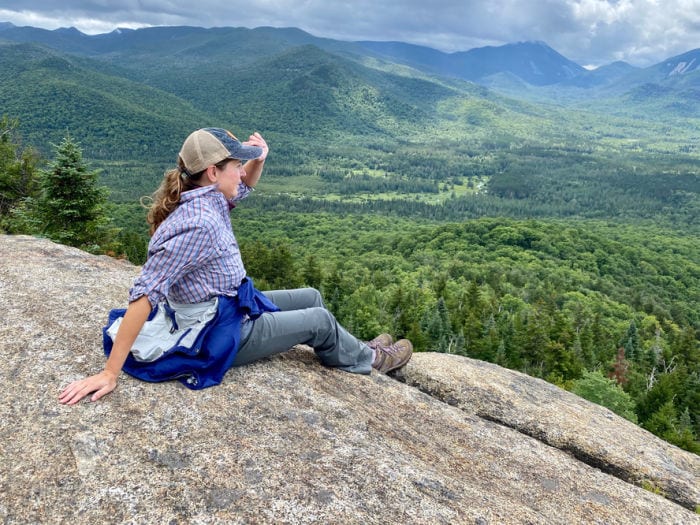 For longer stays, you can split your time between the Lake George area and Lake Placid. In Lake George, tour the lake on the Minne Ha Ha Steamship, drive to the top of Prospect Mountain, or visit the Fort William Henry museum.
If you are looking for day trips from the Lake Placid area, the Wild Center in Tupper Lake is a must-do for families, and thrill seekers will enjoy rafting or the adventure course at Ausable Chasm.
Who should go: this trip is perfect for families of school-age children and older, couples, or solo travelers.
Suggested length of time: since this is a long road trip from NYC, you will want to stay at least 3-4 nights but you will also find it easy to fill a full week if you enjoy hiking.
Where to stay: The Golden Arrow Lakeside Resort in Lake Placid is very family-friendly and offers a great location on Mirror Lake in downtown Lake Placid. For a more luxurious stay, you can choose the Mirror Lake Inn or the posh Lake Placid Lodge.
For a quieter, more private stay, you can also look at renting a cabin. We really enjoyed our stay in the Bear Cabin on Lake Colby. In Lake George, there are many hotels/motels in the southern section of the lake, but you may enjoy finding a vacation rental a bit further out of town.
4. Finger Lakes Region
There are eleven lakes that comprise the Finger Lakes region, with the three largest being Cayuga Lake, Seneca Lake, and Keuka Lake. Right in the center, the town of Watkins Glen at the southern tip of Seneca Lake is a perfect home base for exploring the region. Watkins Glen is also known for its Sports Car racing and the popular Watkins Glen State Park. There are so many things to do in the Finger Lakes that you will find something for everyone.
The park is not to be missed, with a mile-long path that passes 19 waterfalls along the Gorge Trail. Be prepared to climb some steps and wear sturdy shoes, as the path may be slippery when wet and muddy. It is also fun to explore the lake via boat. You can rent a boat but a boater's license is required. It is easier to hop on board one of Captain Bill's sightseeing cruises.
If you enjoy wine, you will want to explore some of the Seneca Lake Wine Trail or the Keuka Lake Wine Trail and sample some of the Rieslings that the region is famous for.
A number of wineries offer beautiful tasting rooms with sweeping views of the lake. Pick a few to taste and compare such as Lakewood Vineyards, Chateau LaFayette Reneau, Lamoreaux Landing Wine Cellars, or pop over to Ravines Wine Cellars on Keuka Lake. Here are my recommendations for the best wineries on Seneca Lake.
Make time to also explore some of the local farms and dairies. Reisingers has apple picking, Shtayburne Dairy offers ice cream and cheese tasting flights, and at the Lively Run Goat Farm, you can meet the goats and sample any number of goat and cow cheeses.
Don't miss a visit to the Corning Museum of Glass, which is just 30 minutes from Watkins Glen. When we visited years ago I was expecting a tribute to Corningware, but I was blown away by the beauty of the contemporary art wing. You can also watch master glass blowers in the hot studio and even participate in glass-blowing projects.
An hour west of Watkins Glen, you can also enjoy hiking by the waterfalls in Stony Brook State Park. Adventure seekers may enjoy soaring in a glider plane in the "Soaring Capital of the World" in Elmira. And history buffs can head up to Seneca Falls and visit the Women's Rights National Historical Park and the National Women's Hall of Fame.
If you don't want to go that far west, Ithaca also makes a good home base for exploring Cayuga Lake. You can do everything from sunset boat cruises to wine tastings, waterfall hikes, and even talk alpacas for a walk. See more things to do in Ithaca on a girls' trip.
Who should go: this NY road trip is ideal for wine lovers — either couples or friend groups, but can also be a great family destination.
Suggested length of time: the Finger Lakes region is perfect for a long weekend but you could easily spend five days in the area if you are looking to do wine tasting or day trips.
Where to stay: The Watkins Glen Harbor Hotel offers the best location for exploring the Seneca Lake wine trail and the east side of Keuka Lake. This lakefront hotel is also within walking distance to the famous Watkins Glen State Park and downtown Watkins Glen.
The Watkins Glen Harbor Hotel was named the "Best Waterfront Hotel in the Nation" by USA Today and is the area's only AAA Four Diamond property. (Note: I was hosted for a two-night stay at the Watkins Glen Harbor Hotel. All opinions are my own.)
The rooms are large, many offering lake views, and beautifully appointed with a fresh and bright design, utilizing natural materials and soothing colors. The hotel also offers a full-service restaurant with indoor and outdoor dining.
5. Lake Chautauqua
Lucille Ball was born in Jamestown, NY, and grew up in nearby Celoron on the shores of Lake Chautauqua. It is therefore no wonder that this area became a center for culture and comedy. Make a home base in Celoron on Lake Chautauqua, allowing you to explore the beautiful outdoors and the cultural attractions.
Don't miss a visit to the National Comedy Center in Jamestown. This modern museum has the most engaging and interactive exhibits of practically any museum I have visited. Start off by setting up your comedy profile and then engage with the exhibits that have been personalized for your style. You can participate in comedy karaoke, try your hand at famous comedy sketches on a green screen, and explore the off-color adult comedy in the "Blue Room". At the end, they will analyze your comedic style and even provide you with a custom joke to tell your friends.
Nearby, you can also visit the Lucy and Desi Museum, which tells the story of Lucille Ball and Desi Arnaz, and the lasting impact Lucille Ball has had on the TV and film industry, especially for women. The museum also includes recreated sets from I Love Lucy. Culture seekers should also see what is happening at the Chautauqua Institution, which is a summer educational and cultural resort offering classes, concerts, workshops, and more.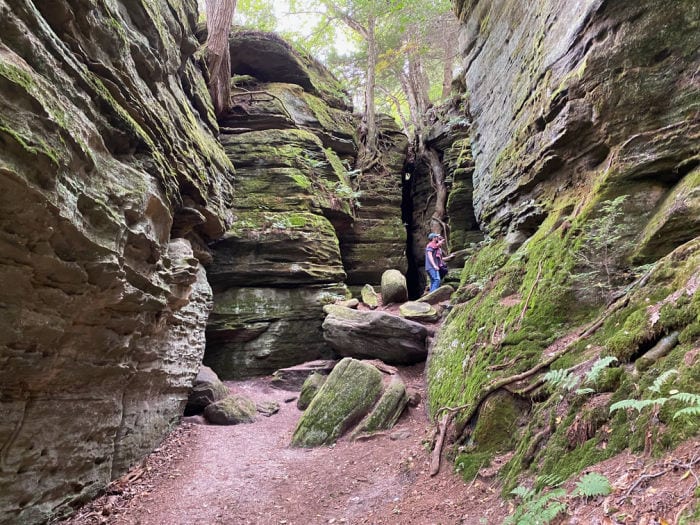 If you would rather stay outdoors, plan an afternoon exploring Panama Rocks Scenic Park. This privately-owned, family-run park is home to lichen-covered, towering rocks and tree roots that snake over their surfaces. Families will love venturing off the path to explore the deep crevices, passageways, and small caves, like something out of a movie set.
To get out on the water, you can rent kayaks or a pontoon boat, or take a tour on the Chautauqua Belle steamship. There are many local farms to visit in the fall, or you can take a day trip to explore the Lake Erie Wine Trail. Finish up with an afternoon of live music and craft beer at Southern Tier Brewing Company, famous for its pumpkin beer.
Who should go: this NY road trip is best for a couples getaway or a family trip.
Suggested length of time: Lake Chautauqua is a 6.5 hour drive from NYC, so you will want to spend at least 2-3 days, or combine it with a visit to Niagara Falls and the 1,000 Islands.
Where to stay: The Chautauqua Harbor Hotel offers a perfect location on Chautauqua Lake in Celoron. Lakefront rooms are spacious and offer picture-perfect views from the large balconies or patios. This hotel, which opened in 2018, has 135 rooms on the former site of Celoron Amusement Park.
The hotel features classic Arts and Crafts design, highlighting the beautiful views. This is an ideal destination hotel with indoor and outdoor pools, a full-service restaurant and bar with inside and outside dining, the Carousel Bar near the pool, and "Sunset Island" offering up the best place to enjoy a cocktail and watch the sunset. (Note: I was hosted for a two-night stay at the Chautauqua Harbor Hotel. All opinions are my own.)
6. 1000 Islands
The 1000 Islands is an archipelago region of the St. Lawrence River, acting as a buffer between New York and Ontario, Canada. Popular with outdoor enthusiasts and history buffs, this region has a storied past shaped by trade on the river, its role in the War of 1812, and the bootleggers during Prohibition.
Make a home base for exploring the charming town of Clayton, home to shops, restaurants, and the Clayton Opera House. From here you can explore Thousand Islands Seaway Wine Trail, famous for Ice Wine and featuring eight wineries and a distillery.
History buffs will enjoy learning about the region's fascinating boating history at the Antique Boat Museum and Rock Island Lighthouse, complete with the keeper's quarters and museum. There are also battle sites and military fortifications, including the Sackets Harbor Battlefield State Historic Site.
A must-see with all visitors is Boldt Castle, a tribute to the Gilded Age millionaires. This turn-of-the-century castle is built on an island in the St. Lawrence River, accessible from the Canadian and U.S. sides of the border. You can also soak up the scenery with a cruise down the St. Lawrence River with Classic Island Cruises, Clayton Island Tours, or Uncle Sam Boat Tours.
The St. Lawrence River is also a popular fishing destination. While the river is teeming with fish like bass, northern pike, and trout, in the fall season, anglers hope to snare one of the elusive monster muskie fish, which can reach lengths of 60 inches or more.
Who should go: this road trip is great for families and couples.
Suggested length of trip: it takes 5.5-6 hours to drive from NYC to the Thousand Islands, so you will want to stay for at least a long weekend or combine it with a visit to the Finger Lakes or the Adirondacks.
Where to stay: The 1000 Islands Harbor Hotel is situated on the banks of the St. Lawrence River just a short stroll away from the picturesque town of Clayton. It is the only AAA Four Diamond Hotel in the region, with over 100 guest rooms and adjacent to a new 40-slip transient dock.
7. Niagara Falls
Of course Niagara Falls is beautiful at any time of year but it especially glows in the fall when the autumn colors rim the thundering falls. A boat ride on the Maid of the Mist is a must-do iconic experience.
Thrill-seekers can also zipline over the water, take a Journey Behind the Falls, or ride the Whirlpool Jet Boats. There are family fun attractions like the Niagara Skywheel, historical sites like Fort George National Historic Site, and outdoor attractions like the Botanical Gardens.
Who should go: Niagara Falls used to be a honeymoon destination but today it has turned into a family vacation destination.
Suggested length of trip: Niagara Falls is a 7 hour drive from New York City so you will want to spend at least 2-3 days exploring the many attractions in the area. To make a week of it, stop in the Finger Lakes or Chautauqua Lake on the way or add on a few days in Buffalo afterwards and return home along the Upstate Eats Trail.
Where to stay: most of the major hotel brands offer hotel properties in Niagara Falls (just check if they are on the USA or Canadian side) including the Sheraton Niagara Falls and the Hyatt Place.
Looking for more road trip ideas?
Try one of these:
Save this to Pinterest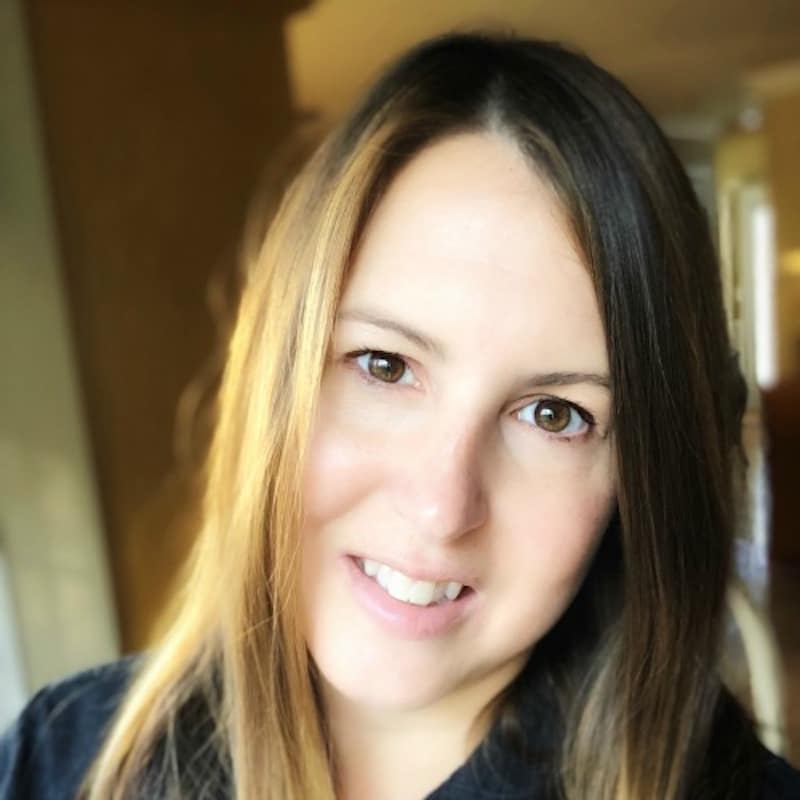 Tamara Gruber is the Founder and Publisher of We3Travel. A former marketing executive and travel advisor, Tamara is an award-winning travel writer and recognized expert in family travel. She is also the publisher of YourTimetoFly and the co-host of the Vacation Mavens travel podcast.