The first time I visited the Hudson River Valley, just one hour north of Manhattan, I thought to myself that it was the perfect place for a girls weekend getaway from NYC. It has everything — amazing food, wineries, chocolate shops, historic sites, artsy towns, and fun ways to be active outside. When I visited this winter it was too cold to do much outside, so I went back this spring to explore some more. To help you plan your weekend getaway, I've put together a girlfriend's guide to the Hudson River Valley.
Planning a Girls Weekend Getaway — How to Get to Beacon, NY
The Hudson River Valley extends from Yonkers, just north of the Bronx in New York City, all the way up to Albany, covering 10 counties on both sides of the Hudson River. I spent most of my time in Westchester and Dutchess County and highly recommend staying in the quaint, old-now-new hipster town of Beacon. Getting there from NYC is easy, you can hop on the Metro North at Grand Central Station for the hour and a half ride up to Beacon with great views of the Hudson along the way. Once you are in Beacon, there are weekend shuttles in the high season or you can easily walk into town.
If you are coming from the suburbs or the surrounding states, Beacon is just off of Interstate 84 and across the bridge from Interstate 87.
Where to Stay in Beacon, NY
On my first visit to the area, I stayed at a Courtyard by Marriott outside of Poughkeepsie. That was fine for a family visit, but for a girls weekend getaway or romantic escape, I'd highly recommend the historic, yet funky, Roundhouse Hotel. Situated in a recently-restored, 200 year-old factory building, this boutique hotel leverages and showcases the artistic talent that you will find in Beacon.
Located right on the Fishkill Creek and Falls that were used to power the factories that called these buildings home, the Roundhouse has been restored with an exceptional attention to detail. There are three buildings, the main building which houses the restaurant over looking the falls, lounge with wood-burning fireplace and guest rooms; an event space; and a second building of guest rooms. Although you wouldn't take it for another hotel building from the graffiti on the outside, once I stepped into this newly-opened second building, there was no mistaking the scent of wood and paint that signified the finishing touches were freshly applied. I felt more than secure behind my steel door and enjoyed the exposed brick walls, huge wood-paned factory windows, and reclaimed wood beams that bisected the room in spots. The furnishings were modern and simplistic, in perfect alignment with the design aesthetic, and the modern bathroom was closed off with a sliding wood slab.
While my room was spacious and more than comfortable, I was drawn to the lounge and its wood-burning fireplace to take away the evening chill during my spring visit. There is scattered seating throughout the lounge and I was there early enough to snag a prime spot right in front of the fire. I admired both the creative cocktail menu and the design details such as the amber globe lights over the bar, the hand-carved wood table, and the deer head sculpture over the fireplace. As I sat and watched the other guests and locals trickle in, I could see why they sometimes call Beacon the "Brooklyn on the Hudson."
Where to Eat in Beacon, NY
I've written before about the farm-to-table movement in the Hudson River Valley and some of the top-notch restaurants in this area, but if you want to stay in Beacon itself, this is what I'd recommend:
The Vault Restaurant — This tapas restaurant is a great choice whether you are traveling alone or with a group because you get to sample so many tasty dishes. Walking distance from the Roundhouse, the Vault is also one of the few restaurants on Main Street to have its own parking lot (bonus!) I'm almost embarrassed to admit all the dishes I tried, but it was all in the name of research! 😉 The bruléed figs, goat cheese crostini, and crispy pork belly were definitely stand outs.
Kitchen Sink — Further down Main Street, this new farm-to-table restaurant is on the smaller side, but also offers a back patio in nicer weather. I'd been told the fiddlehead fern toast was amazing, but after my indulgences at The Vault, I opted to start with the baby kale salad and sampled the chilled carrot soup — both of which were perfectly seasoned and executed. Luckily I started light because I overdid it with the beer-braised pork lasagna. With its béchamel sauce, it was actually a bit too rich for me, but that didn't stop me from downing a few of the best beignets I've had outside of New Orleans.
Poppy's Burgers & Fries — Perfect for lunch, Poppy's is like a retro burger joint meets organic cafe. They feature local, grass-fed beef and organic produce and serve up some very tasty burgers, salads, rice bowls and fries. I also love the dedication to all things local with local beer, wine and even sodas.
Homespun Foods — Whether you eat at their Dia: Beacon outpost or the prime location on Main Street, Homespun Foods spins out some eclectic sandwiches, salads and amazing homemade cookies.
The Beacon Bagel — You can take this Jersey girl out of NYC, but whenever I'm back in NY or NJ, I'm on the lookout for "real" bagels and I found them at Beacon Bagel. Big, doughy, chewy, and plenty of flavors, just like you would expect from a real bagel joint. And yes, I brought a dozen home with me for the freezer.
Get Frosted Cupcake — I also have a penchant for interesting cupcakes, which was satisfied at Get Frosted. She whips up new flavors all the time but I came home with mint chocolate chip, s'mores, and Butterbeer!
If you want wine or beer to play a role in your girlfriend weekend getaway, be sure to also stop into Two Way Brewing Company, drive out to Millbrook Vineyards, or pop into one of the wine bars in town like the Oak Vino Wine Bar or Chill Wine Bar.
What to See & Do in Beacon
Just walking around town and taking in the many forms of public art can be fun, but there is so much to do in Beacon and the surrounding Dutchess County including:
Dia: Beacon — This modern art museum opened in 2003 and features work from the 1960s to the present. Located in a former Nabisco box-printing facility, the building stands out as much as the art. It isn't to everyone's taste, but I fell in love with Dia: Beacon. The light shining in through the windows, the wood and concrete floors, the exposed brick walls, and these huge, magnificent installations that draw you in and reveal themselves bit by bit completed captivated me. This is not the sort of art museum where you look at splashes of paintings on a canvas and wonder what makes it so special. It is the kind of museum where art is larger than life and you wonder, what is it about this hole in the floor, iron cask, or pile of glass that has me so intrigued? Getting to Dia: Beacon is an easy eight-minute walk from the train station so it is absolutely something you shouldn't miss, but check the schedule because they are not open seven-days a week year round.
Bannerman Island — Situated in the middle of the Hudson River is a crumbling, decrepit old "castle" with a very unusual story. The only way to get there is by boat or kayak tour, and you really want someone to explain this unusual place. Bought in 1899 by Francis Bannerman this Scottish-style castle was actually his place of business — as an arms dealer. As the largest dealer of weapons in the world at the time, Bannerman had to get his arsenal out of NYC and he picked this island in the Hudson as a "safe" place. Unfortunately, it wasn't that safe as there was an explosion that was heard from 75 miles away. Bannerman passed away in 1918 but his interests continued until the 1960s when it was turned over the New York park system.
Today, the buildings designed to catch the eye, still capture attention but in a new way. The park is accessible via tours and they are restoring his home on the island. It is also home to open air Shakespeare productions from the Hudson Valley Shakespeare Festival.
Vanderbilt Mansion — If you and your girlfriends are still dreaming about Downton Abbey, then you will appreciate a visit to the Vanderbilt Mansion in nearby Hyde Park. While some of the Vanderbilts went up to Newport, Cornelius "Commodore" Vanderbilt's grandson Frederick and his wife Louise preferred the Hudson Valley. They used the mansion in Hyde Park as their spring and fall country estate. Designed in the neoclassical system with Beaux-Arts ornamentation are quite elegant, the estate cost over $2 million to construct and furnish and employed as many as 60 staff. Since the couple didn't have any children, they left the estate to a niece, who was then convinced by neighbor President Franklin D. Roosevelt to donate the estate to the National Park Service as a monument to the Gilded Age. Since then, it has remain virtually unchanged.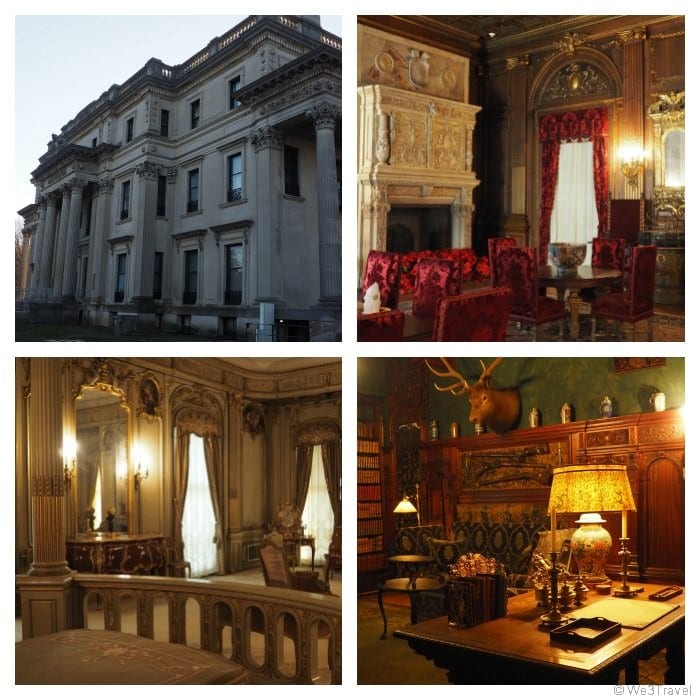 Franklin D. Roosevelt Presidential Library and Museum — Here you can visit both Roosevelt's home and his Presidential Library. The combination of these two provide insight into who FDR was as a person and how he became the president that he was. I've always found the times around FDR's presidency fascinating, so I really enjoyed exploring the library and walking through history from his early days, through the promise of change and his "New Deal" up through World War II. Downstairs you can also see his oval office desk, model ship collection and his classic Ford.
Val-Kill — Of course a girlfriend getaway really shouldn't be complete without a stop at Val-Kill, Eleanor Roosevelt's main home from 1945 up until she died in 1962. Built in the mid-1920s just two miles from FDR's "big house," Val-Kill was a retreat and Eleanor's center for advocacy and activism. Eleanor championed social welfare and civil rights, and led the UN Human Rights Commission in the landmark Universal Declaration of Human Rights. Today you can tour the home and learn more about this amazing woman.
There are other historic sites up and down the Hudson River, like the Mount Gulian Historic Site in Beacon, where General Von Steuben headquartered during the Revolutionary War. But if activity is more what you are after, there are also bike trails, horseback riding, golf, kayaking, parasailing, archery and more. Everyone can enjoy the Walkway over the Hudson.
Walkway over the Hudson — The Walkway over the Hudson is an old railroad bridge, which was converted in 2009 to a 1.28 mile State Historic Park. Today, you can walk or bike across, 212 feet over the Hudson River. The Park can be reached from the Poughkeepsie side via a glass-enclosed, 21-story elevator.
Shopping — The towns of Beacon and Rhinebeck both offer cute, fun downtown shopping districts. I especially loved browsing in Hudson Beach Glass in Beacon. Not only can you shop their beautiful wares, but a group of girlfriends would love setting up an appointment or joining a class to create their own paperweight or ornament.
Have I convinced you that Beacon, New York is a great spot for a girlfriend getaway? Looking for something warmer…how about the Gulf Shores of Alabama? Tell me your favorite girlfriend getaway destination in the comments below.
PIN THIS FOR LATER
Note: My trip was sponsored by Dutchess County Tourism and my stay was hosted by Roundhouse Hotel. Some of my meals were complimentary. All opinions are my own.