Autumn is the prettiest time to visit New England. It is the time of pumpkin patches, corn mazes, apple picking, campfires, and beautiful fall foliage. There are also so many quaint towns to explore that are perfect for fall family vacations in New England. Since autumn is about three months long, I picked out 12 of my favorite New England weekend getaways.
Of course, with sports and back to school, getting away too often can be tricky. If you want to go apple picking, September is your month. And if you are looking for the peak color on the fall foliage, then most of New England hits its prime in October, right away Columbus Day weekend.
Just keep in mind that the further north you go, the earlier the leaves turn. Once you move into November, it will start to get colder and grayer, so that is the time to visit Southern New England and pick destinations that also have indoor activities.
If you need more ideas, check out these suggestions for Boston weekend getaways for every season.

12 Fall Family Vacations in New England
Manchester, Vermont
Manchester, located in Southern Vermont, is only a four-hour drive from NYC and three hours from Boston. This quaint village offers a mix of cute shops and restaurants, combined with quality outlet shopping. Nearby, you can visit the Robert Todd Lincoln home of Hildene, climb Mt. Equinox (via foot or car), or head over to Bromley Ski Mountain for some outdoor adventure. We recently stayed at the Wilburton Inn and you could also try the Equinox Golf Resort & Spa or the new Kimpton In the village.
North Conway, New Hampshire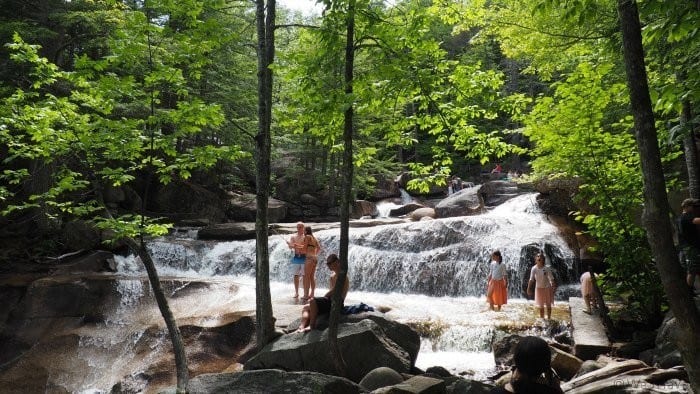 Located six hours from NYC and 2.5 hours from Boston, North Conway is a perfect destination for exploring the White Mountains of New Hampshire. You can hike, rock climb, take the harrowing drive up to the top of Mt. Washington (or enjoy the Cogwheel Train instead), take a dinner train, or visit one of the nearby ski resorts. You can even take an evening moose viewing tour (that's still on my bucket list!) For indoor family fun, stay at the Red Jacket Mountain View Resort with its indoor Kahuna Laguna waterpark (see my full review), or for upscale luxury, stay at the Omni Mt. Washington Resort. For budget travelers, we enjoyed the new Residence Inn with its free breakfast buffet.
Portland, Maine
For foodies, Portland is my weekend getaway destination of choice. In addition to sampling lobster, oysters, and duckfat fries (see my suggestions on where to eat in Portland), it is fun to wander the cobblestoned streets of the Old Port. You can duck into shops, see what exhibit is on at the Science Center, or spend an afternoon enjoying the Portland Museum of Art. My favorite place to stay is the aptly themed Press Hotel (see my full review), but we have also had lovely stays at the new Hilton Garden Inn in the Old Port and the Courtyard Marriott.
Berkshires, Massachusetts
The Berkshires is a region in Western Massachusetts which includes the towns of Great Barrington, Lenox, and Lee. This artsy area is the summer home to the Boston Pops at Tanglewood and offers first-class art museums like MASS MoCA. There is also plenty of adventure to be had, from the treetop adventure course at Ramblewild, to hiking up Monument Mountain, to the mountain coaster at Jiminy Peak. If you are looking for a luxury experience, my friend loved the Wheatleigh. If you want that Inn experience on a smaller budget, we found the Seven Hills Inn quite charming.
Salem, Massachusetts
This charming waterfront town just north of Boston offers more than just the Witch Trail history that it is famous for. The town will be filled with all sorts of spooky celebrations during October, but in the fall the town really shines. From the beautiful gingko leaves that scatter the sidewalks to the colorful trees that line the harbor. If witches aren't your thing, you will can also enjoy the Salem Maritime National Historic Site at the Friendship of Salem, the small but wonderfully curated Peabody Essex Museum, or a visit to the House of the Seven Gables. You can visit Salem as a day trip from Boston or stay at the Salem Waterfront Hotel & Suites. Read more about what there is to do in Salem, MA.
Plymouth, Massachusetts
The famous Plymouth Rock may be the most unimpressive part of this seaside town about an hour south of Boston. Many are disappointed by this small and unassuming piece of history but don't let that deter you from enjoying the town. In addition to the shops and restaurants, you can tour the recreated Mayflower II when it is in port, or head out of town to see how the Colonists and Native Americans lived at Plimouth Plantation. Families will enjoy at stay at the John Carver Inn, with its indoor pool with waterslide, kid-friendly spa, family suites, and resident ghost (read my full review.)
Cape Cod, Massachusetts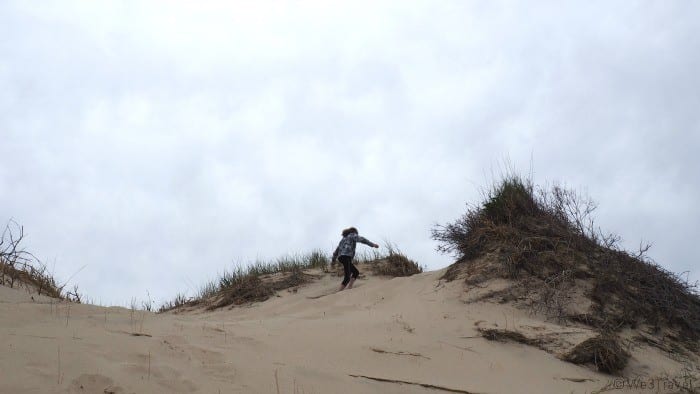 Cape Cod is thought of as a summer beach destination, but I've written a whole post about things to do on Cape Cod in the off-season. I love visiting some of my favorite Cape Cod spots without the crowds! You can still enjoy the beaches, take a dunes tour, explore Provincetown, and do some shopping or seal watching in Chatham. My favorite place to stay is the Wequassett Resort (read my review), but the newly updated Cape Codder Inn is perfect for families with its huge indoor waterpark (read my review.)
Providence, Rhode Island
When visiting Providence in the fall, try to time it with either a Waterfire lighting along the river or one of the many fall festivals like the Scituate Art Festival in mid-October. Autumn is the perfect time to take gondola ride along the river during Waterfire with the music playing and the smoky aroma filling the air. In the daytime, you can also take a Providence Riverboat cruise, or get out of town with Explore Rhode Island. Make sure you leave time to check out the street art and eat some great food (check out my post on my favorite Rhode Island restaurants and how to plan a weekend getaway to Providence.) Budget-minded families will appreciate the fresh new space of the Hilton Garden Inn (see my review.)
Newport, Rhode Island
Fall in Newport is the perfect time to visit. The summer crowds have gone and the weather is still beautiful enough to get out on the water for a sail, enjoy the mansions, and maybe even still hit the beach. There are even great family-friendly events like the annual Harvest Fair at the Norman Bird Sanctuary, with pony rides, games, food trucks, live music, and more. The newly renovated Newport Marriott makes a great home base for exploring the area (see my full review.)
Mystic, Connecticut
The historic coastal town of Mystic is well located between New York and Boston and offers a little something for everyone. There is the Mystic Aquarium and Mystick Village shops. Then the historic Mystic Seaport with its ships, living history museum, and Colonial town offers a full day of entertainment. Downtown Mystic offers up more shopping, great restaurants, and the famous Mystic Pizza. But if you are visiting in the fall, you can miss a side trip to Clyde's Cider Mill for their amazing apple cider donuts (just be prepared for a wait!) We stayed in a luxury cabin at the nearby KOA Campground and budget travelers may also like the Inn at Mystic.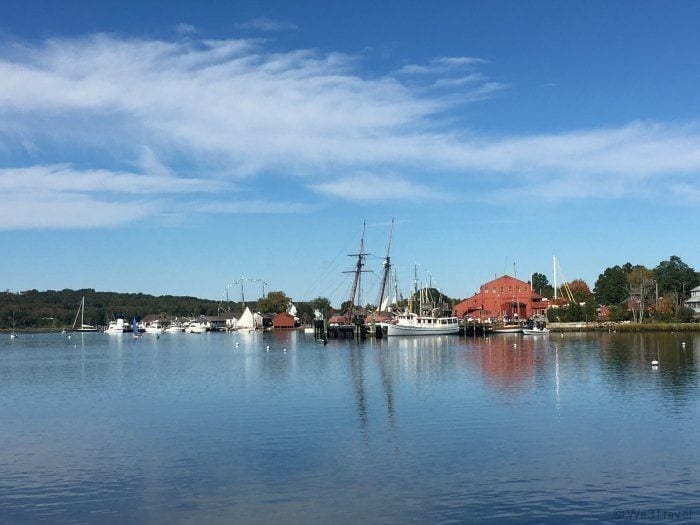 Old Saybrook, Connecticut
A lesser known town along the Connecticut coast, Old Saybrook offers beautiful water views and paths for exploring. You are also not far from the Essex Steam Train, which is a such a pretty ride in the fall. Or, you can drive to nearby New London to catch a lighthouse cruise. We have twice stayed at the lovely Saybrook Point Inn & Spa (including once in the lighthouse suite.)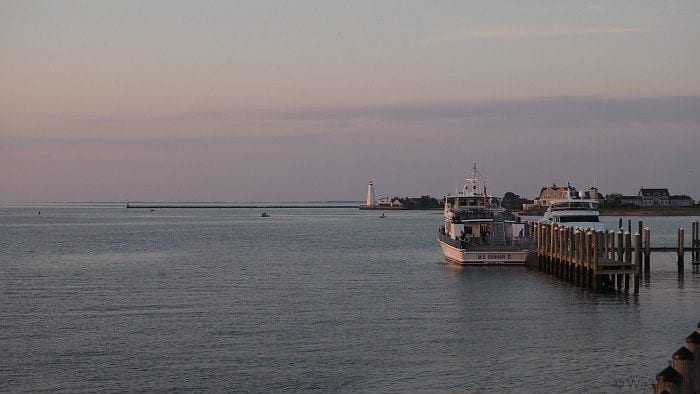 Beacon, New York
If you are willing to venture slightly out of New England, the Hudson River Valley is gorgeous in the fall and bursting with things to taste from wineries, breweries, distilleries, and even maple syrup tastings — as well as wonderful farm-to-table restaurants. This area is also packed with history from the FDR Presidential Library and Home to the Vanderbilt Mansion National Historic Site. There are quaint towns like Rhinebeck, or hipster outposts like Beacon, NY. For modern art lovers, a visit to Dia: Beacon is a must. The Roundhouse Beacon will definitely win you points for the cool factor with its exposed brick walls and modern renovation of an old mill building.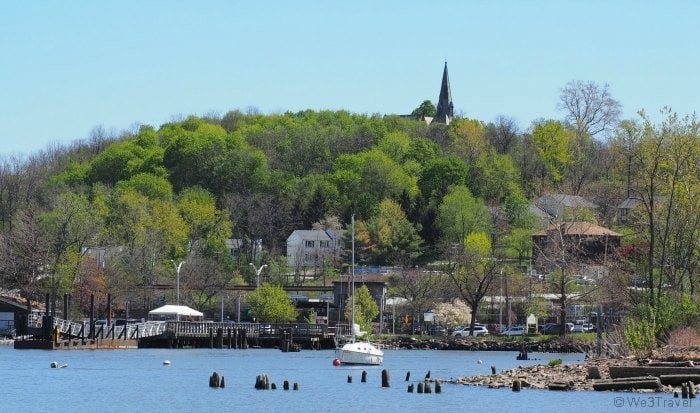 These are some of my favorite New England weekend getaways for fall, do you have any to add? Leave a comment below!
PIN THIS FOR LATER
Note: This post contains affiliate links, which help support the costs of maintaining this blog. All opinions are my own.SaveSaveSaveSaveSaveSaveSaveSaveSaveSaveSaveSaveSaveSaveSaveSaveSaveSaveSaveSaveSaveSaveSaveSaveSaveSave