Autumn in New England is when the beautiful fall colors glow, the air is crisp, and the region really shines. To "see it all", many people will attempt a New England road trip that covers every state in just a week. But to do so means missing out on many of the hidden treasures that are found on the byways and backroads around New England. Instead, slow down and break up your visits with what we think are the best New England road trips.
While these road trips can work just as well in the summer, keep in mind that fall foliage season is "peak" season in New England. You will need to make your reservations early and keep an eye on the many foliage monitoring websites that let you see when the fall colors are expected to be at their peak in each area. Remember, the further north you go, the earlier the colors will peak, with the primary season from mid-September through mid-October.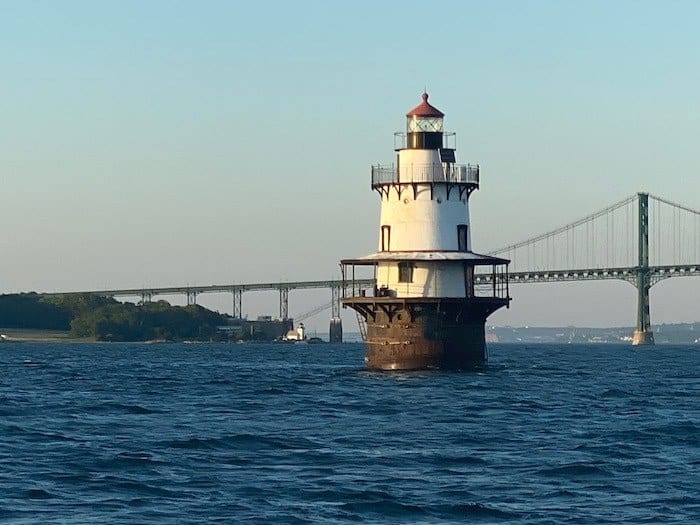 New England Fall Foliage Reports
Here are some great resources to watch:
Best New England Road Trips
Note: This post may contain affiliate links. If you click a link and make a purchase, I may receive a small commission. All opinions are my own.
While some of these New England road trips can be completed in a long weekend, most are designed for a five to seven-day trip. If you really want to hit each state, try this New England road trip itinerary.
Adapt these trip ideas as you need by skipping stops or shortening your stays at each destination, or try this 4-day New England road trip. Remember, we will still be here waiting for you to explore a different corner of New England next year too!
1. Southern New England Coast Road Trip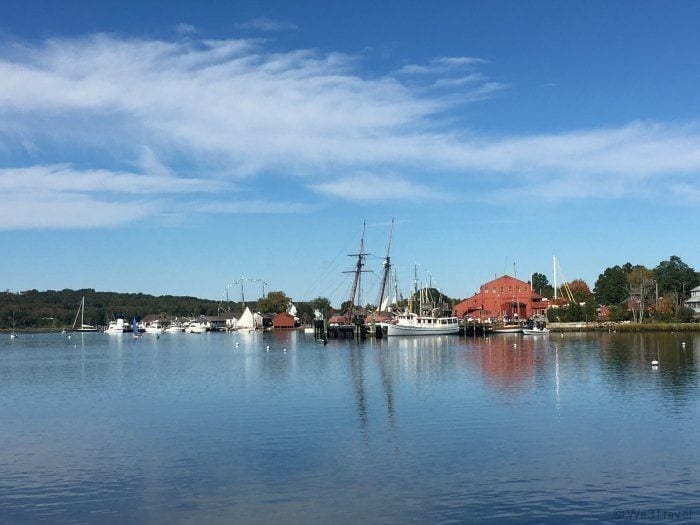 Note: This trip is best in the summer or September and October, although if you are looking for peak foliage, plan on mid-to-late October.
While hitting the beach and the charming coastal towns in Southern New England makes for a popular summer road trip, it can also be very enjoyable in the fall. The crowds are gone, the ocean water is warm, and you can still get those beautiful warm beach days that say a final farewell to summer for the year.
Start off your trip in the Connecticut town of Essex with a stay at the historic Griswold Inn. You will find plenty to do in this area, including the Essex Steam Train, fall foliage cruises, Gillette Castle, lighthouse harbor cruises, and the Niantic Boardwalk.
Next, spend a day or more exploring downtown Mystic and the Historic Mystic Seaport. While there, you will want to wait in line for some of the best apple cider donuts around at B.F. Clyde's Cider Mill. (See my full list of things to do in Mystic with kids.) Wine aficionados will enjoy a tasting and picnic at Jonathan Edwards Winery.
Your next stop will be historic Newport, but before you get there, make a stop in Jamestown to get apple cider donuts at Hardpressed Cider Company and to take in the view at Beavertail State Park. There are plenty of things to do in Newport from touring mansions, sailing in the Bay, visiting local farms and vineyards, and biking along the coast. (See more scenic drives in Rhode Island)
In town, The Vanderbilt and Hotel Viking both offer a great location coupled with historic charm. For a more modern nautical setting on the water, the Newport Marriott is a good choice. See my list of the best things to do in Rhode Island in the fall.
Continue your Southern New England coastal road trip on Cape Cod. Visiting Cape Cod in the off-season is a perfect time to avoid crowds. You can ride the bike path, enjoy the small towns of Chatham, Falmouth, Hyannis, and Provincetown, and take a dunes tour. You can also take a day trip over to Nantucket or Martha's Vineyard.
The Cape Codder Resort in Hyannis or the Sea Crest Hotel in Falmouth are good family-friendly options. If you want to finish off your trip in luxury, splurge for the Chatham Bars Inn or the Ocean Edge Resort and Golf Club, located right on the Cape Cod Rail Trail and offering family-size suites.
Personally, I loved staying at AutoCamp Cape Cod for a unique glamping experience. For a limited time, you can save $20 off a stay at Auto Camp by using my referral link(and I'll get a $20 credit towards my next stay too!)
Finish up with a couple of days in Boston. September and October are great months for exploring the city (just avoid Labor Day weekend as that is typically move-in weekend for the colleges and hotels will be even more outrageous.) If you visit in mid-to-late October, you may get to watch the Head of the Charles regatta, but hotels will be pricey then too. (Here are some tips for visiting Boston on a budget.)
Plan to walk along the Freedom Trail, try pastries in the North End, enjoy the Public Gardens, visit some of Boston's museums (like the Boston Tea Party Ships & Museum), and maybe catch a Red Sox game at Fenway. You may also enjoy a Best of Boston food tour.
Maps courtesy of Google My Maps
If you have time, I'd also add in a day trip to Salem, Gloucester, or Plymouth.
2. Boston to Maine Road Trip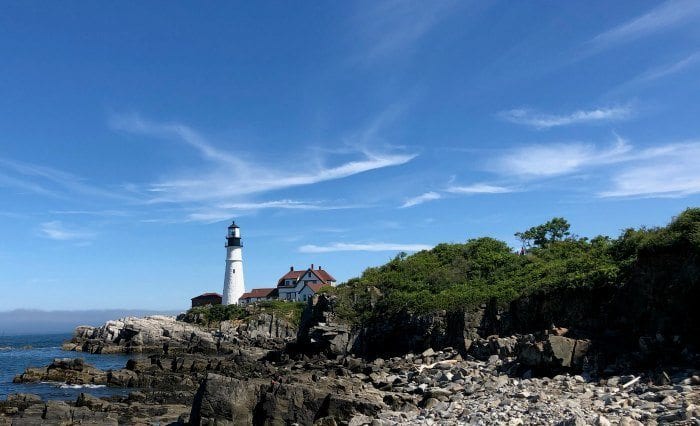 Note: This trip is best in the summer or in September and early October. If you are looking for peak foliage in Acadia, plan on visiting in late September or early October.
The drive from Boston to Bar Harbor and Acadia National Park is best done when you take it slow, enjoying the towns of Massachusetts' North Shore and Maine's Mid-Coast along the way. (You can see my full detailed Boston to Bar Harbor road trip itinerary here.) If you don't have time for the full road trip, either skip over some stops along the way or trim this down to Boston to Portland, Boothbay Harbor, or Rockland, depending on how much time you have.
Start off with a day exploring either the historic downtown of Salem or the fishing village of Gloucester. Then head up to the historic seaport town of Portsmouth, NH before heading into Maine. Don't forget to stop at Bob's Clam Hut in Kittery, ME for one of the best lobster rolls on the East Coast.
Spend a couple of nights in Portland exploring the Old Port, taking a lobster boat tour, climbing on the rocks by Portland Head Light in Cape Elizabeth, visiting the "Desert of Maine," or spending a day shopping at the L.L. Bean outlet up in Freeport or the cute boutiques of Kennebunkport.
The Press Hotel is a great option in downtown Portland, but if you are looking for something closer to the beach, try the Inn by the Sea in Cape Elizabeth.
On Maine's mid-coast, spend a night or two in Boothbay Harbor at the Tugboat Inn or Fisherman's Wharf Inn. On your drive, stop and enjoy the Giant's Stairs in Harpswell or spend some time at Popham Beach, a rare sandy stretch of sand. Be sure to line up for lobster rolls at Red Eats.
While in Boothbay, you may also want to get out on the water on a sightseeing cruise to see puffins or whales or rent a sea kayak to explore Muscongus Bay. Note that some of these activities will only run through September or mid-October on the weekends. See more full list of things to do in Boothbay Harbor.
Continue up the coast to the artistic town of Rockland and spend a night at the 250 Main Hotel. Pop into the Center for Maine Contemporary Art or the Farnsworth Art Museum or go hiking in Camden Hills State Park. See my list of things to do in Rockland, Maine.
Finish up your road trip at the scenic town of Bar Harbor, just outside of Acadia National Park. You will want to spend 2 to 3 nights exploring the park using this 3-days in Acadia itinerary. Try to catch a sunrise or sunset from the top of Cadillac Mountain, drive the Park Loop Road, relax on Sand Beach, and stop to see the natural phenomenon at Thunder Hole.
You can also stop into the Hulls Cove Visitor Center to check out some popular hikes, take in the view from Otter Cliffs, bike the Carriage Roads, and enjoy a meal with a view at the Jordan Pond House. If you aren't into camping, stay in town at the Bar Harbor Grand Hotel or the Hampton by Hilton Bar Harbor. One of my favorite glamping stays is at the Terramor Resort in Bar Harbor.
For your return trip, you can jump on Interstate 95 south for the fast route back to Boston. If you have more time, explore these things to do near Acadia National Park.
3. Western Massachusetts Road Trip
Note: This road trip has a mix of indoor and outdoor attractions that you can visit year-round. For peak foliage viewing, visit in October.
If you want to explore the scenic byways and small towns of Western Massachusetts, start off in Springfield. Here you can explore unique museums like the Naismith Memorial Basketball Hall of Fame and the Dr. Seuss Museum. As you head north up Interstate 91, you can stop off at the Yankee Candle Factory Store and the Eric Carle Museum of Picture Book Art.
You can also avoid the Interstate and take scenic route 47 along the Connecticut River. Be sure to stop at the North Hadley Sugar Shack for maple syrup and sugary treats. Mike's Maze in Sunderland has also been rated one of the best corn mazes in the United States, making for a fun fall stop. Stay overnight at the historic Deerfield Inn or find plentiful options in nearby Amherst.
Next, head across Route 2, The Mohawk Trail, from Deerfield to North Adams. If you love covered bridges, take a side trip to the Eunice Williams Covered Bridge. Other stop-worthy highlights include the Bridge of Flowers in Shelburne Falls, mountain biking at Thunder Mountain, the Bissel Covered Bridge in Charlemont, and zip lining at Zoar Outdoor.
Spend a night in the town of North Adams at the Porches Inn at Mass MoCA. If it is open, make sure to take time for the Mass MoCA Museum. You may also enjoy some hiking in Natural Bridge State Park or head south to the summit of Mount Greylock, the highest point in the state. You can even stay overnight at the Bascom Lodge at the summit.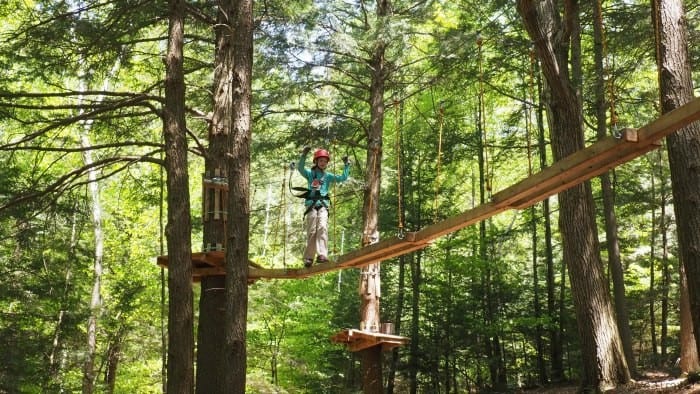 Continue to make your way south to the charming small towns of the Berkshires. Enjoy outdoor treetop adventures at Ramblewild, ride the Mountain Coaster at Jiminy Peak, explore the historic homes and gardens, and go antiquing. If you are up for more hiking, you can also climb Monument Mountain.
Make your home base in either Pittsfield, Lenox, Stockbridge, Lee, or Great Barrington. The Red Lion Inn is always popular and we have also had a good stay at the Seven Hills Inn. From there you can loop back to Springfield across Interstate 90.
4. Litchfield Hills, CT Road Trip
Note: This trip is best in the spring-fall. For peak foliage, visit in October.
The charming New England towns that inspired the setting for the Gilmore Girls television show, the fruitful Connecticut Wine Trail, covered bridges, pretty hikes, and farm-fresh foods await you on a road trip through the Litchfield Hills in northwestern Connecticut.
Start off in the town of Litchfield, where you can enjoy shopping and dining at the upscale boutiques and restaurants that line the lush town green. If you want to spend some time in the area, stay overnight at the boutique Litchfield Inn.
Nearby you can take a walk through the White Memorial Conservation Center, hike in Mt. Tom State Park, check out the flower fields at White Flower Farm, go horseback riding at Lee's Stables, or take a tour at the Litchfield Distillery.
There are a number of wineries nearby, including Hopkins Vineyard, which overlooks the beautiful Lake Waramaug. If you go on the weekend, they often host live music performances and open up their grounds for picnicking.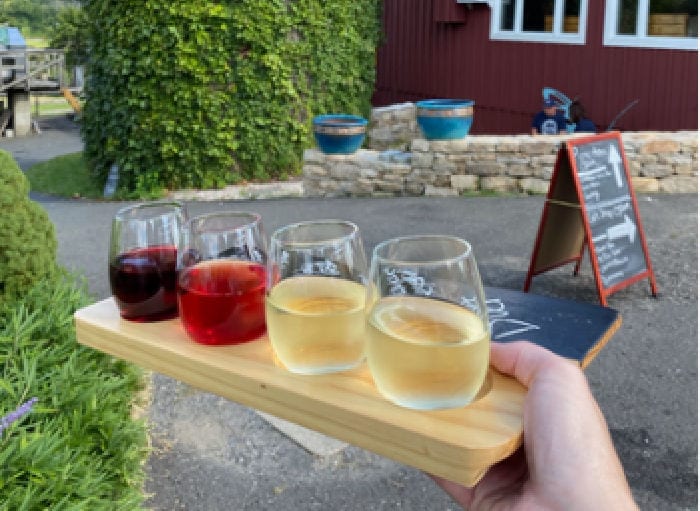 Be sure to stop in the town of Bantam on the way for ice cream at Arethusa Dairy, just be prepared for a long line! If you can get a reservation, the Arethusa al Tavola restaurant receives accolades from near and far.
Next, venture to the small town of Washington Depot, where you will find the Mayflower Inn & Spa, an inspiration for the Independence Inn where Lorelei worked in the Gilmore Girls. In town, you will find more Gilmore Girls lookalikes, such as Marty's Cafe, The Washington Food Market, and The Hickory Stick Bookshop.
Your next stop should be the town of New Milford, where the gazebo on the town green will definitely call up thoughts of the fictional Stars Hollow. Nearby you can hike in Lovers Leap State Park, try local beers at the Housatonic River Brewing, browse the local art galleries, or bed down at the Homestead Inn.
From New Milford, travel up Route 7 to Kent, with a stop at Bull's Covered Bridge on the way. Kent Falls State Park is home to a beautiful 250′ waterfall and hiking trails. In town, you can enjoy a stay at Kent Victorian and explore the bookstores, boutiques, and antique shops downtown.
Continue north to West Cornwall, where you can bike the 37-mile covered bridge trail. Or visit Falls Village in Canaan and hike part of the Appalachian Trail. The historic Falls Village Inn makes a good home base for your exploration. After your exercise, quench your thirst at the Great Falls Brewing Company.
To finish up your trip, take the scenic backroads to return to Litchfield, or head over to the cute towns near West Hartford like Collinsville, Simsbury, and Farmington.
5. White Mountain Wonder Road Trip
Note: This road trip is best taken in the summer or early fall. For peak foliage, visit in late September through early-October.
New Hampshire's White Mountains are a hikers' paradise, but also offer plenty of opportunities for family fun and scenic drives. Start off in Lincoln to begin your loop through the mountains.
There are plenty of vacation rentals in the White Mountains, or you can stay at the RiverWalk Resort at Loon Mountain. While in Lincoln, you can go zip lining or at Alpine Adventures, explore the caves at Lost River Gorge, or walk along the waterfalls at Flume Gorge.
From Lincoln, make your way north along Interstate 93 towards the splendors of Franconia Notch State Park. Some of the best views in the Whites in the fall are from Artist's Bluff above Echo Lake.
After exploring the western side of the White Mountains, head north to the highest peak in the Northeastern United States, Mount Washington. You can hike up to the top or take the easy route and drive up Mt. Washington Auto Road. Just be prepared to pay the toll and do some white-knuckle driving. And hold onto your hats because it can be very windy at the top. Of course, you can also avoid the drive and take the Mount Washington Cog Railway.
When staying in this area, you can bed down at the Omni Mt. Washington. While in this area, you can explore the White Mountains in the over 5,000 acres of Crawford Notch State Park. Another beautiful fall hike is up Mount Willard, near the AMC Highland Center at Crawford Notch. If it has been rainy, the falls should also be flowing at Arethusa Falls and a nearby hike will give you good views of the Conway Scenic Railroad.
Continue south to North Conway, where you will find outlet shopping, restaurants, and more outdoor attractions. Plan on a stop in Bartlett at the covered bridge for scenic photos.
Once it reopens, the Red Jacket Mountain Resort is a great family option and the Residence Inn North Conway is a good budget option. For something more fun, we also enjoyed the resort-like environment at Huttopia White Mountains.
Complete your trip by heading back to Lincoln on the twisty-turn scenic Kancamagus Highway — called one of the prettiest drives in the state. See my full guide for where to stop on the Kancamagus Highway.
6. Vermont's Scenic Rt 100 Road Trip
Note: This trip is best taken in the late spring through early fall. For ideal leaf peeping, visit in late September through mid-October.
I grew up spending my family vacations in Vermont, so it is no wonder that I have a soft spot in my heart for the Green Mountain state. Route 100 runs north to south in the center of the state, passing by small towns and ski mountain resorts along the way. Of course, I recommend getting off the path a little to visit a couple of my other favorite New England towns.
Start off in Brattleboro and begin traveling north up Route 100 past the Mount Snow ski town and then side track to Manchester. Settle in at The Equinox and spend a day or two exploring the area. You can climb or drive Mount Equinox, visit the Lincoln home of Hildene, or enjoy the alpine slide (in season) and other mountain entertainment at Bromley Mountain. In town, you can enjoy prime outlet shopping and book lovers don't miss a visit to Northshire Books, the town's independent bookstore. See my list of things to do in Manchester, Vermont.
When you are ready, continue on up Route 100, leaving time to stop at the Vermont Country Store in Weston. Make your next stop in Ludlow at the Okemo Mountain Resort. There are plenty of activities and lodging available in this four-season resort, including the fun mountain coaster. As you continue north, keep your eyes peeled for Buttermilk Falls.
As you approach Route 4 near Killington, veer off onto Route 100A and stop in to Long Trail Brewery. Then head over to the charming town of Woodstock, one of my favorite in Vermont, for a stay at the magnificent Woodstock Inn. The next day you can spend time in town or head east to Quechee Gorge and stop into the glass-blowing studio at Simon Pearce.
Next, you will want to continue heading north into the Green Mountains. Keep a look out for Moss Glen Falls in Granville. Make sure to bring your appetite because you will want to sample some of Vermont's farm-fresh products. Visit the Ben & Jerry's Factory for samples and a visit to the flavor "graveyard."
Cold Hollow Cider Mill in Stowe serves up the best apple cider donuts, hot and fresh, but you may want to stop to sample the cheeses at the Cabot Factory first.
Finish up your road trip in the family-friendly Smugglers' Notch or one of the many mountain resorts in Stowe like Topnotch Resort, Trapp Family Lodge, or the Stoweflake Resort. You can hike, drive the auto toll road, visit local breweries, and even take a llama trek. See my other recommendations for a Vermont road trip.
7. Maine's Mountains and Lakes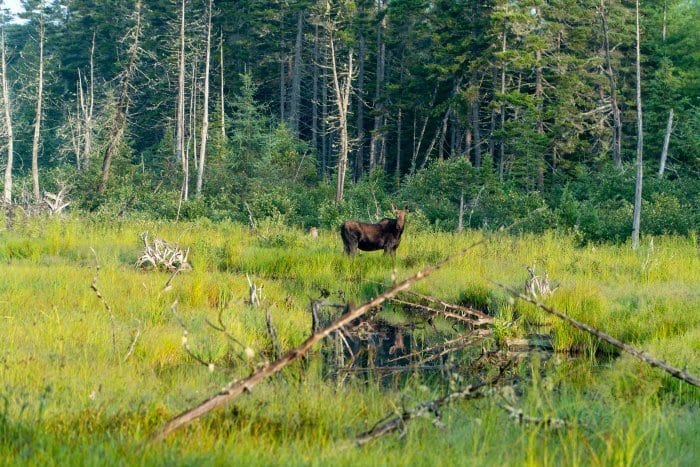 Note: This road trip is best taken in the summer or early fall. For fall foliage, visit in late September through early October.
Maine's Coast gets a lot of attention but that is just one small slice of Vacationland. There are so many places to get away in Maine's mountains and lakes region. Start off in Portland and head northwest on Route 302 to the lake town of Naples near Long Lake and Sebago Lake. Take a float plane ride or a boat tour of the lake while soaking up the scenery.
Next, head up Route 35 to Bethel and Newry, home to the Sunday River Ski resort. Nearby you can go hiking, mountain biking, horseback riding, and even white water rafting.
Your next destination is the Rangeley Lakes region, where the Rangeley Lakes National Scenic Byway offers some of the best fall foliage drives in the state. Drive the Routes 4 and 17 loops around Rangeley Lake, a destination popular for its fishing, camping, hiking, bicycling, boating, and moose watching.
The drive winds along the Appalachian Mountain and through rolling valleys. Be sure to stop at The Height of Land on Route 17, which offers sweeping views of Mooselookmeguntic and Upper Richardson lakes. Stay at the landmark Rangeley Inn or in one of the family-size cabins at the Rangeley Lake Resort.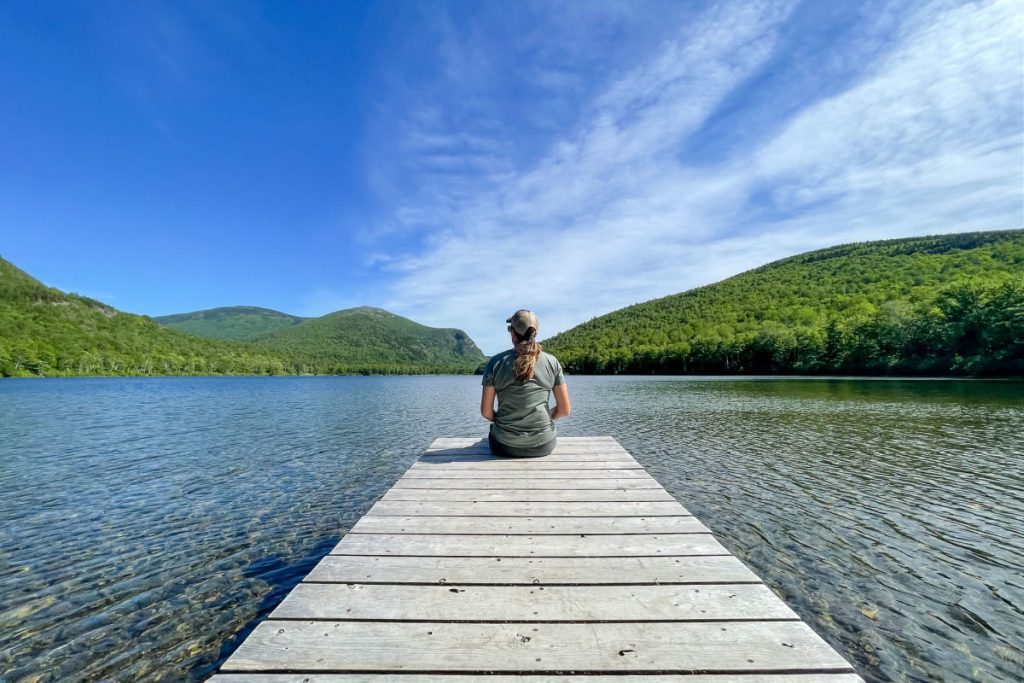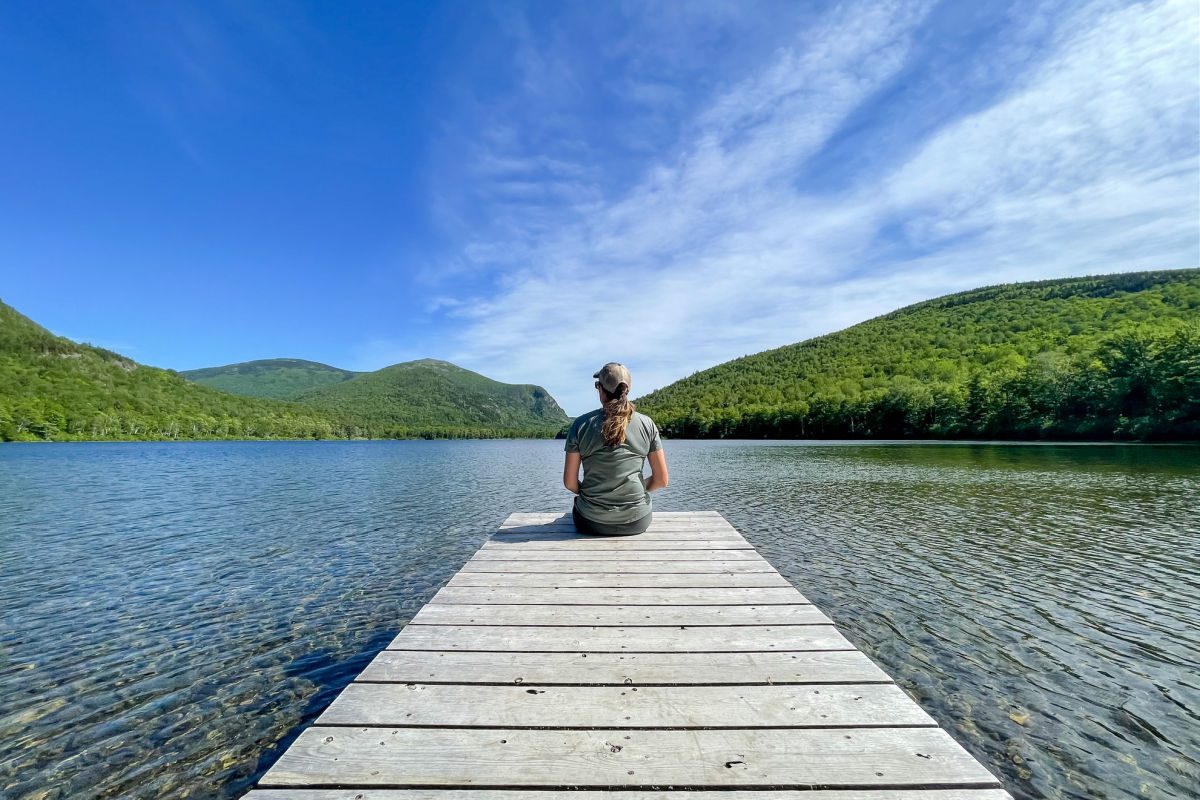 After Rangeley, continue northeast to Moosehead Lake, the largest lake in Maine, measuring 40 miles in length. The small town of Greenville on the southern tip is your jumping-off point. Further north and you will find gravel logging roads and the 100-acre wilderness of the Appalachian Mountain Club.
Here you will find excellent hiking, fishing, canoeing, and my favorite — moose safaris! Stay at the Lodge at Moosehead Lake or rent a lakeside cabin. You can then head back to Portland via the highway. See my other recommendations for a Maine Highlands road trip and things to do in the Maine Highlands.
Save this to Pinterest