In fifteen years of marriage, we've only had a handful of romantic getaways. Now that our daughter goes to sleep away camp for a few weeks in the summer, getting away is a little easier, but between work and limited vacation time, they still tend to be just for a quick overnight. Luckily, living in Rhode Island we have so many options for getaways…Boston, Connecticut, New York, the Berkshires, and of course, Newport, Rhode Island. Last month we were able to enjoy a quick weekend in Newport RI.
Friday Night
We kicked off our weekend with a Friday night open-air Rhode Island Philharmonic Orchestra concert on nearby Narragansett Town Beach. The concert didn't start until 8 pm, but we needed to arrive early to find a parking spot and a place on the beach. We met up with friends and, just like our time at Tanglewood, enjoyed a picnic and wine while listening to the music.
Where to Stay — Newport Marriott
We spent the night at the newly renovated Newport Marriott. Located right next to the Visitor's Center on America's Cup Boulevard, the Newport Marriott is a great location for exploring Newport on foot. With views of the Newport Harbor, the Marriott stays true to the nautical theme throughout its spacious public areas. The large lobby was unlike any Marriott that I have stayed in before. In addition to the soaring atrium, there were numerous gathering places and conversation spots. The balconies opening up onto the atrium, with their sailcloth dividers gave the impression of staying on a cruise ship. The $35 million in renovations was well spent.
The night before I attended an event at the Marriott's new Skiff Bar, an indoor/outdoor bar with a large terrace overlooking the marina that is a perfect hangout spot for a cocktail before dinner or exploring the town. In addition to Skiff, the hotel offers a large full-service MainSail restaurant and the lobby Plank Bar.
We had the same awesome view from our guest room, one of 312 rooms and eight suites. The room itself was beautifully decorated and super comfortable. The nautical decor continued in our guest room in a classic style that was not overdone. The staff was also very helpful, charging our phone at the front desk since we had forgotten to bring our charging cord (the room had multiple USB outlets built-in), storing our bags and providing some local restaurant recommendations for breakfast.
With a full range of services from an indoor pool and outdoor pool deck, spa, and salon, I would definitely recommend the Newport Marriott if you are staying in Newport for a romantic getaway or a family trip.
Saturday
We got a late start on Saturday morning (blame that wine on the beach) and needed a substantial breakfast so we headed over to Scratch Kitchen, just a five-to-ten minute walk away. It was a tough choice between their grilled cheese frittata and their stuffed french toast but I'm always up for something new and grilled cheese frittata? That sounded like something worth trying. We both tried the Grilled Cheese Lorraine — a caramelized onion frittata with crisp applewood smoked bacon and melted gruyere cheese between two slices of bread, grilled to perfection. Yum!
After our brunch we took a stroll over to Bannister's Wharf. It was a beautiful day with clear skies and calm seas so we decided to do something we hadn't done before in Newport — take a sail on the classic sailing yacht Madeleine with Cruise Newport. After all, Newport is the sailing capital of the world. We were able to book our cruise right at the wharf and hop on board the next sail.
Our 90 minute day sail took us out into the harbor, past Fort Adams (where the Newport Folk and Jazz Festivals take place), by Hammersmith Farm (where JFK and Jackie had their wedding reception), and down to Castle Hill Inn, at the point where the Bay meets the Atlantic Ocean. The itinerary can vary depending on the weather. It was a very calm day, which meant no wind to power our sails so we were on the engine most of the trip, but it was still lovely to be out on the water and get a different perspective of Newport. The crew made the trip even more enjoyable by sharing anecdotes about landmarks and sailing facts along the way — and the complimentary bottled water was a bonus too!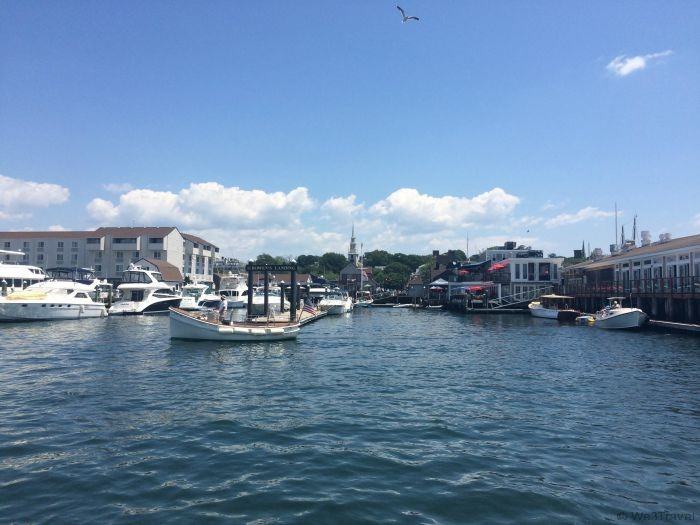 After our sail we did a little shopping on Thames Street and stopped by the International Tennis Hall of Fame, but there was a tournament going on so it wasn't the best day to visit the museum. If you are looking for souvenirs, I'd recommend picking up rope bracelets from Lemon and Line, enamel bangles at Sequin, and nice quality clothing at either The Black Dog or Upper Deck Clothing.
All that shopping made me hungry so we headed to one of my favorite spots in Newport for happy hour and an early dinner — Midtown Oyster Bar. I love the airy, rustic decor and the two outdoor terraces. But what I love best is the raw bar featuring some of my favorite local oysters. We chowed down on the seafood platter with oysters, sweet jumbo shrimp, lump crabmeat and a lobster tail with wasabi aioli. I've eaten here a few times and the seafood never disappoints.
What Else to do in Newport
In typical style, we were only able to get away from one night. However, we have spent lots of time in Newport and have recommendations on what to do with the rest of your weekend in Newport:
Carolyn's Sakonnet Vineyard
Not far from Newport in bucolic Little Compton, RI you will find one of Rhode Island's better vineyards — Carolyn's Sakonnet Vineyard (from Carolyn Rafaelian, founder of Alex and Ani). In the summer they often feature jazz on Sunday afternoons. It is a great place to bring a picnic, buy a bottle of wine and relax on their handmade chairs and tables on the lawn.
Visit the Mansions
You can't go to Newport without checking out a summer "cottage" or two. A drive down Bellevue Avenue will give you a glimpse of grandeur but for a closer look, you'll need to take a tour. The Breakers, once the summer home of Cornelius Vanderbilt II, is the grandest and therefore one of the most popular with visitors. I also enjoyed a self-guided tour through Rosecliff, the summer home of silver heiress Theresa Fair Oelrichs. Modeled after the Grand Trianon, not surprisingly the mansion also boasts a beautiful garden.
Cliff Walk
If you have a few hours to space, you can walk the entire 3.5 mile National Recreation Trail along the eastern shore of Newport. On one side you'll enjoy beautiful views of the mansions, while the other is a sharp drop to the ocean and the rocky shores below. You can begin the walk at the western end of Easton's or First Beach at Memorial Blvd., or the other end at Bellevue Avenue. You can also join the walk at major opening at Narragansett Ave., Webster St., Sheppard Ave., Ruggles Ave., Marine Ave., and Ledge Rd.
Kite Flying at Brenton Point
I'd also recommend taking a drive along Ocean Drive through Newport. Take a pitstop at Brenton Point State Park for a walk on the rocks. The ocean breezes makes this a great spot for kite flying. You can also stake out one of the benches in the evening to enjoy a beautiful sunset.
PIN THIS FOR LATER
Have you visited Newport? What are your favorite things to do in Newport?
Note: We received a media rate at the Newport Marriott and utilized a media pass from Discover Newport, which included our sail with Cruise Newport, for purposes of facilitating this review. All opinions are our own.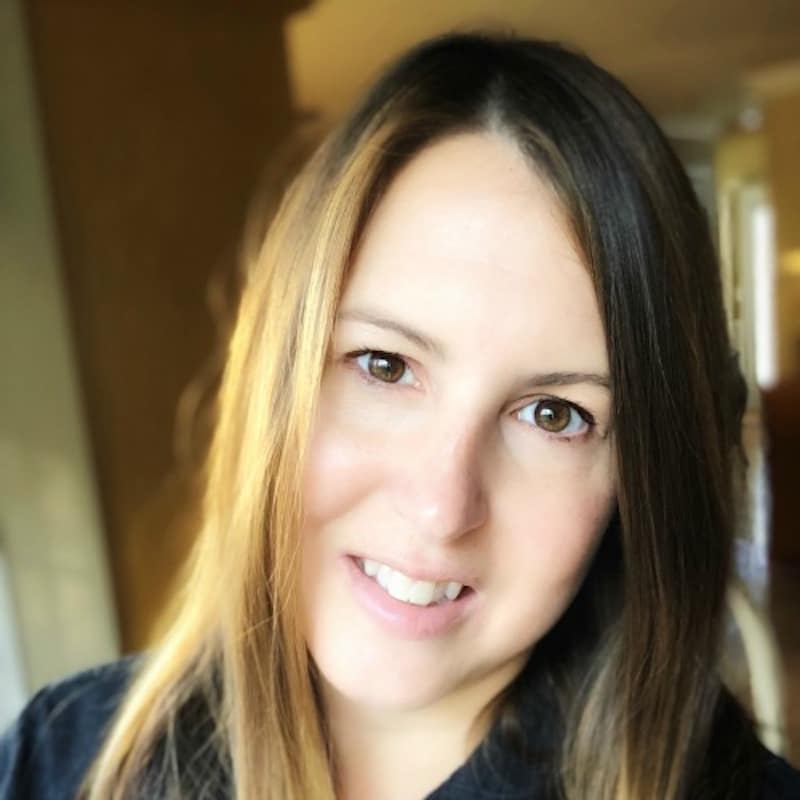 Tamara Gruber is the Founder and Publisher of We3Travel. A former marketing executive and travel advisor, Tamara is an award-winning travel writer and recognized expert in family travel. She is also the publisher of YourTimetoFly and the co-host of the Vacation Mavens travel podcast.