This has been the year to get away from it all — especially other people — and families are turning to camping, glamping, cabin rentals, and even treehouses to get close to nature. Of course in our family, we are more on team "glamping" than team "camping." So when I found the Huttopia White Mountains resort, it sounded like exactly what we wanted.
We loved our glamping experience at Under Canvas in Mount Rushmore a few years ago, and our night at a luxury desert camp in Morocco was a once in a lifetime experience. Between these and our stays at a KOA camping cabin and a luxury safari tent at Safari West, we have a few glamping experiences to compare and contrast with Huttopia.
Before I get into our full Huttopia White Mountains review, let me give a little background. Huttopia is a family-owned company based in France. It was started with a desire to make nature comfortable and accessible for families. The inspiration for the brand came from the tents of the Canadian Trappers. Today, Huttopia operates resorts in Europe, China, Canada, and the United States. So far there are two locations in the U.S., one in Southern Maine and the other in the White Mountains of New Hampshire.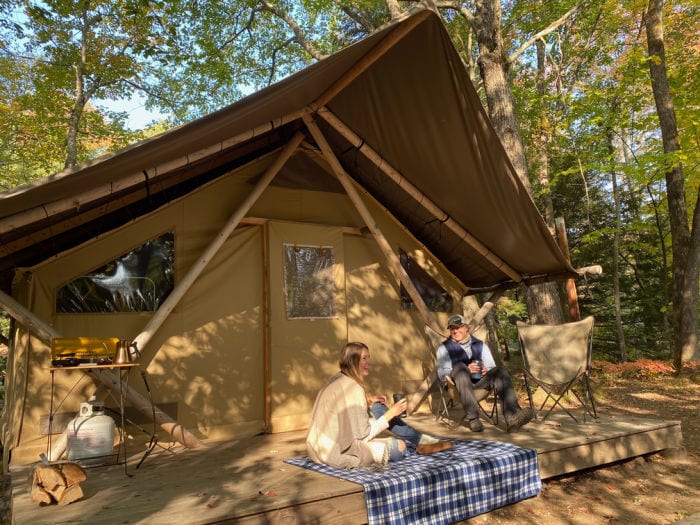 Huttopia is designed to be family friendly, but is also a great option for couples or friends that are looking for a low-key getaway. At the White Mountains New Hampshire location, there are four types of accommodations.
The Trapper Tent (which is what we picked), can sleep up to five-people in a canvas and wood, ready-to-camp tent complete with a bathroom, shower, small kitchen and electricity.
The Canadienne can also sleep up to five, but does not include a bathroom.
The wooden Chalet is the cream of the crop — sleeping up to six in a fully-equipped cabin that offers a bathroom, kitchen (with a dishwasher), and even a wood stove.
The Bonaventure is a very simple tent for two without a bathroom.
As with many resort-like campgrounds, Huttopia also offers a full complement of activities and amenities including a heated pool, lake access, paddle board and canoe rentals, a playground, a game room, a camp shop, and even a retro-style Airstream trailer food truck serving up crepes and pizzas. So while you have the opportunity to get into nature, there is also plenty to do and a sense of community within the "campground."
Huttopia White Mountains Review
Please note that we paid full price for our stay at Huttopia. Whether we pay our way or we are hosted, our honest opinions are always our own.
Huttopia White Mountains Location
Huttopia White Mountains is located in Albany, New Hampshire, just 10-minutes south of North Conway and two-and-a-half hours north of Boston. The location is just off of Route 16, so it is very convenient for getting to many of the White Mountains attractions and only minutes south of the entrance to the Kancamagus Highway. The only downside is that you can also hear road noise all through the night, since this is a main thoroughfare to the White Mountains.
On property, there are about 100 different campsites, tents, or chalets to choose from. The property also borders Lona Lake, and the Trapper Tents facing the lake are prime locations. If you book far enough in advance, you can select your location and choose from options like brook view, lake view, or secluded sites.
Since we booked just a month in advance for our stay in late September, we didn't have many options left but selected a Trapper tent with a brook view and we were assigned site #33. This location was very conveniently located near the parking lot and just a two-minute walk to the reception tent and other amenities like the basketball and volleyball courts.
In this location you got a little noise and traffic from the parking lot #4, but since most people are back on site by dark, it isn't too much of a problem. Just keep in mind that in this location, you won't be looking out into a dense woods. Also, late in the season, especially with a summer drought, the brook was nearly dried up. The good news is that meant no mosquitoes.
The tents are arranged such that even though you aren't far from other tents, you aren't looking directly at anyone. You may hear them (hopefully they will respect the 10 pm quiet time), but it doesn't feel like you are on top of each other. We actually loved sitting on the front porch or around the campfire and watching the chipmunks skitter around.
Inside the Trapper Tent
The Trapper Tent is a 425 square foot wood and canvas tent on a wooden platform, with space to sleep up to five. There is a wooden front porch with two camp chairs and a two-burner, propane camp stove. Walk in the front door (which locks using a padlock), and step into the kitchen and living area of the tent.
On the right, you have a small kitchen set up with a shallow sink, a small fridge, a dish drainer, and shelves that hold plates, bowls, mugs, glasses, pots, pans, and utensils. There is enough to make simple meals with basics like a colander, cutting board, grater, frying pan, pot, and a large bowl.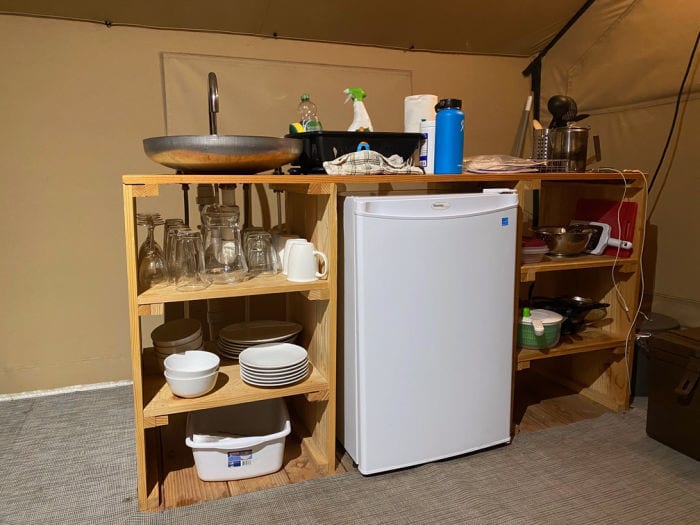 On the left, you will find a table with five folding chairs and a portable hanging rack with hangers for coats and clothing. Huttopia also provides a locker for storing food and perishables to keep the animals away.
Straight ahead is the bathroom. It is tiny with an itty-bitty pedestal sink, a toilet that tall people need to sit sidewise on so their knees don't bump against the wall, and a narrow shower stall the size of a phone booth. But it is a private bathroom, which is a huge plus for us!
On either side of the bathroom you have the "bedrooms." These are like a tent within a tent, each having flaps that fold down for privacy. The "main" bedroom has a queen mattress on a wooden platform and enough space to shuffle by on one side. The other bedroom has a full bed on the bottom and a twin bunk bed on top with slightly more space to squeeze by.
The sheets, blankets, towels, and pillows are all provided but you still may want to bring your own pillow both for sanitary reasons and because those provided are pretty flat. Also keep in mind that the mattress is a rubber-covered cot-type mattress. They are a step above a camping mat or blow up mattress, but not exactly the comfy bed you find in some glamping resorts like Under Canvas.
There is electricity in the tent, with one outlet by the kitchen, so I would recommend bringing a small travel power strip with USB connections (affiliate link.) The lighting is limited, with a couple of hanging work lights and a couple of bright lights by the bathroom. You may want to bring a battery-powered lantern or fairy lights, especially for the bedrooms or outside.
If you are traveling in the summer, you may want to bring along a fan. You can leave the window flaps down for a cross breeze but the windows are covered in the sleeping areas and I imagine it can get stuffy and hot in the heat of summer. Fall was really an excellent time to visit, but it did get pretty chilly in the tent overnight. To warm up, there is an overhead heat lamp that operates on a timer that you can set for a maximum of about 40 minutes. Luckily there were extra blankets for bundling up.
Make sure you download and print my full glamping packing list before you go!
Amenities
Outside the tent, there was also a picnic table to enjoy meals al fresco, as well as a camp fire ring. You may want to bring along a picnic tablecloth if you plan on eating outside. I would also suggest bringing extra camp chairs if you need more than the two provided.
In addition to all the things to do nearby, from climbing Mount Washington to the mountain coaster and activities at Cranmore Mountain Resort, to outlet shopping in North Conway, there is plenty to do without leaving Huttopia.
As I mentioned, you can rent canoes and paddle boards to use at the lake. Reservations are taken at reception and I would recommend stopping by early in the day to reserve your time slot. There is also a nice playground for younger kids, a full basketball court, a sand volleyball court, and a sandy beach at the lake. In the game room, you will find a foosball table, ping pong, giant Jenga, and a TV/game console.
WiFi is not available at the tents, but there is decent cell coverage and WiFi at the reception tent. On the patio between the reception area and heated pool area, you will find the Airstream trailer food truck. They serve up coffee and an assortment of crepes in the morning. The crepes are delicious but they are also freshly made, which means you might have a bit of a wait, especially on busy weekend mornings.
In the evenings, they serve salads, pizzas, nachos, and a hummus plate. To keep our social distance, we prepared our dinners at the tent, but TripAdvisor reviews didn't give high marks to the pizza anyway. On Saturday evening during our stay, an Irish band played a two-hour set on the patio, which we enjoyed even from our campfire.
The camp shop also sells wine and local craft beers, firewood, and basic food items, including the makings for s'mores (but bring your own sticks!) I'd also recommend bringing a fire starter because the wood we bought (you can't bring in wood from out of state) was somehow wet even in a drought and it took a lot of work to get a fire going.
Bottom Line
We had a great time at Huttopia White Mountains. My husband, who is completely opposed to camping, actually loved it. The thing to keep in mind though is that Huttopia is very UTILITARIAN. I would call it effortless camping with a bathroom. Don't go expecting a luxurious glamping experience. You aren't going to find the beautifully decorated tents and large bathrooms of Under Canvas or luxury camps. If you want something more luxurious, try the luxury safari tent or Conestoga wagon at the KOA in Lincoln/Woodstock NH or one of these other 18 places to go glamping in New England.
All of my other glamping experiences had nicer beds and decor, but Huttopia offers some things that those tents didn't — a kitchen to start! If you require luxe accommodations, either skip Huttopia or at least go for the Chalet over a tent. If you love camping but don't want to deal with all the gear (and like a bathroom), you will be very happy with Huttopia.
Have the right expectations and you will have a great time. We would love to return next summer and reserve a campsite next to some friends. Anyone want to join us?
What to Know Before you Go
Book early! If traveling during summer months or holiday weekends, you will need to reserve your spot months in advance, especially if you want a prime location like a lakefront Trapper Tent.
Zip up your bags and store them on chairs or the beds to keep bugs (or possibly mice) out of them.
If you want to enjoy s'mores by the fire pit, bring along your own sticks, fire starter, and fireplace matches or a long lighter. You will also want some extra camp chairs, blankets, and a flashlight or headlamp.
Don't forget the bug spray, especially if you are traveling in the summer.
Fall is an amazing time to visit because it isn't as hot but keep in mind that the nights get chilly in the mountains and come prepared.
You need to strip the beds and bring the garbage and recycling to the dumpsters before checking out. You may want to bring a few extra garbage bags for recycling and to make daily runs to the trash receptacles to keep the cabin fresh.
Washing the dishes in the shallow sink is tricky and water tends to splash out. I would recommend bringing along paper towels to use for clean up around the cabin.
Huttopia provides a fresh sponge, dish soap, and a spray cleaner but you may also want a bar of soap for the kitchen sink.
In the bathroom, you will find a small shampoo, conditioner, and two small bars of soap — one for the shower and one for the sink — but if you are traveling with a family or for more than 1-2 days, you will want to also bring some of your own.
If you are a light sleeper, I'd recommend a set of ear plugs to block out noise from neighbors or the road.
What else do you want to know about Huttopia White Mountains?
Save this to Pinterest