The idea of lying in bed and staring up at the stars twinkling above as I peacefully drift off to sleep is very appealing. However, the thought of sleeping on the hard ground and schlepping to a campground bathroom in the middle of the night is most decidedly not a compelling option for me. This is why we have never gone camping. But on our mother-daughter midwest road trip, I decided to make my wannabe astronomer happy with some star gazing and fulfill her wish to try camping. We just did it Gruber-style by glamping at Under Canvas Mount Rushmore in the Black Hills of South Dakota.
Under Canvas offers luxury camping experiences outside of many U.S. National Parks including Glacier, Yellowstone, Zion, Bryce, Moab, Lake Powell, the Grand Canyon, Smoky Mountains, Acadia, and Mount Rushmore. Under Canvas operates somewhat like a normal campground, except the tents are already pitched for you.
They offer everything from simple teepees to suites with a king bed, pull-out queen couch, and an adjacent "hive" for larger families. In addition to the tents scattered throughout the property, like a canvas resort, there is also a main tent that is home to the "lobby", restaurant, and central public areas. You really have to think of it like a hotel where the rooms just happen to be tents.
My friend Kim has stayed in two of their campgrounds and from our conversations, I can tell that each one is different with some plusses and minuses. For those considering a stay on their South Dakota road trip, I wanted to do a detailed Under Canvas Mount Rushmore review, so you know exactly what to expect during your stay.
Just keep in mind that just because these are tents, doesn't mean they are cheap. Glamping means "glamorous camping" and Under Canvas is a luxury experience. In fact, it was our biggest splurge on our two-week trip. But it is a special experience that made it worth the expense, at least for a night or two. But I'm not sure I would want to do longer than two nights anyway!

Under Canvas Mount Rushmore Review
Location
Under Canvas Mount Rushmore is located in Keystone, South Dakota. It is about a 10-15 minute drive to Mount Rushmore National Memorial. Since it is a campground, it is set a few minutes outside of town up a bumpy dirt road that forks in various spots. There are small signs to dot the way, but I decided to not risk finding my way after dark so we ended up eating on-site each night (also to avoid all the bikers in town for the Sturgis Motorcycle Rally.)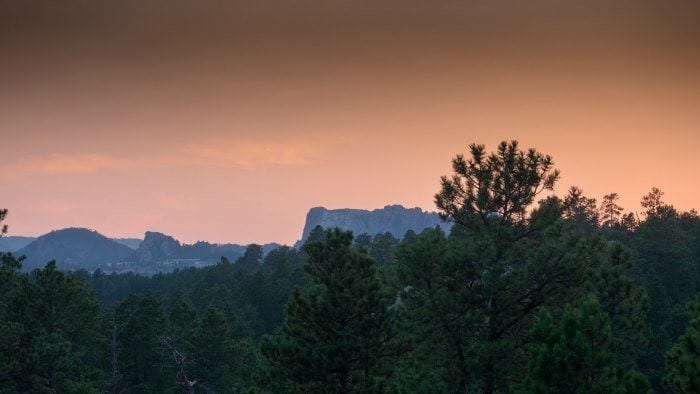 They market the location as having a view of Mount Rushmore, and it does. But you have to realize it is a very distant view. One night we decided to join others on the deck outside of the main tent to watch the evening lighting ceremony. We waited in the dark and then all of the sudden, there was light in the distance. Sort of like a distant billboard that was just illuminated. You know it is there, but you can't quite make out what it says. And you definitely won't hear any of the music that goes with the nightly lighting ceremony.
However, the location is just fine and conveniently located in the Central Black Hills. (Be sure to also check out my post on things to do in the Black Hills.)The tents are spread out throughout the grounds and they are spaced close enough that you can hear conversations but not so close that you feel like they are in the next room.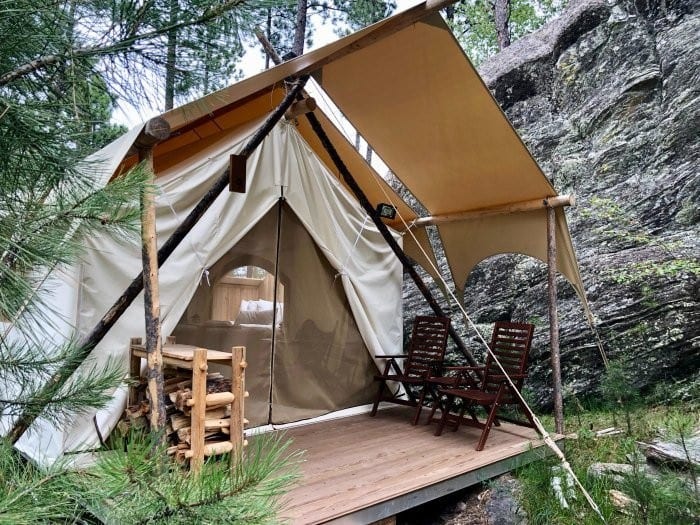 There is parking in various areas and, after check-in, the team will show you to your tent via golf cart and carry your bags up the path from the nearest campground "road." We were in tent number nine, a Stargazer Tent, within easy walking distance to the main tent and parking. It was the last tent on that path, probably to offer less light pollution for stargazing.
There are warnings about mountain lions and rattlesnakes. However, the only wildlife we saw were the chipmunks that liked to hang out on our porch, the squirrel who stared down at us through our Stargazer canopy, and two deer that were grazing in the woods near our tent.
Stargazer Tent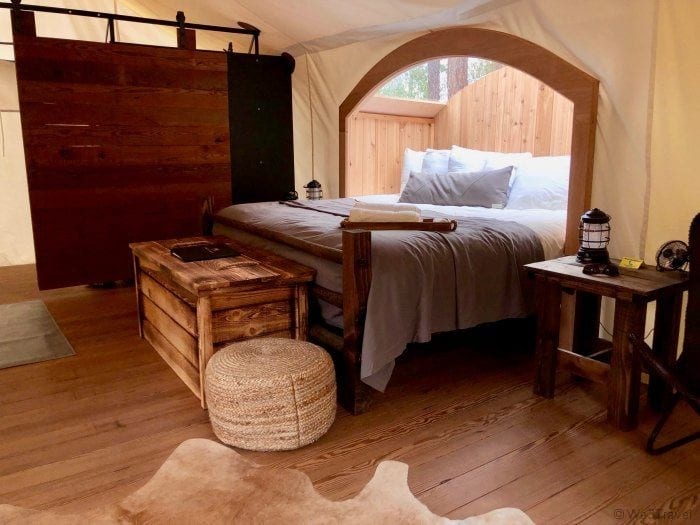 Our Stargazer Tent exceeded my expectations. There was a small porch out front and the inside was very spacious and so stylish. It really looked like something out of a magazine or luxury safari brochure. The tent zippers shut, with either netting to let the air through, or you can close the flaps for privacy. The zippers do not lock so you probably don't want to leave anything too valuable in your tent.
On the side and in the bathroom (yes, I said bathroom!), there are windows with flaps. It can get quite hot when everything is shut up during the day but if you leave the windows and front flaps open, you can get some nice air circulation.
And evenings can get a little chilly so I would bring warm, comfortable pajamas or loungewear. There is also a small wood stove in the tent, pre-laid with starter kindling and logs. I lit this one evening but didn't have a lot of luck keeping it going without the tent getting too smoky so I wondered if there was something malfunctioning with the chimney vent.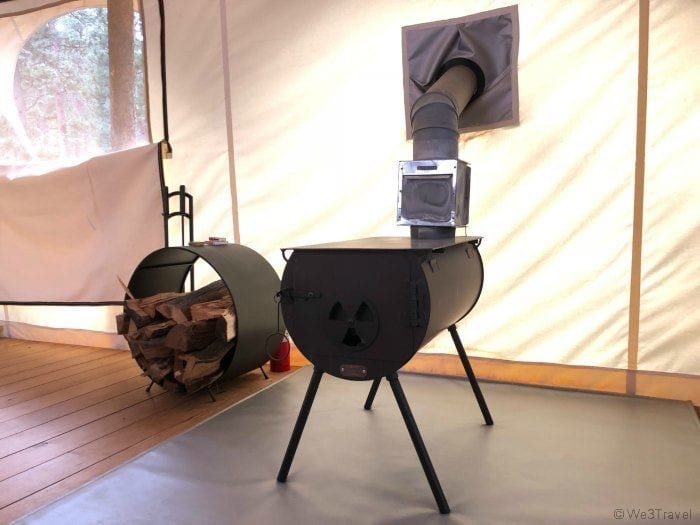 The Stargazer tent has a king-size bed, but there is also room for a rollaway or portable crib. Above the headboard and pillow area of the bed, there is a clear plastic arch so that you can rest in bed and look up at the stars. Unfortunately, when we were there it was cloudy and there was even a thunderstorm one night that has the sides of the tent rippling. But I did wake up in the middle of the night to glimpse a few stars as the clouds floated by.
There is a luggage rack, a trunk at the foot of the bed, nightstands on either side of the bed, and chairs in a sitting area. There is no electricity but they do supply USB charging lanterns and even a small USB fan. These plug into a battery power pack for charging. However, I would still recommend bringing a flashlight and an extra phone charging power pack just in case. (See my glamping packing list for more suggestions.)
The full-functioning bathroom is separated from the bedroom by a sliding barn door. There is another small lantern hanging over the sink that you can turn on in the night if you need some light.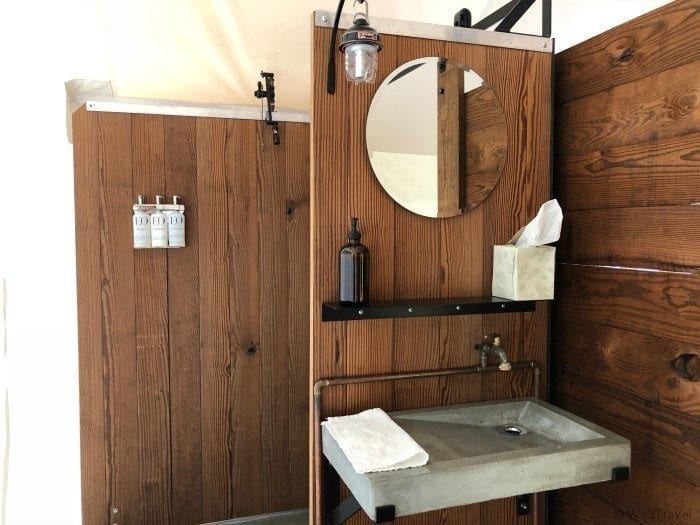 The sink is operated by a push lever and the large walk-in shower has running water when you pull a chain. So you won't be taking long, hot showers, and trying to shampoo your hair with the water running takes some maneuvering but I managed! The water is only one temperature, but we both found it warm enough (and we love hot showers.) Under Canvas even supplies hand soap, body wash, and conditioning shampoo.
On the other side of the bathroom is a fully working toilet with extra supplies. It really is just like walking into a hotel room with towels and amenities. Actually, the first day we returned to the tent after exploring, I was shocked to see that housekeeping had come to make up the room! I did not expect that type of hotel-level service.
Instead of telling you more, it is probably easier just to show you with this tent tour:

The only thing to be aware of is that it is still a tent. I had to kill a few spiders. And the one hanging over my face at night had me sleeping with one eye open for a while. After all, it is still camping, no matter how pretty and comfortable it was.
Since our stay, I have gotten really into glamping resorts in New England and the only one that really stood out above Under Canvas was Terramor Outdoor Resort near Acadia. But despite those small differences (electricity, regular running water, more resort amenities), I would happily stay at Under Canvas again when visiting National Parks and it probably provides a more authentic camping-like experience.
Dining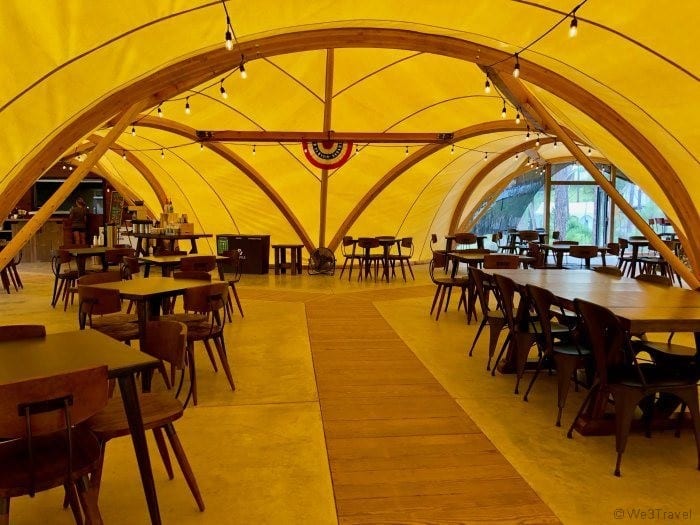 Not only was I relieved that Under Canvas offered breakfast, lunch, and dinner, I was surprised at how tasty it was!! You order at the counter (and can even pay with Apple Pay so you don't need to carry your wallet) and then they bring your order to your table when it is ready. Everything we had was delicious and not the boring, comfort food I would expect. It was comfort food, turned up a notch. The hamburger was delicious and worth the extra couple of bucks to not have to drive into town and fight the bikers for a parking spot and table.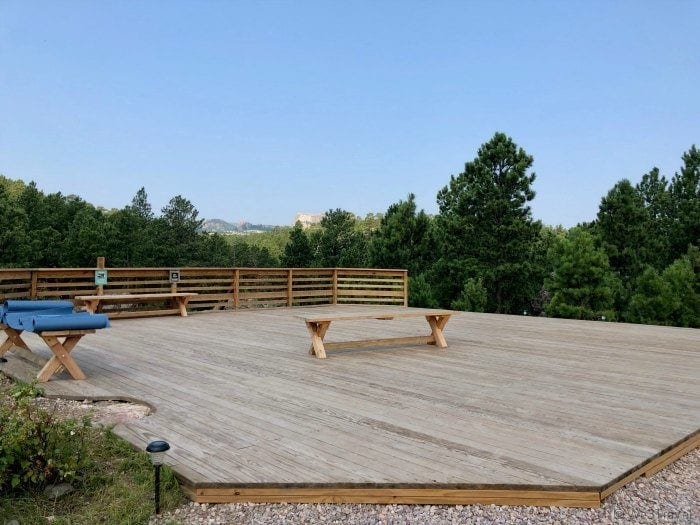 They even packed a box lunch for us on the day that we were checking out and heading to Badlands National Park (see my tips on visiting the Badlands and where to stay.) You just need to get your order in the night before and tell them what time you are picking up. They offer a nice selection of craft beers and wines by the glass or bottle. I'm not sure if they had cocktails or not. I ordered a bottle of wine when we checked in and they supplied and refilled my ice bucket so that it would keep for me while we were there.
Activities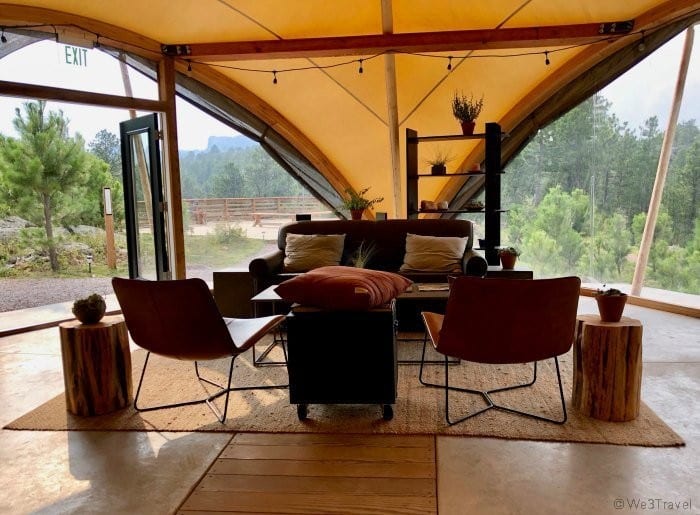 Unlike some camping resorts that have all kinds of amenities and activities, like pools, jumping pillows, and adventure courses, Under Canvas Mount Rushmore was a little more low-key. There was an area with disc golf and one fun swing near the main tent.
In the tent, you could borrow a number of board games. And outside every evening they offered complimentary s'mores by the campfire (while supplies lasted.) There was also the occasional yoga on the deck in the morning or Bingo at night, but structured activities were limited. It makes sense because there is plenty to do in the area but families should keep in mind that there isn't a playground or tons for small children to do.
We really loved our experience glamping at Under Canvas Mount Rushmore. It was a little pricier than I think it should be, so I wouldn't do it all the time, but for a special treat and unique experience, I thought it was worth it.
Bottom Line
We loved our stay at Under Canvas Mount Rushmore and it made me want to incorporate glamping into more of our family trips. It is the perfect way to try camping without committing to the full experience of renting/buying the gear, setting it up, and truly "roughing" it.
The decor and amenities of the Stargazer tent made us so comfortable it was almost like being in a hotel, but it was rustic enough (note the shower pull chain, spider appearances, and slightly nerve-wracking night during a thunderstorm) to feel authentic.
The real surprise was the amenities of the property. It felt much more resort-like than some RV parks that we have visited, where everyone seems to know each other and you feel a little like an outsider. Here, everyone was in the same boat and you could have casual conversations with other travelers as you would around a hotel pool or bar.
Tips for Visiting Under Canvas Mount Rushmore
Make sure your cell phones and back up battery chargers are fully charged before you arrive
Try to time your arrival so you get there before dark so that you can easily find your way and get the lay of the campground in the daylight
Bring back up battery packs
Pack an extra flashlight or headlamp for navigating in the tent if the lantern runs out of battery and finding your way around the campground
Keep all your bags zipped up to keep any unwelcome critters out
Budget to enjoy at least one meal at the campground
If you plan to go out to dinner or to an activity and return after dark, make sure you pay close attention to the drive in during the daylight so that it is easier to find your way after dark
PIN THIS FOR LATER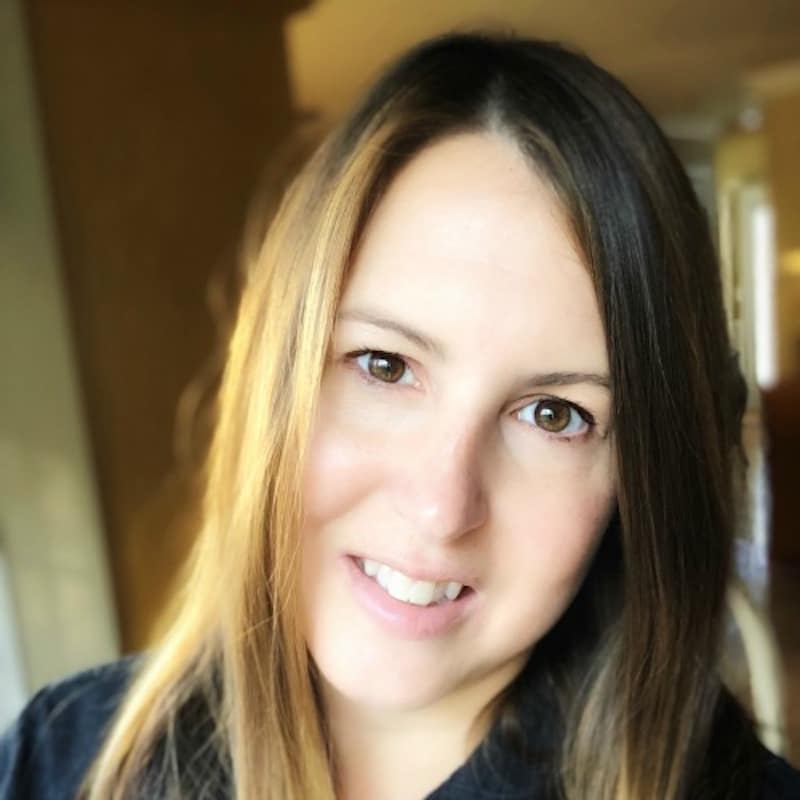 Tamara Gruber is the Founder and Publisher of We3Travel. A former marketing executive and travel advisor, Tamara is an award-winning travel writer and recognized expert in family travel. She is also the publisher of YourTimetoFly and the co-host of the Vacation Mavens travel podcast.