Glacier National Park in September is fabulous. The air is crisp, fall colors are starting to pop, and most importantly, the crowds are beginning to thin. But if you are thinking of visiting Glacier National Park this fall, there are also many things you need to keep in mind to properly prepare for your trip.
Before you book your trip to Glacier National Park in September, make sure you read these tips! And, don't just visit the park, be sure to try a few of these adventurous things to do near Glacier National Park too, or plan one of these Montana weekend getaways.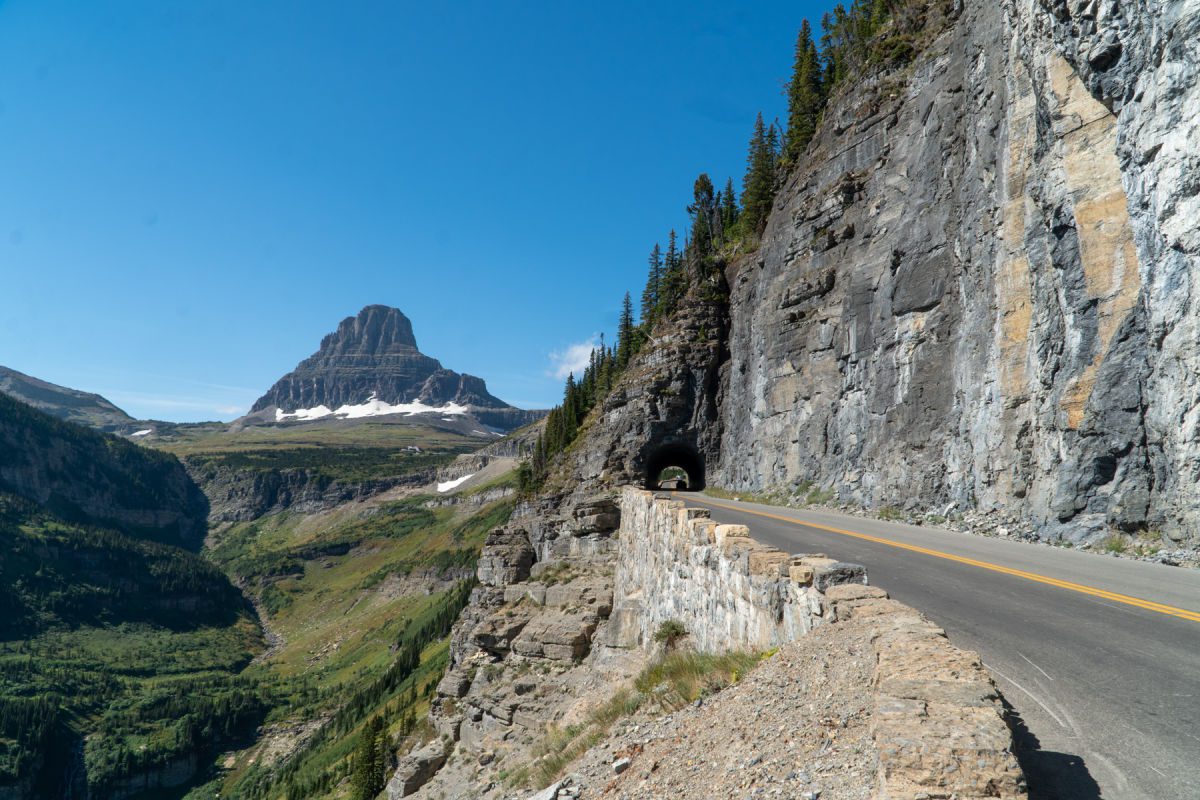 Visiting Glacier National Park in September
Note: This post may contain affiliate links. If you click a link and make a purchase, I may receive a small commission. All opinions are my own.
Mid-September is an ideal time to visit Glacier National Park if you are looking to enjoy most areas of the park without large crowds. Keep in mind that many parts of Glacier National Park are closed from fall through late spring, as the Going-to-the-Sun Road often doesn't fully open until late June.
Many of the lodges and services begin to shut down by mid- to late-September, and Going-to-the-Sun Road closes by mid- to late-October, depending on the weather. This makes September a true sweet spot for visiting Glacier National Park, especially when the Aspen and Larch trees start to show their beautiful golden hues. But you still need to be prepared!
If you need help planning a trip to Glacier National Park, my friend Bryanna has put together a terrific Glacier National Park Guide with 39 pages of stop-by-stop instructions, hiking options by difficulty level, dining recommendations, and insider tips. It even includes an alternate RV itinerary for RVers!
1. Know if you need vehicle reservations
You have probably heard that you need vehicle reservations to visit many parts of Glacier National Park during the summer. In 2023, a vehicle reservation is required for the following areas of the park: Going-to-the-Sun Road, the North Fork, Two Medicine, and Many Glacier. However, each location has different requirements and requires a separate reservation.
The good news is that reservations are not required after September 10, 2023! But if you are visiting in early September, keep the following in mind:
A Going-to-the-Sun Road reservation is required for vehicles entering through the West entrance from May 26 through September 10, 2023, from 6 am to 3 pm and those entering through the St. Mary entrance from July 1 through September 10, 2023, from 6 am to 3 pm The section of the road that requires reservations is from the West Entrance Station, Camas Entrance Station, and the Rising Sun checkpoint located 6 miles west of the St. Mary Entrance. Reservations are good for three consecutive days.
Vehicle reservations can be made at Recreation.gov for $2.00.
Reservations will be available approximately 120 days in advance, using a block-release system starting at 8 am Mountain Time on February 1, 2023, for Going-to-the-Sun Road reservations for May 26 through June 30, 2023. The next block will be released on March 1, 2023, for reservations for July 1 through July 31, 2023. The third block will be on April 1, 2023, for reservations from August 1 through August 31 and the final block will be available on May 1, 2023, for reservations will be available for all areas for September 1 through September 10, 2023. Any remaining vehicle reservations will be released on a rolling basis at 8 am, 24 hours in advance.
Reservations are required if you have a lodging, camping, or commercial tour reservation within the park.
A park pass is required in addition to vehicle reservations. You can purchase a daily Glacier Pass at the gate ($35 for vehicles) or buy an America the Beautiful Annual National Park Pass.
North Fork vehicle reservations, which include the area in the northwest corner of the park and all points east of the Polebridge Entrance Station, are required from May 26 through September 10, 2023, from 6 am to 3 pm. These reservations are valid for one day.
Reservations for Many Glacier Valley and Two Medicine Valley are required from July 1 through September 10, 2023, from 6 am to 3 pm, and are valid for one day.
If you are visiting Glacier National Park before September 11th, make sure you set a reminder to log in to Recreation.gov as soon as reservations open for your visitation date. There is always more demand than availability, and reservations fill up in a matter of minutes.
So while it is tempting to wait until after September 10th, when you no longer need to worry about the challenge of getting a vehicle reservation, just keep in mind that many people have the same thought and the park will be quite busy in the days following the end of required reservations.
2. Utilize alternate transportation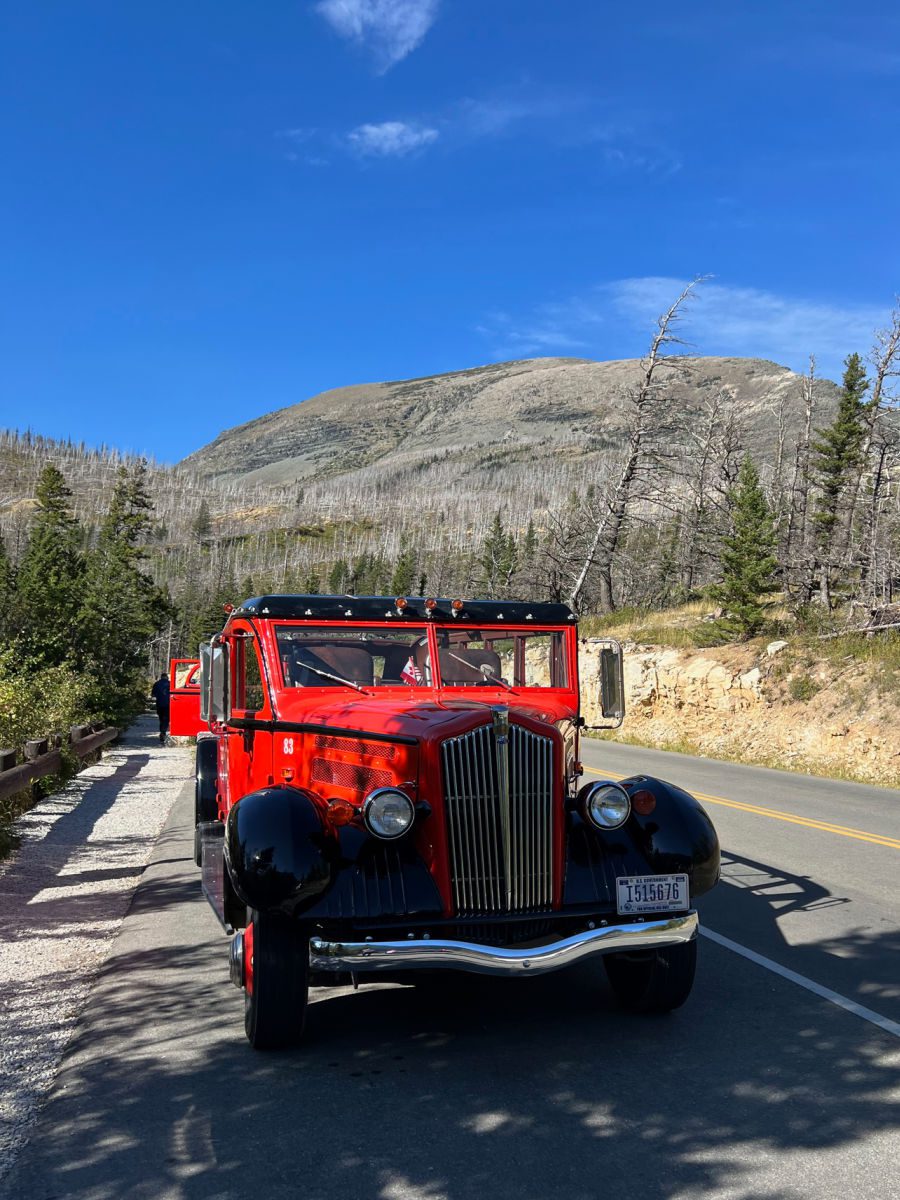 If you are planning on visiting Glacier National Park in early September and you are not able to secure a vehicle reservation, there are still other ways to enjoy the park. First, you can hop on the free park shuttle that makes stops on Going-to-the-Sun Road.
Just keep in mind that the shuttle only operates on a limited schedule from Labor Day to mid-September and space is available on a first-come, first-served basis. If you utilize this option, you will want to get to the park early and plan on packing your patience as you may end up waiting to find an available spot on the shuttle at the various stops.
Another way to explore the park without driving yourself is to book an official bus tour. Xanterra operates the famous Red Bus Tours utilizing vintage 1930s red buses with rolltop convertible tops. These popular tours sell out early and each of the 33 buses seats 17 people, with 4 across bench seating.
Sun Tours also offers interpretive tours that highlight Blackfeet culture. There are half-day or full-day tours that operate daily on each side of the park on air-conditioned 25-passenger window coaches.
3. Visit midweek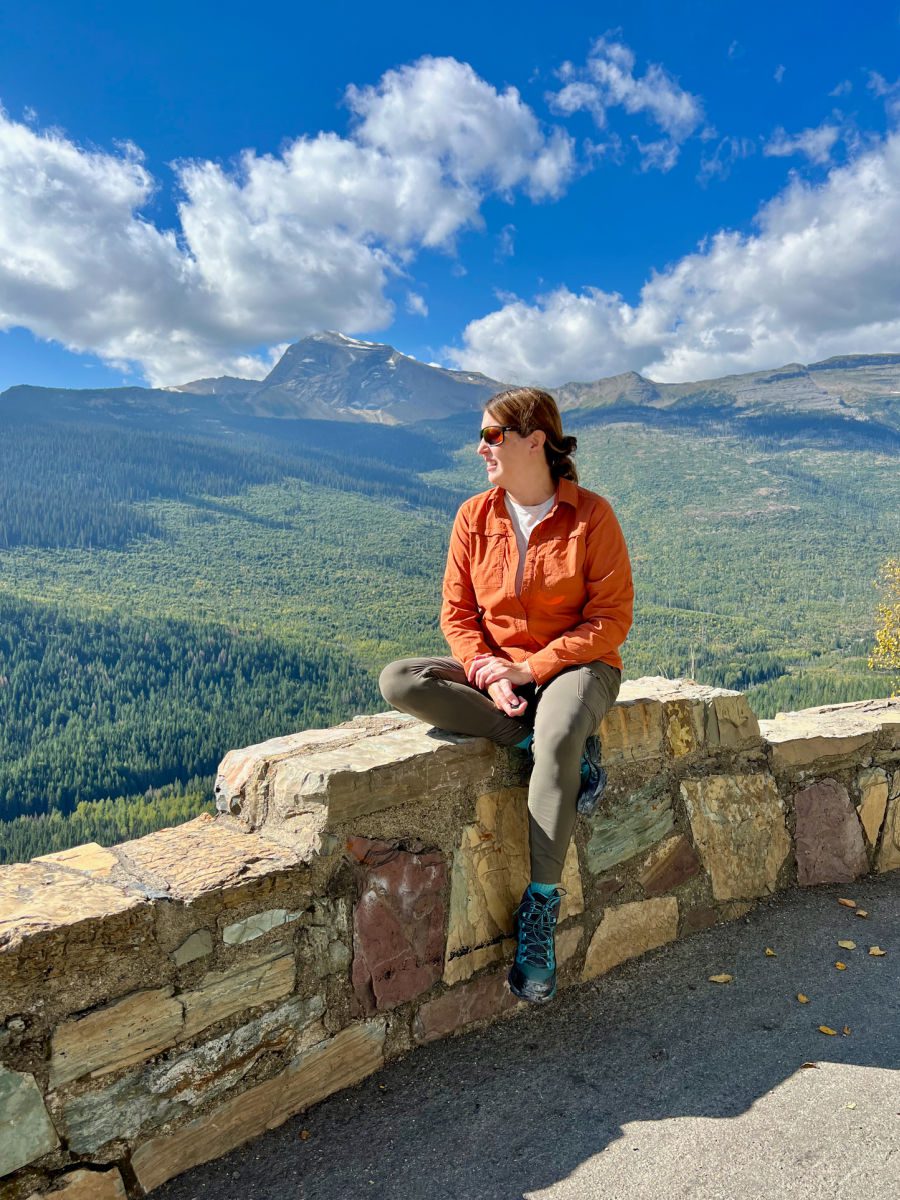 While the crowd levels really drop off in September compared to mid-summer, Glacier National Park remains one of the busiest parks in the country. If you want to avoid crowds, it is best to visit during the week and try some of these things to do outside of Glacier National Park, or spend time in nearby Whitefish or Kalispell on the weekend.
4. Go early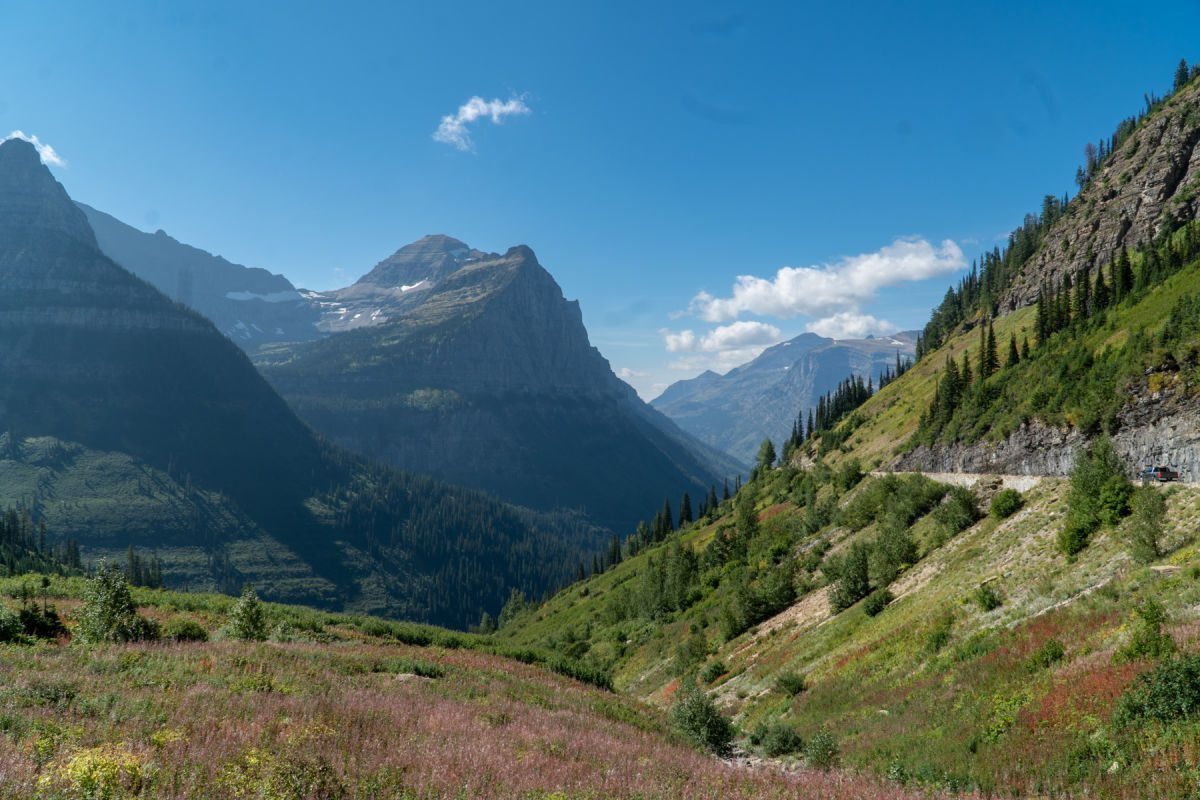 Like many national parks, the parking lots at popular trailheads fill up very early. If you want to beat the crowds, you need to be the early bird that gets the worm. Certain destinations such as Logan Pass and Avalanche Creek begin filling up before sunrise and remain busy for most of the day. In September, you may still be able to find parking spots for the Highline Trail or Trail of the Cedars if you get there before 8 am.
However, you need to be prepared to spend time looking for an available parking spot. Unfortunately, when it is very busy, they won't even let you circle the lot waiting for someone to leave and they close the parking lot entirely.
Keep in mind that some of the most popular hikes in the park, such as Grinnell Glacier, the Highline Trail, and Avalanche Lake, all average hundreds of hikers per day. So even if you can secure a parking spot, some trails might get a little congested during the busiest hours in midday.
5. Lodges and restaurants start closing down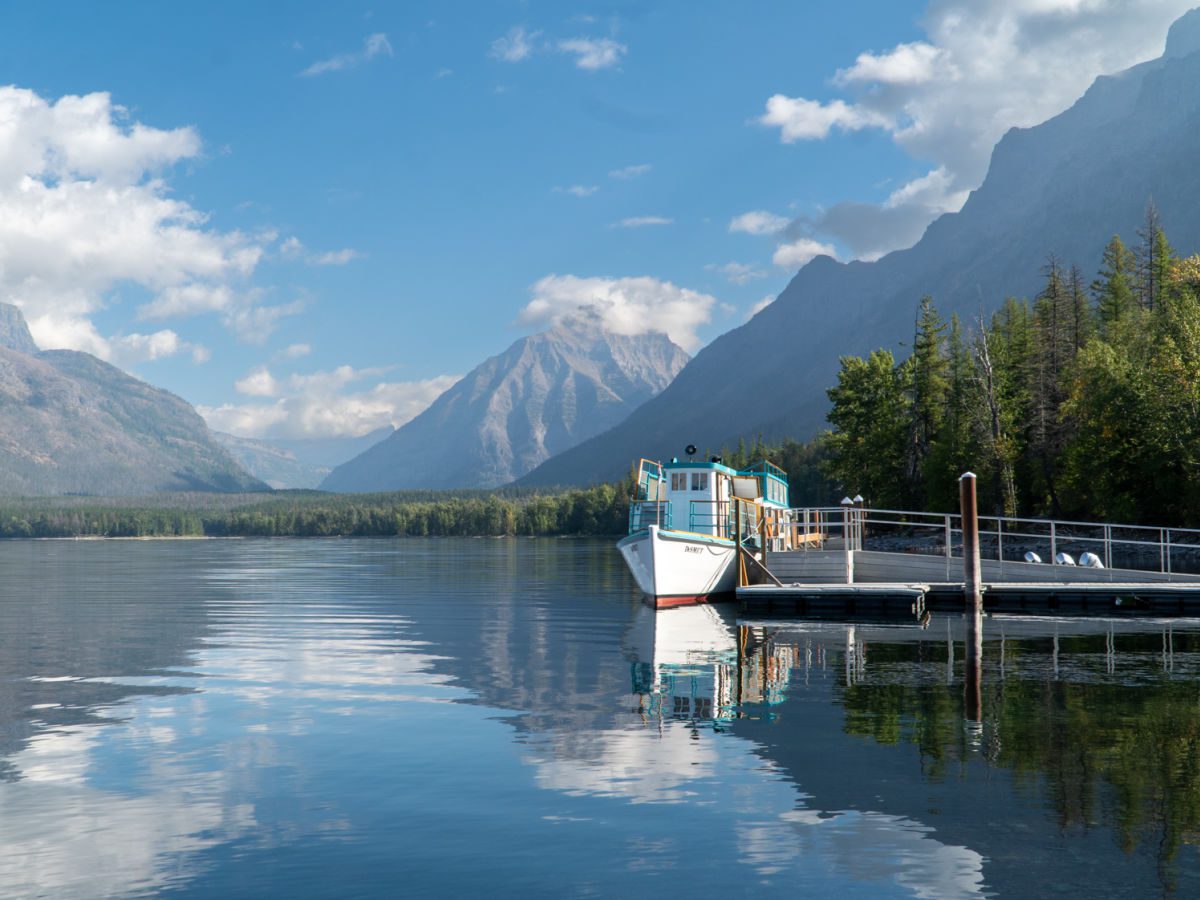 In September, the park lodges and restaurants begin shutting down so fewer services are available throughout the park. By late September to early October, the visitor centers also close, although the bathrooms at the Apgar Visitor Center stay open year-round.
This means visitors need to be well-prepared and self-sufficient, bringing their own food and necessities. If you visit in mid-September, you will likely still find food at Eddie's Cafe at Apgar and Jammer Joe's Pizza at Lake McDonald Lodge (but hours may be limited.)
When it comes to lodging, you will have better luck staying inside the park if you visit in the first half of September. Otherwise, the lodges close by late September:
Lake McDonald Lodge closes on September 20th
Swiftcurrent Motor Inn and Cabins closes on September 10th
Many Glacier Hotel closes on September 12th
Rising Sun Motor Inn and Cabins closes on September 6th
The Village Inn closes on September 25th
6. Beware of bears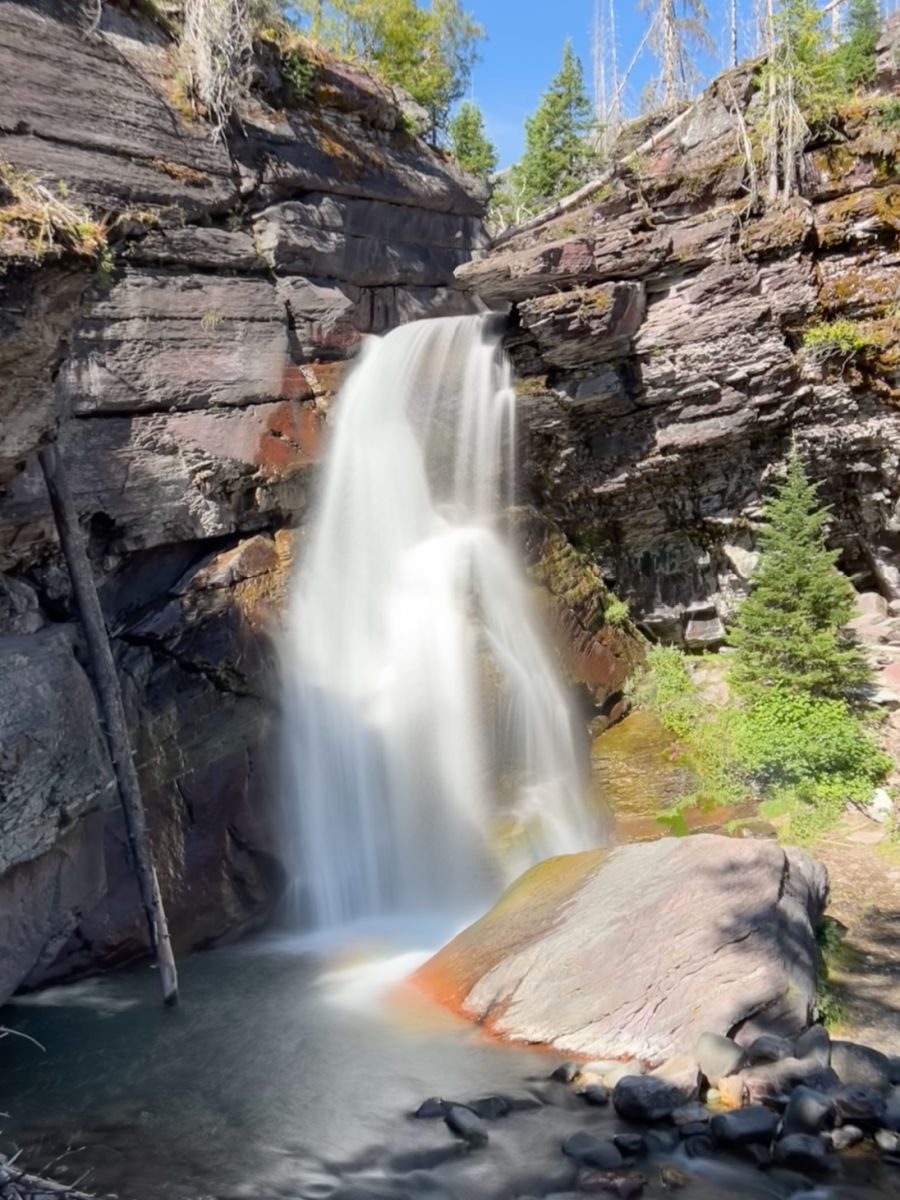 In September, the wildlife knows that winter is coming and they start to spend more time foraging for food as they prepare to enter hibernation. The bears will be even more active and the elk will be in rutting season from mid-September to mid-October.
This means that you need to be even more careful when around wildlife. Do not approach wildlife or try to feed them. It is best to only observe wildlife through binoculars or a telephoto camera lens. You should also carry bear spray and hike in groups. When it is open, you can purchase bear spray at the Apgar Visitor Center or rent it at the Apgar Campground (and return it at the end of the day.)
7. Be prepared for changing weather
When I visited Glacier National Park in mid-September, the weather was beautiful with sunny days and temperatures reaching 70 at lower elevations. However, it has been known to snow or sleet in September in Glacier National Park too. You need to be prepared for variable temperatures in different sections of the park and weather changes throughout the day. The best way to do this is by dressing in layers and packing rain gear.
8. Bring a picnic
Since many of the lodges and restaurants close during September in Glacier National Park, it is best if you bring along a picnic for your day. There are many places along the Going-to-the-Sun Road and at other sections of the park to stop and enjoy a picnic while taking in the view. Just remember to observe the principles of Leave No Trace and bring along a trash bag to carry everything out, don't leave food where it could be eaten by wild animals, and make sure nothing blows away while you are eating.
9. Gas up before you go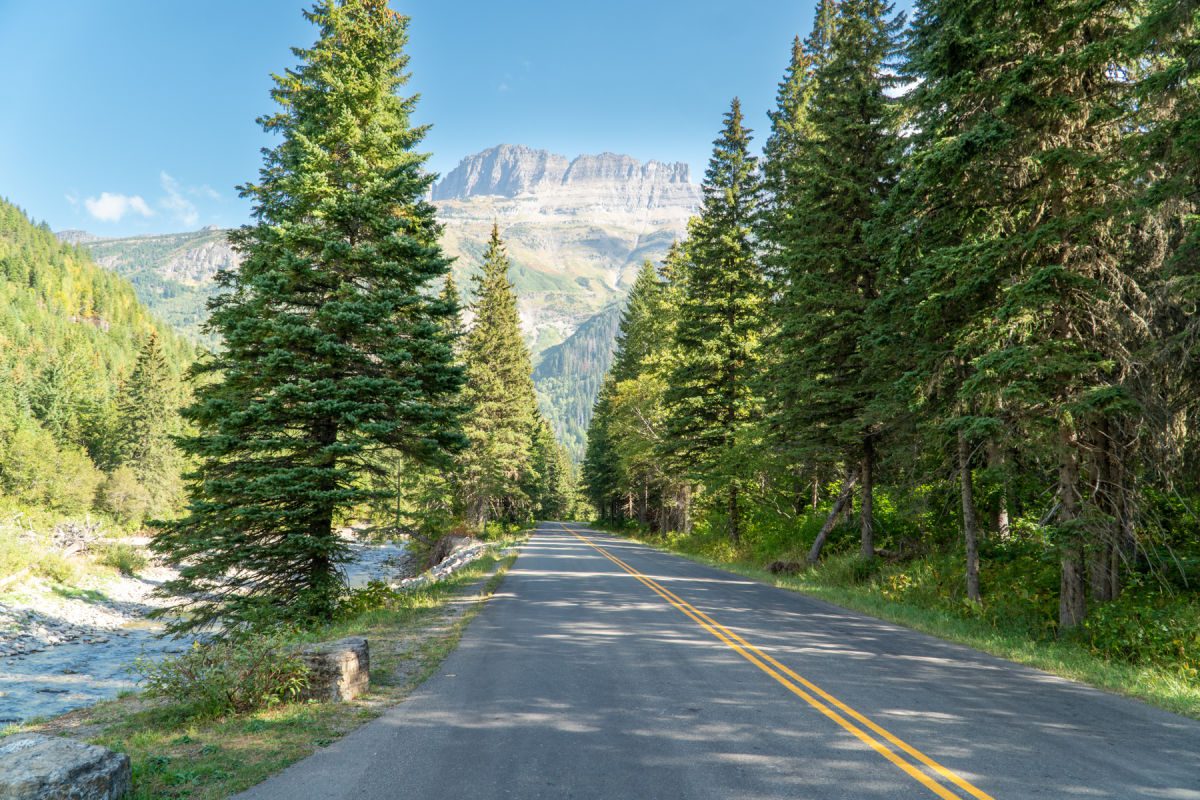 There are not any gas stations inside of Glacier National Park and driving through the park may take more gas than you expect as you are climbing mountains and driving at a slow speed with stop-and-go traffic at points due to congestion. Make sure you gas up before entering the park at the service stations in West Glacier or St. Marys.
10. Book your car and lodging early
Since Glacier National Park is so popular, and since many of the in-park lodges close in early September, it is best to book your accommodations well in advance. I would recommend shooting for one year in advance if you hope to stay inside of the park, but you can always keep checking back to search for cancellations.
If you are planning on spending multiple days in the park, you will probably want to break up your stay into two locations to make it easier to get out for those early morning hikes. Try to spend 1-2 days in Apgar or Lake McDonald and 1-2 days in Many Glacier.
Lodging in the areas directly outside of the park also may book up a few months in advance, even in September. If you are having trouble finding accommodations, there are many large chain hotels in Kalispell.
I would also recommend booking your rental car early. While car rental shortages are easing, there is still a limited inventory and you don't want to be left short.
11. Pick up a park map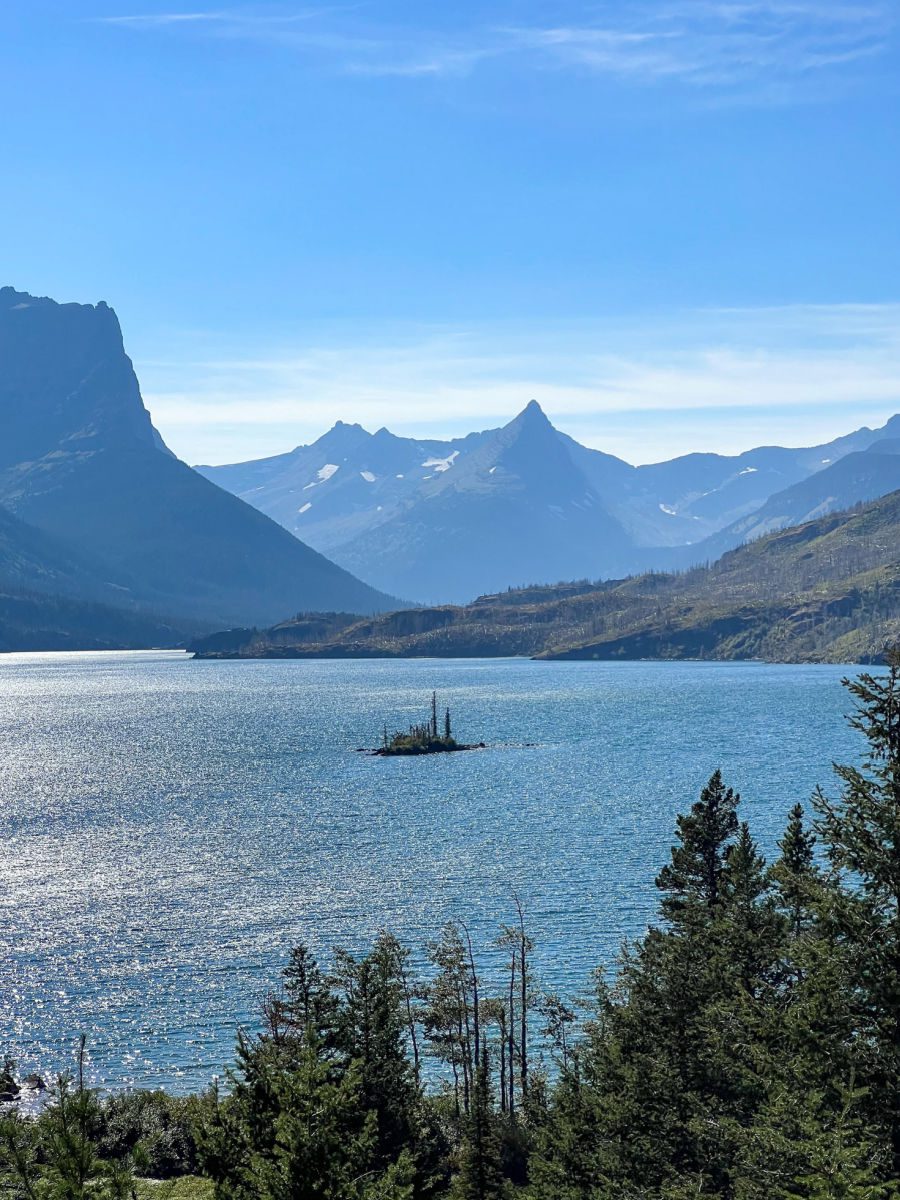 When visiting a National Park, I always recommend picking up a park map at the gate and stopping at the Visitor Center to talk to the Park Rangers who can make recommendations on how to spend your day. The Park Rangers can alert you to bear activity and the best hikes and viewpoints for your desired activity level.
It is also helpful to have a map to track your progress along the Going-to-the-Sun Road and make sure that you don't miss the highlights.
12. Be prepared for little to no cell service
Once you enter the park, you will have very limited cell service. The nice part of that is that you won't have anything to distract you from the beautiful surroundings. The downside is that you won't be able to get in touch with anyone in case of an emergency. If you are hiking or heading to some of the lesser-visited areas, such as the lonely, bumpy gravel road into Two Medicine, you may want to consider bringing a portable GPS locator such as the Garmin InReach device.
13. See the fall colors
The trees in Glacier National Park start to change by mid to late September. The beautiful Western Larch trees, which turn a beautiful yellow before the needles drop, are the last to turn by mid-October. A good spot to see the larch trees is along Highway 2, which runs along the southern border of the park.
14. What to wear in Glacier National Park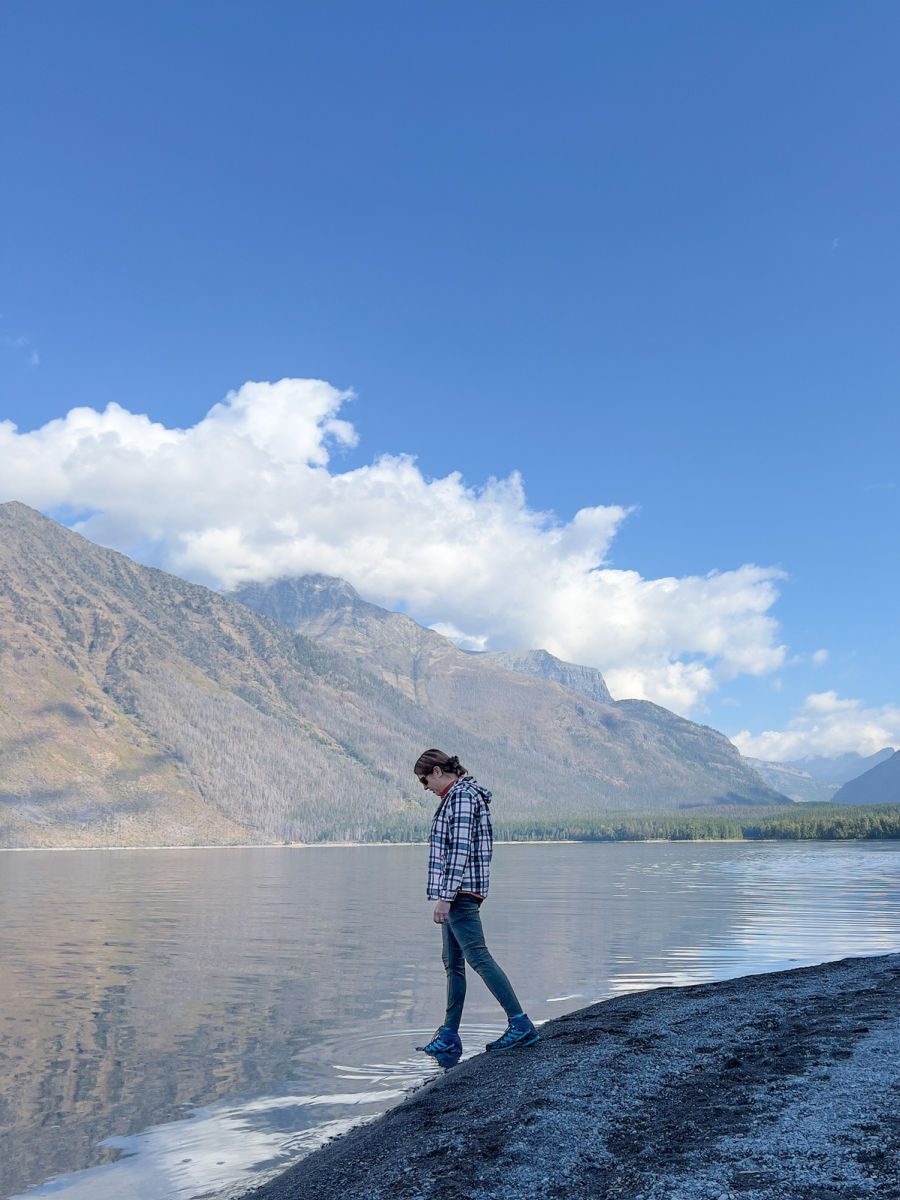 As I mentioned previously, it is important to dress in layers when you are visiting Glacier National Park in September. I would recommend:
Waterproof hiking boots (I love my La Sportivas)
Wool hiking socks (I always use Darn Tough Socks)
Quick-drying hiking pants
A sweat-wicking t-shirt
Long-sleeve button-up hiking shirt
Thin fleece
Waterproof shell or light puffer coat
Sun hat or baseball cap
15. What to pack in your day pack
Make sure you are prepared for your days in Glacier National Park by packing the following, especially if you plan on doing any hikes:
Bear spray
Water
Snacks
Emergency kit
Raingear
Warm hat
Thin gloves
Bug spray
Sunscreen
Lip balm
Tissues
Sanitizer
Trekking poles (I love my Black Diamond trekking poles)
GPS tracker
Compass
Battery backup
Headlamp
Camera or phone
16. How to get to Glacier National Park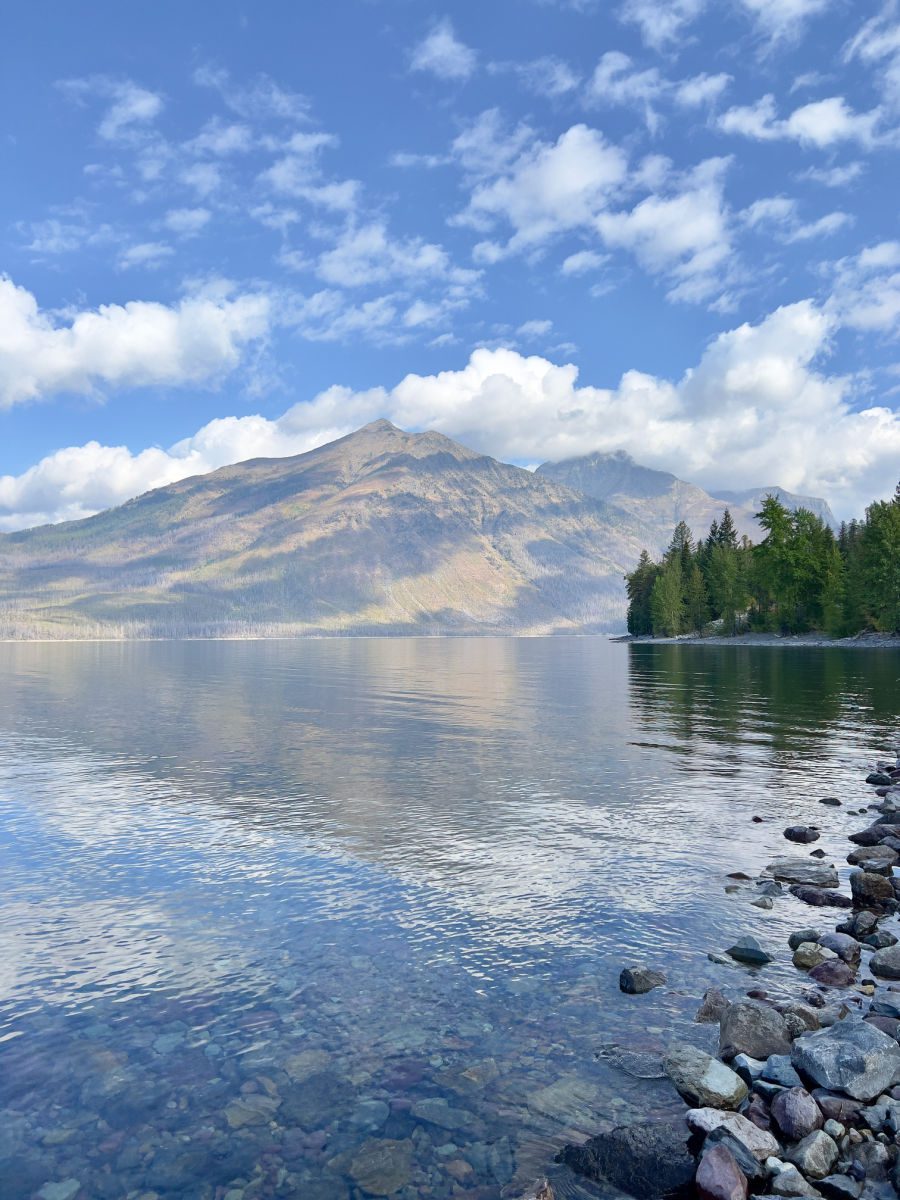 Glacier National Park is in Northwestern Montana, abutting the border with Canada and bridging the Continental Divide. The closest airport to Glacier National Park is Glacier Park Airport (FCA) near Kalispell, which is 40 minutes south of the park. However, it may be easier to find more affordable flight options to Missoula Montana Airport (MSO), which is about 2.75 hours to the south.
You will want to rent a car when visiting Glacier National Park. Even if you can't get vehicle reservations within the park, you will want to have a car to get to restaurants and other attractions.
17. Where to stay near Glacier National Park
If you can't get a room or campsite in Glacier National Park, there are many great places to stay near Glacier. For convenience, you will probably want to focus your search on the area around West Glacier. If you are willing to drive a little further, I had a good stay at the Homewood Suites in Kalispell.
You are now all set to have a fabulous visit to Glacier National Park in September. If you are driving the Going-to-the-Sun Road and making a round trip from either West Glacier or St. Marys, be sure to leave yourself time to make the return trip. If you want to avoid the congestion on Going-to-the-Sun Road, you can loop back around the park. While this may take you just as long, you won't have any traffic to contend with. I hope you have a fantastic trip to Glacier National Park!
Save to Pinterest