Whether you have been binging Yellowstone and want to move there or you are just craving wide, open spaces, now is the time to plan a trip to Western Montana. Glacier Country in Northwestern Montana offers a perfect slice of nature's paradise with plenty of opportunities for outdoor adventures, cozy places to relax, and scenic drives that will make your Instagram followers envious. With plenty of space to explore, there are so many places for weekend getaways in Montana.
Glacier Country covers eight counties and millions of acres, giving endless opportunities to get away from it all. Whether you are seeking small-town charm, epic adventures, or off-the-beaten path solitude, you will find what you are looking for on a weekend getaway to Montana.
Getting to Western Montana is easier than you think, with dozens of direct flights to cities across the country to either Missoula (MSO) or Glacier Park (FCA) airport near Kalispell. It seems hard to imagine but in less than three hours you can ditch the smog of Los Angeles to breathe in the fresh mountain air of Montana.
My trip to Montana was sponsored by Glacier Country Tourism and I was compensated as part of a content campaign. This way my third trip to Montana and I love it more with each visit so trust me when I say that all opinions are my own.
Weekend getaways in Montana
Note: This post may contain affiliate links. If you click a link and make a purchase, I may receive a small commission. All opinions are my own.
If you need some inspiration to plan your weekend getaway to Montana, see which of these five destinations is the best fit for you.
1. Missoula, Montana: City Getaway
Home of the University of Montana, Missoula may be the second-largest city in Montana but it gives off welcoming, college-town vibes. From Grizzlies banners to funky thrift shops, Missoula may appeal to students but it also makes a perfect spot for a grown-up weekend trip.
Where to stay: The Residence Inn Missoula Downtown is the perfect location to enjoy downtown. This stylish, modern hotel pays homage to its historical location on the site of the old Mercantile building while offering spacious suites and self-catering options that are perfect for families or friends.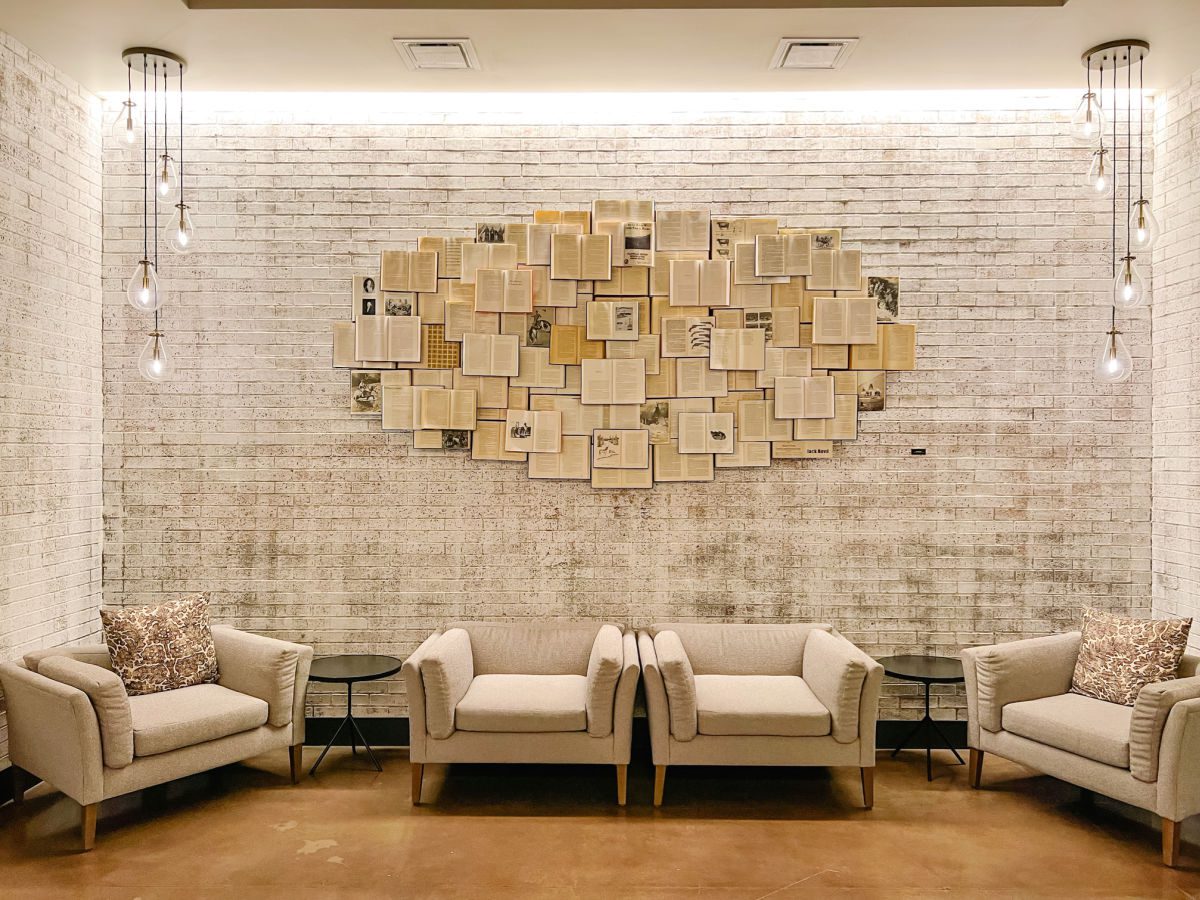 Where to eat and drink: It is no surprise that this college town offers a range of cuisines and budgets. For brunch, line up at The Catalyst. At lunch, grab a sandwich or salad to Market on Front, and for dinner, enjoy live music at The Top Hat or dine on French cuisine at Brasserie Porte Rouge. It is easy to satisfy your sweet tooth at Sweet Peaks Ice Cream or the massive treats at Mary's Mountain Cookies.
Raise a glass to celebrate your weekend getaway with handcrafted cocktails made from spirits that utilize grains grown on the family farm at Montgomery Distillery, or stop into one of Missoula's many breweries.
Things to do: It is easy to fill a weekend enjoying the boutiques and galleries in Downtown Missoula, but if you have the time, book a massage at Cedar Creek Salon and Day Spa or beauty treatment at Crafted Aesthetics. Squeeze in a workout at Sobba Cycle or book a class at Hot House Yoga. If visiting with kids, be sure to enjoy the Riverwalk and the Carousel for Missoula, along with the Historical Museum at Fort Missoula.
If you have a long weekend, you may want to explore a little further with a scenic drive along Route 200, a visit to the Garden of One Thousand Buddhas, a drive through the Bison Range, or a scenic soak at Quinn's Hot Springs Resort.
2. Big Fork, Montana: Small-Town Getaway
Located on the Northeast side of Flathead Lake, the largest freshwater lake west of the Mississippi in the lower 48 states, the town of Big Fork looks like a perfect setting for Netflix's romantic drama Virgin River. This postage-stamp-sized town offers amazing recreational options while still delivering on the small-town charm of a historic, waterfront village.
Where to stay: If you are ready for a splurge on a ranch experience, Flathead Lake Lodge fits the bill with all-inclusive activities such as horseback riding, mountain biking, basketball, tennis, fishing, beach volleyball, and more.
For luxurious comfort that is a bit more modest, the Bridge Street Cottages in town are the perfect pick offering spacious bathrooms and full kitchens. A quick walk to town and a short drive to many activities, this is a convenient spot for families, couples, friends, or even solo travelers.
Where to eat and drink: If you don't want to cook at the cottage, pick up breakfast or have lunch at Pocketstone Cafe in town. For drinks and dinner, walk into Flathead Lake Brewing Company in town or take a short drive down the lake for sunset drinks on the back deck at Raven Brew Pub & Grill. Then walk across the street to Bon Fire for cocktails and farm-to-table dining. Don't forget to try something made with Flathead cherries or local huckleberries!
Things to do: Rent kayaks or paddleboards to explore Flathead Lake, or better yet, charter a boat for a sunset boat tour of the lake (and don't forget to bring your own wine and cheese!) Beyond the lake, you will never forget a day of llama trekking with Swan Mountain Llama Trekking. This unique experience includes a five-mile out-and-back hike to a waterfall, including lunch. This unforgettable animal encounter is a great way to cap off a weekend getaway in Montana.
If llamas aren't your thing — first off, why not — you can also go horseback riding with Swan Mountain Outfitters. You can also kayak or canoe down the gentle and scenic Clearwater River Canoe Trail from Tamaracks Resort on Seeley Lake.
3. Kalispell, Montana: Glacier Getaway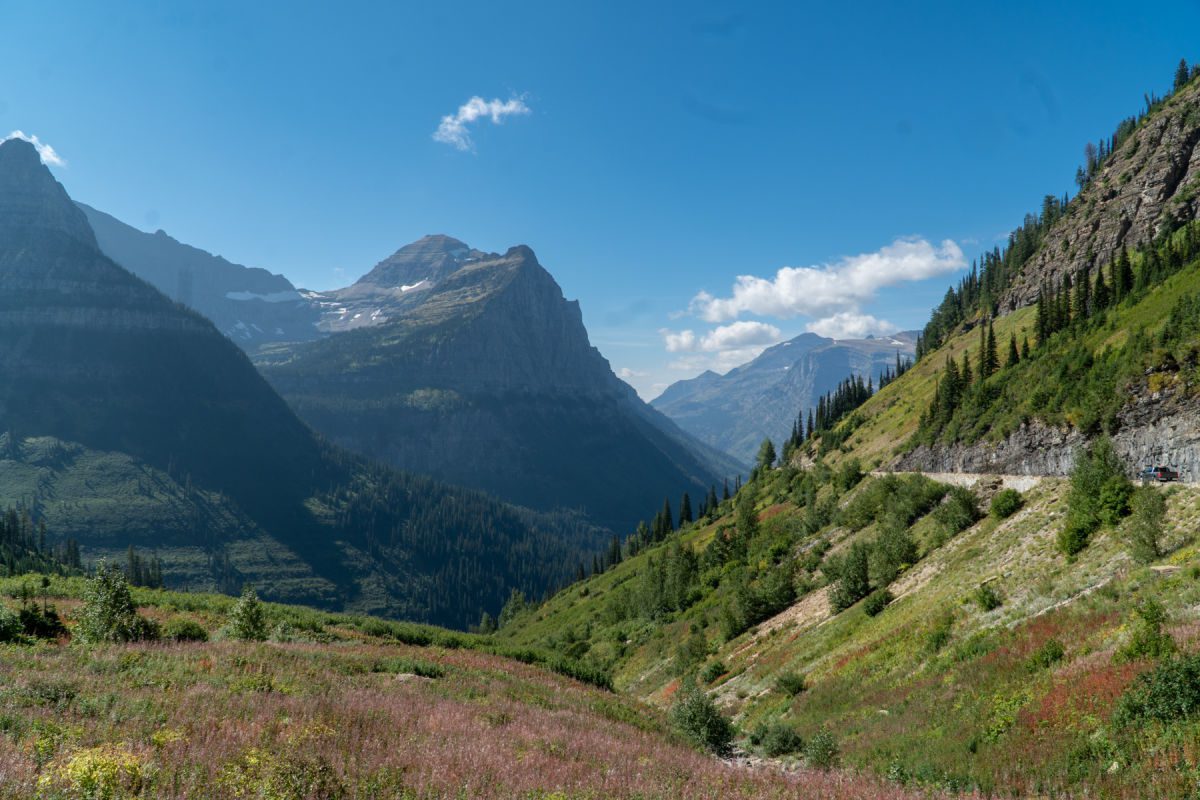 Kalispell is often thought of as a gateway to Glacier, but in reality, its prime location in Flathead Valley gives this small town easy access to Flathead Lake, Glacier National Park, Lone Pine State Park, and Flathead National Forest. It offers the perfect mix of western town amenities and outdoor adventures.
Where to stay: Kalispell offers big-town conveniences with small-town appeal. There are a number of affordable big-brand hotels that are ideal for reward points collectors, including the Homewood Suites by Hilton, which offers free breakfast, free parking, outdoor firepits, and fully-equipped kitchens. For something a little closer, see my recommendations on where to stay near Glacier National Park.
Where to eat and drink: The historic downtown Kalispell offers plenty of local food and drink options that avoid the chains near the hotels. Grab lunch at Wheat Montana Bakery & Deli or The Knead Café. Combine drinks and dinner at Alchemy Lounge, Bias Brewing, or Whitefish Distillery.
Things to do: Spend a little more time in town exploring the boutiques including The Toggery, Montana Scene, Rocky Mountain Outfitter, or Honey Home & Design. For western gear, don't miss a stop at the Western Outdoor Store.
With Kalispell just 45 minutes from the Apgar Visitor Center, a day trip to Glacier National Park is a must. Just keep in mind that visitors require reservations to drive the Going-to-the-Sun Road from when it opens through mid-September. Those reservations open 120 days in advance and are hard to come by, but park shuttles and Red Bus Tours are also an option. It is best to arrive at the park no later than 7 am if you want to find space at some of the trailheads for hiking (see the best hikes in Glacier National Park and tips for visiting Glacier National Park in September.)
See things to do in the Many Glacier section of Glacier National Park or things to do in Glacier National Park.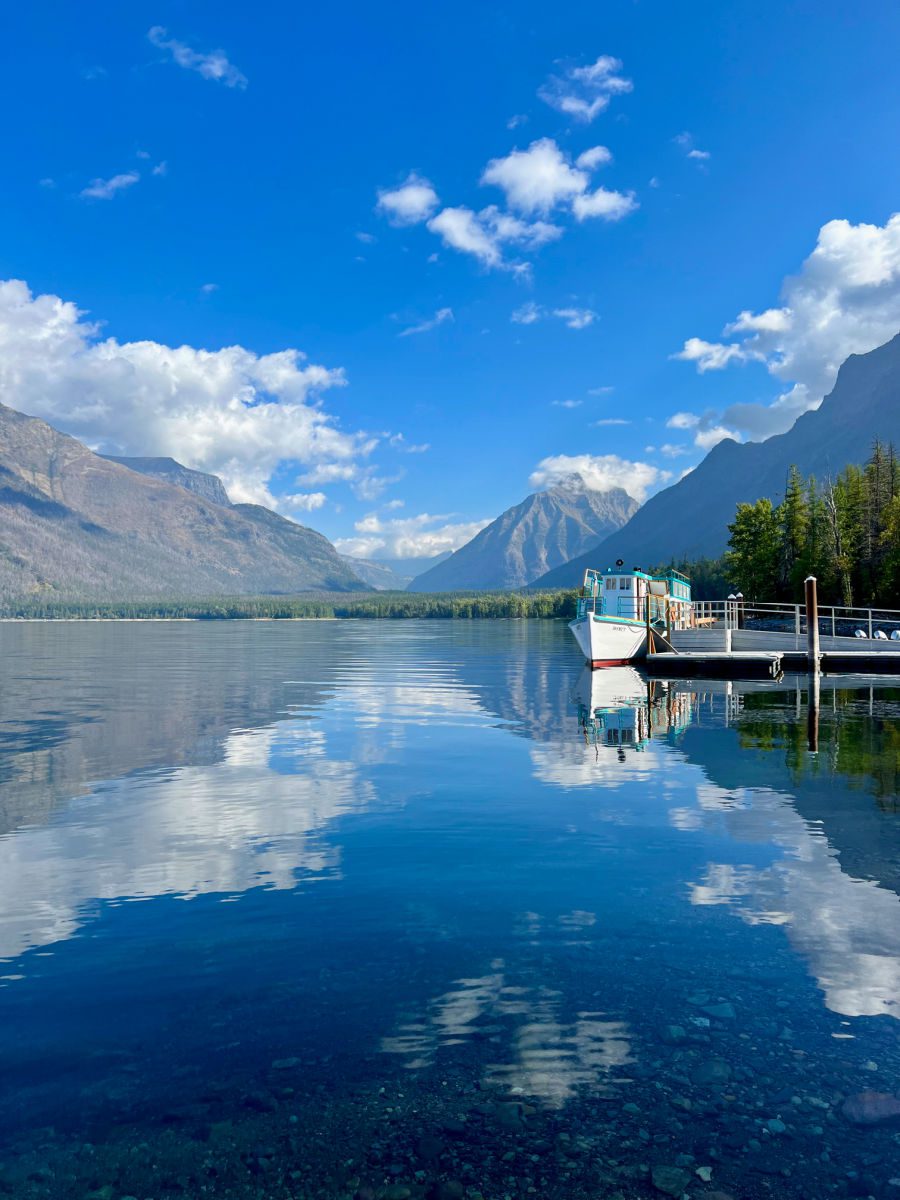 Those seeking adventure should try whitewater rafting with Glacier Guides, try your hand at fly fishing, or go hiking to Jewel Basin in Flathead National Forest.
4. Whitefish, Montana: Resort Town Getaway
The minute you pull into Whitefish, you can immediately tell it is a ski town, yet this resort town shines in all seasons. Just 15 minutes from Glacier Park airport and 30 minutes from the west entrance of Glacier National Park, this is a perfect spot to explore the Northern Rockies.
Where to stay: Whitefish offers plenty of lodging options, but expect to pay a pretty penny. Splurge for The Lodge at Whitefish Lake or stay downtown at the chic Firebrand Hotel. Major brands can also be found just outside of downtown Whitefish including TownPlace Suites and Hampton Inn.
Where to eat and drink: Grab breakfast at the Swift Creek Cafe, Amazing Crepes, or Huck's Place Ginger Brew or Juice Bar. Popular lunch spots are The Wich Haus and MacKenzie River Pizza Co. For dinner, enjoy some fine dining at Abruzzo Italian Kitchen or Tupelo Grill.
Things to do: Summer is bound to include visits to Glacier National Park (just be sure to follow the advice above), but there is also plenty of fun to be found on the mountain at the Aerial Adventure Park and the alpine slide at the Whitefish Mountain Resort. Get your exercise mountain biking on Whitefish or cycling the Whitefish Trail, rock climbing, horseback riding at Bar W Guest Ranch, or hiking in the Jewel Basin.
Winter brings downhill and Nordic skiing, snowshoeing, ice climbing, dog sledding, fat biking, and even sleigh rides. When you are ready to slow down, enjoy the Spa at Whitefish Lake or sign up for a yoga or pilates class in town.
5. The Lodge at Trout Creek: Relaxing Getaway
If your idea of a Montana weekend getaway is sitting around an amazing lodge and communing with nature and each other, book a stay at one of Montana's many lodges or guest ranches. The Lodge at Trout Creek is a 10,000-square-foot lodge located on 90 peaceful acres. There is a pond and 200 feet of Trout Creek on the property so guests can enjoy walks, along with sunset on the back deck or sunrise coffee overlooking the pond.
Located between Spokane, Washington, and Missoula, Montana, The Lodge at Trout Creek is perfect for those driving in from the Pacific Northwest. The lodge operates as a bed and breakfast with five private suites, which can be rented out individually or groups can take over the entire property. This is a perfect spot for a romantic getaway, family trip, or girlfriend getaway.
Guests aren't limited to their rooms, rather the lodge amenities and public spaces are theirs to enjoy, including the Eagle's Nest lookout tower, a guest kitchen, theater room, game/exercise room, and even a music room with a grand piano. You are sure to find a spot to read a book, enjoy a glass of wine, or chat with your companions.
Each day starts with a delicious and bountiful breakfast homecooked by the hostess Julie. You will feast on freshly-baked bear claws, omelets or frittatas, breakfast meats, potatoes, fruit, toast, and more.
Things to do: The main idea of a weekend getaway to The Trout Creek Lodge is relaxation. However, it would be a shame not to enjoy Western Montana's natural attractions. Take a day trip to the Ross Creek Cedars Scenic Area in Heron. Breathe in the fragrant cedar aroma of the trees and take a short stroll through the forest.
From there it is a short drive to Kootenai Falls and Suspension Bridge in Kootenai. Bring a picnic and enjoy the renewal of sitting by the river and listening to the sound of the rushing water. This gorgeous spot is worth the drive!
Remember to Recreate Responsibly
Montana's natural beauty attracts many visitors. To keep it as pure and lovely as it is, it is important to recreate responsibly when in Glacier Country. This is for your own safety and enjoyment, as well as those that follow you. A few principles to keep in mind include:
Make sure you know the rules before you go, especially those related to fire safety, avalanches, and wildlife interactions.
Leave no trace — make sure that you pack out everything that you pack in, stay on trails, and don't leave any marks (like carving into trees, building cairns, or taking out plants, rocks, etc.)
Avoid highly crowded areas to minimize your environmental impact.
Take care around wildlife by keeping your distance, staying in your car if possible, not leaving out any food, and carrying bear spray (and knowing how to use it.)
Tread lightly and stay on the trail when using motorized vehicles.
Inspect all watercraft to avoid transferring invasive species.
Be respectful of local communities and indigenous peoples.
Be patient and kind when dealing with service staff.
Make reservations well in advance for accommodations, activities, and dining.
Be flexible and willing and able to change your plans if needed due to weather, fire, road closures, or overcrowding.
Expect spotty cell service and limited access to gas stations so be prepared and let people know your plans for the day. Carrying a GPS like a Garmin inReach is helpful.
Bring appropriate clothing and gear with you when going out for the day including warm layers, rain gear, water, snacks, sunscreen, sunglasses, and bug spray.
Consider traveling in shoulder seasons, especially if you plan on visiting the National Park.