Of all the National Parks that I have visited, Glacier is one of the more challenging to plan, which makes choosing where to stay near Glacier National Park even more important. When you go, whether or not you are able to secure a permit to drive the Going-to-the-Sun Road, and what you want to do in the park all impact where you will want to stay.
You can also choose from a variety of lodging options. Do you want to go glamping? Stay in a tiny home? Rent a cabin? Relax at a resort with on-site activities? Are you working with a tight budget? Or do you want a classic experience at a historic hotel or lodge?
I've visited Glacier National Park a couple of times (see my tips for visiting Glacier in September) and have had the opportunity to stay in a number of hotels near Glacier and the most important thing I can tell you is that location matters!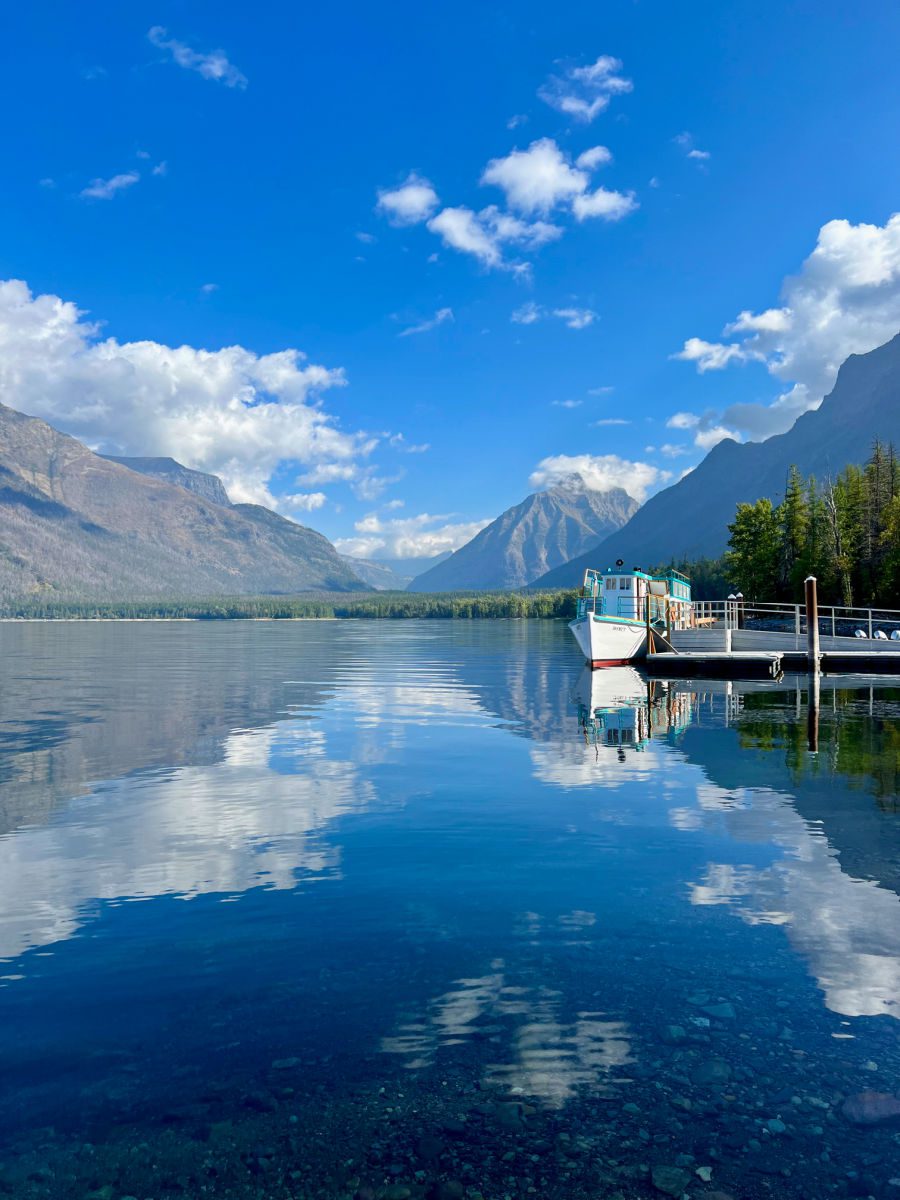 Choosing Where to Stay Near Glacier National Park
Before I get into hotel reviews, let's walk through a few decision factors to consider when you are looking for hotels near Glacier National Park. First, keep in mind that lodging within the park fills up very early, so here are things to keep in mind when deciding where to stay outside of Glacier National Park.
How Long SHould you Spend in Glacier National Park?
If all you want to do is drive the Going-to-the-Sun Road, you can actually visit Glacier National Park and see the most scenic highlights in one day. Just keep in mind that most facilities and services in Glacier National Park are only open from late May through early-to-mid October. The full length of Going-to-the-Sun is usually open from early July (it was mid-June in 2023, which was rare!) until the third Monday of October, but that can vary depending on weather.
If you are entering from the West side of the park, vehicle reservations are required from late May to mid-September between the hours of 6 am and 3 pm. From the East side, reservations are needed from July 1st through mid-September, also from 6 am to 3 pm.
If you want to do any hiking or scenic boat rides, you will probably want at least two days in the park. To explore some of the other sections of the park, like Two Medicine or Many Glacier on the East side of the park, you will want to stay even longer. If that is the case, I'd recommend spending one to two nights on the west side of the park and one to two nights on the east side of the park.
Since there is more to do in the area than just the national park, I'd suggest planning at least a week in Northwest Montana and splitting your time between staying in or near the park and a few days a little further away to try some of the other fun things to do near Glacier National Park.
Should you Stay on the East or West Side of Glacier National Park?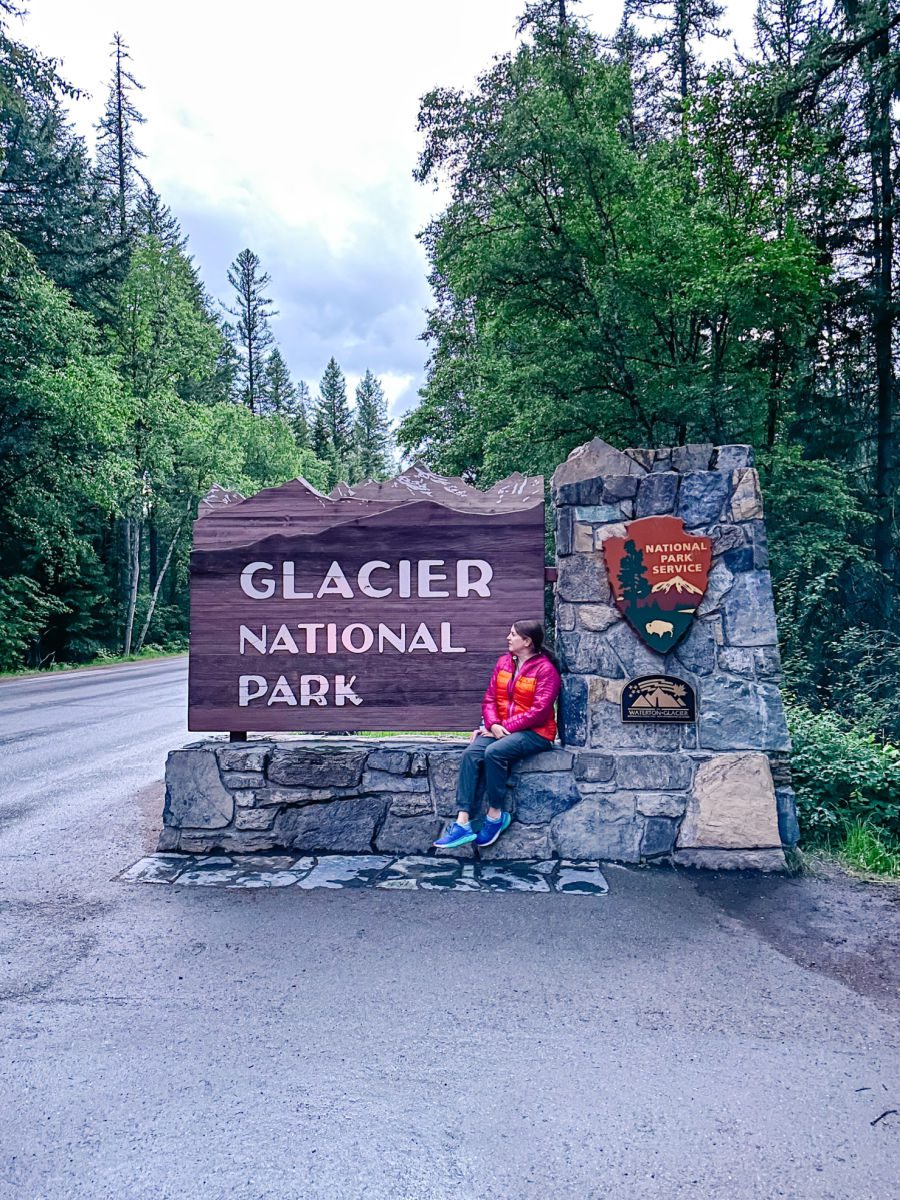 Going-to-the-Sun Road is the only thoroughfare through the park and while this takes less than three hours to drive straight through without stops, it isn't an easy drive. The other option is to loop around the southern section of the park to get from one side to the other, but that takes almost as long. If you only have a limited time in the park, the west side of the park has more to offer in terms of stunning scenery and services.
West Glacier is only 30 minutes from the Glacier International Airport in Kalispell and less than 40 minutes to the resort town of Whitefish. West Glacier has more options for lodging and food services. In addition, you can go white water rafting on the Flathead River from West Glacier Village with the Glacier Raft Company.
The east side of the park is more remote, but more convenient if you want to visit the other sections of the park like Two Medicine Lake and Many Glacier, which are only accessible from the east. As you can see, it is helpful if you can split your stay between the two sides to avoid a lot of extra driving.
What is the Best Time to Visit Glacier National Park?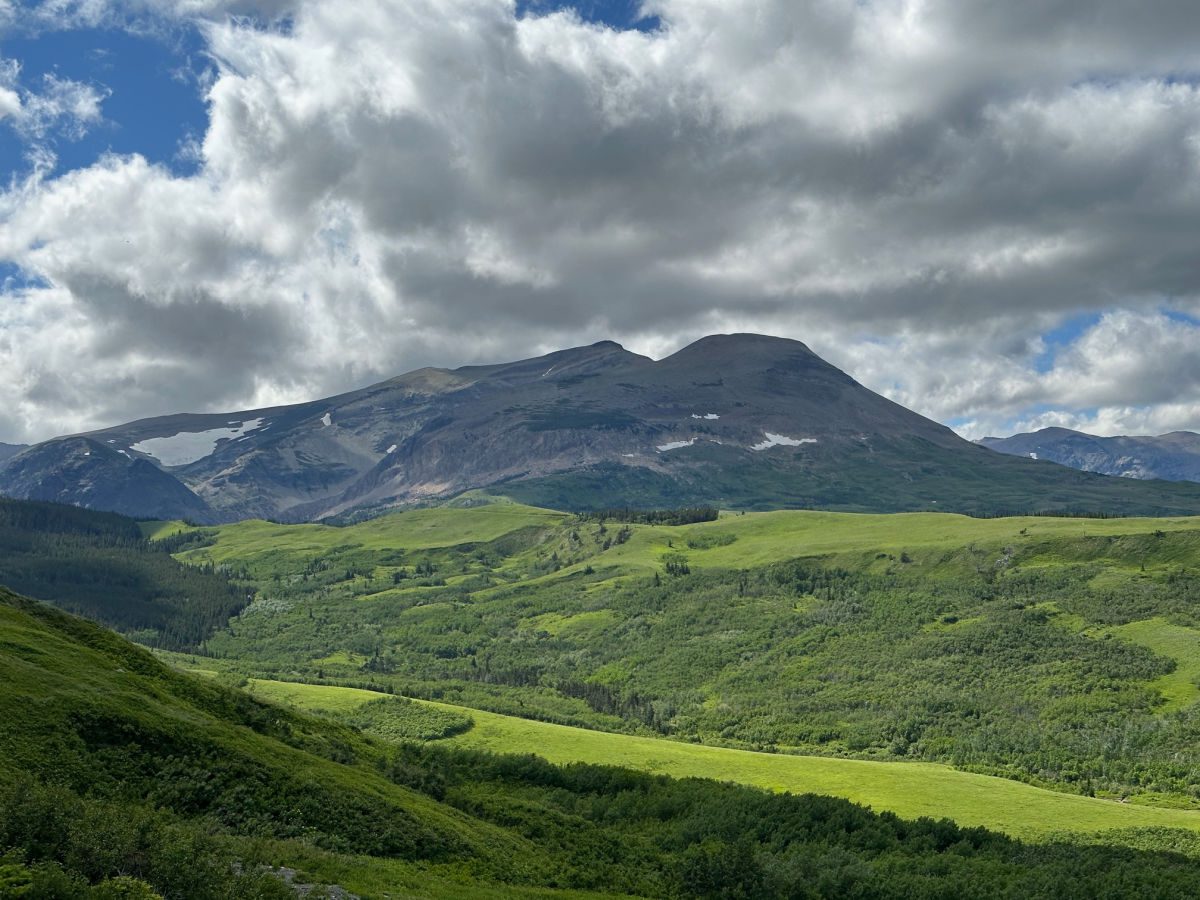 Glacier National Park is technically open year round, but you won't find much to do there between mid-October through May. The best time to visit is when you know that the Going-to-the-Sun Road will be open from July through mid-September. However, July and August will be the busiest.
I've visited in mid-September and the weather was gorgeous (see my tips for visiting in September) but it was still quite busy. I've also visited in mid-June and I got lucky in that the Going-to-the-Sun Road opened earlier than is typical, so it wasn't as crowded as usual and it was possible to get a last minute vehicle reservation. However, at that time of year the weather was a little more challenging with rain and even a little sleet near Logan's Pass.
Late September through early October can also be beautiful, when the larch trees turn their beautiful golden color. However, you won't find many services within the park still open at the time and even lodging nearby will become more limited.
How Early Should you Plan your Glacier National Park Trip?
Even if you choose to stay outside of Glacier National Park, many of the better lodges and hotels still book up early. I'd recommend planning at least a year in advance as the accommodation reservation calendars typically open 13 months in advance. When I tried to book lodging about two months before my September visit, the best I could find was in Kalispell, which was 40 minutes away from the park entrance. It wasn't a bad drive but it makes it harder to get to the popular trailheads early enough to find a spot.
You will also want to keep a close eye on the reservation calendar and set an alert to book your Going-to-the-Sun Road vehicle reservation as soon as it becomes available as they sell out in minutes. If you can't get a reservation, remember that if you book lodging in the park or an activity within the park, like a boat tour, it includes access to Going-to-the-Sun Road (but you still need to purchase a park pass.)
Where to Stay Near Glacier National Park: Hotel Reviews
Note: One of my trips to Glacier National Park was hosted by Pursuit Glacier Park Collection, which provided complimentary lodging at the Belton Chalet, Glacier Park Lodge, and Prince of Wales Hotel. All opinions are my own. This post may contain affiliate links. If you click a link and make a purchase, I may receive a commission.
If you are interested in staying in a historic property with a lot of character that matches the beautiful scenery of Glacier National Park, consider staying in one of the historic hotels and lodges built by the Great Northern Railroad as part of an effort to bring visitors to the park in the early 1900s.
Belton Chalet, West Glacier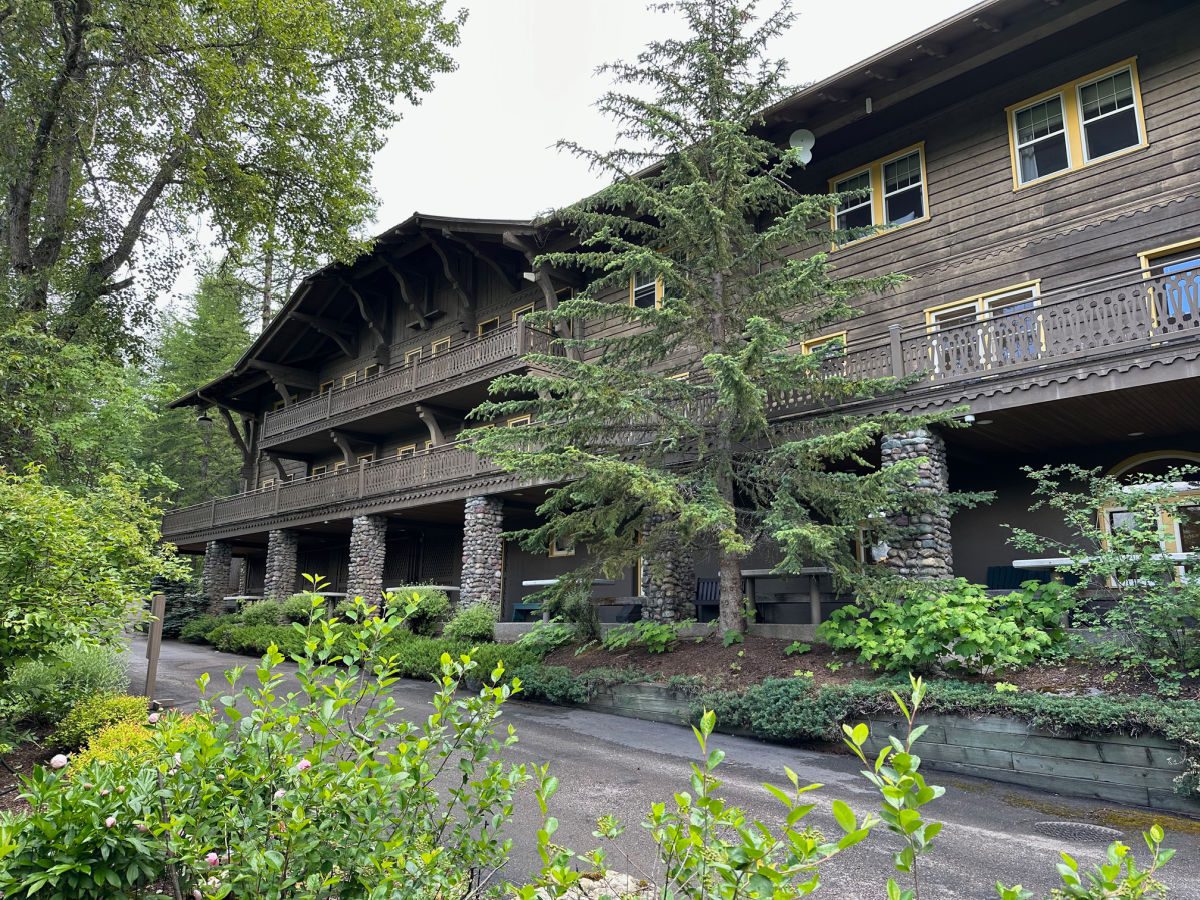 The first of the iconic lodges built by the Great Northern Railroad, the Belton Chalet opened in 1910 and has served as the original gateway to Glacier National Park for over a century. This Swiss-style chalet is located just outside of the west entrance to Glacier National Park and within walking distance to the shops, restaurants, and activities (like rafting and mini-golf) at West Glacier Village.
Belton Chalet has 25 rooms and suites in the main lodge with queen-beds that are suitable for couples or those traveling alone. Some rooms also offer a shared balcony with views of the park and the railroad.
In front of the chalet, there are also two, three-bedroom cabins with a shared living space, bathroom, and a fridge and microwave. The lodge rooms are cozy, but thoughtfully appointed with little touches such as white noise machine to mask any external noises and a cute writing desk. The lodge was originally built as a dormitory with shared hallway bathrooms. Today, each room has a small bathroom with a toilet and shower and a small sink is tucked into the corner of the room. Each bathroom includes amenities such as shampoo, conditioner, body wash, soap, and lotion.
You can still arrive at the Belton Chalet by train aboard the Amtrak Empire Builder line, which runs from Portland or Seattle and Chicago. The train station is right across the street! Today, Belton Chalet is also known for its dining experience and culinary prowess, which is not something you find often in these remote areas around national parks.
While there is plenty of entertainment right outside of the door in the great outdoors, Belton Chalet also offers a beautiful stone fireplace in the lobby, along with a gift shop and optional breakfast of pastries and drinks. Downstairs, there is a shared recreation room that has lounge areas, a ping pong table, an old-fashioned shuffle board table, and games to enjoy, which make up for the very limited WiFi and no televisions in the room.
The Belton Chalet is ideal for a one to two-night stay when visiting the west side of Glacier National Park and driving Going-to-the-Sun Road.
Glacier Park Lodge, East Side of Glacier National Park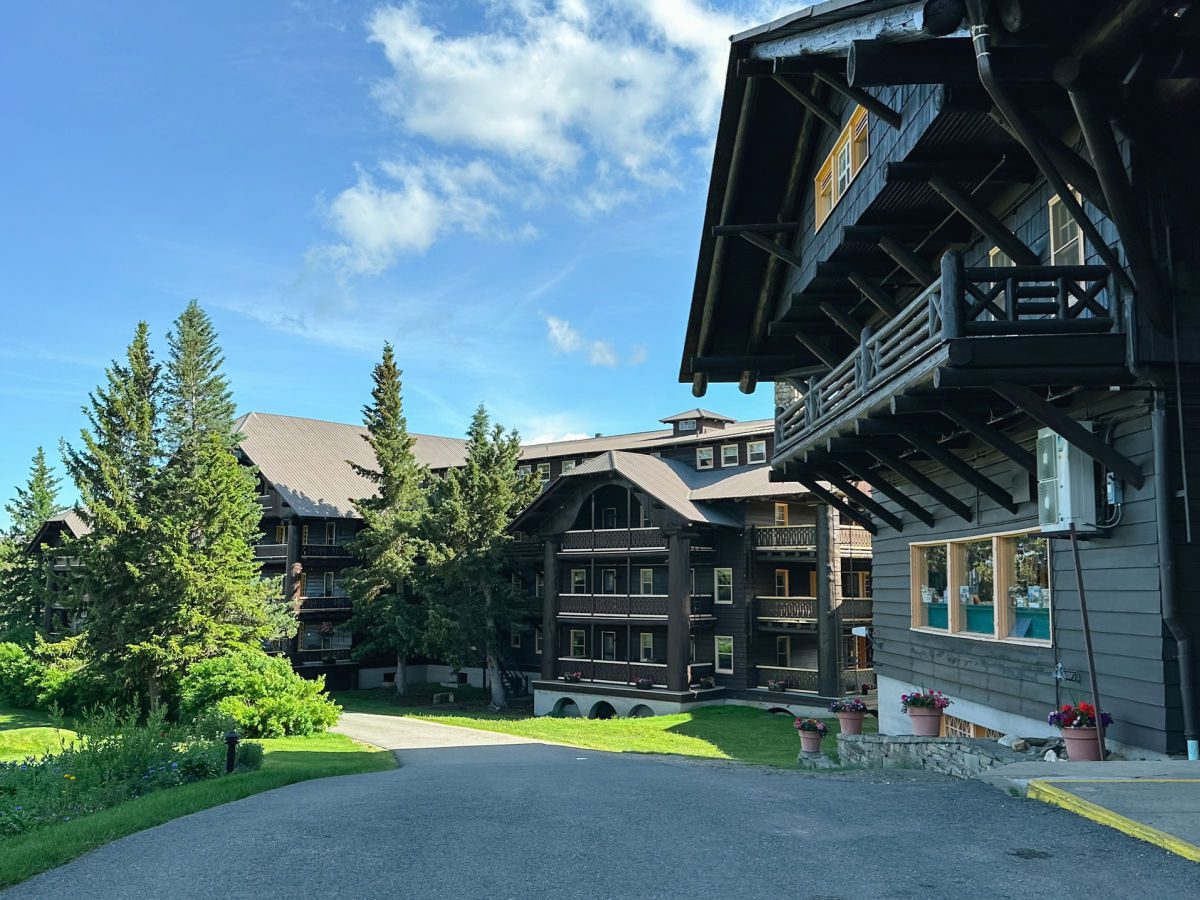 For a longer visit, where you can take time to enjoy the hotel facilities, I'd recommend a stay at the Glacier Park Lodge. Situated on land purchased from the Piegan people of the Blackfeet Nation, the Glacier Park Lodge was built in 1913 by the Great Northern Railroad. It is located in the area known as East Glacier Park, just outside the southeast section of the park and directly across from the Glacier Park Station railway depot. Guests can still arrive at the lodge via Amtrak's Empire Builder train and are shuttled to the lodge via the hotel's red car.
Stepping into this grand lodge, you feel like you are in the west, with its soaring ceilings supported by immense timbers cut from centuries-old fir and cedar trees, giving it the nickname of "Big Tree Lodge." It is exactly the environment you hope to enjoy when booking a room at a lodge near a national park. The staff, dressed in train conductor uniforms from a bygone era, couldn't be friendlier in welcoming you to the lodge.
At one end of the lobby is a large stone fireplace with a crackling fire, perfect for relaxing in front of on a chilly evening. Throughout the lobby of the original lodge you will find Native American artwork and taxidermied representatives of the local wildlife, including a snowy white mountain goat. On tables scattered around the large lobby, you will find puzzles laid out for guests to collaborate on solving.
In the lobby sits a coffee shop, where you can also pick up grab and go snacks to bring into the park. For a casual meal, the Empire Lounge serves up lunch and dinner with a bar menu (plus the bar has a television to catch your favorite sports game.) The Great Northern Dining Room is a full-service restaurant offering a cold and hot breakfast buffet and a large dinner menu (don't miss the Brussels and bacon appetizer or the Huckleberry bread pudding for dessert.)
Today, there are 162 guest rooms, most of which connect to the main lodge through a sun-filled passageway to the later-built annex building. The rooms vary in size and style, but maintain a simple decor consistent with the historic setting. The private bathrooms are small and the walls are thin (so bring earplugs!), but the main draw is the scenic setting and the grand, yet rustic, public areas. And, if you get a room facing the mountains, you can also enjoy your morning coffee overlooking the scenery from your shared balcony.
On property, you can take a history tour of the property, explore the beautiful grounds and gardens, or play a round of golf on the oldest grass greens golf course in Montana. From the hotel, you can also get shuttles to the park, or sign up for activities with providers that offer rafting, horseback riding, falconry, Native American story telling sessions, or guided hikes.
St. Mary Village, St. Mary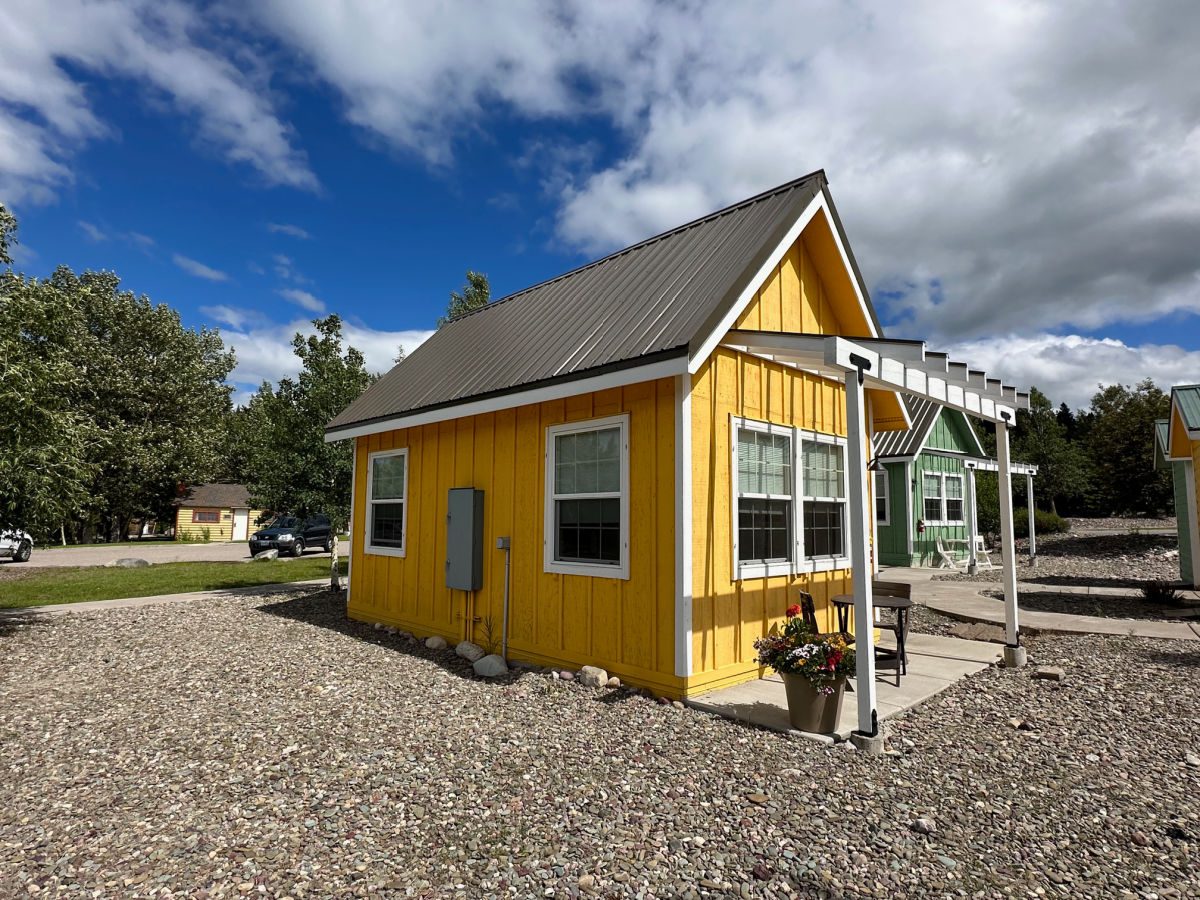 I didn't get to stay at St. Mary Village, but I did stop to take a look at the Tiny Houses and had lunch at the Curly Bear Cafe in the village. If you are looking for convenient access to the east entrance to the park at St. Mary, you can't get much closer then St. Mary Village, which offers the dramatic backdrop of the park's stunning mountains. From here, you can easily get on the Going-to-the-Sun Road and it is only a short drive to St. Mary Lake, where you can join a scenic boat tour by Glacier Park Boat Company, or the Village offers shuttles to Many Glacier and Two Medicine.
The main lodging at St. Mary Village is the Great Bear Lodge, which offers modern rooms equipped with two queen beds, air conditioning, a television, and a private balcony with exceptional views overlooking Divide Creek. There are even rooms that feature a fireplace, sitting area and jacuzzi tub. Budget travelers can stay at the West Motel in St. Mary Village, but for a unique stay, try one of the 10 Tiny Homes.
The Tiny Homes sleep up to four people with a queen bed and a trundle bed and they have a stand-alone, private luxury bathhouse. The Tiny Homes are also equipped with a microwave, fridge, and stovetop.
If you also visit Waterton Lakes National Park in Canada…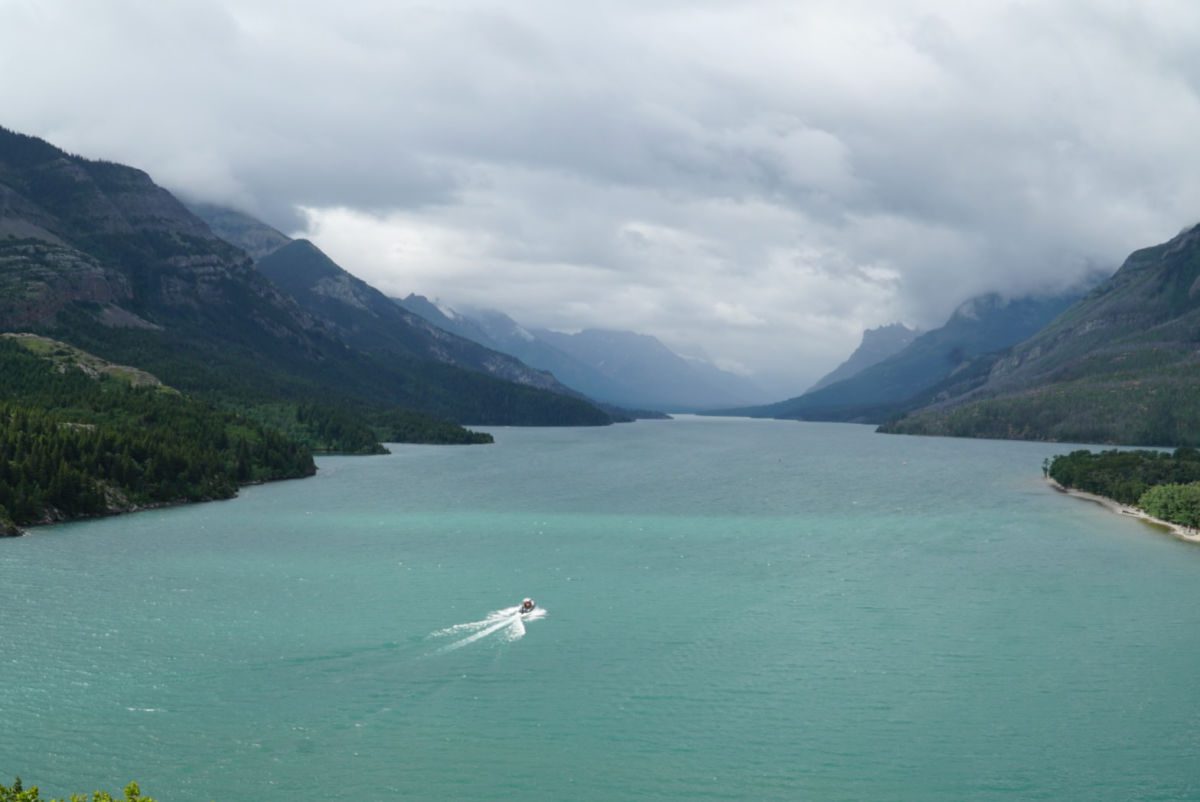 Waterton-Glacier International Peace Park is the union of Waterton Lakes National Park in Alberta, Canada, and Glacier National Park in Montana, USA. It is less than an hour from St. Mary to Waterton Lakes National Park, making it easy to combine a visit to both parks into one trip. Many people even continue north in Alberta to also visit Banff and Jasper National Parks in the Canadian Rockies.
If you are visiting Waterton Lakes National Park, you can't miss a stay at the iconic Prince of Wales Hotel.
Prince of Wales Hotel, Waterton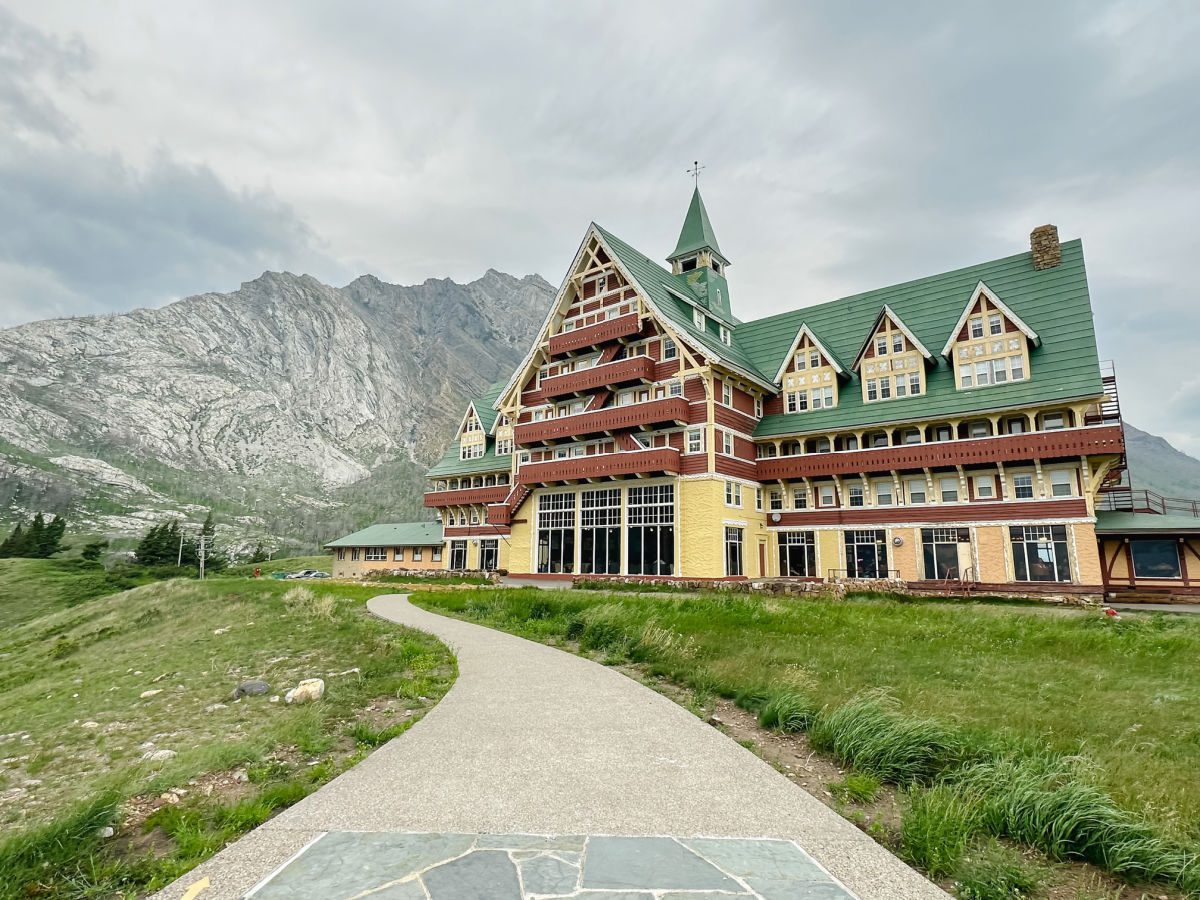 The Prince of Wales Hotel in Waterton offers magnificent mountain and lake views and is an iconic Canadian hotel. Also built by the Great Northern Railway, the Prince of Wales Hotel opened in 1927 and it retains its rich history today through the historic lobby furniture and the Prohibition-inspired cocktail menu. The beautiful architecture reminded me a lot of Dalvay-by-the-Sea historic hotel on Prince Edward Island.
Set on a bluff above Waterton Lake and the small town of Waterton, with towering mountains in the background, I'm not sure I've seen a more beautiful mountain hotel. The wind sweeps through the valley, threatening to blow you from your perch, but it is worth a walk along the cliff to drink in those views.
From the minute you walk into the lobby, you are immediately captivated by the view from the floor-to-ceiling windows. When you can pull yourself away, you will notice the staff in their red plaid kilts and ties, adding to the elegance and ambiance of the hotel. Even though the hotel operates with a seasonal staff, they have been well-trained and all seem extremely cheerful and helpful.
The rustic rooms surround the grand lobby and you can reach the upper floors by stairs or the bell-hop operated elevator. The rooms are small and the wood paneling adds to that historic and rustic feel, but doesn't offer much in terms of soundproofing, so you will want to pack your ear plugs here too. Like many of the hotels built by the Great Northern Railroad, the rooms feature renovated, small private bathrooms with a sink located in the guest room.
The Prince of Wales Hotel offers multiple dining options, including the Royal Stewart Dining Room, Windsor Lounge, and Afternoon Tea, inspired by British tradition. The Royal Stewart Dining Room serves breakfast and dinner, with beautiful lake and mountain views. Even if you only stay a night or two, it is worth extending your trip to Glacier National Park to also experience Waterton Lakes National Park and the gorgeous Prince of Wales Hotel (just remember to pack your passport!)
Find Other Places to Stay Near Glacier National Park
Save this to Pinterest