Stunning lakes, sparkling stars, powerful waterfalls, scenic hikes, delicious food….these are some of what to expect from a visit to Jasper, Alberta. There are so many things to do in Jasper National Park that you should plan on staying at least four days, although you can easily fill a whole week.
Between Banff, Lake Louise, and Jasper, we enjoyed our time in Jasper the most during our Canadian Rockies vacation. While it was busy, things weren't as crowded as they were in Banff, which made for a more pleasant stay and a better way to appreciate the natural environment.
Jasper is a year-round destination with skiing at Marmot Basin and ice walks in Maligne Canyon in the winter, a Dark Sky Festival in October, and plentiful outdoor activities throughout the year. Be sure to check the Jasper Tourism website for updates on upcoming events and more ideas when planning your trip.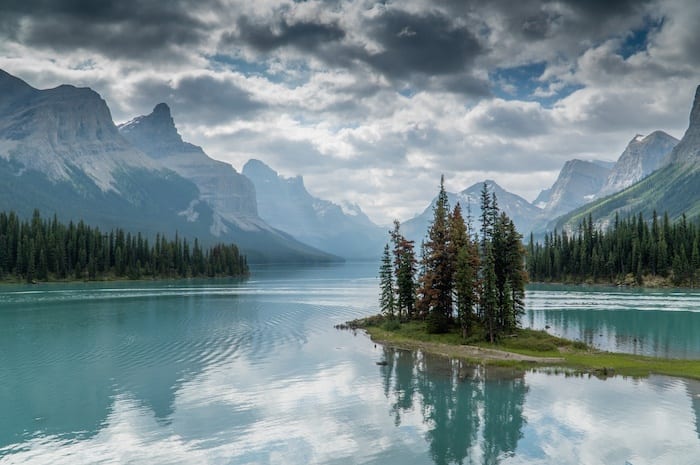 Things to do in Jasper
Note: some of our activities, including our Boat Cruise, Peak Nic, Planetarium, Sky Tram, and Ice Explorer tour were complimentary on behalf of Pursuit Banff or Jasper Tourism. All opinions are my own. This post contains affiliate links. If you click a link and make a purchase, I may receive a small commission.
Maligne Lake Boat Cruise to Spirit Island
Maligne Lake is the largest lake in Jasper National Park, measuring nearly 14 miles long. If you wanted to canoe or kayak from one end to the other, it would take you all day. The best way to view this beautiful lake is on a Maligne Lake boat cruise. There are various options that you can choose from, including a photography tour and one that makes a stop at Spirit Island.
I'm sure you have seen pictures of Spirit Island, as it was first made famous in the 1960s when used in a large advertising campaign by Kodak with a giant billboard in Grand Central Station. Not much is known about the origins of its name or the significance of the island, since First Nations people were driven from the land years ago. Slowly that relationship is being rebuilt and we will learn more but just looking at Spirit Island, you can tell that it is a special place.
We took a 90-minute tour that included a 15-minute stop near Spirit Island where you can take a short walk and get photos of this iconic spot. Throughout the tour you learn about the geology and history of the lake, and the devastating impact of the pernicious mountain beetle, which is impacting many of the pine trees in Banff and Jasper National Parks.
Due to global warming, the beetle has been surviving the warmer winters and wrecking havoc on the trees but it looks like things are starting to turn around. So while the orange of some of the trees looks pretty and autumn-like, these trees will fall down within five years.
Maligne Lake is a popular destination. I would recommend that you get there early (before 10am) to get a parking spot. It pays to pre-book your boat cruise because if you wait until you arrive, you may need to wait a while for the next available boat. Just give yourself plenty of time to get there (it is about an hour from downtown Jasper), as there are often "animal jams" along the road as people pull over to look at bear, moose, elk, etc. and it is hard for others to get past. Driving to Maligne Lake early in the day or evening also gives a better chance of wildlife sighting so stay alert!
In addition to the boat cruise, you can hike along the lake, rent canoes from the historic boathouse, enjoy breakfast or coffee/tea at the Waffle House, or eat lunch at the Lake House. See more ideas on where to eat in Jasper.
Maligne Canyon Hike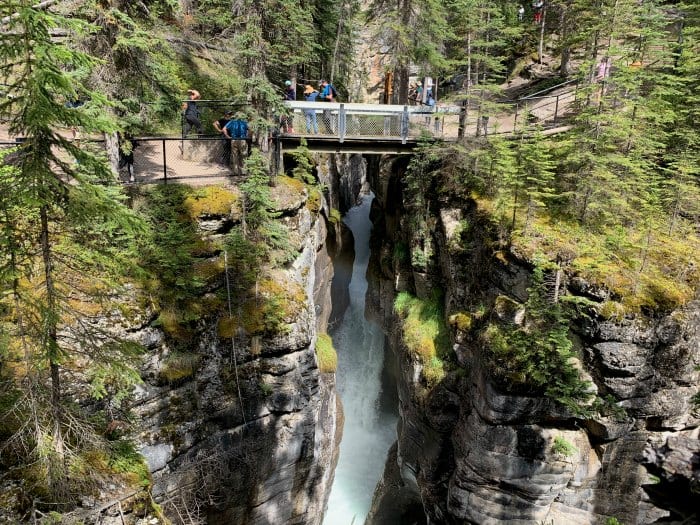 If you spend the morning at the lake, be sure to stop at Maligne Canyon on your way back into Jasper. Maligne Canyon is the deepest canyon in Jasper National Park, reaching 50 meters in depth at points.
If the parking lot at the main trail entrance near bridges one and two is full, you can also park at the lot by bridge six and hike up the canyon to bridge one. The good news about doing it this way is that you will be going downhill on the way back.
However, if you aren't up for a big hike, park at the main lot and take a short walk to bridge two. If you have a little more energy, continue on to bridge four to see the waterfall. In the winter, you can also take a guided Icewalk through Maligne Canyon.
I highly recommend that you stop at Maligne Wilderness Kitchen for lunch or dinner. The food is delicious and the stylish setting with outdoor patio makes it one of our favorite restaurants in Jasper.
Annette, Edith, and Pyramid Lakes
If you are brave enough to go for a swim, the locals love having a picnic at Annette or Edith Lakes, not far from Maligne Canyon and near the Fairmont Jasper Park Lodge. There is also a nice walking path around Annette Lake, with benches that are perfect for sitting to watch the sunset.
If you would rather be on the lake than in the lake, you can rent canoes or even an electric boat at the Pyramid Lake Resort. Our plan was to finally go canoeing, since it was so expensive in Lake Louise, but unfortunately the weather had other plans for us. But that is ok, because an afternoon nap in the cabin was just what I needed after so many days hiking mountains and climbing the Via Ferrata in Banff.
Peak Nic with Jasper Food Tours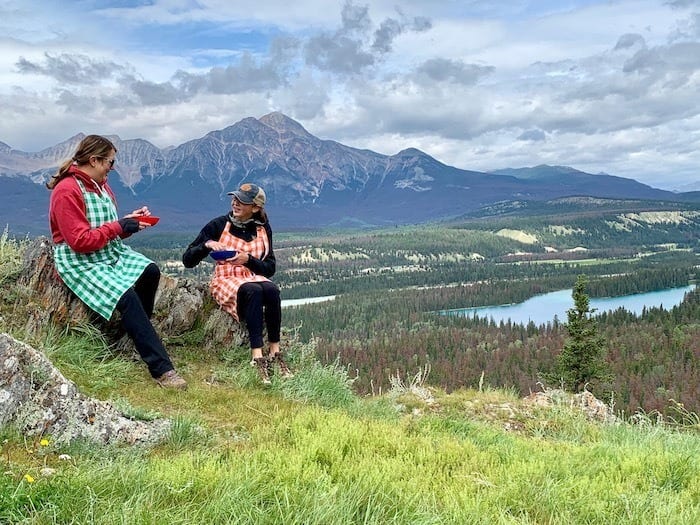 One of our favorite activities on our Canadian Rockies vacation was the morning spent with Estelle from Jasper Food Tours taking a "Peak Nic." This innovative offering started off with short but steep hike to the top of Old Fort Point.
Once we arrived and took a few minutes to enjoy the view, we started a backcountry-cooking lesson. Basically we learned how to cook a full meal using just what we brought in on our backs — and I'm not talking about grilling up hot dogs! Estelle is a pro at prepping and packing to make everything go smoothly.
Our menu consisted of chili (which we rehydrated and heated on a camp stove), rice, dal, bannock (fry bread), and chai. We chopped, mixed, sautéed, fried, and boiled to put together a delicious meal. People hiking by kept stopping to see what we were up to and were a little jealous we didn't have leftovers to share. But whatever we didn't eat, we packed out and made sure to leave no trace behind – not even a shred of cheese.
The great part was getting to enjoy the fruits of our labor by sitting and enjoying the food while overlooking the Athabasca River and the town of Jasper down below. When we finished, we took the long way back down to the parking lot for a nice hike to burn off that fry bread.
The Peak Nic is great for families. If you are looking for an 18+ foodie experience in Jasper (including cocktails), book a food tour around town with Jasper Food Tours.
Old Fort Point Trail
Even if you don't do a Peak Nic with Jasper Food Tours, you can still hike up the Old Fort Point trail. The full loop should take about an hour to an hour-and-a-half. The views from the top are spectacular. You can see the scenic float tours going past on the Athabasca River below. Just be sure to bring bear spray for the walk through the woods on the way down.
Miette Hot Springs & Sulphur Skyline Hike
If you want to experience a hot spring, head to Miette, about an hour east of Jasper. The Miette hot springs are more of a pool / hot tub than natural springs, but there is also a café and changing rooms.
If you are energetic, you can climb the Sulphur Skyline hike before your soak. You can either take a stroll to Miette Hot Springs' source along the gentle Source of the Springs trail, or challenge yourself on the eight kilometer round trip Sulphur Skyline trail where you will find some of the most breath-taking views in Jasper National Park.
Our initial plan was to climb the Sulphur Skyline trail and then hit the hot springs. But it is a 700 km elevation gain and our energy was definitely flagging at the end of our trip. Since we were going to skip the hike, I decided we didn't need to drive an hour to just visit the hot springs.
Stargazing and the Jasper Planetarium
Jasper is the second largest Dark Sky Preserve in the world. It is a perfect place to go stargazing, just remember to dress warm and check the forecast in advance. Since Hannah is really interested in studying astronomy, we have tried to build stargazing into many of our trips. Unfortunately the weather keeps getting in the way. Last year we had one night at Badlands National Park and had hoped to do their famous night sky program there but instead there was a thunderstorm.
The night we had planned to go stargazing in Jasper was also rainy and cloudy. We did end up going out for a couple of hours from 12 am – 2 am the night before, but since the moon was nearly full, it was too bright to see the Milky Way. Next time I need to check the moon calendar before I book a trip! If we were a few days earlier, we would have been there for a Perseids meteor shower.
In addition to stargazing on our own, we also signed up for the Jasper Planetarium experience. The Jasper Planetarium has set up a small dome on the grounds of the Fairmont Jasper Park Lodge. In the dome, they conduct a short planetarium show. On Wednesdays and Fridays in the summer (check the website for current schedule), they also offer an extended program that includes time to look through the various high-powered telescopes.
The planetarium show was okay, certainly not the best that we have seen, but we enjoyed looking at stars, planets, and galaxies through the telescopes afterwards. I would recommend that you book in advance because the groups are fairly small and when we went to check in at the desk in the lobby of the Lodge, there were a lot of people trying to sign up on the spot and we would have been disappointed if it sold out and we hadn't already had tickets.
Photography Tour with Jasper Photo Tours
On the night we went stargazing, we took a Night Sky Photography Tour with Jasper Photo Tours. We met Mike, the owner, in downtown Jasper and then drove out to Pyramid Lake. Here we headed out with just the light of the moon and our headlamps to Pyramid Island.
Because I'm a novice to night sky photography, Mike took the time to go through my camera settings and the basics of photography, including aperture, shutter, and ISO. Since I have such a hard time getting all these concepts to stick in my head when I go to apply them, it was great to work side by side on my own camera and practice with a professional in the field. He also provided me with a guide to keep and reference back to when I'm on my own.
It was cold out and getting late, so I only got a few shots of the night sky, but it was fun, despite a close encounter with an elk in the woods, and I learned a lot. Just remember that if you are going to do any night sky photography, you will need a tripod and a wide-angle lens is recommended.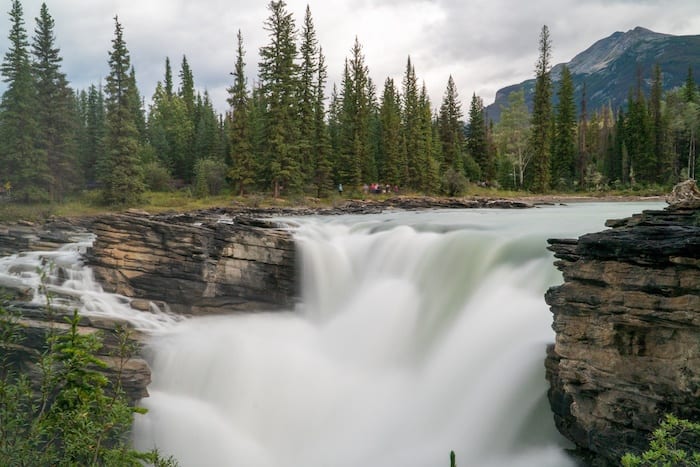 We also went out with Mike one more time on a waterfall photo tour to Athabasca Falls and Sunwapta Falls. Here he helped me figure out the right long exposure settings to get that silky water effect (with the help of my neutral density filter too.) I was able to apply what I learned when visiting Iceland recently.
Jasper Photo Tours offers custom tours, sunrise and sunset tours, and more. If you are interested in upping your photography game, I would highly recommend booking a tour with Mike at Jasper Photo Tours.
Jasper SkyTram
If you want to see Jasper National Park from above, you can head up to the mountain peeks on the Jasper SkyTram. This sightseeing tramcar carries about 20-30 passengers up on a seven-minute ride. Because there is just one car up and one car down, the lines can get quite long so it makes sense to book a timed-entry ticket in advance.
Once you get to the top, you can walk around the viewing platforms and enjoy the view or take the hour-plus long round trip hike to the summit. There is also a café and restrooms at the top. Just keep in mind that there is also a line on the way back down and your whole party needs to be in line at the same time. So make sure you allot at least 30-60 minutes to wait for your return journey.
Between the crowded tramcar and the long wait to come back down, this wasn't our favorite activity in Jasper. But it was still cool to get those views.
Athabasca Falls
Of course, the most popular way to get to or from Jasper is along the Icefields Parkway. There are many scenic places to stop in Jasper, including Athabasca Falls.
This is a popular spot for bus groups too, so expect some crowds. You can view both the upper falls, as well as follow the signs down to the lower falls and see great views of the Athabasca River.
Sunwapta Falls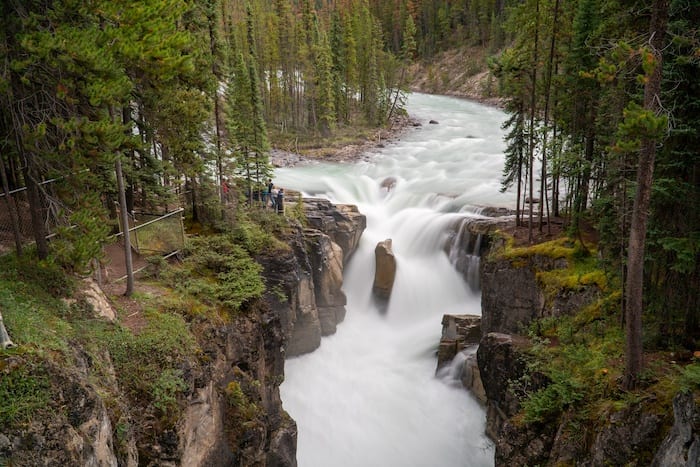 Further south from Jasper on your way to Banff, you will come to Sunwapta Falls. It is just as pretty as Athabasca but not quite as crowded. Just stick to the paths and don't venture down onto the rocks close to the river. Don't risk your life just for the Instagram shot – the rocks are slippery and the water is extremely powerful. Even a bear was lost here when it fell into the water and was swept away.
Tangle Creek Falls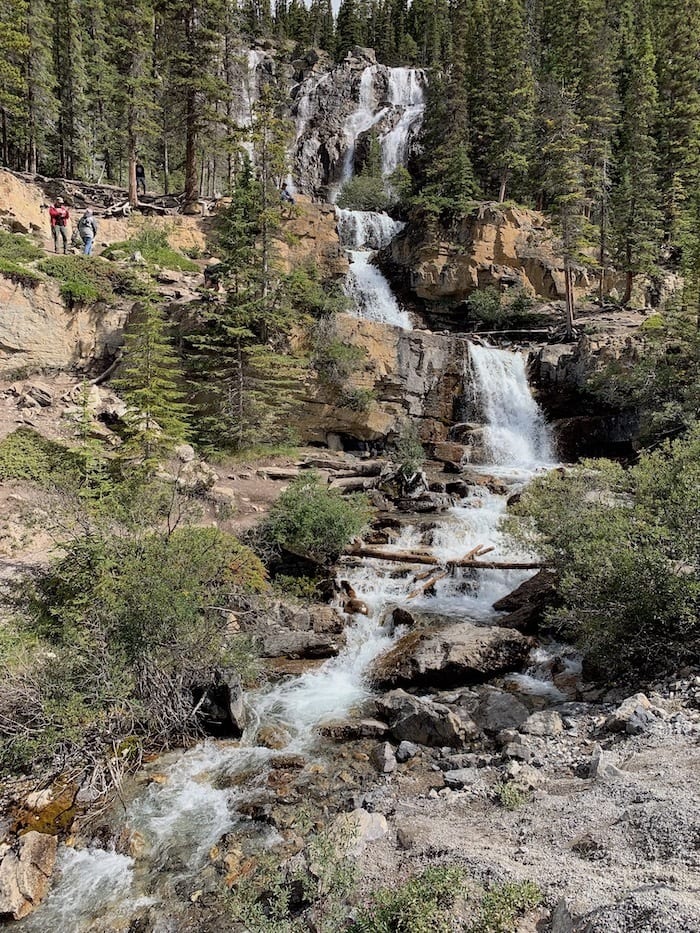 Just before you reach the Icefields Discovery Centre and the Athabasca Glacier, you will see the towering Tangle Creek Falls on your left. The parking lot is across the street on the southbound side of the road, so take care crossing the road.
It is a bit of a rock scramble to get up close to the upper falls but getting to touch the waterfall is worth the climb.
Icefields Discovery Centre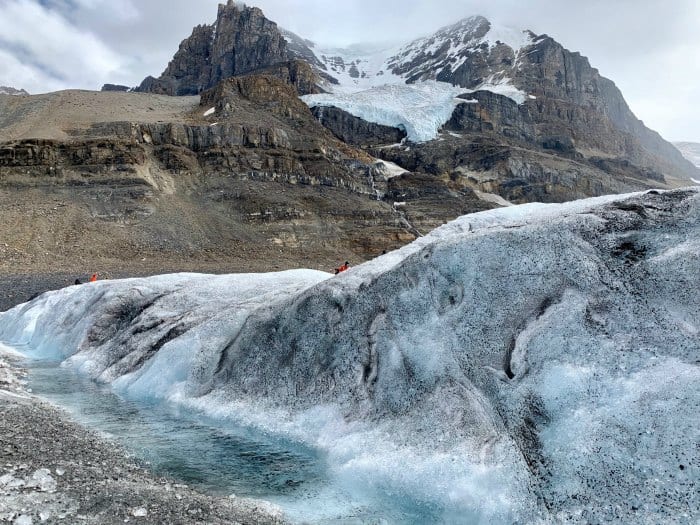 The crown jewel of the Icefields Parkway is the Athabasca Glacier and the Icefields Discovery Centre. Here you can take a break, enjoy a meal at the restaurant or cafeteria, and learn a little about the nearby glaciers. It is also where you can book tours for the Ice Explorer or the Glacier Skywalk and where the busses leave for these excursions.
However, I would highly recommend booking your tour in advance unless you want to spend a large chunk of your day here. When we arrived at one o'clock, planning to have lunch before our 3 pm tour, the next available tour for people buying tickets on-site was 5 pm.
Glacier Skywalk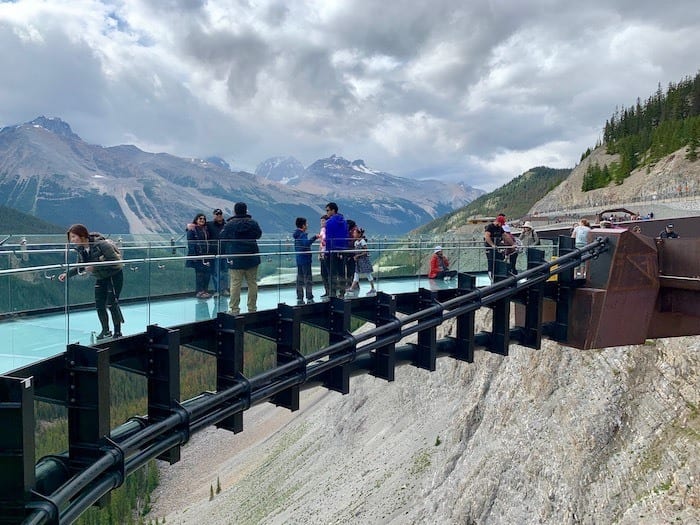 The Glacier Skywalk is a glass platform that extends over the Sunwapta River Valley. I know the name makes it seem like it is over the glacier, but that is not the case. However, it does afford beautiful views of the mountains, the valley, and the glacier in the distance.
Just keep in mind that there is not any parking at the Skywalk. You need to board a bus at the Icefields Discovery Centre. Or, you can get a combo package that includes the Ice Explorer Tour and the Glacier Skywalk and then you will go to the glacier first and then to the Skywalk. The busses arrive and depart every five to fifteen minutes so you may need to wait in line for a return shuttle back to the Discovery Centre. Just budget this time into your day.
Athabasca Glacier Ice Explorer Tour
The Ice Explorer tour drives out onto the Athabasca Glacier in a large glacier vehicle. Once you arrive in the safe area, you are given 30 minutes to walk on the ice within the designated boundaries. I point this out because on our tour, many people crossed this boundary and went out onto the glacier beyond.
This is a very dangerous practice without a certified glacier guide as the glacier is always moving and changing and you need to watch for fissures and holes that can go down hundreds of feet into the ice. Going without a guide puts yourself at risk, along with anyone that may need to try to rescue you.
If you have never walked on a glacier before (we have in Iceland) and you don't have the time or energy for a full glacier hike, the Ice Explorer is an interesting way to get up close with a glacier. However, I do have concerns about the safety standards and the environmental impacts of this tour. If you do go, please wear appropriate clothing. Do not be like the woman on our tour trying to walk on ice in a skirt and sandals with heels.
Where to Stay in Jasper
We spent four nights at the Jasper House Bungalows, located just five to ten minutes south of town on the Icefields Parkway. The convenient location made it easy to get just about anywhere in the Jasper area, including popping into town for dinner.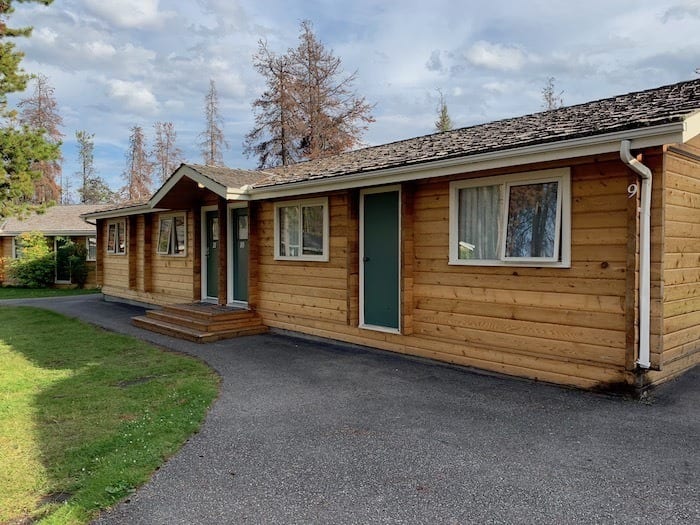 This resorts consists of 56 cabins and bungalows circled around a center grassy area. The resort also has a restaurant that offers breakfast and dinner, although we never ended up eating there.
We stayed in Cabin 3, just steps from the gazebo overlooking the Athabasca River. Our cabin was a one-bedroom queen cabin, with a separate living room, an equipped kitchen / dining area, and full bathroom. The living room also had a pullout couch, perfect for our mother-daughter trip or a family with young children.
The Wi-Fi was weak and cell service was limited, but that encouraged us to relax, read, and spend time together. We really enjoyed our stay and it was much more affordable than some of the other hotels in the area.
If you are looking for a resort stay, the Fairmont Jasper Park Lodge offers luxury on the lake. In town, you might try the Mount Robson Inn. Other resorts with cute cabins or lodges include:
Tips for Visiting Jasper National Park
Buy bear spray and bring it on all hikes, even attractions with crowds
Do not approach wildlife. You will often see elk grazing along the road outside of town in the evenings but do not get out of the car. And please, don't be like the guy I saw taking flash photos only a couple of feet away from a male elk – that guy is lucky he didn't get charged.
Book hotel accommodations a few months in advance. Lodging is limited and between bus groups, cruise add-ons, and the Rocky Mountaineer train passengers, hotels can book up far in advance.
Dress in layers and keep in mind that activities tend to go out rain or shine so a weather-proof layer is recommended.
If you will be hiking, I strongly recommend investing in a good set of hiking poles. I love my Black Diamond collapsible and adjustable poles with cork hand grips that soak up the sweat.
Buy your Canada Parks Discovery Pass in advance so you don't need to wait to in long lines when driving through Banff.
Expect high prices on food and drinks, even given the favorable currency exchange rate for U.S. citizens.
When going into town, you can usually find parking in the lots near the train station and from there it is an easy walk wherever you want to go.
PIN THIS FOR LATER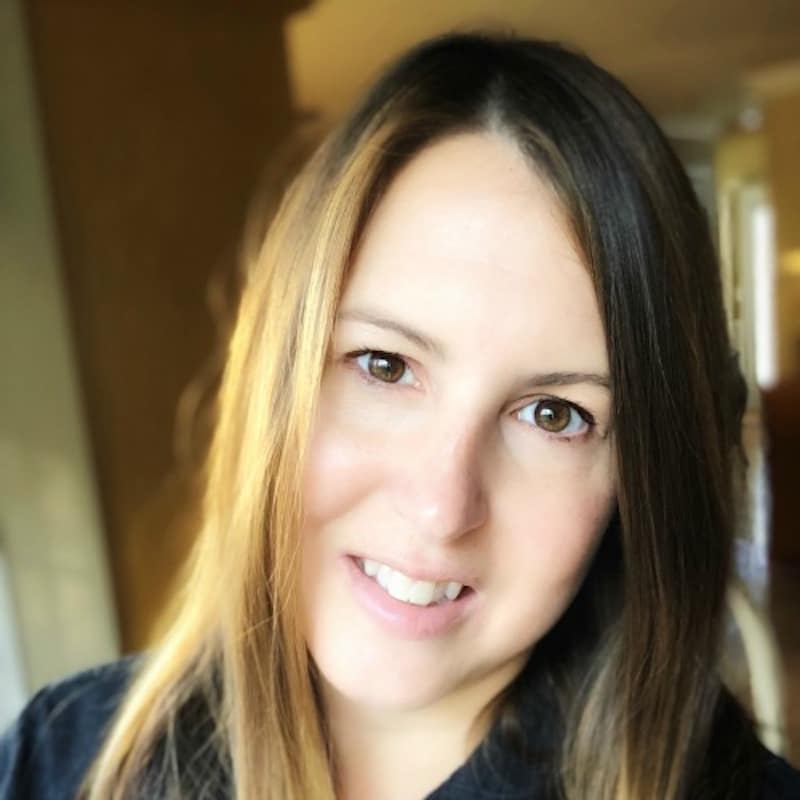 Tamara Gruber is the Founder and Publisher of We3Travel. A former marketing executive and travel advisor, Tamara is an award-winning travel writer and recognized expert in family travel. She is also the publisher of YourTimetoFly and the co-host of the Vacation Mavens travel podcast.