There are many famous road trips in North America — Highway 1 in California, the Florida Keys, Route 66, and, of course, the Icefields Parkway in Alberta, Canada. The first time I heard about the Icefields Parkway, I thought someone was referring to that Ice Truckers show on the History Channel.
While the Icefields Parkway can get pretty snowy in the winter, it is by no means that extreme. The Icefields Parkway, officially Highway 93, stretches for 146 miles from Lake Louise in Banff National Park to the town of Jasper in Jasper National Park.
Traveling along this two-lane highway you will pass by more than 100 glaciers, numerous glacier-fed lakes of such a stunning blue you won't be able to trust your eyes, and cut through the staggering peaks of the rugged Canadian Rockies.
While you can technically drive the Icefields Parkway in three to four hours, you will want to leave yourself a full day to have time to enjoy the stops along the way. The road is well-kept and has wide shoulders, making it possible for even large RVs to use. However, you need to share the road with bicycle tour groups that are powering through those high passes.
If you are leaving from Banff, you should take the Bow Valley Parkway from Banff to Lake Louise and keep your eyes peeled for bear. You will then pick up the Icefields Parkway in Lake Louise. Closer to Jasper, you are apt to see elk grazing by the road, especially in the evening. Along the route, be sure to keep your eyes peeled for wildlife.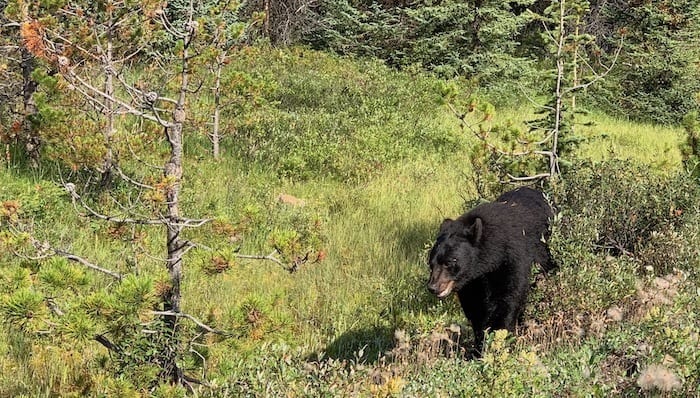 Tips for Driving the Icefields Parkway
Be sure to gas up before you leave Lake Louise as there is only one gas station between there and Jasper, and you will need to pay a premium.
Bring along snacks and refillable water bottles. You will pass a few places where you can get something to eat, like Num-Ti-Jah Lodge by Bow Lake, The Crossings, Icefields Discovery Centre, and the Sunwapta Falls Rocky Mountain Lodge, but these are few and far between.
Expect very little cell service between Lake Louise and Jasper so download your music and any offline maps you might need before you leave. Otherwise sit back and enjoy the scenery! You can connect to WiFi at the Icefields Discovery Centre.
Keep in mind that many of the popular attractions have small parking lots. Getting an early start is important in finding a spot in these lots.
If you are returning to Banff after visiting Jasper, you can always split up the stops into two separate days and hit the second half on your return trip.
You will need to purchase a National Park pass before driving the Icefields Parkway. These can be purchased at the gate in Banff or at visitor centers in Banff, Lake Louise, or Jasper. The quickest and easiest way is to purchase a pass online before your trip, and if you plan on visiting multiple National Parks is to invest in the Canada Parks Discovery Pass.
Check road conditions, traffic, and attraction closures at http://www.pc.gc.ca/.
Dress warm and in layers, wear comfortable hiking shoes, and bring bear spray on any hikes.
Charge up your camera and phone batteries because you are going to want to take a LOT of pictures! It may also help to bring a rain cover for your camera and a tripod if you have one.
Where to Stop on the Icefields Parkway
Note: This post contains affiliate links. If you click a link and make a purchase, I may receive a small commission. All opinions are my own.
Lake Louise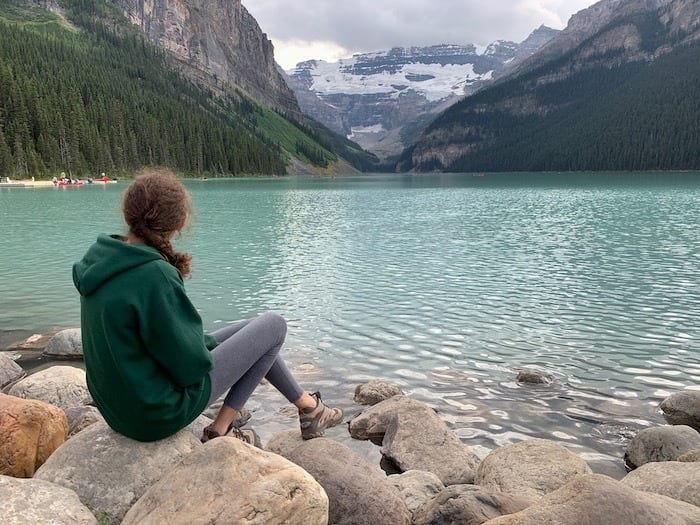 You will begin your journey on the Icefields Parkway in Lake Louise. If you are staying overnight, I would recommend the charming Post Hotel & Spa (a Relais & Chateaux property) or the stunning Fairmont Chateau Lake Louise.
Bow Lake and Crowfoot Glacier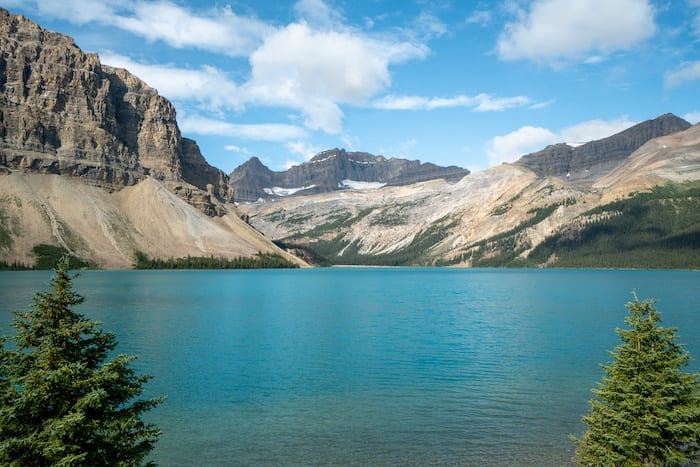 After leaving Lake Louise, drive north for approximately one hour and on the left, you will see Crowfoot Glacier and soon, Bow Lake. There are a couple of small parking lots where you can stop and follow a short, but steep, path down to the water.
If you want to take the hike to see Bow Glacier Falls, I would recommend driving to the far end of the lake and parking at the Num-Ti-Jah Lodge. This moderate hike is a 5.5-mile round trip. You can also pop into Simpson's Trading Post or the Bow Lake Cafe at the Lodge.
Peyto Lake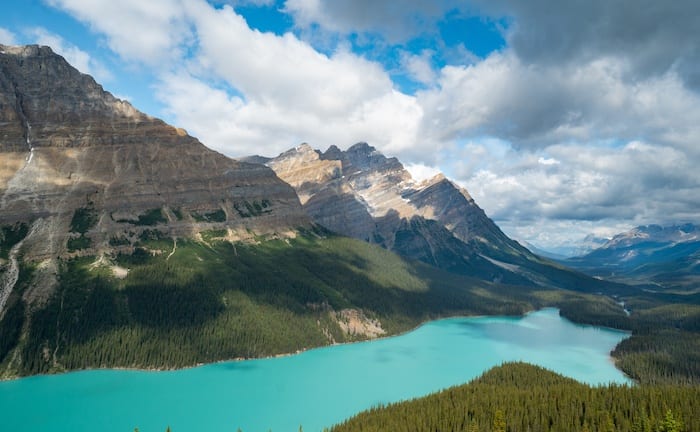 After you head back to the highway, continue on for another 10 minutes until you see the signs for Peyto Lake on the left (when heading northbound.) It used to be unmarked and was just called Bow Summit, but when we visited in the summer of 2019, the signs for Peyto Lake were clearly marked (although the trail is still called Bow Summit Trail.)
A ten-minute uphill walk will bring you to the viewing platform overlooking the famous fox-shaped Peyto Lake. The viewing platform can be extremely crowded, but if you can get into the corner of the lower platform, you should be able to get an unobstructed view of the lake. Plan to spend about an hour at this stop.
Keep in mind that you may want to check the Alberta Parks website before you go as we read that the parking lot will be closed for repairs starting in the fall of 2019.
Mistaya Canyon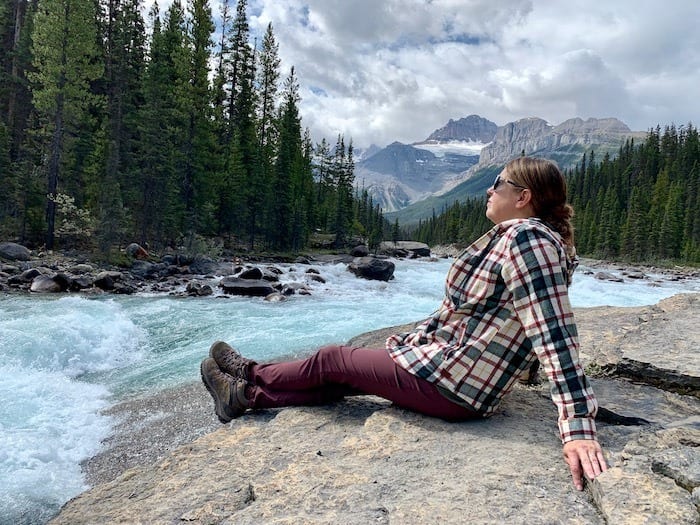 The parking lot for Mistaya Canyon is also on the southbound side of the highway (on the left when driving north to Jasper), about 25 minutes past Peyto Lake. The parking lot isn't as large so I think the big busses skip this stop, meaning there are less people there too.
From the parking lot, it is about a one-kilometer hike down to the canyon (which means back uphill on the return.) At the canyon, you will cross over a bridge that spans the Mistaya River. From the bridge, you can see how the water has carved its way through the stone.
You can then walk left or right along the rim of the canyon. Take a few minutes to walk down and sit on the rocks to observe the powerful flow of the river.
The Crossing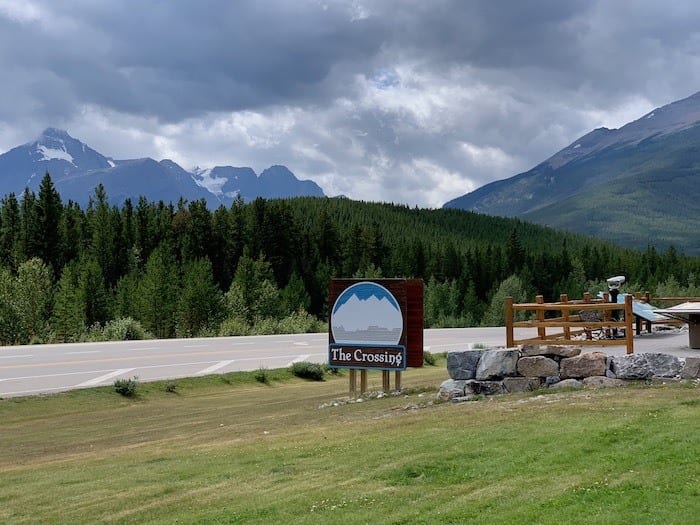 The Crossing resort at Saskatchewan River Crossing is located about halfway between Banff and Jasper, at the junction of Highway 93 and 11. This is where you will find a gas service station, a general store, a cafe and restaurant, as well as clean bathrooms.
Columbia Icefield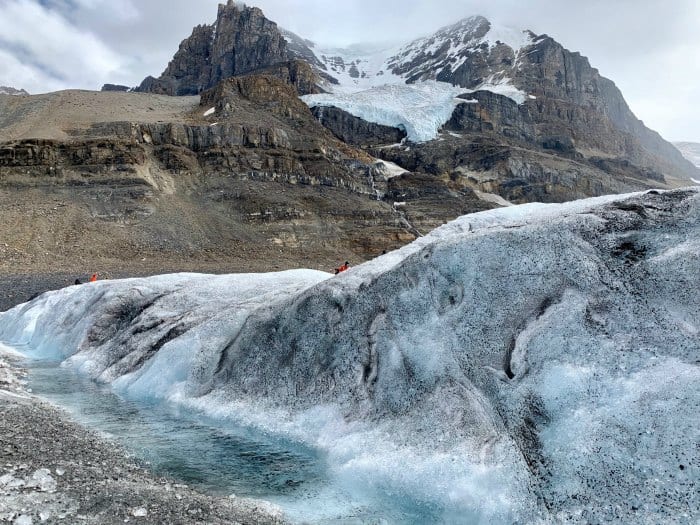 Not long after The Crossing, you will enter Jasper National Park. Just 45 minutes north of the Crossing you will come to the Columbia Icefield Discovery Centre. This is the home base for exploring the Athabasca glacier and the various related activities.
The visitor center offers a restaurant, cafe, bathrooms, and a small exhibit / visitor center with a movie about glaciers. It is also where you can sign up for some of the excursions offered by Pursuit Banff. They offer two types of experiences, the Glacier Ice Explorer and the Glacier Skywalk, which can be combined into a Glacier Adventure ticket.
If you are interested in either of these activities, I would highly recommend you book a timed ticket in advance or you may arrive to find them sold out for the day, or that you need to wait two hours before the next availability.
The Glacier Ice Explorer tour uses large glacier trucks to take you up onto the Athabasca Glacier. You will then have 30 minutes to walk on ice that is over 1,000 feet thick! Just make sure you wear the appropriate footgear and that you stay within the designated boundary. It is extremely dangerous to walk on a glacier without a certified guide.
From the glacier or Discovery Centre, it is a short shuttle ride to the Glacier Skywalk, a glass-floored observation platform with floats 919 feet over the Sunwapta Valley. From here you can view the glaciers and rugged mountain peaks in the distance.
The only downside is that it is only accessible via a bus from the glacier or the Icefields Discovery Centre. So waiting for your timed ticket and then waiting for the next return bus can really eat into your day for a stop where you will likely only spend 15 minutes on site.
Tangle Creek Falls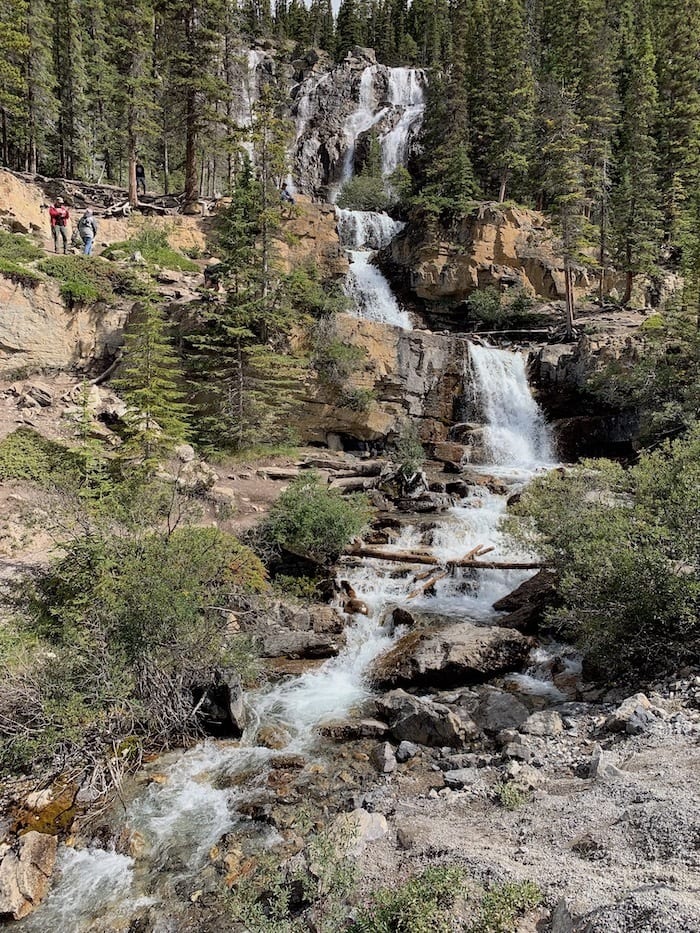 After the Icefields Discovery Centre, you may be tired or running out of time and want to continue straight to Jasper. You can certainly do this and hit the remaining stops along the Icefields Parkway on your return trip. However, if you only have a day, try to squeeze in some quick stops at a few more waterfalls.
Five minutes further up the road you will come to Tangle Creek Falls. When traveling north, the falls are on your right (northbound side) but the parking lot is across the street on the left (southbound side) so be careful crossing the street.
This tiered waterfall is quite close to the road but if you want to climb up to the upper falls, you will need to scramble over some rocks so take care and watch your feet.
Sunwapta Falls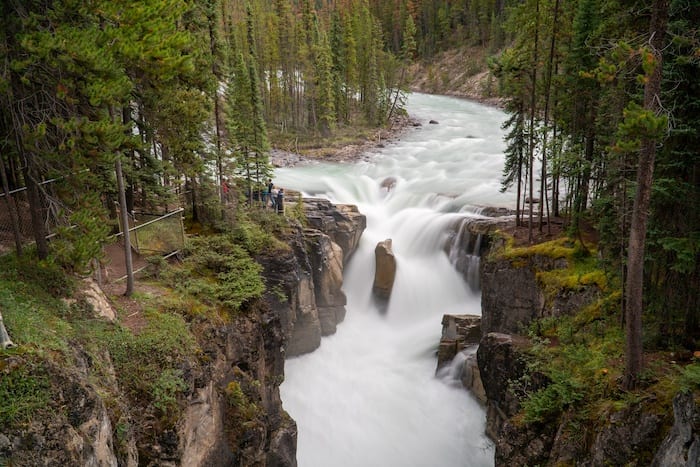 Another 35 minutes north will bring you to the turn-off for Sunwapta Falls, which is halfway between the Columbia Icefield and Jasper. The Upper Falls are just a five-minute walk from the parking lot. The Lower Falls are a little further (about 10 minutes) and worth the walk. You can always fuel up at the deli at the Sunwapta Falls Rocky Mountain Lodge.
Athabasca Falls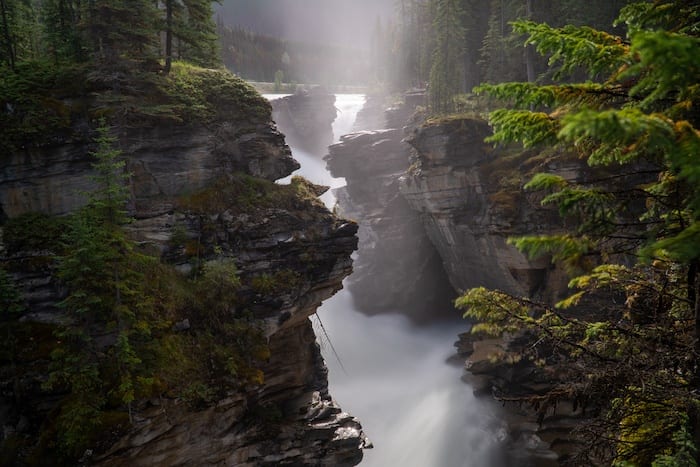 Twenty minutes further will bring you to Athabasca Falls, a popular stop for all the bus tours as well so expect crowds! These powerful falls have carved through the rock, similar to what you find at Mistaya Canyon.
There are different viewing platforms where you can capture some great pictures of the falls. If those are too crowded, you can also follow the signs to view the Lower Canyon. This walk will give you a great view of the Athabasca River and you may even get to see a scenic float tour going by.
Jasper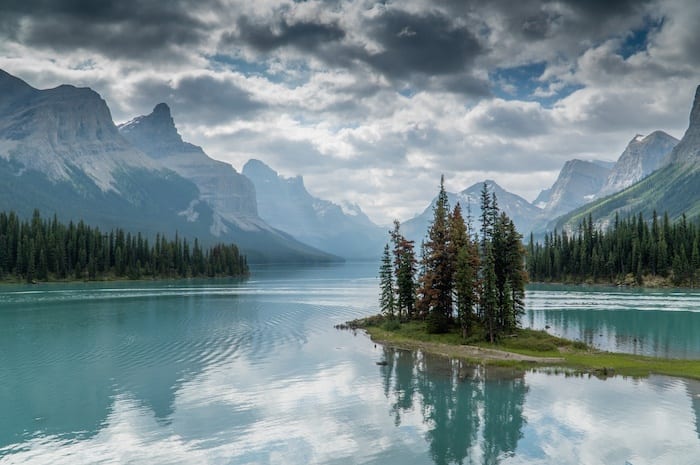 After Athabasca Falls, the scenic mountain town of Jasper is only 25 minutes away. You can celebrate reaching your destination with a great meal at one of the restaurants in town, like Evil Dave's or Jasper Brewing Company.
There are many places to stay in town but we enjoyed a comfortable and affordable stay at Jasper House Bungalows. Plan to stay a few days because there are so many things to do in Jasper. Hopefully, you will stay a few days and enjoy all the things to do in Jasper.
Be sure to at least hit the highlights like a boat cruise on Maligne Lake to Spirit Island, a hike in Maligne Canyon, and canoeing on Pyramid Lake.
If you are planning on driving the Icefields Parkway, you may also want to look at these other related articles for Jasper and Banff:
PIN THIS FOR LATER