During the summer we spent 10 days in the Canadian Rockies, from Kananaskis up Banff National Park then Lake Louise, and finally finishing in Jasper. During our stay, the temperature ranged from the low 30s (Fahrenheit) at night to the 70s during the day. That creates some packing challenges! To help you plan a trip to the Canadian Rockies, I've put together this Banff packing list so you don't forget anything!
If you are vacationing in the Canadian Rockies, you are going to spend a lot of time outside — so you need to be prepared. Even evenings out can be a casual affair, so I would pay more attention to what to wear in the Canadian Rockies during the day than worrying about dressing up at night.
Definitely check the weather before you go, but be prepared for anything and certainly for large temperature fluctuations. Also, consider what activities you will be doing on the trip and make sure you are outfitted appropriately. For example, I saw someone trying to walk on the Athabasca Glacier in a skirt and heels — not a good choice!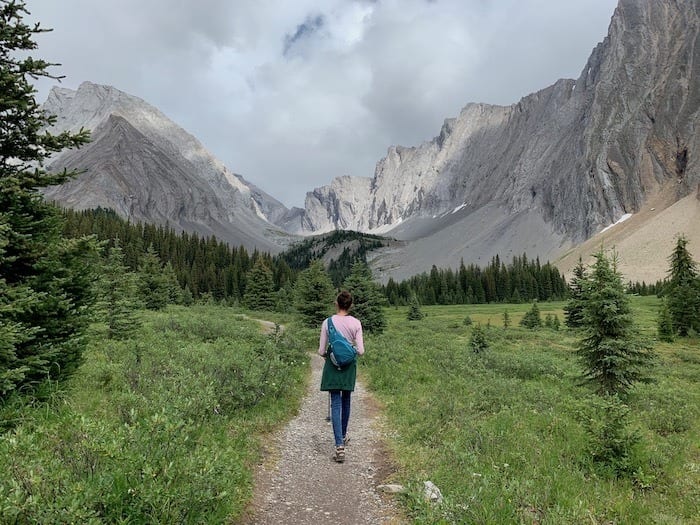 Weather in Banff During the Summer
As I mentioned, the weather conditions can change quickly in the Canadian Rockies. Summer is also a short season, and it isn't unusual to still get snowstorms in June or as early as August or September. Typically the summer in Banff is hot and dry, but the year we visited, there had been dozens of days of rain in July (luckily we only got one rainy day on our trip.)
Expect to find temperatures in the 70s (approximately 25 Celsius) during the day, with it getting much chillier at night, with temperatures getting down to the 50s or lower. Keep in mind that it will get even colder at higher elevations so if you are staying on the mountain or doing any late-night star gazing, you will really need to bundle up. During our night photo tour, the temperatures got down to freezing, especially by 2 am when the stars were brightest.
Summer Banff Packing List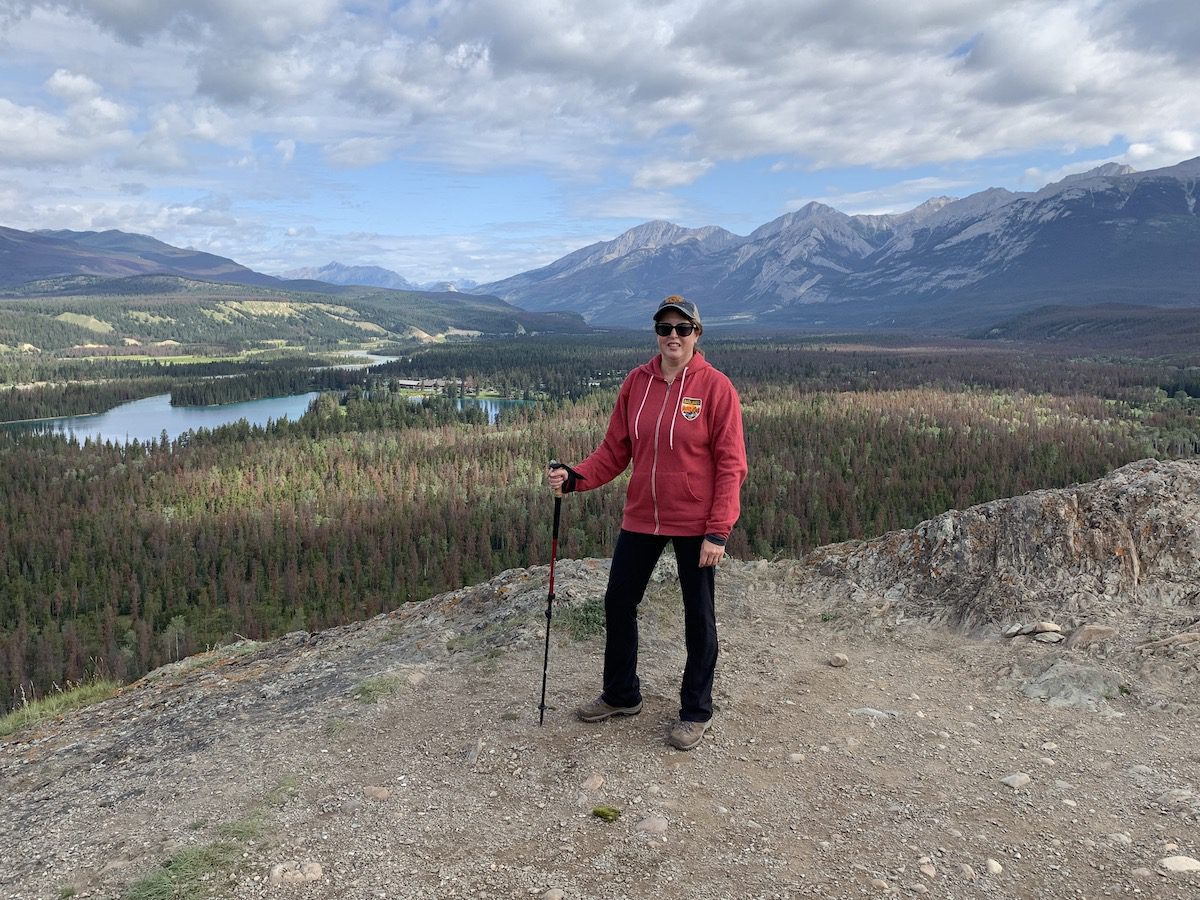 Note: This post may contain affiliate links. If you click a link and make a purchase, I may receive a small commission. All opinions are my own.
Clothing: What to Wear in the Canadian Rockies
Hiking pants — You will primarily be wearing hiking pants on your various adventures in the Canadian Rockies. You want ones that are quick drying and comfortable, with convenient pockets. My favorites are from North Face, Columbia, and Prana
Fleece-lined leggings – you can expect some chillier days and nights so in addition to your lightweight hiking pants, you may want to bring a pair of fleece-lined leggings. There are many options available but I love the dog-walker leggings from Aventura for the comfort, warmth, and helpful side pockets.
Jeans – I don't suggest bringing many pairs of jeans and they aren't too comfortable for active adventures and they are awful when they get wet. But if you love your jeans, bring a pair to wear out in the evening.
Flannel shirts – flannel shirts are a must in the Canadian Rockies! I'm a big fan of L.L. Bean flannels, especially the zip-up or the lined versions. The tunic styles also work great with leggings.
Sweat-wicking t-shirts or long-sleeve thermals for base warm layers – merino wool makes a great layer and can be worn multiple times without getting stinky. You will need a mix of t-shirts and long sleeves to account for varying temps. I really like the REI Coop Sahara t-shirts for hiking.
Shorts/tank top — just in case it warms up a lot, you may want to throw one pair of shorts and a tank top to layer under something in your bag. Columbia has a good variety of hiking shorts but you may want to consider sizing up if purchasing ones with a button and zipper as I find those run a little small.
Hiking socks – to me there is no better hiking socks than those from Darn Good Socks. Made in the USA these offer padding and comfort, with great sweat-wicking capabilities. Plus, wool keeps your feet warm!
Comfortable underwear and sports bras – ExOfficio underwear is great for hiking and travel because it is lightweight and dries quickly.
Waterproof hiking boots — I've always loved these from Merrell but also just invested in a pair of LaSportiva Ultra Raptor II hiking boots
Sweatshirt or fleece — bring a couple in case they get dirty (or you get tired of seeing the same shirt in every photo)
Lightweight puffer down jacket — for cold nights. I like these from Columbia because they are thin and packable
Bathing suit — for soaking in the hot tub, swimming in a lake (if you dare), or visiting hot springs
Slip on sneaker
Flip flops or hiking sandals
Rainpants — really wish I had worn mine when we went horseback riding and the rain started coming down! They were also needed on the Via Ferrata.
Knit hat and baseball or hiking hat
Thin gloves
Sunglasses
Cozy PJs (but not too warm in case the hotel is overheated)
Gear to Bring
Your Banff packing list shouldn't be only clothing. There is some gear that you should bring to make your trip more comfortable.
Camera with zoom and wide-angle lens for taking photos of all the beautiful scenery, a neutral density filter and tripod for waterfalls will also come in handy, along with a good Zoom lens to capture any wildlife photos.
Extra phone chargers (including a car charger) and camera batteries
Day pack for hiking — You want your daypack to be large enough to hold two water bottles, your phone, charger, bug spray, GPS, bear spray, first aid kit, snacks, rain gear, and other necessities
Hiking poles — I would never have made some of our hikes without these Black Diamond collapsible hiking poles
Refillable water bottles — at least 1 per person depending on size. One with a filtration system like Lifestraw would be helpful. Hiking makes you thirsty!
Headlamp with red light if you want to do night sky viewing
Bear bell — You will see bear warnings all over the Canadian Rockies and these signs and alerts are something to be taken seriously. Ideally, you should hike with a group and make lots of noise as you go. Sometimes you are too tired from hiking to make a lot of noise and a bear bell can come in handy.
Buy when you arrive: Bear spray!! You really don't want to go anywhere in the Canadian Rockies without this. Just remember that you can't bring it with you on the plane so you will need to leave it behind if flying home.
GPS or personal tracker — if you are hiking on your own or doing a lot of backcountry hiking. At a minimum, please let someone else know what trail you are doing and when you expect to finish and check in with them. I realized on one of our longer hikes that I really should have had one of the Garmin InReach devices and now I never hike without it.
Don't Forget Toiletries & Extras
Bug spray
Sunscreen
Moisturizer (remember you are in the mountains)
Lip balm (I'm a fan of Burt's Bees)
Deodorant (I like Native natural deodorant)
Download your playlists and entertainment before you go as cell coverage is spotty and WiFi signals tend to be weak
A good guide book (we used Moon Travel Guides Canadian Rockies)
Travel insurance — I've used Allianz Travel for years!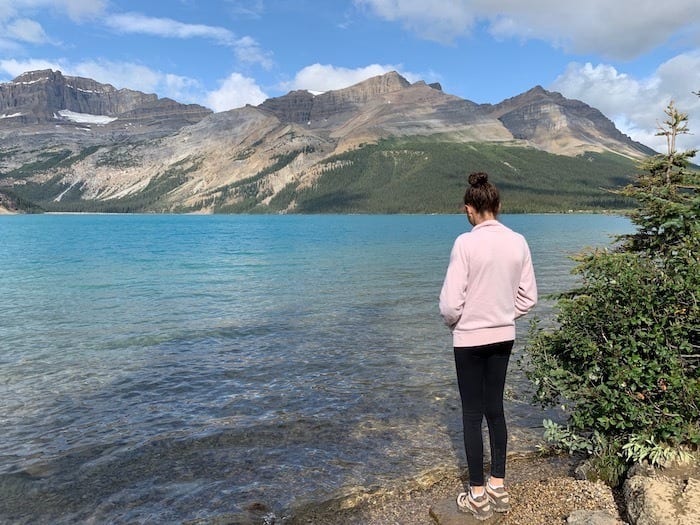 Plan your Trip to the Canadian Rockies
If you are planning a trip to the Canadian Rockies, you should also check out my articles on the following:
Download the Banff Packing List Printable
Ready to get packing? Download the Banff Packing List PDF and print it out when you are packing for your trip.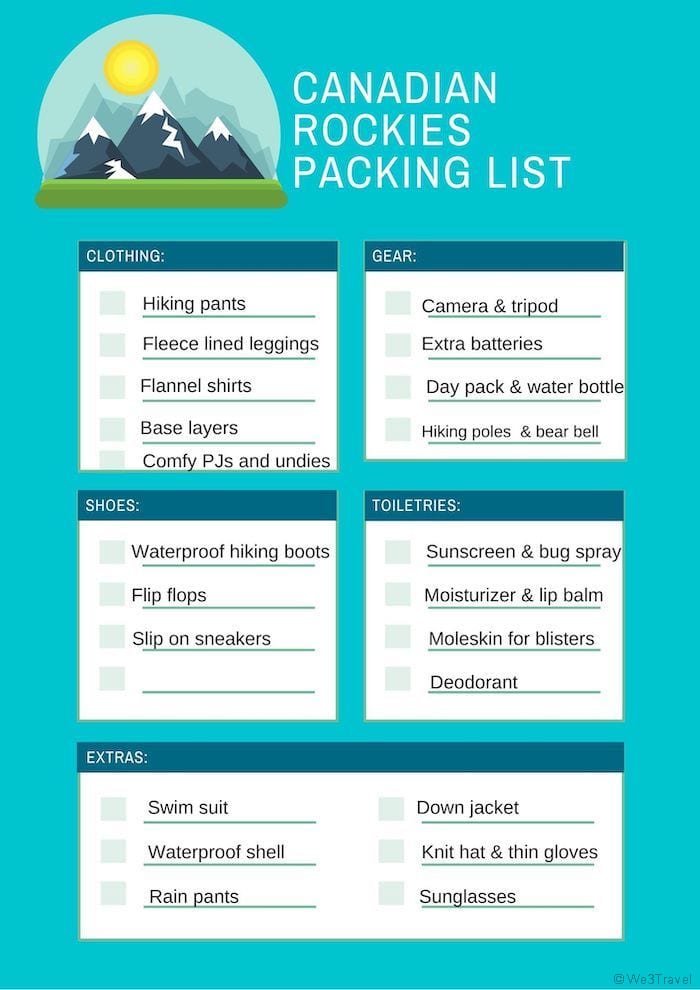 Save this on Pinterest