Banff National Park is one of the top tourists attractions in Canada, bringing in over four million visitors each year. All of those people equate to high-priced hotels, long waits at restaurants, difficulty finding parking, and crowded sidewalks and attractions. As a result, more people are flocking to the nearby town of Canmore as an alternative to staying in downtown Banff. But when it comes to Canmore vs Banff, which is really better?
Part of that answer depends on your preferences. Do you like to be in the middle of everything or do you prefer to stay a little off-the-beaten path? The towns are actually quite similar, with a mountain ski-town vibe. Both offer shops, restaurants, bars, and hotels with a walkable downtown district. Each town is also close to the highway and natural attractions, although Canmore is outside of Banff National Park.
The biggest differences are PRICE, SPACE, and LOCATION. As you can imagine given the laws of supply and demand, hotel rooms in Banff are quite expensive, especially in the summer. Rooms start around $250 and go up to $850+ per night at a luxury hotel.
Accommodations in Canmore start a little lower and you can get more space for your money, often finding condos or hotel suites that can easily fit a whole family for $250-350 per night. You also don't need a National Park pass when you stay in Canmore, except for any days you plan on going into Banff National Park.
Banff will put you literally inside the National Park, while Canmore is located 10 minutes outside of the park and 20 minutes from downtown Banff. Canmore makes a better home base for exploring parts of Banff National Park, as well as the beautiful Bow Valley, Spray Valley, and Peter Lougheed Provincial Parks.
Banff is a slightly better home base for exploring more of Banff National Park, including Lake Louise, and driving the Icefields Parkway up to Jasper National Park. Let's take a deeper dive into the differences to help you decide between Canmore or Banff.
Canmore
Canmore is about 1.25 hours west of Calgary International Airport. This charming mountain town is surrounded by the Canadian Rockies and is home to boutiques, trendy restaurants, and art galleries. It is also a home base for outdoor enthusiasts including Nordic skiers, hikes, rock climbers, and more.
The Nordic Centre is a carry over from when Calgary hosted the Olympics in 1988. If you spend any time in Canmore, you can see that it is an active community. People are walking everywhere, even in the rain. You see backpackers coming off of trails and rock climbers heading to Elevation Place for indoor climbing. It feels young and hip in an outdoorsy way, and while there are tourists, it seems more manageable than the crowds wandering through downtown Banff.
Where to Stay in Canmore: Basecamp Resorts
Note: We received a complimentary stay at the Basecamp Resorts in exchange for an honest review. All opinions are my own. This post contains affiliate links. If you click a link and make a purchase, I may receive a small commission.
The town is growing, with development of resorts such as the Grande Rockies Resort, Solara Resort, and the Blackstone Mountain Lodge. While you won't find Airbnbs or vacation rentals in Banff, you will find many units at these resorts available on Airbnb.
I've heard that Airbnb technically isn't allowed in Canmore either — but based on the number of listings you find there, I'm not sure if that is really enforced. When I was looking, I found many options for one or two-bedroom until that slept 4-6 for under $300 per night.
We ultimately decided to stay at Basecamp Resorts, and I'm glad we did. Basecamp Resorts is a short walk to the main downtown street in Canmore, is easy on/off the highway, and is also walking distance to Elevation Place and numerous restaurants.
Basecamp Resorts owns a few properties in Canmore, including the Lamphouse Hotel, Basecamp Resorts, Basecamp Lodge, and Basecamp Suites. Basecamp Lodge is a traditional hotel, while Basecamp Resorts next door are individual suite units. You can check in at the Lodge or you are emailed a code for the keypad of your unit on the day of arrival.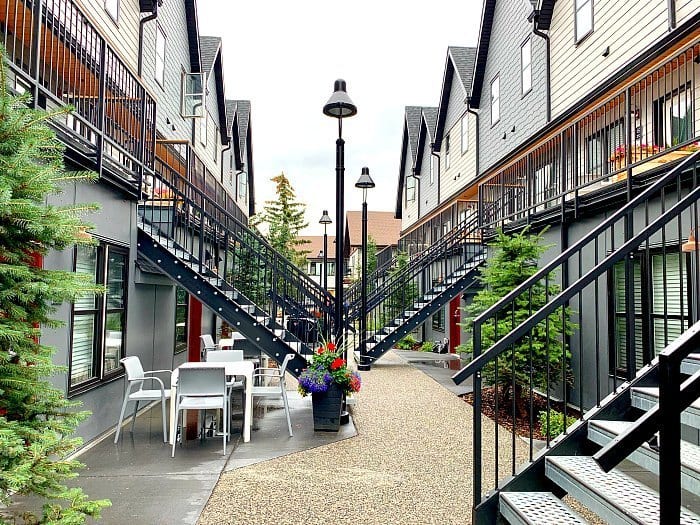 Basecamp Resorts offers one-bedroom, two-bedroom, three-bedroom, and five-to-six bedroom suites along with studio units, giving flexibility for all kinds of groups or family sizes. Since there were just two of us, we stayed in a one-bedroom unit on the ground floor, which made it nice to not have to schlep our luggage up the courtyard stairs.
I was really impressed with our unit's modern kitchen and clean design aesthetic. We spent a comfortable two nights enjoying our time in Canmore. The bedroom featured a queen size bed and small closet.
The kitchen was fully equipped with an open floor plan design connecting to the living space. The living space consisted of a pull out sofa with a coffee table and large screen television. There was also a small bathroom equipped with local bath products.
My only caveat is that if you are sleeping on the pull out in the living room, it might be a little noisy with people walking by and you will also hear those on the second level going up the metal stairs in the courtyard and rolling their suitcases past your window.
This actually bothered me more than the train tracks behind the building. However, they do supply ear plugs, although I always travel with my Bose noise masking Sleepbuds so it ultimately wasn't a problem and they do ask for quiet hours at night.
If you want to relax after a long hike, Basecamp Resorts also offers an outdoor hot tub on the second level, with beautiful views of the mountains. Another aspect that we loved was the Rocky Mountain Bagel Company right next door. It was the perfect spot to pick up breakfast before heading out in the early morning for our daily activities.
Looking for more options? Check out my friend Jody's breakdown of her favorite Canmore hotels.
Things to do in Canmore
There is plenty to do in and around Canmore, before you venture into Banff National Park. Here is just a sample:
Canmore Nordic Centre
The Canmore Nordic Centre was used for the 1988 Winter Olympics and is still a popular spot for visitors. In the summer, it offers a range of activities from hiking, trail running, mountain biking, and even roller skiing. During the winter, there are more than 65 kilometers of groomed trails for cross-country skiing. In addition, they offer snowshoeing, fat biking, tobagganing, ice skating, and winter disc golf.
A very popular hike from there is to Grassi Lakes. Just keep in mind when hiking that this is a wildlife corridor and it is recommended that you check for wildlife alerts and carry bear spray.
Elevation Place
When the weather drives you indoors, Elevation Place, which is located right in town, offers an indoor aquatics center and indoor climbing gym. Since my daughter is a rock climber, it was our intent to check out the rock gym but we expanded all of our energy hiking instead!
Peter Lougheed Provincial Park
We loved exploring Peter Lougheed Provincial Park while staying in Kananaskis during our Canadian Rockies vacation. Our highlights were Lower and Upper Kananaskis Lakes. We also spent half a day hiking to Chester Lake, off the Spray Valley Parkway, and it was so remote and untouched that it was one of our favorite hikes of the trip.
Spray Valley Provincial Park
If you drive the gravel Smith-Dorrien / Spray Road between Canmore and Peter Lougheed Provincial Park, you will also pass through part of Spray Valley Provincial Park. Pack a picnic to enjoy at the many picnic spots along Spray Lake.
Where to Eat in Canmore
We really enjoyed the convenience, taste, and price at Rocky Mountain Bagel Company and that became our go-to spot for breakfast while we were in town. For dinner, we had a good meal at the Iron Goat Pub & Grill, but you will likely want to drive as it is across the highway outside of the downtown area.
For tea, you need to stop in at Cafe Books, which offers new and used books, along with an adorable little tea shop. We also heard good things about the Grizzly Paw Brewing Company but never got a chance to eat there.
Banff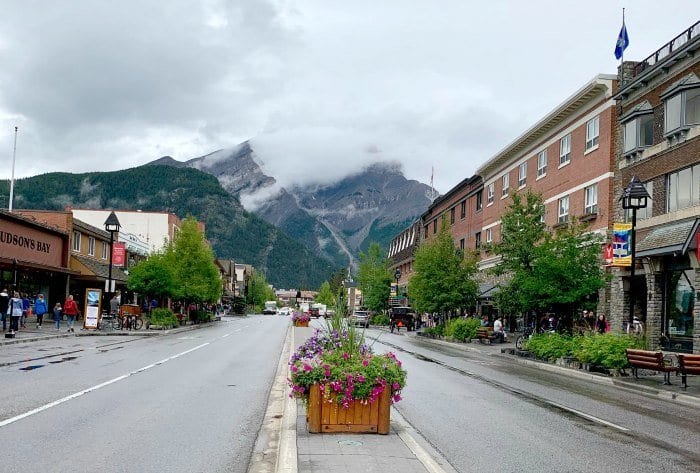 Banff is the gateway to the Canadian Rockies, situated in Banff National Park, just an hour-and-a-half from Calgary and three-and-a-half hours to Jasper. You will find every nationality and walk of life visiting Banff (although the Canadian Rockies do seem surprisingly popular with Aussies and Kiwis). The other thing you will find in Banff are many large tour bus groups.
If you are visiting in the summer, expect to encounter crowds at every turn. Hotels book up well in advance, especially due to those large groups, and restaurants can easily have hour-long waits if you haven't made a reservation. That said, the town is charming and full of boutiques and restaurants. You won't need to eat at the same place twice!
Where to Stay in Banff
If you do decide to stay in Banff over Canmore, be sure to book your hotel well in advance of your visit. You will find everything from budget hotels to luxury resorts. A few options include:
Things to do in Banff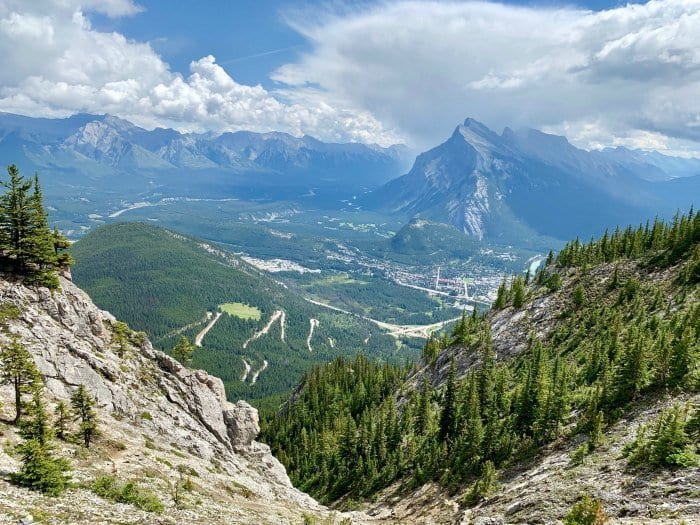 Johnston Canyon — if you want to visit this popular attraction, you should plan on getting there very early or late in the day. A short walk will bring you to the falls and you can continue on to avoid the crowds.
Mt. Norquay Via Ferrata — climb a mountain even if you don't have mountaineering or rock climbing experience. It isn't for everyone, but if you can handle the heights and the workout, the views are worth the climb. If you want the view without the climb, you can either ride the Mt. Norquay scenic chairlift or take the Banff Gondola.
Horseback riding — take a 1-3 hour trail ride with Banff Trail Riders, or enjoy a wagon ride to a cowboy cookout.
Lake Louise — drive the Bow Valley Parkway from Banff to Lake Louise and keep your eyes peeled for wildlife along the way. When you arrive, head to Lake Louise for beautiful views and rent a canoe for an hour if you are ready to splurge.
Drive the Icefields Parkway — this drive between Lake Louise and Jasper could take all day depending on how often and how long you stop. See where to stop along the Icefields Parkway and things to do in Jasper when you get there.
Where to Eat in Banff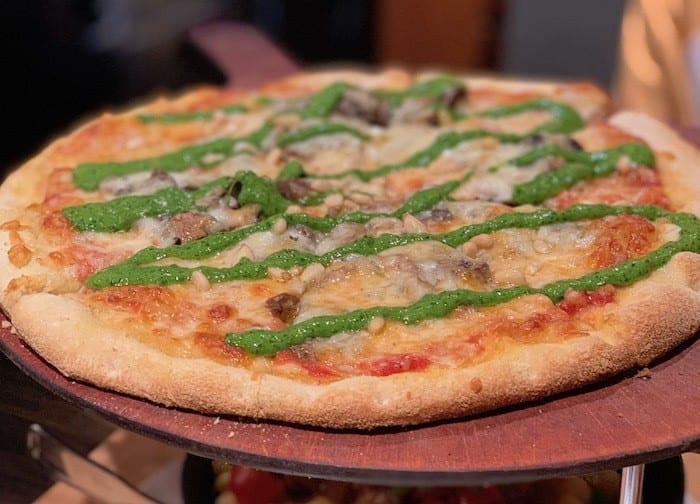 If you are visiting Banff, be sure to have lunch at Bear Street Tavern. They claim to have ridiculously good pizza and they are right. They serve it with a honey and oil dipping sauce and it is amazing! For dinner, head next door to The Bison Banff for farm-to-table entrees.
So have you decided where you will stay? Canmore or Banff? Tell me about your trip and follow along with ours on Facebook and Instagram.
PIN THIS FOR LATER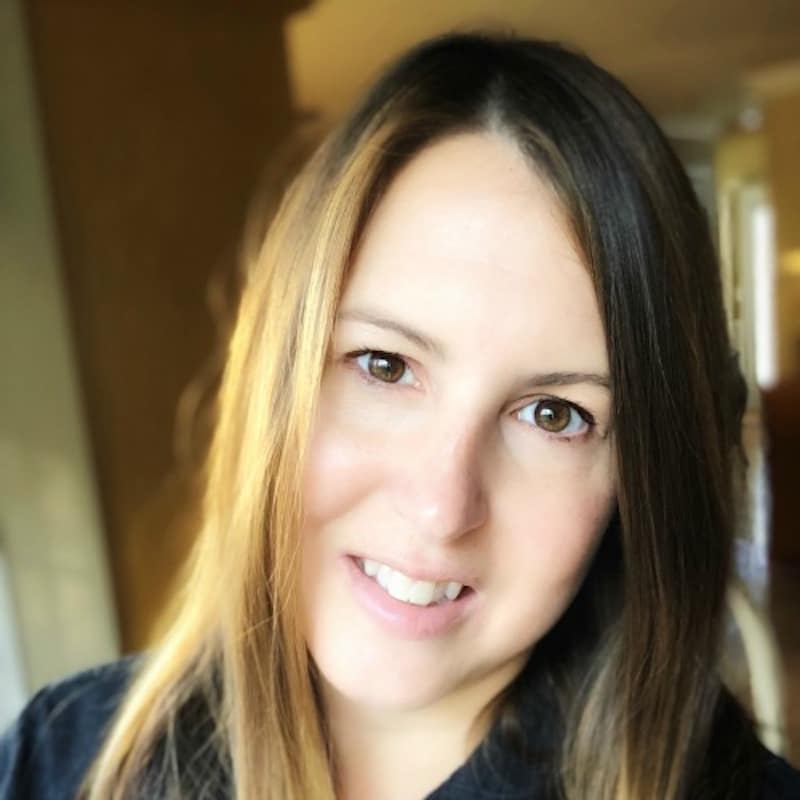 Tamara Gruber is the Founder and Publisher of We3Travel. A former marketing executive and travel advisor, Tamara is an award-winning travel writer and recognized expert in family travel. She is also the publisher of YourTimetoFly and the co-host of the Vacation Mavens travel podcast.