Taking a Florida Keys road trip on the Overseas Highway from Key Largo down to Key West is a classic American road trip. Sun on your skin, wind in your hair, your road trip playlist jamming, cruising along this chain of islands — it is a trip everyone should take in their lifetime, whether it is with their family, friends, or on their own.
This 113-mile trip travels through small tourist towns, over Seven Mile Bridge (a Florida landmark), and past sparkling water in more shades of blue than your average crayon box. It is one of the most scenic drives in Florida and if a Florida Keys roadtrip isn't on your bucket list, it should be.
HOw Many Days Do You Need to Drive the Florida Keys?
Technically you can complete a Florida Keys road trip in a day, as the drive typically takes about five hours without any long stops. However, you should really try to embrace the relaxed attitude of locals (or the "Conchs" as they call the locals in Key West) and take your time.
I would recommend that you stop and stay at least two nights somewhere in the middle keys, either in Key Largo or Marathon. This allows you more time to enjoy some of the activities and water sports, like kayaking in the Florida Keys.
There are five major regions in the string of small islands that make up the Florida Keys. From north to south these are: Key Largo, Islamorada, Marathon, the Lower Keys, and Key West. Each region offers a different vibe and attractions, so it makes sense to explore a few places along the way. Otherwise, you might as well just skip the road trip and fly to Key West — but then you miss so much of the good stuff!
Getting to the Florida Keys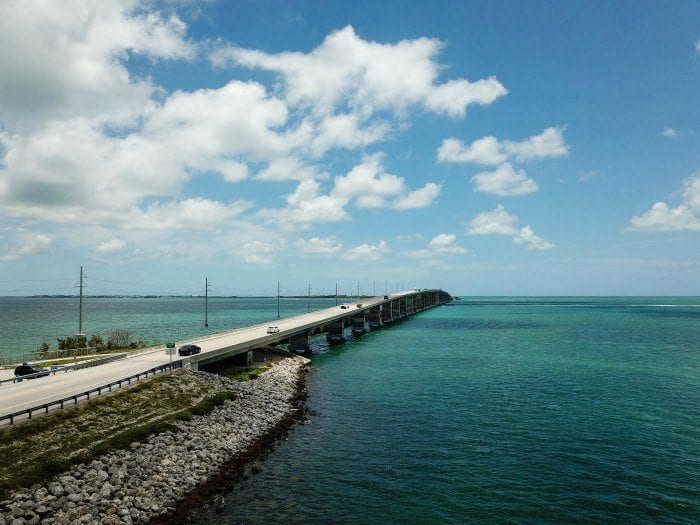 Getting to the Florida Keys is pretty easy, as you can find direct flights from across the country to either Miami or Fort Lauderdale. From Miami International Airport to Key Largo takes about an hour, and it is only a little further (1.5 hours) from Fort Lauderdale.
If you are limited in time, you may want to consider driving one way and flying out of the other, just keep in mind that you may incur some additional car rental fees for a one-way drop-off.
Best Time to Take a Key West Road Trip
Since Key West is the Southernmost point in the continental USA, a Florida Keys road trip can be a great way to escape the winter cold, making December through May peak season. It would make a fun Florida romantic getaway for Valentine's Day too. While the Florida Keys are popular with snowbirds, you can enjoy this fun destination year-round. Just keep in mind that the summer months can be brutally hot and humid, so it is best to plan water activities. You also need to watch out for afternoon thunderstorms.
The only time to possibly avoid is prime hurricane season from August through November, as you never know what to expect and evacuating on the Florida Keys can be challenging as there is just one road in and out of this island chain.
Where to Stay on a Florida Keys Roadtrip
Note: This post contains affiliate links. If you click a link and make a purchase, I may receive a small commission. My recent trip was hosted by The Florida Keys and Key West, and we received complimentary accommodations, transportation, and some activities. All opinions are my own.
If you only have a long weekend, it makes sense to hightail it down to Key West for the duration. Or, skip the long drive and stay in the higher Keys like Key Largo or Islamorada. However, if you have four nights or more for your Florida Keys itinerary, consider splitting up your stay.
I recently took a Florida Keys girls' trip with my podcast partner Kim, and we spent two nights in Key Largo at Baker's Cay Resort. Located in the southern part of Key Largo, it is a great jumping-off spot for exploring the nearby Keys.
We also had dinner and a spa treatment at the Playa Largo Resort, a Marriott Autograph property, nearby, which had a great pool and waterfront area for families.
On a previous family trip to the Keys, we stayed at Hawk's Cay Resort on Duck Key, which is a fabulous choice for families and great for venturing into nearby Marathon.
Once you arrive in Key West, you have the option of staying in town or saving a little money by staying just outside of town on Stock Island. On our girl's trip, we stayed at the Perry Hotel Key West on Stock Island, a boutique hotel that offers shuttle service to the beach and downtown.
Baker's Cay Resort Key Largo
Baker's Cay Resort Key Largo is part of the Curio Collection by Hilton. As with many Curio properties, this renovated property maintains the local character. The beautiful public spaces offer many areas to relax and hang out, from swings on the patio to the library and games area off the lobby.
There are two restaurants on the property, as well as a beach bar that serves up complimentary champagne at sunset, and a food truck and bar at the pool.
The rooms at Baker's Cay have been refreshed, but the building still maintains outdoor corridors. There are two wings of the resort, one fronting Hammock Beach, which is a tiny beach tucked under the mangroves, and the other near sunset beach, which is the main beach featuring the dock and water activities.
Keep in mind that the beaches in the Florida Keys are relatively small, lined with palm trees and a few rows of beach chairs. The real attraction of the beach area is the clear water and outdoor activities.
You can book all sorts of excursions and water sports from the resort, including wave runners and paddle boarding. Kids also love the challenge of the resort ABC scavenger hunt, with letters scattered throughout the property.
Perry Hotel Key West
The Perry Hotel is located on Stock Island, an up-and-coming area approximately 20 minutes outside of downtown Key West. This stylish, boutique hotel caters to young families, groups, and couples.
Even though the hotel isn't within walking distance to downtown, they do offer scooters for rent for $45 a day, or free shuttle service on the hour from mid-morning through the evening.
Of course, you can always hang out at the hotel. Rent a cabana around the pool, hang out in a hammock, enjoy an excursion from the marina next door, enjoy oysters at the pool bar, or experience fabulous sea-to-table dining at Matt's Stock Island Kitchen and Bar.
The rooms are as tastefully decorated as the public spaces, many offering balconies overlooking the pool. The Perry Hotel Key West is a great choice for those looking for smart, affordable luxury who want to stay out of the hustle and bustle of downtown.
More Key West Hotel Options
Places to Stop on a Florida Keys Road Trip Itinerary
While you are staying in the Key Largo area, take some time to explore. It is known for its fishing and scuba diving, and nearby Islamorada is one of the cutest small towns in Florida. Other attractions include:
John Pennekamp Coral Reef State Park
The underwater playground of John Pennekamp Coral Reef State Park is a must-visit and a good first stop on your Key West drive. This undersea park covers 70 nautical square miles, whose coral reefs can be explored by glass-bottom boat, scuba, or snorkeling expedition to see marine life and tropical fish. Upland areas offer mangrove swamps, walking trails, picnic tables, swimming, and a visitor center.
Lunch at Mrs. Mac's Kitchen
Mrs. Mac's Kitchen is a long-time favorite of locals and tourists, as you can tell from the license plates lining the walls. Try the crab cakes or the conch fritters, just be sure to save room for some key lime pie.
Robbie's of Islamorada
Robbie's Marina is one of the most popular places in the Keys and a must stop on your Florida Key road trip. Most visitors stop here to feed the tarpon fish, purchasing buckets of fish and paying an entrance fee to access the docks. However, there is also a restaurant and bar on site called the Hungry Tarpon. Just make sure you arrive early because the parking lot fills up fast.
Robbie's also offers all sorts of water excursions, including snorkeling, parasailing, scuba, kayaking, paddle boarding, and fishing charters. We took a snorkeling tour from Robbie's out to Alligator Reef (don't worry, there aren't any alligators, although you may see a nurse shark!) It was pretty choppy on the day we went out, so if you get seasick you may want to inquire about conditions before you board.
Boat Tours
You may also want to consider a glass-bottom boat tour or sunset cruise with Key Largo Princess. The glass-bottom boat tour will allow you to see the underwater world of the John Pennekamp Coral Reef State Park and the Key Largo National Marine Sanctuary without going under the water!
If you take my advice and spend a couple of nights in Key Largo before heading down to Key West, you will still have quite a drive in front of you. The trip from Key Largo to Key West took us nearly five hours, with a few stops along the way.
For more stops on your Florida Keys road trip, check out these options.
Marathon
If you are getting hungry while driving through Marathon, plan to stop for lunch at Island Fish Co. and Tiki Bar, which is a great spot to catch the sunset too. Or head off the highway to go to Burdine's Waterfront Marina. Both have a delicious fried key lime pie, but Burdine's is pretty unique and served chimichanga style.
While you are there, stop and visit the sea turtles at The Turtle Hospital, with rescues, rehabilitates, and releases injured turtles. Just keep in mind that reservations are recommended.
Bahia Honda State Park
Even though the Florida Keys aren't known for its beaches (see this list of the best Florida Beaches), Bahia Honda State Park is said to be one of the most beautiful beaches in the country. It makes a good stop for a day or just some beach time at Bahia Honda Key.
Big Pine Key
Just after Bahia Honda State Park, you will enter Big Pine Key. This is home to the National Key Deer Refuge so make sure you drive slowly through this area and keep your eyes peeled for the native key deer. These tiny creatures are quite adorable and not too hard to find.
Stop for lunch or a drink at the No Name Pub. It sounds like a local joint but despite being off the highway, plenty of tourists have already discoverd it. No Name Pub is mostly known for their chicken wings and the hundreds of dollar bills that hang from the ceiling and walls.
Things to do in Key West
Soon you will arrive at your final destination…Key West…the Conch Republic. You can easily spend a week enjoying Key West, especially if you enjoy getting out on the water. Be sure to plan to stay at least two or three nights to get a real taste of the Keys. Just watch out you don't get "Keys disease" and end up moving down there like so many of the people you will meet down there.
In addition to shopping on Duval Street, checking out the Key West Aquarium, stopping at the Butterfly Conservatory, visiting Ernest Hemingway's house, and getting a photo opp at the Southernmost Point in the Continental United States marker, here are some other fun things to do in Key West. And if you have the time, I'd recommend a day trip to Dry Tortugas National Park.
Sunset Celebration at Mallory Square
Key West sunsets are famous, as are the Sunset Celebrations at Mallory Square. You will find food carts and all sorts of street performers from fire jugglers to tightrope-walking cats. Just be sure to line up at the water's edge early to get a prime spot for watching the sunset.
The Sunset Deck at the Margaritaville Key West Hotel is a prime sunset viewing opportunity. If you can't find a seat there, or if a cruise ship is blocking your view, head over to Sunset Pier and stake out a rail-side table. Of course, the best place to see the sunset would be over at Latitudes at Sunset Key.
Sunset Catamaran Cruise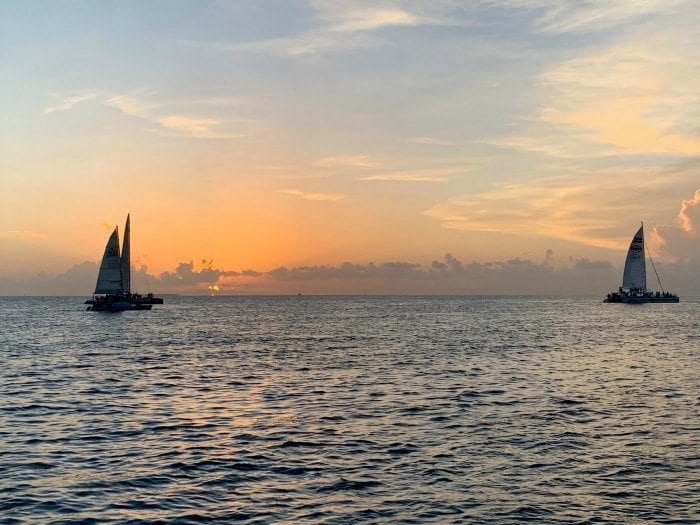 Don't miss a sunset while you are in Key West. After enjoying one evening in Mallory Square, get out on the water for an unobstructed view. There are many different types of sunset cruises, from major party boats with live music and disco lights, to smaller catamaran cruises.
We picked a sunset catamaran with Sebago Key West. There was plenty of room to move around the catamaran and the crew was very attentive. The cruise included an open bar of wine and beer, along with four courses of light bites including cheeseburger sliders and key lime tarts.
I would also recommend the two-hour sunset cruise with Wild Dolphin Adventures or the sunset and snorkel combo sail with Sunset Sail Key West.
Island Adventure Tour
Key West has a few beaches, but to experience the Keys, you need to spend time on the water. You can find every type of water activity, but one that we loved was the Island Adventure Eco-tour from Fury Key West.
This half-day tour included breakfast and lunch. It started with a short snorkel time in a coral garden, where we saw plenty of sponges. Next, we headed out to Woman Key for an eco-kayaking tour along the mangroves. We also had plenty of time to hang out on the sandbar and paddle board.
On the way back we even lucked out by spotting a pod of dolphins along the side of the boat. This was such a fun tour, but be sure to bring plenty of reef-safe sunscreens and a good sun hat because the sun is strong out on the water.
Key West Food Tours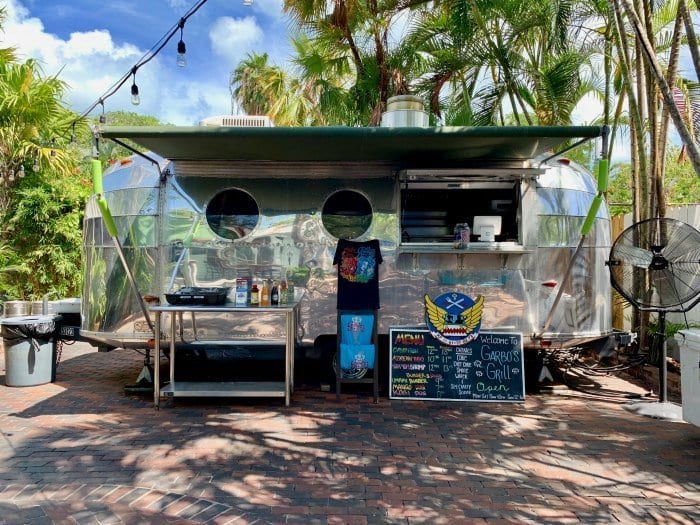 If you are a foodie, be sure to sign up for an excursion with Key West Food Tours. They offer a seafood tour, Cuban tour, and cocktail tour. We took a seafood tour with Rose, who was an amazing guide and former chef and he made the tour so interesting.
We sampled food in five different locations and ended our day at a brewery. If you are looking for more meal suggestions, be sure to check out my recommendations on where to eat in Key West.
And that wraps up your Florida Keys road trip. If you need to cut your time short, you can always book a one-way car rental and fly back from Key West. Otherwise, use your return trip to hit some of the places you may have missed on your drive down.
Looking for more road trip ideas?
PIN THIS FOR LATER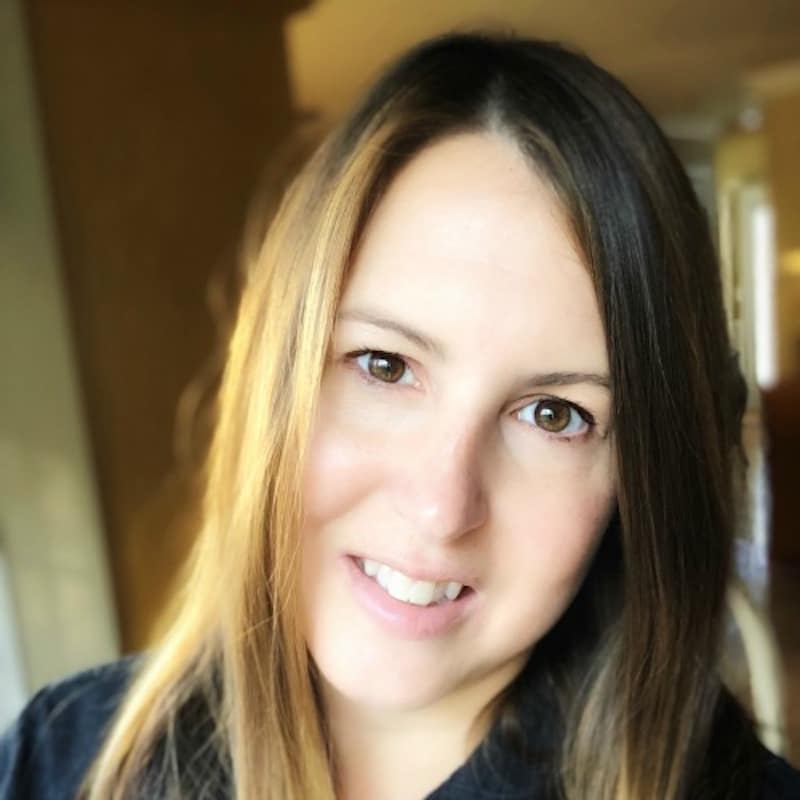 Tamara Gruber is the Founder and Publisher of We3Travel. A former marketing executive and travel advisor, Tamara is an award-winning travel writer and recognized expert in family travel. She is also the publisher of YourTimetoFly and the co-host of the Vacation Mavens travel podcast.