On my recent Florida Keys road trip, I was on a mission to find the best key lime pie in Key West (and the rest of the Keys). It is great to have an excuse to eat as much dessert as you want on girls' trip— after all, it is for research right? The truth is, not all key lime pie is created equal and you will find it fried, frozen, dipped, and more. It takes some real serious research to find the best.
On our way from Key Largo to Key West we sampled everything with key lime flavor: key lime donuts, key lime muffins, key lime ice cream, key lime cocktails, key lime chocolates, and lots and lots of key lime pie. Here are the ones that really stood out.
Best Key Lime Pie in Key West & Beyond
Kermit's Key West Key Lime Pie Shoppe
Kermit's is a great spot for coffee or breakfast before heading out on a boat excursion. However, in addition to the cafe they also have a key lime pie shop featuring traditional, mango, strawberry, and my favorite, the chocolate-dipped key lime pie on a stick.
You will see frozen, chocolate covered key lime pie all throughout the Keys, but Kermit's is one of the best. Their key lime pie is creamy and the chocolate is not too thick, making it easy to eat before it melts. By the way, the mango key lime pie isn't too shabby either!
200 Elizabeth Street Key West, Florida 33040
Old Town Bakery, Key West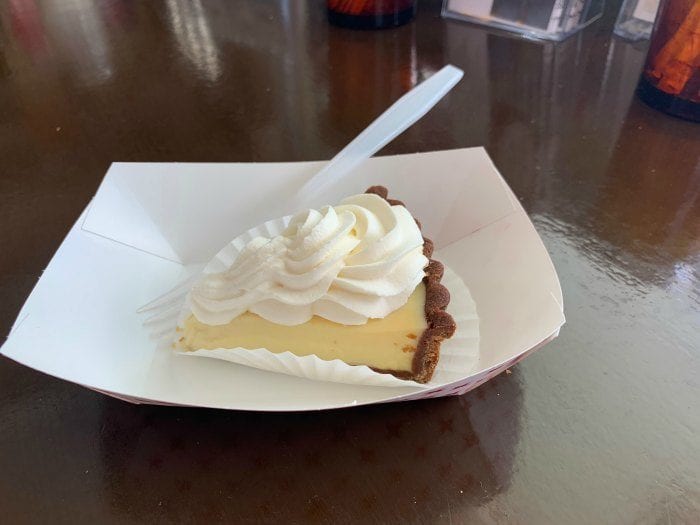 Located in Old Town, a little off-the-beaten path for those wandering Duval Street, you will find the cute, local Old Town Bakery. They offer coffee, pastries, breads, and a unique flavor to their key lime pie. Instead of the traditional graham cracker crust, they use a crushed gingersnap crust. The pie itself is nicely limey and tart, and it is also quite creamy.
If key lime pie isn't your thing, they also have a delicious brownie with a chocolate ganache center. Just be forewarned that it is big enough to share.
930 Eaton Street, Key West, Florida 33040
Burdine's, Marathon
There are two places in Marathon famous for their fried key lime pie — Burdine's and Island Fish Company. I ate at Island Fish Company on my prior trip to the Florida Keys, so this time I tried Burdine's.
It is hard to call this key lime pie, but I must say that this may have been my favorite of the trip. It is wrapped in a tortilla, chimichanga style, and topped with cinnamon sugar. Inside, the key lime pie is frozen and tastes like ice cream. In fact, the whole thing reminded me of the apple cheesecake egg roll I tried at the Iowa State Fair last summer.
1015 15th Street Ocean, Marathon, FL 33050
Blond Giraffe Key Lime Pie Factory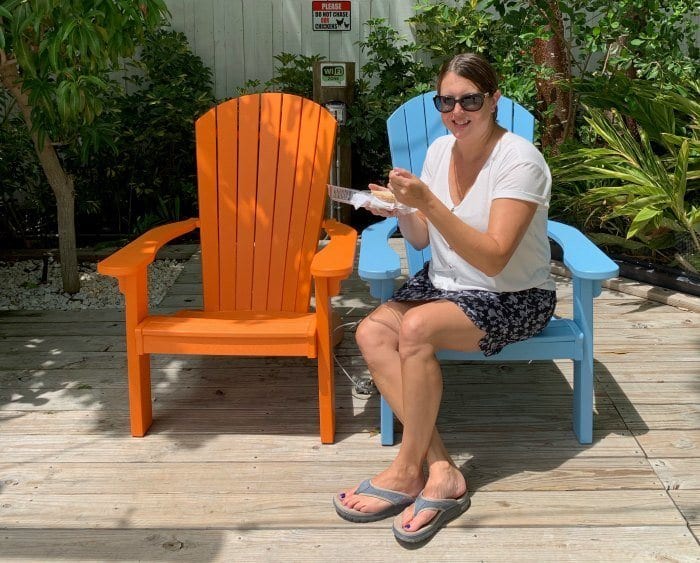 When you are driving through the Keys, it is hard to miss the Blond Giraffe Key Lime Pie Factory in Tavernier. In addition to all sorts of key lime candies and treats, you will find whole pies as well as slices that are drizzled with chocolate, topped with meringue, or chocolate-dipped. The wall is cluttered with the awards they have one for the various styles of key lime pie.
I really enjoyed the traditional slice of key lime pie, which had a nice strong lime flavor and was creamy, but the crust wasn't thick or hard. Plus, they have a nice garden behind the shop where you can take a break from your drive and enjoy your pie.
92220 Overseas Hwy, Tavernier, FL 33070
Mrs. Mac's Kitchen
Before you leave the Keys, stop in at the original Mrs. Mac's Kitchen in Key Largo. It is a favorite with locals but all the license plates on the walls will show you that you aren't the first tourist to make a pitstop here.
The key lime pie at Mrs. Mac's Kitchen is very dense, almost like a cheesecake. They serve it cold and it has a really good graham cracker crust. The lime flavor isn't very strong, so even if you don't like key lime pie (gasp!) you may want to give it a try.
99336 Overseas Hwy, Key Largo, FL 33037
What didn't Make the Cut
I should probably note a few other places that I tried that didn't make it into my best of list. For example, while I loved my salad and entree at Matt's Stock Island Kitchen, their deconstructed key lime pie dessert, served with graham crackers on the side, wasn't my favorite.
Also, the Key Lime Pie Bakery in Key West offers a traditional key lime pie with whipped cream but I found the crust was too hard and the slices were a little small for the price.
We didn't get to try the key lime pie at Blue Heaven, even though it is on my list of where to eat in Key West, but I just couldn't manage it after a big breakfast.
I hope this inspires you to go on your own quest to seek out the best key lime pie in the Florida Keys. If you find one I should try on my next trip, be sure to drop me a line or leave me a message on Facebook!
PIN THIS FOR LATER