South Dakota may be the "Mount Rushmore State", but there is more to see on a South Dakota road trip than just the faces of four presidents carved into a mountainside. You will need a week for a proper SD road trip itinerary that traverses the width of the state from west to east (or vice versa).
Depending on where you live, you may drive to your starting point in the Black Hills, or fly into Rapid City and fly out of Sioux Falls. When we did our South Dakota road trip, we combined it with a North Dakota road trip and then continued on our midwest road trip down to Omaha, Nebraska. It can also be part of an epic cross-country road trip.
To help you plan your trip, I'll break down a day-by-day itinerary with ideas on what to do, where to stay, and fun roadside attractions to break up your journey.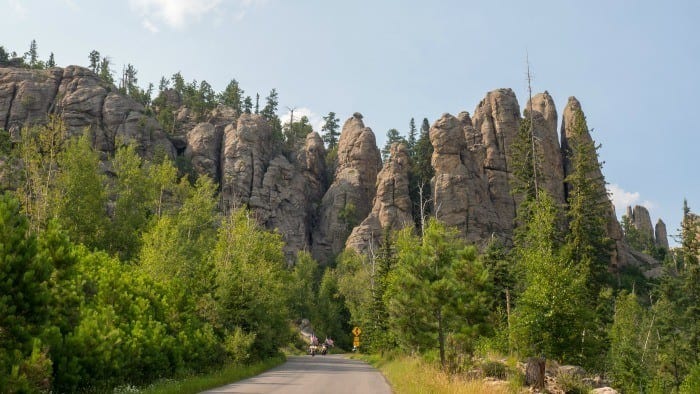 South Dakota Road Trip Itinerary
Just one word of warning, you probably don't want to make this road trip during the first two weeks of August, which is typically when the Sturgis Motorcycle Rally takes place. This event brings in thousands of bikers from across the country and finding a place to stay can be a challenge. Plus the bikers really take over adding extra crowds and noise.
Day 1: Arrive in Rapid City
I would recommend starting off your road trip in the western part of South Dakota, in the beautiful Black Hills, which is where you will spend the bulk of your time. There is so much to see in this region from monuments to stunning national and state parks.
But first, since you may be flying into Rapid City, you probably want to spend a day enjoying Main Street Square, the street art and breweries of downtown, or local attractions like Bear Country USA.
Where to stay: Hotel Alex Johnson– this historic hotel with character in downtown Rapid City, offers a family suite if needed. Now part of the Curio Collection by Hilton so perfect for Hilton Honors members seeking a bit of western-style luxury.
Day 2: Devil's Tower and Deadwood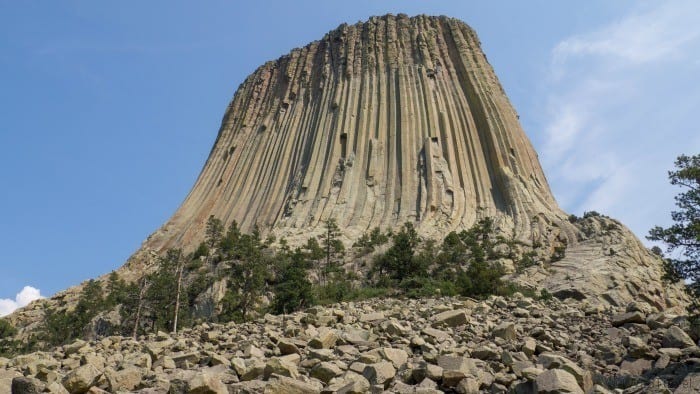 If you are willing to visit another state on your South Dakota road trip, I would suggest heading across the border into Wyoming for half a day to visit Devil's Tower National Monument. Featured in the movie Close Encounters of the Third Kind, this rock monolith is a sacred spot for indigenous peoples.
It is also very popular with rock climbers, but for a quick visit, you will want to at least hike around the base of the tower and spend a little time at the Visitor's Center learning the different theories behind its formation. The drive from Rapid City to Devil's Tower should take about 1.75 hours so your visit should take up the morning. There are a couple of places/roadhouses to eat near Devil's Tower or you may want to pack a picnic.
After visiting Devil's Tower, head to the town of Deadwood, South Dakota, via the Spearfish Canyon Scenic Byway (Route 14A). Taking the scenic route will add a little extra time (about 1.75-2 hours without stops), but the views are worth it.
Along the way, you can stop at Bridal Veil Falls and Roughlock Falls for a short hike and photo opportunity. The Chubby Chipmunk in Lead, SD is a fun treat-stop for hand-made chocolate truffles and a picture with their chipmunk statue.
When you arrive in Deadwood, you can take some time to explore this historic town of gunslingers and gold miners. If you have time, you can even take a tour of a gold mine and do some gold panning at the Broken Boot Gold Mine.
Where to stay: Lodge at Deadwood — the lodge-style decor reminded us a bit of the Great Wolf Lodge. We appreciated the indoor pool and play area, as well as the on-property restaurants. Just note that this hotel is a bit off the main downtown strip so if you head into town for meals you will probably want to drive.
Day 3: Mount Rushmore & Crazy Horse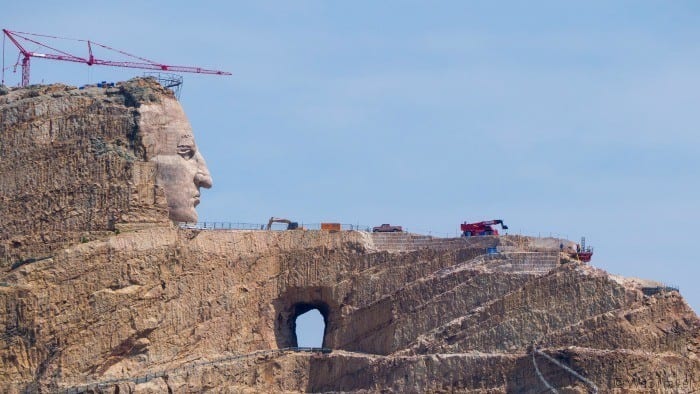 If you are ok with a busy day, you may want to start off with a scenic bike ride on the Mickelson Trail, which is a rails to trails bike trail that runs all through the Black Hills. Rabbit Bikes offers bike rentals, as well as shuttle services to/from various trailheads so you don't have to bike all of the trails or do a return trip. Just be sure to reserve in advance!
From there, you will want to head down to Crazy Horse Memorial first and then Mount Rushmore. Crazy Horse Memorial was started to create a memorial for all the Native Americans, and Crazy Horse was chosen as a representative of multiple nations. The project was started in 1947 by Korczak Ziolkowski, a New England-sculptor who had worked on Mount Rushmore, answered the call of Chief Henry Standing Bear to create a monument of Crazy Horse in the Black Hills. Today, his descendants are still working on this project, and the mission to create a museum and college.
Because the memorial is still under construction when you visit you will just be able to see the monument from a distance and learn about it at the Visitor's Center. However, you can pay extra for a bus tour that brings you to the base. Your entrance ticket allows you to return within a two or three-day period for free. This means you can come back at night to watch the Laser Light show at dark if you would like. We found driving at night in the Black Hills a bit nerve-wracking because of the wildlife and winding roads.
After your visit, I would recommend heading into Hill City for lunch, where the Alpine Inn serves up good German food. Then it is time to head over to Mount Rushmore. To get a good view, you will need to pay to park to enter the Mount Rushmore National Memorial.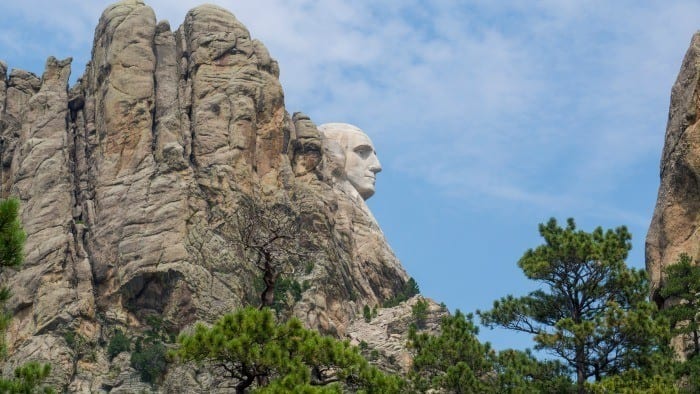 However, as you drive along Route 244 towards Mount Rushmore, keep your eyes peeled for a small parking lot on your right. Pull in and then look up across the street and you will see the profile of George Washington.
Many people ask if Mount Rushmore is worth visiting. If you are making your trip to South Dakota solely for the purpose of visiting Mount Rushmore then no, it isn't worth it. However, visiting this region is definitely worth it and while you are there, it pays to visit Mount Rushmore.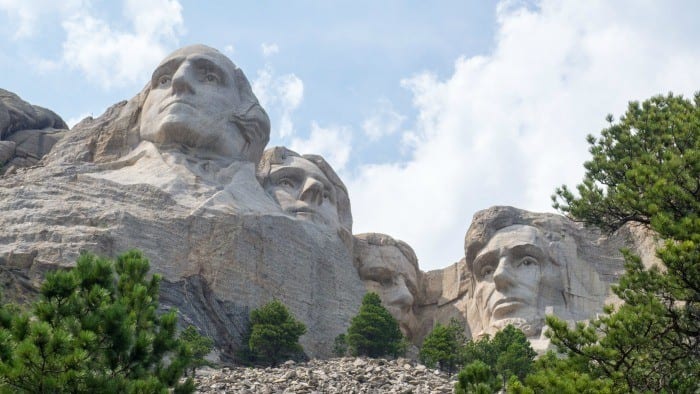 You should spend 3-5 days in the Black Hills, but you really only need an hour, or maybe two if you catch an interesting Ranger Talk, to visit Mount Rushmore. After taking selfies with the Presidents, you can walk on the Presidential Trail, which offers visitors a closer look at the memorial to examine the details of the carvings. it is a .6 mile trail to the base of the rock pile.
The best is if you can catch one of the informative Ranger talks to give you insight and fascinating facts about the monument (did you know that there is an iron bar sticking out of George Washington's eye?) After dark, there is also a moving tribute to the troops and a nightly lighting ceremony at 9 p.m. in the summer.
Where to stay: Under Canvas Mount Rushmore — there are plenty of places to stay in Keystone and Hill City, but we loved our two-night glamping experience at Under Canvas.
Day 4: Custer State Park
Custer State Park is really the highlight of the Black Hills. There is so much to see and do that I would recommend spending at least two days in the park and if you book early enough, there are many accommodation options from hotels or cabins around Sylvan Lake or Blue Bell Lodge.
Enter via Iron Mountain Road (you can take Needles Highway the following day). Iron Mountain Road takes about an hour to drive without photo stops and offers charm with pretty scenery and pigtail bridges. When you arrive in the park, make sure to stop at the Visitor's Center and ask where the bison have been spotted that day so that you can plan your route.
After stopping at the Visitor's Center, drive along the 18-mile Wildlife Loop. In addition to the bison herds, you will also likely find the park's famous begging burros.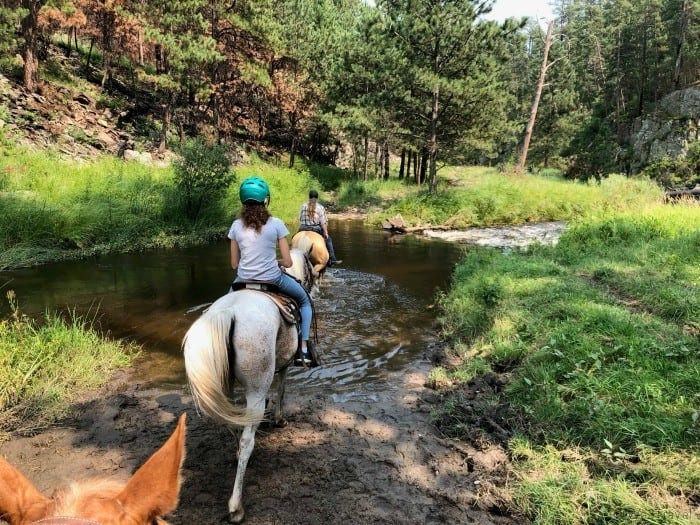 By then, you may be hungry for lunch and I would recommend the Blue Bell Lodge. Then right across the street you can make a reservation for a trail ride with Blue Bell Stables. We loved exploring parts of Custer State Park on horseback and getting to see even more wildlife.
If you are staying in the park, you can enjoy other activities for the remainder of your day, including rock climbing, a buffalo jeep safari, or a chuckwagon cookout.
Where to stay: Sylvan Lake Lodge
Day 5: Needles Highway and Jewel Cave
If you are willing to get an early start, you can get up early and head out to either Jewel Cave National Monument (30 minutes away) or Wind Cave National Park. Jewel Cave is the third-longest cave in the world, and, as the name would suggest, the walls sparkle. Wind Cave is one of America's oldest National Parks and home to one of the longest and most complex caves in the world.
Both caves offer tours on a first-come, first-serve basis. This means it pays to get there very early before tickets sell out and so that you don't need to wait around for hours for your tour time. Keep in mind that caves can be chilly so bring a sweatshirt, wear closed-toe shoes, and leave bags and strollers in the car.
When you return to the park, do so via Highway 87, also known as Needles Highway. This scenic drive-through needle-like rock formations offers many spots to stop and take pictures. Driving through some of the narrow tunnels hewn into the rock can make you sweat, but it is fun to try to catch a photo on the way.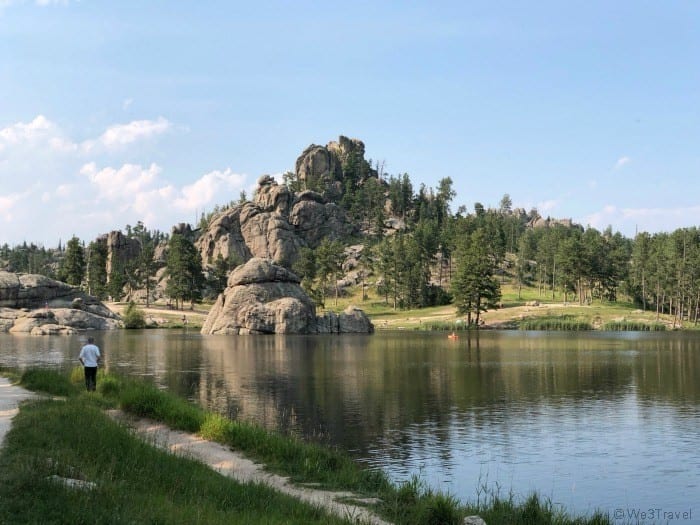 Finish your afternoon at Sylvan Lake. You can rent kayaks or paddleboards (just note that they are first-come, first-serve and when we arrived at 4 pm there wasn't anyone around to help.) If you don't want to swim or take to the water, there are also some hiking trails around the lake. Afterward, you can have dinner at the Sylvan Lake Lodge.
Where to stay: spend another night in Custer State Park at the Sylvan Lake Lodge or Blue Bell Lodge, or head out to Keystone and stay at the K Bar S Lodge for an early start the next day.
Day 6: Badlands
The Badlands, one of the best national parks for kids, is about 70 miles from the Black Hills and it will take about 1.5 hours to drive from Custer State Park to Badlands National Park. I would recommend getting an early start so you can spend a full day exploring this geological wonder — especially in the summer as it will be HOT!
Take the Interstate so that you can enter the park at the north entrance. Plus then you can make a pitstop at the famous Wall Drug. With all the billboards, it is hard to miss this landmark roadside attraction. What started as a simple store has turned into a place to eat, shop, and play — there is even a courtyard with a playground, splash area, pop gun gallery, and giant jackalope.
Load up on their free water and pick up a picnic lunch before heading into Badlands National Park (see my tips for visiting Badlands.) Driving the Badlands loop can be done in 2-3 hours if you are just stopping for photos at overlooks and short hikes. However, plan on spending the day, especially if it isn't too hot.
When you enter the park at the Pinnacles entrance, you will soon come to a fork in the road. Take a right onto Sage Creek Rim Road, away from the main loop. This is a gravel road so not ideal for RVs, but it is where you can get away from crowds and spot bighorn sheep and possibly bison. Continue on and you will come to a prairie dog town. We enjoyed eating our picnic lunch here and watching their antics from our car.
At that point, it pays to turn around and head back toward the Pinnacles Entrance. This time, when you get to the split in the road, make a right onto Badlands Loop Road. Along the Badlands Loop Road, there are many scenic overlooks with short hikes to viewpoints. You will want to stop at the Pinnacles Overlook, Yellow Mounds Overlook, and Panorama Point, at a minimum.
It took us two to three hours to make our way from the Pinnacles Entrance to the Cedar Pass Area. In the Cedar Pass Area, you will find the Ben Reifel Visitor Center and the Cedar Pass Lodge. Great Indian Frybread tacos at the Cedar Pass Lodge by the way!
At the visitor's center, you can watch a movie about the Badlands and see the fossil lab. It is also where you can find out about Ranger-led walks and the topics for the evening Ranger Talks. The evening Ranger Talks and Night Sky programs take place at the amphitheater next to the Cedar Pass Campground. This area is famous for gorgeous night sky viewing but unfortunately when we stayed over it rained.
Where to stay: Circle View Guest Ranch – this guest ranch outside of the south entrance of the park is perfectly located to allow you to enjoy the evening programming at the park. In addition to a delicious family-style breakfast, the kids also help collect the eggs and feed the animals on the farm.
Day 7: Minuteman Missile Site to Sioux Falls
There is one more stop near the Badlands that you should visit before starting the drive east — the Minuteman Missile National Historic Site. During the Cold War, hundreds of underground missile silos were scattered throughout South Dakota. This site is great for students studying the Cold War and provides a chilling insight into the "near misses" that we never knew about.
Further down the road, you can stop and see the glass-covered, empty missile silo that used to house one of the hundreds of nuclear missiles that dotted the Great Plains. If you are really interested, we also took a tour of an underground control center, but those must be pre-booked online.
It will then take about four hours (plus an hour as you switch timezones) to drive to Sioux Falls, South Dakota. Keep your eyes peeled for near exit 170 on the westbound side of I-90 for a giant sculpture of a skeleton man walking a skeleton dinosaur.
Before you get to Sioux Falls, also make time for some other roadside attractions including the famous Corn Palace in Mitchell. There actually isn't much to see at this event venue, but the murals on the outside are made up of corn. Y can also have lunch nearby and take pictures with the giant ear of corn because…road trip must do.
If you are really a fan of roadside attractions, you can make a detour to see the World's Largest Pheasant in Huron, SD (about an hour north of Mitchell). Otherwise, make your next stop at the Porter Sculpture Park in Montrose. You will find 50 larger-than-life sculptures spread over the 18-acre park. It is a great spot to stretch your legs.
Where to stay: Hilton Garden Inn Sioux Falls Downtown
Day 8: Sioux Falls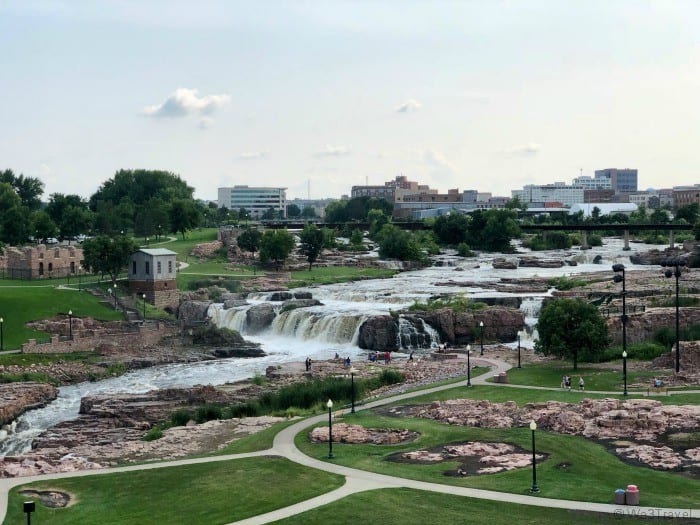 Sioux Falls is so different from the other parts of South Dakota that we visited that it is really worth spending a day exploring. This progressive pocket in a conservative state is home to tech start-ups and has received all sorts of awards as an under-the-radar city for young professionals.
There are top-rated bakeries, award-winning chefs, stylish boutiques, and even a coffeehouse owned by a former Obama-campaign staffer. You will definitely want to spend some time enjoying the views in Falls Park.
Also, walk along Phillips Avenue and Main Avenue downtown to explore the 56 outdoor public artworks that are part of the town's Sculpture Walk. If you like to shop, drop into the Jones 421 Building, featuring a marketplace of micro-retailers, and the 8th and Railroad districts.
There are plenty of spots to eat or try a local brew. For breakfast or lunch, try Josiah's Coffeehouse and Cafe. And if you are craving fine dining after a week of casual cuisine, have dinner at Parker's Bistro.
Where to stay: Hilton Garden Inn Sioux Falls Downtown
You can either fly out of Sioux Falls or continue on your road trip. We headed south to Omaha and then Des Moines, but you could also add a visit to Minneapolis to your trip.
We really loved our time in the Black Hills and getting to drive across the state gave us an appreciation for the wide-open spaces of South Dakota. Don't underestimate the Dakotas!
Save this on Pinterest