Minneapolis was the second stop on our mother-daughter midwest road trip. Since we had a lot of traveling ahead of us, I wanted to make sure I found some fun things to do in Minneapolis with kids that would interest and excite my teen. But I also wanted to see what this often cold-weather destination had to offer in the summer. After all, Minnesota is the Land of 10,000 Lakes, and there are many ways to enjoy them without ice skating or ice fishing.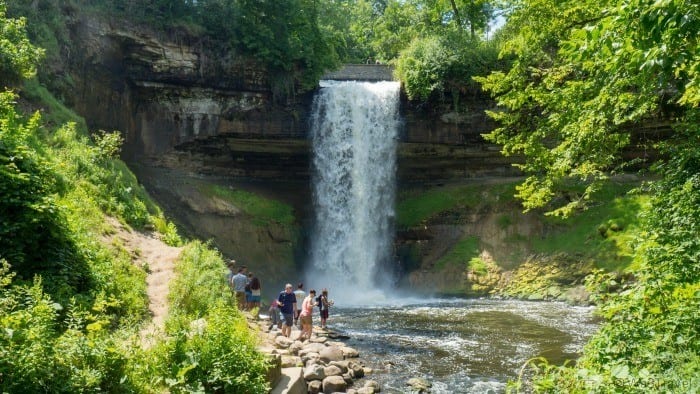 Before we left, I quizzed a friend who grew up near Minneapolis on what we should do on our visit. Of course she gave me a list longer than I could fit into our two days, but I did our best. Next time I'll visit St. Paul and use the convenient light rail tram to get around. I'm also looking forward to trying more of her food suggestions, like the Hen House Eatery for breakfast and Betty Danger's for dinner.
As it was, we enjoyed two good meals along the Mississippi River. Our first stop was lunch at Aster Cafe near Water Power Park. Located on a lovely tree-lined street that parallels the river, Aster has a large outdoor patio, which is perfect for summer lunching and brunching with an assortment of sandwiches, flatbreads, and salads. Hat tip to the strawberry quinoa salad!
For dinner, we went to the locally-famous Psycho Suzi's Motor Lounge. This large tiki bar is not what you would expect in Minneapolis, but perfect for a summer evening. The assortment of tropical drinks is impressive, as are the way that they are served. You actually have to put a deposit down on the tiki cups, I guess too many became unintended souvenirs. The menu is a mix of pizzas, burgers, and starters with a Polynesian flare. I'd highly recommend the Polynesian wings and the Hawaiian burger, but it may be better to share because portions are large and you want to leave room for the warm cookies for dessert.
Where to Stay in Minneapolis
Editor's Note: Our stay was hosted by the Westin Edina Galleria and Meet Minneapolis. We received complimentary accommodations and attraction tickets. All opinions are my own. This post contains affiliate links. If you click a link and make a purchase, I may receive a small commission.
While there are many options to stay downtown, when you are visiting Minneapolis you will likely want to explore more of the Twin Cities and surrounding areas. Therefore, we found it convenient to stay just outside of town in the upscale neighborhood of Edina.
The Westin Edina Galleria is located right next to the Galleria Edina luxury shopping mall. It is minutes off the highway and centrally located to all the attractions we visited. Plus, there are restaurants and shops just steps away. Perfect for teens (and moms) that like to shop!
We were hosted at the Westin Edina Galleria and they generously put us up in a luxurious one-bedroom suite. This was such a welcome surprise to walk into after a long travel day and a nice indulgence before some more rustic accommodations later in the trip.
The gigantic suite reminded us a lot of our suite at the Loews in Atlanta last summer. Entering through a short hallway, the suite opened up into a huge living room with a sectional sofa, executive desk, and dining table and chairs. What a joy it was to stretch out on the sofa and crash in front of the big-screen Smart TV. We were planning on going down to the pool but couldn't quite peel ourselves off of that enormous couch.
Hannah had a blast showing off the suite to Glenn via FaceTime (we were too tired and disheveled to manage a Facebook Live this time.) As she said, she "loves nice hotels."
Stepping into the separate bedroom, we flopped down on the comfy king bed and had no trouble sleeping that night (especially thanks to the lavender spray left by our pillows.) I wish we were staying longer than two nights to make better use of the large closet.
Of course, Hannah was thrilled to pieces to find another soaking tub (since she loved her bath at the Kimpton in Milwaukee so much.) She took a long soak and cuddled up in robe while I stretched out on the couch. We had so much togetherness during our two-week trip that it was a treat to have a space the size of a nice Manhattan apartment to spread out in.
Things to do in Minneapolis with Kids
Mill Ruins Park and the Stone Arch Bridge
The Stone Arch Bridge is one of the more recognizable landmarks in Minneapolis. Public metered parking is available at Mill Ruins Park. Before walking across the bridge, you can visit the Lock & Dam Visitor Center and after a Park Ranger presentation, you can then walk out onto the dam. After visiting the dam, take a stroll across the Stone Arch Bridge. You will have great views of the Pillsbury and Gold Medal Flour signs, explaining why this is called Mill City.
If you have time, be sure to also visit the Mill City Museum. Built in the ruins of what was the world's largest flour mill, the museum features hands on exhibits that explain the history of Minneapolis. We took a little too long enjoying the outdoors to have time to squeeze in the museum, which closes at 5pm.
Water Power Park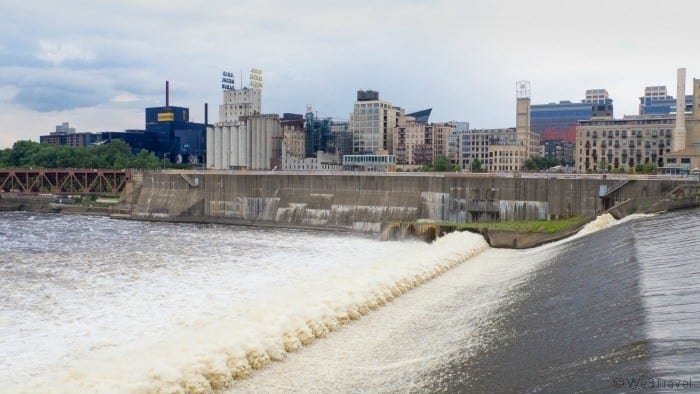 After you walk across the Stone Arch Bridge, you can visit Water Power Park. If you walk out through the park, you can get a great view of St. Anthony Falls, as well as the Stone Arch Bridge. There are many restaurants that line this side of the river (like Aster Cafe mentioned above), making it a great spot to stop for lunch.
Infinity Bridge
When you walk back across Stone Arch Bridge to the Mill Ruins Park side, put a little extra money in the meter and walk down the road to the Guthrie Theater. The building itself stands out with its modern design and bright blue color.
The building is open to the public and you can take the escalator up to the fourth floor to walk out onto the Endless Bridge. This balcony juts out of the side of the building, offering great views of the river, skyline, and bridges. While you are there, stop at the box office to see if you can get any last minute show tickets during your stay.
Walker Art Center & Sculpture Gardens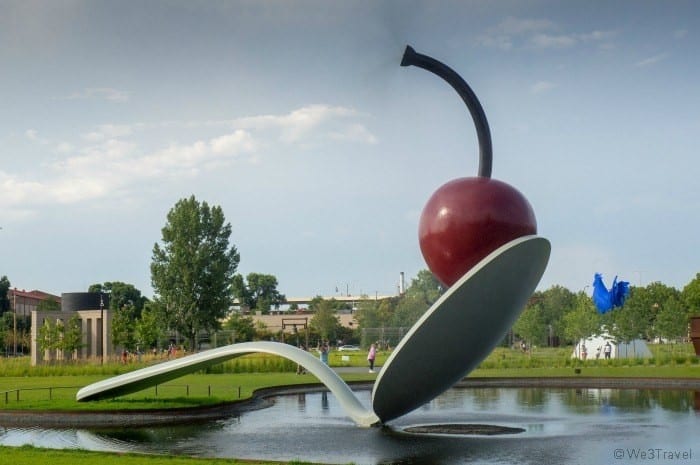 Once you have finished exploring the riverfront, head downtown to the Walker Art Center. This contemporary art museum is the only art museum I've even encountered that also offers mini-golf. That's right, their Skyline Mini Golf offers 10 artist-designed holes with a view of the Minneapolis skyline.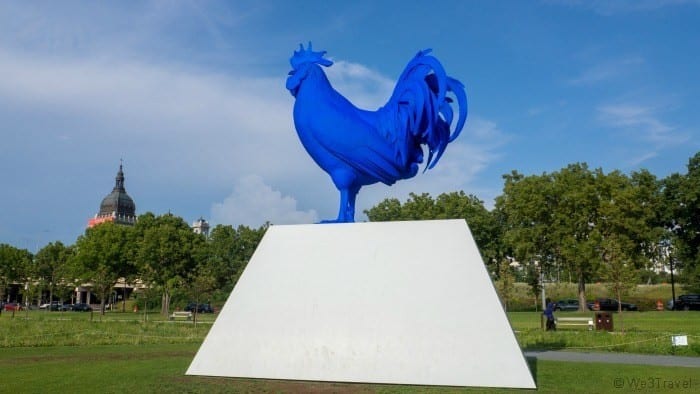 After the museum, head out to the Sculpture Gardens, where you can find famous sculptures like the cherry on the spoon and the giant blue rooster.
Minnehaha Park
When you are ready to head out of the city, plan a half-day at Minnehaha Park. You can rent bikes or a family-sized surrey, or walk along the path the leads from Minnehaha Falls all the way down to Fort Snelling State Park.
Bring your water shoes if you can because if it is hot out, you will enjoy cooling off in the wading pools but the rocks are sharp and you will enjoy it much more with a little protection. For lunch, you can visit the Sea Salt Eatery in the main pavilion, just be prepared for a long line. There are also plenty of picnic tables if you bring your own lunch.
If you want more waterfront fun, you can also visit Bde Maka Ska (formerly known as Lake Calhoun), which is the largest lake in Minneapolis.
Mall of America
The Mall of America is not just the largest mall in America, it is also the only one I know of that has an amusement park inside of the mall. What sets the Mall of America apart is not just the stores (although they have some great ones), but really its entertainment offerings. Families can actually make a whole weekend of visiting the mall with packages from the attached hotels.
But while maybe a mall is a mall, it is still worth visiting this local attraction for some fun indoor fun. The list of entertainment options goes on and on. First there is the Nickelodeon Universe amusement park, then the Sea Life Aquarium, American Girl Place, Crayola Experience, and so much more. You can play mini-golf, climb through an adventure course, ride a zip line, drive go karts, find your way out of a mirror maze, and the list goes on.
Our favorite is the family friendly "FlyOver America." If you have even ridden Soarin at Disney, you know exactly what this ride is all about. When we visited, you could actually choose between FlyOver America or FlyOver Canada. It is a 3D experience where you buckle in and are lifted up to "fly" over mountains, deserts, and national landmarks. You feel the wind against your face and the splash of water or the mist of clouds while smelling the scents of the forest or sea. And even better than Disney, you don't have to wait in a long line!
When you are done shopping and playing, there are tons of food options including sit-down restaurants like Cadillac Ranch, Bubba Gump Shrimp, and Margaritaville, as well as plenty of quick-service options. You can spend a couple of days here, but at a minimum plan for three-to-four hours.
Prince's Paisley Park
If you are looking for kid friendly attractions, then Prince's Paisley Park may appeal a little more to teens than kids, but it is worth of visit for true music lovers and Prince fans. Paisley Park just looks like a suburban office park from the outside, but inside it houses Prince's recording studios, offices, sound stage, and even where he lived for a while (you don't see his living quarters.) Much of it remains as it was when he passed away, although more of his costumes, guitars, and artifacts have been brought out of storage to be showcased.
I really debated whether or not to add this to our itinerary, as we skipped Elvis' Graceland when we were in Memphis last year, but I heard so many good things that we decided to take a tour. A few things to keep in mind. First, tours are by appointment only. You MUST buy tickets in advance for a particular time slot (note: we were hosted for a VIP tour.) You also need to arrive early to check in, so give yourself plenty of time. The last thing is that absolutely no phones or cameras are allowed. Phones can be left in the car or they will give you a locked pouch to put your phone in that will be unlocked at the end of the tour.
There is a chance on the VIP tour to buy a flash drive with a picture of you in one of the recording studios. The flash drive is $10. We went ahead and purchased this but the picture here is the only one out of three that wasn't blurry so I would save your money and just remember the experience in your own way.
The VIP tour is 100 minutes, so a bit long for kids, but it does get you into additional rooms and studios. Given the cost and the time, unless you are a huge fan I would opt for the general admission tour. You will still get to see the sound stage, which to me was one of the best parts of the tour.
I wish the tour talked more about his life and background, but it really focused only on his musical career and touched a bit on the controversy over changing his name and the motivation behind it. I'm not sure if the family is just very private or it is too soon, but I felt like a piece of the story was missing. A creative genius like Prince has some demons or motivations driving him and I would have loved to been able to understand him better after our visit.
While I could go either way on visiting Paisley Park, depending on how much you love Prince, I did come out and immediately downloaded three albums and listened to his music non-stop for the next few days. Hannah kept saying, "I didn't know this was a Prince song."
For more ideas on things to do in Minneapolis with kids, be sure to check out the Meet Minneapolis website.
PIN THIS FOR LATER
SaveSaveSaveSave
SaveSave
SaveSave
SaveSave
SaveSave
SaveSave
SaveSave
SaveSaveSaveSaveSaveSave
SaveSave
SaveSave
SaveSave
SaveSave
SaveSave