We have just returned from our annual mother-daughter road trip that has been months in the planning. As you may recall from our Southern/Civil Rights road trip last year, our trips sometimes have a bit of a theme. This year it was all about helping mom reach her goal of seeing all 50 states by the time I turn 50 (after our Alaska trip at the end of the month I'll only have two left!) I really wanted to see more of the middle of our country and tie together quite a few states that I may not as easily visit individually. So I put together our midwest road trip itinerary to cover seven states in two weeks (ok eight if you count a quick detour into Wyoming to see Devil's Tower.)
As with most of my road trip planning, I started with a goal and a time frame and started mapping out driving distances and possible destinations to create an itinerary that allowed us to fit it all in. To save time, I found a good deal on Southwest during one of their fare sales and flew into Chicago, and then we made a loop from there.
Our midwest road trip itinerary included stays in:
Medora, North Dakota (with stops along the route and visits to the Theodore Roosevelt National Park)
Deadwood, South Dakota
Keystone, South Dakota (with visits to Mount Rushmore, Custer State Park, and Crazy Horse Memorial)
Interior, South Dakota (just outside of Badlands National Park)
Sioux Falls, South Dakota
Omaha, Nebraska
Des Moines, Iowa (with a visit to the Iowa State Fair)
and ending back in Chicago, Illinois
I spent a significant amount of time researching each of these destinations, talking to locals, tourism boards, and other bloggers. After taking all this research and putting it into a rough itinerary, I then asked my daughter Hannah to decide on some specifics. For example, would she prefer restaurant A or B in a destination? Would she rather go horseback riding or take a buffalo safari jeep tour?
My goal was also to do this trip on a budget — with a few splurges like our glamping experience at Under Canvas by Mount Rushmore. So we used a mix of Airbnbs, hotels booked on points, and affordable hotels with a few comps from tourism boards included. Luckily, the midwest hotel rates are quite reasonable and I could often find a four-star, boutique hotel for under $200 per night and a more suburban chain hotel for closer to $125 per night. We ended up staying in everything from a glamping tent to a ranch cabin to a five-star hotel booked with points.
There were definitely some lessons learned along the way, and I'll share these tips at the end of the post. But first, I wanted to provide our itinerary so that you can either pick and choose the pieces that you want to do, or you can use this as a starting point to shorten your planning process. See more USA road trip itineraries here or explore more epic midwest road trips.
2 Week Midwest Road Trip Itinerary
Note: This post contains affiliate links. If you click a link and make a purchase, I may earn a small commission. Our visits to Milwaukee and Minneapolis were hosted by the tourism boards. All opinions are my own.
Milwaukee, Wisconsin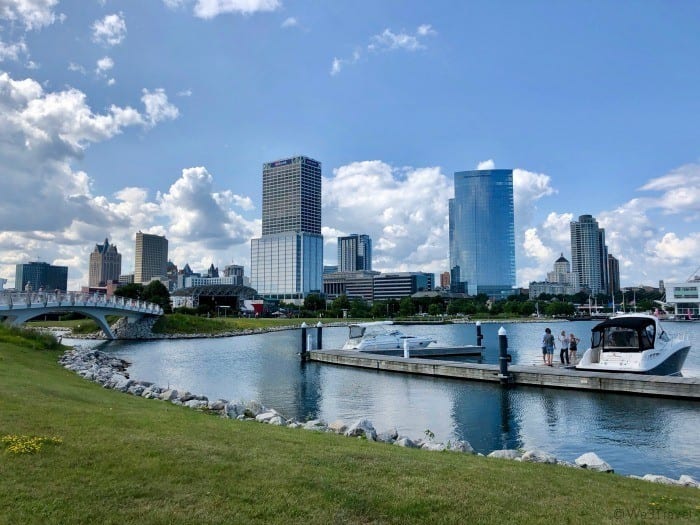 We drove from Chicago's Midway airport approximately two and one-half hours to Milwaukee (including traffic delays due to highway construction.) Our first stop was the Milwaukee Art Museum. Every since seeing pictures of this architectural marvel on my friend Brianna's Instagram feed, I've wanted to visit. (Hint, if you are there are noon, the "wings" of the roof flap!)
After checking into our hotel at the Kimpton Journeyman, we walked over to the Milwaukee Public Market for lunch. I love the location of the hotel in the historic Third Ward! This area of this city is so pretty and clean.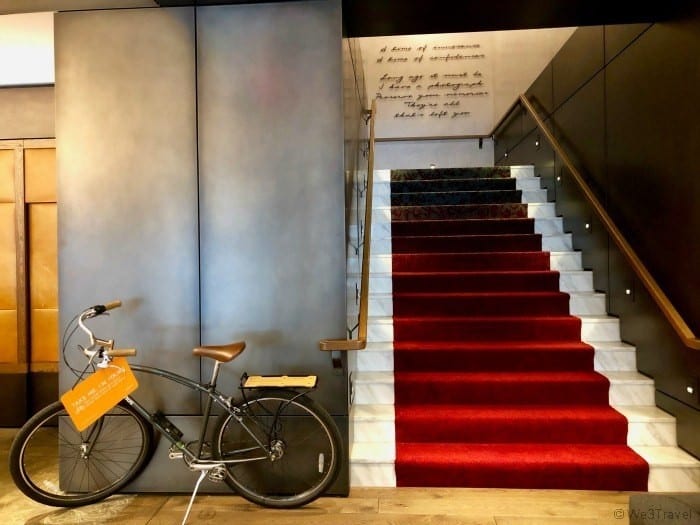 Since festivals are always going on in the summer, we then skipped over to the festival grounds to join in on the GermanFest. What a perfect festival for Brew City! It was all about the brats and beer (and strudel and schnitzel too so go hungry!)
After having our fill of festival fun, we took a walk through Lakeshore Park and spent some time sitting by the lake and watching the boats go by.
We went to dinner at Blue Bat Kitchen on the Riverwalk, which is just a short walk from the hotel. The food was great as was the location. It is fun to sit outside and watch the kayakers and party boats cruising up and down the river.
The next morning we had breakfast at the local roaster, Colectivo before starting our five hour drive to Minneapolis. We really enjoyed Milwaukee and wished we had planned at least two days in this city.
Minneapolis, Minnesota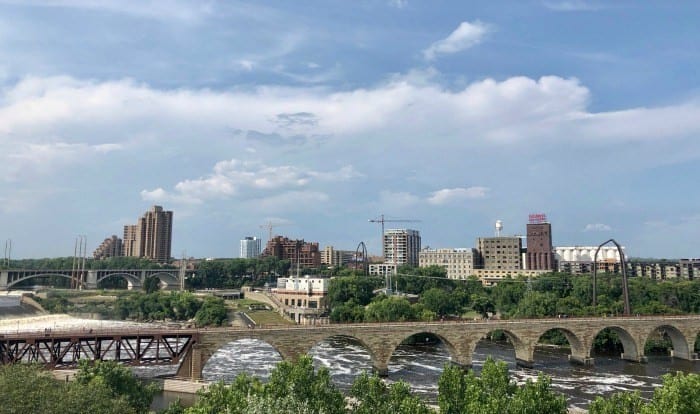 A day and a half is really cutting it short to explore Minneapolis, but we wanted to at least get a taste of the city (in the summer) while moving along on our road trip. We arrived in the afternoon and headed downtown. Just keep in mind that for the summer of 2018, Minneapolis is going through a big highway repair initiative so you may need to deal with road closures and detours.
Our first stop after arriving in Minneapolis was lunch on the patio at Aster Cafe, across from Water Power Park. When then walked through the park out to the Mississippi River to get a great view of St. Anthony Falls and the Stone Arch Bridge.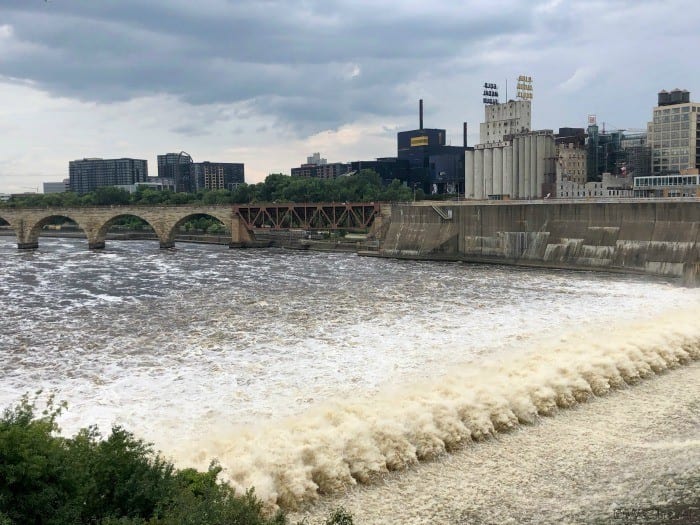 We then went across the bridge to Mill Ruins Park. Here you can visit the St. Anthony Falls Visitor Center and learn about the lock and dam system, with another great view of the falls. For a great view of the river and skyline, we walked down to the Guthrie Theater building, which is open to the public. If you take the escalator or elevator up to the fourth floor, you can walk out onto the Endless Bridge for a high-up view of the area.
If you have time, you can also visit the Mill City Museum, which I've heard from many is fantastic. However since it was a Sunday and they closed early, we didn't have a chance to go in.
Our next stop was the Minneapolis Sculpture Garden outside of the Walker Art Center. We didn't really have time to explore the museums in the city, so we will need to save those for a return trip. But it was summer in the land of 1,000 lakes and we wanted to be outside.
For dinner we went to the wild and wacky Psycho Suzi's tiki bar on the Mississippi River (yes, it is kid friendly.) It was either that or we were going to try the also-recommended Betty Danger's.
After dinner we headed out of town as we were being hosted at the Westin Edina Galleria. Edina is an upscale suburb and the nearby Galleria is perfect for those looking for high-end shopping options.
On our second day in Minneapolis, we spent our time exploring attractions outside of the city. We started off at Prince's Paisley Park, which is a combination of Prince's estate and production studio. If you want to visit, tours MUST be booked in advance!
After our VIP Tour of Paisley Park, we headed over to Minnehaha Falls Park.
We then finished off our busy day exploring the Mall of America. Of course you could spend a whole weekend in the largest mall in the United States, but since the budget didn't allow for much shopping, we focused more on the attractions. After all, how many malls have an amusement park inside??
I wish we had more time to explore Minneapolis and even take the light rail over to St. Paul. I guess there will have to be a next time. And then we will be sure to have breakfast at Hen House Eatery, since my friend who grew up in Minnesota says she always eats there when she returns home.
Medora, North Dakota
Planning our road trip across North Dakota was pretty easy, since I had already done the research for this post a couple of years ago. However, since we wanted to make the eight hour drive in one day, we couldn't make all of those stops.
A few must stop attractions as you are driving across Interstate 94 include:
Frontier Village in Jamestown, ND (home of the largest Buffalo statue)
Lewis & Clark Interpretive Center in Washburn, ND
Salem Sue (giant cow statue) in North Salem, ND
Enchanted Highway of giant metal sculptures (which begins at Exit 72 on 1-94)
Just make sure to watch your time to arrive by dinner because restaurants in Medora close early! We stayed at the Amble Inn was a perfect location and we both fell in love with the adorable town of Medora. It had an authentic feel without being cheesy or run down. The food selections weren't great so I couldn't stay too long, but I loved everything else about the town.
Medora is the town just outside of the Theodore Roosevelt National Park. There is both a North Unit and a South Unit. Doing just the Wildlife Loop in the South Unit is 36 miles, so you can really spend two days here but we just had one and we focused on the South Unit. The park is beautiful, with plenty of hiking options and scenic overlooks but what really sold it for us was the lack of crowds and abundance of wildlife.
After spending a full day in the park, we went over to the Medora Musical and Pitchfork Steak Fondue. Tip: kids get in free on Wednesdays and Sundays! I thought for sure this would be hokey but it was very entertaining and a great slice of Americana, which seems in danger of being left behind in our modern world.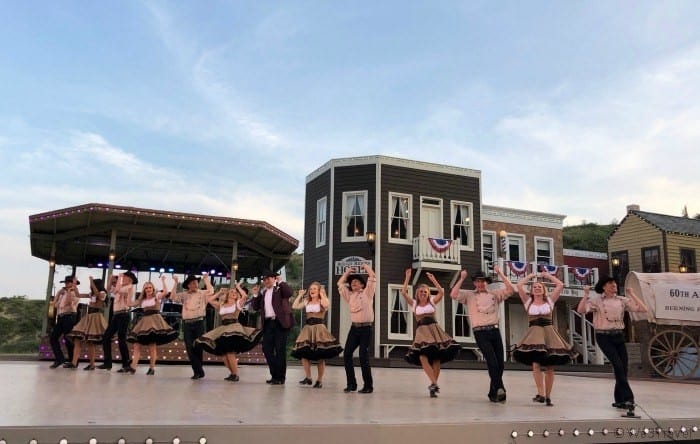 Deadwood, South Dakota
From Medora, we drove four hours due south to the town of Deadwood, South Dakota (not far from Sturgis, famous for the motorcycle rally that was taking place around the same time.) Tip: research the dates of the Sturgis Rally before you plan your trip!
Since we were so close to the border with Wyoming, we decided to detour into Wyoming to visit Devil's Tower. However, if that doesn't interest you, instead you could have more time in the historic town of Deadwood, home to gunslingers and gold mines. You may even want to visit a gold mine like the Broken Boot Mine.
On our way from Devil's Tower to Deadwood, we drove through the Spearfish Canyon Scenic Byway, which was a pretty drive but if you are short on time, you may want to take a more direct route.
We spent the night at the Lodge at Deadwood and since the Sturgis Rally was in town, we also had dinner at the hotel restaurant to avoid the crowds. The Lodge at Deadwood offered a very cute pool for cooling off, especially great for young kids. It was clean and comfortable and even the casino didn't bother me much.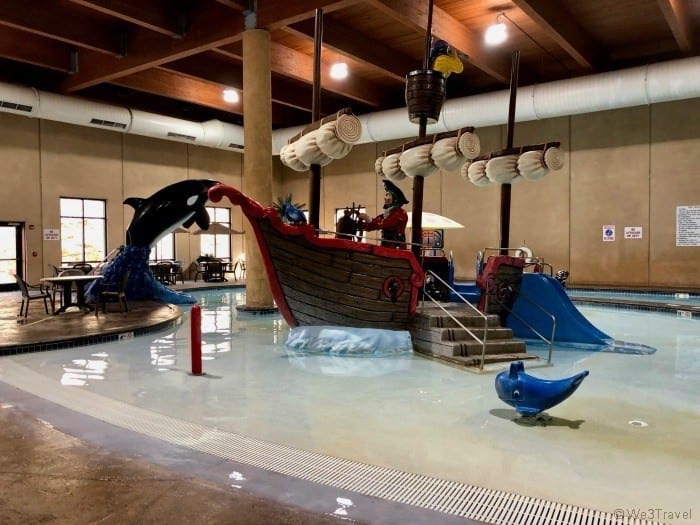 Under Canvas Mount Rushmore, Keystone, SD
The next morning we headed down to the southern Black Hills on the one hour drive to Crazy Horse Memorial. In the afternoon we made our way to Mount Rushmore.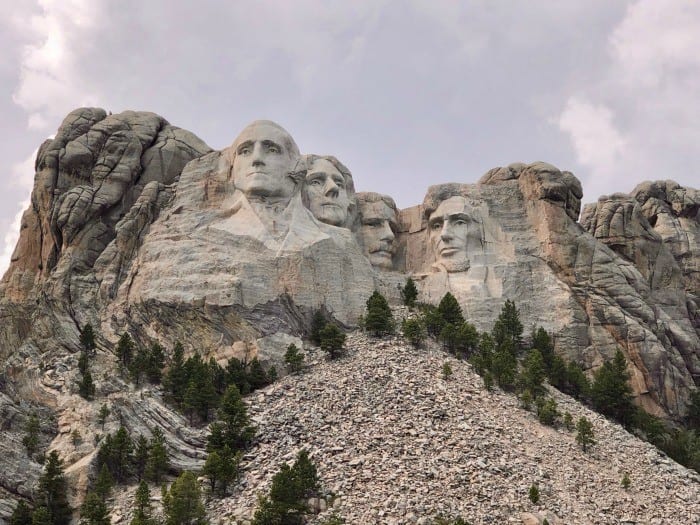 That evening we checked into our Stargazer glamping tent at Under Canvas Mount Rushmore for the splurge stay of the trip. It was so much fun to sleep in a luxury tent with a flush toilet and hot shower, with the ability to gaze up at the stars from the bed at night.
The next day, we spent time exploring Custer State Park. We drove on Needles Highway, which winds between spire-like granite peaks and goes through tunnels bored through granite. The scenic drive runs from Sylvan Lake to Blue Bell Lodge. We also took Wildlife Loop Road from Blue Bell Lodge to Game Lodge, where you can see buffalo herds and begging burros. I have so much to share about this experience but I'll save that for a separate post.
The park also offers a variety of activities and we had pre-booked a one-hour trail ride from Blue Bell Lodge Stables.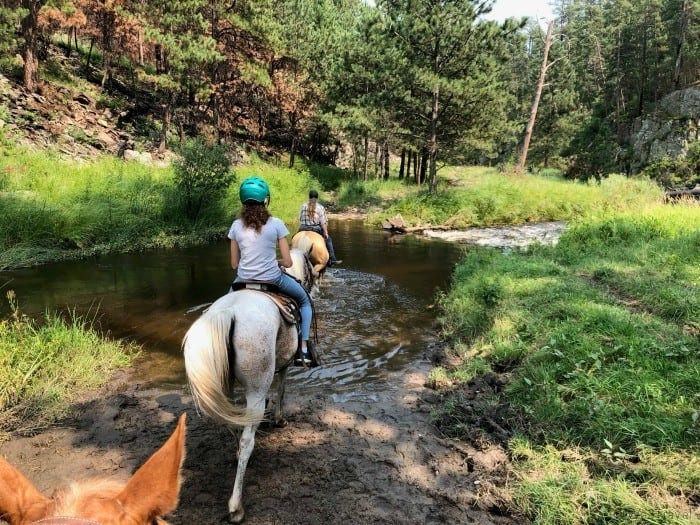 Circle View Ranch, Interior, SD
While you can visit Badlands National Park as a day trip from the Black Hills/Rapid City area, we decided to stay overnight just outside of the park so that we could continue east the next day. I found the Circle View Ranch, and figured a ranch stay would be a lot more fun than a motel.
We started our day with a one hour drive to Wall Drug, which is one of the most famous gift shops and roadside attractions in the area. I had then pre-booked (they sell out in advance) a tour of the Minuteman Missile site. If you can't get a tour, you can still visit the visitor center.
After our tour we spent the rest of the day in Badlands National Park. We really loved this park as well, especially as we unexpectedly had some fantastic wildlife sightings. Our stay at the ranch was perfect for returning to the park for an evening ranger program. I'm just really bummed that it was cloudy so we didn't get to do any stargazing.
Sioux Falls, South Dakota
The next morning, we drove the four hours (losing an hour due to the time change too) across South Dakota to Sioux Falls. Along the way, we stopped at the Corn Palace in Mitchell.
Sioux Falls is a cute town to explore. Unlike the rest of the state, this is a very young, liberal city with a cute downtown area of shops and restaurants. We started in Falls Park and then wandered along the Sculpture Walk of public art and visited some of the downtown shops and boutiques.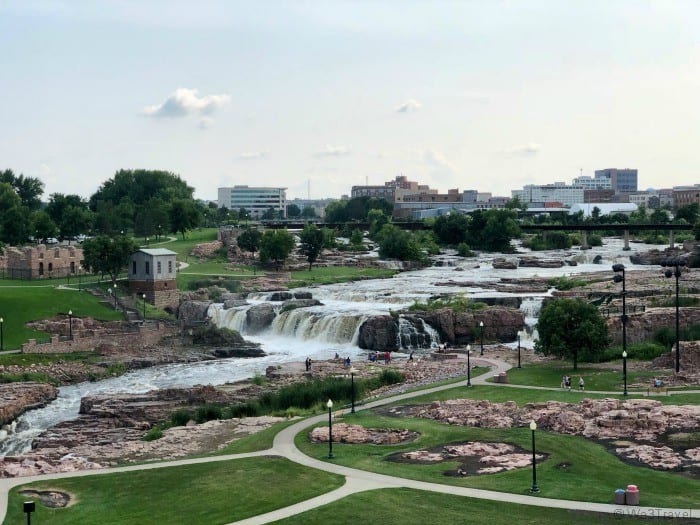 That evening we had dinner at Parker's Bistro before spending the night at the Hilton Garden Inn Downtown.
Omaha, Nebraska
We spent just one night in Sioux Falls and then drove three hours down to Omaha, Nebraska, so that I could check off another state. We stayed downtown at the Magnolia Hotel, which had been recommended to me by quite a few locals.
We spent the afternoon walking around downtown and in the Old Market area. However, instead of our planned dinner at the nearby Wilson & Washburn we decided to stay in and splurge on room service. (If visiting Omaha, check out these must try restaurants in Omaha!)
In the morning, we visited the Omaha Zoo, one of the best zoos in the country, before driving two hours over to Des Moines, Iowa.
Des Moines, Iowa
In addition to checking off another state, I really wanted to attend the Iowa State Fair, which I had been told is a site to behold with its giant butter cow and dozens of foods on a stick. Since the grand opening was the following day, we decided to stay near the fairgrounds, instead of in downtown Des Moines. We booked at the near Hampton Inn in Altoona.
We had dinner with friends at the unique Fong's Pizza and spent the entire next day at the fair. If you are looking for other options, Big Steer in Altoona also came highly recommended for steak.
Chicago, Illinois
We completed our loop with a five hour drive back to Chicago. Here we enjoyed our second splurge of the trip — tickets to see Hamilton. Although we had already seen it on Broadway, when I saw how easy it was to get tickets (and how much cheaper they were than NYC), I couldn't resist because both of us could watch this show again and again.
In Chicago we traded in Starwood points for a stay at The Gwen, a luxury property near Michigan Avenue.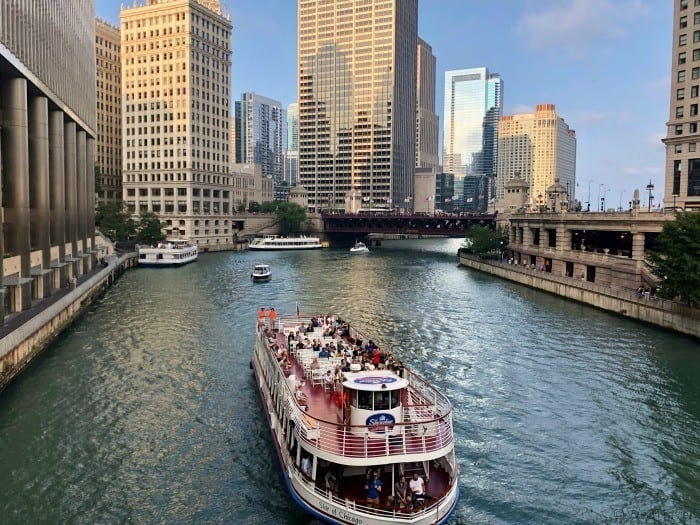 On our final day in Chicago, we had a late flight out so we were able to squeeze in a little sightseeing. We started off with a walk by the Cloud Gate (Bean), Buckingham Fountain, and visits to the Field Museum, Adler Planetarium and Shedd Aquarium.
It was clearly not enough time in Chicago, but I know that I will be returning in November with CityPASS.
All in all, it was a marathon trip, slightly more tiring than some of our others because we covered so much ground. Altogether I drove over 3,600 miles in 14 days!
I wish we had more time …. You can clearly make a vacation just of spending a week in the Black Hills (I'll be doing a podcast about that soon!)
Whether you pick pieces of this itinerary for your own or do the whole thing, I hope you find this info helpful. If you have visited some of these places, I'd love to hear your recommendations below. I will be sharing more details posts about many of these destinations in the near future. But in the meantime, be sure to also keep in mind the tips I have learned throughout this trip.
Midwest Road Trip Tips
Pay attention to when you will lose or gain an hour crossing the timezones in North and South Dakota
It pays to invest in an America the Beautiful National Parks Annual Pass
Gas up when you can, even on major interstates, because service centers are few and far between
Pack plenty of water and snacks because finding your next meal may not be simple and eating healthy may be even more challenging!
Be sure to pack the bug spray and use it liberally! We got eaten alive in South Dakota and had a strong allergic reaction to the bites. We put on bug spray but not quick enough as the flies and mosquitos started biting as soon as I got out of the car.
Cell phone coverage will be limited in places so it pays to have a paper map and to set your navigation when you are are connected.
Check the weather before you head out. We were luckily to avoid some of the nasty midwestern storms but I wouldn't want to be caught on the open highway in one of those storms.
Download some audiobooks before you leave to give you something to listen to on the road (check out my recommendations for my favorite audiobooks for family road trips.)
PIN THIS FOR LATER
SaveSave
SaveSave
SaveSave
SaveSave
SaveSave
SaveSave
SaveSave
SaveSave
SaveSave
SaveSave
SaveSave
SaveSave
SaveSave
SaveSave
SaveSave
SaveSave
SaveSave
SaveSave
SaveSave
SaveSave
SaveSave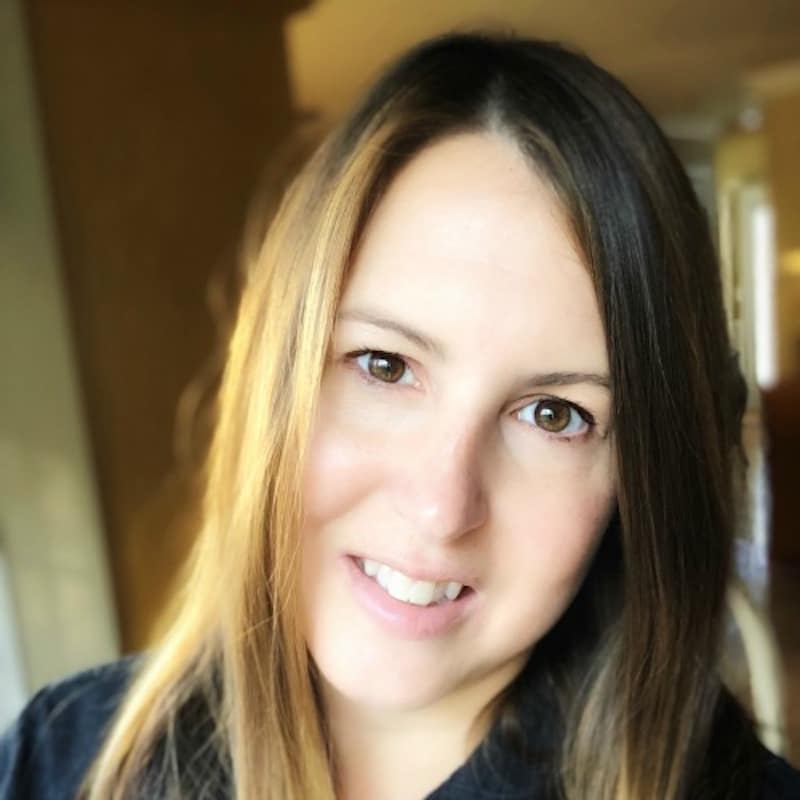 Tamara Gruber is the Founder and Publisher of We3Travel. A former marketing executive and travel advisor, Tamara is an award-winning travel writer and recognized expert in family travel. She is also the publisher of YourTimetoFly and the co-host of the Vacation Mavens travel podcast.