If Kansas is the state that you drive through on the way from point A to point B, it is time to hop off of Interstate 70 and explore. I admit, I drove across the state from west to east many years ago and I was left with the impression of endless farmland, barns, and grain silos — it wasn't fun. It seemed like all the good attractions advertised on billboards along the route were something like "just 300 miles off exit xyz." That prejudgement of Kansas being boring stuck in my brain for way too long, but my recent trip to Lindsborg KS, and then Wichita, turned what I thought I knew about Kansas on its head.
To start, for this trip I flew into Kansas City. What I had forgotten was that the eastern portion of Kansas is actually quite green and full of rolling hills. As I headed out on the three-hour road trip to Lindsborg, I found my attention being grabbed by the landscape and the nearby attractions advertised along the way. The Flint Hills are gorgeous! Plus, what is the story about those zebras in the middle of a herd of cows? I need to know!
Part of me really wanted to turn off the highway and start exploring. But, I had to stick to my plan and make my vacation rental check in on time. However, it did leave me with an urge to plan a Kansas road trip with nothing but a car, a credit card, and a good guidebook.
As I turned off of I-70 towards Lindsborg Kansas, just 20 minutes south of Salina off I-135, I wasn't sure what to expect. I had been invited to Wichita, Kansas for an "Instameet" sponsored by Travel Kansas and since they were flying me in for the event, it made sense to explore a little more of Kansas on the way. They suggested Lindsborg and I immediately turned to Google to learn more.
I quickly discovered that Lindsborg is the "Little Sweden" of the USA, but beyond that, I had no expectations. All I knew was that the people that I had spoken to when planning the trip were extremely nice. That was just the beginning. Lindsborg rolled out the red carpet for me and this small town's midwestern hospitality shone brightly.

5 Reasons to Visit Lindsborg KS
I'm not the only one to be charmed by the small town of Lindsborg and its creative, smart, and warm residents. In fact, nearly everyone I spoke to had an interesting story about how they came to Lindsborg. Maybe it was to be closer to family. Sometimes it was for the educational and creative opportunities to be found in Lindsborg. Others discovered it when just passing through and found themselves coming back again and again, until eventually they made it their home.
And while they may have organized a community picnic for me to meet some residents, and announced my visit on Facebook, I have a feeling that all visitors get just as warm of a welcome. In fact, I know that when tour groups come through, someone usually greets them in full Swedish dress to show them around.
But let me tell you about some other reasons to visit Lindsborg, Kansas.
Festivals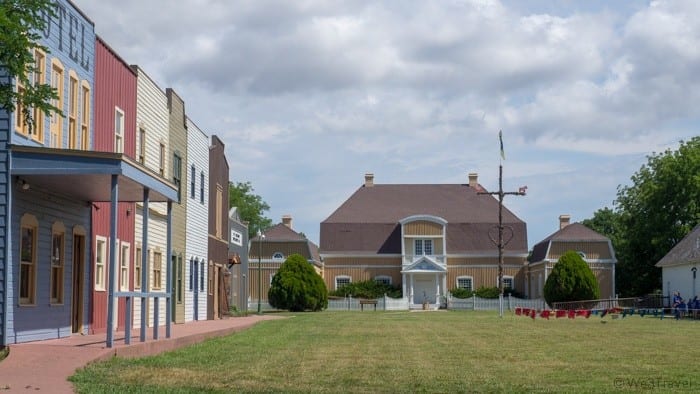 Lindsborg loves a good party. Long ago, when Swedish immigrants were struggling to survive in this harsh frontier of mud dug outs and farm life, leaders recognized that the arts will bring people together, give them something to look forward to, and create a little joy in their otherwise bleak fight for survival. Today, the town celebrates many festivals and some draw visitors from around the globe, even Swedish royalty! A few to plan a trip around include:
Messiah Festival of the Arts – before many residents of Lindsborg even spoke fluent English, they have been performing Handel's Messiah each year. The festival, which now takes place around Easter, is a combination of musical, arts, and theater events. This all culminates with a community performance of the Messiah.
Midsummer's Festival – taking place in late June, this festival marks the beginning of summer and is one of the most popular Swedish celebrations. In Lindsborg, this includes celebrating with Swedish food, music, dancing, art, games and the raising of the Midsommarstång (Midsummer Pole.)
Svensk Hyllningsfest – this party is so big that it only takes place every two years (on odd-numbered years only.) Svensk Hyllningsfest honors the Swedish immigrants who first settled in the Smoky Valley in 1869.

Started in 1941, the festival features art, crafts, special foods, ethnic music, a parade, and, of course, a smörgåsbord and special entertainment. Timed to coincide with local Bethany College homecoming, it is also where you can see Lindsborg's world-renowned youth Swedish dance troupe.

Christmas in Lindsborg – As you might expect, Christmas is a big deal in Lindsborg. There is the old-fashioned prairie Christmas at the old mill with concerts, crafts, visits from Santa, and a retelling of the Christmas story. There is also the St. Lucia Festival, a favorite Swedish holiday tradition that celebrates the legend of Lucia, who saved the people of Sweden from starvation. In Lindsborg, a processional of girls in white carrying candles and stjäarngosse (star boys) walk to the Bethany Lutheran Church where the annual St. Lucia is crowned.
Wild Dala Horses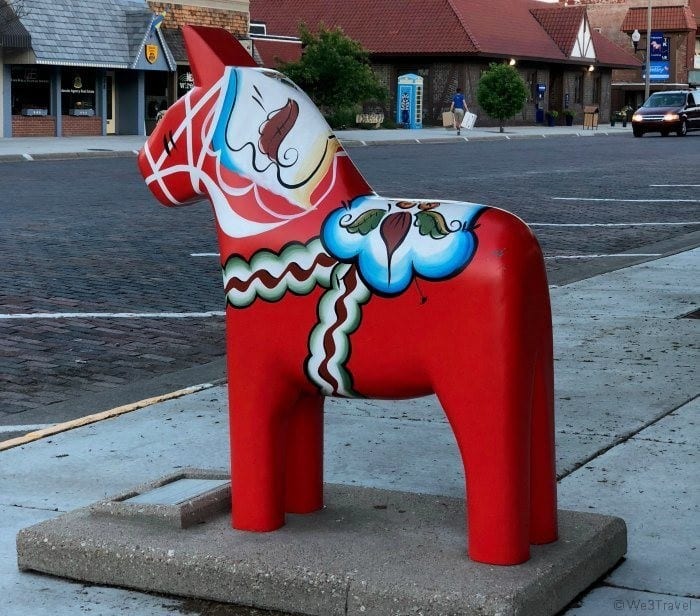 If you remember Chicago's Parade of Cows, which toured their way around various cities, then you will appreciate the herd of Wild Dala Horses that dot the landscape of Lindsborg. These 30+ public art sculptures are modeled after the shape of the traditional Swedish Dala horse. Various businesses and groups have sponsored horses which are custom painted in creative ways to represent various businesses around town.
Visitors can go on a scavenger hunt to try to find all of the Wild Dala horses by picking up a map and guide at the Lindsborg Convention and Visitors Bureau at 104 E. Lincoln St. or at the Certified Travel Information Center at 118 N. Main Street.
Of course if you enjoy the Wild Dala horses, then you must stop into Hemslöjd, a Dala horse factory and Swedish gift shop on Main Street. In addition to shopping for Scandinavian gifts, you may also get to step into the back workroom and meet local artist Shirley Malm, who has perfected the art of custom painting Dala horses. Hemslöjd manufacturers two-legged, custom-painted Dala horses. You can also purchase the four legged variety that have been imported from Sweden (just be prepared to pay handsomely!)

Creative Arts Community
I certainly did not expect to meet a community of artists and creatives in the middle of Kansas, but that is exactly what I found in Lindsborg. It is no secret locally that Bethany College and Lindsborg's history in the arts attracts creative artists. But for the rest of us, it was a big surprise. After all, I live near Providence, Rhode Island's "Creative Capital" and home to Rhode Island School of Design. I know that is a city that attracts artists, but Lindsborg, Kansas? Well, now you know too.
During my short time in town I met a National Geographic photographer, an award-winning broom maker (yep, that's a thing) running a brand new program at Bethany College, and numerous artists who work in all sorts of media. I toured the impressive Birger Sandzén Memorial Gallery on the Bethany College campus. Notable not just for the work of Kansas artist Birger Sandzén, who I am happy to have no discovered, but also its temporary exhibitions.
I also visited The Red Barn Studio, which was the working studio for artist and craftsman Lester Raymer. The Studio is filled with his works from painting to prints to ceramics and metalwork. He was particularly interested in circus themes and antique toys so some of his work was a little creepy, but certainly interesting. Today, the studio also offers an artist-in-resident program, welcoming an ever-changing cadre of visual artists and craftsmen, musicians, writers, and performers.
When in Lindsborg, I had the pleasure of lunching with Jim and Kathy Richardson, owners of the Small World Gallery on Main Street. Jim is an accomplished National Geographic photographer and many of his prints line the walls of the gallery, along with Kathy's jewelry, a sweet collection of children's books, and other pieces of art.
This creative community also encourages locals and children to experience the arts through local "Maker Nights" offering hands-on art activities focused on a different theme each month.
Coronado Heights
Just a few miles outside of town, Coronado Heights Park proves that Kansas is not flat. This "castle" built on a 300 foot promontory is named for explorer Francisco Vasquez de Coronado. It is rumored that he visited central Kansas in 1541 looking for gold. Who knows if he actually made it there or not, but it is said that Spanish coins and armor were found at the base of this hill. Just don't get the impression that the castle dates back to the times of Coronado — it was actually built as part of a public works project in the 20th century.
Today this area is used for hiking, biking, and even community yoga classes. Most locals know it as a great picnic spot with grills and fireplaces. You may find as many as a few hundred people visiting this popular spot on the weekends. I say visit at sunset for a picnic and some amazing views.
Maxwell Wildlife Refuge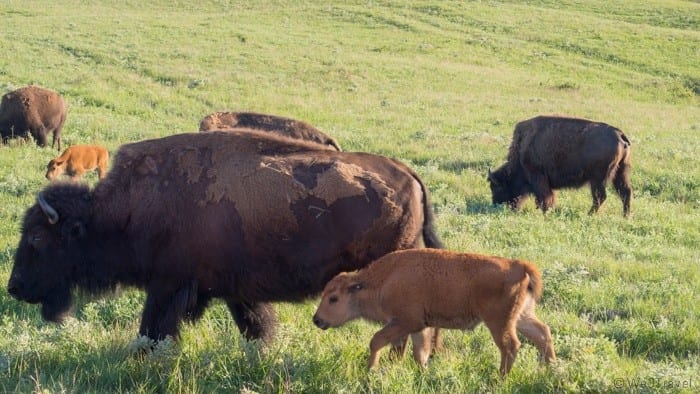 You expect to see bison in the Dakotas, Wyoming, and maybe some other Western states, but Kansas? That was a surprise. Yet 20 minutes outside of Lindsborg a herd of 200 bison make their home on the Maxwell Wildlife Refuge (along with a few elk.)
The few that know about this little gem often just drive through on their own, but it is harder to see the herd that way. The best way to visit is to make arrangements for a tram tour. For just $10 per adult and $5 per child, you can hop aboard a narrated tram tour for an up close look at the bison. If you can take the tour in the spring, you will be delighted by the many baby bison. Listening to the mommas call to the babies and seeing these magnificent beasts even closer than you get in Yellowstone is quite a treat!
Where to Stay in Lindsborg
As a small town, there are not a lot of places to stay. The small Swedish Country Inn downtown is one option, as well as a couple of bed and breakfasts like the Rosberg House. However, if you are looking for a little more space and autonomy, I would highly recommend the stylish Tradhüset or Vetehuset vacation rentals.
These recently renovated flats are gorgeous and don't miss a single detail for a comfortable stay. Plus, the property managers go above and beyond to make guests feel at home. Brian is the renovator and craftsman behind the properties, while Victoria has added her style and personal touch. From the welcome video to the details available for guests, the Freemans have one of the most impressive vacation rental businesses that I have encountered.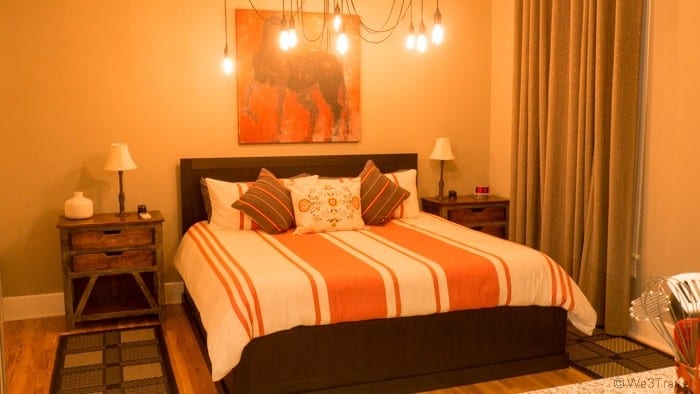 I stayed in the stylish Vetehuset Plantera studio flat located right on Main Street for walk out convenience to everything in town. From high-end appliances to a comfortable bed and the chic industrial farmhouse style, this felt much more like a luxury residence than a vacation rental. This flat sleeps up to four with a cool convertible couch. You can also rent the adjoining Skorda property for larger families or groups.
Where to Eat in Lindsborg
Lindsborg doesn't have many restaurants, after all it is a small town. If you are staying for a while, a vacation rental will give you the most options for cooking your own food. And also keep in mind that since it is a small town, restaurants are not going to be open late. Expect everything to close up by 9pm. However, there are still a couple of places to add to your must try list.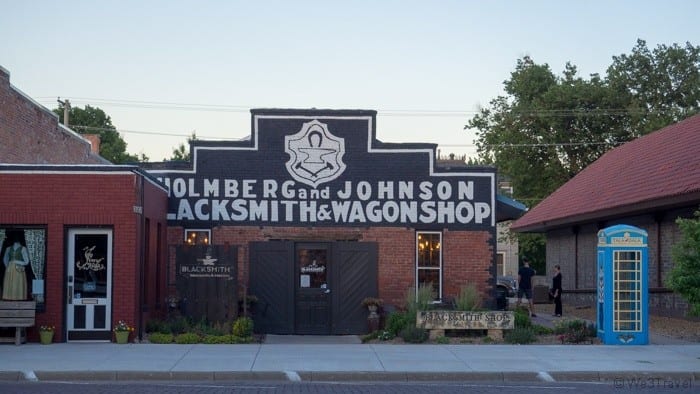 Blacksmith Coffee House and Roastery
Start your morning off with a visit to Blacksmith Coffee House and Roastery. This coffee house built in an old Blacksmith shop will challenge your most hipster city coffee houses when it comes to quality and cool factor. I didn't realize that coffee was also a big part of the Swedish culture and they take their coffee seriously in Lindsborg. The Blacksmith roasts their own beans and also offers delicious breakfast and pastry options.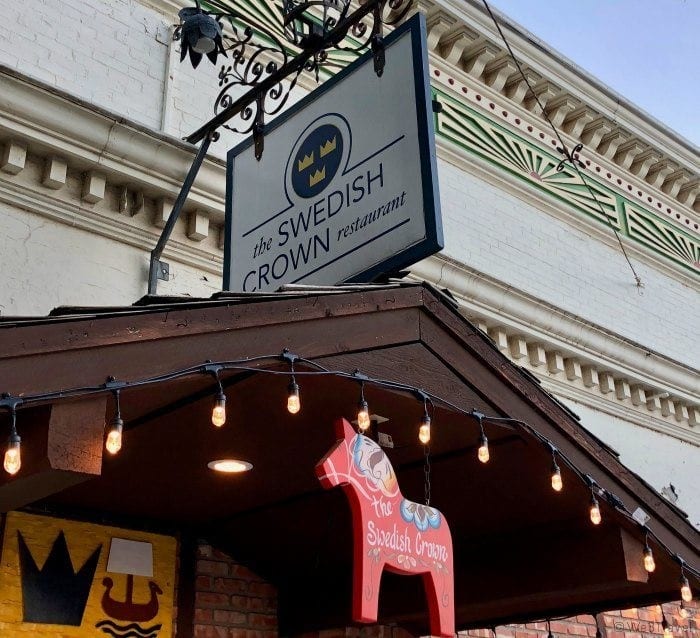 Swedish Crown Restaurant
If you are visiting Little Sweden USA, you need to try some Swedish cuisine, right? Head downtown to the Swedish Crown. They offer a mix of standard American fare with some Scandinavian specialties. I loved the Swedish meatballs and their traditional Swedish cheesecake-like dessert.
I hope that you will add Lindsborg to your next trip through Kansas! They are sure to give you a warm Välkommen.
PIN THIS FOR LATER
Note: My stay was hosted by Travel Kansas and Visit Lindsborg. All opinions are my own.
SaveSave
SaveSave
SaveSave
SaveSave
SaveSave
SaveSave
SaveSave
SaveSave
SaveSave
SaveSave
SaveSave
SaveSave
SaveSave
SaveSave
SaveSave
SaveSave
SaveSave
SaveSaveSaveSave
SaveSave
SaveSave
SaveSaveSaveSave
SaveSave
SaveSave
SaveSave
SaveSave
SaveSave
SaveSave
SaveSaveSaveSave
SaveSaveSaveSave
SaveSave
SaveSave
SaveSave
SaveSave
SaveSave
SaveSave