As towering as the Grand Tetons are, the National Park is sometimes overshadowed by its larger neighbor to the north, Yellowstone. In fact, there is so much to do in Yellowstone that sometimes people don't even make it down to Grand Teton National Park — but that is a mistake.
Even if you only have one day to spend in Grand Teton National Park, don't worry, you can still see the highlights. If wondering what to do in Grand Tetons, don't miss these top Grand Teton sites and attractions.
Tips for Visiting Grand Teton National Park
Before I share what to do in Grand Teton National Park, let me give a few tips about visiting
Be sure to get a very early start as you will be most likely to sight some wildlife and get a spot in the parking lots by popular hiking trails
In high season, expect the parking lot at Jenny Lake to be full by 10 am (we got there just before 10 am and got one of the last spots available)
Pick up some bear spray if you are headed out on any of the quieter trails — better safe than sorry (check out these other tips for hiking with kids)
Be sure to stop at the Visitor Center to get your National Parks Passport stamped and find out about the ranger programs for that day
Bring along a refillable water bottle. The park service is kind enough to offer cold water coolers at the beginning of popular trails like Inspiration Point to refill your bottle and encourage you to stay hydrated
If you are looking for a less crowded route to Jackson Lake or north to Yellowstone, head up Highway 191 to the entrance at Moran Junction
If you haven't booked a park lodge months in advance, you may find more availability in the nearby town of Jackson.
What to do in the Grand Tetons
1. Jenny Lake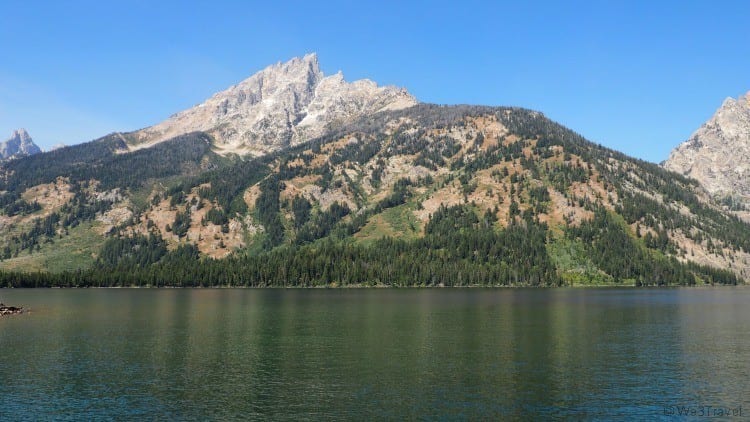 Jenny Lake is one of the most popular attractions in Grand Teton National Park, as evidenced by the crowds. But it is still absolutely worth a long visit. Just put it first on your list of things to do in Grand Teton so you can get a parking spot in the lot at the Visitor Center.
You have a couple of options for enjoying this area. You can hike the six-mile circle around the lake, or take the ferry across the lake to save time and energy (you can always hike the 2.5 miles back.)
Reservations aren't required for the Jenny Lake boat ferry, but you may need to line up and wait your turn as they run every 10-15 minutes throughout the day. If you are going to take the ferry both ways, it makes sense to decide in advance and purchase the cheaper round-trip ticket.
Even if you are itching to hike, I'd recommend taking the ferry in at least one direction because the views from the water are spectacular.
2. Inspiration Point
From the boat dock, a trail will lead you up to an elevation of 450 feet with a 2.2-mile round-trip hike to Inspiration Point. The trail crosses Cascade Canyon Creek, but the way is clearly marked to continue upwards to Inspiration Point.
Along the way, you will pass a short side trail that leads to Hidden Falls. Some of these were closed on our visit so we couldn't get the full view of the falls.
You will also pass a couple of great lookout points, some with very aggressive ground squirrels. But keep going if you want to reach Inspiration Point.
The last section has loose rock on the trail with a fairly steep ledge so it is not for the faint of heart — or for small children unless they are in a carrier or held closely by hand. Push on to the top if you can because the views are worth it.
See more easy hikes in Grand Teton National Park.
3. Signal Mountain Overlook
Before you reach Signal Mountain Lodge, take a right onto a five-mile, winding road up Signal Mountain for dramatic panoramic views across the Valley floor.
You can imagine the valley full of wildlife and we couldn't stop ourselves from peering into the distance with our binoculars looking for anything moving.
Three-quarters of the way up to the top, also stop at the Jackson Point Overlook for beautiful views of the mountains. Just watch out for motion sickness on the way up and down!
4. Jackson Lake Dam
Just before you get to Jackson Lake Junction you will pass over the Jackson Lake Dam. Stop on the south side for pictures because there isn't a good place to pull off once you go over the dam.
I didn't think it would be anything special but after driving by, we wished we had stopped.
5. Jackson Lake
If I was to stay in the park, I would want to stay at the Jackson Lake Lodge. The floor-to-ceiling windows in the lodge offer amazing views of the lake and mountains.
They also say you can see moose, bears, and other wildlife just outside of the lodge. You can go boating on Jackson Lake, but from Signal Mountain Lodge (where we ate lunch), you can also rent paddleboards and kayaks.
6. Oxbow Bend
Oxbow Bend, on the connector between Jackson Lake Junction and Moran Junction, is a scenic river bend where you can find moose, elk, eagles, herons, and more (including mosquitoes.)
Traveling from west to east, you may not think it is worth stopping unless you are there at dawn or dusk for wildlife viewing. However, when you approach from the east, you can see why you should make the stop just for the photo opportunity.
7. Elk Ranch Flats
When you travel along Highway 191, you will see fenced ranch land. Around the area by Elk Ranch Flats Turnout, just north of Triangle X Ranch, don't be surprised to see a herd of bison. If you haven't been to Yellowstone yet and this is your first view, it is sure to be a crowd-pleaser.
Just be careful. The fence didn't look electrified and it would be pretty easy for those bison to bust right on through if they desired. As you are driving through these fields, also keep your eyes peeled for pronghorn lying among the grasses.
8. Snake River Overlook
Snake River Overlook can be a quick stop, but a worthwhile one to see how the Snake River cuts through the earth and gains its apt name.
9. Schwabacher Landing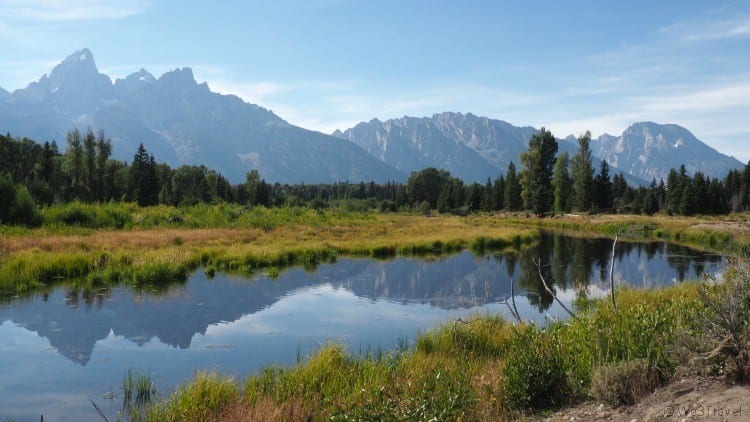 One of the most famous views of the Teton Range is from Schwabacher Landing. Even if you don't get there for dawn or dusk when you are likely to find some moose, the reflection of the mountains in the water is breathtaking and absolutely postcard (or holiday card) worthy.
Take some time to enjoy the scenery, but bring along the bug spray (and the bear spray too — it can be nice and quiet down there.)
10. Glacier View Turnout
If you get really lucky, you may stop at the Glacier View Turnout just as the moon makes an appearance between the peaks. If not, you will at least get a gorgeous view of the Tetons and the glacier.
We were sad we didn't have a chance to stop and see the old buildings along Mormon Row that you so often see photographed, but I know there is still much more to do in Grand Teton National Park and I can't wait to return sometime.
Where to Eat in Jackson Hole
If you aren't staying within Grand Teton National Park, you will find plenty of options in nearby Jackson Hole, Wyoming. This small town immediately charmed us, with its famous antler arches and mix of authentic western town with upscale ski town.
Downtown, you can take a carriage ride, saddle up to the bar at the Million Dollar Cowboy Bar (literally as the bar stools are saddles, just keep in mind that if you are visiting Jackson Hole with kids, they are not allowed inside), check out the cute shops and galleries, or fill your belly and any of the fine eateries around town.
Hatch Taqueria and Tequilas
My first stop on my search for the best restaurants in Jackson WY was Hatch, which offers fresh and modern Mexican cuisine. They offer indoor and outdoor seating in a fun and casual setting. The service was a little odd – but the food was good. I couldn't decide on which tacos to get so I tried a few. These are small, authentic tortillas with modern ingredients. My favorites were the chicken Tinga and smoked brisket tacos.
120 West Broadway, Jackson Hole, WY, (307)-203-2780
The Kitchen
The Kitchen came highly recommended as a nice, but casual option. Again, they offer both indoor and outdoor seating. Even with the heat lamps, outdoors seemed chilly so we opted to eat inside. The décor is modern yet has a very organic feel. The food was really interesting and wide-ranging. If you like spicy, the turkey spring rolls had a real kick. Our other favorites were the Pho and the Kitchen Burger. But leave room for dessert because the chocolate chip cookie skillet was absolutely amazing. For something lighter, try the mango passion sorbet.
155 North Glenwood, Jackson, WY, (307) 734-1633
Cafe Genevieve
I was disappointed we didn't get to try Cafe Genevieve because not only do I love a good breakfast, but Hannah's friend Genevieve accompanied us on this trip so it would have been fitting. I was told they have the best breakfast around (and they serve it until 3pm.) If I return, I'm definitely trying their "pig candy," which is thick applewood smoked bacon, coated with a blend of sugars and spices and has been featured on Food Network's "Triple D" and "The Today Show".
135 East Broadway, Jackson, WY
Teton Tiger
For casual Asian, Teton Tiger comes highly recommended. They offer a mix of Thai, Chinese, Korean, Japanese and Indian flavors, all while incorporating local ingredients. Favorites include Mama's Midnight Ramen and Shanghai Street Noodles.
165 Center St, Jackson, WY
Visiting National Parks?
If you are visiting other National Parks, be sure to check out these articles too:
PIN THIS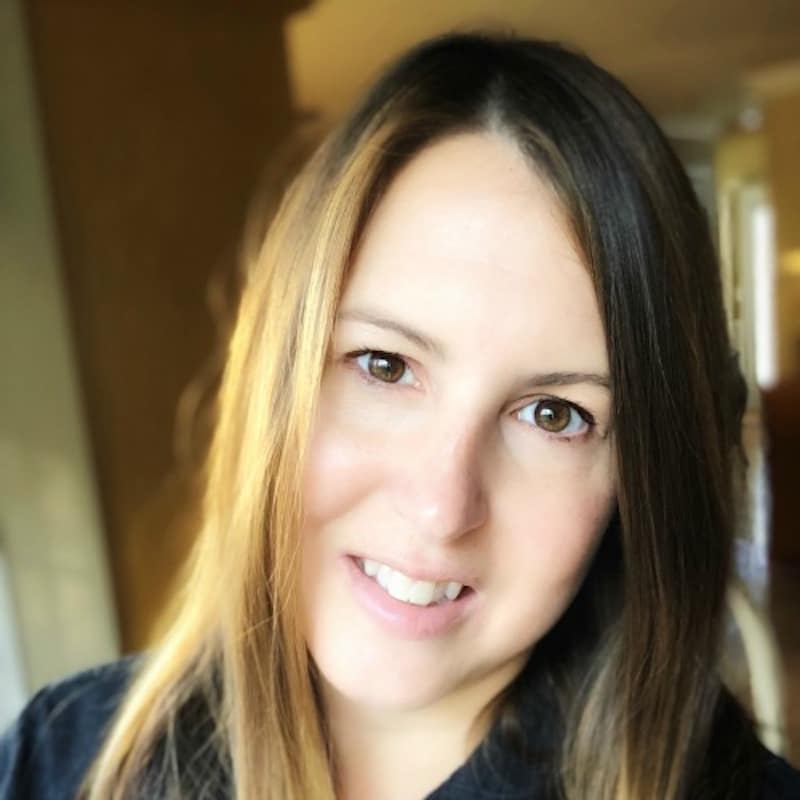 Tamara Gruber is the Founder and Publisher of We3Travel. A former marketing executive and travel advisor, Tamara is an award-winning travel writer and recognized expert in family travel. She is also the publisher of YourTimetoFly and the co-host of the Vacation Mavens travel podcast.