I was first inspired to visit Crater Lake in Oregon many years ago after flipping through a coffee table photo book of National Parks. Luckily this summer I had a chance to finally visit Crater Lake when vacationing in Sunriver, Oregon, and it not only lived up to my expectations, it exceeded them in every way.
While it is hard to capture Crater Lake in just one photo unless you are a professional photographer (or at least have a wide-angle lens), I did my best and thought my Crater Lake photos were the best way to share this experience. Scroll through my Crater Lake photo essay for some tips and suggestions on what you need to know before you plan a trip to Crater Lake. You may also want to check these tips for things to do at Crater Lake or ideas on how to plan an Oregon Coast road trip.
Since we were staying in Sunriver, we approached Crater Lake from North Entrance Road, driving through the Pumice Desert and across the Pacific Crest Trail (of Wild fame) to reach our first lookout at Merriman Point. We probably spent 30 minutes here just drinking in the view and taking photos from every angle. Our eyes just couldn't get enough of the expansive, deep blue of Crater lake.
Adventurous hikers can set out along the west rim trail from the North Junction at Merriman Point down to Crater Lake Lodge at the south rim. If you are traveling by car or by bike, you can make a left around the East Rim Drive or go right on the West Rim Drive. If you are planning on taking a boat tour around the lake, you'll want to head onto the East Rim Drive to Cleetwood Cove Trail, the only place that you can hike down to the water and the site of the boat launch.
We headed onto the West Rim Trail, which was the shorter path to Rim Village at the south rim of the lake, and where we planned to have lunch. If you plan ahead (that would be smart), you can bring a picnic lunch and stop and eat at many points along the way and enjoy the view.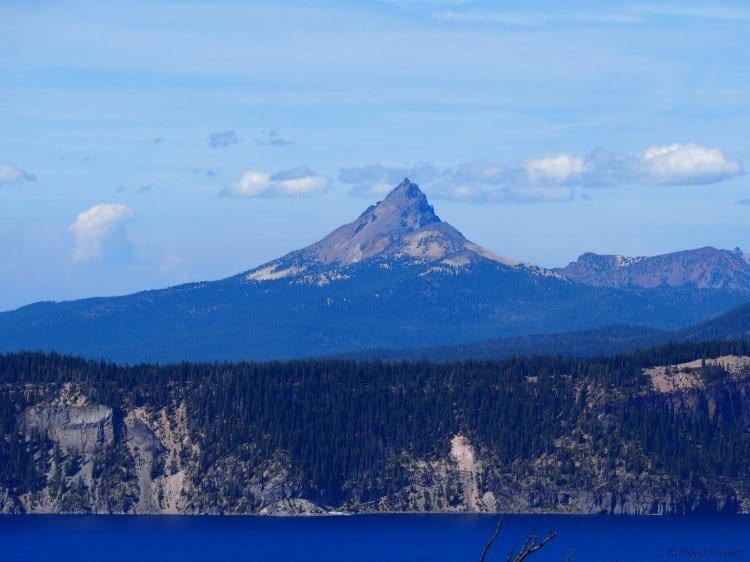 There are no railings along the edge of the caldera so you need to be careful and keep children close at hand. You may see some people hiking out on rocks or other precipices, but the only true path down to the lake's edge is at Cleetwood Cove Trail.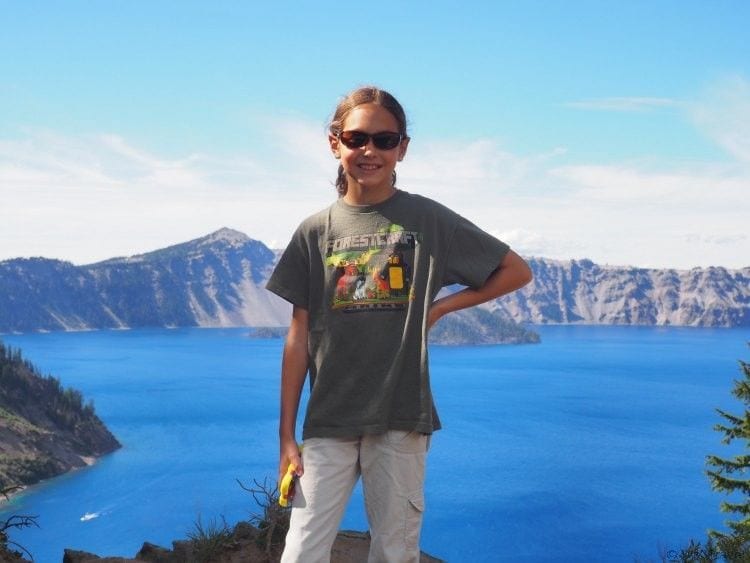 Wizard Island is the most notable site on Crater Lake and you can photograph it from many directions, including a great view at The Watchman and Discovery Point lookouts. There is a boat tour that stops at Wizard Island so people can hike and explore the island.
The water around the edge of the West Rim is a gorgeous turquoise blue, looking more like the Caribbean than a lake in Oregon, transitioning through some incredible shades of blue.
At The Watchman Overlook, you will find some of the wildlife at Crater Lake, including many adorable ground squirrels. You may think they are chipmunks, but as we learned at the Lava Lands, chipmunks have stripes on their faces and ground squirrels do not. Many visitors were feeding these furry guys (against regulations I'm sure) and therefore they have gotten friendly. Maybe a little too friendly. I had to keep my daughter from trying to pet them because I'm fairly sure getting bitten wouldn't be a good idea.
Crater Lake is just so beautiful from every angle that even when you start to get tired of finding a parking spot and jumping out of the car, you just can't stop taking photo after photo in an attempt to capture nature's beauty.
After a quick lunch and bathroom break at the Rim Village Cafe and Gift Shop, we headed south to meet up with East Rim Drive. You wind your way south, past Park Headquarters and toward the Annie Spring Entrance Station and Mazama Village, but hang a left onto East Rim Drive to see the other side of the lake. At first you think you are heading away from the lake, as you wrap around mountains, but you will slowly work your way back to the lake and its magnificent views. We stopped at the Sun Notch trailhead to stretch our legs a bit with a short hike out to a great view of the Phantom Ship rock formation.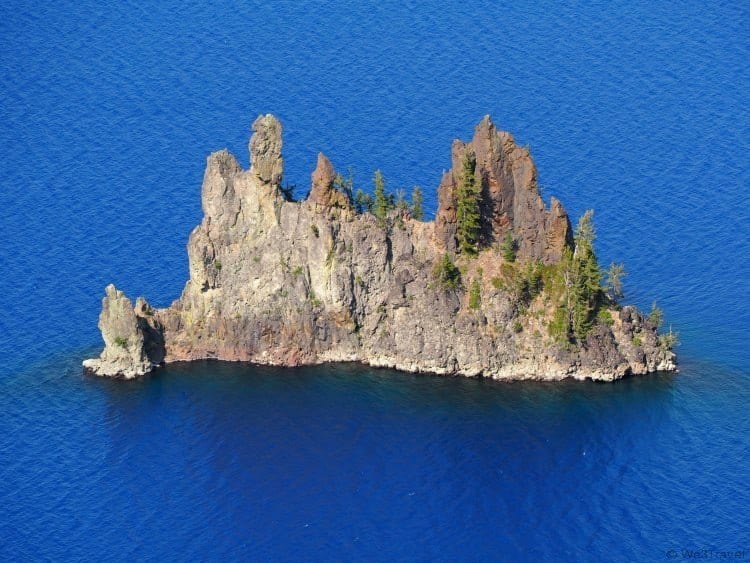 When we stopped for lunch we had heard that the East Rim Drive was closed past Sun Notch until after 5 pm due to construction or repair from falling rock. Luckily, by the time we finished our hike the road was open so we didn't need to backtrack but could continue on our loop around the lake. Our next overlook gave us a great view of Pumice Castle, narrow towers of reddish stone that looks like the turrets of a castle.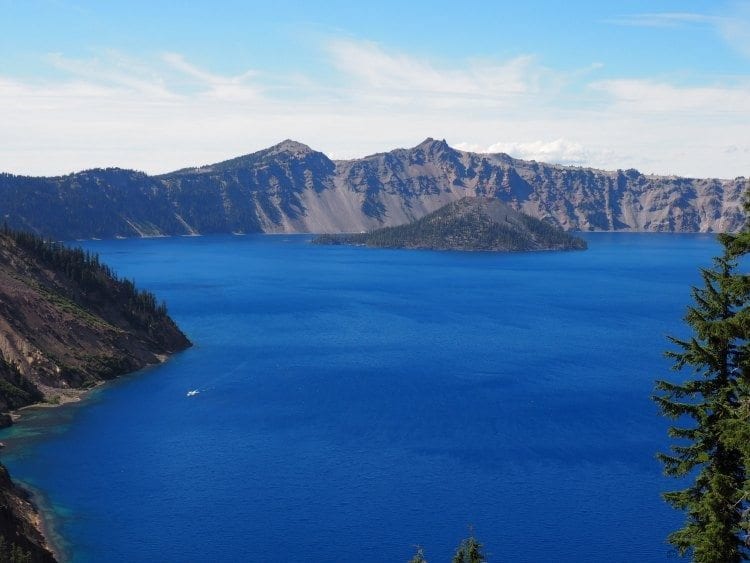 At the end of the day, the light began to fade just a fast as our energy. With only one short hike and a lunch break, we still spent nearly five hours enjoying the many views of the lake. As the sun began to set, the lake water looked glassy and silvery, giving the lake, especially around the Phantom Ship, a bit of an eerie air.
What to Know Before you Go
Crater Lake is located in southern Oregon, formed when a massive volcano left a deep basin in a place where a mountain peak (Mountain Mazama) once stood 7,700 years ago. The lake is big, over 6.02 miles across, and it is also the deepest lake in the United States at nearly 2,000 feet at its greatest depth. The rim towers over the lake at 500 to nearly 2,000 feet above the lake. Crater Lake looks so blue because the other colors of the spectrum are absorbed but blue wavelengths scatter and can be seen by the human eye.
There is a $10 entrance fee to the park for non-commercial cars.
The rim drive is 33 miles in total and offers 30+ viewpoints along the drive.
The only gas station within the park is all the way at the south entrance (Annie Spring) at Mazama Village so make sure you have enough gas when entering the park.
Food options within the park are very limited, with a small cafe at the Rim Village and down at Mazama Village. It is a smart idea to bring a picnic lunch and make use of some of the picnic tables or scenic lookouts along the drive.
There are a few non-flush toilet buildings at various lookouts (including Watchman), or large bathroom buildings can be found at the Rim Village.
There are a number of short hikes that are family friendly and you will receive a pamphlet with a list and description of park trails upon your arrival. Just take a few minutes at the first overlook to review the hike options and see where they are on the map as some (like the Pinnacles Trail) require a decent drive off the main Rim Drive to access the trailhead.
Hiking or climbing inside the caldera is prohibited. The only access to the lake is on the Cleetwood Cove Trail on the northern part of East Rim Drive. Note that this climb is listed as strenuous with a 11% grade and will take 1.5 hours at 1.1 miles each way.
It is recommended to make reservations for boat tours in advance. I tried booking a tour a week before our departure for a Friday in August and they were already sold out. To see what the boat tour is like, I recommend checking out this post on The World is a Book blog.
Don't expect to be able to upload your photos to Instagram from inside the park because you probably won't have cell coverage so if you are planning to go separate ways with anyone in your family, make a plan ahead of time.
Plan on spending at least half a day in the park, or a whole day if you plan on doing many hikes or a boat tour. We spent 4-5 hours and only did one hike.
If you want to hike down Cleetwood Cove Trail to reach the water's edge (and even go for a very chilly swim), you might want to start off at on the East Rim. We found that after making nearly a full loop around the lake, we were just too tired to make the hike at the end of the day.
Have you been to Crater Lake?