Since Theodore Roosevelt was the pioneer of the National Parks, you really would expect this gem in North Dakota to be on every National Park Service fan's bucket list. Yet surprisingly, it isn't even in the top 10 list of most-visited National Parks. But I'm here to sell you on why Theodore Roosevelt National Park should be on your must-visit list.
We spent two nights in Medora, just outside of Theodore Roosevelt National Park, on our mother-daughter midwest road trip. Between the charming town and the beautiful park, I fell in love. Similar to our love affair with White Sands National Monument earlier.
Before I tell you why we loved it so much, let me give you a little overview of the park and surrounding area.
About Theodore Roosevelt National Park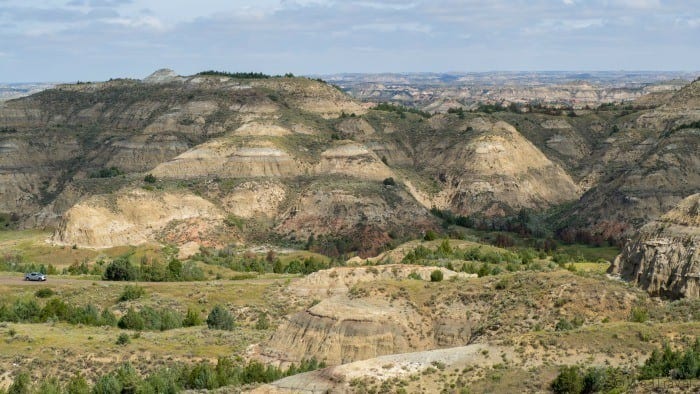 Theodore Roosevelt National Park is in Western North Dakota, about two hours from Bismark and four hours from Rapid City, South Dakota. Because of its more remote location, not as many people visit Theodore Roosevelt National Park, which means those who do visit don't need to contend with the crowds and tour buses found at some of the more popular parks.
However, it is possible to combine a trip to the park with a visit to South Dakota's Black Hills and Mount Rushmore or a North Dakota road trip.
The park is named after President Theodore Roosevelt, the 26th President of the United States, who attributed the time he spent in North Dakota in the late 1800s hunting bison for him later becoming President. You can visit the Maltese Cross Cabin, where young Roosevelt resided during his time in North Dakota.
As President, he later went on to create five new national parks and signed the Antiquities Act that enabled him and presidents to this day to proclaim national monuments.
Prior to days of early settlers, the lands in and around the park and rugged North Dakota badlands were inhabited by native peoples including the Mandan and Hidatsa, whose traditional bison hunting grounds included the Little Missouri River basin. Other groups that utilized the badlands include the Crow, Blackfeet, Cree, Sioux, and Lakota peoples. These lands were used for eagle trapping, bison hunting, and other spiritual purposes.
Visiting Theodore Roosevelt National Park
The Park itself is at the edge of the National Grasslands, where the prairie meets the Badlands of North Dakota. Theodore Roosevelt National Park is broken into three units, the North Unit, Elkhorn Ranch Unit, and the most-popular South Unit. These units are divided by the Little Missouri River and it is 68 miles between the North Unit park entrance and the South Unit of the park. Therefore if you want to cover both units, you need a minimum of two days in the park.
Both the North and South Unit offer visitor centers, but facilities throughout the park are fairly limited. You will want to pack a picnic, bring lots of water, and use the bathroom when you can as you won't find flush toilets in the park. Winter hours at the North Unit visitor center vary, and the Painted Canyon Visitor Center in the South Unit is only open May through October, but the main South Unit park headquarters is open year round except Thanksgiving, Christmas, and New Years Day.
The most convenient place to stay is in the town of Medora, located just outside of the South Unit entrance. Options in town are limited so it is best to book early. You are more likely to find campgrounds than hotels so you need to plan ahead. The best time to visit is during the early summer or early fall, but even during the hot summers we found the park uncrowded.
You will need at least a half day to visit the South Unit and drive the 48-mile scenic loop drive. Plan on a full day if you want to do any longer back-country hikes.
7 Reasons to Visit Theodore Roosevelt National Park
Lack of Crowds
I mentioned it before but the lack of crowds at Theodore Roosevelt National Park (TRNP) is noticeable, and we visited in late July, which should be prime season. Compared to the traffic jams you will find in Yosemite or the difficulty finding parking in Yellowstone, the lack of crowds at TRNP is a delight.
I would recommend that you start your visit in the South Unit Visitor Center and watch the film about Teddy Roosevelt and the park's history. The only "traffic" we encountered was waiting in line to enter the park due to some construction they were doing in the South Unit. However, once our side was let through, after the first prairie dog town stop, there was never again another crowd.
In fact, when hiking some of the trails, we kept running into the same one or two families, and that was about it. We never had an issue with finding a spot in the parking lot, encountering too many people on a trail, people getting in the way of a nice picture, slow drivers, or any of those National Park common problems.
Wildlife Viewing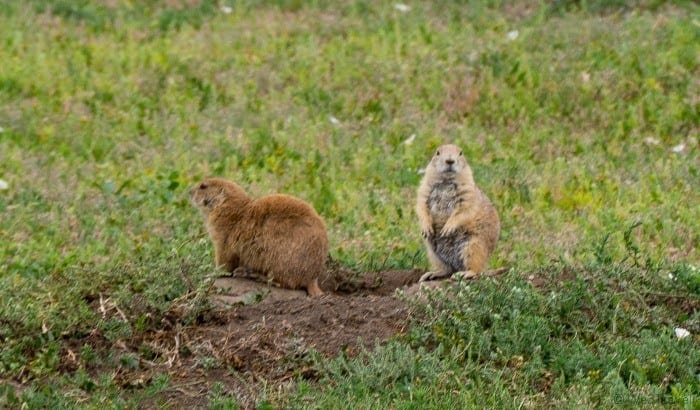 Theodore Roosevelt National Park is amazing for wildlife viewing. In the park you will find mule deer, bull elk, bands of feral horses, badgers, bison, and tons of prairie dog towns. The prairie dogs are so cute to watch as they pop out of their burrows and run around. I didn't know quite what to expect and I thought a sighting might be rare and only from a distance but wow, was I wrong!
The prairie dog towns are right by the road so you can climb out and watch for a while. And these critters aren't shy! They might chirp if you approach, but hopefully you will follow park guidelines and stay away from wildlife. They jump out, tussle with each other, and dart from hole to hole. It is so entertaining you may find yourself camped out for a while just enjoying the show.
The small bands of feral horses also wander throughout the South Unit. We spotted our first herd on the hill above the first prairie dog town on the scenic loop. While the other cars were there, we could just spy the swish of a tail and twitch of ears over the crest of the hill. But as the other cars moved away, the herd came over the hill to graze.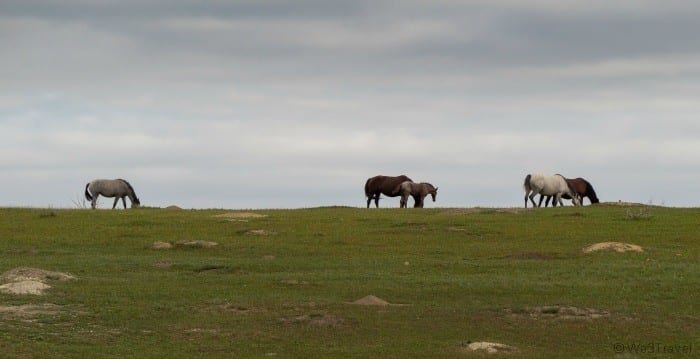 A bit later, not far from Cottonwood Campgrounds, there was a band of horses grazing just off the side of the rode. We slid to a quiet stop and rolled down our window to quietly watch them chomp on the grass and they didn't seem to mind us a bit.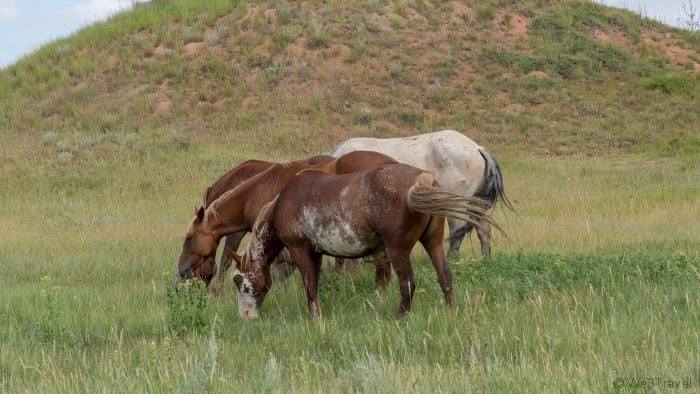 The American bison can be a bit trickier to find on the open prairie, but when you see the giant poops on the road, you know they can't be far. We spied a herd on a hill in the distance near Buck Hill Trail and a large herd in the valley near the Boicourt Overlook.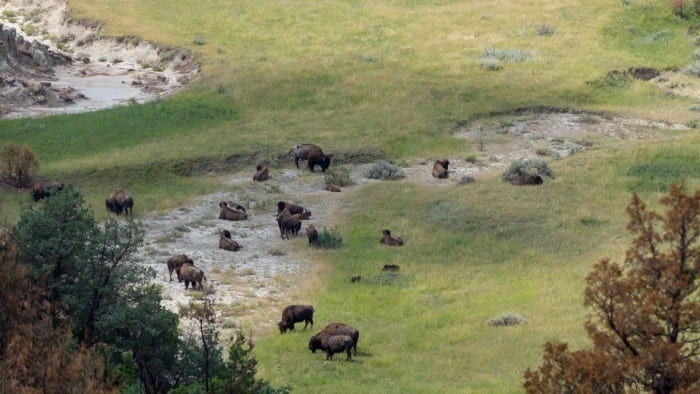 We even got an up close view as a single bison crossed the road right in front of us near Peaceful Valley Ranch. So they are around if you look for them!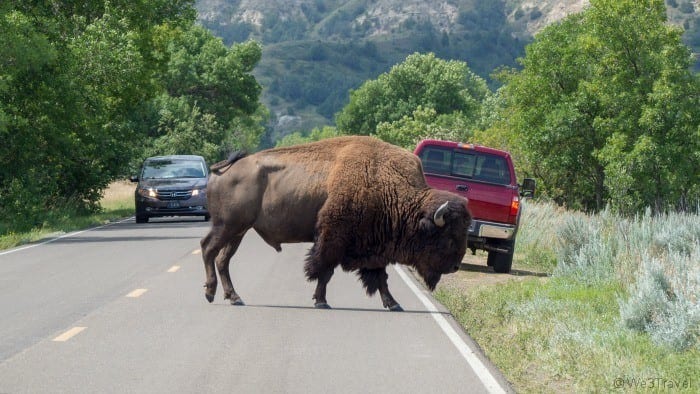 And while we didn't see any elk in the park, I've heard that you can often see them from the Buck Hill Trail. We actually spied two grazing on the hillside near the large Medora sign at the Medora Musical for a perfectly-timed photo opp.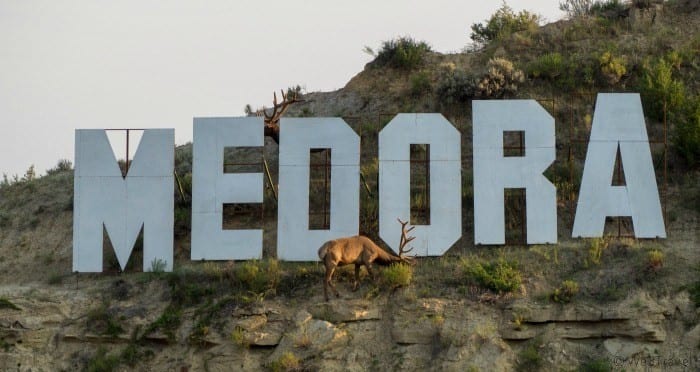 Fun and Easy Hikes
If you stop off at the visitor center, you can ask the park rangers for where to find wildlife that day and also get the scoop on some of the longer, back-country hikes. Just keep in mind that some will involve crossing the river, which may be knee-deep, so bring appropriate shoes (or a change of shoes).
What I loved though is that there are plenty of short hikes, so you don't need to commit to a multi-hour thing. You can get viewpoints from different places and walk through a variety of terrain on shorter hikes. A number of them will involve a steep portion, but for most those are relatively short sections.
We particularly enjoyed the Ridgeline Nature Trail, which is only .6 miles but some of it is a steep climb. You will them walk along the ridgeline of the hills to beautiful views (not for those scared of heights.)
The Buck Hill Trail is also worth the one-mile drive off the Scenic Loop. Again, it starts with a short climb but then you are on relatively flat ground. On one side you will look across the grasslands, and if you are lucky spy elk or bison. On the other side, there are beautiful views of the colorful North Dakota Badlands.
Boicourt Trail is another short, good one, but if you are tired, you can get mostly the same views from the Boicourt Overlook.
Scenic Drives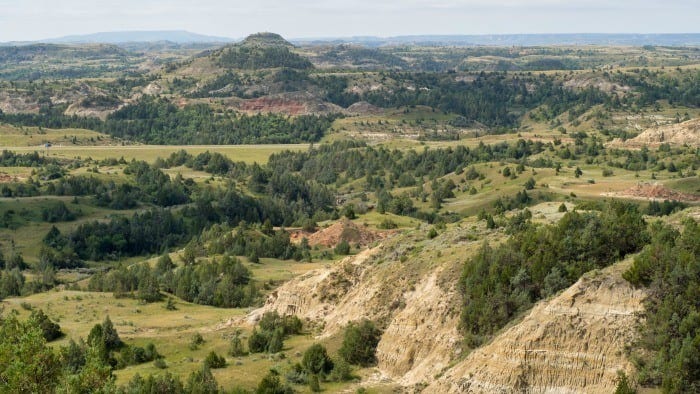 The North Unit features a 14-mile scenic drive, while the South Unit has a 36-mile scenic drive. So even if you don't want to do any hiking, you can spend the day driving the loop and hopping in and out of the car at scenic overlooks and parking areas. There are many places to grab a picnic table and enjoy a scenic lunch (just remember to take everything you brought in out with you.)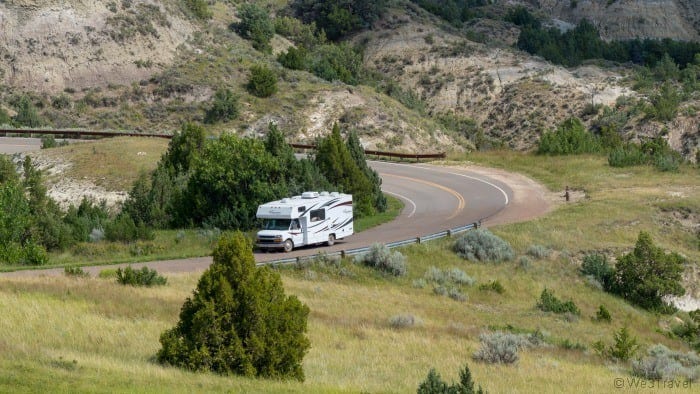 And the nice thing is that you don't need to compete for space at these pullouts! The Badlands offer such a fascinating landscape that it is exciting to drink it all in and try to capture their beauty in a photo.
Big, Open Spaces
When you come from the crowded Northeast, it is so nice to be in a spot with big open spaces where you can breathe deep and see for miles. As we were sitting on a rock at the top of the Buck Hill trail, Hannah wished we had brought a blanket and some books so we could stay there for a while and just enjoy being in a place where you can see so far with such great views.
Driving through the Great Plains, you get such an appreciation for big, open spaces. Of course, it is also the only place where I've been nervous about finding a gas station when I had half a tank of gas.
Medora
Note: This post may contain affiliate links. If you click a link and make a purchase, I may receive a small commission. All opinions are my own.
I found the town of Medora just outside of the South Unit of Theodore Roosevelt National Park to be absolutely charming. There are some western towns that have a throw back quality, but also feel a little cheesy or run down. Like you don't know who you might encounter wandering out of the local saloon.
Medora didn't feel this way at all. It was so quaint and authentic but also clean, quiet, and downright picturesque. There are two playgrounds in this town of 150 people. And in the town square you can find musical entertainment. There are a few cute shops but also places to stop for ice cream, candy, or coffee.
The food options are a little limited, and don't expect to find gourmet (or dinner after 8pm.) But you can find a terrific muffin at Hidden Springs Java.
Accommodations are also limited. However, I was surprised to find that the Rough Riders Hotel actually looked quite nice. We opted to stay at the Amble Inn. We were thrilled with the location and very happy with the size of the room, bathroom, and the friendliness of our hosts. It was cute and local and just what we had hoped.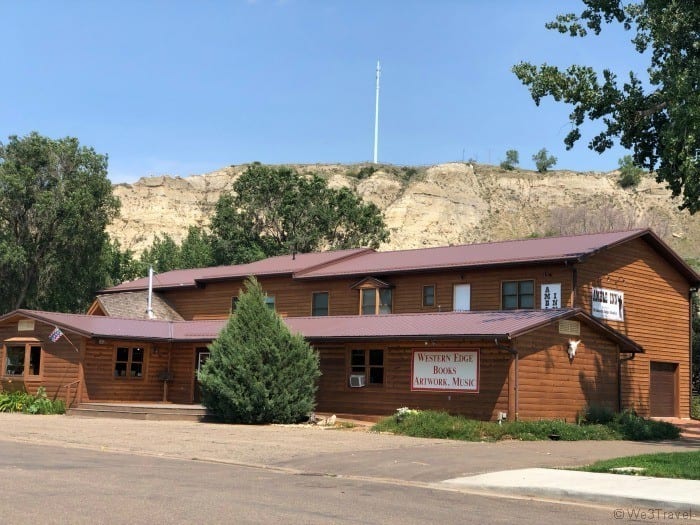 Find a Place to Stay in Medora
Medora Musical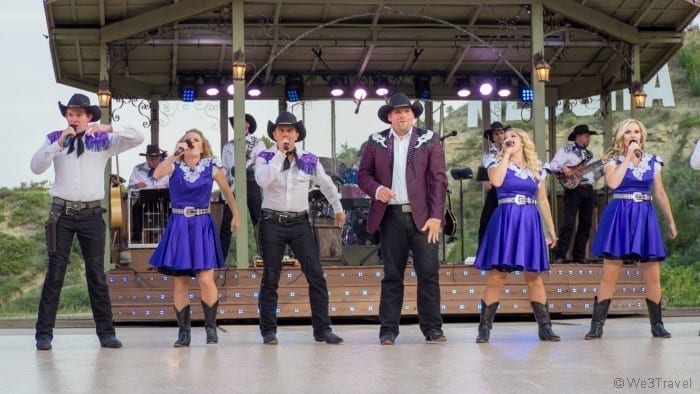 If you are staying in Medora or nearby, you need to attend the Medora Musical. Called the "greatest show in the West," the Medora Musical is a variety show that plays nightly in the summer. It is a great piece of Americana in a way that you won't find on Broadway or anywhere else.
The show takes place in an amphitheater and given the size of the crowd, I'm not sure where all the attendees come from. I wasn't sure if it would feel hokey, but wanted to give it a try since it seemed like the thing to do. But it was actually really entertaining in a warm, old-fashioned, patriotic sort of way.
Before the show, you can sign up for the Pitchfork Steak Fondue. I'm not sure it was worth the price but it was a fun experience. I mean, when else do you see a steak cooked over a fire using an actual pitchfork? It is a great warm up to the Musical as you can enjoy your steak and a buffet of sides while listening to the country band from the show.
Just go, you won't regret it!
So there are my seven reasons why you should visit Theodore Roosevelt National Park. I really hope you visit Theodore Roosevelt National Park and fall in love with it as much as we did!
PIN THIS FOR LATER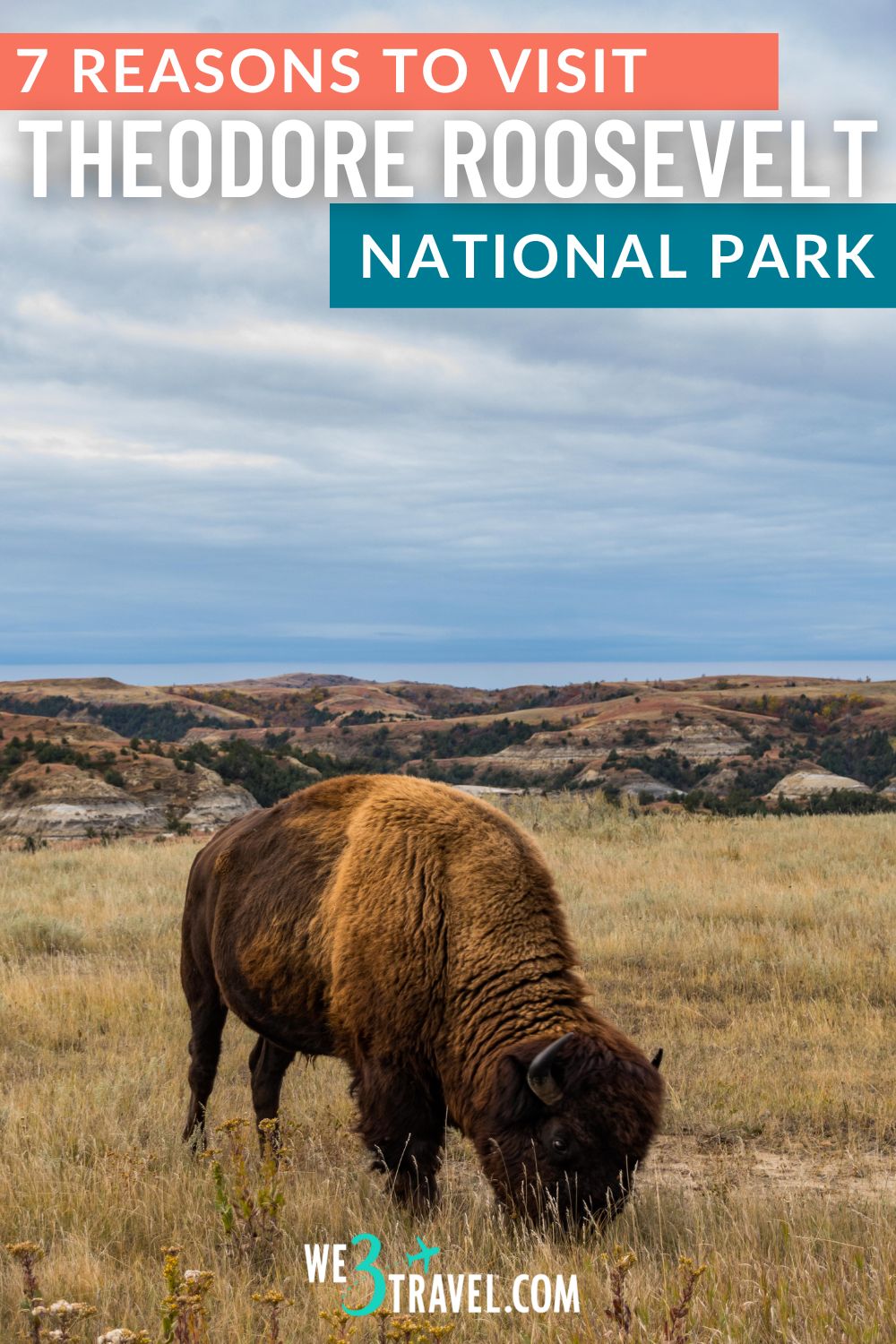 SaveSaveSaveSave
SaveSave
SaveSave
SaveSave
SaveSave
SaveSave
SaveSave
SaveSave
SaveSave