I admit that I had a preconception of Milwaukee as an industrial city. Maybe it was a childhood of watching Laverne & Shirley (millennials, look it up) or my college days of drinking lukewarm Old Milwaukee at keg parties. But when I arrived I half expected to see breweries and mills spewing out smoke into gritty, grimy streets. Wow was I wrong! Not only was the Cream City beautiful, but there were so many fun things to do in Milwaukee in the summer.
Before going to Milwaukee, I had seen some beautiful Instagram shots from friends who have visited the city, which definitely intrigued me. But the clean streets, beautiful skyline and charming historic Third Ward just blew me away.
Of all the cities that we visited during our mother-daughter midwest road trip, Milwaukee was my hands down favorite (yes, even above Chicago.) I'm not sure how my husband spent two years traveling there nearly every week for business and never clued me into what a cool, little city Milwaukee is.
If you want to spend more time in the Badger State, see these recommendations on things to do in Wisconsin.
Getting to Milwaukee
When you go, I would recommend flying into Milwaukee if you can. Since we were making a round-trip loop to Chicago, we flew into Midway and drove up but the hour-and-a-half drive ended up taking two and a half. Luckily, Southwest often runs fare sales that include Milwaukee so maybe a return trip won't be hard to manage! Once you are there though, driving around the city is pretty easy — not at all like Chicago.
Where to Stay in Milwaukee
Note: Our trip was hosted by Visit Milwaukee and we received complimentary lodging, meals, and entrance tickets to attractions. All opinions are my own. This post contains affiliate links. If you click a link and make a purchase, I may receive a small commission.
We stayed in the Kimpton Journeyman Hotel, right in the Third Ward and within walking distance to the lake, river, and all the major attractions we wanted to visit. It was a perfect location! The historic Third Ward is made up of old brick buildings that have been renovated and repurposed into restaurants, boutiques, offices, and high-end stores. There are charming seating areas throughout the district and it is adorned with hanging flower pots and colorful benches. The whole area is so lovely. I think Hannah got tired of hearing me exclaim how cute it was.
I have an affinity toward Kimpton hotels. They are boutique-like, hip, and very stylish. I don't travel with a pet, but if I did, I would love their pet-friendly accents like the dog dishes in the hotel room. The Kimpton Journeyman did not disappoint in that regard.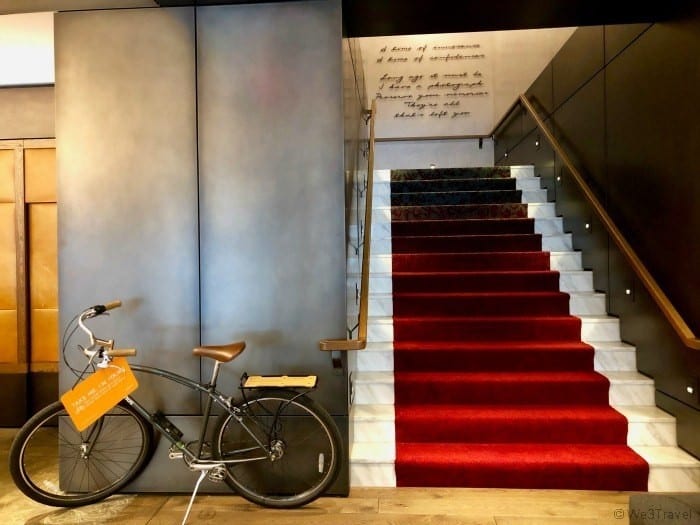 Downstairs in the lobby, they have a pool table to one side and a large seating area, where they offer drinks and flatbreads for a community happy hour, on the other side. There is also an Italian restaurant downstairs, which my husband tells me is very good, but we didn't have a chance to sample.
Upstairs, we were in a large king room overlooking the street. Hannah immediately fell in love with the giant bathroom, especially the gorgeous free-standing tub. She enjoyed taking a nice soak after our long travel day and snuggling down into the hotel robe. I don't know what it is but both of us get so excited by hotel robes and nice hotel bathrooms.
5 Must-See Things to do in Milwaukee in the Summer
I know we only scratched the surface of things to do in Milwaukee, and I hope to return in the future to explore more. The city would also be a great spot for a girls' trip, and in fact, I saw quite a few bachelorettes in crowns and sashes with their gaggle of girls during our walks around the Third Ward.
Now that I've been, I wish we had scheduled more time in the city. If I returned with my husband, I would definitely want to do one of the brewery tours, since the city has definitely embraced the craft brewery trend (thank god no more Old Mil for me!) And my brother was disappointed I didn't stop off at the Harley Davidson Museum (I tried Tim but traffic from Chicago was horrible and I ran out of time!)
But there are also so many fun things to do in Milwaukee with kids and my teen was up for it all. You can also make Milwaukee one stop on a Wisconsin road trip, which could include Door County and visit to some of the Door County Wineries.
1. Attend a Festival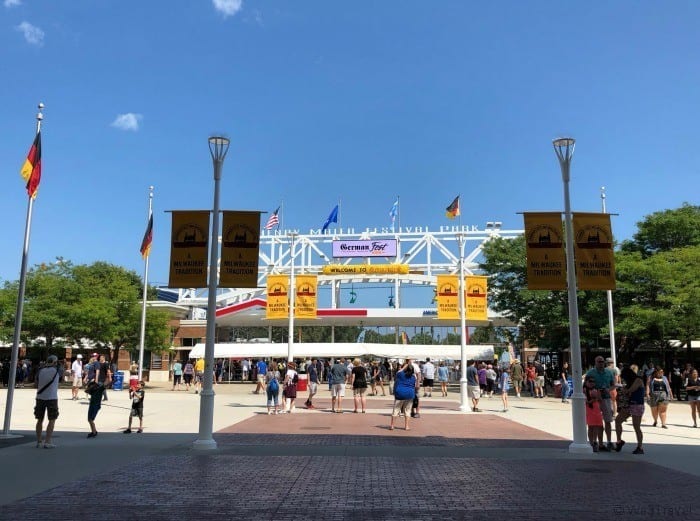 Summer in Milwaukee is all about the festivals! There is Summerfest and the Wisconsin State Fair, and weekly ethnic festivals so no matter when you go, something is bound to be going on at the Henry W. Maier Festival Park. Located right on the Lake Michigan lakefront, this permanent festival ground has multiple stages, tents, and food stands.
We were in town for Germanfest and the locals go all out. It felt like Oktoberfest in July, with so many attendees decked out in feathered caps and lederhosen. There were beer tents galore serving up giant steins of ales and lagers.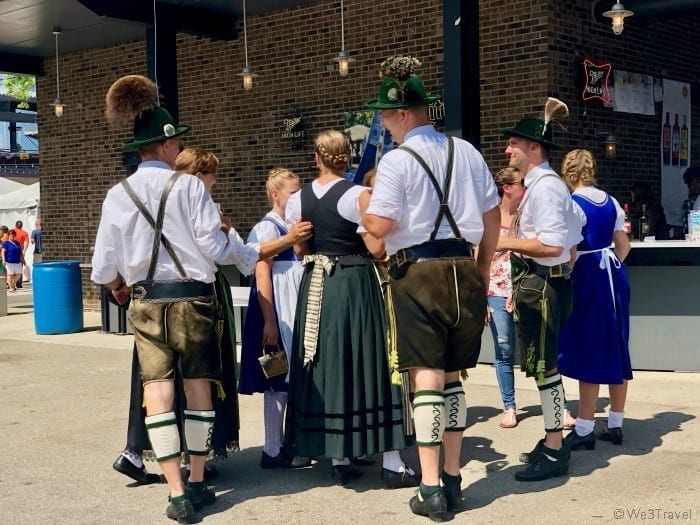 Younger kids were getting a workout on the bounce houses, climbing wall, and bungee. You can get a bird's eye view with a sky ride that runs from end to end of the festival grounds.
There is also entertainment galore, from polka dancing to other musical acts. You definitely want to pick up a schedule upon arrival and plan your day. We were disappointed we missed the pet parade. Because dogs in lederhosen would blow up Instagram.
The big mistake that we made was eating lunch before we went. Because I really think the best thing to do at one of these festivals is eating all the delicious ethnic foods. We saw brats and strudels, potato pancakes and streusels.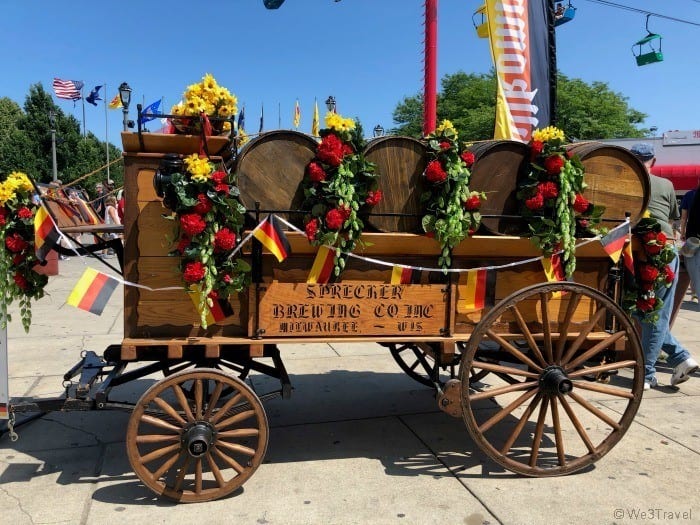 Just keep in mind that you will pay an entrance fee, but everything else is extra from the food to the rides, so plan accordingly. With a teen that doesn't want to eat and can't drink, you may only need an hour or two to enjoy the festival, unless you catch a good entertainment act. But younger kids can enjoy the playground as well as the rides, making it a family affair.
2. Explore the Milwaukee Public Market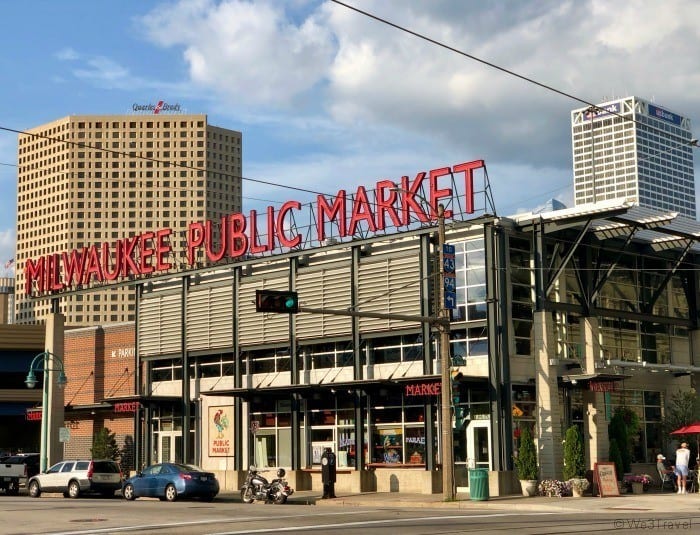 I have a fondness for food markets and try to visit them in every city. The Milwaukee Public Market is bustling but not overwhelming. You can find a mix of local foods, like sausage of every type and cheese curds galore, but also healthy options like juices and salads. It is a bit more for those eating in versus picking up food to cook at home, but as a tourist that is what I enjoy.
If you head upstairs, there is plenty of seating. Plus, outside and around the market, you will find numerous restaurants, many with outdoor sidewalk or rooftop seating to enjoy the warm summer sun.
3. Visit the Milwaukee Art Museum
When visiting a city in the summer, I like to enjoy the outdoors as much as possible, but I knew we had to hit at least one museum. The Milwaukee Art Museum is such a unique and beautiful building from the outside, that it just beckons you to see what is on the inside.
In addition to the special collections, they have a broad collection of over 25,000 pieces, from Renaissance to Impressionist to Post-Modern. I was particularly drawn to the more modern exhibits, but with many art museums, my interest lies as much with the art as it did with the building itself.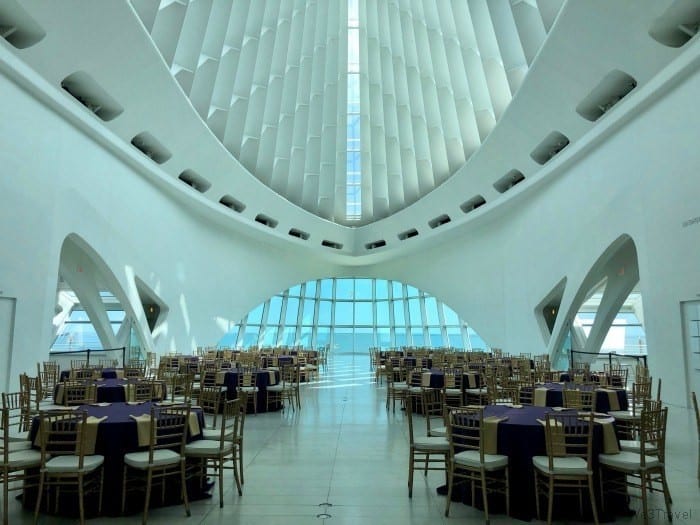 If you can, try to arrive when the museum opens. This is when the sides of the roof raise like wings over the building. If you can't see this, your next chance is at noon, when the wings "flap." Now don't expect a rapid motion, you are better off filming this with a time-lapse, but the wings slowly close and then open back up again. It is something special to see.
4. Explore the Lake Michigan Lakefront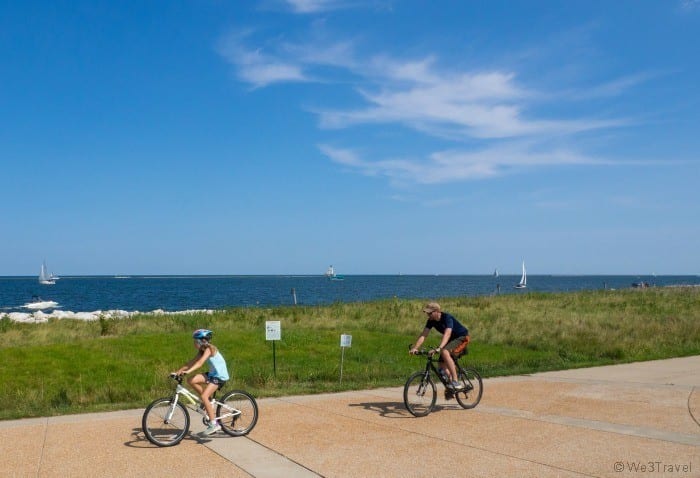 There are numerous biking/walking paths that frame Lake Michigan, offering splendid views of the lake and the city skyline. Between the art museum and the festival grounds, you can rent bikes or multi-rider surreys to explore.
There is even a spot to rent pedal boats. At a minimum, take a walk out into Lakeshore State Park and enjoy the views.
5. Walk Along the Milwaukee Riverwalk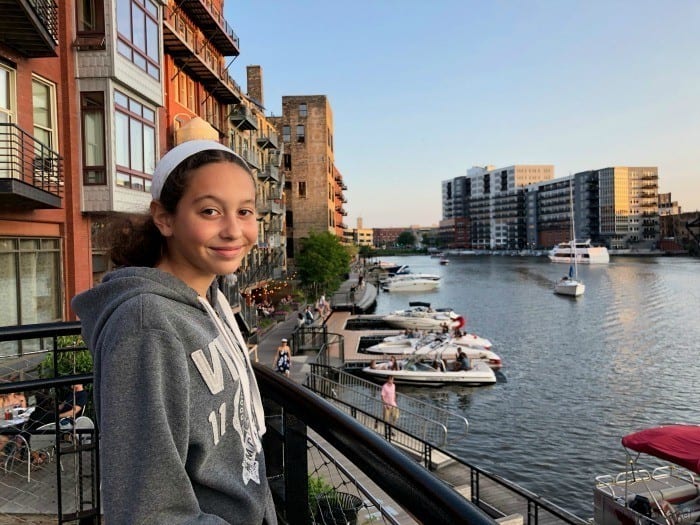 Milwaukee doesn't just have one of the Great Lakes to enjoy, it also has a river. The Milwaukee Riverwalk winds through 20 blocks of three of Milwaukee's neighborhoods. You will stroll past restaurants, breweries, and condos along the way.
If you don't want to walk, you can also rent a pontoon boat and explore the river from the water. As we sat at the Blue Bat Kitchen, we saw plenty of groups heading out on party boats for the evening.
Where to Eat in Milwaukee
Milwaukee has a great food scene, especially in the Third Ward. It isn't all brats and cheese curds. We were only there for a short stay but loved both the food and the atmosphere of everywhere we went. For lunch, we picked from the options at the Milwaukee Public Market, but here is where we ate breakfast and dinner:
Blue Bat Kitchen & Tequilaria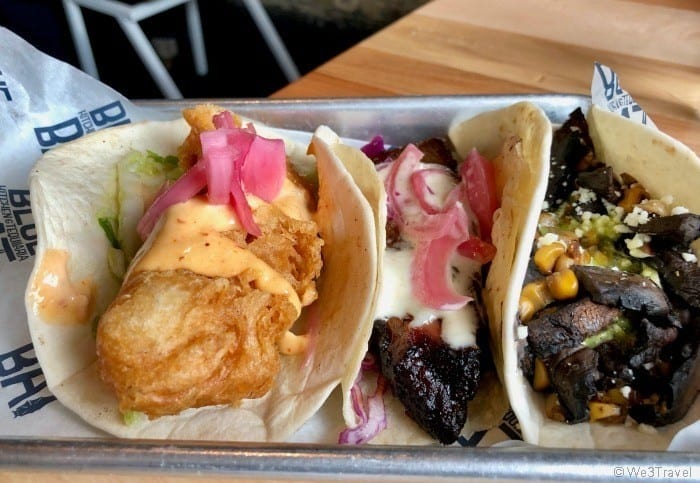 Blue Bat Kitchen & Tequilaria is in the Third Ward, right on the Milwaukee Riverfront. The restaurant is spread out between multiple rooms and has a good amount of outside seating overlooking the river. They specialize in "global street food" and have an interesting menu of small plates and nontraditional tacos.
We started with the fried brussels sprouts, which were phenomenal. And then we each had a couple of tacos including portobello, brisket, and, our favorite, the baja fish taco with beer-battered cod.
Even though I was in Brew City, I still needed to sample some of Blue Bat's tequila cocktails. They have an extensive list of tequilas and get their name from the bats that act as pollinators for the agave plants that tequila is made from.
Blue Bat is located at 249 N Water St, Milwaukee, WI
Colectivo Coffee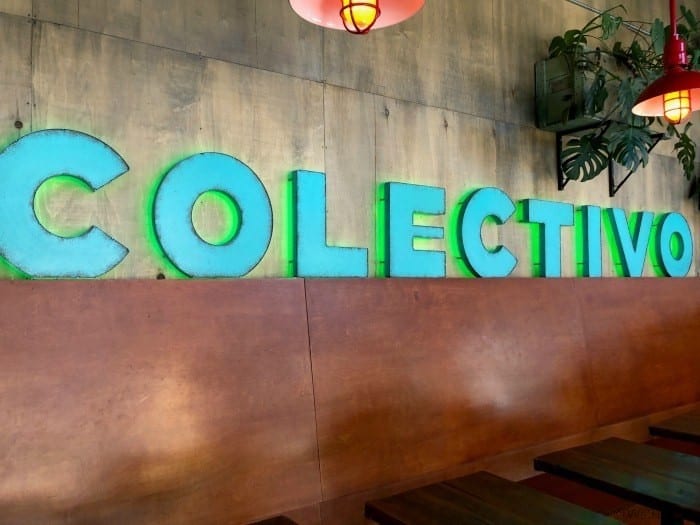 For breakfast, we tried one of Milwaukee's local coffee roasters. Even though I'm not a coffee connoisseur, I deeply appreciated Colectivo's fresh smoothies and homemade breakfast sandwiches. I'm not sure I've even seen a biscuit that large, even in the south!
Colectivo has locations throughout the city as well as locations in Madison and Chicago.
I've added Milwaukee to my list of cool cities to explore, like Portland, Maine and Wichita, Kansas. Hopefully, I will get a chance to return and see even more!
PIN THIS FOR LATER
SaveSaveSaveSaveSaveSaveSaveSaveSaveSaveSaveSaveSaveSaveSaveSaveSaveSave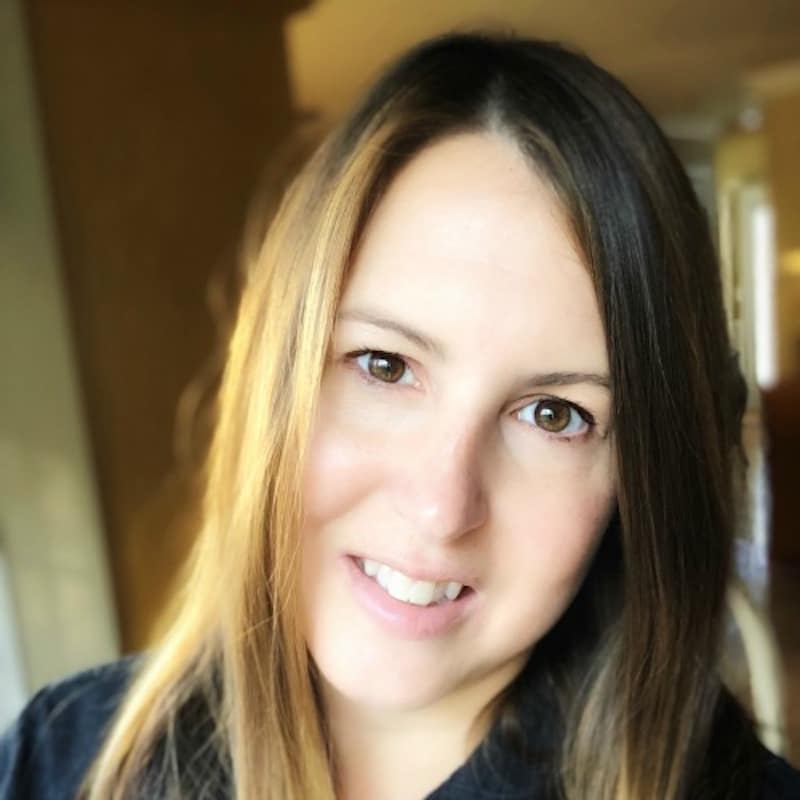 Tamara Gruber is the Founder and Publisher of We3Travel. A former marketing executive and travel advisor, Tamara is an award-winning travel writer and recognized expert in family travel. She is also the publisher of YourTimetoFly and the co-host of the Vacation Mavens travel podcast.