When I told my friends I was heading to Madison, Wisconsin in January I got two questions back in response…WHERE? and WHY? I guess people think that unless you are a Packers fan or have a real hankering for cheese curds, there is no reason to head to Wisconsin in the winter.
But I'm going to let you in on a little secret. Madison is pretty awesome. And winter really isn't that bad. Ok, granted, I live in New England so I'm not exactly used to the balmy weather of Florida in January. Yet I'm also one to hibernate under blankets in front of a fire during the winter months – unless I have a reason to emerge from my cocoon and live a little. And there are plenty of fun (and warm) things to do in Madison Wisconsin in the winter to fill a weekend getaway.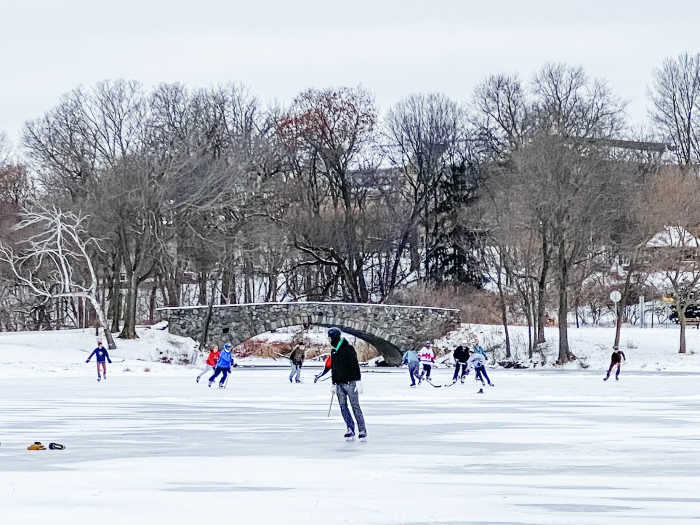 About Madison, Wisconsin
Note: This article is part of a paid partnership with Destination Madison. I'm still sharing my honest opinion and experience exploring this cool Midwestern city.
First, let's address the where question. Madison is Wisconsin's state capital, located about 90 minutes west of Milwaukee, 2.5 hours southwest of Green Bay, and only an hour south of Wisconsin Dells, the waterpark capital of the world. Madison is a small city, with about 230,000 residents. But they have a very nice (and blissfully calm) airport that is serviced by 25 direct flights.
Madison is located on an isthmus between two lakes, with three other lakes nearby. This geography lends itself to outdoor activities. Madison is one of only five Platinum-level bike cities in the U.S. and the only place I've heard of that often plows the snow off the bike paths before the roads! Altogether, Madison has over 200 miles of trails, combined with 6,000 acres of parkland and 15,000 acres of lakes.
It is therefore no wonder that Madison is consistently rated as a top community in which to live, work, play, and raise a family and you will find it on lists of the best capital cities, fittest cities, and most walkable cities. Unlike some Midwest towns where the young people move out, millennials are flocking to Madison, making more than half of Madison's population under 30.
This blended mix of college town, state capital, and tech and medical industry start-up hub offers job opportunities that attract the best and brightest. And once you have millennials and Gen Z, you know you are going to find great restaurants, coffee shops, and cultural activities, because you can't get the hipsters without being hip.
Things to do in Madison Wisconsin in Winter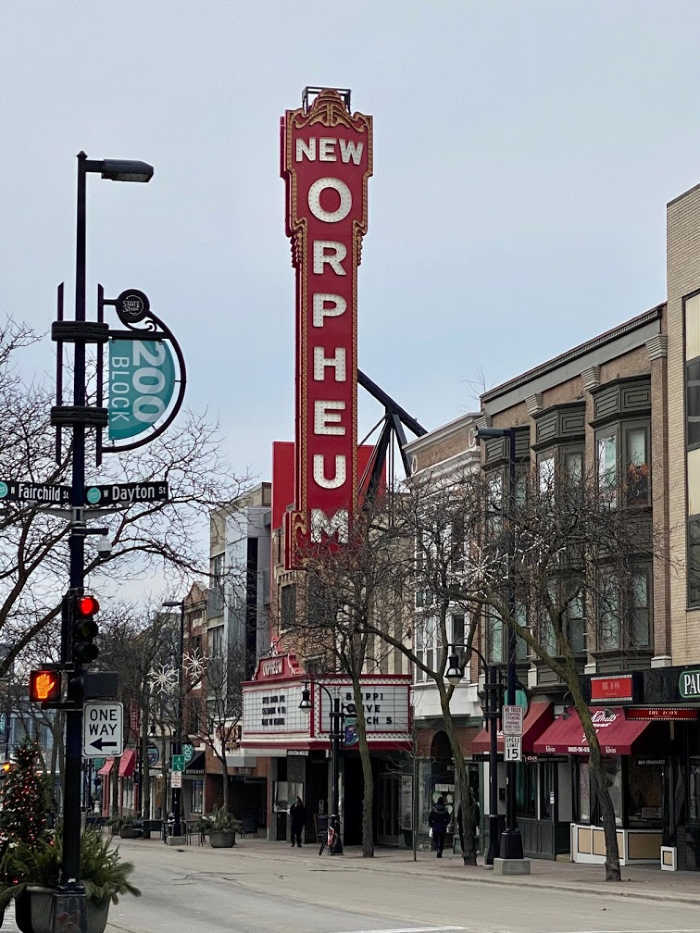 So why would I want to visit Madison Wisconsin in the winter? I have this thing for college towns and small cities. Maybe it stems from when I moved to the Providence, Rhode Island area and discovered how great a little city can be. Especially one that is a college town. And a state capital.
You have the food, fun, and accessibility, without the hassle of traffic, the expense of food and parking, and the overwhelming feeling of navigating a massive city like Chicago or Atlanta.
Winter can also be a great time to visit a small city. Hotels are cheaper, everything is less crowded, and a northern city like Madison needs to go beyond the norm with festivals, events, and experiences designed to attract visitors.
So just bundle up and explore! I found so much to do in Madison WI in the winter, both indoors and outside. And by the way – a lot of it is FREE!
1. Shop at the Dane County Farmers' Market
The Dane County Farmers' Market usually occupies the square around the statehouse on Saturday mornings, but in the winter months, it moves indoors to the newly renovated Garver Feed Mill. This beautiful old building is also the permanent home to an outpost of Ian's Pizza, a kombucha shop, and the Kosa Spa Retreat.
On Saturday morning it welcomes vendors offering a selection of fresh cheeses, meats, baked goods, produce, honey, and handmade items like soaps and body products. Even if you are just visiting, it is fun to browse, enjoy some samples, and maybe pick up a snack.
2. Cheer at a College Sports Game
Madison is home to the University of Wisconsin – Madison, and over 40,000 students when classes are in session. Division 1 sports and a lot of hometown pride make attending a college sporting event a must if you really want to get a sense of Madison.
On my visit, the UW men's hockey team was playing the Ohio State Buckeyes and the professional-sports-sized arena was a sea of red. Watching the marching band cheer and Bucky Badger leads the crowd in resounding choruses of Varsity and cheers of On Wisconsin even had me humming along.
3. Tour the State House
The tallest building in Madison, the Wisconsin Statehouse looms over the city in a way that seems like all roads lead to the Capitol. Each of its four sides offers a similar façade, offering up beautiful photo opportunities from every angle.
While beautiful from the outside, this 100-year-old building should really be seen from the inside as well. Anyone can walk inside and explore, and there are also free guided tours offered daily on the hour at 9, 10, 11, 1, 2, and 3 pm Monday through Saturday, except holidays, with more limited tours on Sunday afternoons.
If it is open, take a peek at the view from the Trumpeter's Balcony, or try to find the statue of a badger.
4. Attend a Performance
There are over 20 performing arts spaces in Madison including ballet, theater, symphony, and more eclectic options, along with plenty of live music settings from classical to karaoke and everything in between. I recently attended the first performance in the Madison Circus Space's new building, one of the country's only dedicated places for the circus arts.
5. Enjoy a Uniquely Madison Experience
The tourism board, Destination Madison, has partnered with many local businesses and attractions to create Essential Madison Experiences. Check the calendar to see what may be on offer when you are visiting.
Experiences include building a Wisconsin cheese board, a mixology class, learning to cook with Mustard at the National Mustard Museum, and enjoying an outdoor winter walk.
6. Cozy up at the Spa
When it is chilly outside, it is warm and cozy in the spa. Step into the steam room, sweat it out at the sauna, meditate in the relaxation room…all before settling in for a relaxing body treatment and Ayurvedic massage at the Kosa Spa in Garver Feed Mill.
My massage was one of the most relaxing I've ever experienced and I found myself drifting off to sleep multiple times during the 75-minute Classic Abhyanga experience.
7. Chow Down on a Food Tour
One of my favorite ways to explore a new city is through a food tour. Madison Eats offers a variety of options, both downtown and the Atwood "Brew and Chew" tour. These three-hour tours include six stops with food and drink tastings – plus fun, entertaining, and informative guides.
I learned that Madison is home to one of the top 10 chocolatiers in the country, that they have really good Austin-style tacos, and I actually like pecans, at least the sugary ones by local producer Nutkrak.
8. Hike or Snowshoe at the UW Arboretum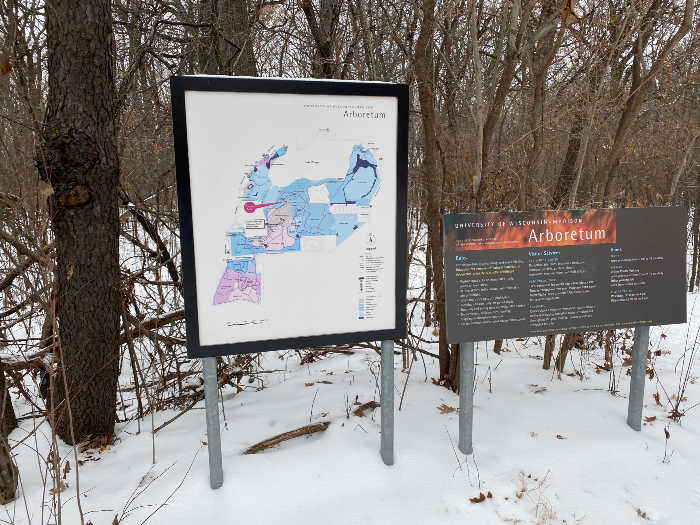 The University of Wisconsin Arboretum covers 1,200 acres used for both research and public access to a network of trails. Altogether there are 17 miles of trails through restored prairies, savannas, woodlands, and wetlands. In the winter, snowshoeing and Nordic skiing are both allowed on designated trails.
You will pass by Native American effigy mounds and sacred hot springs on your romp through the woods. Just pick up a trail map or take a picture of the trail map before heading out.
9. Warm up in the Museums
If it gets too cold outside, Madison offers plenty of options for warming up in its museums — many of which offer free admission. Located right on State Street, the Madison Museum of Contemporary Art (MMoCA) offers a permanent collection, temporary exhibits, special events, and a large rooftop sculpture garden.
The Wisconsin Historical Museum covers everything from the fur trade to the Native American peoples who have lived in Wisconsin for over 12,000 years. The Chazen Museum of Art, named after a former University of Wisconsin president, is home to more than 22,000 works of art from around the world.
If you are visiting with young children, let them burn off energy and spark their creativity at the Madison Children's Museum. From the lower Wildernest for little ones under five, to the Rooftop Ramble, kids can climb, create, imagine, and explore.
10. Zen out at the Botanical Gardens
The Olbrich Botanical Gardens is a good spot for a peaceful walk, even on a winter's day. Wander out to the Thai Pavilion, or pop into the toasty Bolz Conservatory to warm up in the glass pyramid. The Conservatory is free on Saturday mornings and is just across the street from the Garver Feed Mill — making a perfect Saturday morning combo with the Farmer's Market.
When visiting with kids, if you get a warm day, take a winter walk in the Henry Vilas Zoo (also free) will bring you face-to-face with lions, tigers, lemurs, bears, meerkats, and more. This accredited zoo is home to over 650 animals from all over the world and features over 115 species, 20 of which are considered endangered and vulnerable.
11. Shop. Sip. Taste.
If boutique shopping is your jam, be sure to check out the options that line State Street, like shoo. Or if you prefer specialty shops, don't miss popping into Fromagination to taste test some delicious Wisconsin cheese. When you get tired you can reenergize at local coffee shops like Collectivo or Grace.
For those that love quirky attractions, or are mustard nuts like me, don't miss out on a stop at the National Mustard Museum. This hilarious museum has collections and mustard memorabilia from around the country, but the real treat is the gift shop upstairs. There you can sample most of the 200-300 types of mustard that they offer for sale.
If upscale shopping is your idea of fun, head out to Hilldale Shopping Center, where you will find brands like lululemon, Anthropologie, and Kendra Scott. When you've shopped until you are ready to drop, there are also plenty of local dining and eating establishments. You won't be disappointed with the Sconnie burger at Cafe Hollander.
Where to Stay in Madison
Note: This post may contain affiliate links. If you click a link and make a purchase, I may receive a small commission. All opinions are my own.
There are great options in Madison, whether you are looking for an upscale retreat or a downtown hotspot.
Graduate Madison
Graduate Hotels have staked their claim to college towns — making it a perfect choice for any college visit. The Graduate Madison is no exception. The decor in the lobby brings in the influences of Madison, from the city bird of pink flamingoes to canoes hanging overhead, paying tribute to the five lakes around Madison.
Upstairs the rooms blend academia with local touches for a unique and localized stay. Pet and student-friendly Graduate Madison helps guests perk up at the Pointdexter lobby coffee shop, or chill out at the camp-themed rooftop bar, Camp Trippalindee? Any guesses what movie inspired the name?
The Edgewater
The lakefront Edgewater Hotel is a short walk from the capitol, but also offers beautiful water views. This upscale hotel features large, newly renovated rooms, two restaurants, and bars, as well as a full-service spa. In the winter, guests can enjoy lakeside ice skating.
The Statehouse restaurant offers breakfast, brunch, lunch, and dinner with gorgeous water views through the floor-to-ceiling windows. This historic hotel is perfect for those looking for more luxurious finishes and a quieter location.
Where to Eat in Madison
If you think it is all cheese curds and fish fries in Madison, think again. You will find everything from farm-to-table cuisine to authentic Thai restaurants to good old-fashioned supper clubs. These are a few of my favorite discoveries.
Breakfast: Short Stack Eatery
Short Stack Eatery is a popular local spot for breakfast all day, and it is even open 24 hours on Saturdays. In addition to classic pancakes, you can also find more interesting options like sweet potato oatmeal pancakes or pulled pork and cheesy grits.
Lunch or COcktails: Graze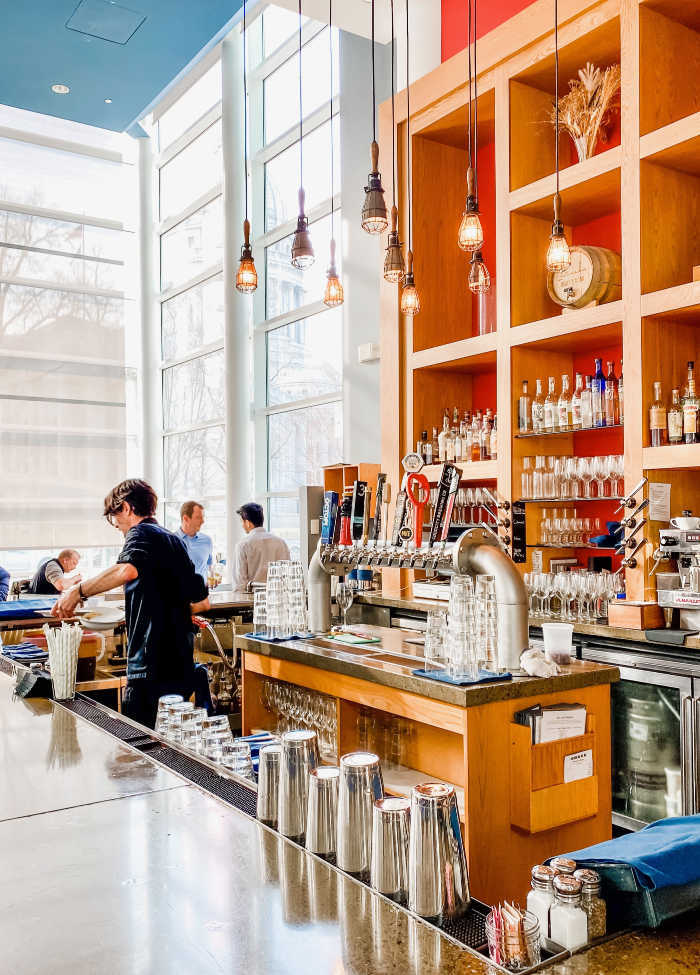 Offering unobstructed views of the State Capitol, Graze is a popular spot for business lunches and after-work happy hour. Inspired by the New York gastropubs, Graze gets its name from both the grass-fed meat they serve and the small plates it serves to encourage diners to linger and graze.
Graze's vodka-battered cheese curds were the best I tasted in Madison and the Bibimbop offered a nice balance to the fried curds.
Dinner: Everly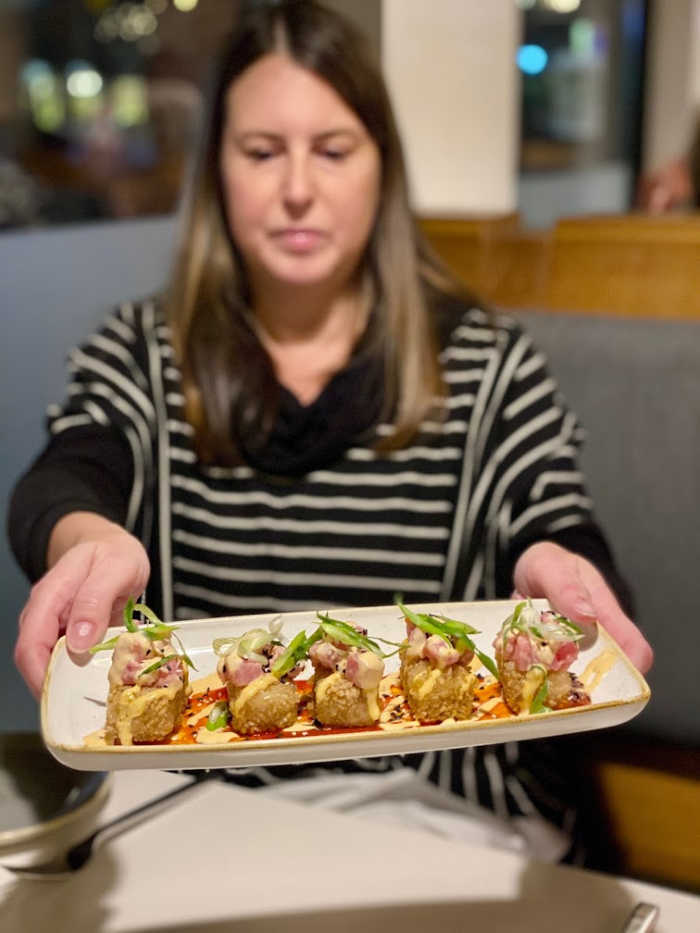 This veggie-forward restaurant in the Monroe neighborhood offers up tasty small plates and inventive cocktails. Everly serves up breakfast, lunch, and dinner in its sun-washed dining room and outdoor patio.
Order the fried Brussels sprouts and edamame hummus toast — you will be glad you did. It is best to go with friends in order to sample and share.
PIN THIS FOR LATER