Chicago is an ideal destination for a long weekend. Not only is it driving distance for so many, but it is also a major airline hub with plenty of direct flights all over the country. I often find flight deals on Southwest into Midway (which is so much easier to manage than O'Hare), making it affordable for a weekend getaway. Like any large city, there is enough things to do in Chicago to fill a week, but you can easily get a good overview of the city with just 3 days in Chicago.
I have visited Chicago on business numerous times and this summer, Chicago was the starting and ending place for our mother-daughter midwest road trip. Of course, if you have more time there are many great day trips from Chicago to take.
I recently returned to the Windy City on a press trip to experience Christmas in Chicago. These trips allowed me to spend even more time exploring, plus experience the city in different seasons, enabling me to put together a solid Chicago 3 day itinerary.
Whenever I think about tackling a new city and putting together an itinerary, I know I want to experience a few core things:
Local food (deep dish pizza)
Historic or famous landmarks (Willis Tower)
Learn about the history of the city or what makes it unique (architecture and history)
Visit a couple of the better museums with exhibits I can't find locally (Art Institute of Chicago since I'm a Ferris Bueller fan)
Walk the streets to get a feel of the neighborhoods (see what the Magnificent Mile is all about)
Once I've narrowed down those items that I want to experience, I pull up Google Maps and start calculating walking distances, figuring out public transportation, looking up hours, and putting together a plan that makes sense.
I try to eliminate backtracking and fit as much as I can into a limited time, while hopefully allowing some time for spontaneous exploration. After all, I love to take advantage of the last minute suggestions that come through social media, friends, and followers.
So if this is your first time in Chicago with kids or you haven't visited in a while, this Chicago 3 day itinerary will make planning your visit easier.
3 Days in Chicago Itinerary
Note: This post contains affiliate links, if you click a link and make a purchase I may receive a small commission. I was a guest of Choose Chicago and CityPASS for one of my visits to Chicago. All opinions are my own.
What you do in Chicago is somewhat going to depend on the weather, but I've tried to provide suggestions for both summer and winter. In the summer, especially on the weekends, be prepared for crowds. In the winter, you need to layer up because the museums and buildings are very warm, while it can be cold and blustering outside.
Day One in Chicago
Morning
Even when traveling from the East Coast, I can hop a 6am flight and be in Chicago by 8:30 am, giving me a full day to start exploring. Even if you are arriving a little later, I recommend dropping your bags at your hotel and setting out to explore.
If you are staying somewhere along the Magnificent Mile, take a walk down Michigan Avenue towards Millennium Park. You may want to make a pitstop at the Nutella Cafe just before you arrive at the park. If you are traveling at a busy time, don't be surprised to see a line out the door.
When you head into the park, you will want to take pictures at the Cloud Gate (also known as The Bean.) Don't even think you are going to get a picture without other people in it unless you are there at the crack of dawn. But that is ok, it is part of the experience.
Just make sure you step underneath and get the effect of infinite reflections due to the unique shape of the sculpture.
Also leave time to enjoy Millennium Park and the adjacent Maggie Daley Park, where there is plenty of room for kids to play. If you are visiting with your family, you may want to walk along Lake Michigan and head up to Navy Pier, with its Ferris Wheel, rides, restaurants and other entertainment.
Otherwise, or if it is cold out, I would suggest visiting the Art Institute of Chicago. If you go with kids, be sure to stop into the family room. They will help you create a customized map of the museum that matches your interests so you can easily see the highlights in a fun and personalized way.
If you aren't a fan of art museums, or just want to be outside longer, continue walking south through Grant Park. In the summer, make a stop at Buckingham Fountain for another popular photo opportunity. Chances are you will recognize this fountain from movies or TV shows.
Afternoon
When you are hungry for lunch, there is also a Shake Shack just outside of Grant Park near the Crown Fountain. See these other kid-friendly restaurants in downtown Chicago.
With an early morning start to a travel day, you will likely be tired by this time and ready to sit down for a while. I would recommend heading back up to the Chicago River and stopping in at the Chicago Architecture Center.
This newly opened center will give you an introduction to Chicago architecture, and also how some of the tallest skyscrapers in the world compare. But it is also where you will pick up tickets to the Chicago Architecture Foundation Center River Cruise.
Before heading back to Chicago, everyone I talked to encouraged me to take this river cruise and heralded it as the best tour in the city. I wasn't sure what to expect but I was hesitant to believe that it could live up to the hype. But it did and more.
This 90-minute river cruise gives you an overview of Chicago's history, teaches you how to recognize certain types of architecture, and spills out more facts about some of Chicago's more notable buildings than you could ever deign to remember.
And the most amazing thing? All the tours are led by volunteer docents that aren't even allowed to take tips. I can't imagine the training they must have to go through because they are virtual founts of knowledge. But it also isn't dry and boring, at least not the one we took. Maybe it helps that they also serve cocktails, wine, and beer on board.
So I'm going to join the bandwagon and say if you only do one tour in Chicago, make it this one.
Evening
By this time you are probably ready for a casual dinner and an early night. Why not try some of Chicago's famous deep dish pizza? Lou Malnati's offers the original deep dish pizza with a buttery, crispy crust, diced tomatoes, chunks of sausage, and plenty of cheese.
With 52 locations around Chicagoland, you can probably find one near your hotel. If you don't order ahead, the pizzas take a while to make so while you wait, I'd recommend snacking on some pizza chips. Just be warned that they are addictive!
Day Two in Chicago
Morning
If you had an early night, it is time to wake up bright and early to get some of the best views in town. There are two famous viewing platforms in the city, Skydeck Chicago at Willis Tower (formerly the Sears Tower), and 360 CHICAGO Observation Deck in the John Hancock Building. And the good news is that both are included in the Chicago CityPASS (with FastPass access too!)
Even if you have VIP access with CityPASS, I still recommend arriving when they open to get the best views and pictures without people in the way. We went to the Skydeck Chicago and not only got to relive a Ferris Bueller's Day Off moment (as I did a few times on this recent trip), but I also dared brave "The Ledge."
Skydeck Chicago is on the 103rd floor of the Willis Tower. While there are windows all around to take in the view from the river to the lake, The Ledge takes it a step further. Literally. It is a glass box that extends just over four feet out from the building, 1,353 feet above the ground.
It takes some courage to step out knowing that just a couple inches of glass separate you from thin air. When I visited, it was a cloudy day so it felt more like walking into a cloud. I think it made it easier, but I admit that I still needed to hang onto the wall until I could get comfortable.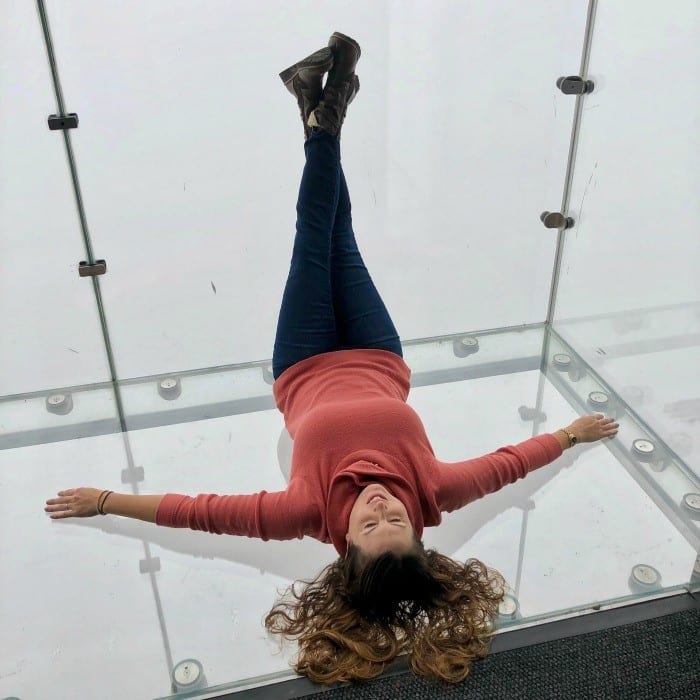 If you visit when it is crowded, you will only have a minute to take photos and enjoy the view before the next person in lines steps in to take over one of the four Ledge boxes available. Luckily we were there early for a private event and got to have some fun with it.
Alternatively, you could visit the 360 CHICAGO Observation Deck, which may be closer to your hotel. The 360 CHICAGO observation deck is located 1000 feet above Michigan Avenue in the recognizable John Hancock Building. As the name presumes, it offers 360 degrees views of the city skyline and Lake Michigan.
For an additional ticket (not included in the CityPASS), you can also experience Chicago's highest thrill ride. TILT is an enclosed moving platform that literally tilts you out over Michigan Avenue from the 94th Floor. Just keep in mind that you can't take photos so if you want a keepsake of this experience, you will have to buy one from their professional photographer. Personally I wasn't quite brave enough to take this on.
If you choose 360 CHICAGO, you may want to then take some time to walk down Michigan Avenue. You can stop into some of the shops and many of the shopping malls also offer fun food halls, which can be a great lunch option.
Afternoon
For example, the shops at 900 North Michigan features the brand-new Aster Food Hall offering sushi, Asian, seafood, burgers, donuts, and more. I sampled some of these items during a holiday event and even this New Englander gives a thumbs up to the lobster rolls.
Further south you will find Latinicity, a food hall based on Latin foods, on the third floor of Block 37 on State Street. And, if you are at the Skydeck Chicago, it is a short walk over to Revival Food Hall.
After lunch, I would recommend checking out either the Field Museum and Adler Planetarium, or visiting the Museum of Science and Industry.
The Field Museum is a natural history museum, home to Sue, the largest T. Rex dinosaur skeletons ever found. If you have a good natural history museum at home, you may not be wowed by the standard exhibits at the Field. However, where I think this museum really shines are its special exhibits (many of which are included in a CityPASS ticket!)
When Hannah and I went this summer, we loved the Antarctic Dinosaurs exhibits. Who knew that there were dinosaurs under all that ice? But we weren't big fans of the Mummy exhibit. It was fascinating but a little too realistic — it creeped us out!
I also love the architecture of the building and think they do a really nice job in the Hall of the Ancient Americas. That is probably because we are both so interested in Native Americans, especially Mayan, Aztec, and Incan cultures.
Overall you will need at least two hours in the Field Museum, depending on how many exhibits you want to see. If you have the energy, you could combine this with a visit to the Adler Planetarium.
The Adler Planetarium also takes about two hours, assuming that you see one of their shows. If this is of interest, you may want to visit the Adler before the Field Museum, as the shows do sell out, especially in the summer. Just take a look at the descriptions of the shows as some are really geared toward young children.
The Adler Planetarium, Field Museum, and Shedd Aquarium are all within walking distance, and you can also take a water taxi from Navy Pier (operates seasonally.) The Museum of Science and Industry is in a different area, so you will need to take an Uber or public transportation if you prefer that as an alternative.
There is so much to do and see at the Museum of Science and Industry that it really is a half-day attraction. It helps to familiarize yourselves with the special exhibits and movie attractions before you arrive so that you can make a game plan.
Some attractions, like going inside the submarine or riding the motion ride, require an extra ticket. Others, like a Giant Dome movie, are included in a CityPASS ticket, but require you to get a timed-entry ticket when you arrive.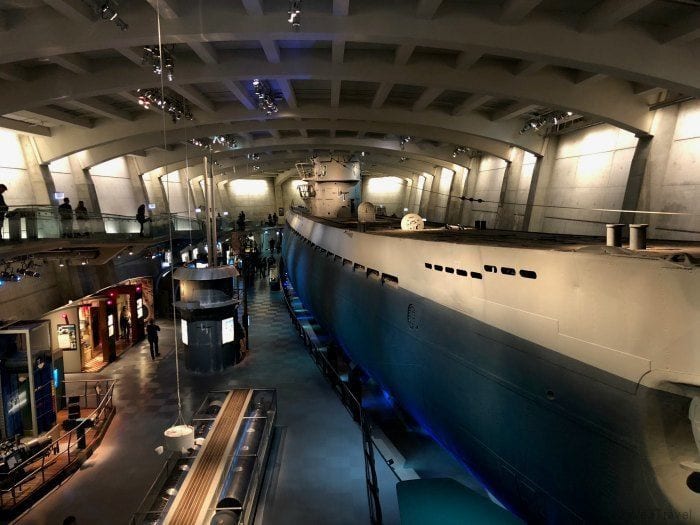 There is a lot to see and plenty of hands on exhibits at this museum so it is perfect for families with kids of all ages.
After a busy day, I would retire back to the hotel for some relaxation before dinner. Did you know that the Peninsula Hotel has an amazing indoor pool with gorgeous city views?
Evening
In the evening, take advantage of one of Chicago's 200 theaters to see a show. There really is something for everyone. You can find discounted tickets on HotTix.org.
It is also surprisingly easy and relatively inexpensive to score Hamilton tickets in Chicago. Even though we saw it in New York, I couldn't resist getting us tickets for an encore performance when we were in Chicago this past summer.
Before the show, many of my friends recommend dinner at the Purple Pig. We wanted something quick and easy, but still good, so we stopped into Eataly, which was very close to where we were staying at The Gwen.
Day Three in Chicago
Morning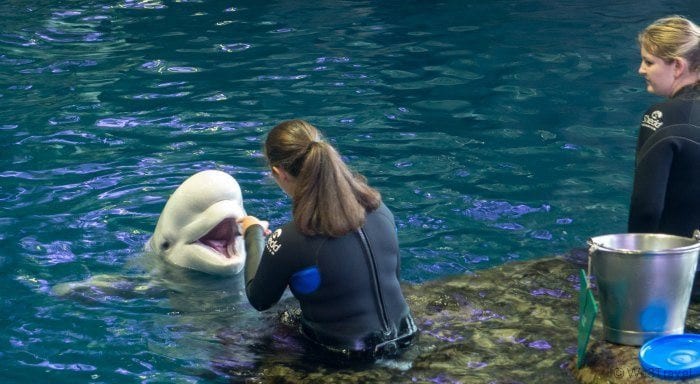 If you enjoy aquariums, I would start your day at the Shedd Aquarium (also included in the Chicago CityPASS.) Here you can see beluga whales, dolphins, penguins, otters, and more. If you have already been the the aquariums in Baltimore, Monterey, and Atlanta, you may want to skip this one. However, little kids will love all the hands-on exhibits and play areas.
Because the main aquarium area isn't that large, it really pays to get there early before the crowds, or visit mid-week if you can. When you arrive, if you want to see a show, you will need to head downstairs right away and visit one of the ticket kiosks to secure your timed-tickets.
Altogether you should allot about two hours at the aquarium. Less if you aren't going to see a show.
Afternoon
There are plenty of options for your last afternoon in Chicago. You could visit some of the attractions I mentioned earlier that you may not have had time for (Navy Pier, 360 Chicago, Museum of Science and Industry, etc.) Or just spend some time on the lake shore if the weather is nice.
However, if you want to learn more about the city's checkered history, I would recommend a walking tour with Chicago Detours. I took a holiday tour with them and the docents are very knowledgeable and use iPads as visual aids throughout the tour (plus there were drinks!)
There are also Segway tours, food tours, and architectural tours you may want to join.
It can also be a nice time to explore some of the outer neighborhoods or just hop on the elevated train for a ride around "The Loop."
Evening
If you have one more evening to spend in Chicago, it is time to try one of Chicago's finer restaurants. On my recent trip, we ate at the Tortoise Supper Club, which is nice for a posh, fine dining experience. I also love the Mediterranean-focused/tapas menu at Beatnik Chicago. Just note that the atmosphere is pretty loud and probably better for couple than for families.
I also had a fantastic brunch at The Dearborn, which would also be a fun place for dinner if you are looking for something nice but not high end. It is owned by two Irish sisters but the food is New American.
[plan-trip]
I have stayed at The Gwen and the Four Seasons and loved them both. I think the Four Seasons has much more to offer families in terms of a kid's club, children's amenities, and overall welcome. The Gwen is just a bit more centrally located and it is luxurious but hip, appealing to a slightly younger crowd.
See what to do in Chicago for Christmas
Purchase a Chicago CityPASS to save money on attractions
[/plan-trip]
PIN THIS FOR LATER