The holiday season kicks off early in Chicago, giving you plenty of time to enjoy the most wonderful time of the year in the Windy City. When I visited Chicago in November, I was surprised to find so many fun Christmas in Chicago events and activities throughout the city.
I love when cities shine and sparkle at Christmas time. There is something about seeing the trees decorated, popping into Christmas markets, and checking out the holiday shop windows that just puts me in the mood for Christmas (and Hanukkah).
I have been to London, NYC, Philadelphia, and many other places along the East Coast during the holidays, but I previously hadn't thought about Chicago as a big holiday destination. I was pleasantly surprised to take part in so many favorite holiday events that Chicagoans hold dear and get to experience the city in a different way (and temperature) than I had during my summer visit during our midwest road trip.
13 Christmas in Chicago Events & Activities
My recent trip to Chicago was hosted by CityPASS and Choose Chicago to experience the Windy City's favorite holiday events. We were hosted at the Four Seasons Chicago. All opinions are my own.
Here are some of the most popular things to do for the holidays in Chicago:
1. Attend the Official Chicago Tree Lighting
In NYC, everyone makes the pilgrimage to see "The Tree" in Rockefeller Center. In Chicago, the famous tree is in Millennium Park. The official great tree lighting happens in November (check the Choose Chicago website for dates), but it remains lit throughout the Christmas season. The tree lighting includes performances by special guests and introductions by local officials to bring the holiday magic.
After performances, the massive tree is lit, followed by fireworks and Christmas Caroling at Cloud Gate (also known as "The Bean.") Caroling at the Bean also takes place throughout the holiday season. While you are there, be sure to take some holiday selfies at The Bean.
If you want to attend the tree lighting, I would recommend arriving early to get a prime spot, just don't be surprised by street closures in the area. Even if you aren't there for the official tree-lighting ceremonies, you can still see the tree throughout the season.
2. Learn About Christmas Around the World at MSI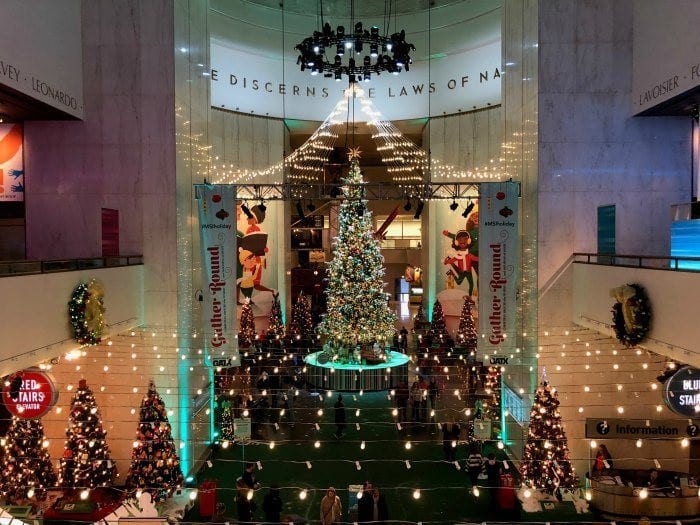 From mid-November through early January, the Museum of Science and Industry brings "Christmas Around the World" and "Holidays of Light" to Chicago with a festival of trees. In addition to the 45-foot Grand Tree in the Rotunda, there are also 50 smaller trees that represent different cultures and holiday traditions from around the world.
I loved looking at all the various trees to represent different countries. I was also appreciative of the inclusion of other seasonal celebrations such as Diwali, Kwanza, Hanukkah, and Winter Solstice. If you hang out by the Grand Tree long enough, you can also experience some indoor "snow."
3. Attend Illuminate 900
The 900 North Michigan Shops has an elaborate tree lighting ceremony during its Illuminate 900 event that really puts you into the holiday spirit. A 50-foot tall tree holds center court during the illumination and is surrounded by seasonal delights like sugar-cookie decorating, live holiday performances, and the option to take an "Elfie" with The Real Elf.
Tickets to the event can be purchased online.
4. Catch a Parade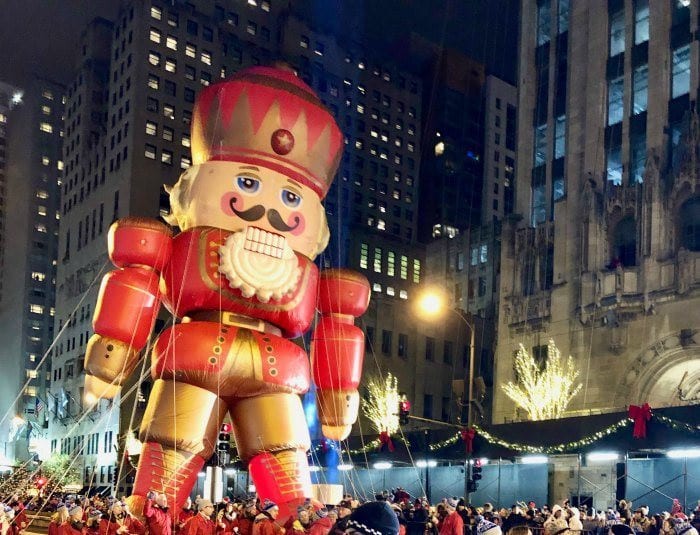 Yes, Chicago has a wonderful Thanksgiving Day parade, but even earlier than that the Magnificent Mile Lights Festival kicks off the holiday season with the annual Lights Festival parade, the city's largest nighttime parade. When I attended, Minnie and Mickey Mouse kicked things off and they were followed by marching bands, giant helium balloons, floats from local businesses like Garrett Popcorn, and other performers.
As the parade progresses along the route, over a million lights are lit along Michigan Avenue. The parade wraps up with an appearance from Santa Claus, of course, followed by fireworks over the river.
If you want a front-row space to view the parade, you will need to get there very early and be sure to dress very warmly (time to break out that hand and toe warmers!)
5. Have Lunch in the Walnut Room
Macy's is a must-do stop when visiting Chicago for the holidays. This former Marshall Fields department store on State Street has some of the better-decorated holiday windows and the holiday decor on sale on the Seventh Floor is not to be beat.
But one of the beloved Chicago traditions is a holiday meal in the Walnut Room on the Seventh Floor of Macy's. From the time of the Giant Tree lighting through early January, The Walnut Room ushers in the holidays with a festive meal.
6. Shop the Chicago Christmas Market
From mid-November through Christmas Eve, Daley Plaza in downtown Chicago converts into a traditional holiday market, based on the holiday markets in Nuremberg, Germany.
The Chicago Christkindlmarket does a good job of keeping the market authentic with many German artisans displaying their wares, including ornaments, knit hats, cuckoo clocks, and other handicrafts. You can also enjoy spiced wine, strudel, sausages, roasted nuts, hot cocoa, warm apple cider, and other traditional treats. You can purchase a souvenir mug and receive discounted refills (year after year.)
The Chicago Christkindlmarket has been a tradition for over 20 years so expect it to get very crowded, especially on the weekends. You will probably want to get there early to avoid the crowds, otherwise, you can expect long lines at the stalls.
7. Enjoy ZooLights at the Lincoln Park Zoo
There are many fun places to find Christmas trees, holiday lights, and fun for the holidays around the Chicago area including ZooLights at the Lincoln Park Zoo. From mid-November through January 1st, Lincoln Park Zoo celebrates the holidays with ZooLights Presented by ComEd and Invesco QQQ.
ZooLights features photos with Santa (through December 23), hundreds of themed displays with 3D and LED lights all across zoo grounds, live ice carving (Fridays and Saturdays only), Christmas carolers (Sundays only, before Dec. 25), a holiday pop-up bar with warm spiced wine, frosty beers, and festive drink specials, along with delicious holiday snacks. There are also ticketed attractions such as the Light Maze Presented by Invesco QQQ featuring a beautifully-lit path designed to get you into the holiday spirit.
8. Attend Illumination: Tree Lights at Morton Arboretum
Those seeking holiday cheer can explore the 50 acres of Morton Arboretum's majestic trees during the Illumination: Tree Lights event that takes place from mid-November through the first week of January. This one-of-a-kind spectacle of color, light, and sound features six dazzling new lights displays as well as returning favorites.
Guests walk along a one-mile paved path amid festive music and lighting effects and can later warm up by a crackling fire and roast marshmallows for s'mores, or stop in one of the concession tents for a snack and beverage. Adults can also enjoy a late-night experience during Electric Illumination, which features a mix of trance and progressive house music, synchronized to the breathtaking light displays.
9. Go Ice Skating
If you are willing to brave the cold, there are a few places in the city where you can go ice skating. The McCormick Tribune Ice Rink in Millennium Park offers great views of the city skyline and "The Bean" (aka Cloud Gate.) The best news? Admission is free (you just need to pay to rent skates if you need them or you can bring your own ice skates.)
More advanced skaters will enjoy the unique experience of skating on the Maggie Daley Skating Ribbon. This ribbon curves its way through Maggie Daley Park, with inclines and declines along the way. Admission is also free. Just keep in mind that the surface requires an extra-long time to resurface and will result in the ice closing for the Zamboni for an hour or more so check the schedule in advance.
10. Light Up the Lake at Navy Pier
During the holidays, Navy Pier Lights up the Lake with Chicagoland's largest indoor lights experience. From late November to early January, you can experience the magic with interactive light displays, a whimsical skating rink, journeys through the birch tree maze, visits with Santa, and more.
Light up the Lake features more than 600,000 lights and oversized sculptures with holiday and toy box themes, including a giant Teddy Bear, a deer soaring 25 feet, a 60-foot light tunnel, and a 40-foot tree. Guests can take a spin on the indoor Alpine ice rink (skates are available for no charge) or engage in some of the other fun special events and attractions like the Roseaux interactive art installation, and birch tree forest maze, and use their magic wands (not included) to find and interact with 30 different magic objects throughout the event.
11. Take a Tour
There are a number of different holiday lights tours, including a Trolley Tour, Segway tour, dinner cruises, and walking tours. However, if you want to combine a little history with holiday cheer, check out the "Drinks, Daleys, and Dead Guys" walking tour from Chicago Detours.
This walking tour is largely indoors and includes a couple of drinks for some holiday cheer. You start off with the Tom and Jerry cocktail at the historic Miller's Pub, learn how Mayor Richard J. Daley saved the Christmas parade, and stop into Macy's Walnut Room for a look at the tree. The tour finishes up just outside of the Christkindlmarket.
12. Ride the CTA Holiday Train
Santa and the CTA welcome riders aboard both the Allstate CTA Holiday Train and the popular Allstate CTA Holiday Bus. Each car of the train is wrapped with holiday and seasonal images including thousands of twinkling lights that outline the shape of the train and windows, with more lights running across the tops of the cars. Santa waves to riders from his sleigh on an open-air flatcar carrying his reindeer and decorated holiday trees.
The CTA Holiday Train delivers joy and the holiday spirit to thousands of riders, but it also delivers food baskets to various charitable agencies throughout the city.
13. See a Show
There are over 200 theaters in Chicago, spread out between neighborhoods with everything from big Broadway productions like Hamilton to smaller theater troupes.
The holiday season brings family favorites such as Charles Dickens's classic tale of A Christmas Carol, the Joffrey Ballet's performance of The Nutcracker, Elf, The Trans-Siberian Orchestra, Cirque Dreams Holidaze, and Mannheim Steamroller. Families may also like The Beatrix Potter Holiday Tea Party at the Chicago Children's Theatre at the Station.
14. Imbibe at a Holiday Pop-up Bar
During the holidays, many of Chicago's favorite bars and restaurants transform into full-blown winter wonderlands with holiday decorations, seasonal cocktails, festive food specials, and plenty of photo opps. A few not-to-be-missed include Santa Baby at Deuce's in Wrigleyville, 8 Crazy Nights at the Graystone Tavern, Reindoor Room at Tack Room, Rudolph's Christmas Bar at Casey Morans, and Jack's Winter Walk and Christmas Tree Farm on Goose Island.
Where to Stay in Chicago for Christmas
There are so many fabulous hotels in Chicago, but it really helps to be centrally located near the Magnificent Mile. My friend Kirsten also has a great guide for where to stay in Chicago with kids.
Four Seasons Chicago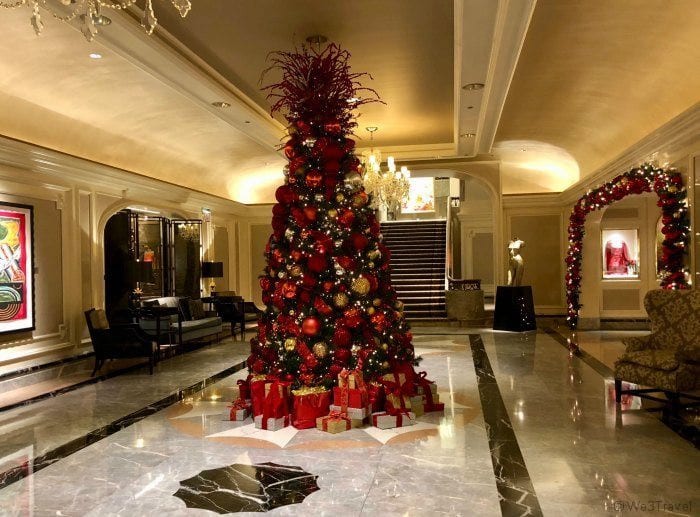 For this holiday trip, I was hosted at the Four Seasons Chicago, on E. Delaware Place near North Michigan Avenue. As always with the Four Seasons, the service was outstanding and the rooms were luxurious and comfortable.
I had a lake-view room on the 36th floor with excellent views of Lake Michigan and the Hancock Building. It was so cozy to return after a cold evening out, curl up in my robe under layers of covers, and gaze out at the beautiful night skyline.
I love the Four Seasons for families because they really roll out the red carpet for their youngest guests. At check-in, kids will use the special step stool to register at the desk. They then receive a Sammy the Skyscraper Passport booklet. Throughout their stay, they can complete an activity at the spa, restaurant, bell desk, etc. to receive a stamp. A full passport earns them free ice cream!
Children also receive a choice of toy from the treasure chest at check-in, a special welcome amenity, a kid's "shoe shine" service (which returns their shoes with a special Four Seasons charm and new shoelaces), and selfie frames at the front desk. Plus, they have access to the Kids Clubroom featuring foosball, air hockey, Nintendo Wii, books, and toys, as well as the 50-foot indoor pool (featured in Home Alone 2).
The Gwen
If you want to be a bit more centrally located, Hannah and I used Marriott points to stay at The Gwen, a Luxury Collection property on our midwest road trip. The vibe was luxurious but hip, definitely not a stuffy luxury hotel, but also not quite as kid-friendly feeling as the Four Seasons. Still, the rooms were spacious and very well-appointed and designed.
We both loved how quiet it was at The Gwen and really enjoyed the luxury amenities. We only had breakfast at the hotel, as it was included as Marriott Platinum Elite members. The location of the Gwen was perfect for walking to the theater, shops, and Millennium Park.
Find a CHicago Hotel
PIN THIS FOR LATER