There are places in the world that have a palpable energy. Sitting on the soft sand dunes of the Moroccan desert, I could feel this energy reaching out to touch my toes and pulling me down to connect me with the earth. As I let the orange sand of the Erg Chebbi slide through my fingertips, I looked around at the softly undulating dunes around me, glancing over my shoulder at the mountainous dunes to my back. The 4×4 vehicles on them looked like tiny ants climbing an anthill.
In the other direction, I saw the peaked white and black roofs of the Morocco desert camps lining the horizon. I nearly had to pinch myself to make sure I wasn't dreaming. While only a few miles from Merzouga, you could imagine yourself in the middle of the Sahara desert. It was one of those moments when you stop yourself to make sure you are living in the present, drinking it in, and storing it all deep into your long-term memory.
As I looked over at my daughter and husband, trying their best to sand board on these very dunes, a smile crossed my face. This was the perfect family travel moment — trying a new experience together in an exotic place, laughing, teasing, and creating precious memories. I raised my camera to capture that moment because while it will live on in our memories, it was so special I wanted to share it with others.
Morocco Desert Camp Experience
Note: This post contains affiliate links. If you click a link and make a purchase, I may receive a small commission.
We had arrived at the Jaimas Madu luxury Morocco desert camp the night before, ending our long journey from Fes just before sunset. As we arrived, our mounts were quickly readied for our camel trekking experience from the edge of the desert to our camp beyond.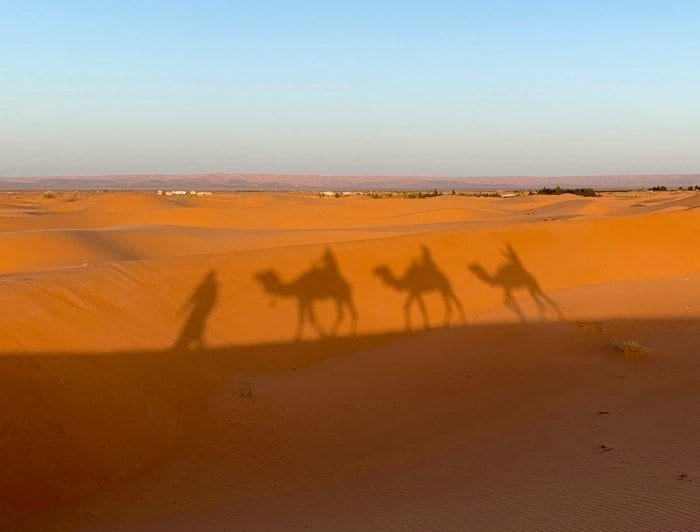 As the sun began its descent into the dunes, we looked around and saw a few large groups heading out on their camel rides and we exchanged a grateful glance that we had arranged this private desert experience.
Before the sun said its final goodbye, we stopped and scrambled up the dunes to watch the spectacular sunset. While I took pictures, our Berber camel guide took Hannah "sledding" down the dunes on a camel blanket.
We saddled up again and our camels lurched upwards and onwards, bringing us to our luxury desert camp, where we were greeted with cold drinks and hot tea, saying our "bon soirs" and "salaam alaikums" to the other guests gathering around the campfire.
Jaimas Madu Luxury Desert Camp
Soon we were led to our tent, arranged with a queen bed and an extra bed for Hannah. She eagerly explored, struck by the differences between our desert tent and our glamping experience last year at Mount Rushmore. (Spoiler alert: our desert tent had a regular shower instead of a pull-chain shower in the private en suite bathroom.)
The tent was cozy and warm, covered in Moroccan rugs and stacked with warm blankets to use inside and also take out to keep warm while star gazing into the night sky. There was even electricity and outlets to charge our phones. No wifi of course, but that just ensured we would spend time digital detoxing and appreciating our unique environment.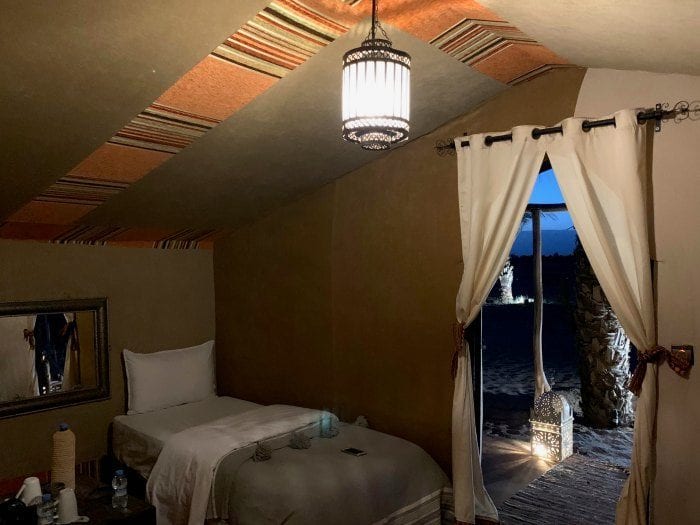 Berber Food & Entertainment
Before we could even settle in, it was time to head over to the large Berber tent for dinner. Stepping inside was a bit like entering the big top circus tent, full of color and cheer.
The camp wasn't even half full during our visit in March, with only three other tables occupied. When the food began to arrive, it was clear that we were in for a real treat. We certainly didn't expect such delicious Moroccan cuisine out in the desert.
I was smart enough to leave half of the large bowl of soup served as a starter, giving me room to sample the next few courses. Perhaps not for picky eaters, as you don't choose from a menu, but I imagine everyone could find something that they would enjoy. At a minimum kids will love the crispy french fries served with the chicken.
After dinner we sat by the outdoor fire until the evening entertainment started. I imagine all of the nearby camps have a similar experience, as we could hear the beating of the drums throughout dinner.
We were treated to traditional Berber music and dancing, with audience participation eagerly encouraged. The dancing eventually concluded and the other guests drifted out to gather outside their tents. But we stuck around to learn a bit more about drumming.
Before tucking into our tent for the night, we sat out on the swing observing the night sky without any light pollution.
Desert Activities
If you have the time, I would recommend spending two nights in the desert, so that you could have a full day to enjoy the dunes. But if you only have one night, try to get up early so that you have time to play.
You have to be pretty energetic to get up before dawn to climb the dunes in the dark and watch the sunrise (they will give you a wake-up call if needed.) But even if you aren't an early bird, there is still fun to be had.
Depending on the time, you could take a 4×4 out into the dunes. With less time, you can still ask one of the guides to take you into the dunes to try sand boarding. If you have snowboarded, you should definitely give this a try. But even if you haven't, Glenn and Hannah seemed to get the hang of it fairly quickly.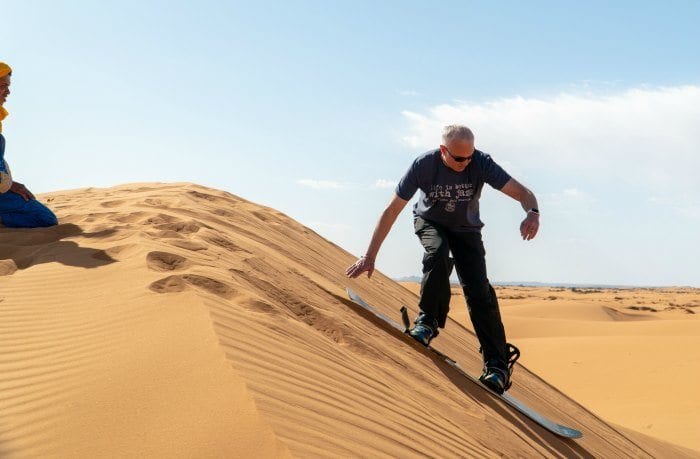 Soon it is time to say goodbye to the desert. You have a choice of making the return trek by camel or taking a 4WD vehicle. Between me and my butt, one way on the camel was enough for me. But the journey in an SUV was by no means boring, as we slipped and slided through the sand on our way back to solid ground.
Our night in the desert was definitely a highlight from our trip to Morocco. If it is on your bucket list, I would encourage you to book a trip. But be careful where you choose and make sure you are picking a licensed camp as I have heard that the government is shutting down some of the camps near Merzouga.
Many of the white-tented camps actually use plastic for their tents, instead of canvas, and aren't the same quality as what we experienced at Jaimas Madu. The bathroom in our tent had a raised floor with full plumbing, a flush toilet, and hot and cold shower.
Be sure to read the reviews carefully and don't skimp on the experience. If you want local tips and personalized advice for your trip to Morocco, connect with Said from Go Ask A Local! From his bases in Marrakech and London, Said runs a local travel agency that specializes in luxury adventures to Morocco. He's available for trip planning consultations on Zoom.
If you are planning a trip to Morocco, you may want to check out these other articles:
PIN THIS FOR LATER