When you are planning a trip to Morocco, one of the important questions you need to ask yourself is about driving in Morocco. Is it worth it to hire a private driver or should you rent a car and self-drive? The decision is yours, but when people ask me my opinion after spending nearly two weeks in Morocco, I don't hesitate to say "hire a driver."
I don't know how many times during our trip to Morocco I turned to my husband and said, "aren't you glad we hired a driver?" Definitely when we were traveling through the mountain passes in the dark on our way to Chefchaouen after nearly 24 hours of travel. Certainly during our full-day trek from Fes to Merzouga in the desert. And again when navigating the Tichka Pass through the Atlas Mountains.
But it wasn't just the driving itself that was hard, there are a lot of reasons why I think it is worth it to hire a private driver in Morocco.
Should you hire a private driver in Morocco? Yes, here are six reasons why.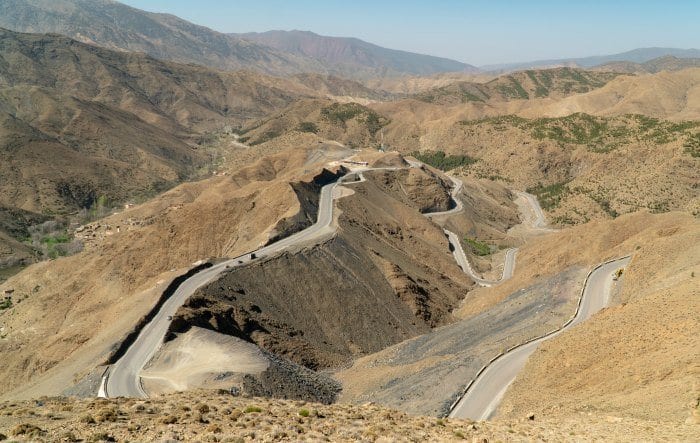 Road conditions
There are four mountain ranges in Morocco: the High Atlas, the Middle Atlas, the Anti-Atlas, and the Rif Mountains. If you are driving from Marrakech or Fes to the desert, or heading into the north to Chefchaouen, you are going to have to pass through these mountains.
The roads are narrow and very winding. There are some steep drop offs along the mountain edges. There are a lot of switchbacks. And you will most definitely going to get stuck behind a bus, truck, or donkey-drawn cart making progress very slow going.
Road construction also has left many of these roads single-lane at points or gravel in sections. It isn't fun driving. It is even tiring being a passenger, but imagine the amount of white-knuckle driving you might have as a foreigner not familiar with these roads.
Sharing the road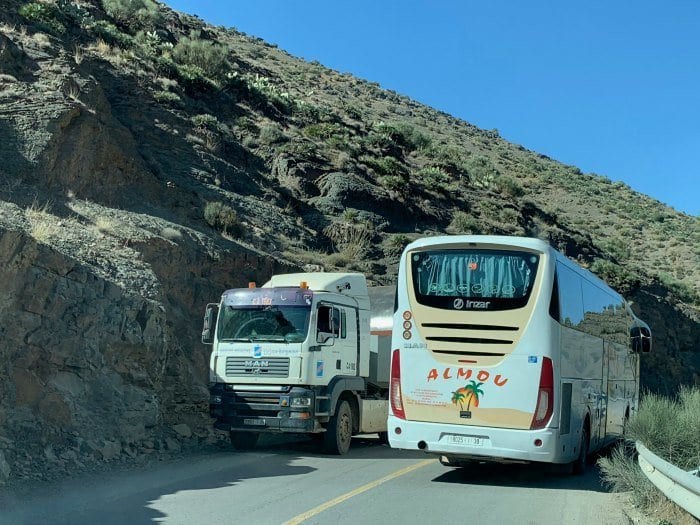 You also never know what you are going to find in the middle of the road, or along the sides. You need to look out for herds of sheep, donkeys, dogs, and cats. Sheep herders will often need to cross to bring their flocks to water or take them in for the night. But don't be surprised by the stray sheep or goat that goes astray into the road.
You will also be sharing the narrow road with more than just cars. Many Moroccan people also need to walk long distances to/from school or work, so you will be sharing the road with groups of school kids, bicycles, scooters, and donkey carts.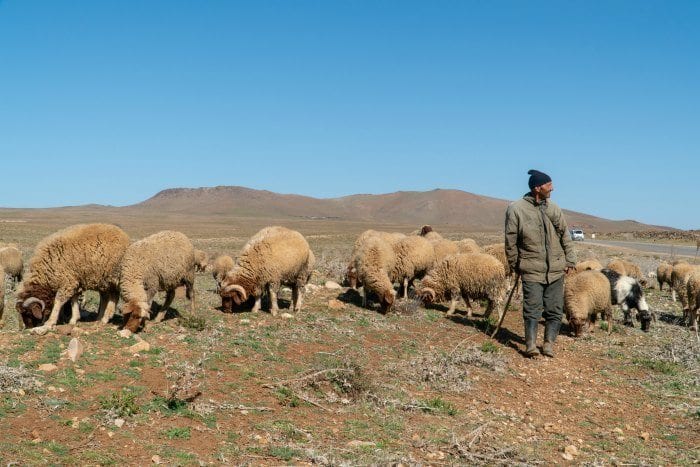 Don't be startled by kids trying to flag you down to catch a ride to school. School attendance is now mandatory in Morocco, but bussing is often not provided. Many kids need to walk miles to school every day and try to hitch a ride when they can. School also gets out in the early afternoon, so the kids can get back to help on the farm or assist their parents, so you will see more kids around in the mornings and mid-day.
When traveling in the north or between Chefchaouen and Fes, in the "bread basket" of Morocco, you will have farmers bringing their crops in from the field or taking them to town for market. This could be on a donkey-pulled cart, piled super high on a van or truck, or sometimes using a motor-powered cart.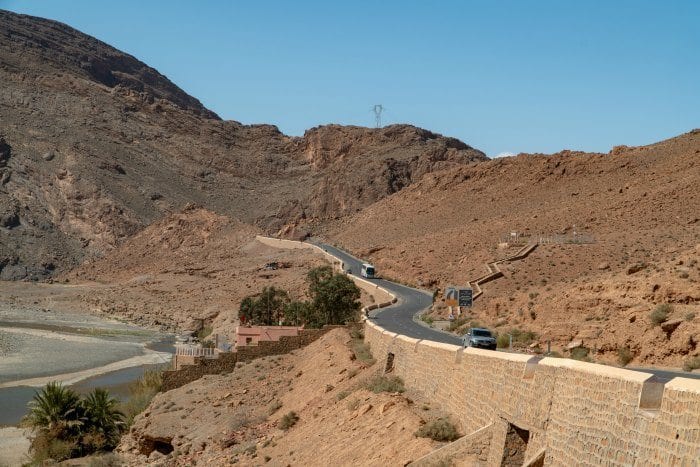 Speed traps
I have never seen a many speed traps as I did when we were in Morocco. The speed limits are very strictly enforced. Luckily, many Moroccan drivers will give you a heads up with a flash of the headlights as a warning, but honestly it would shock me if you could drive in Morocco for two weeks without getting a speeding ticket.
On certain stretches of roads, it seemed as if there was a speed trap every five miles. I joked with our driver that Morocco must be solving an unemployment problem by hiring more police. At least three police officers manned every stop, with one managing the radar gun and at least two others pulling people over. And it certainly wasn't just locals getting stopped.
So if you do decide to hire a car in Morocco — be alert and pay attention to cars that you see pulled over to the side of the road, especially as you are approaching or leaving a town or village.
At some stop signs or roundabouts you will also find police there checking papers so don't be surprised, keep your passport and international driver's license handy, and make sure your car rental paper work is in order.
Signs
Do you read and speak French or Arabic? If so, you may feel more comfortable driving in Morocco because at least you can read the signs. In and around the major cities, signs were in both languages and even English speakers with a smidge of French can navigate, especially with a little help from Google Maps.
However, out in the countryside, you will see signs only in Arabic and if your GPS is working right then, you may have a little trouble. Honestly it didn't seem like navigating was too hard, but it is something to think about.
Parking and driving in cities
If you are traveling to a big city like Fes or Marrakech, you need to think about where you are going to park. Even smaller towns like Chefchaouen have a car-free old town. If you are staying within the medina walls, there is no parking. You will need to work with your riad or hotel to see what they would recommend.
Also, when you are in a city, people walk everywhere…from every direction. Even walking in the medina I noticed that there are not social norms of walking on the left or right. It is a free for all and would give me ulcers to drive through. The streets near the medina can be very, very narrow (our driver had to back up multiple times so another driver could squeeze through with a hairsbreadth between cars.)
When you don't know where you are going and people seem to be coming at you from every direction (on foot, scooter, bike and car), it is so stressful. Why deal with it?
Your driver can be your best friend
The best part of hiring a driver instead of driving yourself is that you will have hours to spend talking to someone about their country. Look for an English-speaking driver, or even better, a driver-guide. They will be able to tell you about the landscape, the history, the culture, the politics, and so much more.
Plus, if you have a driver for multiple days, you can get to know each other and he will take care of you. Need change for the toilet? He will get it for you. Have to find an ATM? He will drive out of his way to find one for you. Want an unscheduled bathroom break or food stop? He'll find somewhere clean to stop.
Our driver made sure there was always bottled water in the car, as well as fruit and nuts for snacks. He provided in-car wifi so we could stay connected while he took care of the driving. He took us to the "safe" restaurants and gave us coins for the toilet. He bought my daughter chocolate bars and called her princess. And he was happy to talk to us about his country and answer our questions. Without speaking the language, I felt like this was a great way to learn more about the country, culture, and people.
What does a private driver in Morocco cost?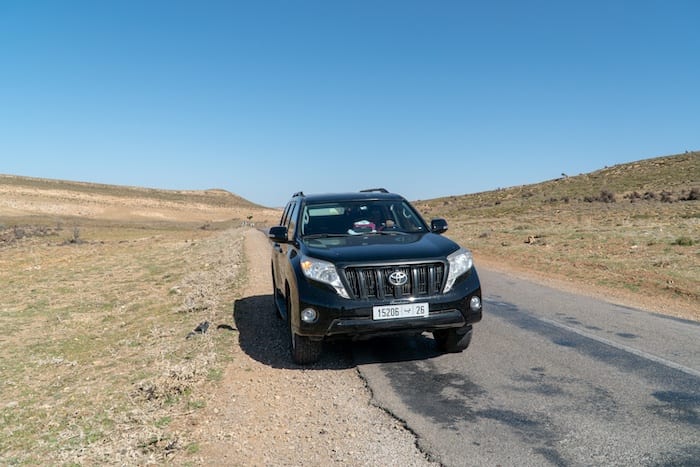 It will certainly be cheaper to use public transportation or rent a car and self-drive than to hire a private driver. However, because Morocco is not an expensive country, it doesn't cost as much as you might think.
There are two ways to go, you can either hire a driver to take you from point to point. For example, you fly into Marrakech and spend four days, then hire a driver to take you to the desert and back. Or, you hire a driver that stays with you throughout your trip, but this will be pricier as they need to stay overnight. The most expensive option is to hire a driver and a guide to stay with you throughout the trip, but that just feels like overkill.
I would try to hire an English-speaking driver, who, while he may not be a licensed guide, can still answer a lot of questions and talk to you throughout the trip and not just drive. For example, we had a free day in Skoura and it happened to be a market day in town. We asked our driver to take us to the market and he didn't just drop us off, he walked us around the market and described things as he went.
We hired Epic Travel to plan our trip and they arranged for our driver as well as local guides. Our driver stayed with us for the first eight days of our trips (although his lodging was usually different than ours.) Unfortunately they only provide drivers as part of a complete package, but you can also find drivers for each city that you are visiting.
A private driver will cost about $100-200 per day, depending on which of the options that you choose. (Find out how much a trip to Morocco costs.) In my humble opinion, it was totally worth it!
[plan-trip]
If you are planning a trip to Morocco, here are some other articles that may help you plan your trip:
[/plan-trip]
Book tours and transfers with my affiliate partner GetYourGuide and I may make a small commission.
PIN FOR LATER