There are times when packing for a trip is something I do at the last minute and others when I start shopping and planning weeks in advance to make sure I have what I need. Packing for Morocco was definitely the latter. I found a lot of advice online on what to wear in Morocco, but many of those suggestions weren't part of my regular wardrobe, and certainly not in my daughter's.
Add to the mix the various climates and activities and putting together a packing list for Morocco required more thought than a late night, throw things in the bag before an early departure, type of prep.
We visited Morocco in mid-March, which was a great time to go since it wasn't too hot, like you will find in the summer months, or too rainy, like you might find in the winter. However, spring in Morocco still brings some large fluctuations in temperature for which you need to be prepared.
What to Wear in Morocco in the Spring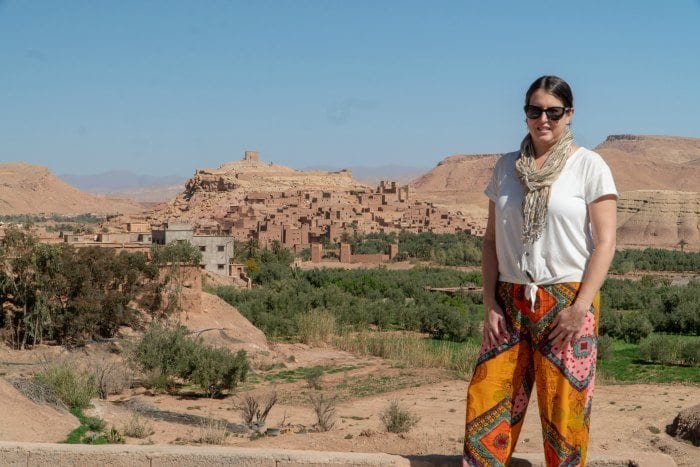 Note: This post contains affiliate links, if you click a link and make a purchase, I may receive a small commission.
When you plan your wardrobe for your trip, there are a few things to keep in mind:
Shoulders should be covered, as well as cleavage
Skirts or pants should be below the knee
Loose and flowing is best, although you will see women, especially teens or younger girls, in leggings under long tunics
If you do wear tighter pants, make sure your shirt covers your bottom
Wear comfortable shoes, as the roads, especially in the medina, are uneven. You may also want to avoid flip flops as it can be very dusty so your feet will get pretty dirty. Personally I relied on my Abeo walking sandals, but I did wash my feet a lot.
Men also do not wear shorts, although you may see the occasional tourist in long hiking shorts
Remember to bring layers, the difference between being in the hot sun and between the cool walls of the medina can feel like a 15 degree temperature shift
While these are guidelines versus laws, I would highly recommend following them to show respect for the country's culture and avoid unwanted attention. The only place throughout the country where I saw tourists ignoring these norms was in Marrakech. I was pretty surprised to see quite a number of short-shorts, tank tops, cropped shirts, and short, tight skirts, even on people walking around the souk.
As a Muslim country, local women typically will have their hair covered and wear loose tunics or longer robes and dresses. You will see an occasional burqa, but it is not the norm.
Older men typically wear a jellaba, a full-length robe with a pointed hood. Although young men, teens, and boys will usually wear jeans and t-shirts.
While I'm no Instagram model, I tried to remember to take pictures of each of my outfits and have provided links where I could for pieces that you may want to buy or for something similar because trying to find flowy pants and loose shirts can sometimes be challenging!
If you only look on Instagram you may think that everyone that goes to Morocco wears some gorgeous flowy gown everywhere or that halter tops are ok. But I'm trying to show what the average woman can wear in Morocco.
What to Wear in Chefchaouen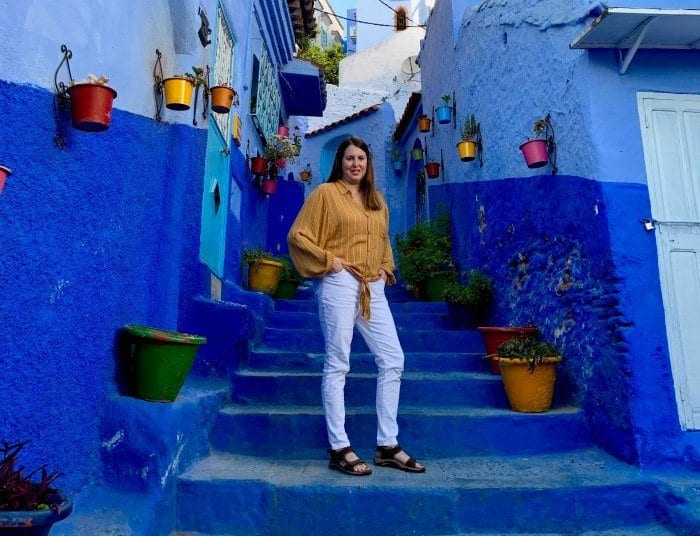 Keep in mind that whenever you travel to Morocco, temperatures are going to vary depending on what part of the country you are visiting. For example, when we were in Chefchaouen in the north, it was at least 20 degrees cooler than when we were in Marrakech.
Temperatures in Chefchaouen were around 50-60 degrees Fahrenheit in the day, and 40-50 at night. I found it most comfortable to wear my Old Navy white skinny jeans with a long sleeve shirt from American Eagle over a camisole and topped with a warm sweater that I could take on or off depending on if I was in or out of the sun.
Shop the look:
Definitely be prepared to need a warm sweater or jacket in the evening. Because of the chill and the walking, you may also prefer a closed-toe shoe, like a casual sneaker (I just bought these cute and very comfortable/support casual sneakers from Taos and I love them!)
What to Wear in Fes
When you are in Fes, the temperature is much cooler in the medina than if you are walking around in the sun. Chances are you will do a lot of walking, so make sure you wear comfortable shoes.
The weather when we visited was in the 60s and 70s, and maybe 10-15 degrees cooler at night. It was nice enough to sit by the pool at Riad Fes one afternoon, but not really warm enough to take a dip in the chilly water.
Because we were visiting such traditional sites such as the medina, synagogue, and the outside of the Royal Palace, we made sure we dressed appropriately. I relied on my favorite travel pants (the Kate Skinny Pant from Anatomie, which I have in three colors!)
I also found a very pretty tunic from J.Jill, and often used a light sweater to cover up and warm up. It is also helpful to pack a few light scarves, as they add color, cover up those v-necks, and can keep you warm when you need it. My daughter also loved the Sutton joggers from Athleta, since most all she wears otherwise are skinny jeans or leggings.
Shop the look:
What to Wear in the Desert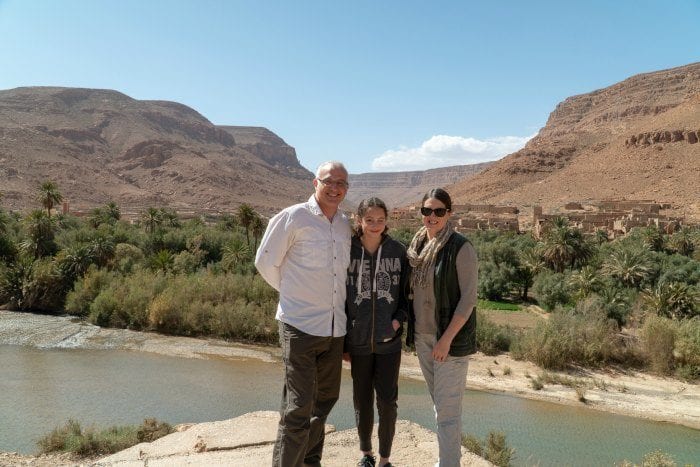 If you are heading out to the Erg Chebbi desert for an overnight at a Moroccan desert camp or a camel trek, you are going to want to dress comfortably for a very long day in the car. I would recommend hiking pants or joggers, and a hiking shirt or lightweight ¾ to long-sleeve shirt. My daughter and I are both huge fans of the North Face Aphrodite pants (she has them on below and I have them on above.)
If you are riding camels, you may want to wear pants and either a vest or a shirt with pockets so you can put your phone in there for when you want to take pictures. I tried to ride the camel with my mirrorless camera bumping around my hip and not only was it uncomfortable, it was very hard to get a sharp shot with the constant movement. My photos from my phone came out better. A bandana or scarf may also help with any blowing sand and don't forget your sunglasses!
Keep in mind that you will be arriving at the desert at sunset, so it won't be blazing hot, and the desert can get quite cool at night so bring a sweatshirt. The next morning, if you want to go sand boarding or hiking, make sure you are prepared with flexible, lightweight clothing. During our visit in March, the desert temps were in the 70s (hotter in the sun) during the day and 40s-50s at night.
One more tip: don't wear sneakers if you are going to be climbing the dunes. The sand gets so embedded in them and your socks that it is impossible to get it all out.
Shop the look:
What to Wear in Marrakech
Marrakech is more of an international, cosmopolitan city, so you may want to look a bit more posh, especially if you are staying at one of the resort hotels. It is also much warmer in Marrakech. Even in the spring, expect temperatures in the 80s. In our experience, the temperature also didn't drop as much in the evening as some of the other stops our our two-week Morocco trip.
If you go out to dinner in the evening, you may want to wear a maxi dress, long skirt, nicer pants, or even a jumpsuit. Just remember to bring something to throw over your shoulders.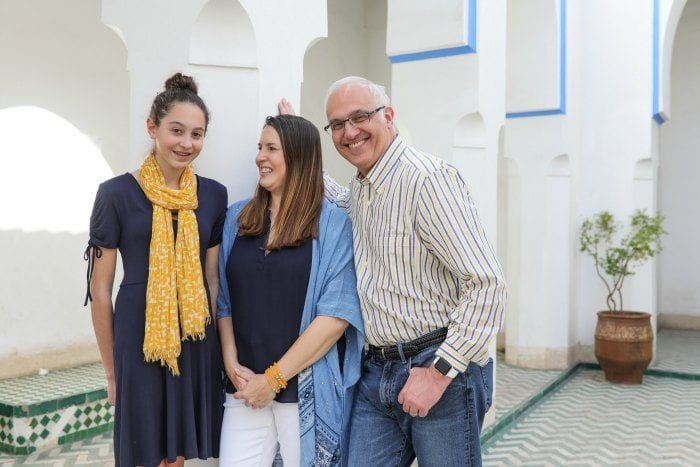 Shop the look:
[plan-trip]
Planning a trip to Morocco? Here are some other posts that may be helpful:
[/plan-trip]
PIN THIS FOR LATER